This past weekend I decluttered a few drawers in my house. It got me to thinking about how I started my decluttering journey, how much I love the results of decluttering, and how using a declutter your home checklist helps me stay on track.
If you're ready to declutter your home, this post will help you to get started decluttering your home and create a plan that works for you using a declutter your home checklist to help you through the process.
How to Start Decluttering Your House for a Happier Life
The question I am asked more often than any other is how do I get started decluttering? People expect that I am going to tell them a place or room to begin, but that's not my answer.
The first step you should take with decluttering is to spend some time thinking about your goals for your home. How do you want your home to look, feel, and function?
The more clear you are on your end goal and why you want that for your home, the more likely you are to get there. Decluttering doesn't always feel easy, but you'll be much more motivated when you have a clear picture of the finish line.
What is clutter?
It's important to understand that the word 'clutter' means different things to different people. You have to figure out what clutter is to you.
Realize that your definition of clutter may be different than what it is to other members of your family, which can be a challenging part of the process. Stay focused on your stuff as you start decluttering.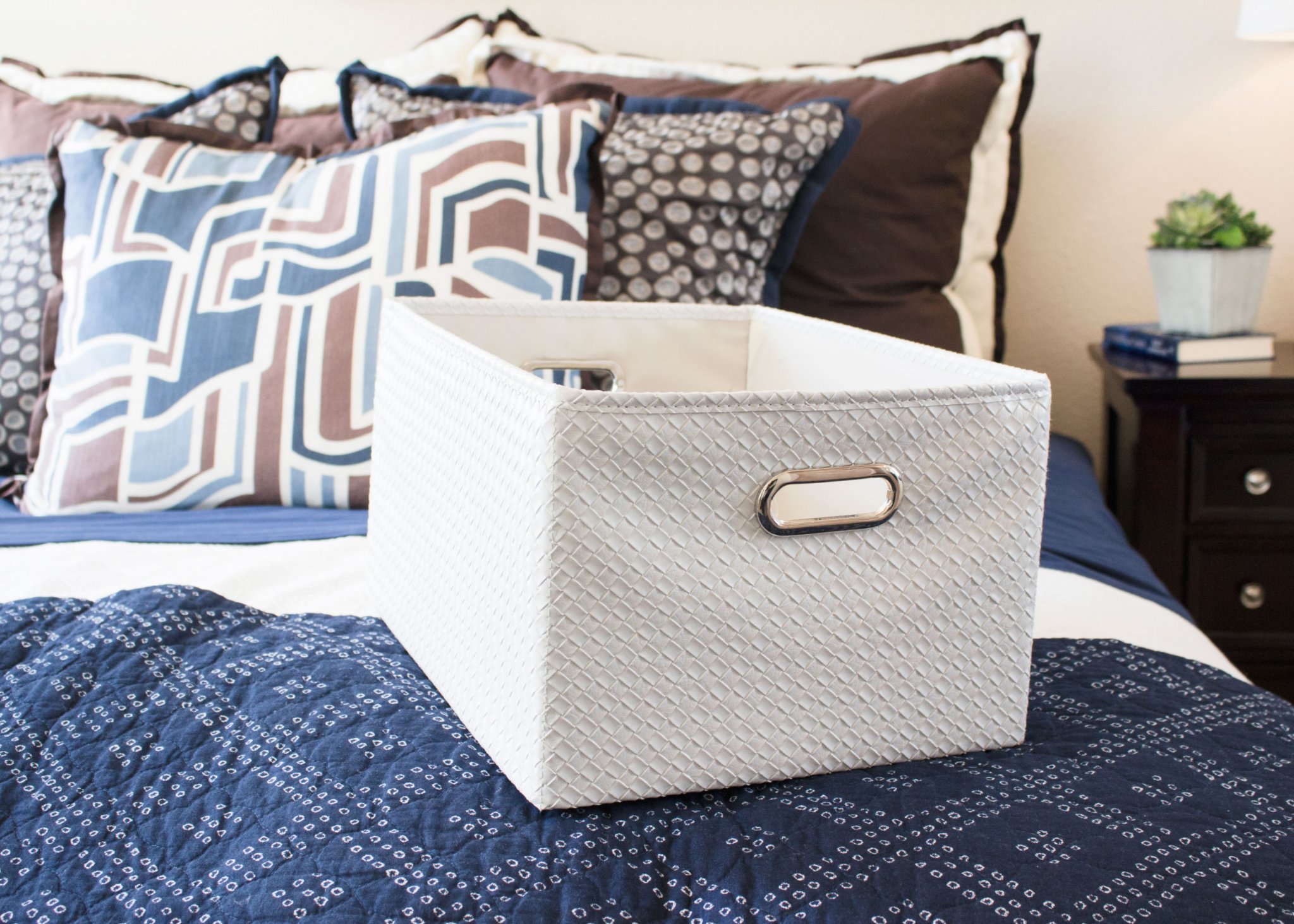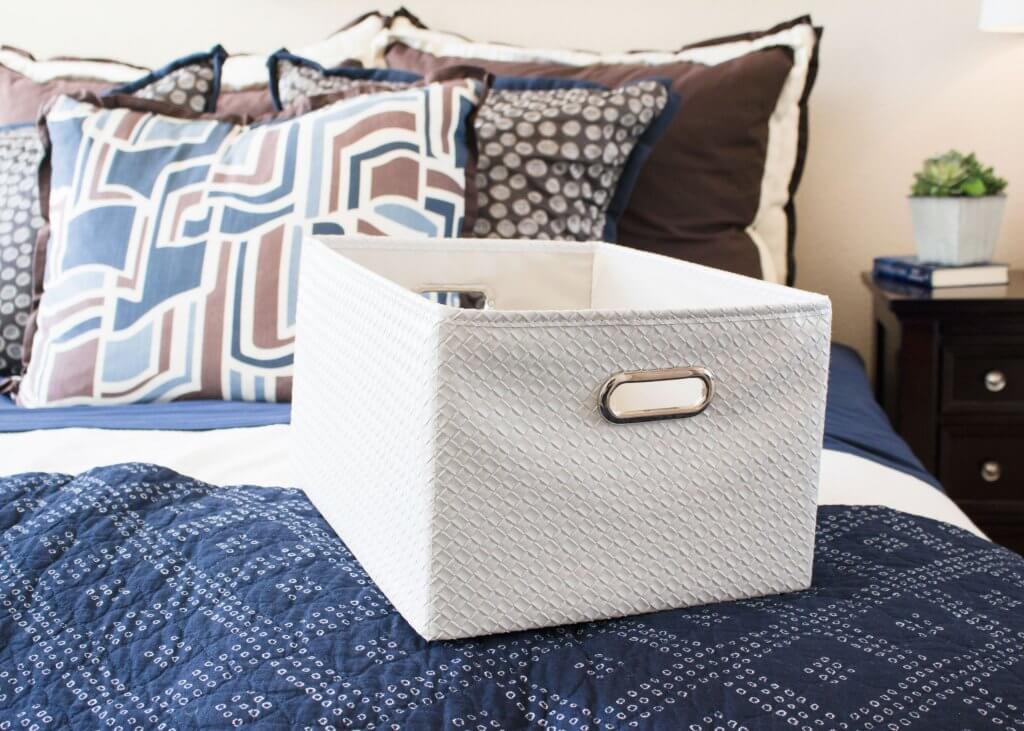 Should I clean or organize first?
Another question I am asked often is if you should clean or organize before decluttering. In short, my answer is no.
Cleaning will be much easier to do during the decluttering process after you've taken all the items out of where they've been stored. That gives you a great opportunity to wipe down shelves and cabinets that collect dust.
Organizing should happen after all of the decluttering is done. After all, it is much easier to organize fewer items and it would be pointless to organize items that you aren't keeping.
How clutter impacts your everyday life in a negative way
If thinking about your goals for your home isn't enough to motivate you to start decluttering, perhaps thinking about the ways clutter is negatively impacting you will.
When you consider how clutter takes from you and how your excess stuff causes a burden and takes your time, money, and attention it becomes less appealing to buy stuff and more appealing to get your things in your home decluttered and under control.
If you prefer to think of it from a more positive standpoint, then consider the amazing benefits of having a decluttered home. Focus on the ones that are most motivating to you as you prepare to declutter.
Minimalism too extreme for you? Focus on simplicity
Think that you have to become a minimalist? You don't. Your end goal doesn't need to be minimalism.
I prefer to focus on simplicity. Your goals get to be your own so just think about what will work for you and your household. You get to be as extreme with decluttering (or not) as you want. This is YOUR journey.
Why you should declutter your life
Hopefully you are starting to see all of the reasons to declutter if you weren't sold on it already. When you let go of the excess, you get more time back for what matters most to you. What could be better than that?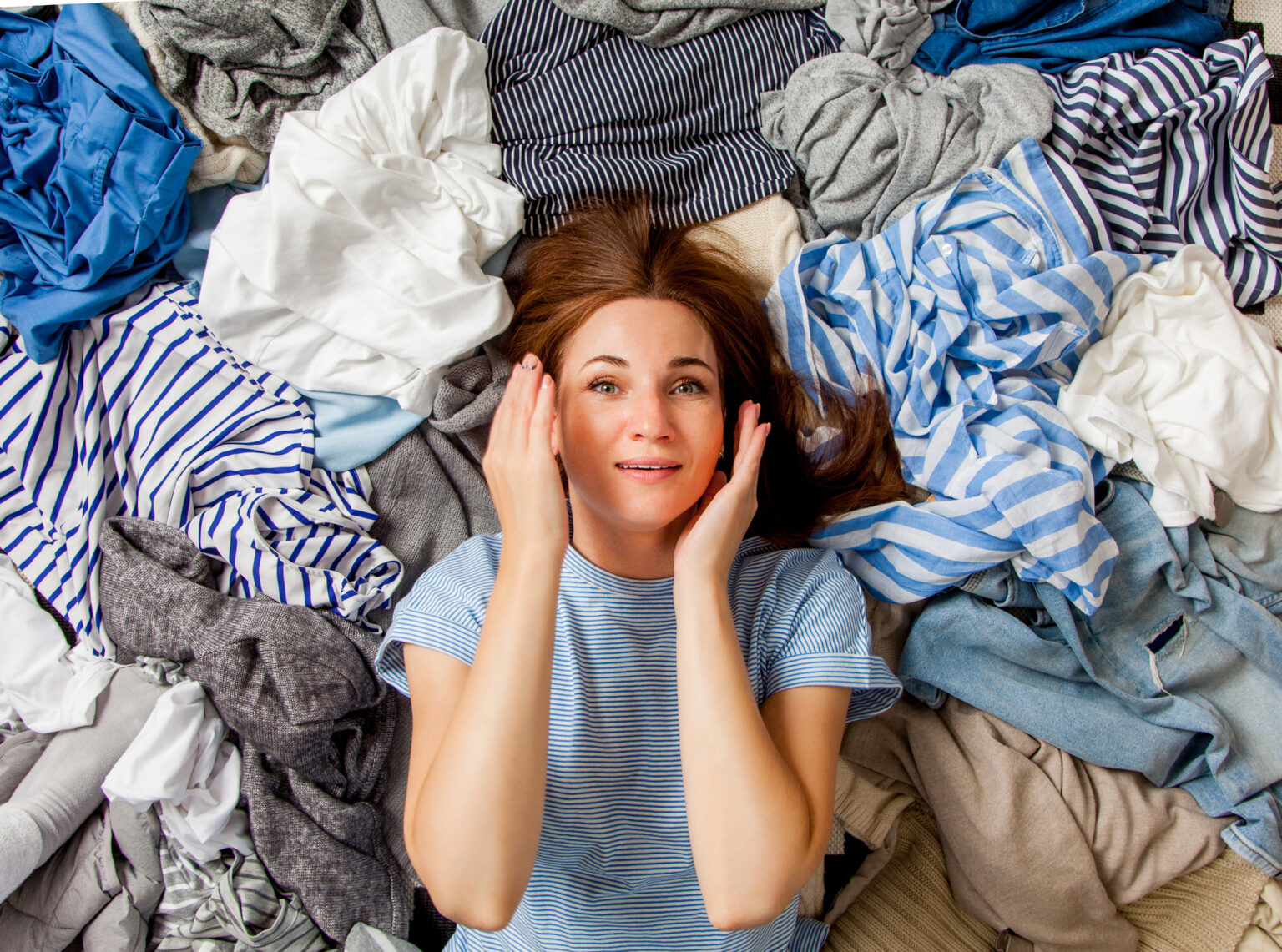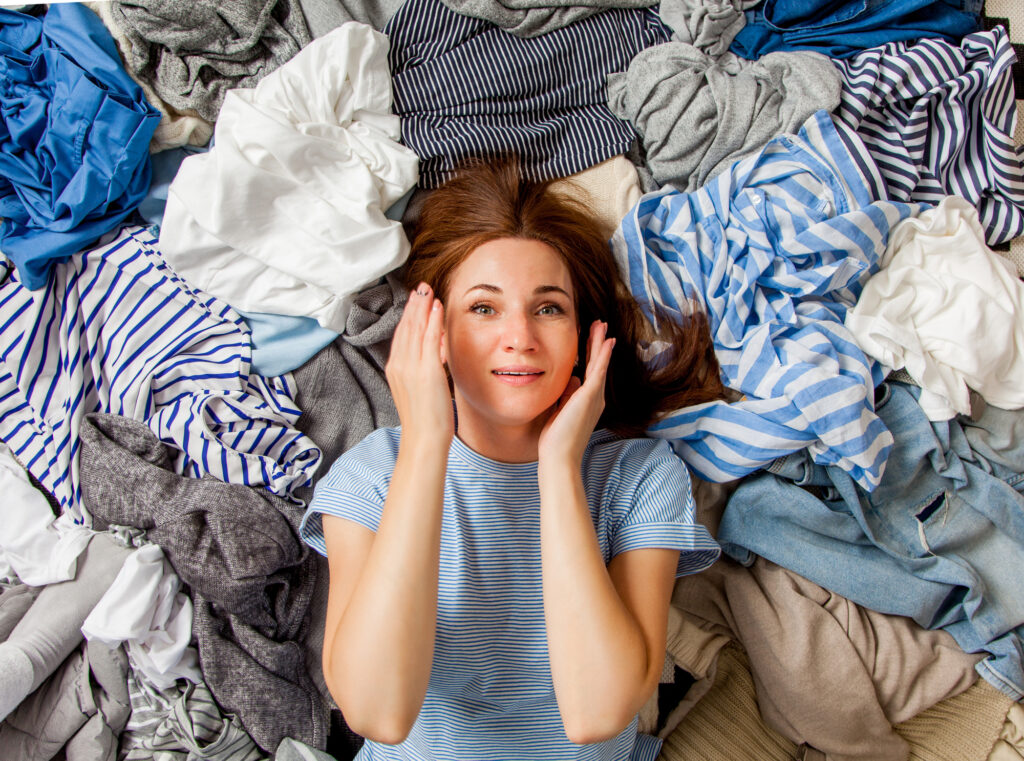 How do you start decluttering when overwhelmed?
I know the idea of decluttering your home can be overwhelming. Most people have been accumulating things for years and years so that won't undo itself overnight.
When you feel overwhelmed, the key is to focus on taking one small step at a time. Don't focus on the mountain of stuff, but instead look at what small actionable steps you can take each day.
Commit to the process and keep working on it as you're able and you'll be amazed at the progress you make!
How can I motivate myself to declutter?
There are various ways to get motivated to declutter your home. As I mentioned previously, you can look at the ways clutter is negatively impacting you to get motivated. You can also consider the benefits of decluttering to motivate you to get started.
The most motivating thing for me to continue decluttering is to see and feel the results of decluttering. After clearing out those drawers this past weekend, it motivated me to consider other places I could continue decluttering.
When you see how much easier it is to locate items and put them away, it's motivating, When you see how much better your home looks and functions, it will motivate you to stick with it.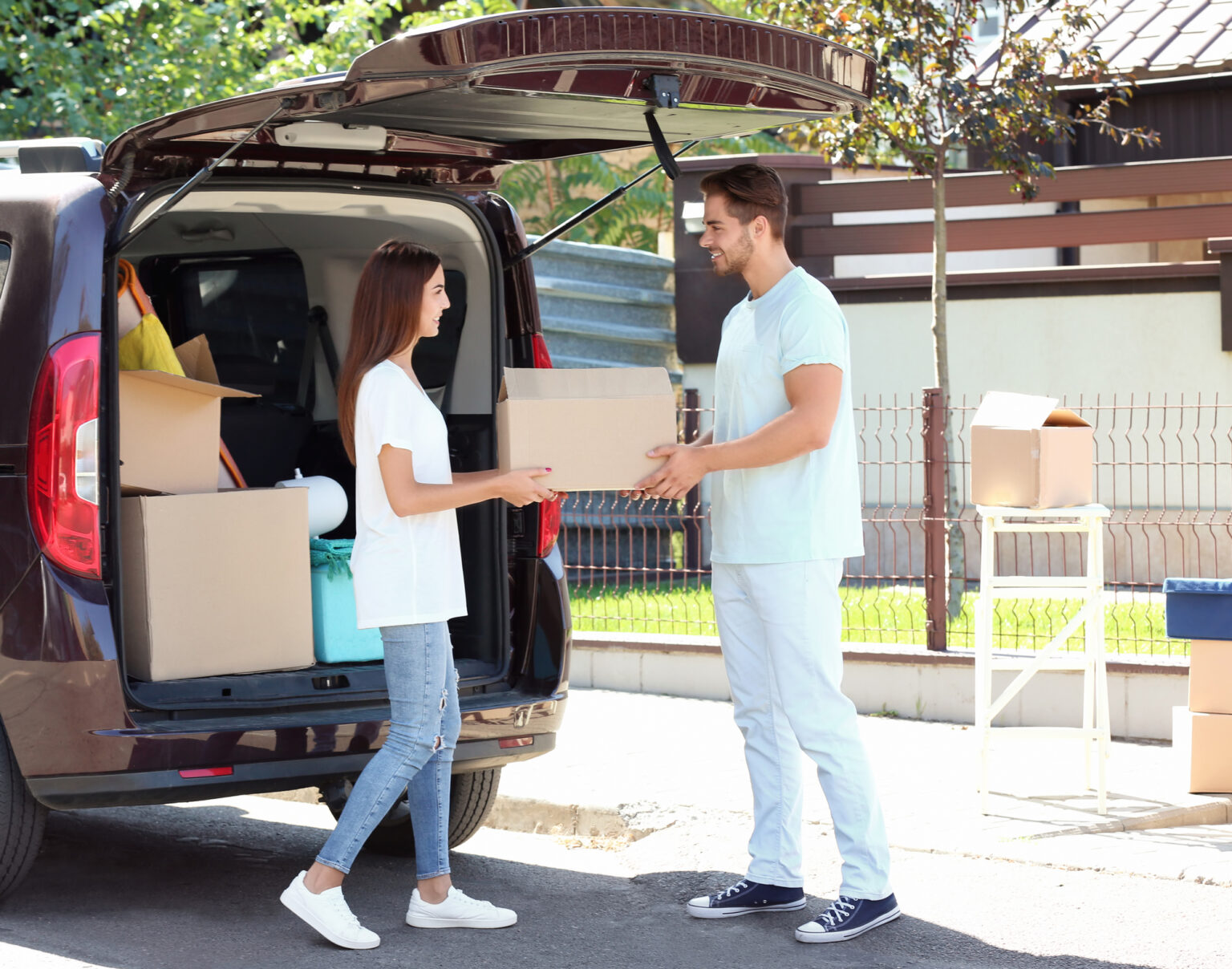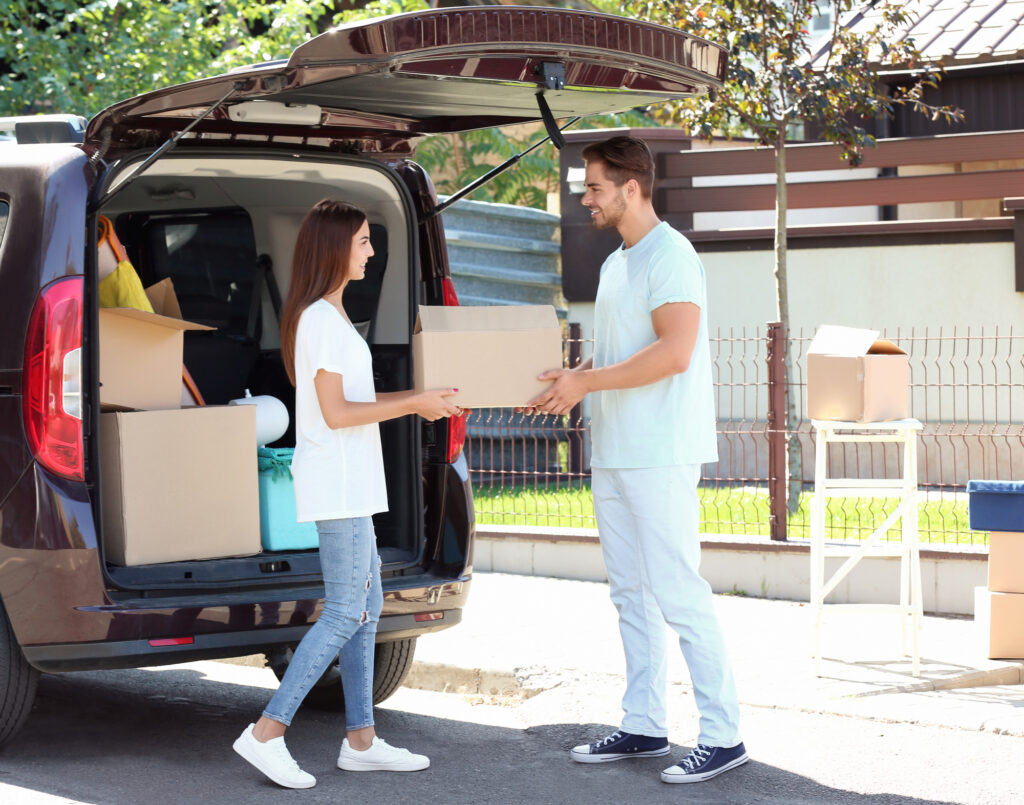 How do I get rid of unwanted items in my house?
There are a variety of reasons why it's so hard to get rid of stuff. Everyone has their own reasons for hanging onto clutter.
Understanding why you keep clutter will help you be better able to detach from it. When you face how and why you've become attached to your things, it helps you to be able to reason through it. As you practice decluttering, it does become an easier process and you become more confident in your decision making.
Once you've determined what items need to leave your home, there are a few ways to responsibly donate them.
Some people like to resell their things, which is fine too but make sure you've considered how much time and effort it will take you. Also, make sure to set a deadline so that you don't have unwanted items staying around your home for too long.
What are the steps to decluttering your house?
Hopefully you are now motivated and ready to declutter your house. Take the following five steps and see how much progress you can make!
Step 1: Set your goals
Your first step is to write down your decluttering goals. Really take the time to think through your goals for your home. Consider each room and how you want them to work for you and your family.
Be specific as you write down those goals. The clearer you are on your end goals, the better.
Step 2: Start with a quick win
Begin by decluttering a high-impact area in your home. Sign up below and you can get the free Decluttering Jumpstart that includes 12 high impact areas you can declutter quickly. Using this declutter your home checklist can be really helpful!
Once you feel the results of decluttering, it will motivate you to continue with it. If you begin to lose motivation as you declutter your home, come back to this decluttering pdf checklist and pick another area to help you get motivated again.
Step 3: Room by room
Now you're ready to go through your home room by room to get a serious amount of decluttering done. Use the ultimate decluttering printable checklist mentioned below to help guide you through the process.
You'll go through just one drawer, shelf, or cabinet at a time. The goal is to make decluttering bite tasks you can do without spending a ton of time on it. The key is consistency and continuing to make progress in each room until it's done.
Starting with a room that is easier to make decisions is best. You'll end with the most difficult space in your home, which is typically where sentimental items are stored.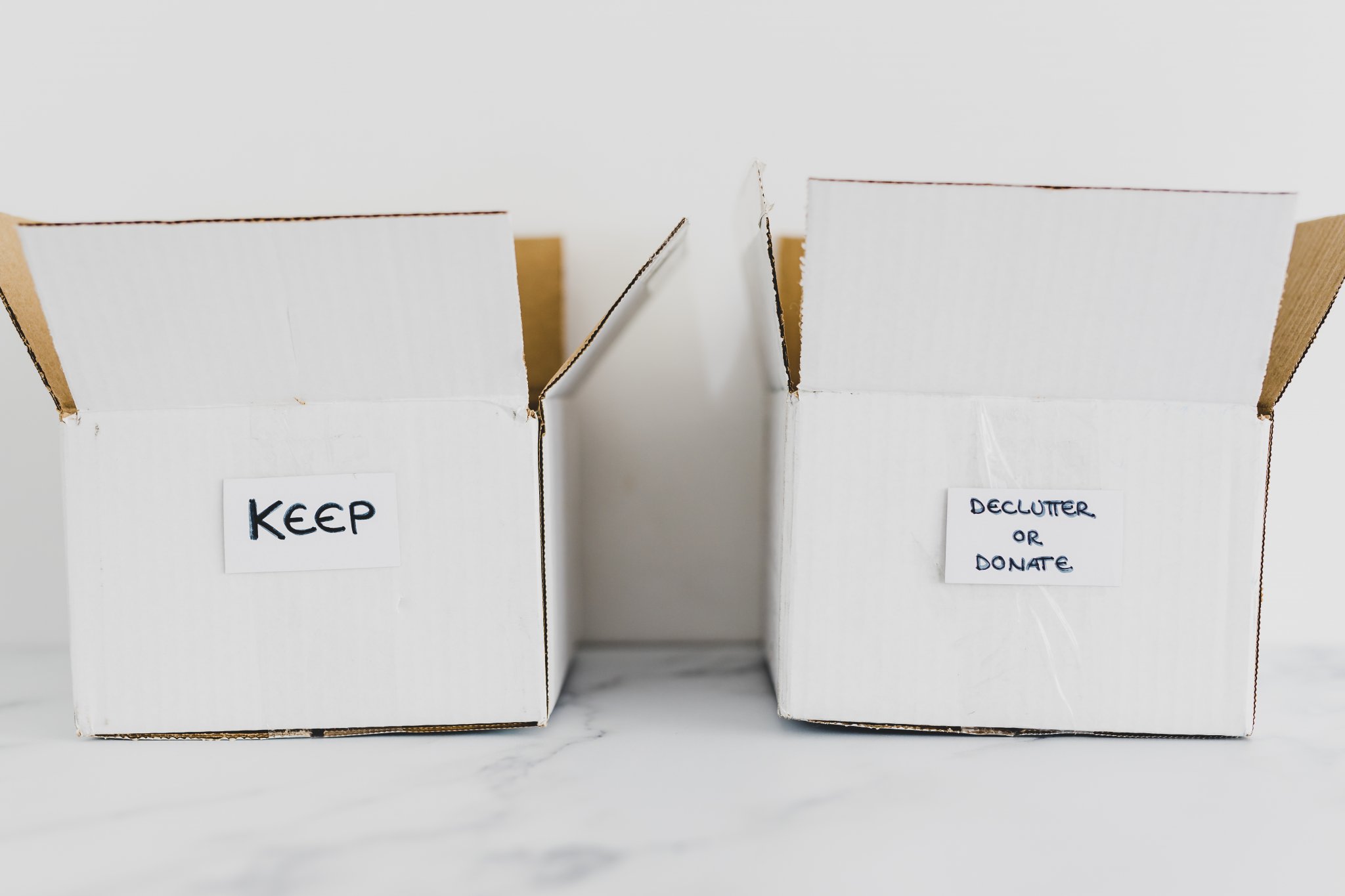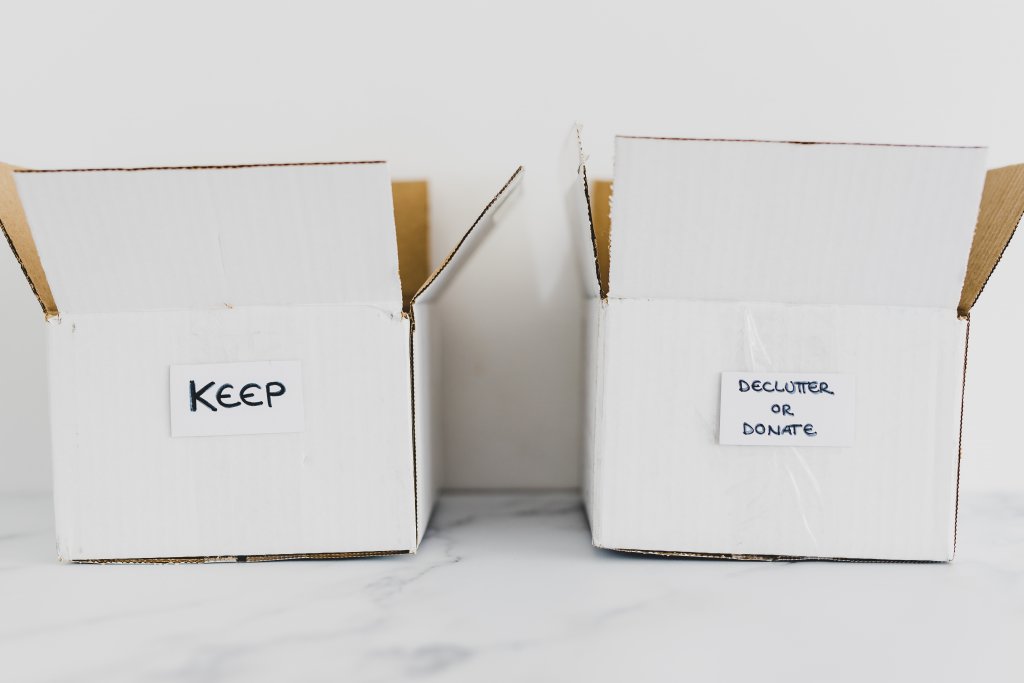 Step 4: Get unwanted items out
You're not done with the decluttering process until all of your unwanted items are out of your home (and the trunk of your car).
You won't feel the full benefits of decluttering until those items have stopped taking up space in your home and you've unburdened yourself from them.
Step 5: Create decluttering habits
Congratulations. If you've made it to step 5 that means you've decluttered all of the rooms in your house and have gotten the items out of your house!
This final step is to create decluttering habits. The goal is to keep your home decluttered and that takes adjusting how you shop and how you maintain your home.
In order to maintain your results, those daily habits are so important so make sure you do not skip this step.
The ultimate decluttering printable checklist (PDF)
To help walk you through the 5 steps mentioned above, I created the Your Home Decluttered Workbook. It's the ultimate decluttering checklist for your home!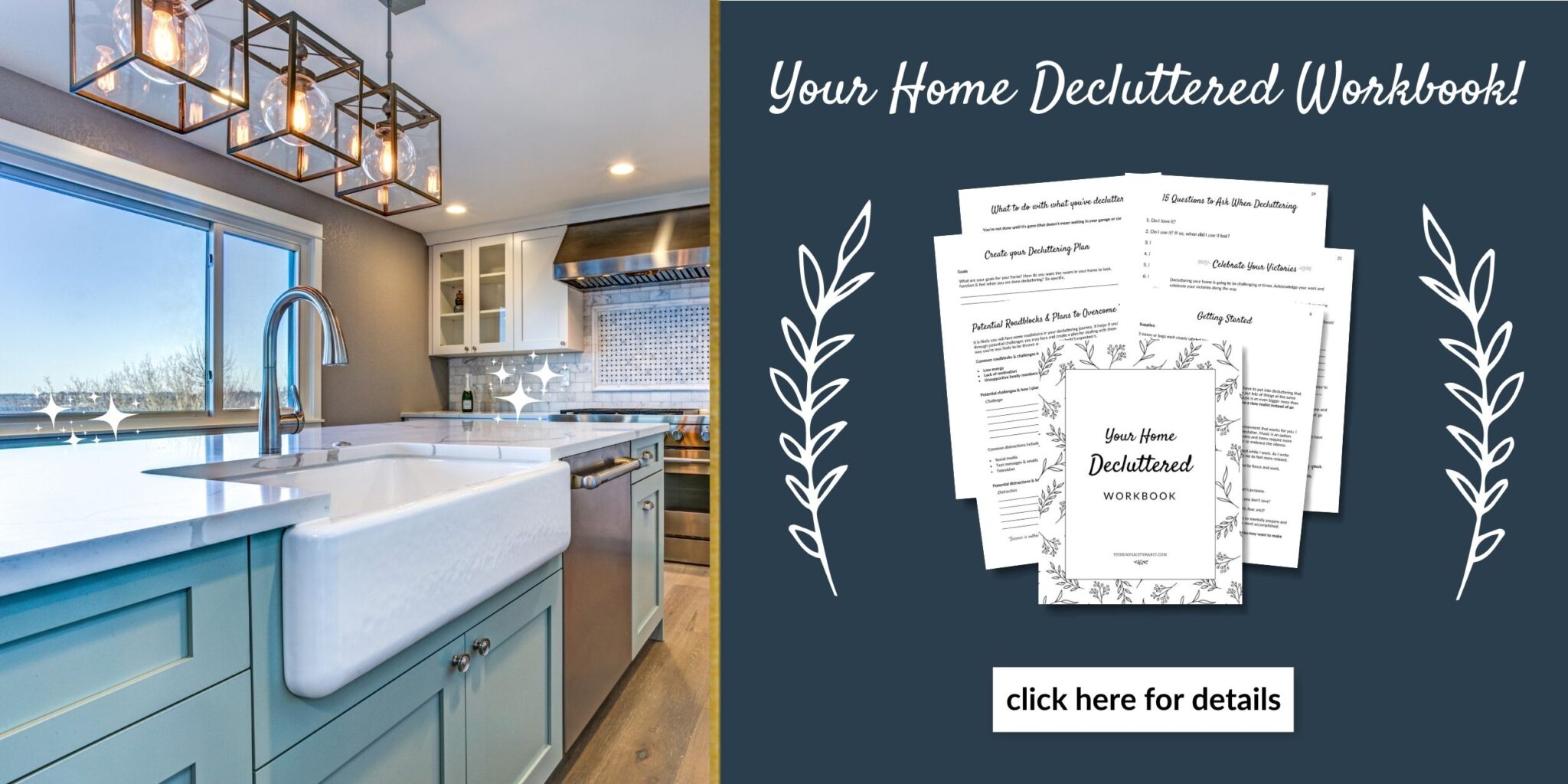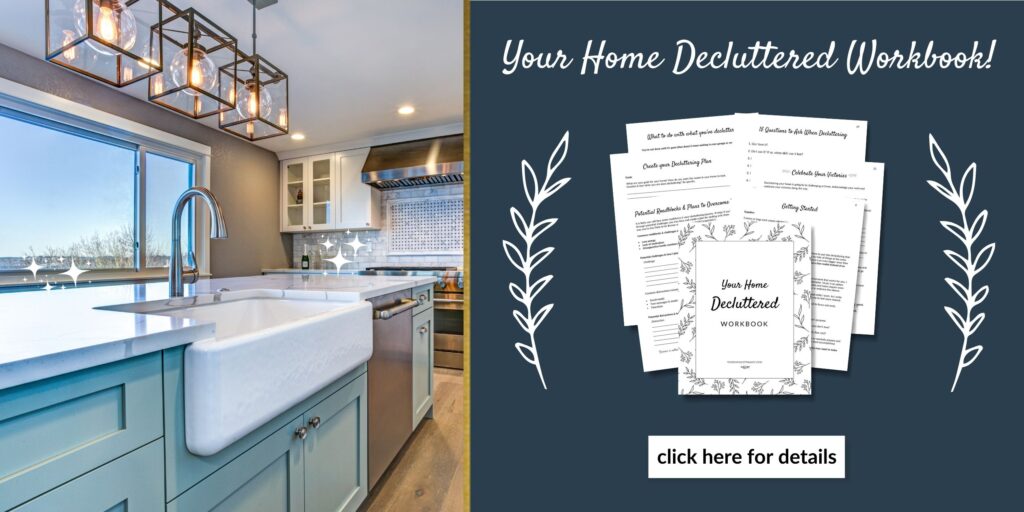 What's included inside the printable checklist?
How to Declutter Your Bedrooms & Closets Checklist
How to Declutter Your Bathrooms Checklist
Declutter Your Living Room / Family Room Checklist
How to Declutter Your Kitchen Checklist
How to Declutter Your Home Office Checklist
How to Declutter Kid's Rooms Checklist
Declutter Your Garage Checklist
How to Declutter Your Car Checklist
In addition to the declutter your home checklist, you'll also find:
15 Questions to Help You Make Decisions
Clutter-Free Gift Ideas
Selling Worksheet
Donations Worksheet
Celebrating Your Victories Worksheet
For more information and to order the Your Home Decluttered Workbook, including your home printable checklists go here: https://thesimplicityhabit.vipmembervault.com/products/courses/view/1042351
Decluttering tips to help make your journey easier
As a professional declutterer who has been through the decluttering process myself as well as helped clients, I've discovered some tips that will help make your journey easier.
Scope your projects
Keep your projects small. I know it can be tempting to throw all your clothes on the bed and start sorting, but I learned the hard way that ends with more frustration. Do one category of clothes at time. Do one small space at a time.
This helps keep the mess under control and make decluttering a much less overwhelming process.
Make it a priority
In order to make real progress, you need to make decluttering a priority. That doesn't mean it needs to happen every day, but it's important to understand that it does take work.
The reality is, the clutter is costing your time by keeping it so why not invest some of that time to get rid of it and get you more time back later?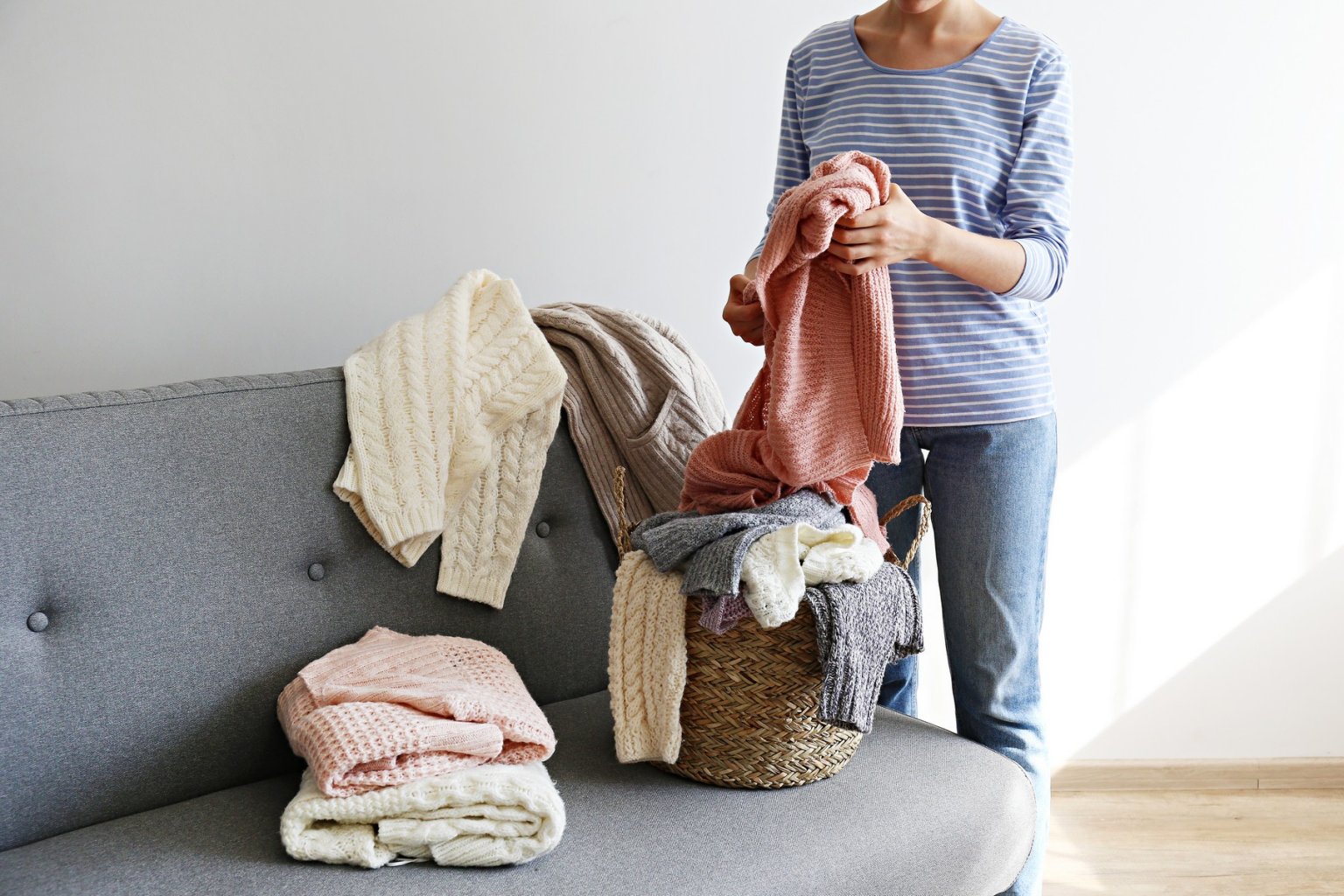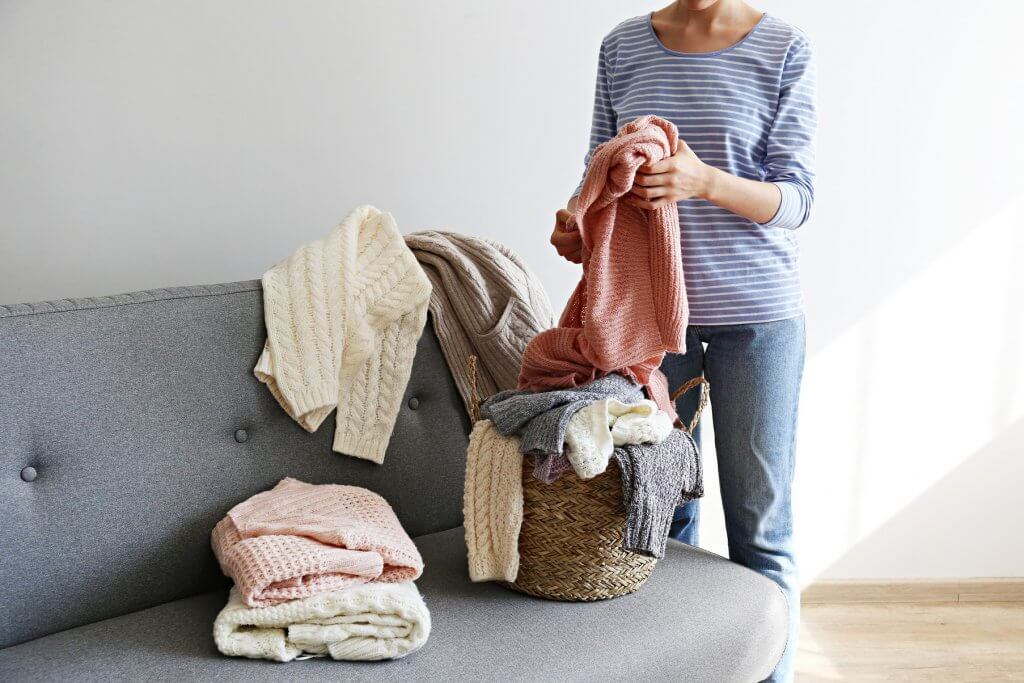 Set a timer
Think you're too busy to declutter? Even people with ten spare minutes can make a lot of progress! Don't let a lack of time stop you.
You can even use it to your advantage. Set a timer and work on a decluttering project for 10-minutes. You'll be surprised what you can get done in short bursts of focused time.
Set a declutter deadline
Can decluttering all get done in a day? Well, not for most people. That said some people prefer to declutter fast and the intensity of getting it all done that way works for them.
However, most people need more time. It's fine to go at your own page, but it is helpful to set a deadline when you plan to have your decluttering done? If you want some extra motivation, plan to host a gathering of people in your home so that you'll keep that deadline.
Be careful of what you bring in
It's frustrating to go through the process of decluttering your home only to find your space cluttered again. The key is being very careful about what new items are coming into your home. That may mean looking at how you shop, how you celebrate, and what items you get that may be cheap or free.
The bottom line: You CAN declutter and get organized and using a printable checklist can take some of the stress off of you
If you've been feeling overwhelmed with clutter, I want to encourage you that you CAN do this!
You can create your own declutter your home checklist or save yourself a ton of time by getting the Your Home Decluttered Workbook where it's all done for you! It makes for one less stress in the decluttering process as I guide you through it. Get more time back in your life for what matters most.
Want to stay up to date with The Simplicity Habit? Sign up below and get weekly tips on decluttering and simplifying sent straight to your inbox. You'll also get the Decluttering Jumpstart which includes 100 easy items to declutter and 12 high impact areas to declutter in 10 minutes.