Looking to start a few new traditions this year? Check out this list of the best simple and frugal family Christmas traditions that you can start this year! But don't try to start them all this year. Choose the ones that resonate the most with you.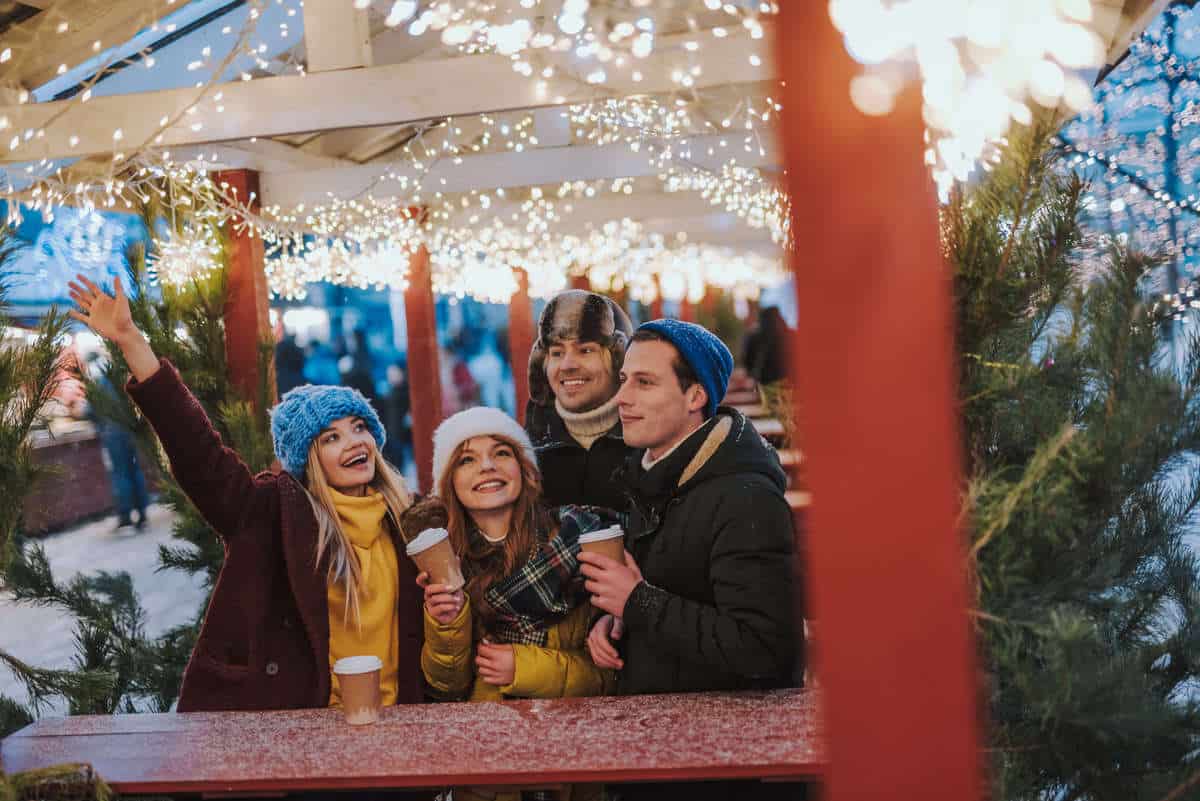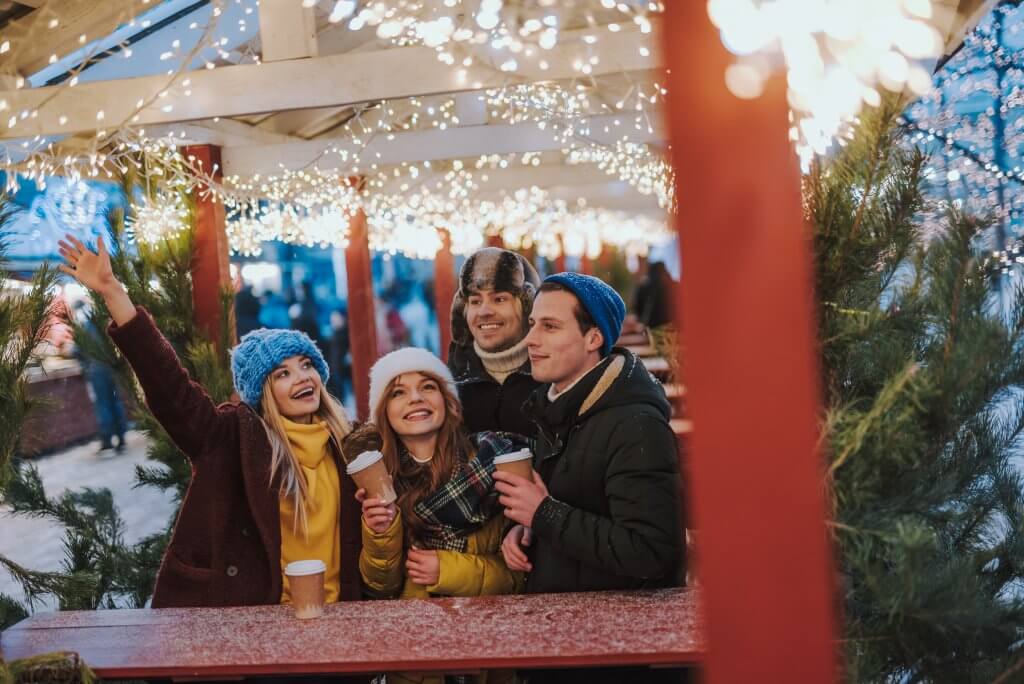 Best simple and frugal family Christmas traditions:
Cut down your Christmas tree
Make and decorate sugar cookies
Plan a snow play day
Go ice skating
Hide Christmas gifts
Volunteer
Buy gifts for a local organization
Be a secret Santa
Make DIY ornaments
Look at Christmas lights
Have a hot cocoa night
Board games by the fire
Make treats for neighbors & deliver them
Go on Christmas shopping dates
Make a snow family
Create and decorate gingerbread houses
Christmas movie night
Start a holiday meal tradition
Breakfast on Christmas morning
Christmas book tradition
Advent calendar tradition
Create a family favorite Christmas cd
Declutter and donate toys
Open one gift on Christmas Eve
Gift exchange
Clutter-free Christmas gift
Experiences as gifts
Christmas scavenger hunt
Create DIY gifts for relatives
Santa activities
Decorate the home & the tree
Wrapping gifts tradition
Christmas Eve candlelight service
New matching pj's
Give something you want, need, wear, read
Special hidden ornament
Christmas snacks
Set up the nativity
Concert
Go to a live nativity
Check out local activities
Pick out a new family ornament
Participate in a cookie exchange
Support a military family
Best Simple and Frugal Family Christmas Traditions:
1. Cut down your Christmas tree
I grew up in Southern California. It wasn't the easiest area to find a place to cut down our Christmas tree. Despite is being more inconvenient, we did usually make the drive to a tree farm where we were able to cut down our own tree.
Now that I live in the Pacific Northwest, there are a lot more options for cutting down a tree. You can get a permit to cut one down in the forest or visit a plethora of tree farm options in the area.
We have our favorite place we've gone to most years here that also has a slide for the kids, a picture-taking area, face painting, warm drinks, and yummy treats. It's family-run and just about the most lovely place ever.
We try to go with as many family members as possible and include our close friends too. It's always a great start to creating memories for the holiday season.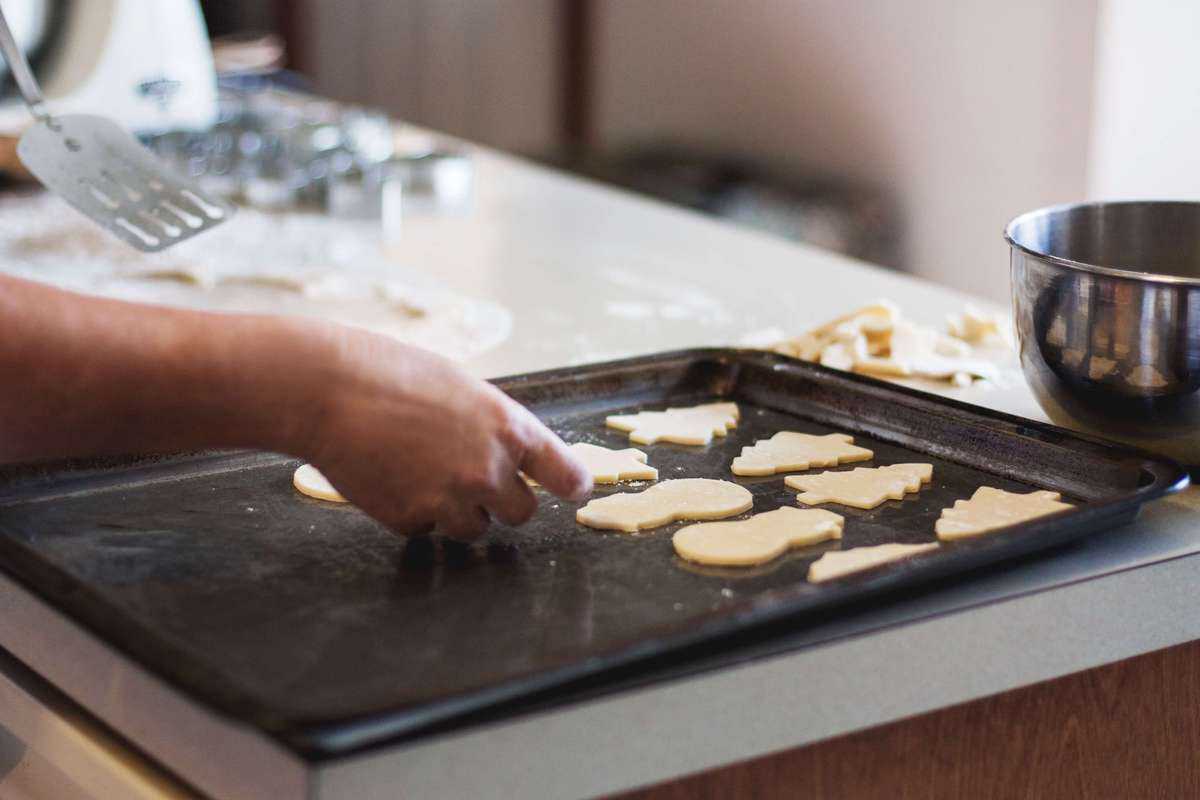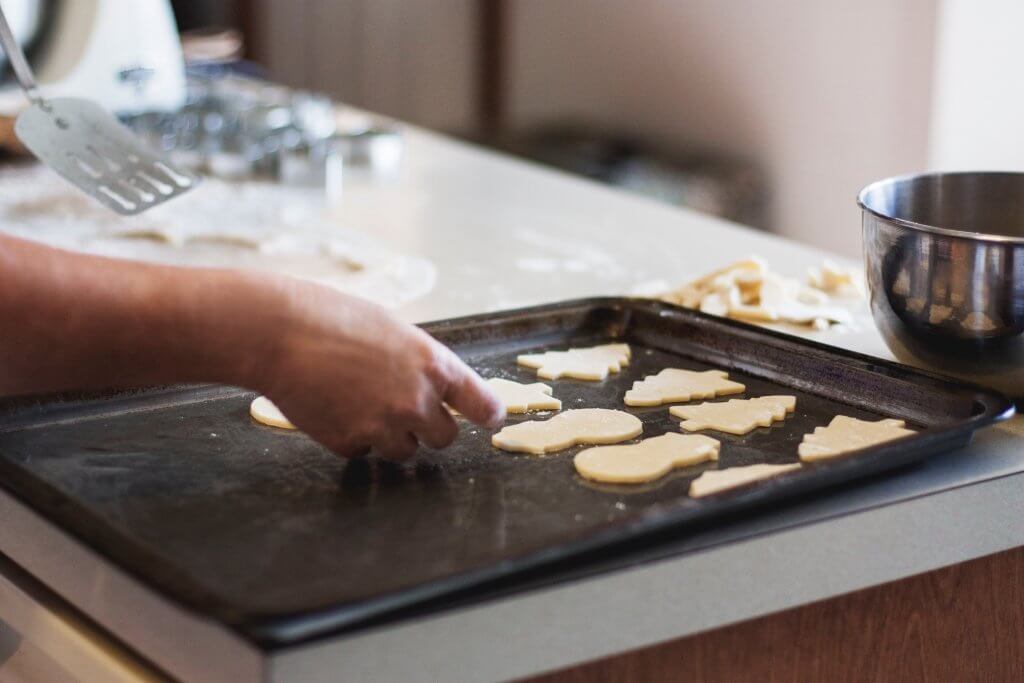 2. Make and decorate sugar cookies
If you have small children, think through the logistics of this in advance. If the weather is warm enough, decorate the cookies outside. Use vinyl tablecloths for easier cleanup if you're decorating indoors.
Be prepared that it will be messy. If you're type A, like me, it may be hard to not be bothered by this. Repeat after me 'memory-making is more important than messes.'
This is the sugar cookie recipe we use. They always come out great and it's nice that no chilling is required.
3. Plan a snow play day
If you live somewhere it snows a lot, maybe this doesn't sound like fun, but perhaps a snow play day is just what you need to hate it a little bit less temporarily.
If you live somewhere that rarely snows, a snow play day feels more like a novelty. Do you have a place within driving distance where you could go inner tubing or sledding for the day? If so, borrow some snow gear and go make a day of it.
4. Go ice skating
Find a local indoor or outdoor ice rink and go ice skating for a couple of hours. If all the adults join in, there are guaranteed to be some laughs.
We went with extended family last year and enjoyed watching the kids learn to skate as well as see how well we were still able to stay on our feet. Fun memories for everyone.
5. Hide Christmas gifts
This is one of my absolute favorite things my dad did for me growing up and it's now one of my daughter's favorite things as well. On Christmas eve, the adult(s) hide the children's gifts in the common rooms in the house.
In the morning, the kids get up and use their flashlights to look around for their hidden presents. I hear that some kids don't even wake up their parents for this part so adults can sleep in, but that's not how it goes in my house.
Pro-tip: count the number of gifts you're hiding and write it down just in case. It's also helpful to have wrapped each kid's gifts in a different paper so they know whose is whose without having to read a tag.
An alternate option if kids are getting one big gift instead of a few smaller ones: create a scavenger hunt with clues hidden in different places leading to the one gift.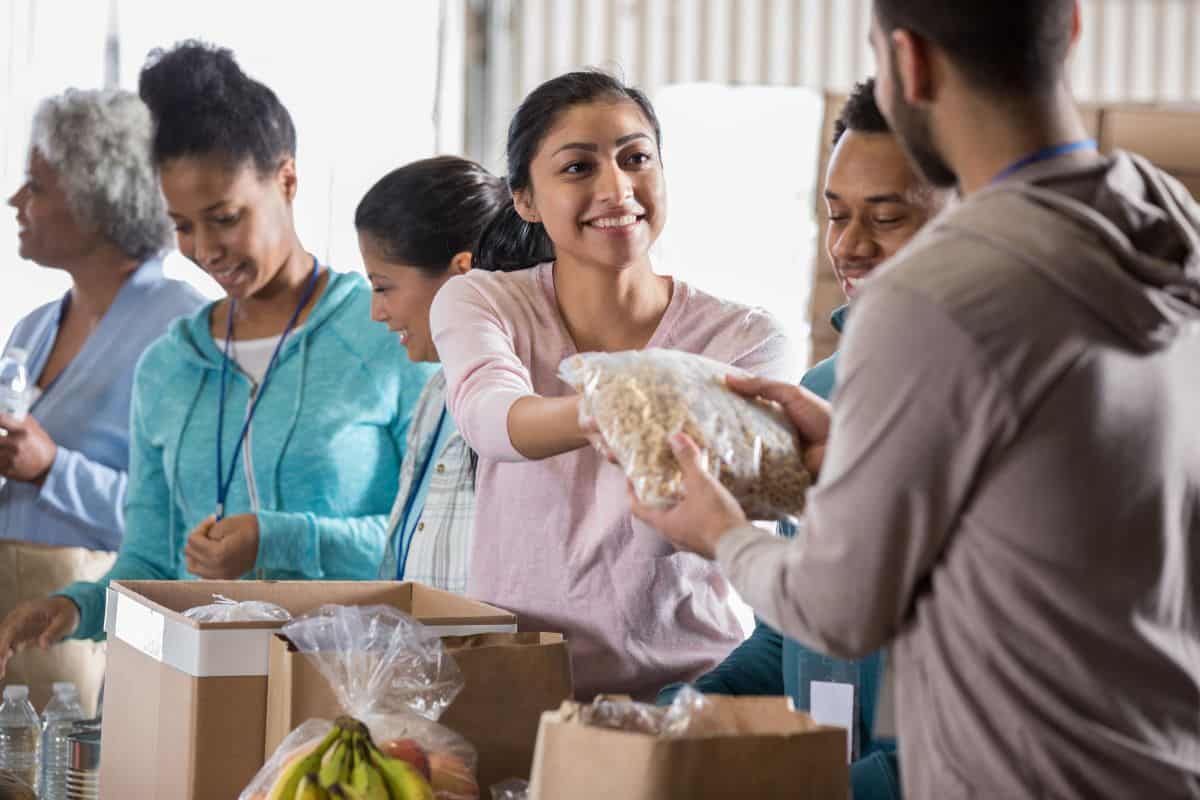 6. Volunteer
Christmas time is the perfect time to look for ways to give your time. The best simple and frugal family Christmas traditions happen when we look outside ourselves and also bless others.
See what local organizations may need some extra help or cheer during the holiday season. Serve at your local rescue mission or food bank as a family.
7. Buy gifts for other kids
Along with teaching your kids about giving this holiday season, consider participating with an organization that is looking to bless kids who may otherwise not receive much for Christmas.
You could check with a local foster agency, Rescue Mission, or children's hospital. Two bigger organizations are Toys for Tots, and Operation Christmas Child.
8. Be a secret Santa
As a family, select another friend or family that could use some cheering up this holiday season. Decide together what you will gift them and how. You can come up with some creative ideas that will help someone else enjoy the holidays a bit more this year.
9. Make DIY ornaments
There are so many inexpensive and creative ways to make DIY Christmas ornaments. Search DIY Christmas ornaments in Pinterest and you'll see a lot of fun options. We've made some out of dough and other ones from popsicle sticks.
10. Look at Christmas lights
One of the best simple and frugal family Christmas traditions is looking at Christmas lights. Pick an evening to go for a drive looking at lights in various neighborhoods. Check with local friends ahead of time to find out if there are any extra special houses or neighborhoods to check out.
We have one house near our neighborhood that decorates a lot and the husband and wife dress up as the Claus' and take pictures with visitors. Another house we go to every year sets up a ton of lights that are synced to music.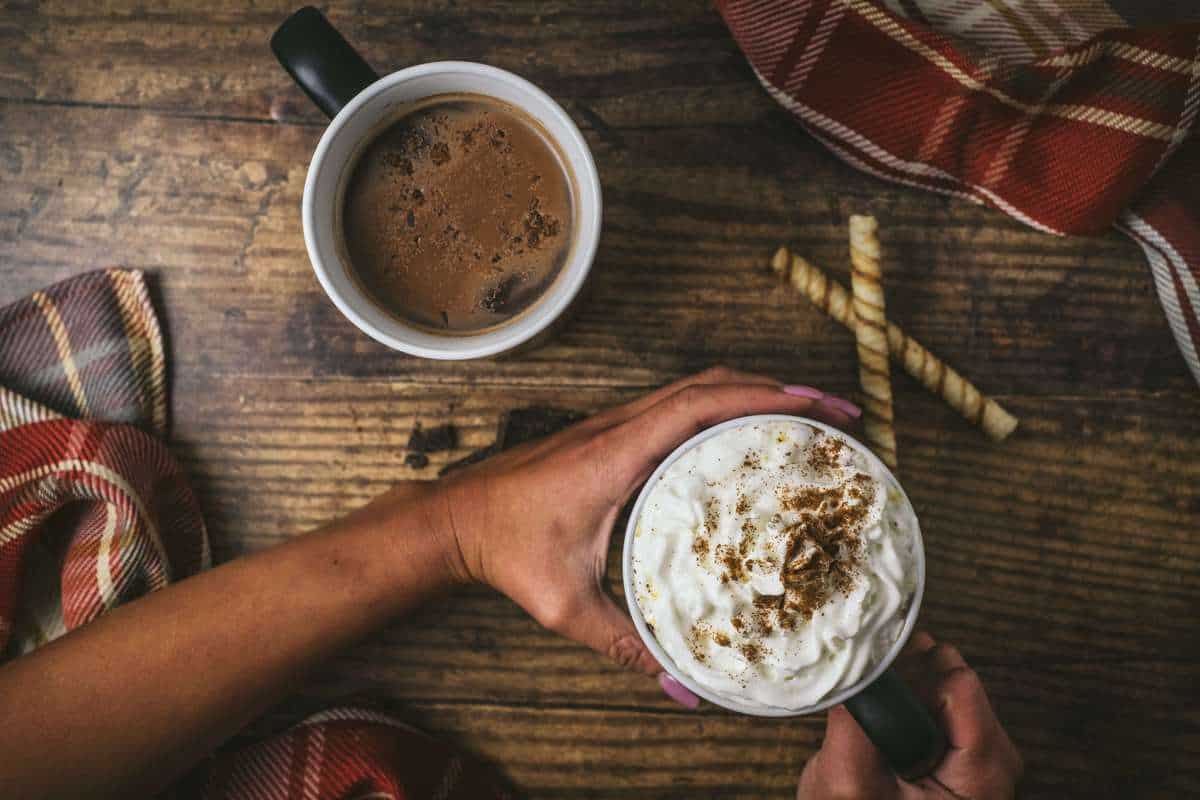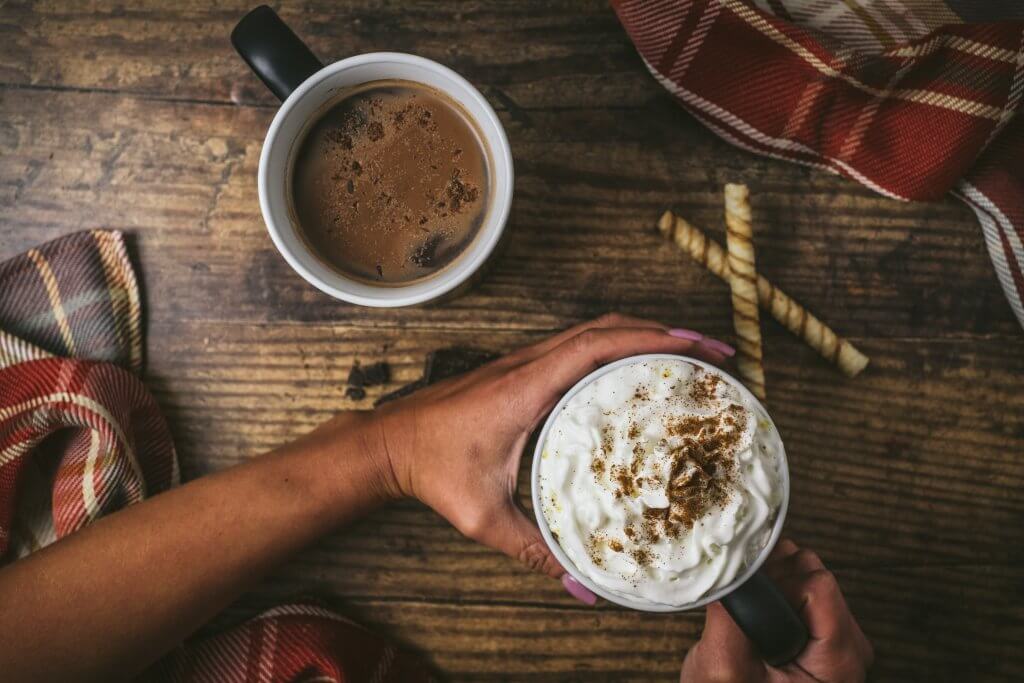 11. Have a hot cocoa night
Choose an evening where you all get to enjoy a hot beverage of your choosing. If your kids like hot cocoa, you could even make a fun little hot cocoa bar for them to have a few extra toppings to choose from.
12. Board games by the fire
Our family really enjoys playing board games. In the winter, we like getting out a card table that we put near the fire so that we keep warm as we play. It's so fun and definitely one of the best simple and frugal family Christmas traditions we have.
You can check out a list of our favorite family board games HERE.
13. Make treats for neighbors & deliver them
Each year we like to select some holiday treat that we make and then deliver to our neighbors. Growing up my mom made around 10 different kinds of Christmas cookies every year and would give a plate of them to the neighbors on my street.
I don't enjoy baking that many things so the last few years I've made a peppermint Chex mix that is simple to make and delicious! It's also a great excuse to get to know the people that live near you.
14. Go on Christmas shopping dates
While we don't do a lot of Christmas shopping, we do try to make the few short trips we do fun. My husband and I go on a shopping date to select stocking stuffers for our girls.
Last year we did another shopping date where we all went together but then split off one kid with one parent so the girls could pick out gifts for each other and later for the parents. Then we all enjoyed a meal out after. It wasn't stressful and we turned it into a fun outing instead.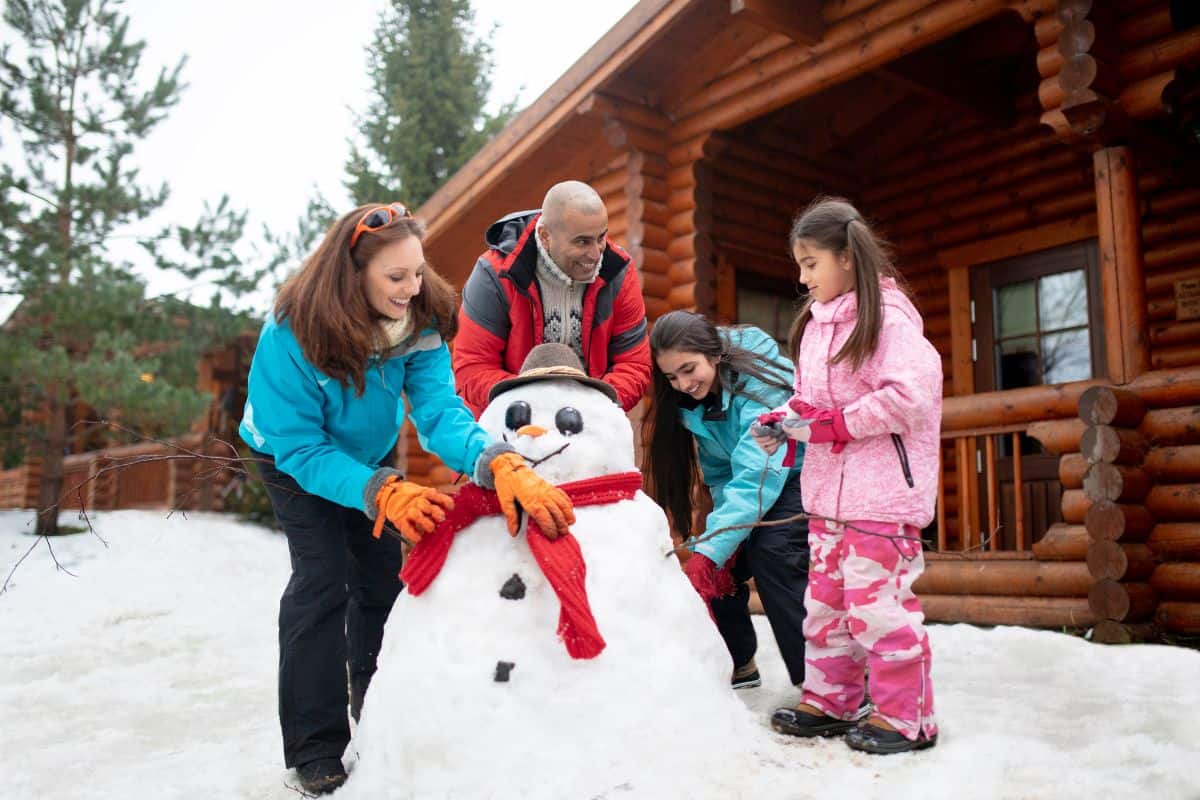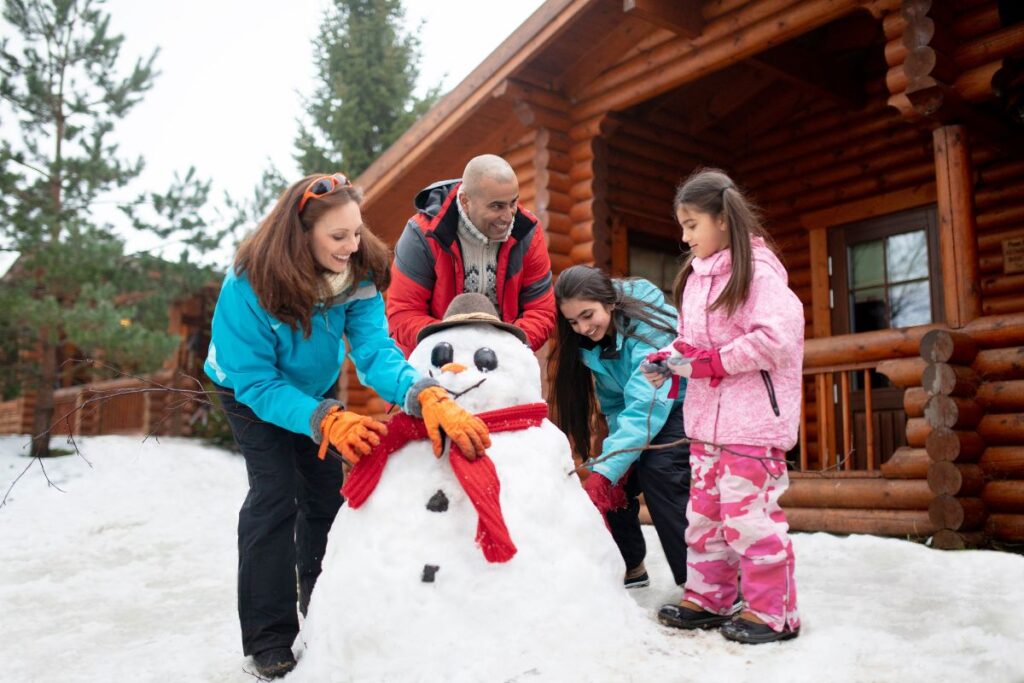 15. Make a snow family
If you live or go somewhere and there is lots of snow, build a snow family. Last year we got an unusual amount of snow for where we live and the girls both created a snowman and accessorized them. If you are all so inclined, make a whole family of snow people.
16. Create and decorate gingerbread houses
Making gingerbread houses has never been easier with some of the kits available now. We still tend to go the graham cracker route and use lots of icing and candies. The trick here is trying not to end up in a sugar coma after all is said and done. If you're competative you could have people vote for the winner.
17. Christmas movie night
Pick a night to watch Christmas movies as a family. We usually have breakfast for dinner with our movie nights, so to go with the theme I may use red and green chocolate chips or m&m's in the pancakes.
18. Start a holiday meal tradition
Rethink your Christmas Eve and Christmas Day meals. If you don't have any traditions with them, think about what you enjoy eating that doesn't cause you a ton of stress.
There are no rules for what is 'right' for these meals. We have lasagna on Christmas Eve. On Christmas Day, we get together with the family and all have assigned foods. We've worked to simplify that with fewer side dishes and trying to do our prep work in advance.
Let's have a tradition of moms not being stressed out and in the kitchen all day cooking! The best simple and frugal family Christmas traditions are ones that work well for every member of the family.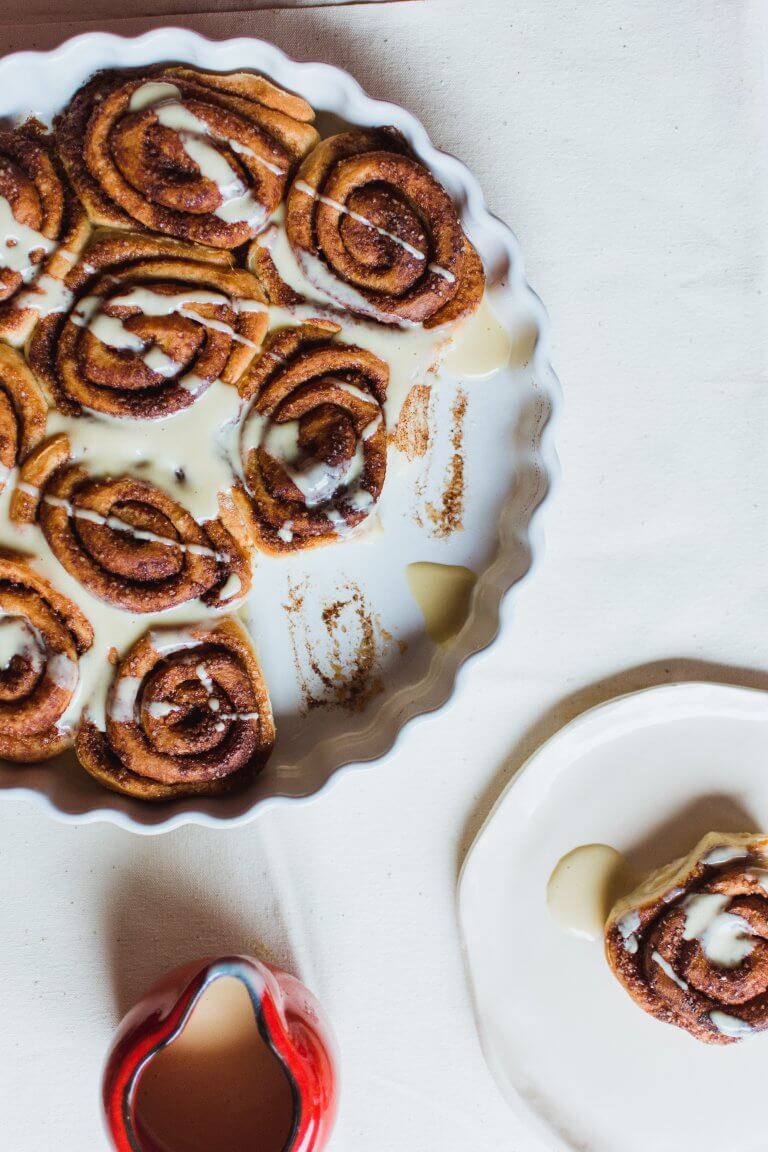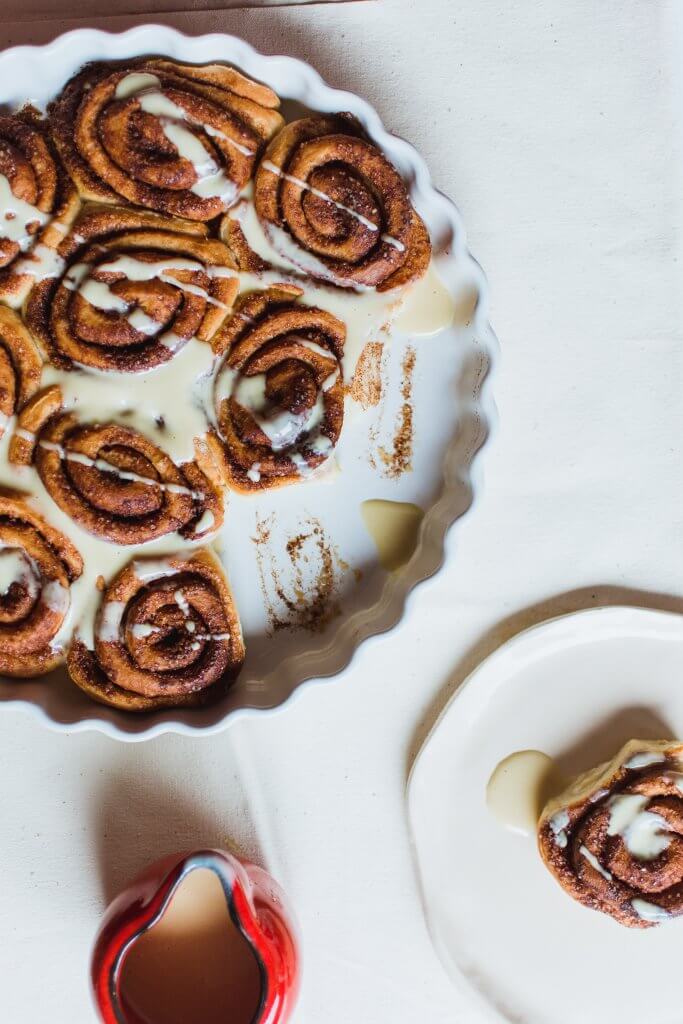 19. Breakfast on Christmas morning
You can choose anything you want as your breakfast food at Christmas, but try to make it something you don't normally have. We tend to do cinnamon rolls and it is the only time of year I make them.
Some years it's been extra simple and I've bought the kind in a can. When I have more time and energy, I make them from scratch. Do what works for you. There are lots of great overnight casseroles if you want to prepare it the night before too.
20. Christmas book tradition
This isn't a tradition we do, but we have friends that do and it's such a lovely idea. When the kids are little, buy 25 Christmas books and wrap each one individually. Every day in December the kids get to open a new book. In subsequent years you can wrap the same books again.
We do have some Christmas books that get stored with our decorations so they are only out in December, but I don't put the extra effort in to wrap them each year.
21. Advent calendar
There are various ways to do advent calendars. You could go the simplest route and buy one very inexpensively from a local store like Trader Joes. We have a wooden one with drawers that I put different very small treats in.
Growing up, we had a felt one that my mom lovingly sewed. We would each take turns velcroing up one of the Christmas ornaments on the felt tree. Now our kids fight over it. That advent calendar says Christmas to me more than almost any other tradition we had.
22. Create a family favorite Christmas CD
To get in the mood for the season, music can play a key role. Pick everyone's favorites and compile them all onto a playlist that you play often over the holiday season. My personal favorite is Pentatonix Christmas albums.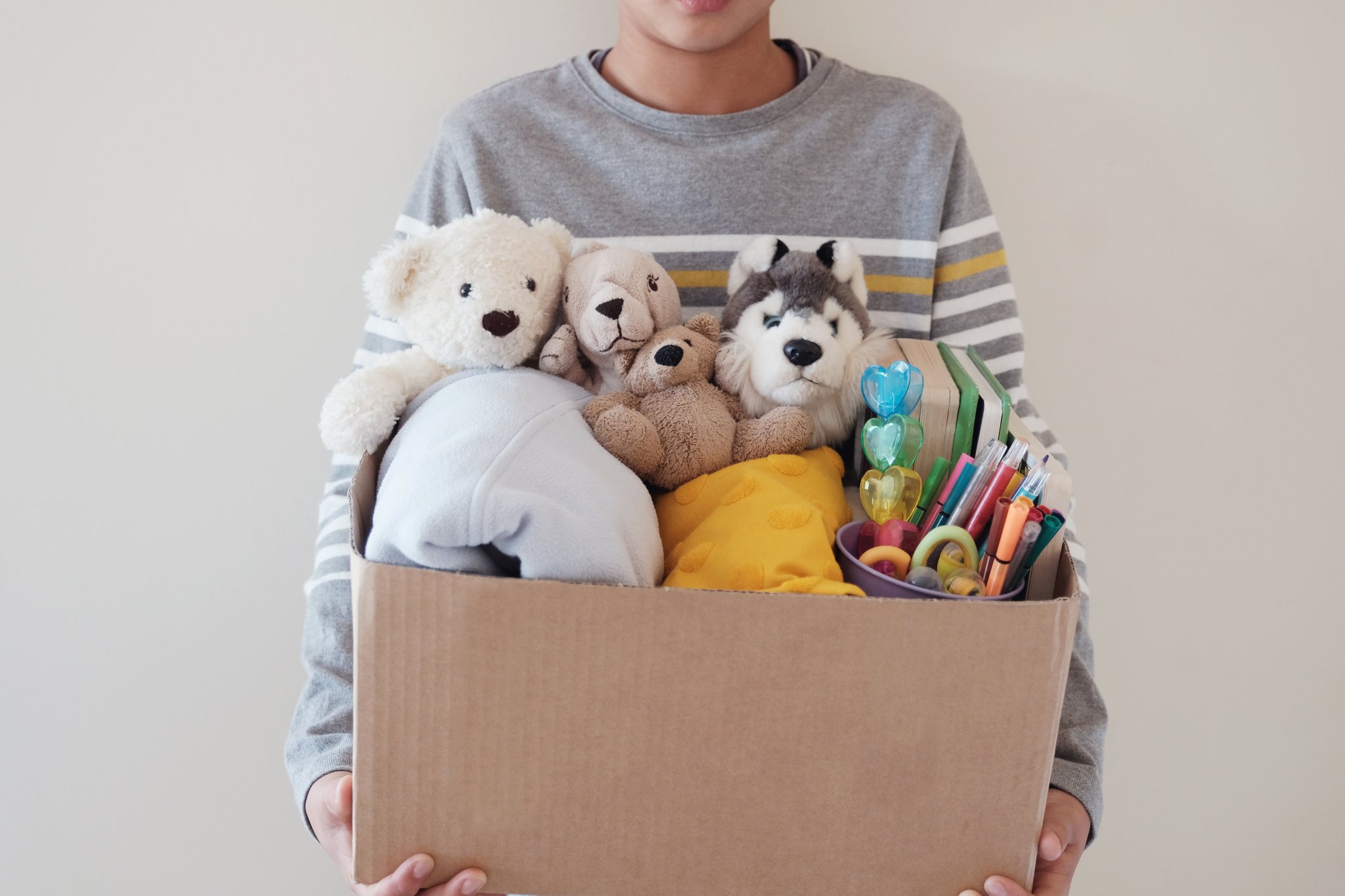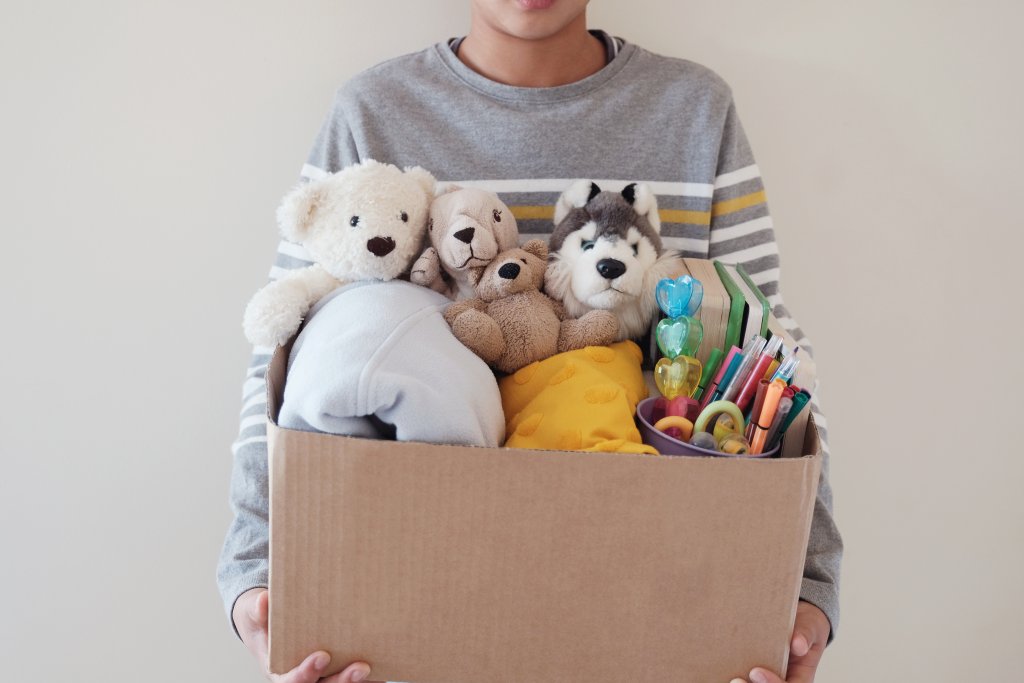 23. Declutter and donate toys
Now, this is a tradition that perhaps not everyone will be equally excited for, but when you declutter and donate toys before the holidays, you create space in your home as well as bless others. It's a win-win in my book.
24. Open one gift on Christmas Eve
Another tradition I had in childhood that we now do with our kids is opening one gift on Christmas Eve. The parent chooses which gift it is. The past couple of years it has been matching pajamas from my mom so they can wear them that night.
25. Gift exchange
In an effort to simplify the holidays, a few years ago the adults in our family decided to no longer buy each other gifts. Instead, we bought one gift that was under $20 and did a gift exchange. While we occasionally have a silly gift in there most of them are ones we'd be happy to receive.
I came to realize in recent years that people have different definitions of what a white elephant gift is. Some people use the term and mean a nice gift. Others are referring to a joke gift. Word to the wise: ask questions before bringing your joke gift to a white elephant gift exchange that was really for nice gifts. It may save you a lot of embarrassment.
26. Clutter-free Christmas gift
Wouldn't it be nice if you could start a new tradition within your whole family and extended family of clutter-free Christmas gifts? No more overwhelm after the holidays! This one of the best simple and frugal family Christmas traditions will keep your home from feeling overrun with gifts.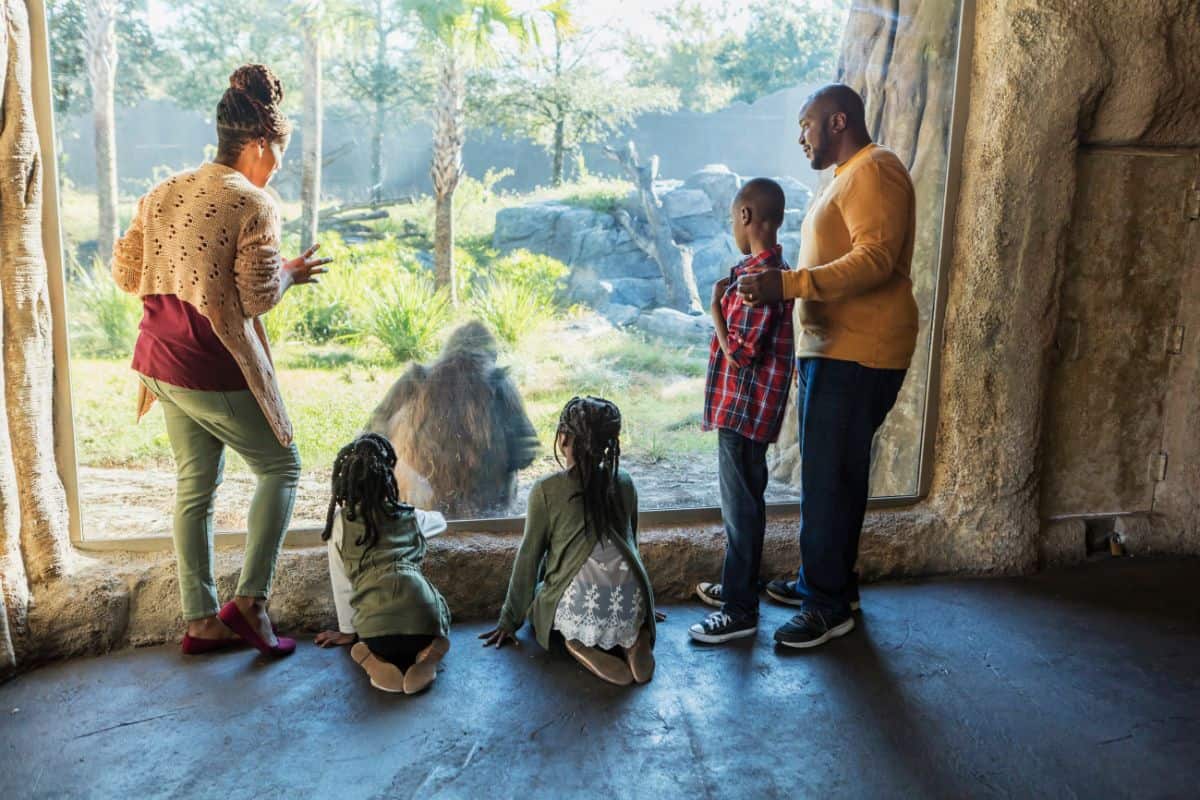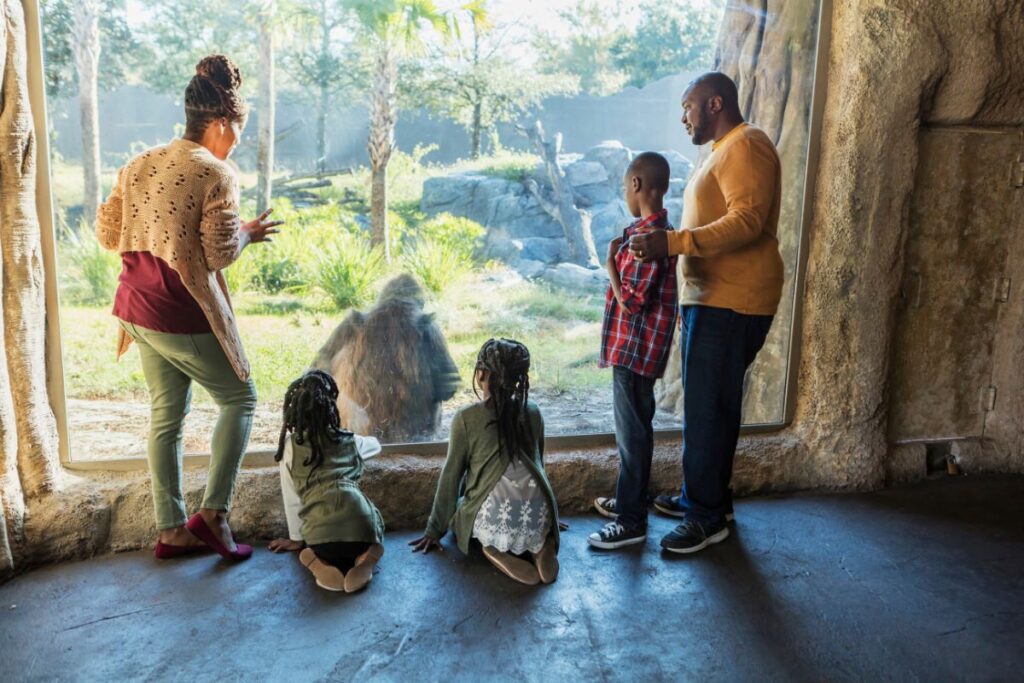 27. Experiences as gifts
Similarly, if we focused on gifting experiences as gifts we'd have more memories and less clutter. When we look at our gift-giving traditions we get to shift our focus to what's most important and that isn't toys and accruing debt.
28. Christmas scavenger hunt
For a fun activity, create a scavenger hunt with things you'd typically see around the holidays. You can find ones available on Pinterest too, like this one here.
29. Create DIY gifts for relatives
There are lots of inexpensive ideas of fun crafts you can do with your kids that will provide a neat gift for relatives. Two of my favorite projects we've done in recent years were painting tea towels and doing handprints on canvas bags. I try to think of gifts that are useful so they don't become clutter.
30. Santa activities
While our family doesn't do any Santa traditions (you can blame my parents for never doing any with us), I know other families really enjoy them.
Some ideas are to take a picture with Santa, write Santa a letter, and leave out milk, cookies, and reindeer food on Christmas Eve.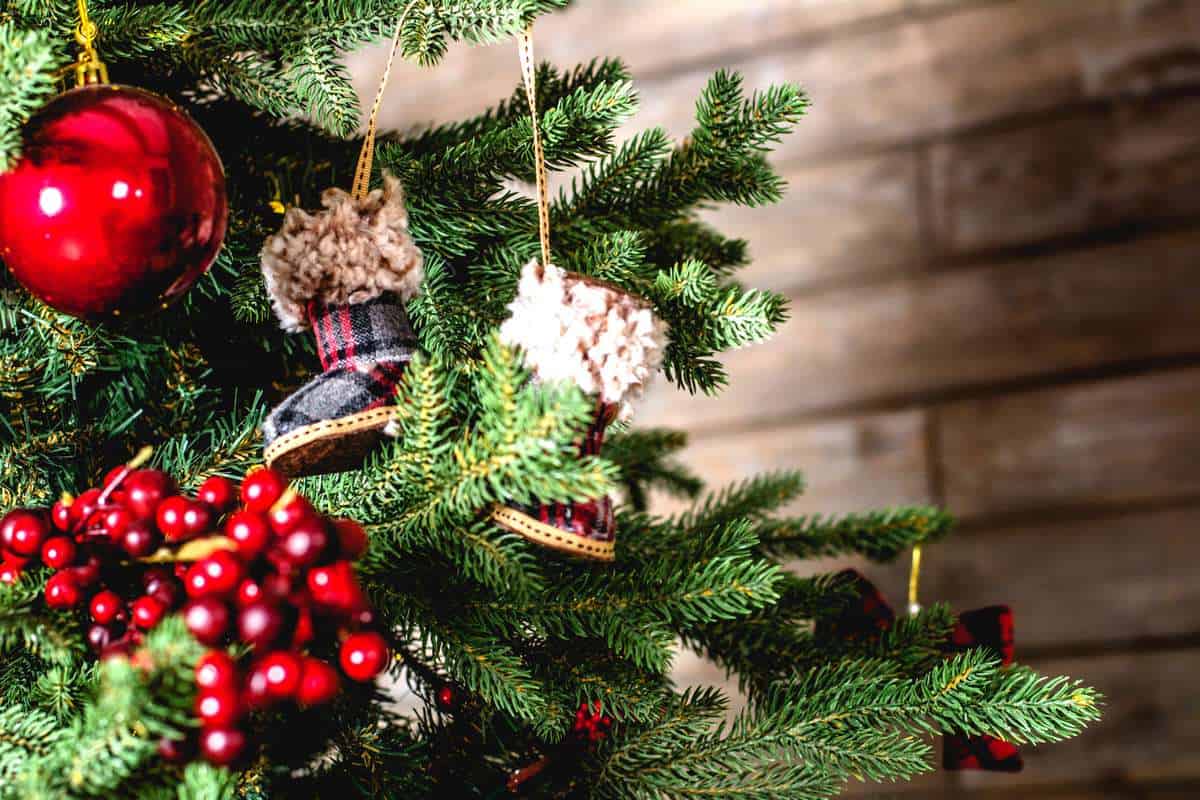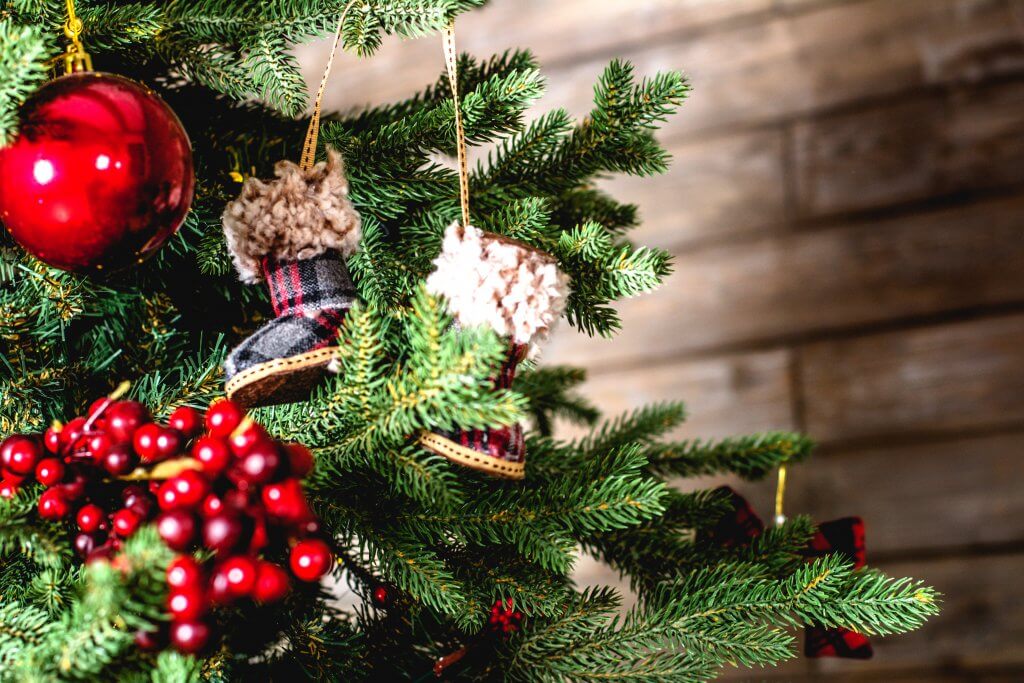 31. Decorate the home & tree
After we get our tree, we take out the few Christmas decorations bins we have and take everything out. The girls like to help take out the kids' books and do some of the decorating.
They really enjoy putting the ornaments up on the tree. They require some adult assistance or we'd have only the bottom half of the tree done.
32. Wrapping gifts tradition
I have my own personal gift wrapping process. It's one of the best simple and frugal family Christmas traditions. I like to try and do them all at once and I put on some cheesy Hallmark Christmas movie that undoubtedly has an unlikely couple who don't like each other at first, but end up finding love by the end through a series of unfortunate events.
You can borrow my gift wrapping tradition if you want. You're welcome.
33. Christmas Eve candlelight service
We typically go to an early Christmas eve service so that we still have time to eat dinner, open a gift, get the kids to bed, and hide gifts while still getting a decent night's rest. We go with our extended family and love having the time to sing Christmas carols and focus on the true meaning of the holiday.
34. New matching pj's
Some families are really into this tradition with all family members having matching pajamas for Christmas. While I love my kids matching each other, I don't feel the need to include me and my husband. If that's your thing enjoy and make sure to take pictures.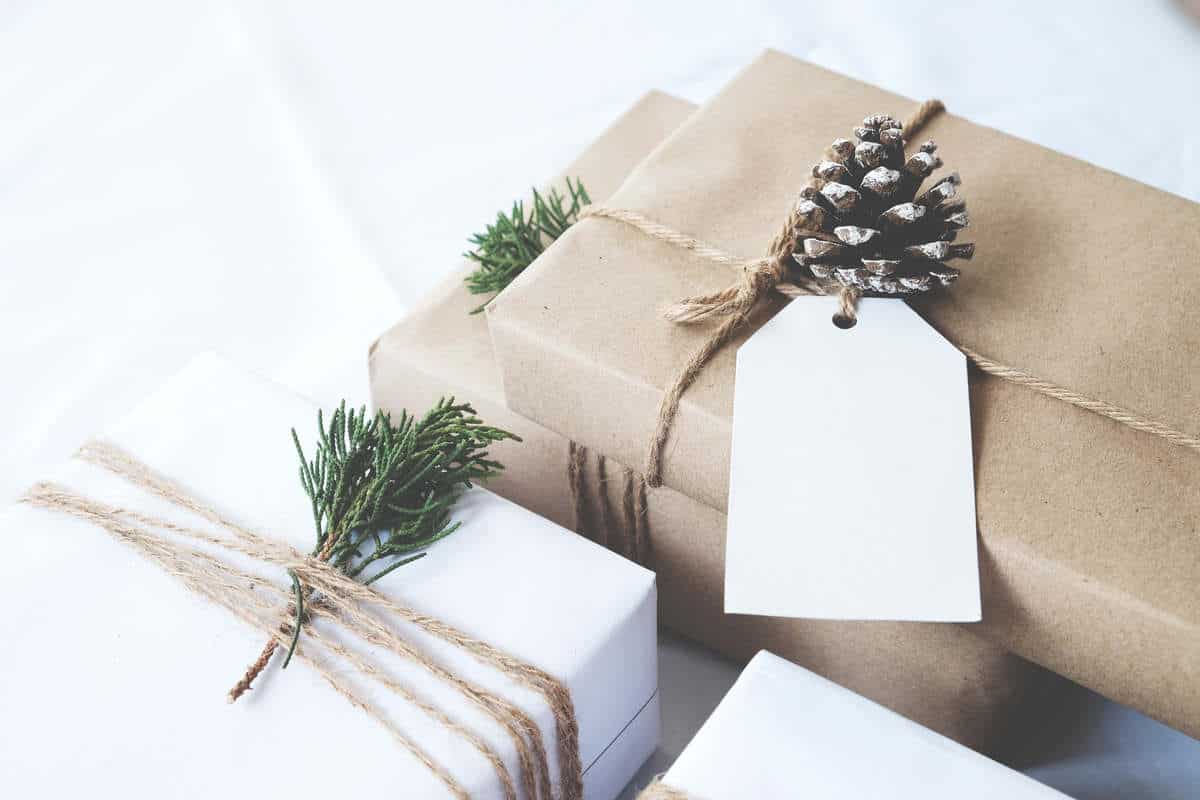 35. Give something you want, need, wear, read
If you've found your home and your kids overwhelmed with too many gifts each year, start a new tradition. If you don't want to give just experience gifts, try the guideline of something to want, something they need, something to wear, and something to read. It keeps the gifts useful and minimal.
36. Special hidden ornament
My sister's family (and apparently lots of other folks from my research) have a Christmas pickle ornament. Really you could use any ornament you want. The point is that it's hidden in the tree Christmas Eve night and whoever finds it first gets an extra gift.
37. Christmas snacks
Are there any certain snacks or sweets that remind you of Christmas or bring back good memories? Chex mix is one of those for our family. It's something I rarely make any other time of year, but it is Christmas to me. If you don't already have something like that, find something that sounds good to you and start the tradition.
38. Set up the nativity
I have fond memories of setting up the ceramic nativity in my parent's house growing up. My kids have special memories of setting up their little people nativity. Eventually, I will upgrade to something else, but it's still nice for now having something they can't break.
39. Concert
There's nothing like a Christmas concert to get you in the holiday spirit. See what concerts are happening in your area. Check local universities, churches, or schools as well for more frugal options.
40. Go to a live nativity
A few years ago good friends invited us to a live nativity. I'd never been to one, but we really enjoyed experiencing it with our kids. It's another good reminder of the origins and true meaning of Christmas.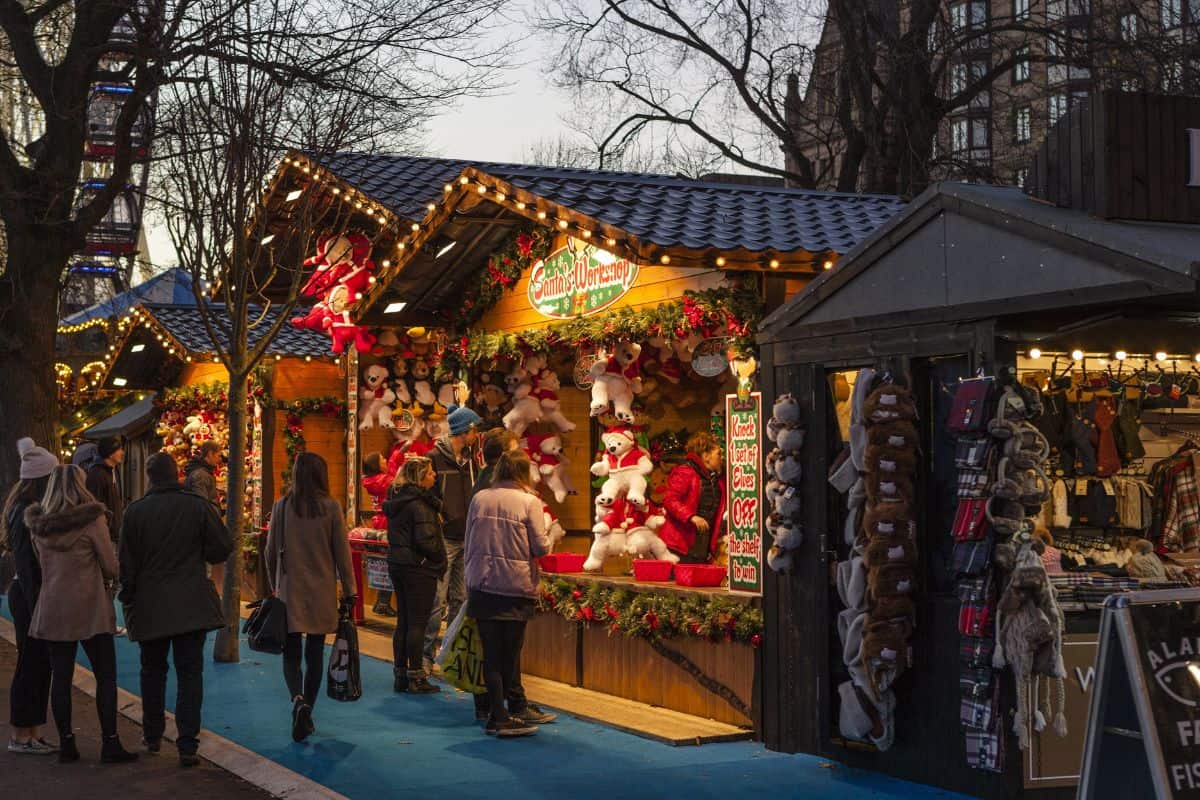 41. Check out local activities
Find the best simple and frugal family Christmas traditions in your area. See if your city is having a tree lighting ceremony or any other holiday-themed activities. You can also check AAA for events in nearby cities.
42. Pick out a new family ornament
If you don't already have too many ornaments, you can work on building up your stash by selecting a new ornament each year as a family. Combine it with a shopping date trip and continue to create memories that go along with your traditions.
43. Participate in a cookie exchange
If, like me, you don't enjoy baking lots of different types of cookies see if family or friends are interested in doing a cookie exchange. That way you each make lots of one type of cookie and trade so you end up with a variety of types. It's more efficient and lets you try new kinds of cookies. This is one of the best simple and frugal family Christmas traditions and also the yummiest!
44. Support a military family
As you prepare for your Christmas celebrations, think about military families that aren't able to spend the holidays together. If you have those families in your community, invite them over or ask how you can help.
Consider sending care packages to members of the armed forces who are deployed. Be part of bringing a bit of joy to their holiday season.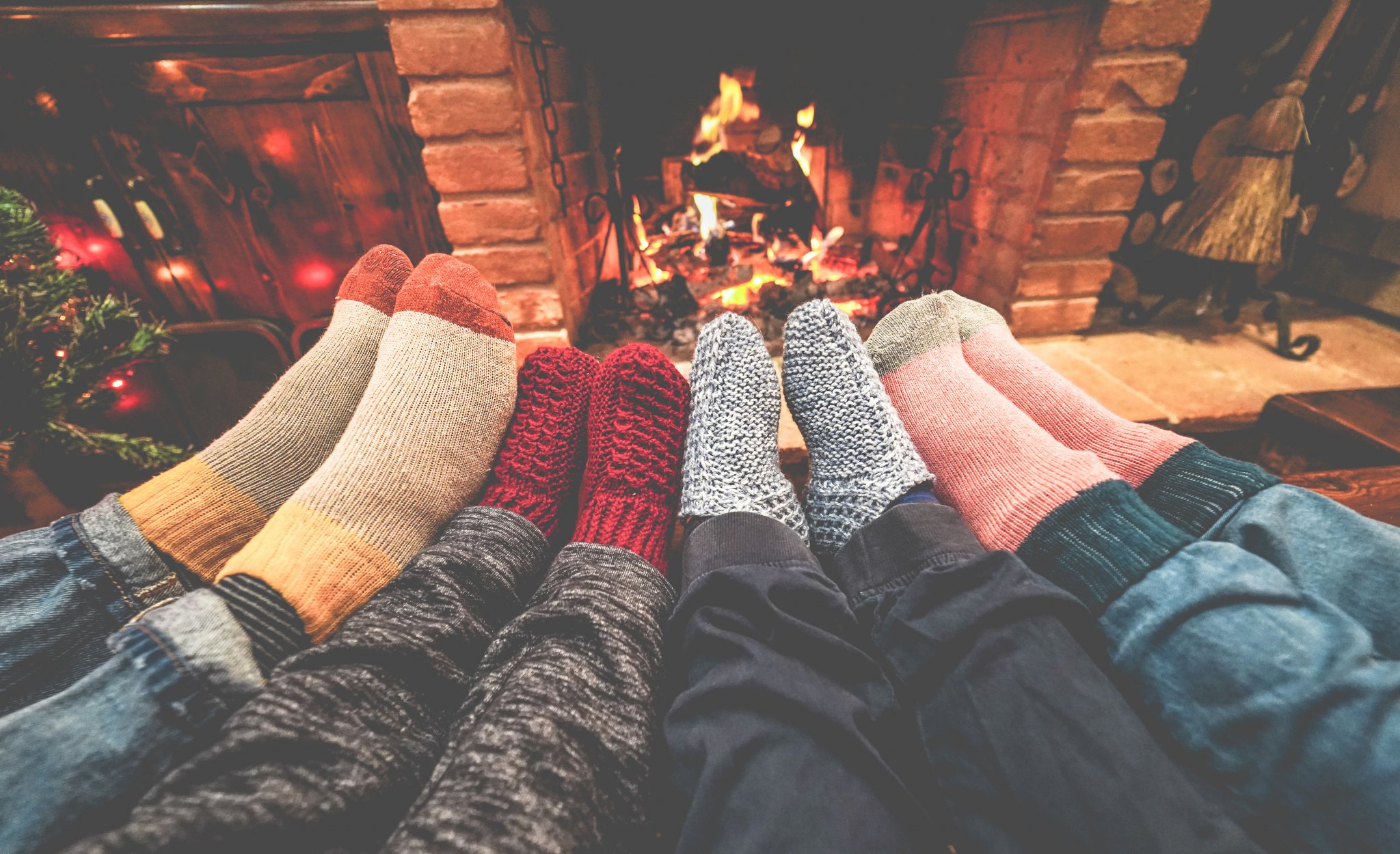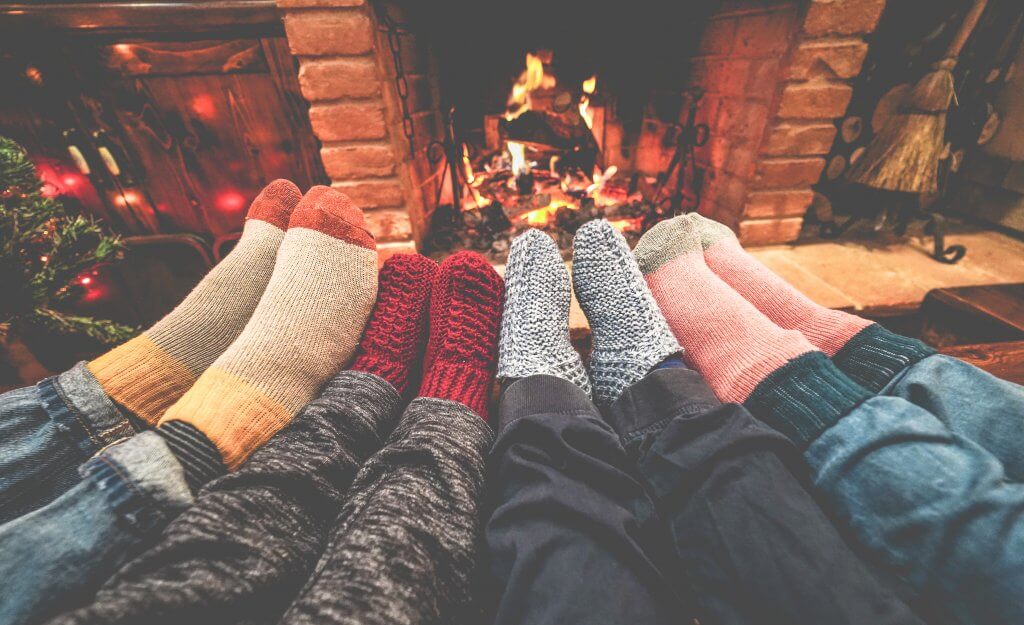 Be selective
When you look through this list of the best simple and frugal family Christmas traditions, make sure you don't go overboard and try too many at once. The goal is to have a simpler holiday season for more joy and less stress.
Don't overwhelm yourself. Maintain your margin. Leave space for rest and spontaneity.
It's good for kids to get bored over Christmas break. You don't have to, nor should you, try to make every moment magical.
Expectations & trying things out
When involving kids in trying out new traditions, I've found it is important to tell them ahead of time that you're just trying out the activity.
And maybe your kids don't do this, but mine immediately think that anything they enjoy that we try once will become our annual tradition. Sometimes they will but other times they won't so it's helpful to talk that through ahead of time especially if you have kids that are very attached to predictability.
Enjoy your time as a family and pick the traditions that will create the least stress and leave you with the best memories this Christmas!
What's your favorite Christmas tradition? Share it in the comments.
Want to keep up to date on the latest Simplicity Habit information? Sign up below and also receive the Simplifying the Holidays Planner!