Inside: Use the slow declutter method to simplify your home at a pace that works for you.
Living with clutter isn't the best experience. Many of us tolerate it for far too long – until we reach a breaking point. All of that clutter that's shared our space for ages is suddenly driving us crazy, and we can't ignore it anymore. 
We want to do something about it right now.
And while we've likely all seen headlines from people claiming they got rid of 80% of their stuff in one weekend, that isn't the only way to approach decluttering.
Trying to attack it all in a matter of a few days can leave you feeling frustrated, overwhelmed, and exhausted. You may end up creating even more of a mess than you started with.
And the worst part? You feel deflated and don't end up finishing what you set out to accomplish. 
When you think about it, it makes sense. Consider just how long it took that clutter to accumulate. Weeks, months, even years – certainly not over the course of a few short days. Convincing yourself that you can make it all disappear right away is optimistic, but not always realistic. 
Instead, consider the slow declutter method as a more reasonable and effective way to downsize your stuff without wearing you out in the process.
By navigating the process of decluttering intentionally – and slowly – you'll still accomplish the same goal of creating a clutter-free, organized space.
Will it take more time? Yes. But there are plenty of compelling reasons to declutter slowly and benefits to taking a slower, more intentional approach to the task.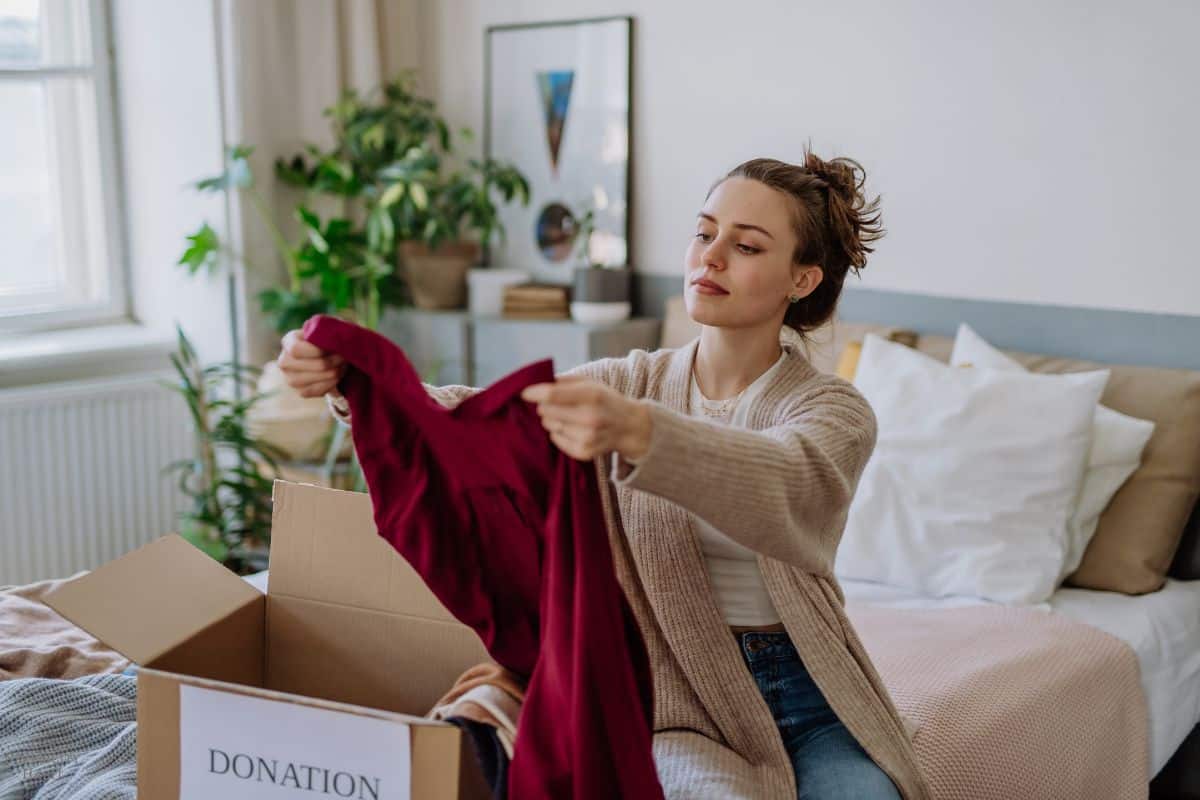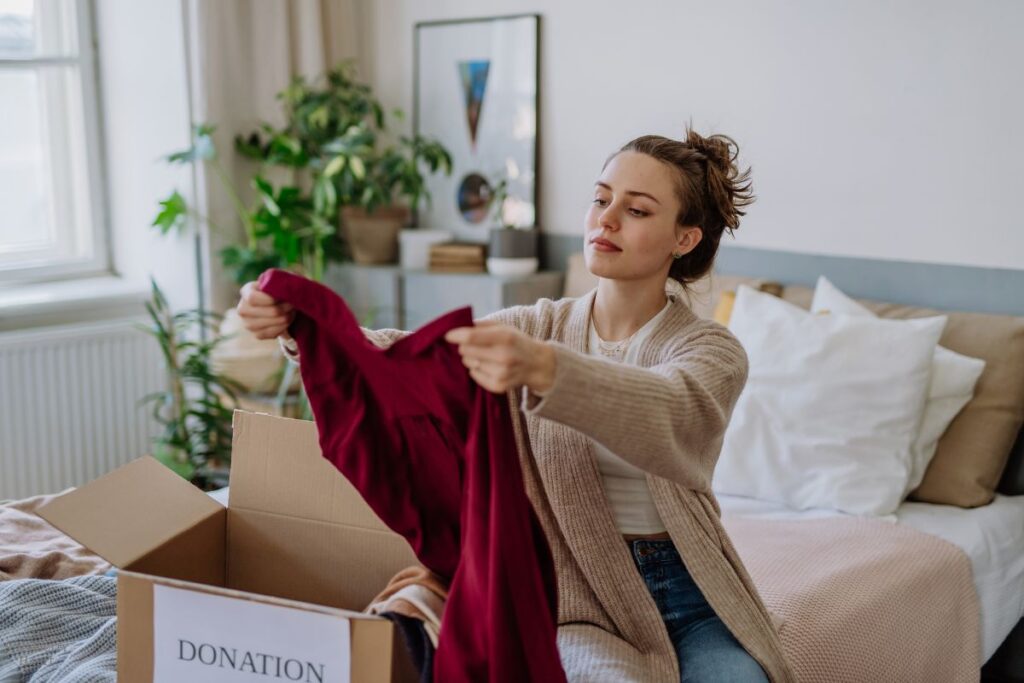 Why Declutter Slowly? The Benefits of the Slow Declutter Method.
When it comes to clutter, most of us accumulate it over time. At first, we don't even notice that it's there – until one day, we do. And it's bad. We can't ignore the clutter that's taken over our home.
It's become a problem. And we want to fix it immediately. 
But while instant gratification is nice, it isn't always possible when it comes to decluttering your home. In fact, trying to declutter too quickly can create all kinds of problems – and make the situation worse.
Instead, consider these six benefits of using the slow declutter method in your home: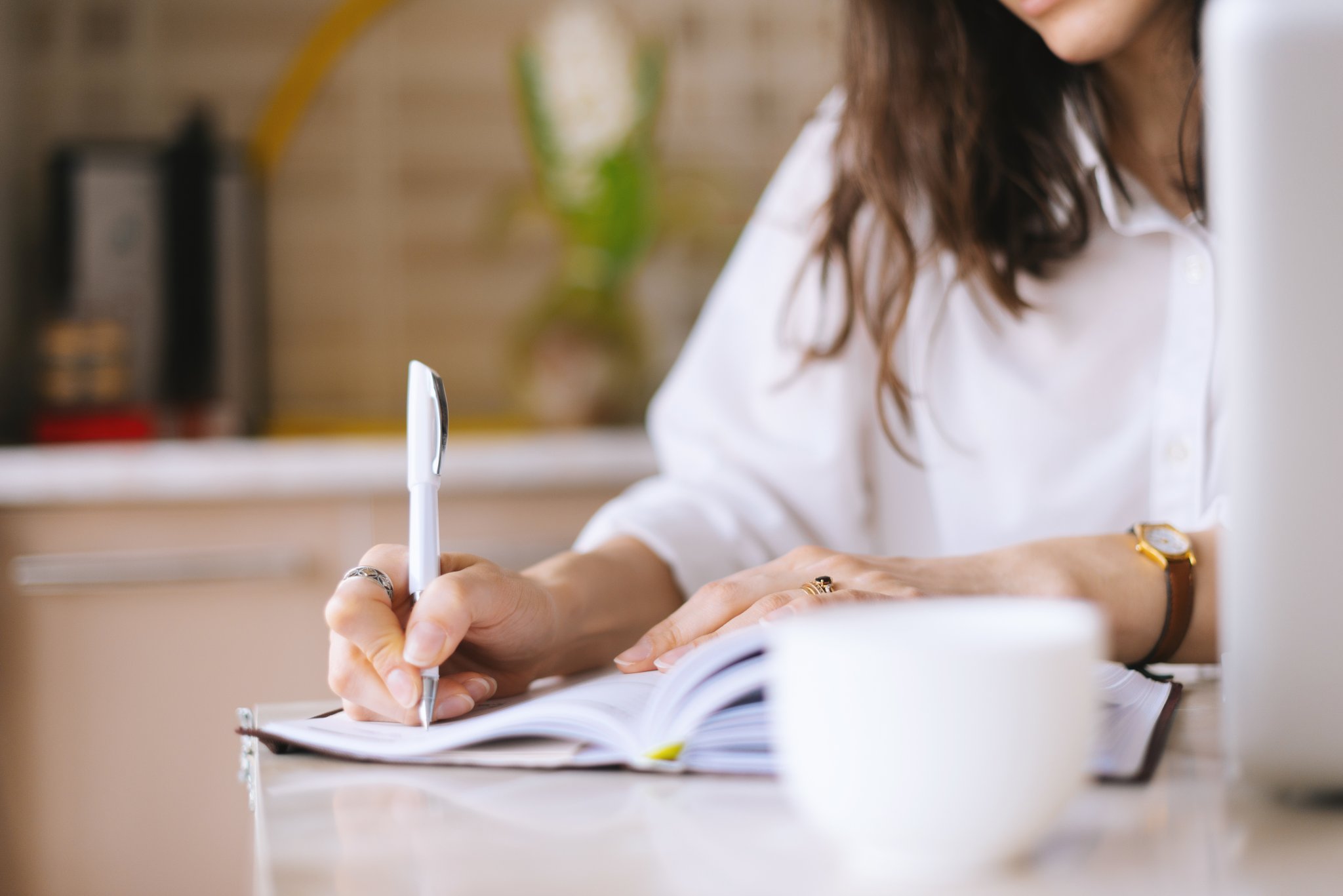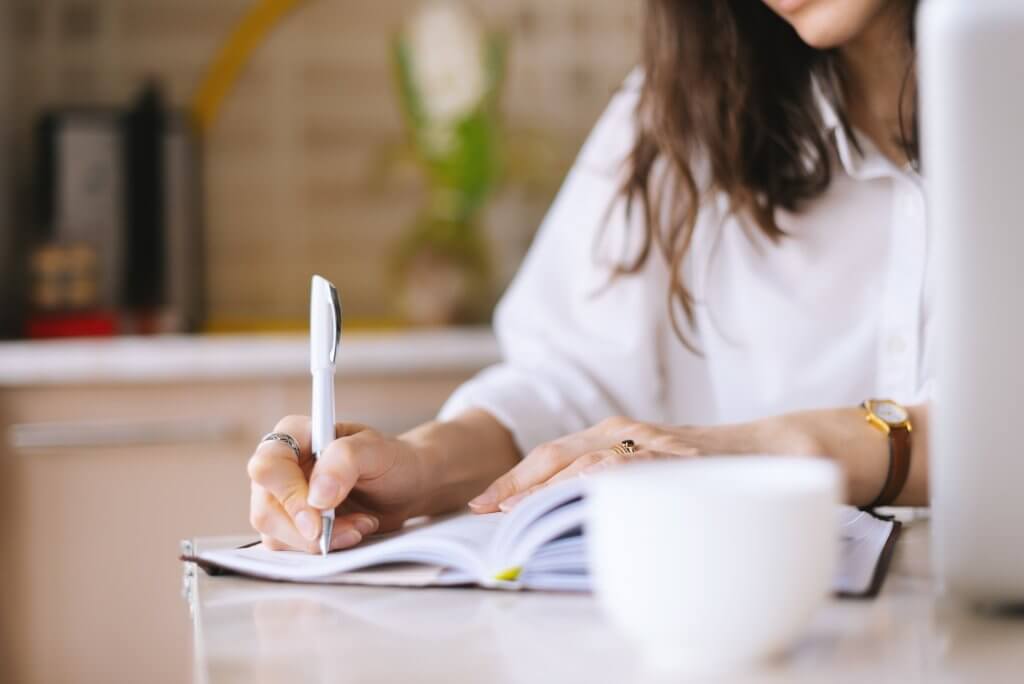 1. You'll have time to make a plan.
One of the biggest benefits of using the slow declutter method? The fact that you'll actually have the time to approach your clutter situation thoughtfully and make a plan of attack.
While you might be tempted to grab a trash bag and just start, you'll find yourself frustrated – and in many cases, with a home that's even more chaotic than it was when you started.
Instead, making a plan to declutter slowly will allow you to approach your clutter problem in a more thoughtful way.
By determining how much time you can dedicate to the task each day or week, identifying all of the problem areas that need to be approached, and figuring out which order you'll address them in, you'll save yourself a lot of stress once you actually begin.
Decluttering slowly will help you to be more methodical in your approach so that you don't waste your time spinning your wheels.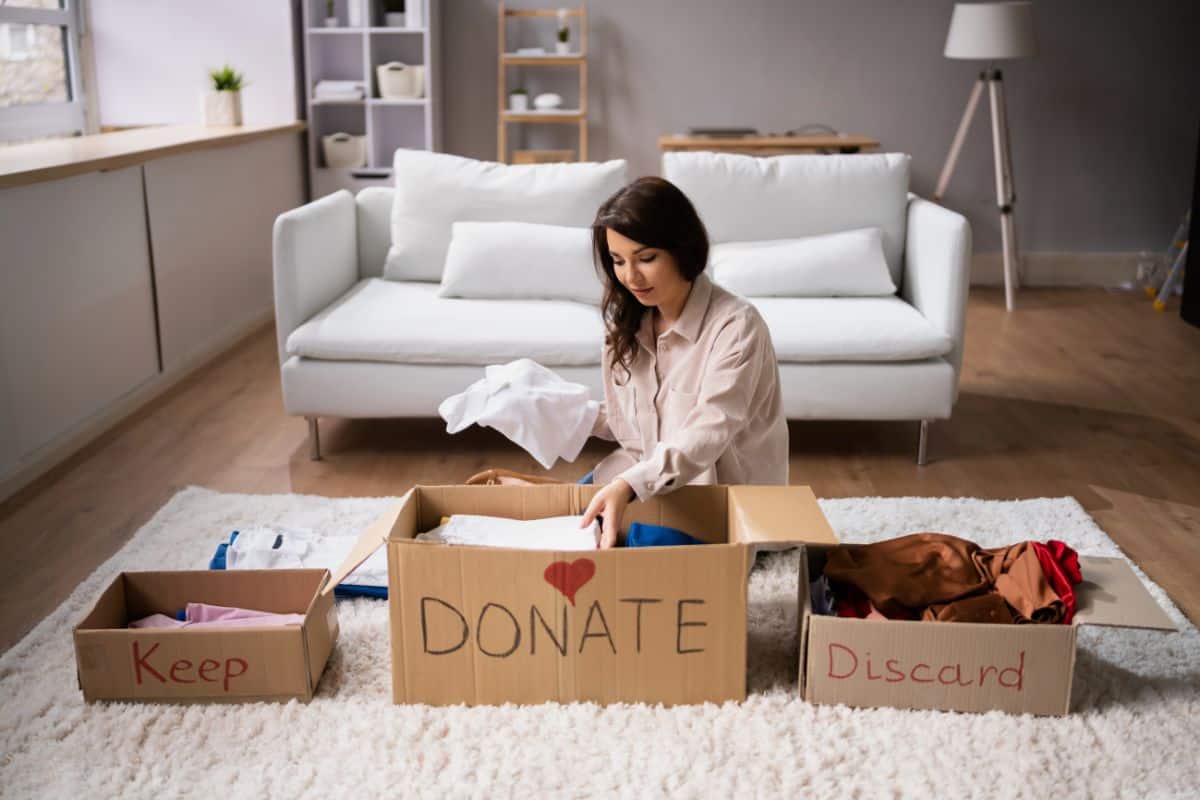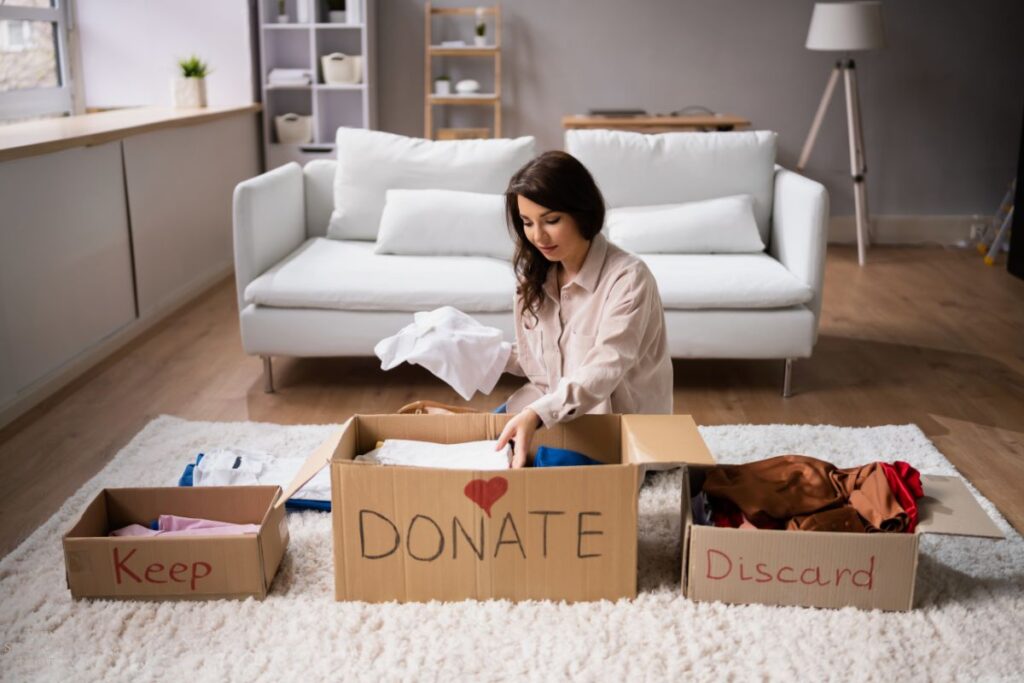 2. You'll be able to properly prepare.
Decluttering is all about getting rid of stuff. As a result, most of us fail to think about the fact that we might need to gather a few supplies before we begin.
If you rush into the process, you won't have the tools you need ready to optimally declutter and organize your space. Instead, take a slower approach and plan and prepare before you begin so that you can declutter more efficiently.
Here are some helpful supplies to have on hand:
Bags and boxes for donations and trash.
Planning to eliminate a lot of stuff from your space? You'll need a place to put it. Do you have enough trash bags for the items that can't be repurposed or simply need to be discarded?
And when it comes to items you can donate, where will you put those? Creating dedicated bags, boxes, and bins can streamline the process.
Storage solutions for the things you want to keep.
Decluttering isn't just about getting rid of stuff. After you're done getting rid of the items you don't love or use, you'll want to create an organizational system to help you stay organized going forward.
Using shelving, plastic storage bins, closet organizers, drawer dividers, and other items you have on hand can make a huge difference. Just don't go buy anything until after you've decluttered your things. 
Labels, labels, labels!
Putting boxes and bins into storage? You'll want to clearly label what's inside to make it easy to identify later on.
Designating certain shelves in a closet for specific items? Label them to avoid any confusion. Labels are especially helpful when you share space with other people who will be expected to help you maintain order moving forward.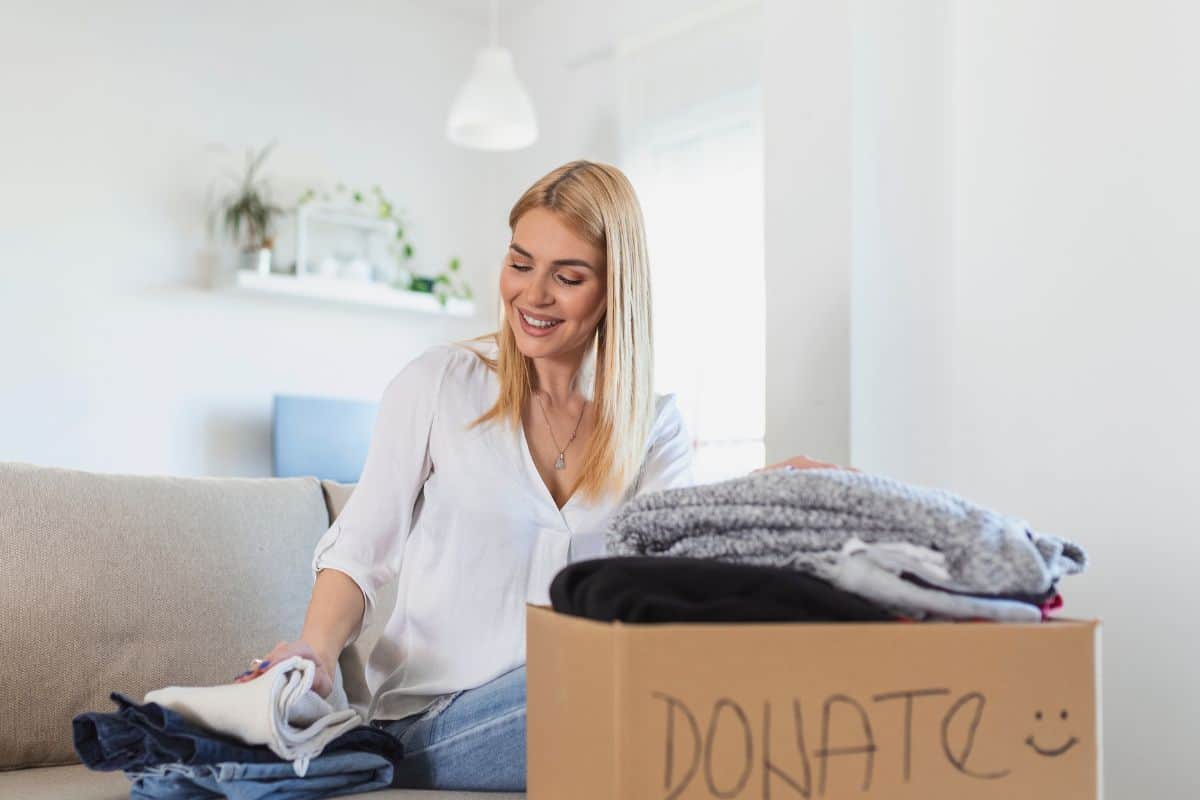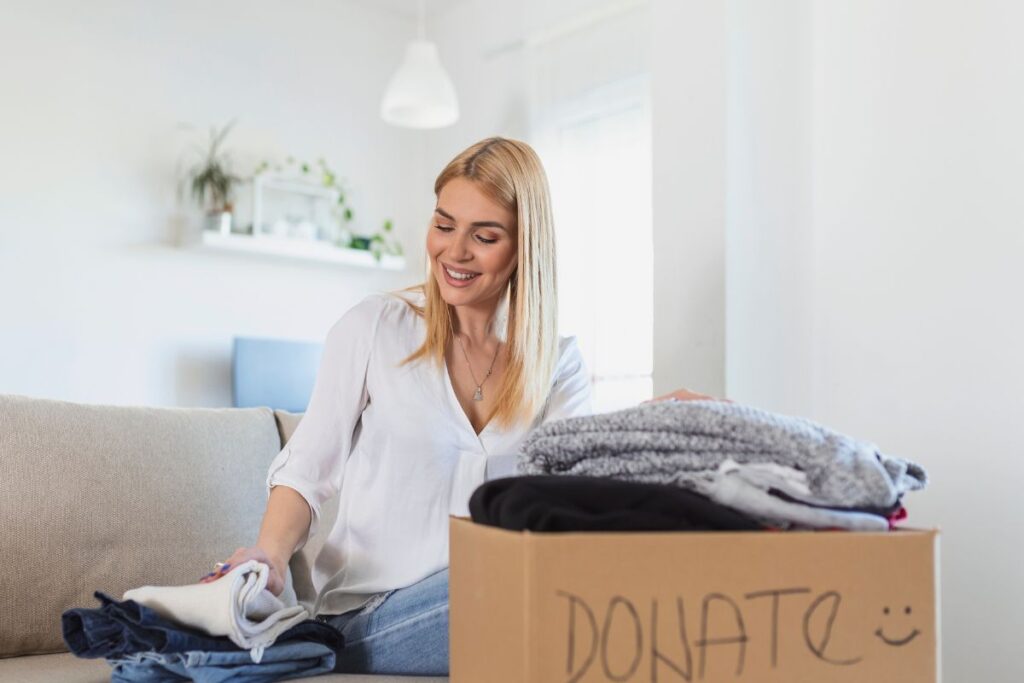 3. You'll feel less overwhelmed.
Let's be honest. The process of decluttering can feel overwhelming. You're making a lot of decisions. You're parting ways with stuff you've owned for years – some of which may carry emotional attachment or sentimental memories. And you're doing a lot of work.
Keeping feelings of overwhelm at bay when decluttering is critical – and you can do it by taking a slower, more deliberate approach to the process. 
Decluttering can stir up a wide range of emotions and untangling the reasons you've been holding onto clutter can be a tiring process. But allowing yourself to think and reflect as you go can help you to identify and work through those thoughts & feelings.
It's also important to acknowledge that everyone has limits on the time and energy they have available. When you declutter slowly you can work with your resources rather than pushing yourself too hard by trying to tackle it all at once.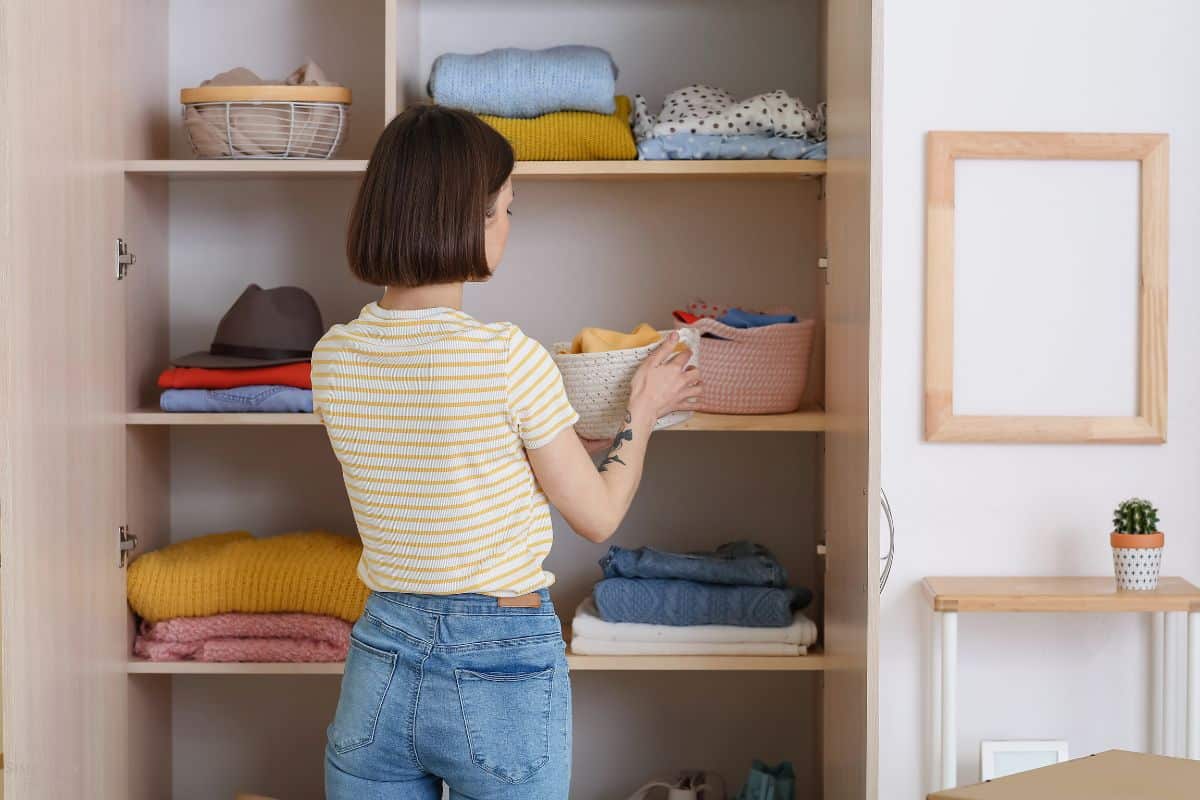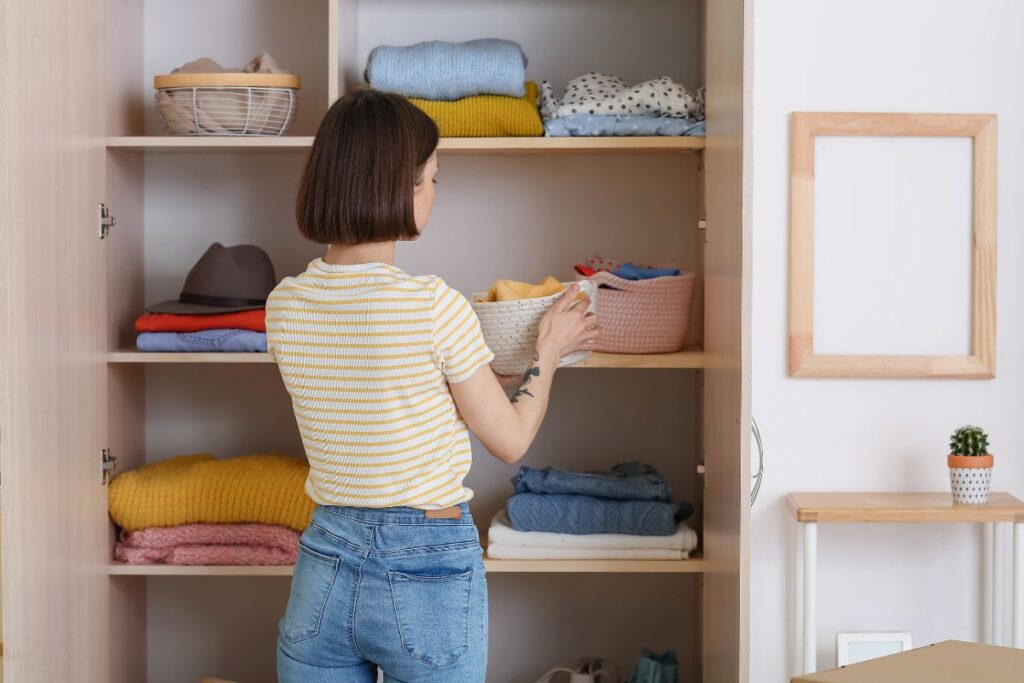 4. You'll minimize the mess.
When you declutter, it's common to make your space more chaotic before things improve.
Decluttering a closet? You'll want to take everything out so you can see what you're working with – and if you can't complete the process right away, you're going to be left with a mess.
By embracing the slow declutter method, you'll tackle the task at hand with intention. You can think about how much time you can dedicate to decluttering before you get started – and pick a task that you know you can complete well within that window.
When you declutter slowly and minimize the mess, you'll feel more motivated to continue with the process. It's encouraging to see a completed space even if it's a small drawer or cupboard.
Having a room left in shambles waiting for you to get back to complete won't help you to feel motivated to declutter. In fact, it makes the process feel even more overwhelming. But when you go at a more reasonable pace the process feels much more manageable.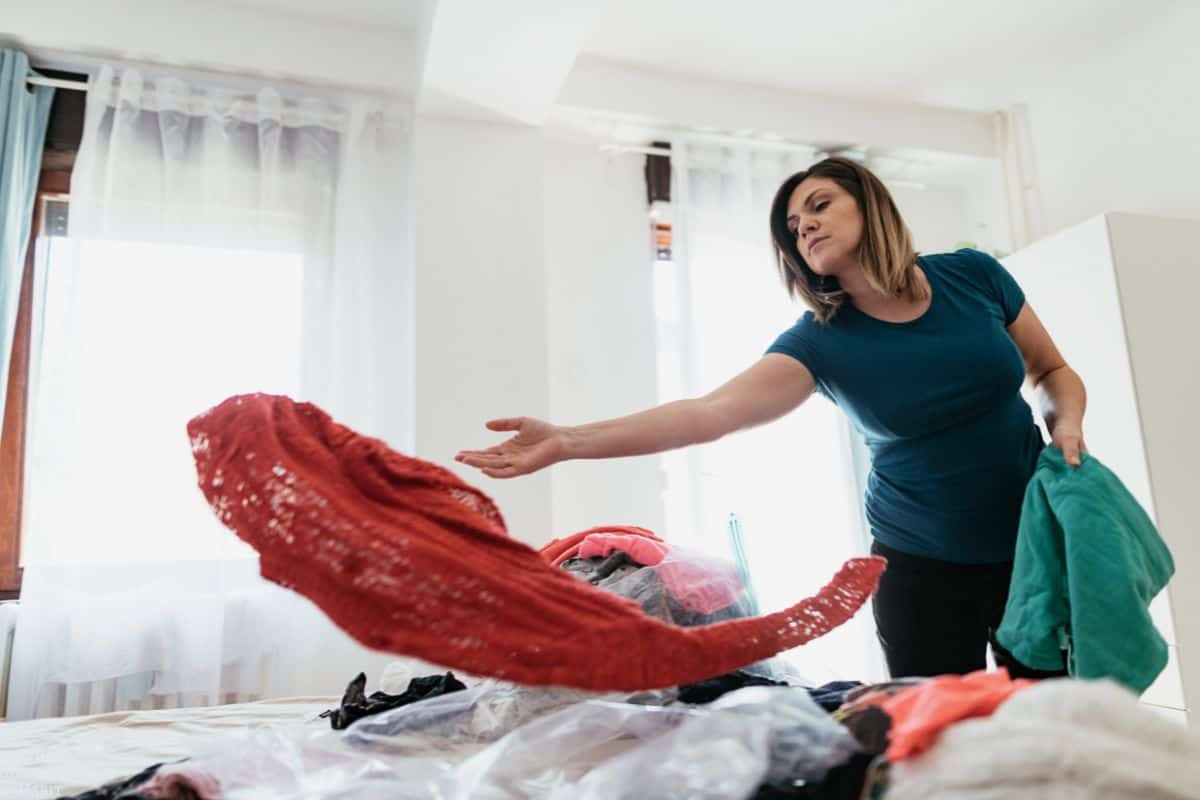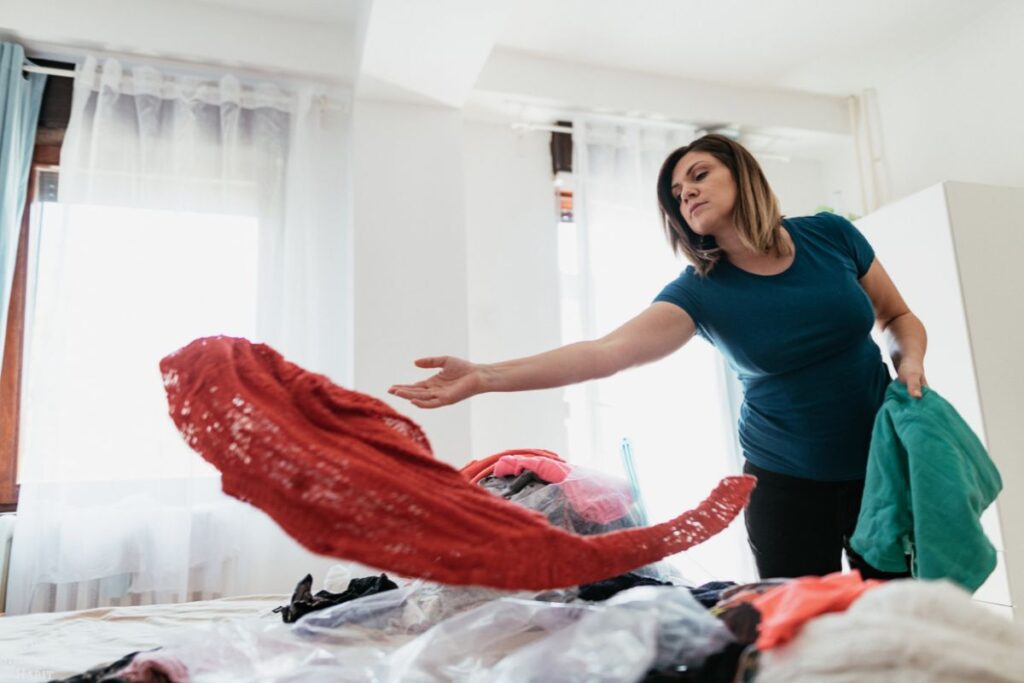 5. You'll be less likely to experience decluttering regret.
Do you make the best decisions when you're rushed? Most of us don't. The pressure of trying to complete a task too quickly means you're more likely to make mistakes.
Some people get caught up in the decluttering process when they're speeding through it. Unfortunately, that can cloud your judgment and make it more likely that you'll look back and regret things you got rid of.
Or worse yet find yourself needing to replace things you let go of while making hasty decisions.
However, when you use the slow declutter method you can take the time to think more reasonably about what you want to keep and get rid of.
By asking yourself the right decluttering questions and considering what you truly love and use, you'll set yourself up for decluttering success without regrets.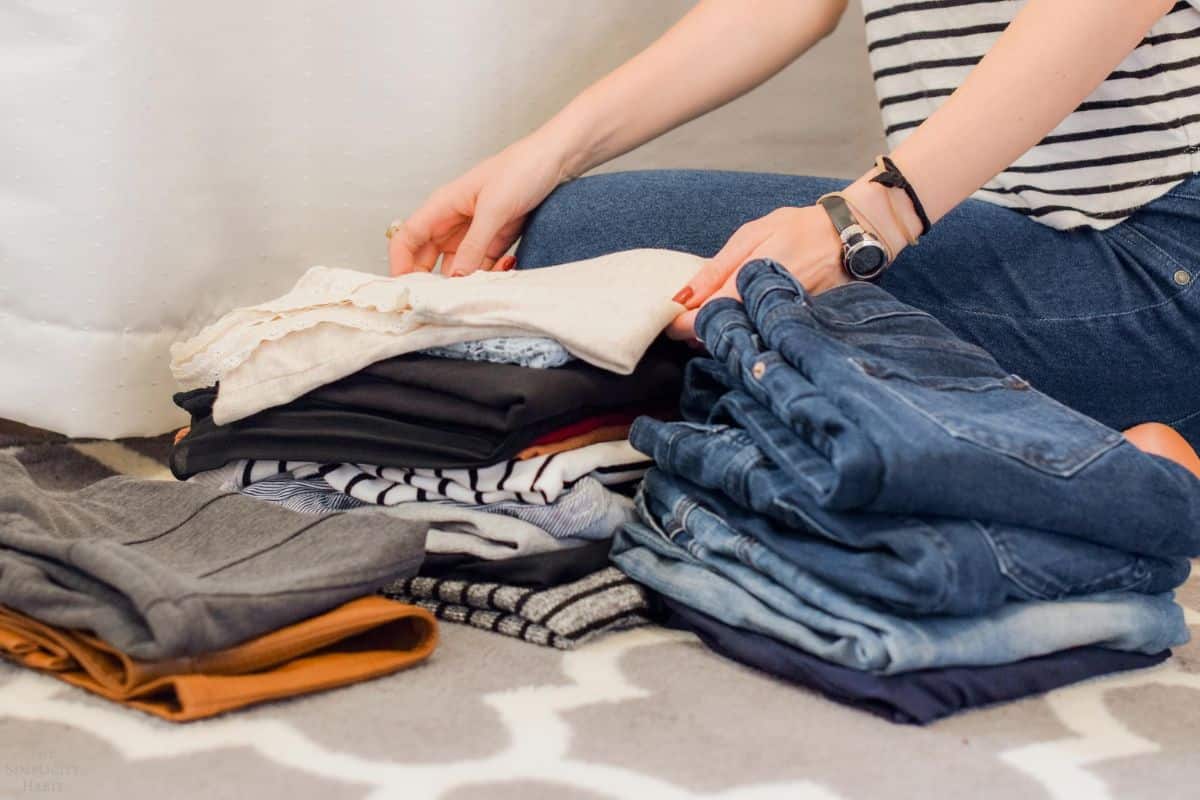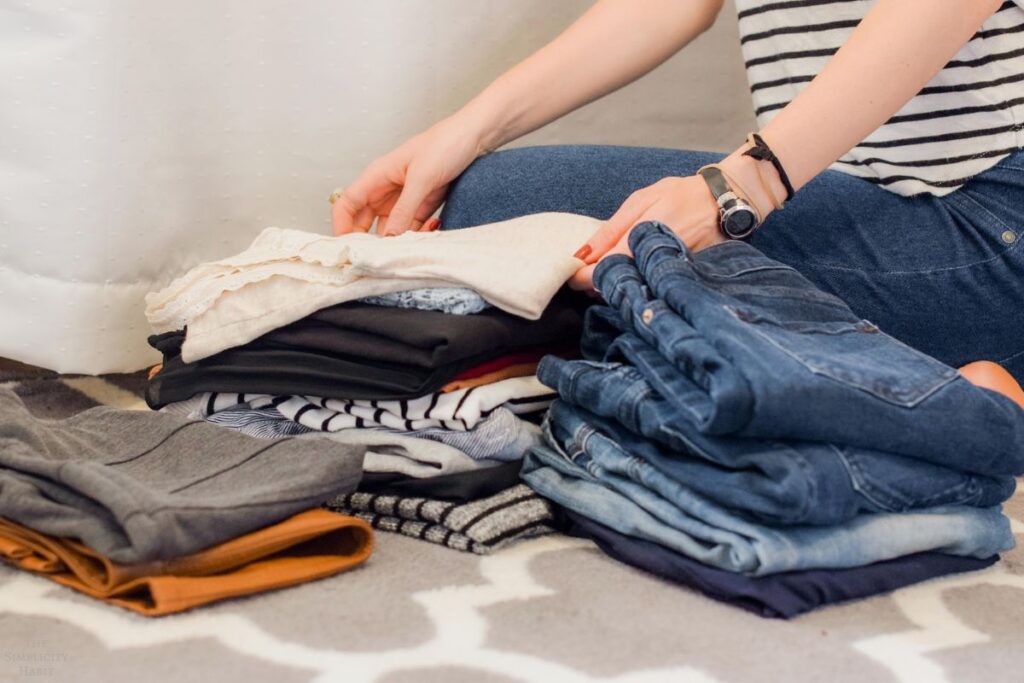 6. You'll benefit from long-lasting results.
When you try to declutter too quickly, you force yourself to make a lot of decisions on the fly.
What should stay – and what should go? Where should I keep this? How should I organize that?
Making those kinds of decisions fast will get the job done in the short term and give you that instant gratification you crave – but can lead to problems in the long run. 
If you want the results of your effort to last, you need to think strategically and implement systems and processes that work for you – now, and in the future.
You can think through your options, do some research on best practices, and consult experts (feel free to use the search bar on this site) to ultimately make decisions that will serve you long after your decluttering project is complete. 
Decluttering slowly also allows you to notice the habits and behaviors that got you to where you are so that you can identify key areas that need change. If you rush quickly through the process you may skip over this part and could then be more likely to repeat the same choices that created the clutter in the first place.
By embracing the slow declutter method and acting with intention as you create a clutter-free space, you can ensure that you'll reap the benefits of your efforts for a long time as you stop the cycle of clutter in your home.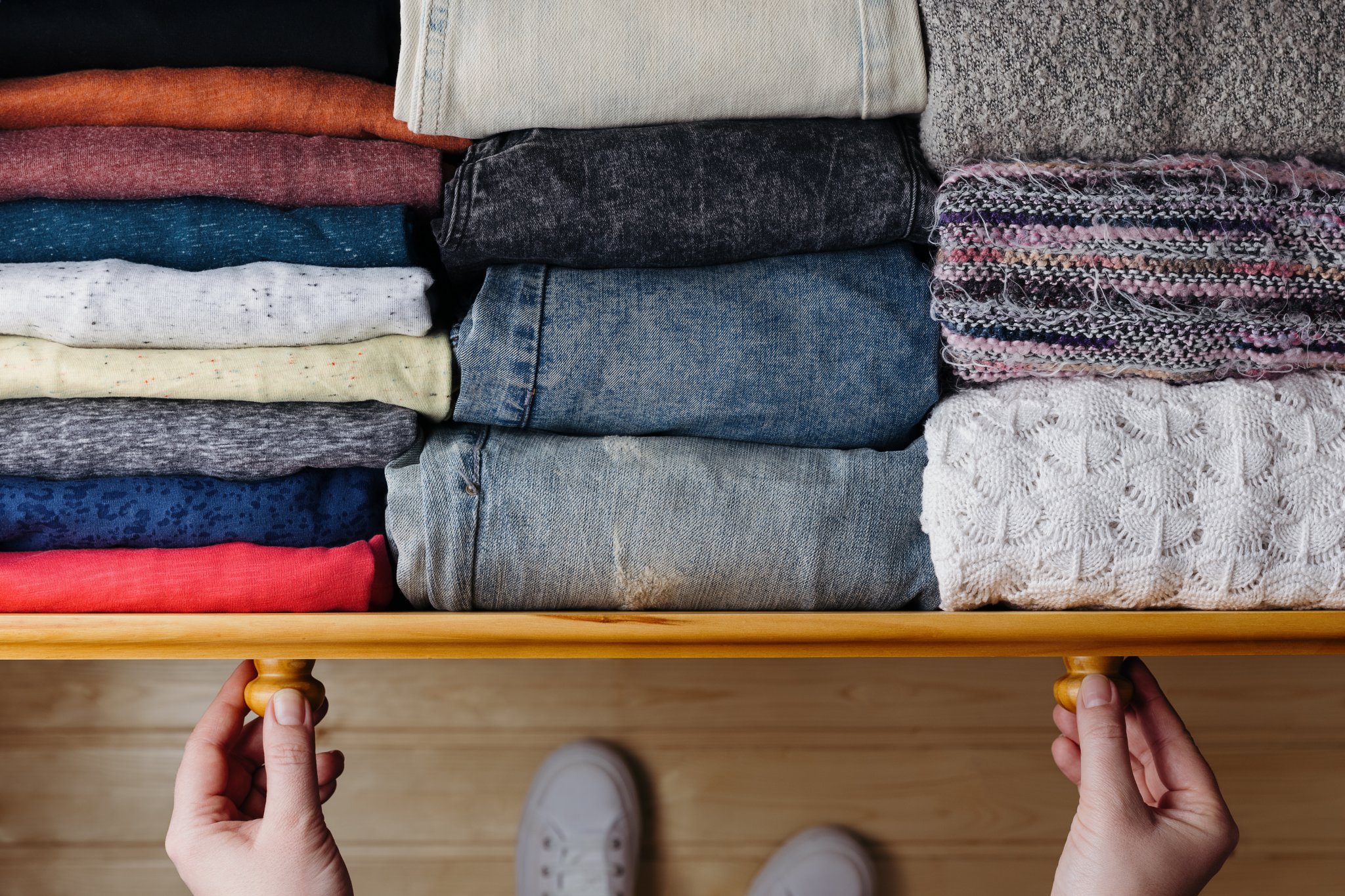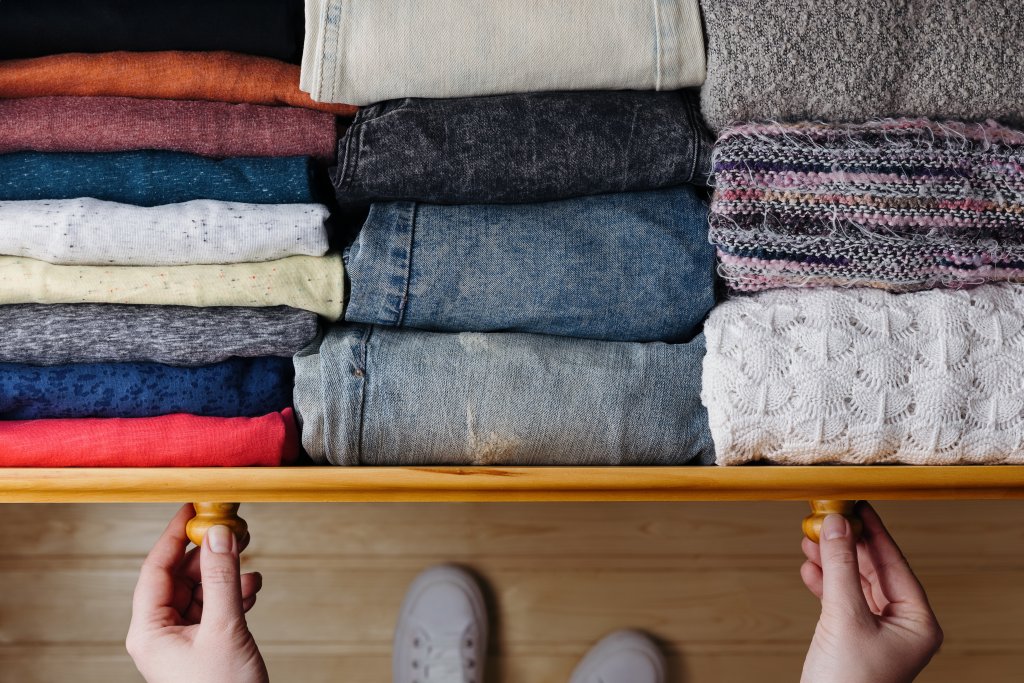 5 Tips for Using the Slow Declutter Method
If you're ready to slowly declutter your home, keep the following tips in mind.
1. Focus on one small defined area at a time.
When using the slow declutter method you want to focus on one small defined area at a time. It could be a drawer, cabinet, shelf, or small surface area.
Here are some ideas of places you can declutter quickly but that will have a big impact on your home. They can be a great starting point for decluttering your home.
2. Complete the area before moving on to another one.
Before you move on to another small area, make sure you fully complete the previous one. That means throwing out the trash you collected, setting aside your donations (to drop off soon!), and putting items away that belong in other rooms.
By completing each space completely before moving on to a new one you'll keep the mess to a minimum further motivating you to continue with the process.
3. Start with the easy stuff.
When you start decluttering your home, it's helpful to begin with the easiest areas and work toward the more challenging ones.
Decluttering requires making a lot of decisions. Once you've practiced making decisions in easier areas it will help you to be more decisive when you get to the sentimental stuff.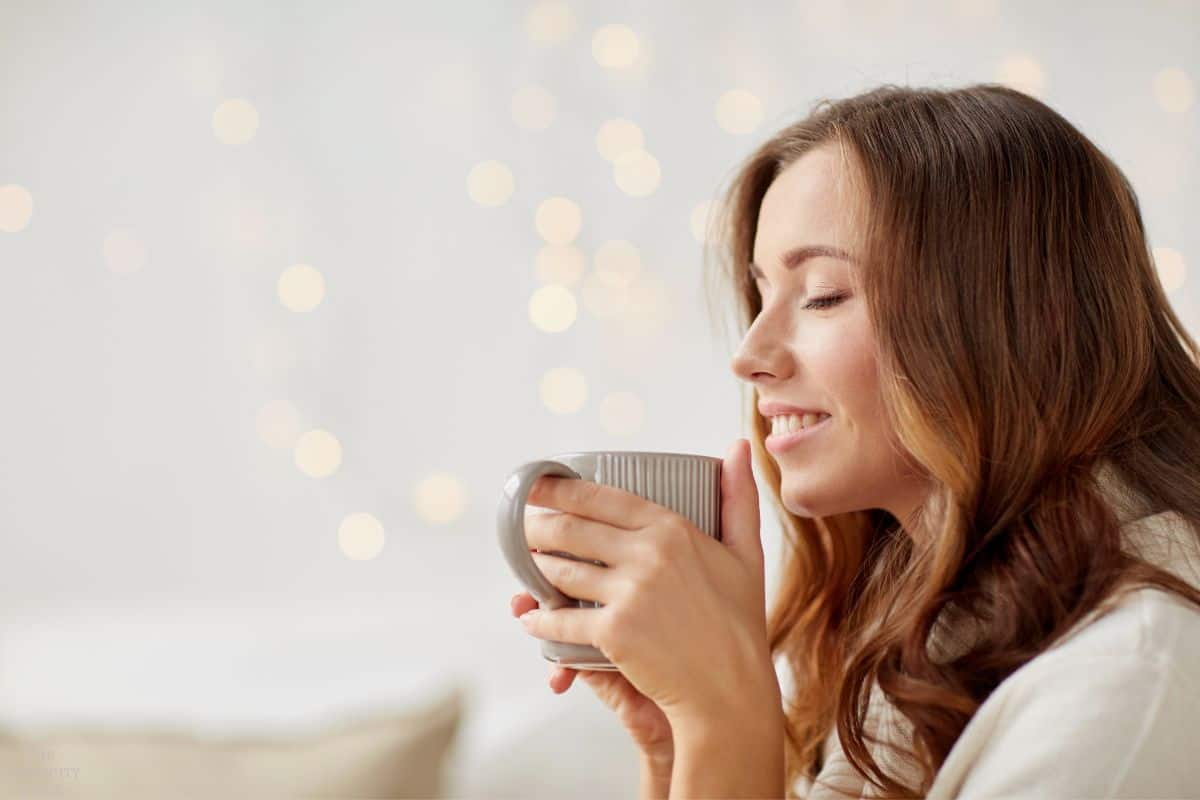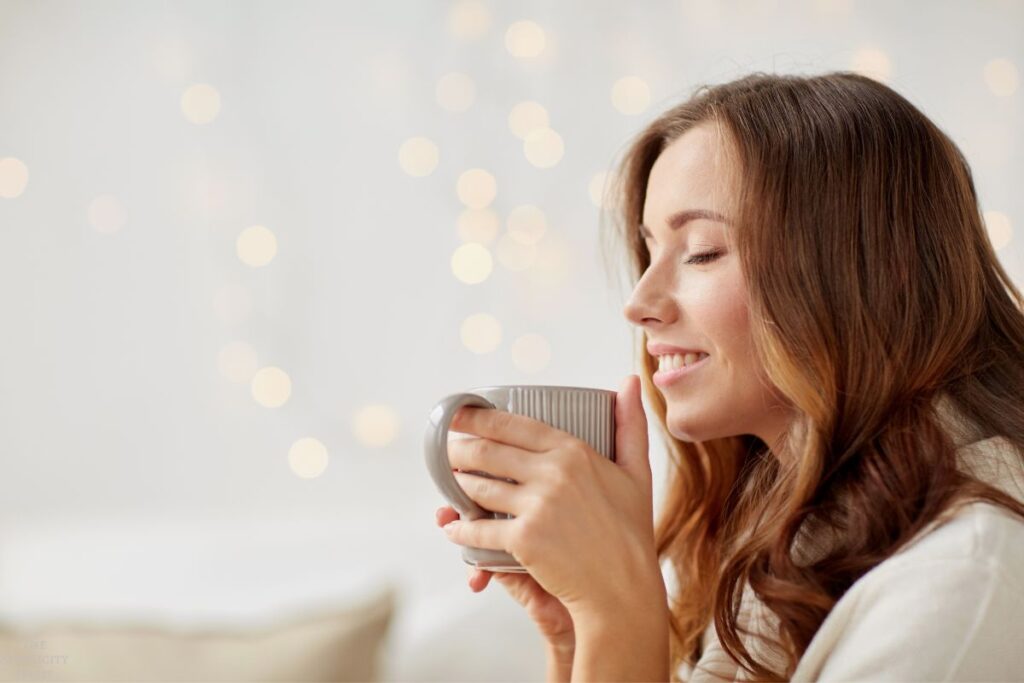 4. Take breaks as needed.
As you use the slow declutter method, remind yourself that it's perfectly fine to take breaks as needed. It can even help you to be more productive! Just get back on track as you're able.
Life happens and some seasons are busier than others. Don't beat yourself up if you need to rest. It's okay to go slow.
5. Focus on your goals.
While those headlines about decluttering your entire home in a weekend may sound appealing, remember this is your journey. There is no race to the finish line or prize for who gets there first.
Slow and steady is the way to go to create lasting change in your home. Don't compare your pace or journey to anyone else's. Be patient with yourself and keep your end goals in mind as you continue to make progress toward them.
Have you decluttered slowly? If so, what benefits did you experience from it? Leave a comment and let me know!
Sign up on the form below to get weekly decluttering and simplifying inspiration sent straight to your inbox! You'll also get the free Declutter Plan of Attack Worksheet to help you customize your own decluttering plan for your home.