Inside: Learn how to declutter your bedroom quickly so that you can create a relaxing space you love.
Your bedroom is supposed to be your sanctuary. It should be a place that inspires relaxation and encourages rest. It should be a place you want to spend time in.
But for some of us?
That isn't the case.
A clutter-filled bedroom is far from uncommon. It's actually one of the easiest places in your home for clutter to accumulate.
When you need to get things put away when friends and family come to visit, it's a safe spot to stash any stuff you'd rather not leave out – but instead of actually revisiting that mess later on, many of us end up living with it for longer than we'd like to admit.
If you're ready to learn how to declutter your bedroom and create a more peaceful space, I can help. By following these step-by-step instructions, you can transform your bedroom into a tranquil oasis and say goodbye to clutter for good.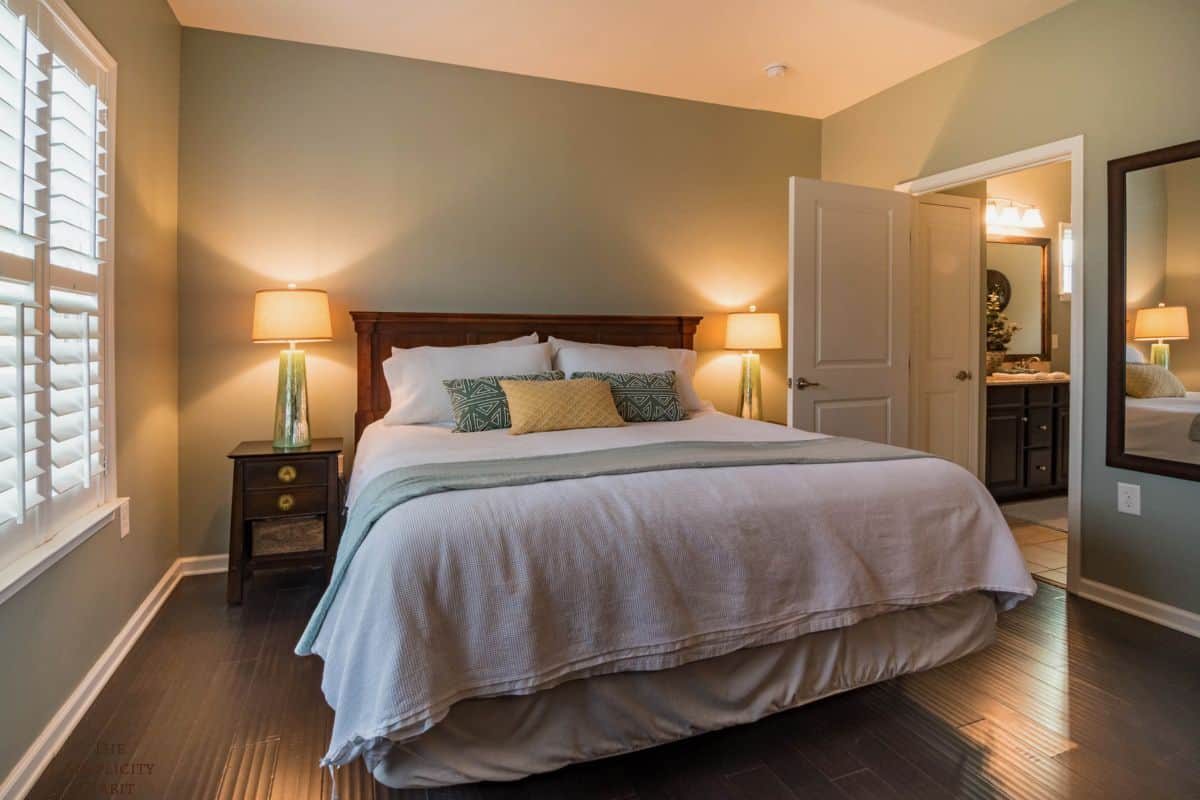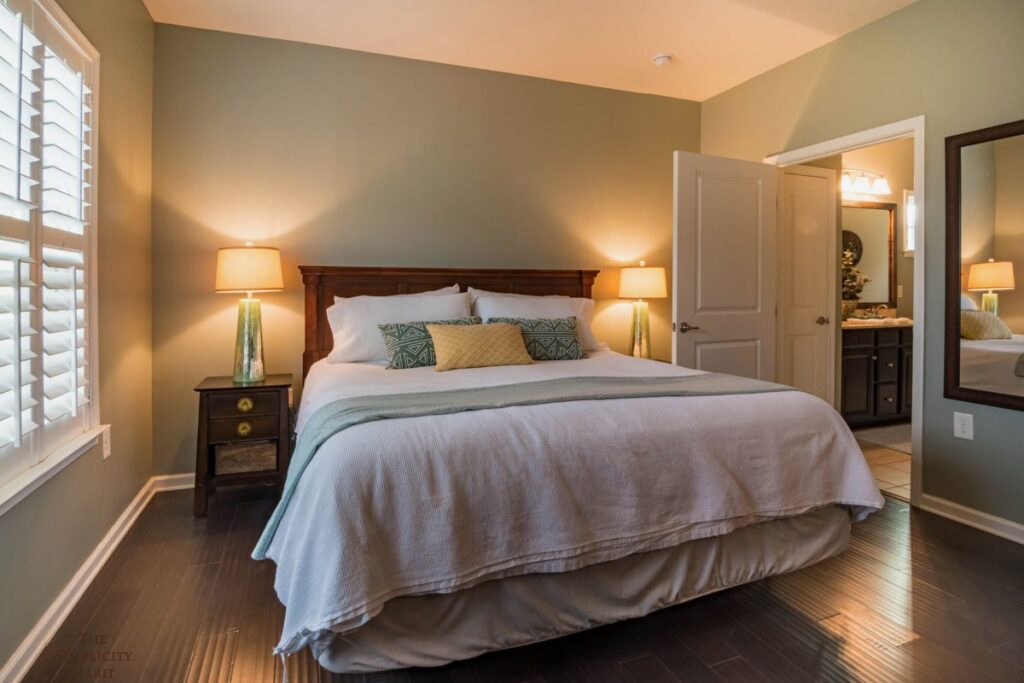 How to Declutter Your Bedroom
The thought of decluttering your bedroom might be a little overwhelming. If it's been a while since you've rolled up your sleeves and sifted through all the stuff that's gathered there, it can be hard to know where you should even begin.
Here are a few steps you can take, starting today, to get the clutter out of your bedroom and create the peaceful bedroom you've been craving.
1. Get rid of obvious trash.
One of the first steps you should take when figuring out how to declutter your bedroom involves getting rid of anything that's simply trash. This could include…
Old receipts and shopping bags
Snack wrappers and empty bottles
Clothing that is stained, torn, or overly worn
Broken closet hangers
Be thorough – don't just look in the obvious spots. Check behind your dresser, under the bed, and any other corners of your room that often go untouched.
It's amazing how much trash can accumulate in our bedrooms despite being a place for us to sleep and rest. Don't feel bad about it – just grab a trash bag and get to work.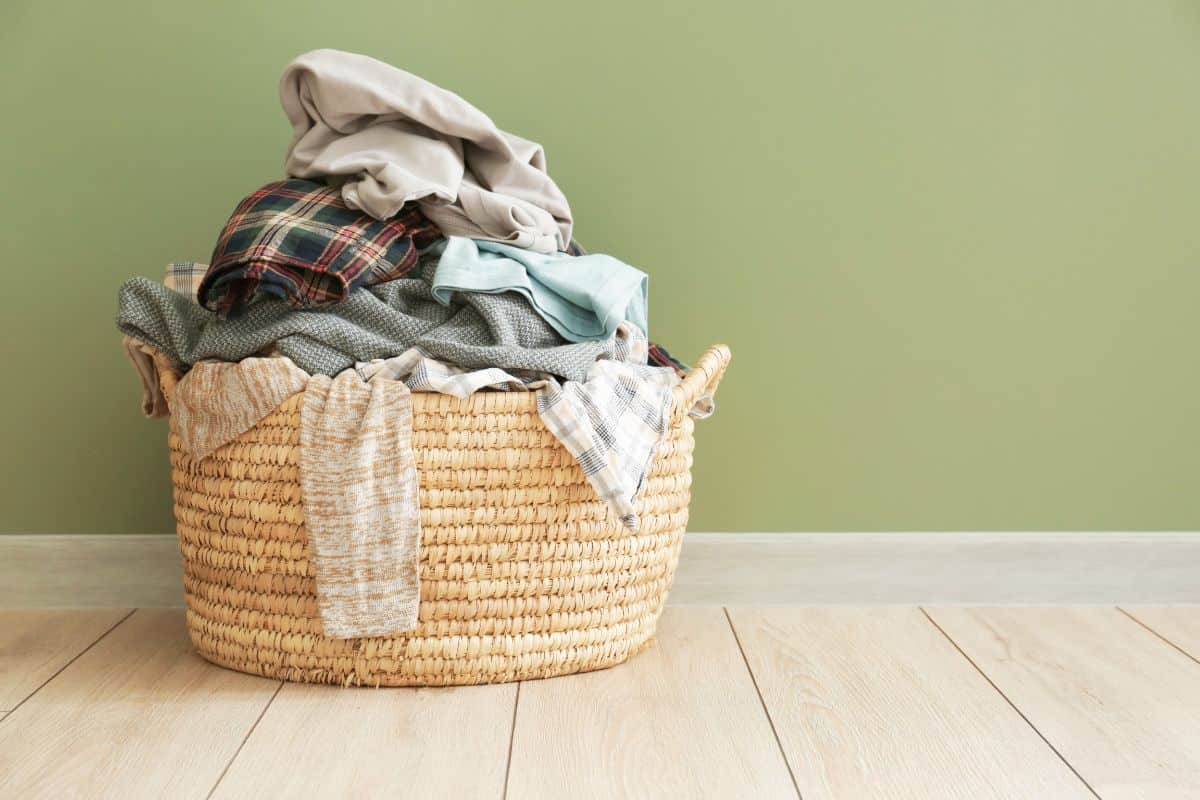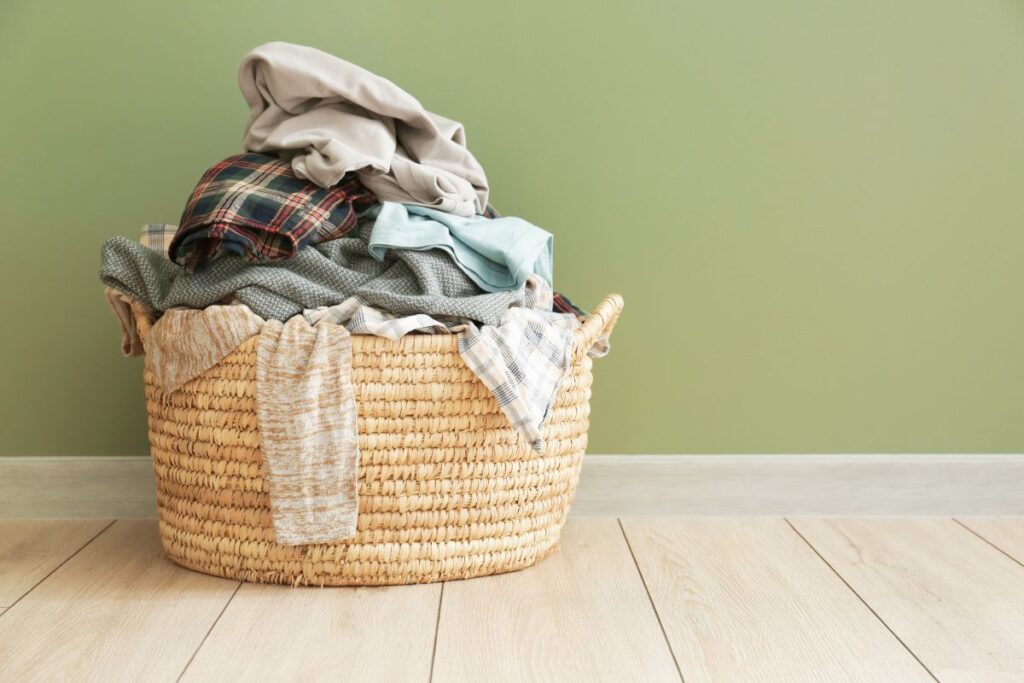 2. Have bags, baskets, or boxes for items you want to donate, sell, or that belong in another room.
As you declutter your bedroom, chances are you're going to find quite a few things that you can part with, like…
Clothes you bought but don't really wear – some of which might still have the tags attached.
Shoes that never really seem to match any of your outfits – or are just straight-up uncomfortable.
Books you've already read that you don't feel the need to keep.
Furniture that's taking up too much space and only serves to collect dust and clutter.
As you come across items that you no longer want consider if you will donate or sell them. There's nothing wrong with trying to recoup some cash, but it's a good idea to set a deadline for selling items so that they don't linger around your home for too long.
During the decluttering process you may also come across items that you don't want to get rid of but that don't belong in your bedroom. Have a separate container for those things and once you're done decluttering go ahead and put those items where they should go.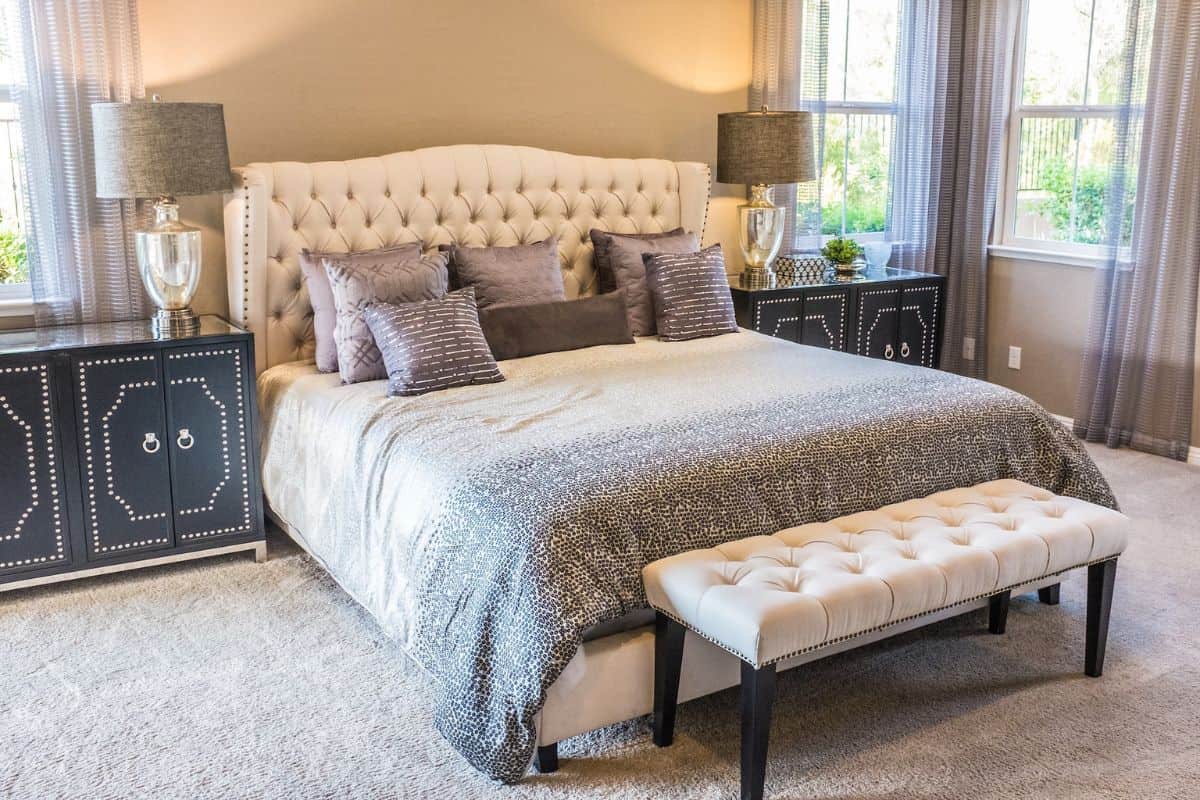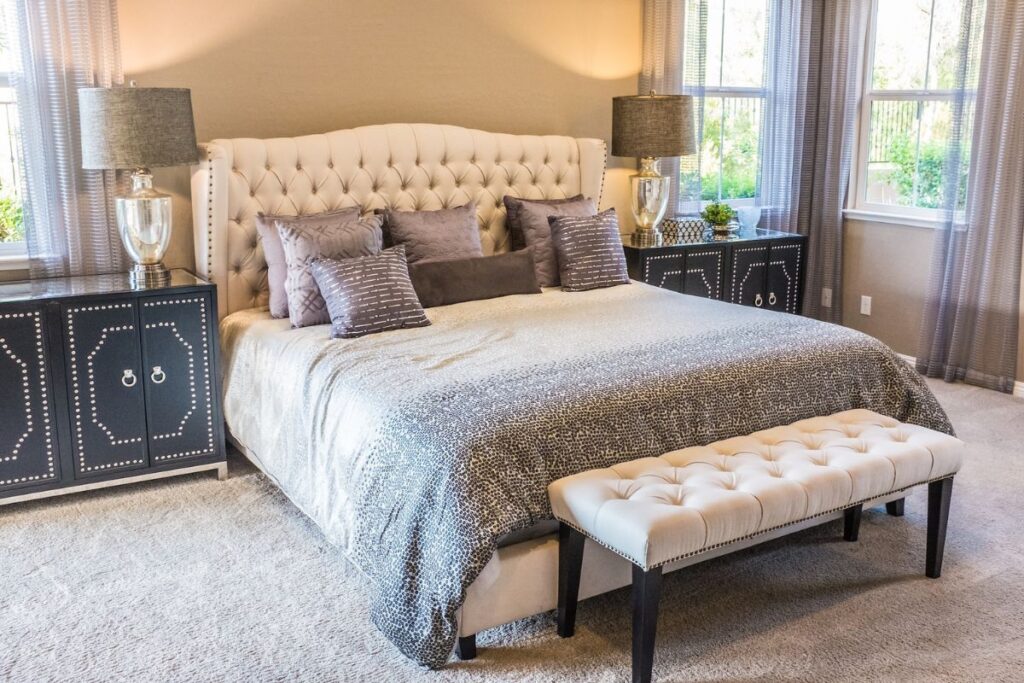 3. Focus on flat surfaces and nightstands.
Now that you've removed the obvious trash and have your boxes ready for unwanted items, it's time to get to work on the flat surfaces in your room.
Those areas include the tops of dressers, nightstands, or any other furniture pieces in your room. Remove any items that don't belong and consider limiting the number of decor items that you leave sitting out.
If you're unsure how you'd feel with less stuff, just test it out. You don't have to get rid of those items immediately, but see how you feel in the space when you simplify the decorations.
The next step is to declutter inside your nightstand. If your nightstand has drawers or a cabinet, odds are good some assorted items have collected there.
Take everything out and sort the items. Throw out any trash, put unwanted items in the sell or donate baskets, and set aside anything that you want to keep but belongs in another space. Once you've completed decluttering the nightstands, move on to step four.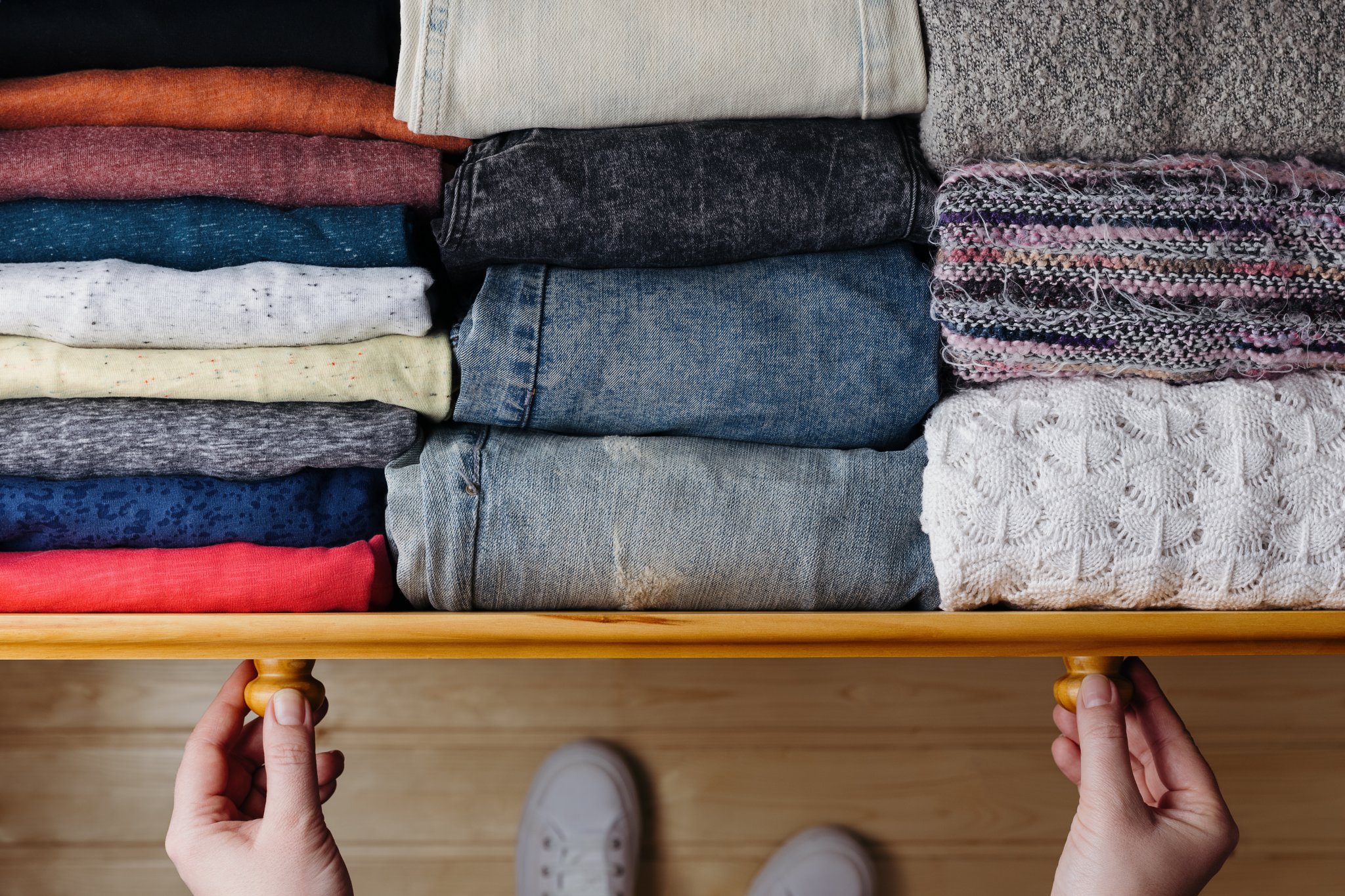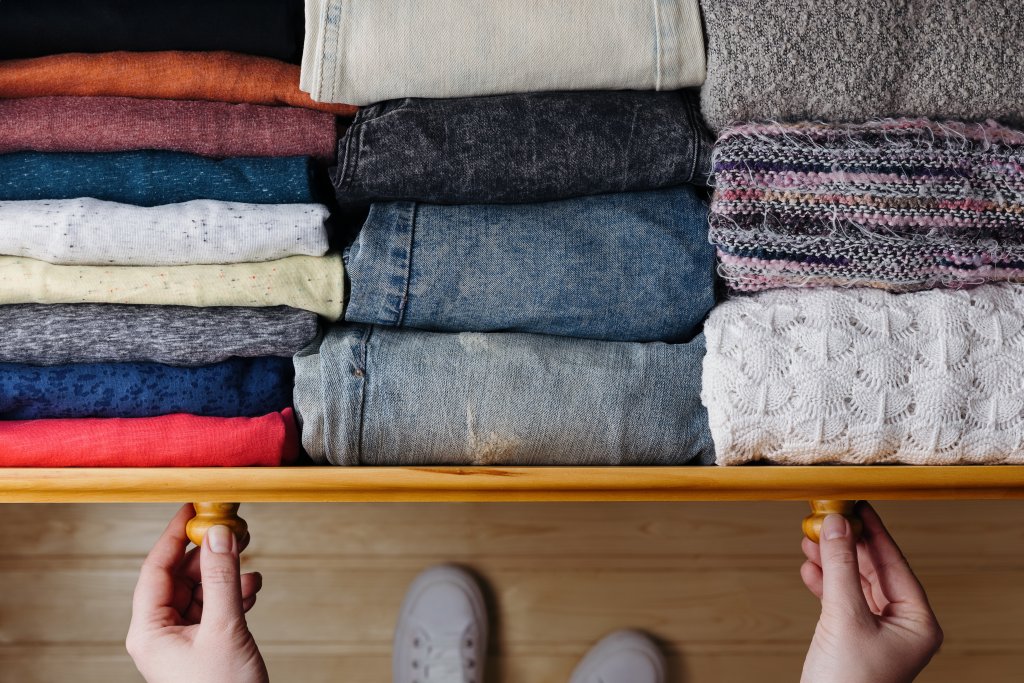 4. Tackle your dresser drawers.
The next step in decluttering your bedroom involves tackling your dresser. Say goodbye to overstuffed, disorganized drawers – and hello to a streamlined, simple way to keep your clothes in order.
The first step to decluttering your dresser is to take everything out one drawer at a time. It's helpful to focus on categories so if you have short-sleeved shirts in two drawers, take them both out at once. That way you can see how much you have of each category.
You might find some clothes you thought you'd lost that you'd love to wear – as well as some that you haven't touched in years for a reason.
Evaluate everything you took out and decide if it all really belongs there and if you want to keep it or not. Check out this post for some helpful guidelines as you decide what clothes to get rid of.
Before you put things back into your drawers, you should do two things. First, determine which drawers will hold what. This will depend on what you're storing, how many drawers your dresser has, and how big each drawer is.
Be realistic about how much can fit into each drawer. You aren't trying to stuff them to the brim – you need to be able to see what's inside without unfolding everything.
Then, you'll want to figure out how you'd like to put things into those drawers. Some prefer to simply fold and stow away their clothes, but others can benefit from drawer dividers or organizers to optimize the space.
Once you have that figured out, it's time to put everything away.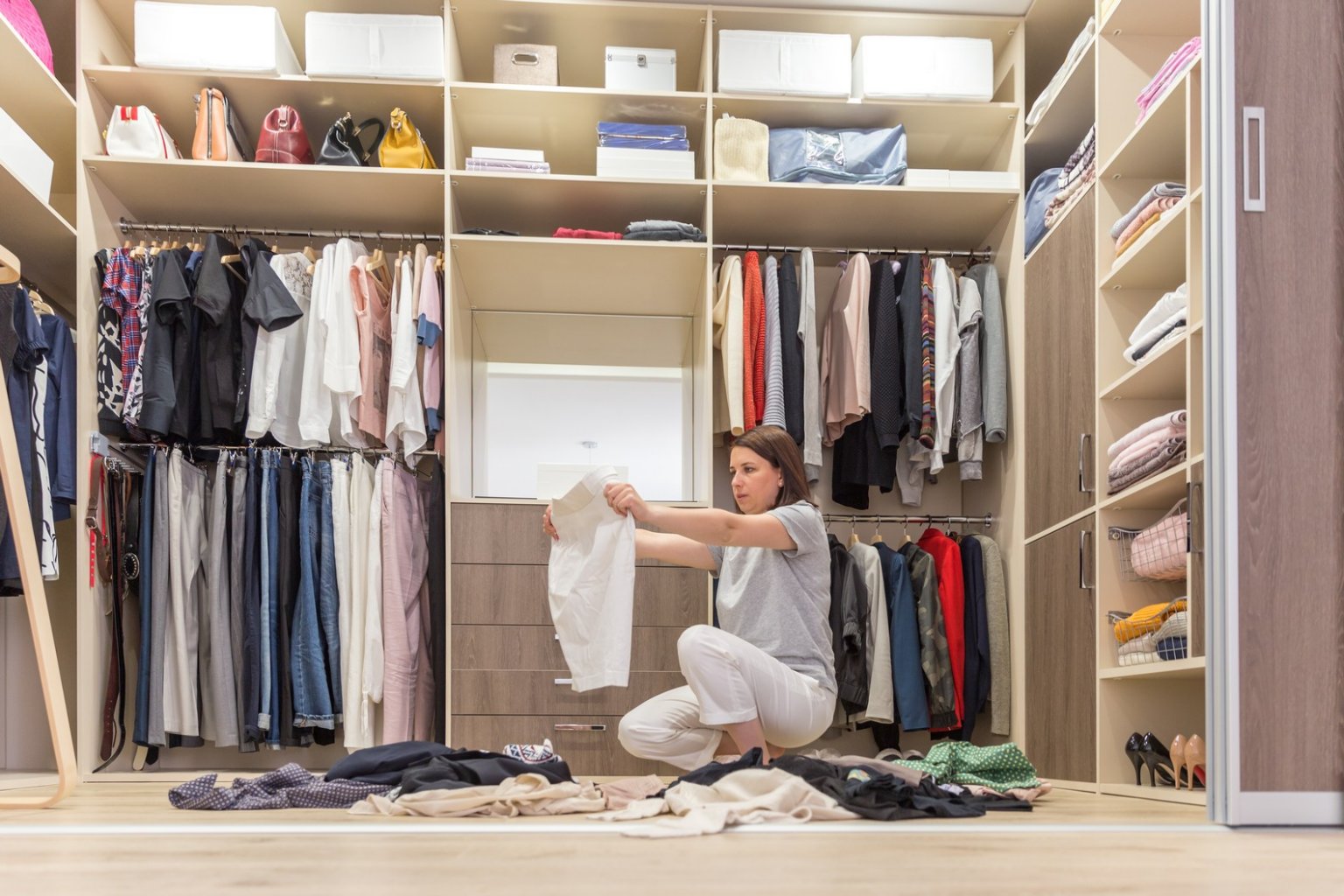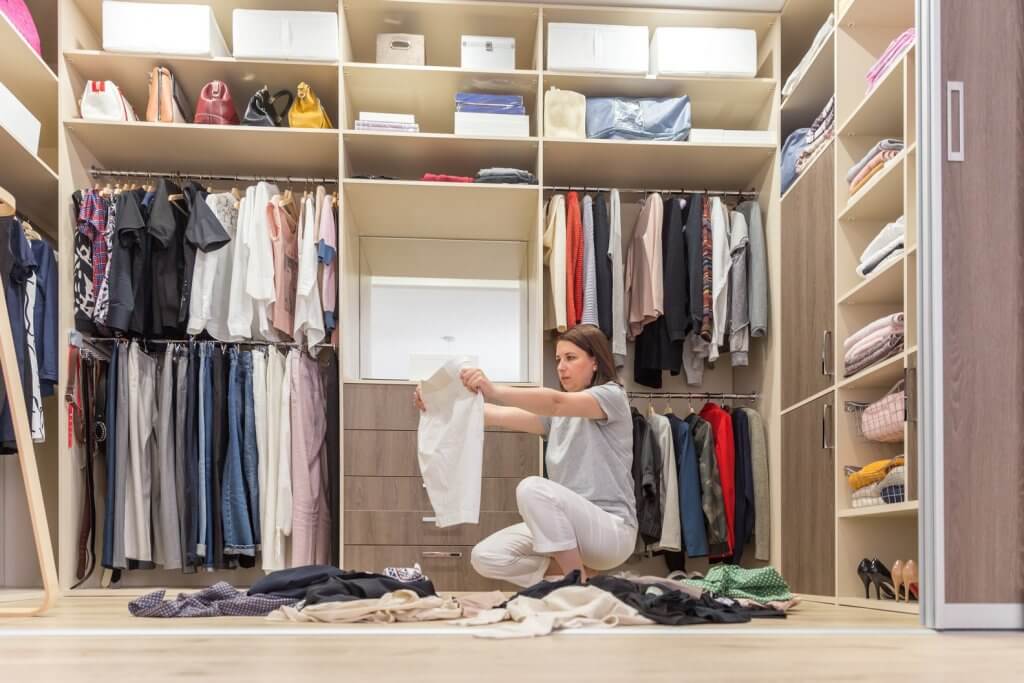 5. Declutter & organize your closet.
When it comes to clutter in the bedroom, our closets are often a prime culprit. Closets are an incredibly easy place for clutter to accumulate – after all, they tend to have shelves and places to tuck stuff away, and you can simply close the door and forget it's even there instead of having to deal with the mess.
Again you will focus on one category at a time here. Take everything out of that category (i.e. long sleeved shirts, short sleeve shirts, tank tops, pants, dresses, etc.). Put it in a place where you can see it, like on your bed.
Then, evaluate each item you pulled out of that closet. Get ruthless as you decide which clothing items can stay and what needs to go.
If it's something you no longer need, is it going to be donated, sold, or recycled? And if it's something you want to keep, ask yourself if the closet is truly the right space for it to be stored.
Once you complete one category, move on to the next one until you've decluttered every type of item in your closet. Once you're done, do a thorough cleaning – dust those shelves, vacuum the floor, and wipe down door handles.
In the end, you should be left with a tidy closet that's significantly less crowded than it was before. You should be able to easily assess what's in there and find what you need.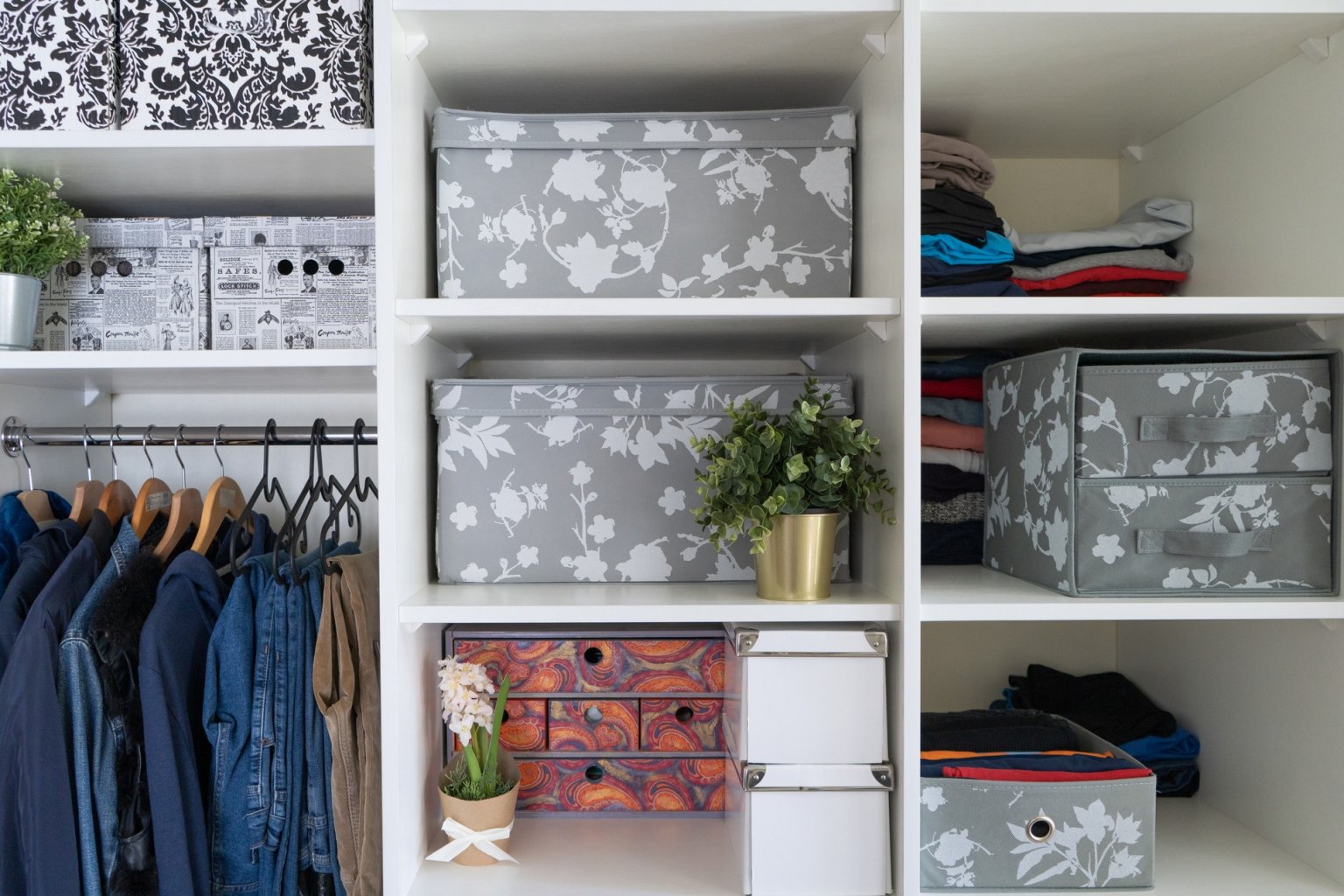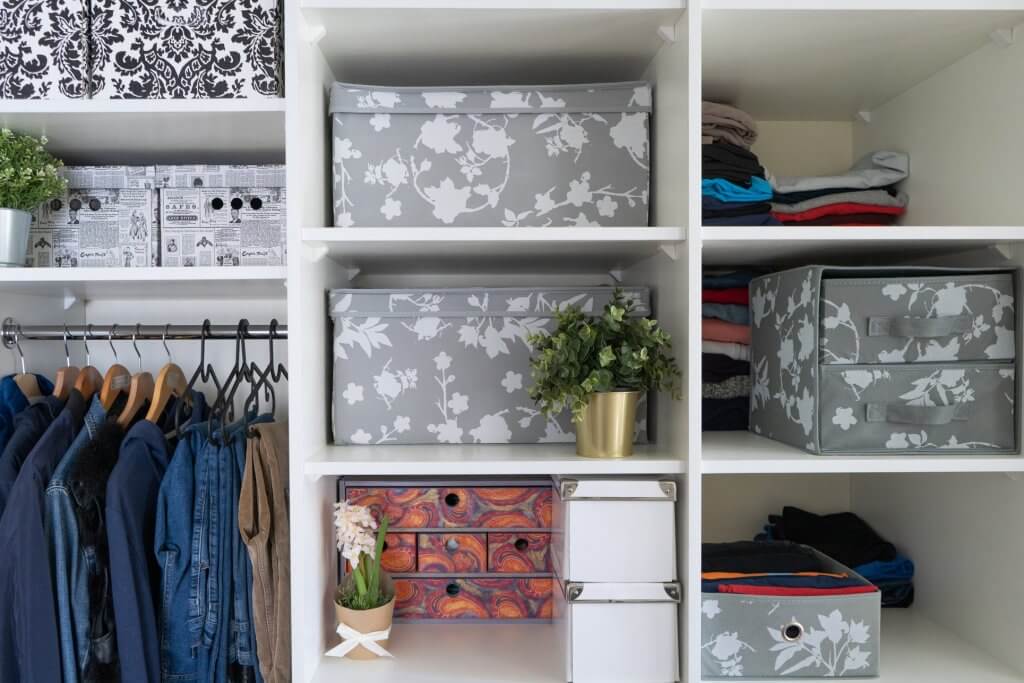 6. Use baskets, trays, and other storage solutions to keep clutter at bay.
Now that you have learned how to declutter your bedroom by systematically sorting through each area, determine what (if any) storage solutions may be helpful to keep clutter from collecting going forward.
Evaluate what's left in your space and figure out how you can keep it more orderly. This might involve buying a decorative tray to hold random odds and ends that end up on your dresser, a small bowl for your nightstand to hold your rings and jewelry, or an ottoman with hidden storage so you can stow away extra throw pillows and blankets.
Just make sure to be intentional with any storage purchases so that you aren't recreating clutter in your home.
You can also make decluttering easier going forward by having an easy-access receptacle for any items you come across later that you want to declutter.
What's your biggest challenge when it comes to decluttering your bedroom? Leave a comment and let me know!
Sign up on the form below to get weekly decluttering and simplifying inspiration sent straight to your inbox! You'll also get the free Declutter Plan of Attack Worksheet to help you customize your own decluttering plan for your home.