Want to learn how to be ruthless when decluttering clothes? Years ago, I thought more clothes equaled better. I liked having options and variety and feeling like I was (sort of) keeping up with the latest styles.
The problem was I hardly ever wore the majority of clothes I owned. And yet, I felt like I had nothing to wear.
Having too many options can create decision fatigue. If you're tired of looking in your closet and seeing a bunch of clothes you don't wear and wish you'd never purchased, this post on how to be ruthless when decluttering clothes is for you.
In this post, you'll learn:
How to be ruthless decluttering your wardrobe
The best questions to ask to help you decide which clothes need to go
What do to when you get stuck decluttering clothes
How to maintain your decluttered closet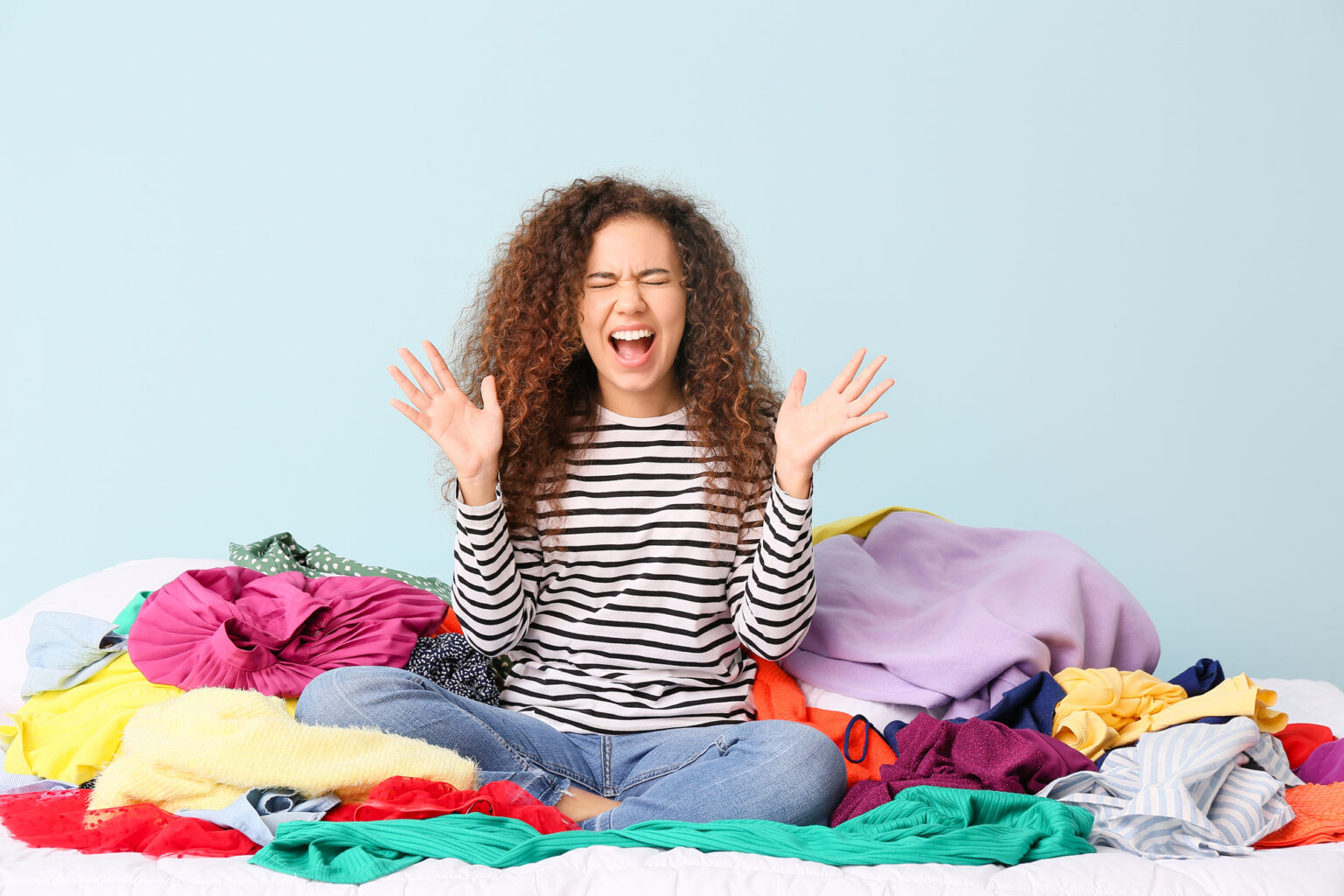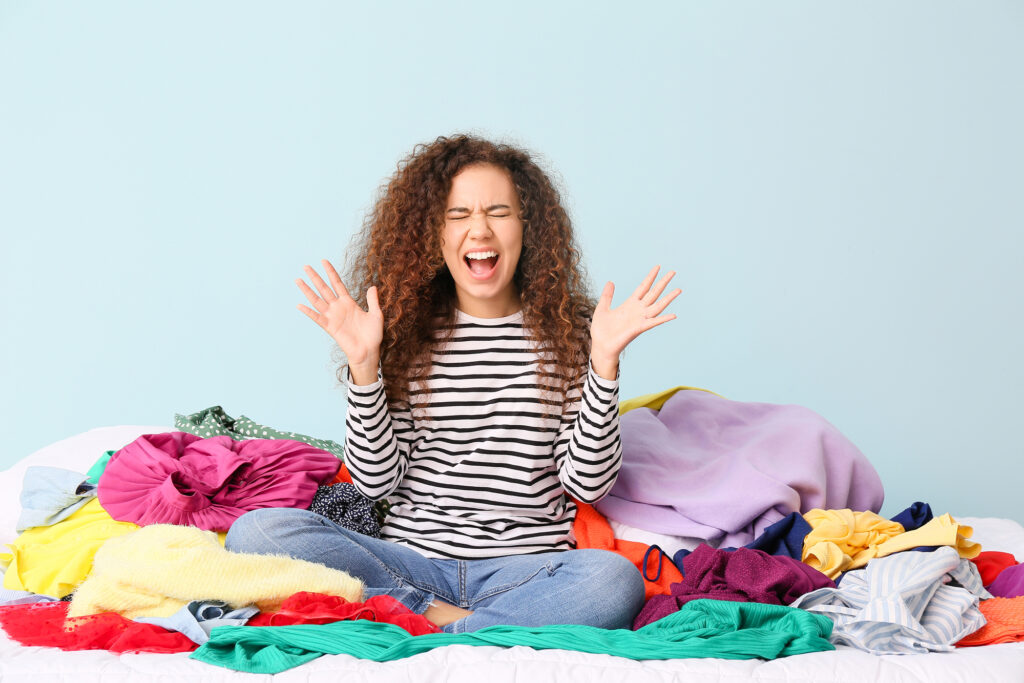 Get in the Right Mindset to Be Ruthless When Decluttering Your Wardrobe
Decluttering is a lot about mindset. How successful you'll be with your decluttering process depends a lot on your state of mind.
If you are mentally prepared to let go and get really honest with yourself, it will be easier for you to be ruthless when decluttering your clothes.
Know why you want to downsize your wardrobe
Before you begin the decluttering process, it's important to know WHY you want to downsize your wardrobe. What will simplifying your clothes do for you?
What are the outcomes you are hoping for? The more clear you are on your end goals, the more likely you are to get there.
I wanted to simplify my wardrobe so that I didn't feel so overwhelmed when getting ready. I was also tired of looking at clothes that didn't fit or that I regretted purchasing.
My goal was not to end up with a capsule wardrobe.
I simply wanted to clear out the things I wasn't wearing and only to keep the pieces I loved and felt confident wearing.
Be clear on what you want your end goals to be for your wardrobe after you've ruthlessly decluttered your clothes.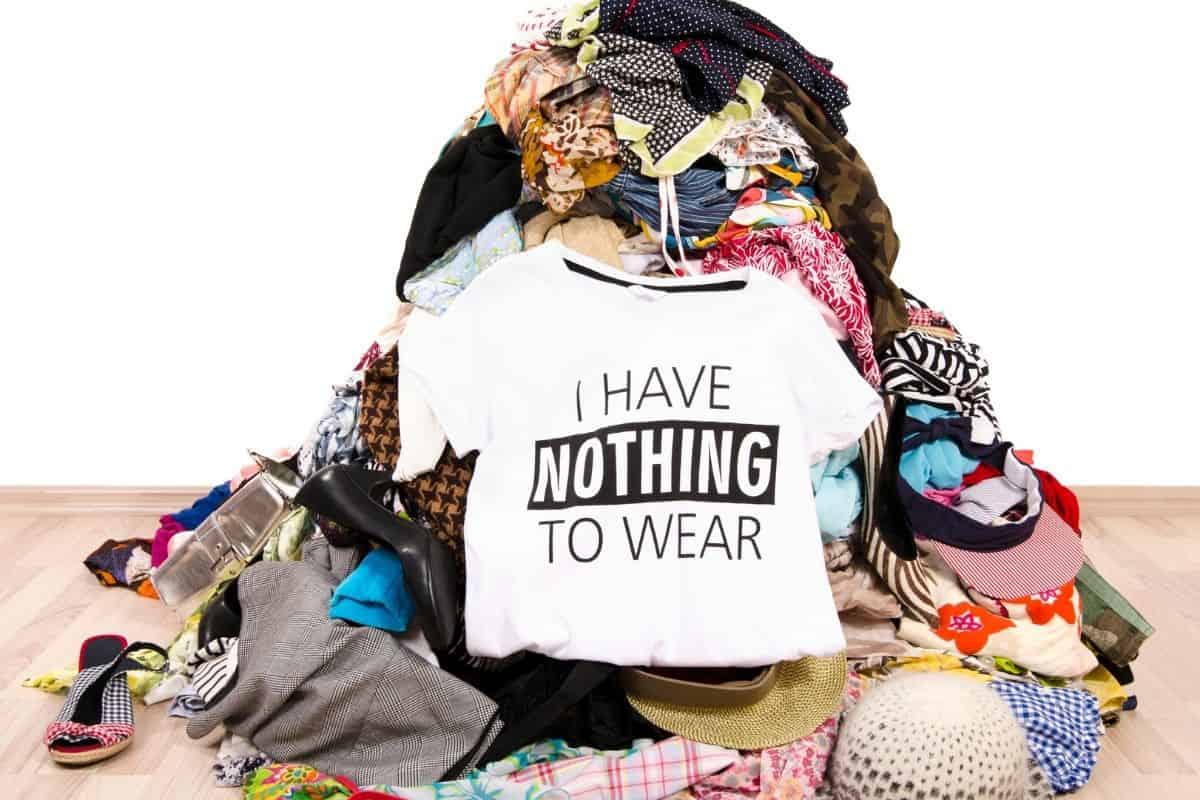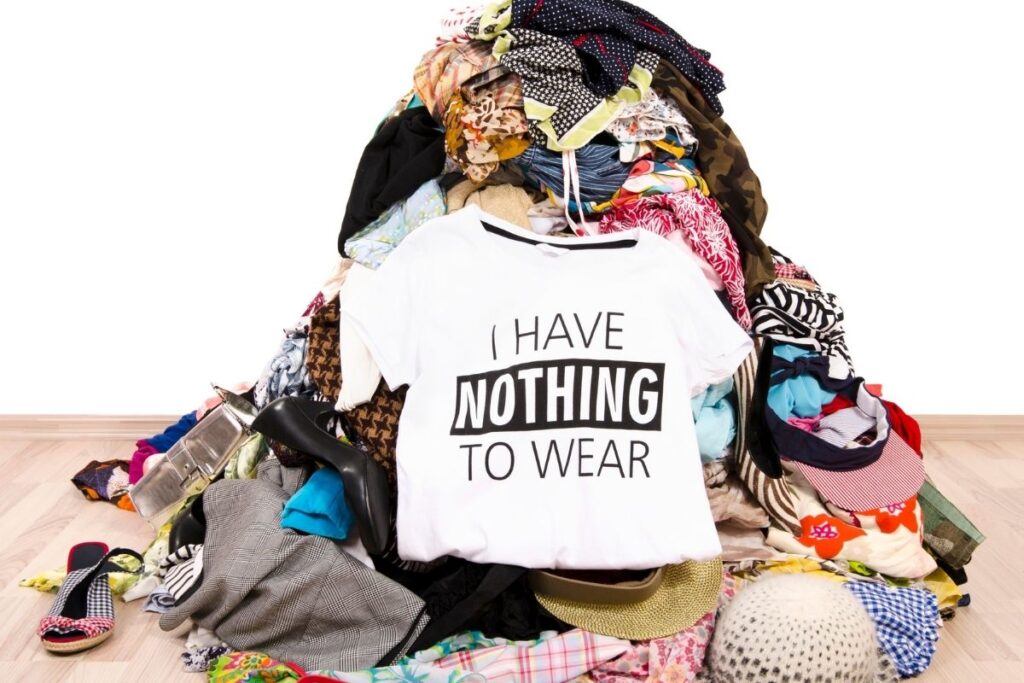 How do you know when it is time to declutter your closet?
It's time to declutter your closet if you have a feeling of dread every time you look in it. If you're feeling overwhelmed, guilty, or sad when looking at your clothes then it's time to make a change.
If you have clothes that are overflowing from your dresser or closet, that's another sign that you have too much stuff for your space and some things need to go.
How do you organize too many clothes?
You don't. It's tempting to want to jump straight to the organization piece, but most people's dressers and closets aren't just a mess due to lack of organization.
The problem is trying to cram too much into them. You want to create a space that looks great and functions well? The answer is to really focus your effort on decluttering, not organizing first.
How do you know if you have too many clothes?
Most people have far more clothes than they need. Most people wear 20% of their clothes 80% of the time.
That means we are storing a lot of extra stuff that isn't getting worn. It's time to get ruthless with decluttering it.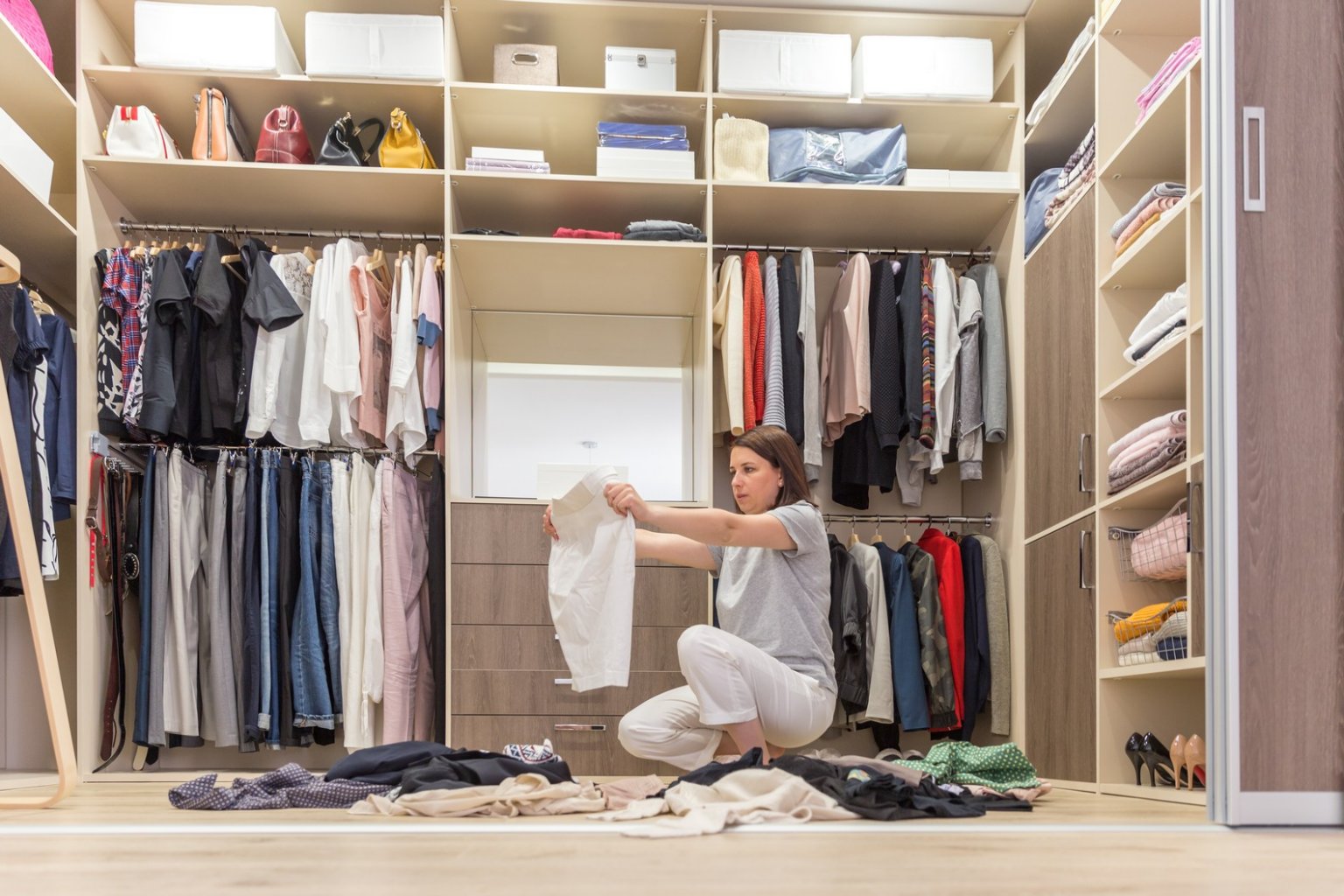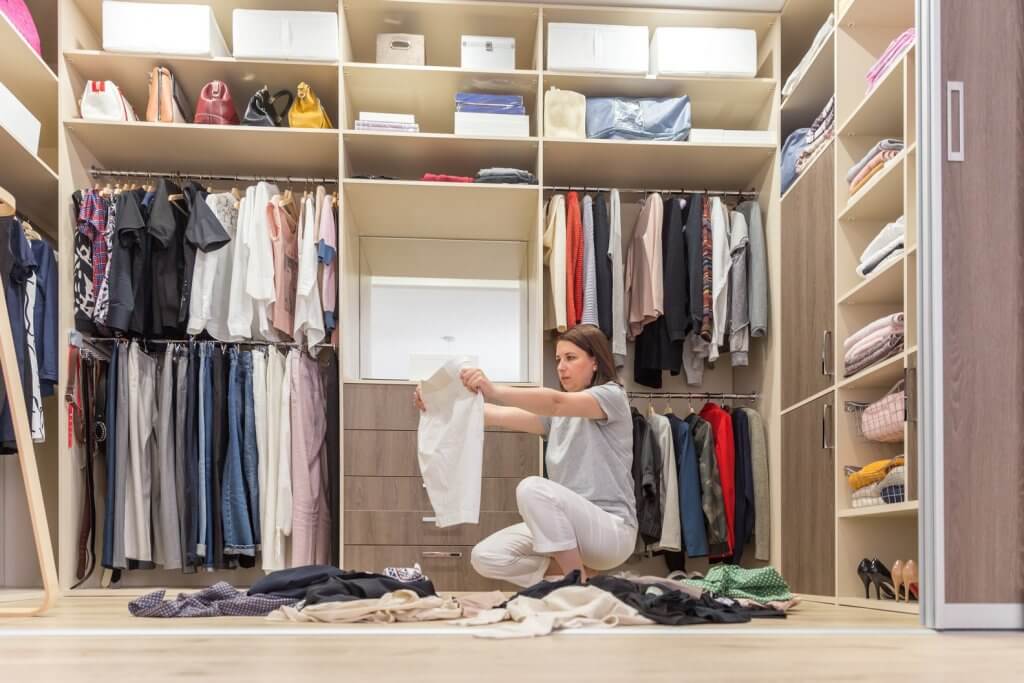 How to Declutter Your Closet
After getting clear on your end goal, start with one type of clothing and take all of that type out of your closet and drawers.
You could start with t-shirts as your first category. As you take them out you may notice right away that they are some you didn't even remember you still owned or ones you are sure you don't want to keep.
Go ahead and set aside any you know need to go. While some items are a clear yes or no, there are likely quite a few that end up in the grey area that you're not sure of.
Use the questions below to help you make decisions on the maybes. You can learn how to be ruthless when decluttering your clothes!
When you're done with one category, move onto another one until you've gone through everything.
Four Tried and True Questions for How to Decide What Clothes to Get Rid of When You Declutter:
1. Have you worn it in the past year?
There are some exceptions to this rule. For example, going through a pandemic may have changed your wardrobe this past year but you may have things you haven't been wearing that you still want to keep.
You may also have a warm coat that isn't worn each year but is still needed for if/when it does get cold.
Or perhaps you have a formal dress you like but don't wear often. The point is, the one year rule will have some exceptions, but by and large if you haven't worn it in a year (and it's been a normal year) that likely tells you something.
2. Why do I keep clothes that don't fit?
This can be a tough one. Keeping clothes that no longer fit, but why oh why do we do this to ourselves?
It does not feel good to have a visual reminder every time you look in your closet of clothes that don't currently fit.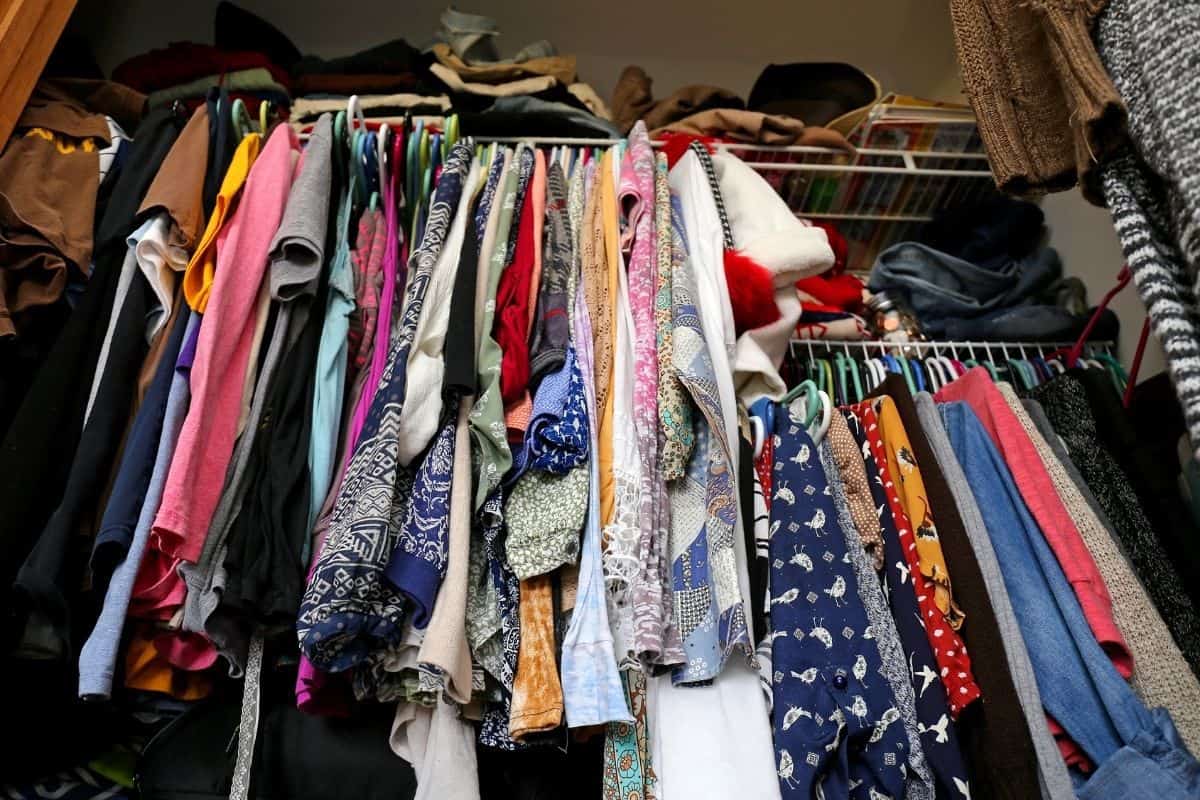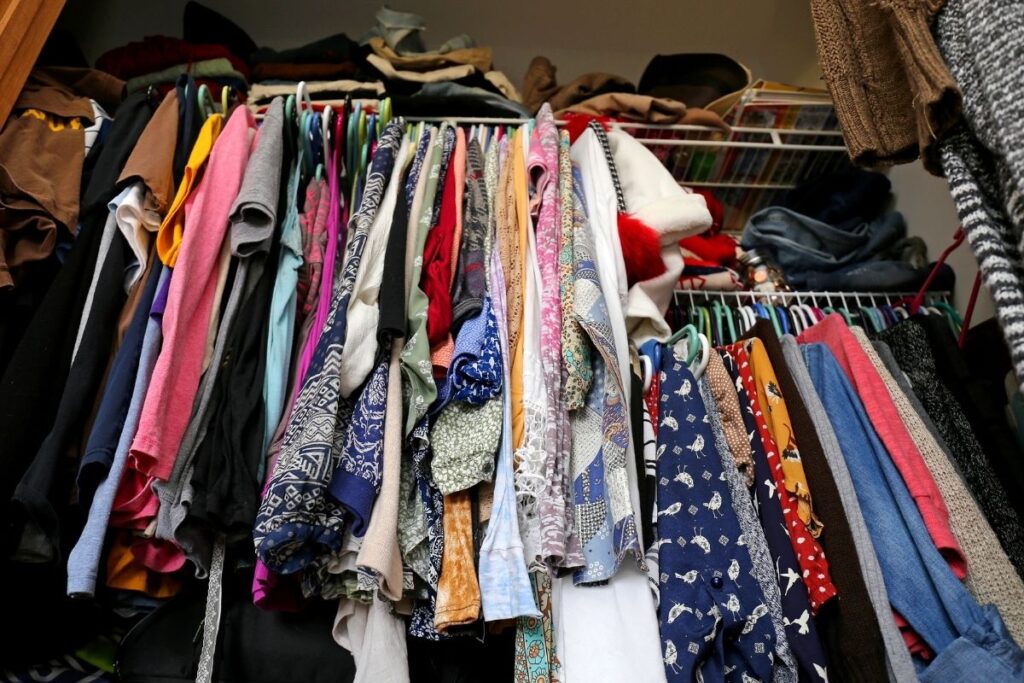 If you're being honest with yourself, how likely is it that they will fit again? And even if they did would that still by a style you'd like?
If you've recently had a baby or are planning a big lifestyle change and really love the clothes, take them out of your closet and box them up and put it in storage until a predetermined end date you've set and put on the box.
If they don't fit then, it's time to let them go.
3. How many duplicates do you really need?
I'm very practical when it comes to decluttering clothes. I don't think you need to get rid of all of your duplicates.
However, you should be ruthless in decluttering them just as you would anything else. If you love those jeans and have them in three different washes, keep them.
If you liked that top so much you bought it in all five colors available, but you really only wear two of them, then let go of the other three.
The whole point of learning how to be ruthless when decluttering clothes is to be very realistic and honest with yourself.
4. Is this stained, ripped, faded, stretched or shrunken?
No one wants to wear clothes that are in bad condition. Unless, of course, you paid extra for those jeans with holes and really love them.
An item could have been your favorite so it's tough to let go of now that it has an irreparable hole or shrunk beyond recognition.
If it doesn't look good and you don't feel great wearing it, it's time to say goodbye.
Clarifying Questions That Will Help You Learn How to Get Ruthless When Decluttering Clothes!
Still not sure about an item? Ask yourself these clarifying questions.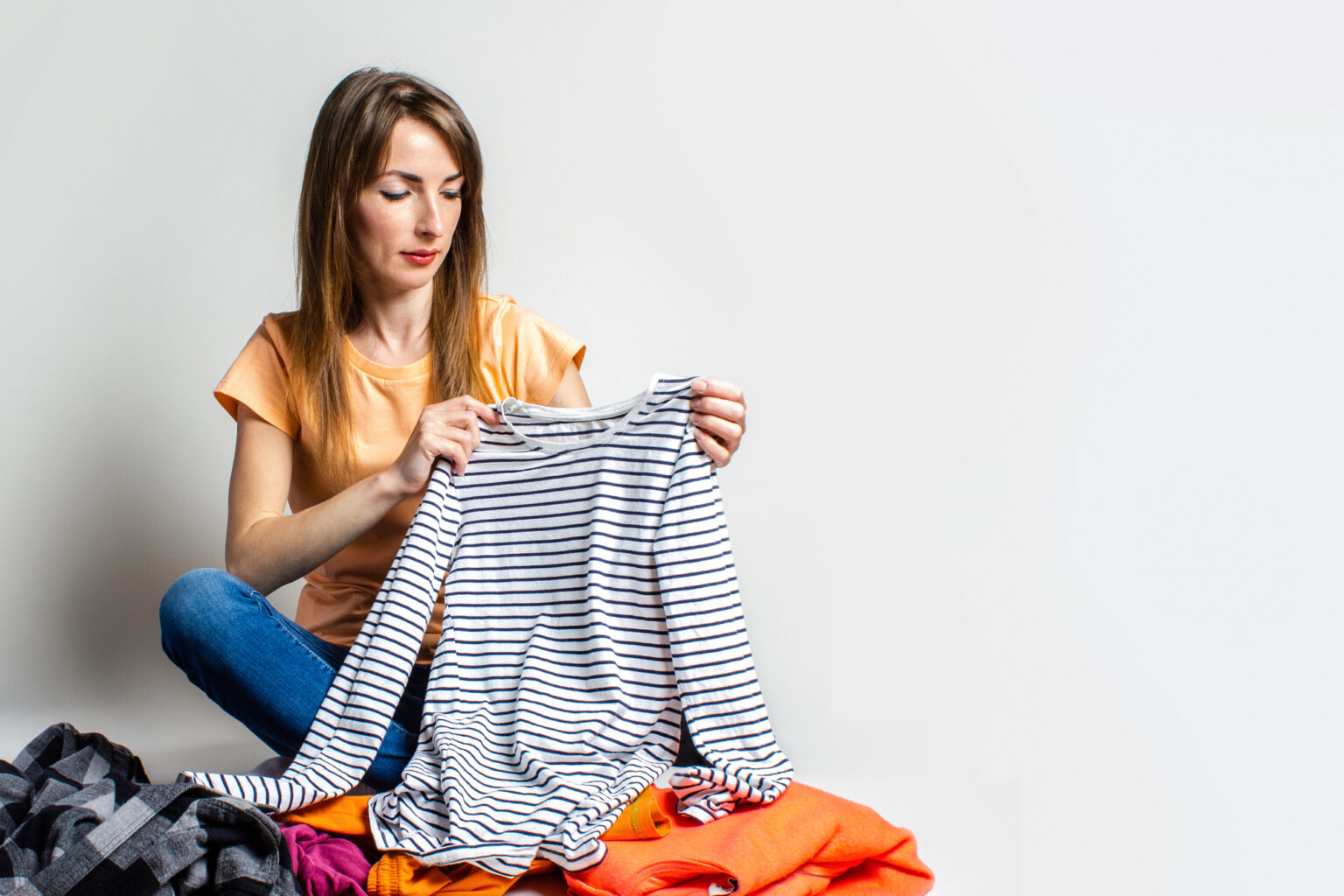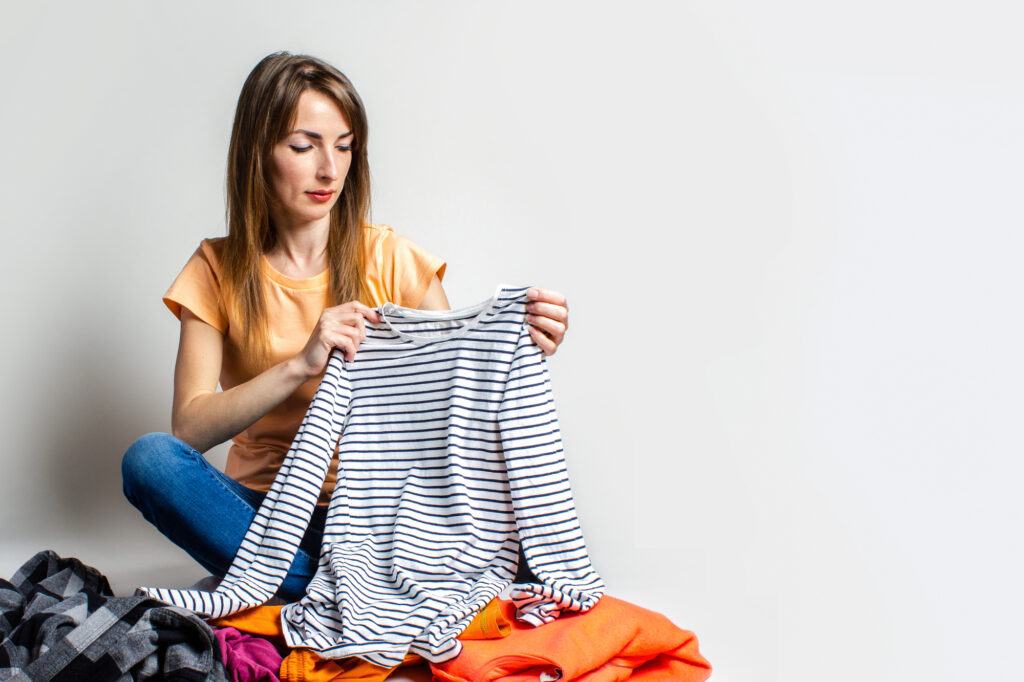 1. Do I love wearing this and feel good/happy/pretty/relaxed in it?
An article of clothing can fit and be 'fine' but you can still feel blah about it.
Most people have an excess of clothes, so focus on keeping what you love and letting go of the blah.
2. If I had to chance to buy it all over again, would I?
It's time to face the buyers remorse. Knowing what you know now, would you have bought it?
If the answer is no, out it should go.
3. Does this flatter me and do I feel comfortable when I wear this?
You should feel good in the clothes that you're wearing. If you don't, let them go.
Life is too short for uncomfortable clothes.
4. Would I be unhappy being caught outside wearing this outfit?
If you run into someone you know on your quick Target errand, will you be embarrassed wearing this?
If you've answered yes, it's time say bye.
5. Do I think this article of clothing will come back in style this decade?
Do you have trendy pieces that are no longer on trend? Consider letting them go now… or planning to hang onto them for another twenty years until they come back around again. (I'm kidding – please don't actually do that.)
I still can't believe some of the pieces I wore growing up that have come back around, but I don't regret having let them go!
Focus on keeping more classic pieces that don't go out of style (and yes I AM including skinny jeans here!)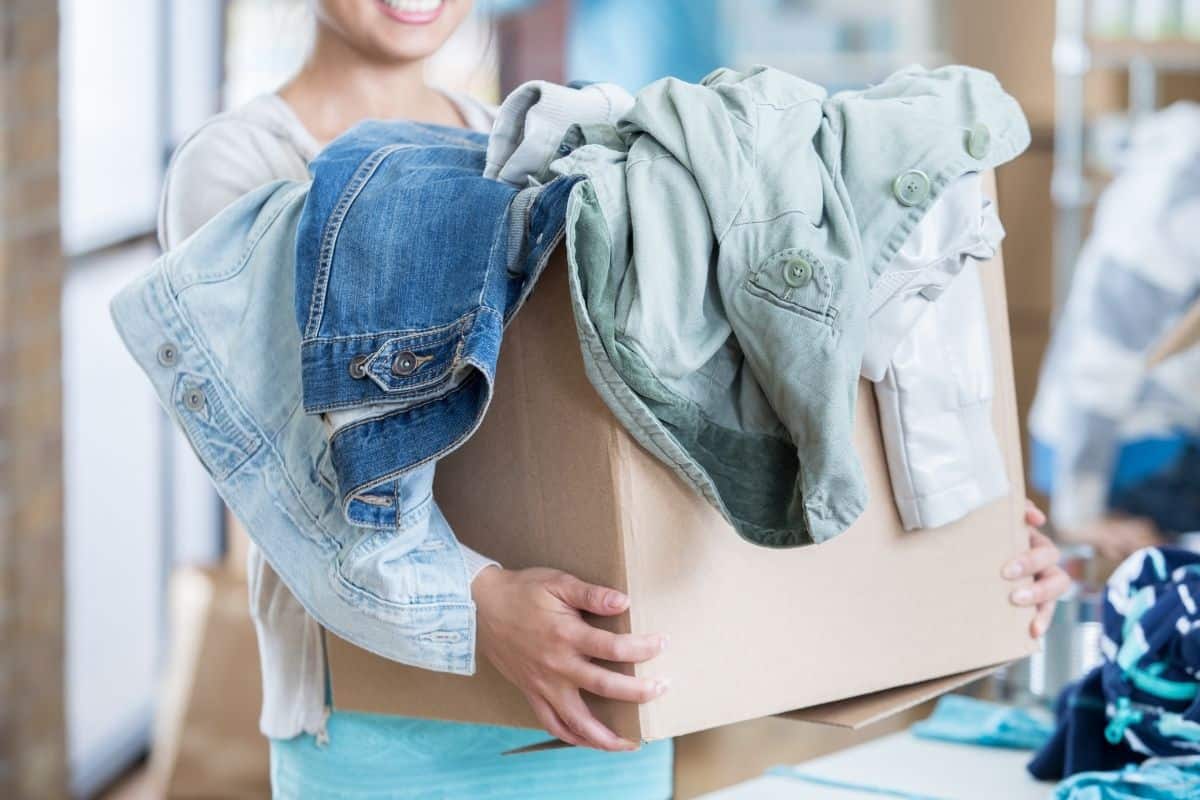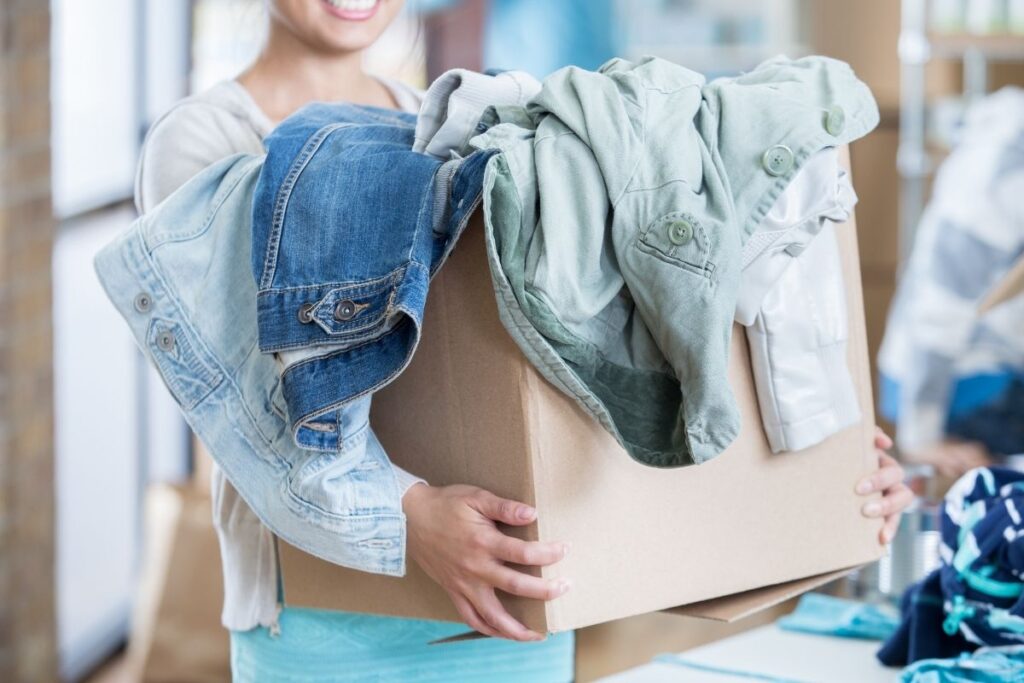 6. Do I love this or the memories I have from it?
Will you actually wear that college sweatshirt again or are you just holding onto it as you fondly remember your college days?
It's ok to keep a couple pieces based on sentimental reason, but those should be few and far between. Your clothes are meant to be worn, not admired on a hanger.
7. How many times have I thought I'll wear that next time?
If you keep skipping over a certain item thinking you'll wear it later, but later never seems to come, that shows you that it's definitely not a favorite and it's a good candidate for ruthless decluttering.
8. If I don't want to wear it now, when will I want to wear it?
If you can't create a realistic and probable scenario for when you'll wear the item then it's time to let it go.
Again, be honest with yourself. Don't hold onto excess waiting for what-if or someday.
Bonus Decluttering Clothes Tips For When You Can't Decide
Have you heard of the "reverse hanger trick?"
Some people really enjoy the reverse hanger trick. At the start of a year or season, hang all the clothes backwards and once you wear something, turn the hanger back around.
Once some time has passed that will help you see which items you are wearing.
This isn't a method I prefer because, for me, it feels a bit fussy and doesn't tell me if I've just worn something once versus a dozen times.
Some have found it to be a useful practice though, so it's worth trying if you think it may help.
Make a point to wear every item you own
If you try on an item that fits well, but you aren't sure you love it? Try wearing it for a day.
I've found it eye opening to intentionally select an item I'm not sure about and notice how I feel wearing it.
In most cases, when I've done this, I decide at the end of the day that I don't want to keep the item. If I'm not reaching for something wearing it for a day usually tells me why I haven't been wearing it.
It might be that it isn't as comfortable as I'd like, I don't feel good enough in it, or it just isn't practical for my life.
Get an outside opinion
When you're learning how to be ruthless when decluttering clothes, it can be helpful to have an honest straight forward friend help you with the process.
Pick a friend who will tell you the truth (in a way that isn't insulting). It can be really helpful to have an outside perspective particularly when you're an indecisive person.
You can declutter clothes quickly with a friend helping to make decisions. As you get practiced at it, it gets easier to decide what stays and what goes.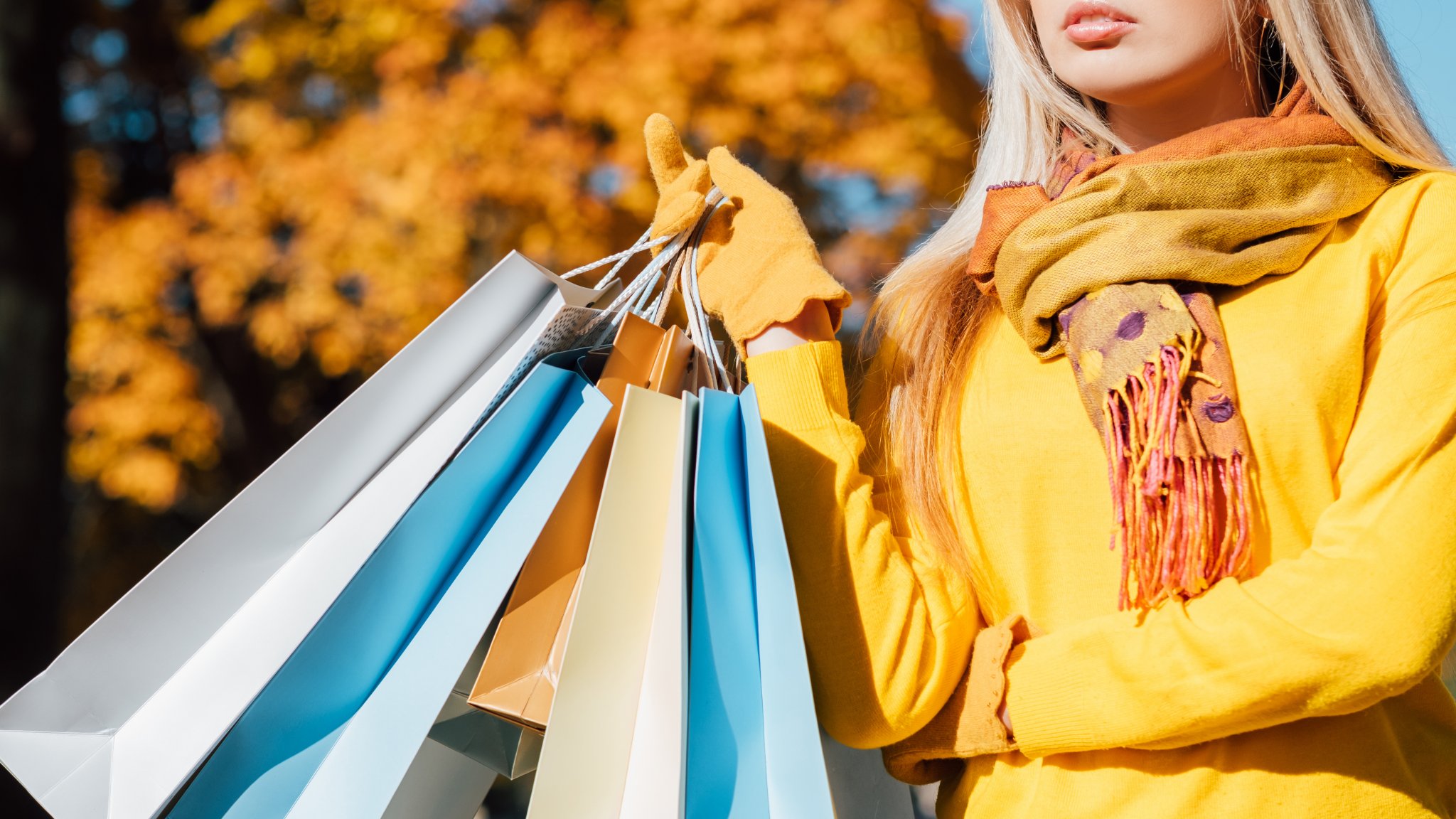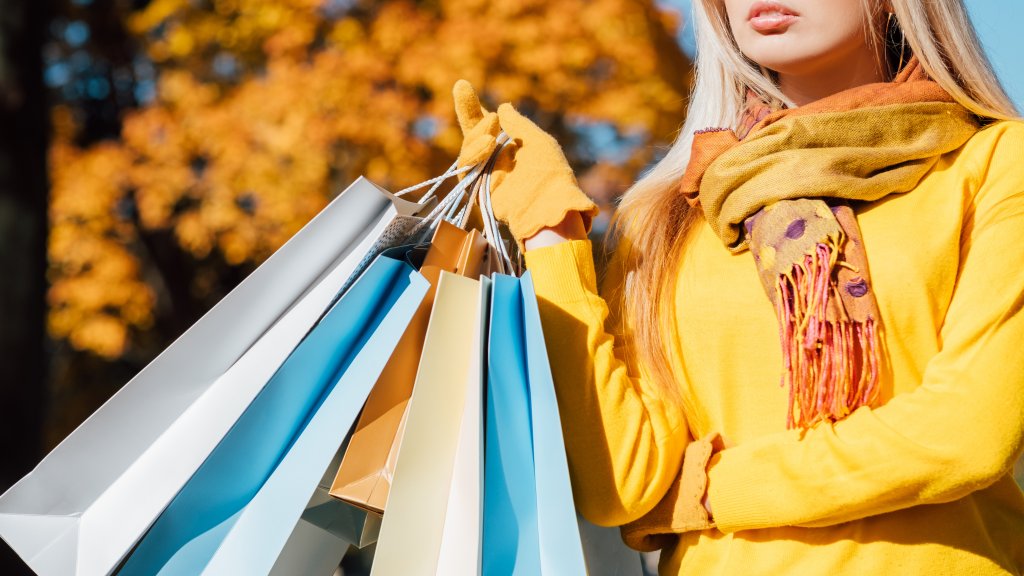 Why Do I Buy Clothes and Never Wear Them?
Finding clothing pieces that still have tags attached can be painful. Let's look at why this happens.
Why did I buy this?
Ever find yourself looking at something in your closet and think why did I get this? People end up bringing things into their home that they don't love for a variety of reasons.
Maybe you didn't try the item on in the store and then waited too long and can't return it. Perhaps you were looking for a certain type of thing and settled on something that was 'good enough' but that you never really loved.
It also could be that you were shopping and just wanted something new so you tried a style that wasn't really you. Impulse purchases are a real thing and rarely end well.
Why do we keep clothes we don't wear?
So then why do we keep those items that we didn't love? One reason is because of guilt. You feel bad that you wasted money on it so you keep it hoping that one day you'll realize you love it.
Other times you hang onto clothes you don't wear because of the memories you have attached to them.
There are many reasons people keep clutter. Identifying why you have it can be the first step in finally letting it go.
Why Does Decluttering Your Clothes Feels So Good Anyway?
Once you've finished ruthlessly decluttering your wardrobe, enjoy how much more space you now have!
It feels so good to open a drawer or your closet and see only clothes that fit well and that you love. It's easier to get ready when there are fewer options to choose from.
Gifting your decluttered clothes to friends, family, your Buy Nothing group, or to a local organization you want to support feels good too!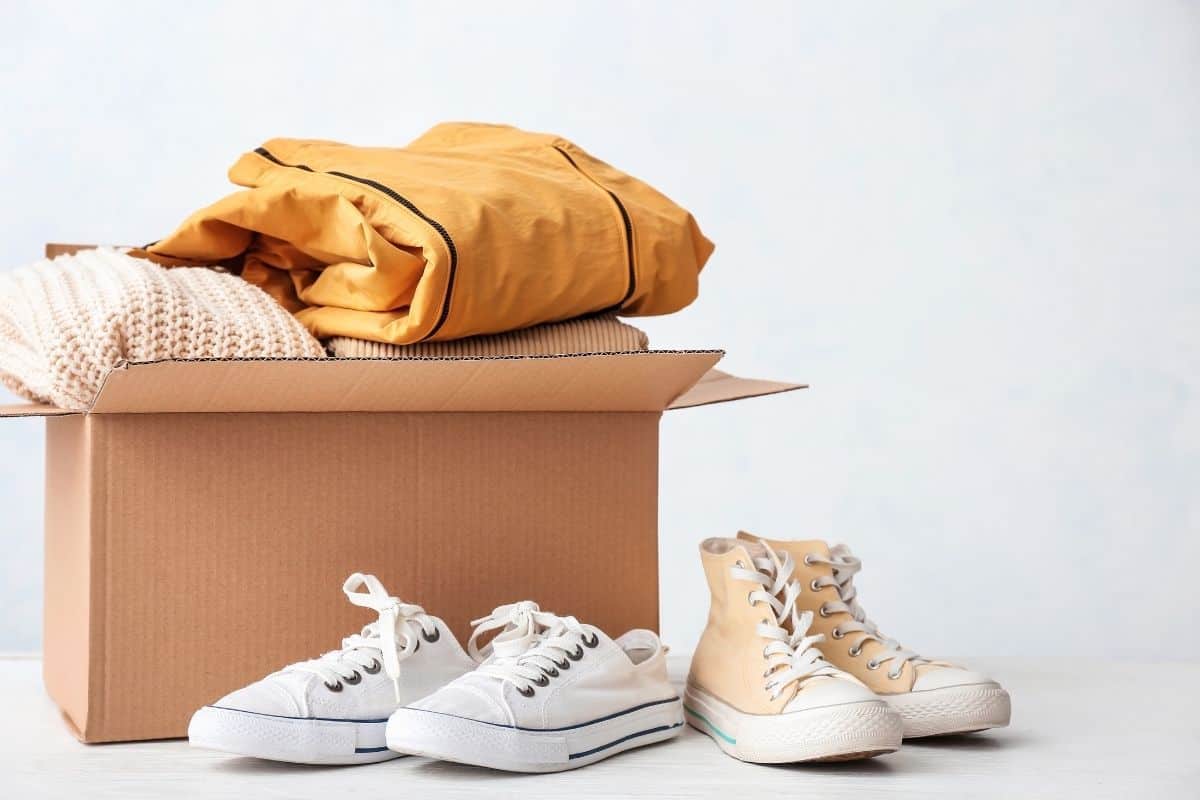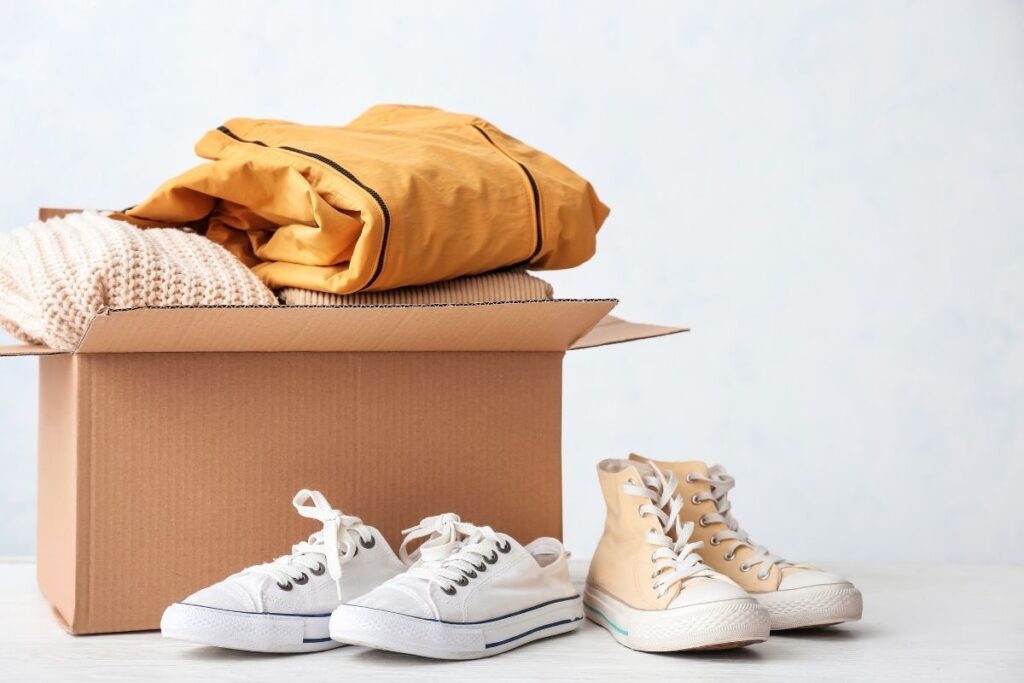 How to Keep Your Clothes Decluttered
Once your wardrobe has been simplified and decluttered, you want to keep it that way. Being more intentional with shopping is key for maintenance.
Be very picky about what you add to your closet. Consider letting something go if you bring something new in.
Decluttering helps to create a greater awareness of how you feel in clothes. When you put something on that you haven't worn in a while, notice how you feel wearing it.
If you don't love it, let it go. Have a small box or basket in your home where you can quickly and easily put items that you want to donate.
Reassess your clothes seasonally. That will help you maintain your streamlined wardrobe.
Now You've Learned How to Be Ruthless When Decluttering Clothes!
I hope that these tips have helped empower you to be ruthless when decluttering your wardrobe! It really is so nice to have a clutter-free closet.
A lot of space and emotion is wasted on clothes that are no longer a fit for your life. Let them go and embrace the here and now.
Have you decluttered your clothes? Let me know how much of a difference it's made for you in the comments section!
Want to keep up to date with The Simplicity Habit? Sign up on the form below and get tips on decluttering sent straight to your inbox each week! You'll also get the Your Home Decluttered Jumpstart which includes 100 easy items to declutter and 12 high impact areas to declutter in 10 minutes.