Inside: Learn some of the benefits of buying used and the ten best things to buy second-hand.
How often do you shop for second-hand stuff?
I'm a big believer in shopping at second-hand stores. Not only do I love a great deal and the thrill of the hunt for the perfect piece, but there are additional benefits to shopping secondhand.
Buying used instead of new is a great way to save some cash. And it's also a great way to prevent more items from going into a landfill.
But many people hesitate to buy secondhand. And it's true – there are some things you just don't want to buy used. However, there are plenty of items that are well worth investing in, even after they've had an owner – or several.
And if you aren't quite sure what you should be buying second-hand?
I've got you covered.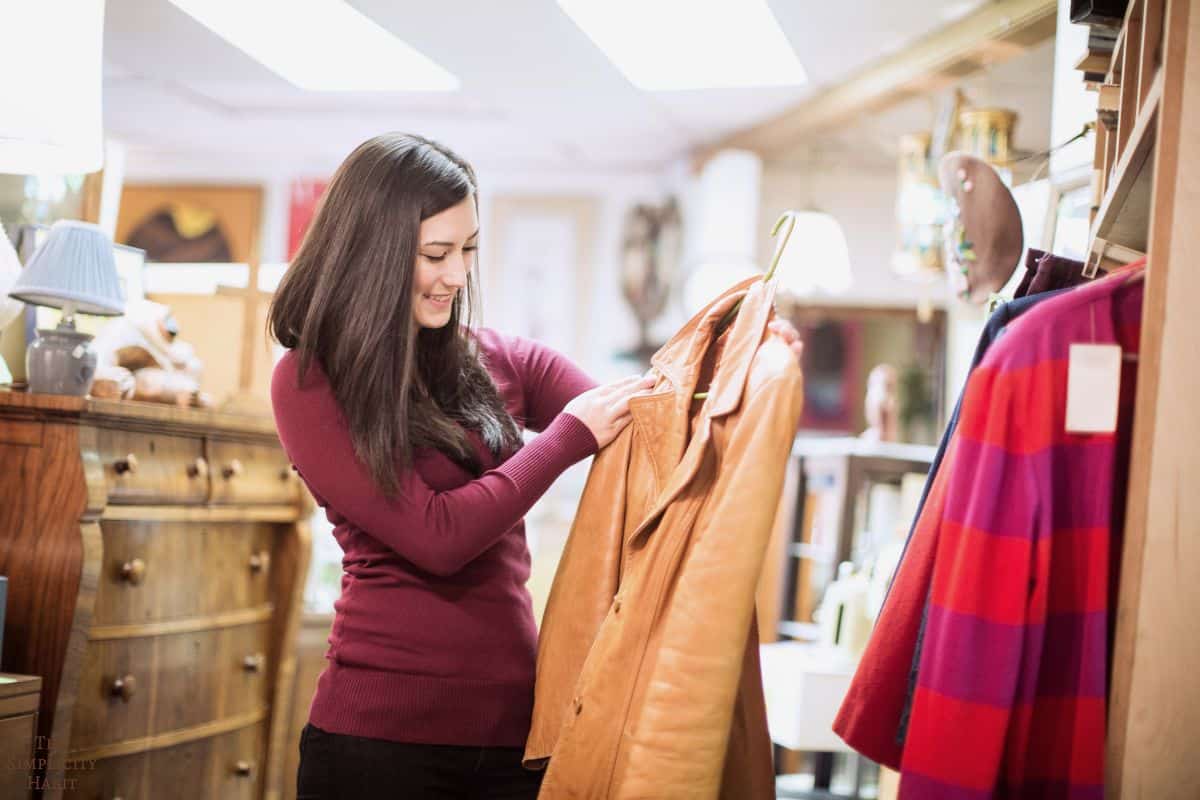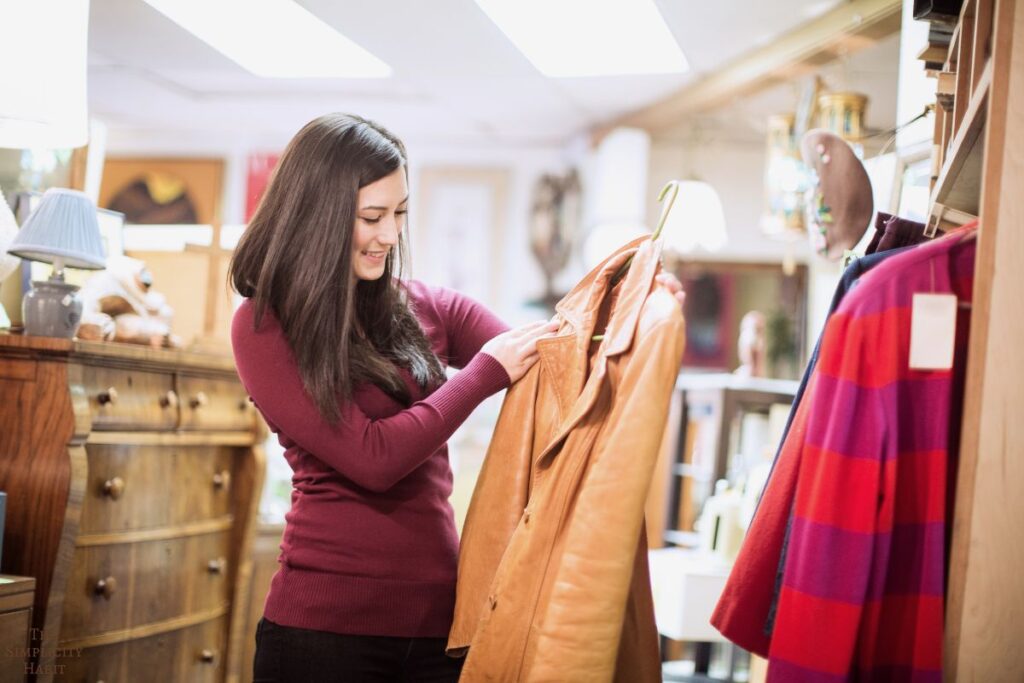 Why Buy Second-Hand?
Here are just a few of the reasons to consider buying items second-hand.
It saves you money.
One of the most obvious reasons to buy second-hand is that it saves you money. With the price of just about everything going up, it's become even more important to cut costs where you can.
There are so many ways to get things second-hand from your local thrift shops to online stores to using Facebook marketplace or OfferUp. This allows for a variety of options for almost anything you can imagine.
You may have the opportunity to get an even better deal when you're buying directly from the seller. You can always offer less than their asking price and negotiate. Just make sure you do so in a respectful way so it's a win-win for both of you.
It's better for the environment.
Buying second-hand is more sustainable than continuing to purchase cheap mass-manufactured goods.
With the number of donations that thrift centers receive, it's helpful to have more buyers for those items before they get recycled, trashed, or sent to a third-world country.
Buying secondhand is a great way to get more mileage out of items and keep them out of a landfill longer.
You can acquire unique items.
Another benefit to buying second-hand items is that you can get unique pieces. If you like having pieces that no one else does, buying used is a great way to achieve that.
If you feel like the quality of items has significantly decreased in recent years (i.e. Ikea furniture) then buying second-hand gives you the option to buy older things that are better quality.
You can customize or update the piece to further add to its uniqueness while appreciating the way things used to be made.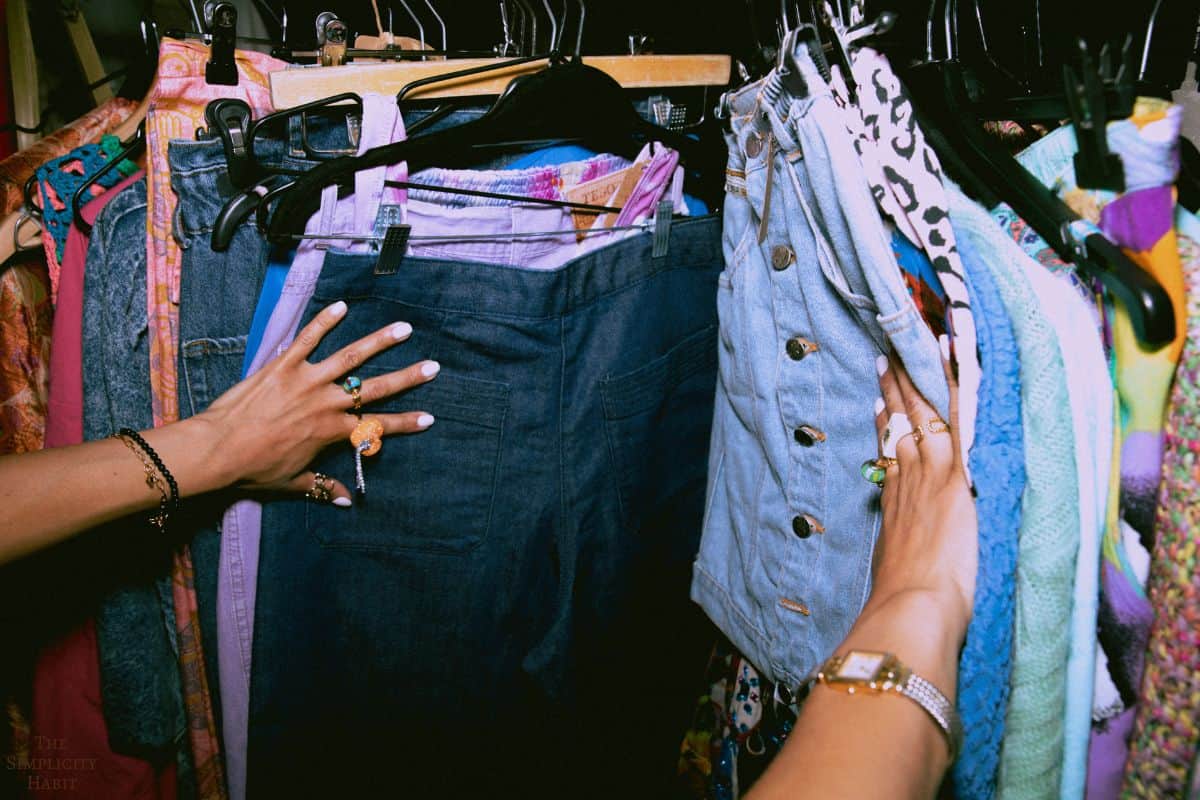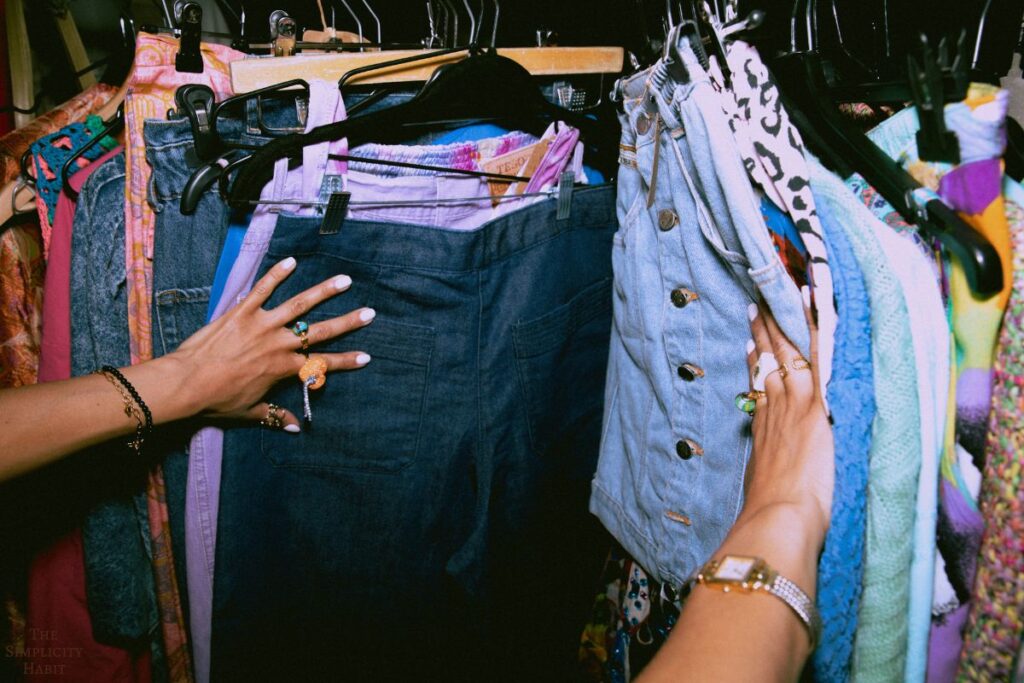 The Best Things to Buy Second-Hand
Not sure what items are worth buying secondhand? You aren't alone – but I'm here to help! From sweaters and strollers to tables and treadmills, here are some of the best things to buy second-hand.
I love finding ways to make do rather than buying new when possible. I've also included some of my favorite items I've purchased second-hand.
#1: Clothes
When it comes to the best things to buy second-hand, clothes are at the top of the list.
Shopping for used clothes can feel a bit like a treasure hunt – you never know exactly what you're going to find. But unlike seeking out an elusive treasure, you're almost guaranteed to discover something great during your search.
Whether you browse thrift store racks for fashionable finds, check out consignment shops for designer brands, or buy your used clothes online through sites like thredUP, you can usually find something without too much of a struggle.
In many cases, you can find lightly used – sometimes even unworn – items that cost a fraction of what you'd pay if you were buying new.
And buying used clothes is more than a way to save a little cash. It's also a big step to take toward living a more sustainable life. By investing in pieces that have plenty of life left – instead of indulging in fast fashion or otherwise buying new – you're reducing the amount of stuff that is sent to textile recyclers or a landfill.
My favorite second-hand find: A like-new down-filled winter coat that my daughter got a lot of great use of during the colder seasons.
#2: Accessories
Whether you're looking for a new to you purse, belt, or jewelry statement piece, buying second-hand is a great way to go.
You can find unique or usual pieces to help express your style. Accessories are often in great condition as it tends to be a type of item some people have a lot of but don't wear very often. That should also give you pause as you consider if it's something you really want to buy as you don't want it to become clutter in your home either.
My favorite second-hand find: A barely used purse I found on Mercari for a tenth of what it would have cost new.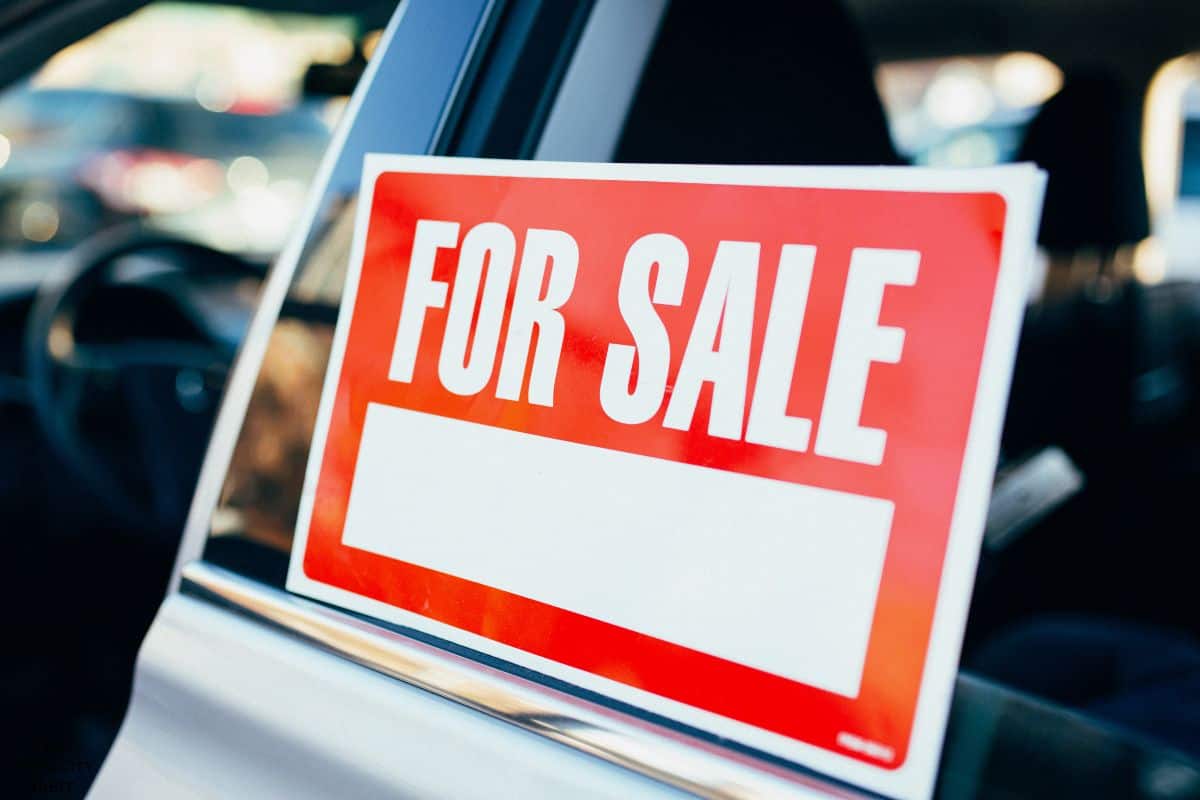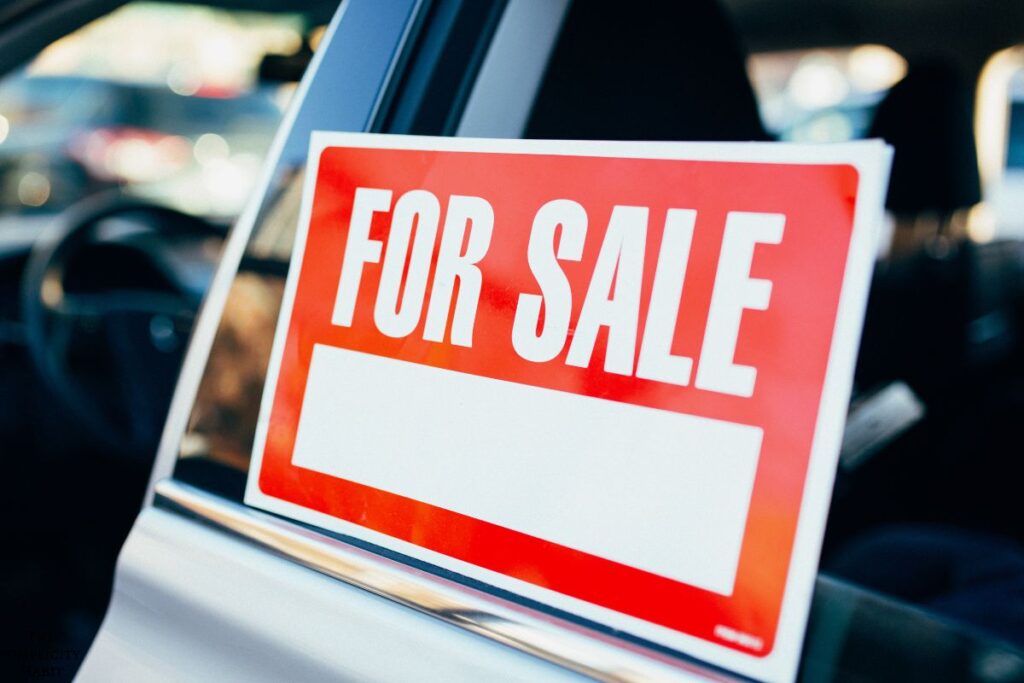 #3: Cars
Cars are another smart second-hand purchase. A new car's value drops dramatically almost as quickly as you can drive them off the lot. And if you finance it, your new car comes with a hefty monthly payment for years to come.
You can save a ton of money while still purchasing a quality vehicle by shopping for a used car. While this was definitely more difficult to do in the past couple of years with the prices of both new and used cars skyrocketing, prices have begun to come down as inventory has increased for used cars.
You can certainly find some lemons in the used car market, but a careful search can lead you to find exactly what you're looking for – at a fraction of what you'd pay for the same vehicle new from the dealer.
You'll definitely want to do your research and ensure your used car is inspected by a trusted mechanic before you buy it. Consider purchasing a carfax report as well. As long as you do your due diligence, you can get yourself a reliable car at a reduced price.
My favorite second-hand find: It's hard to pick just one in this category as I've purchased all of the vehicles I've owned this way. My Acura Integra was purchased directly from its owner and our current Toyota Sienna was purchased from Carmax. Both were great cars that have lasted a long time!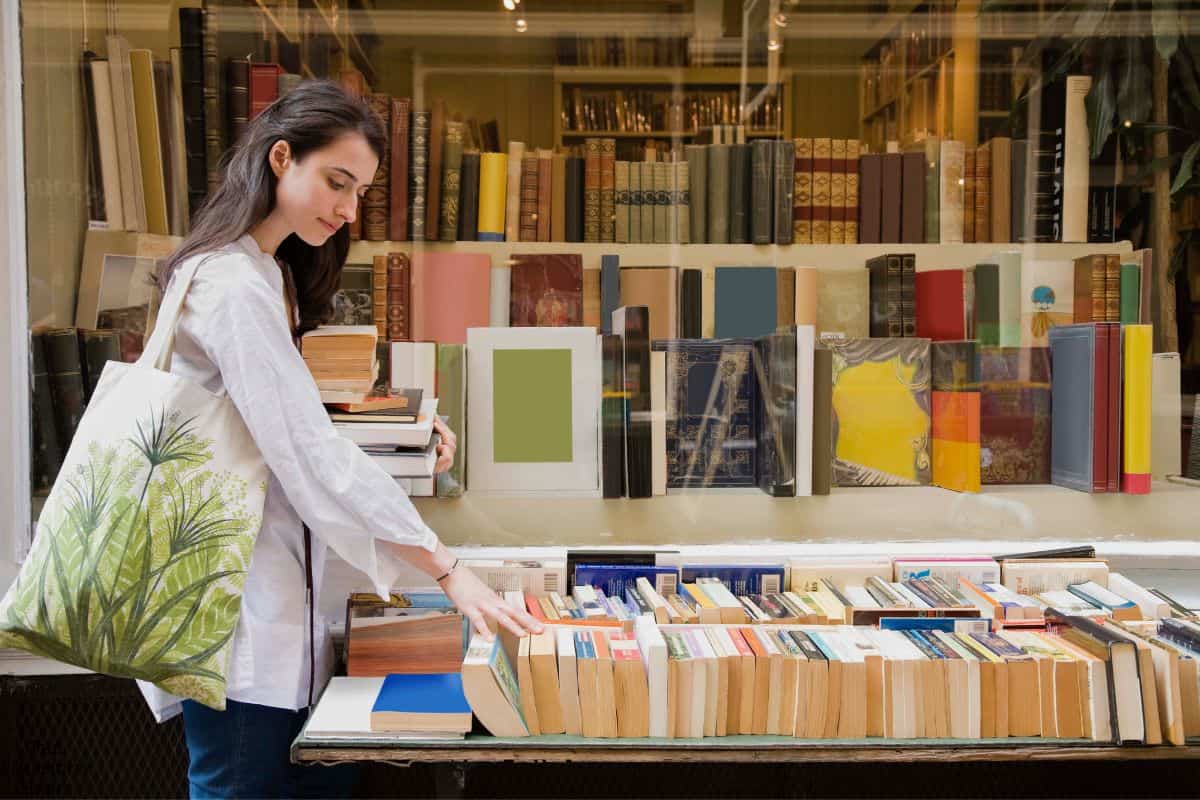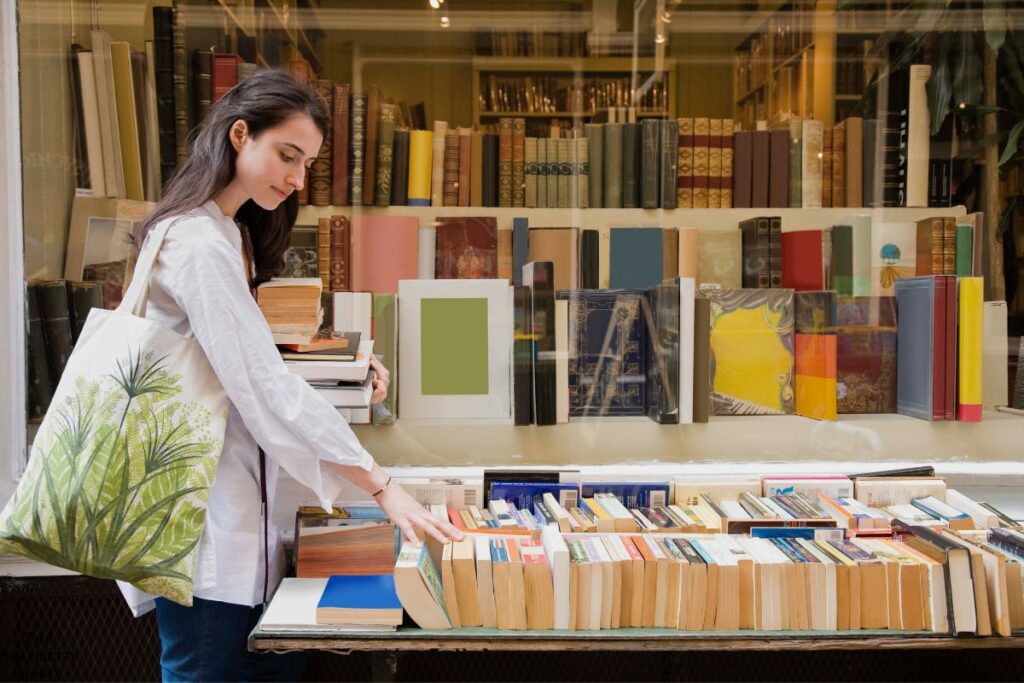 #4: Books
While books are something I stopped buying as much after simplifying our home, when I do buy them, I get them used.
Second-hand books are typically available at a great deal – a fraction of the price you'd pay for a new copy. And there's generally nothing wrong with them.
The latest bestsellers, old classics, well-loved cookbooks – you can typically find all of these, and more, at your local second-hand bookstore.
If you're dying to read a specific book but don't have the patience to deal with the waitlist at your local library, chances are high that you can find what you're looking for and grab a copy for yourself for only a few dollars.
Other great spots to shop for used books include garage sales and virtual auction sites like eBay or Amazon marketplace. You can also keep your eyes peeled for local book sales; many cities will hold a big one once or twice a year where you can pick up a few new reads at an absolute steal.
My favorite second-hand find: Last year we found a fiction book about horses that my daughter loved at a local thrift shop. It also happened to be half off that day. She ended up enjoying that one so much that we purchased the rest of the series on eBay.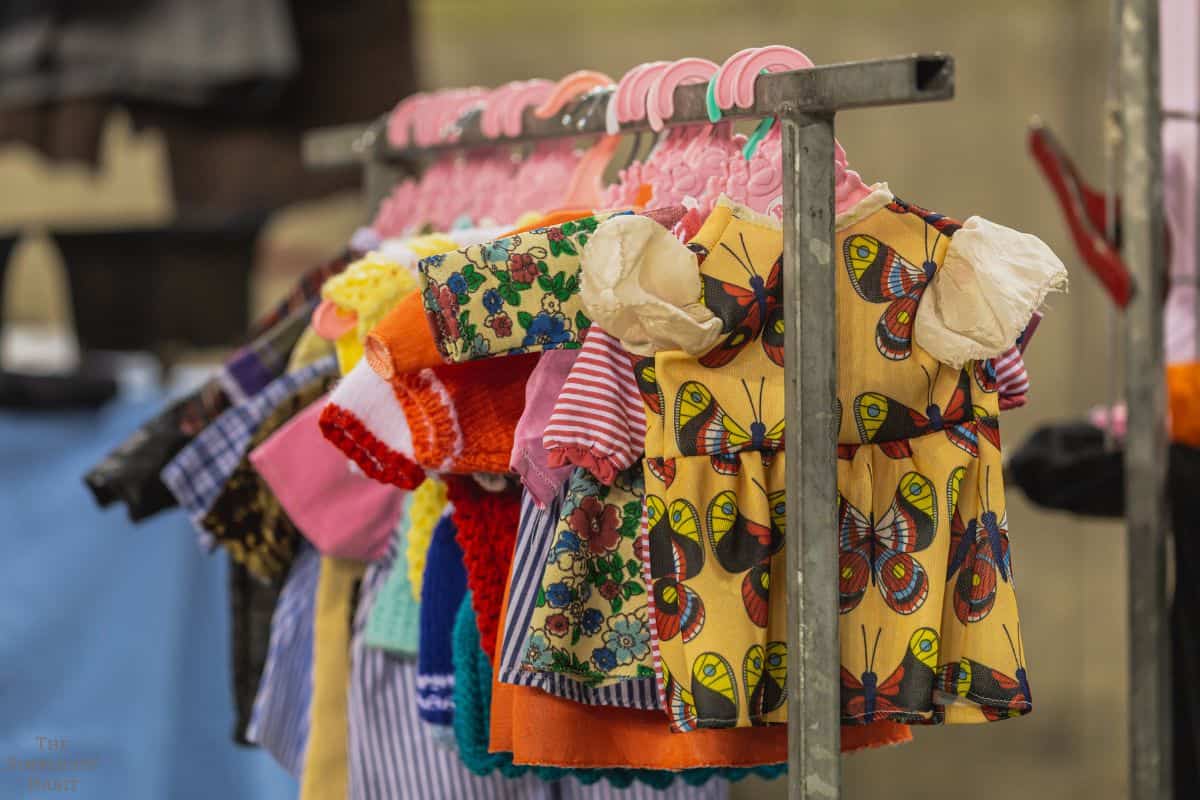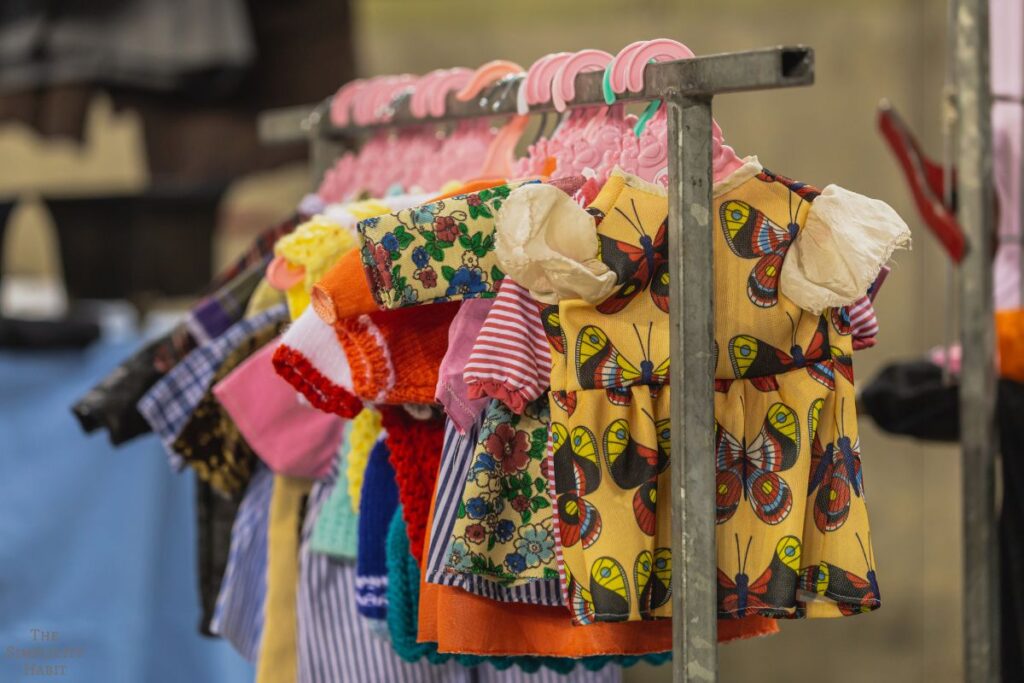 #5: Baby Clothes & Gear
If you're expecting a new addition or have a little one at home already, you know that there's a lot of baby stuff you can acquire. While some of the baby gear isn't necessary, there are certain items you'll want to have.
From bibs and cribs to toys and clothes, it can get overwhelming – and expensive – fast.
And while you might be tempted to buy a lot of the things brand new, there's nothing wrong with buying used baby gear. In fact, in many cases, it makes a lot of sense.
Baby clothes
Take baby clothes, for instance. It's tempting to stock up on new adorable outfits when you're expecting, but you might want to reconsider splurging on never-worn stuff.
First of all, you're likely to get some oh-so-cute baby clothes gifted to you because friends and family can't seem to help themselves. Also, you don't know exactly how big the baby will be when it's born. Some babies completely skip that newborn size!
And when they're young, babies grow so fast that in some cases, they can only wear a given outfit once before it no longer fits. Not to mention, they're messy. Watching your little one ruin a brand-new outfit isn't very fun – or a good use of your money.
Baby gear
And it's not just clothes. Toys, cribs, high chairs, diaper bags, and all kinds of baby gear can be bought second-hand. And, in many cases, can be resold or passed along to someone else in need once you're done with them, too.
Buy Nothing is often a great resource for this. Not only do you get these short-lived items second-hand but through this great community group, it's also free!
Note: With any item, but baby gear especially, it is a good idea to check to see if the item you're considering has been recalled for any potential safety issues.
My favorite second-hand find: When my kids were babies the popular baby carrier was the Ergo. We were able to get a gently used one at a deep discount through Facebook marketplace.
#6: Kids' Clothes & Toys
Not only do babies grow out of things quickly but so do children. And if you have a kid who plays hard buying new clothes feels pretty painful as they wear them out or outgrow them quickly.
We've gotten most of my kids' clothes second-hand and it's worked great. We saved a lot of money and don't feel as frustrated if something gets ruined.
In addition to clothes, toys, bikes, and board games can be great to get second-hand as well. Just check to make sure the items are in good working order and aren't missing any pieces.
Local bike shops may offer a free safety check on a new-to-you bike to make sure it's safe to ride.
My favorite second-hand find: My daughters have started learning how to stretch their dollars with thrifting and have found brand-new clothing pieces at a local thrift store.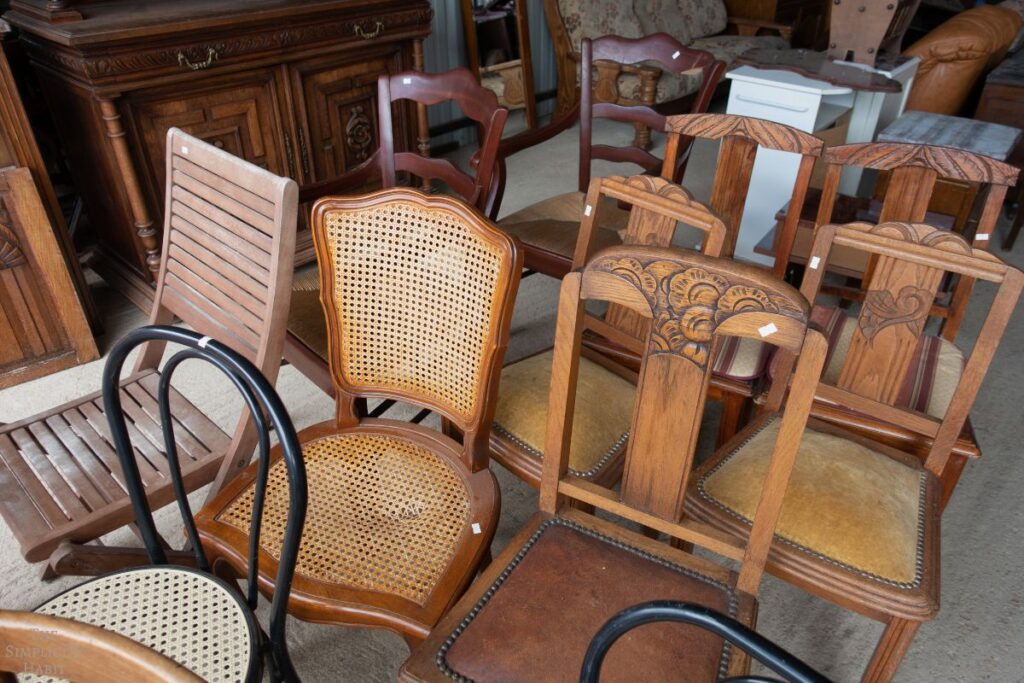 #7: Furniture
Let's be honest – furniture isn't cheap. Especially if you're in the market for high-quality, solid wood shelving or an authentic leather couch.
That's why shopping for second-hand furniture is so great. Not only are you often able to find well-made pieces in good condition, but you can get them at a reasonable price.
There are entire thrift stores dedicated to furniture, not to mention plenty to browse on Facebook Marketplace and Craigslist. Whether you're looking for a single piece to finish a room or enough furniture to fill a house, you're almost guaranteed to find what you need second-hand.
Some pieces may need more TLC than others so make sure to thoroughly look over any item you're considering purchasing.
My favorite second-hand find: We've purchased quite a few pieces of used furniture, but my favorite one is my antique roll-top desk. I was fortunate enough to get it for free in my Buy Nothing group.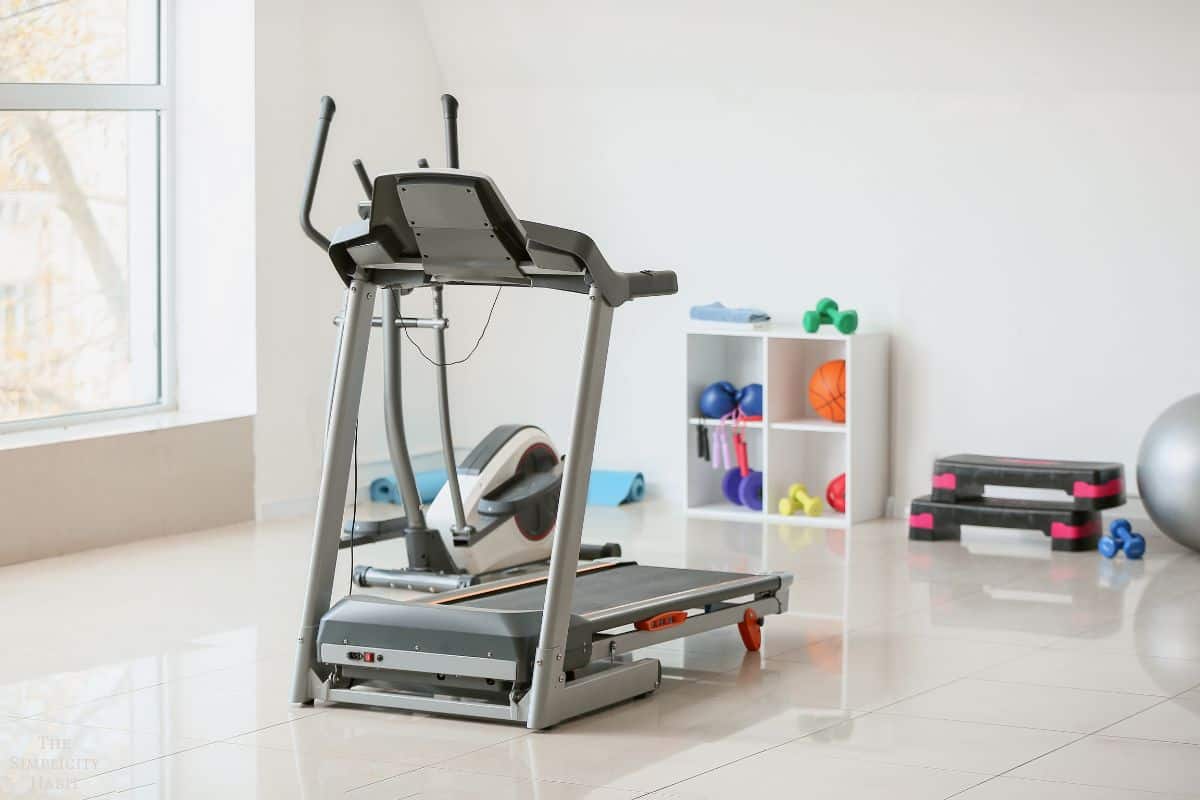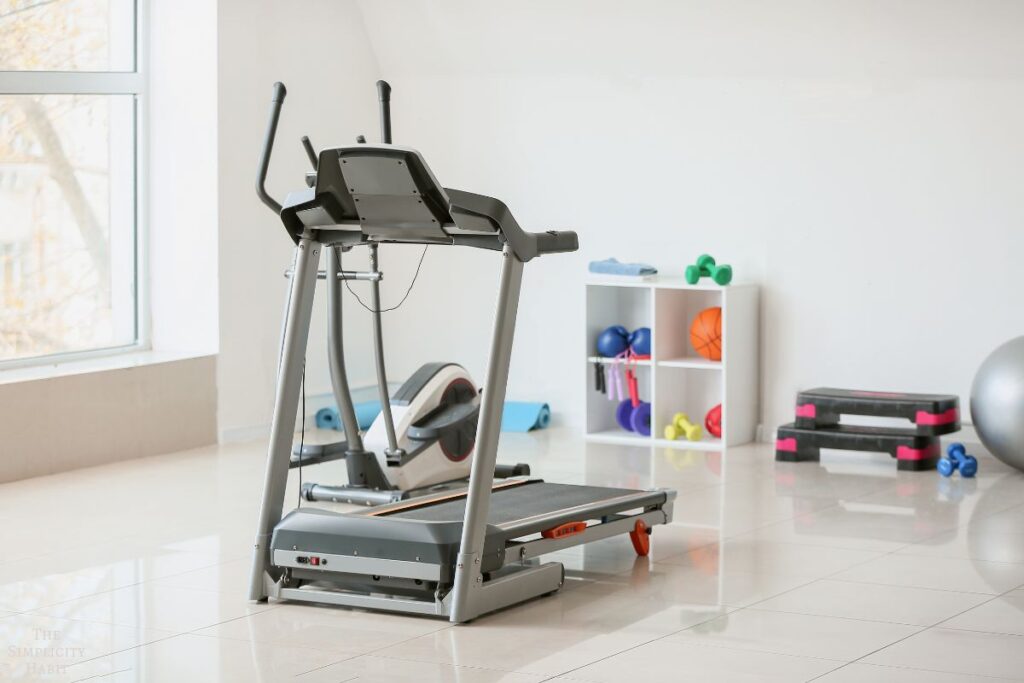 #8: Exercise Equipment
Lots of people go through a phase where they're focused on fitness. And then quickly abandon their routine, leaving their workout equipment to collect dust in a corner.
Their loss can be your gain. You can find all kinds of used workout gear up for grabs – often, without much wear or tear at all.
From treadmills and exercise bikes to free weights and squat racks, kettlebells and yoga balls, you're likely to find almost anything you're looking for if you check your local buy-and-sell sites.
You can save a lot of money (and help someone free up space) by purchasing their exercise equipment. Just make sure you'll actually use it before you do so you don't end up in the same situation as the seller!
Also, make sure to bring someone with you to help as these items are often very heavy to load.
My favorite second-hand find: none yet, but I did sell a pilates machine and Total Gym this way!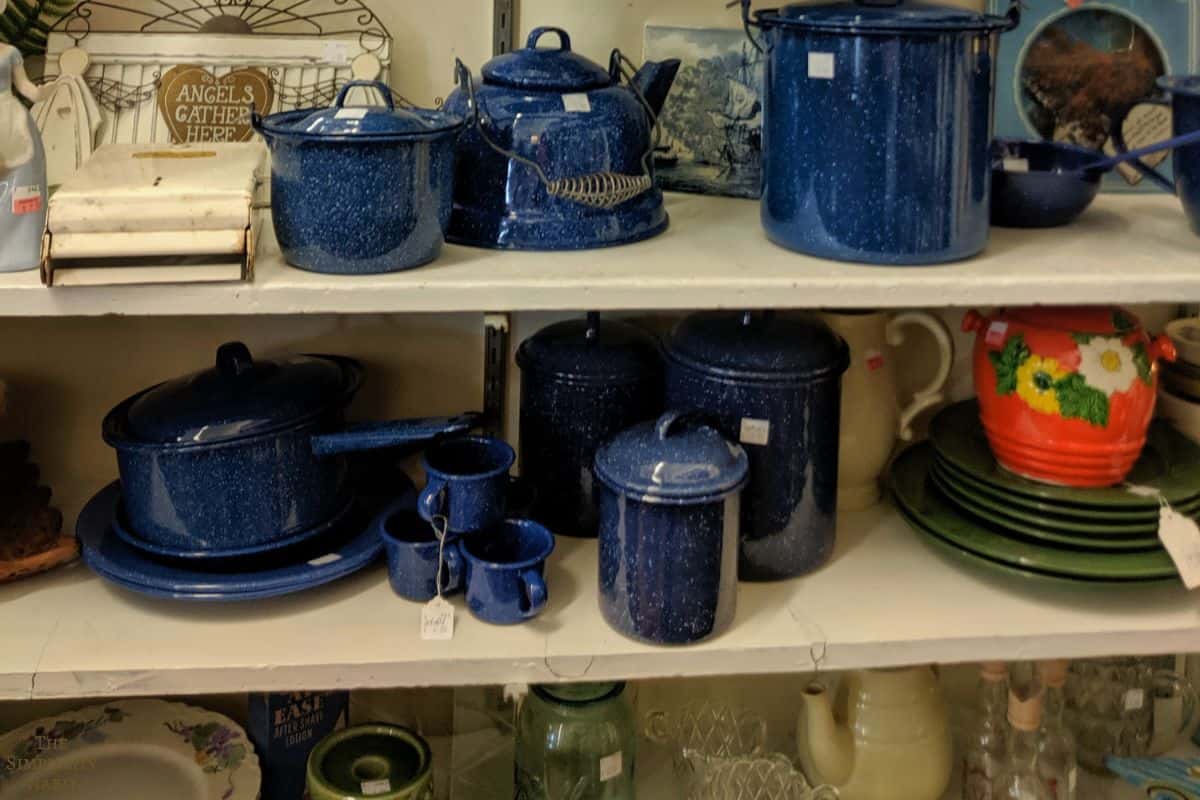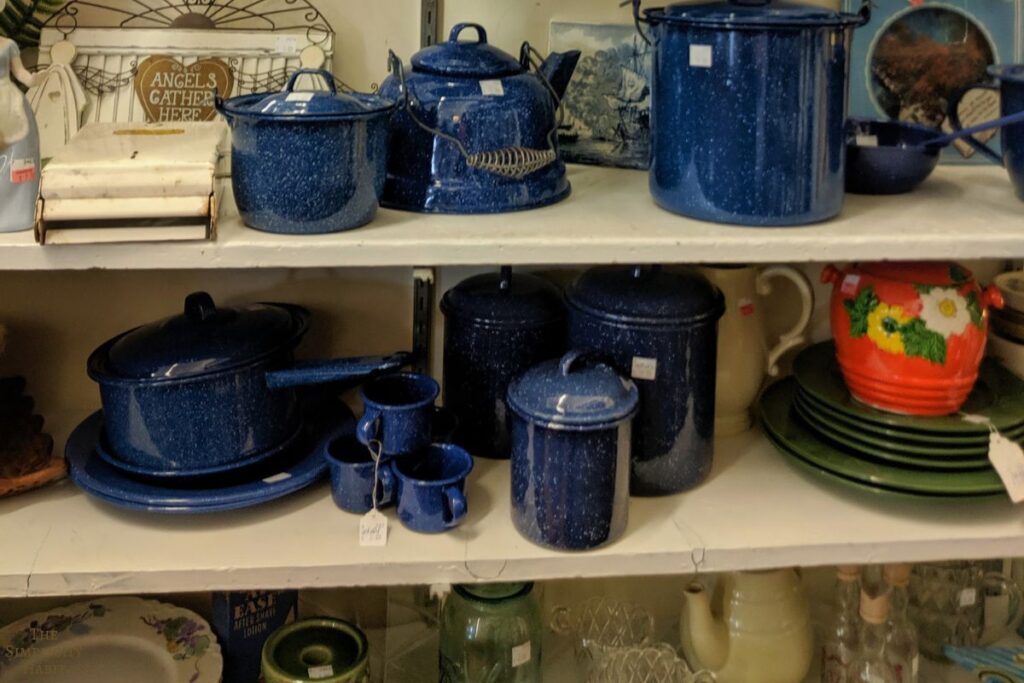 #9: Home Decor & Housewares
While I'm not big on filling your home with home decor pieces, I do love a good statement piece. They can bring warmth and interest to a home.
Home decor is one of the best things to buy second-hand because you can get one-of-a-kind pieces that aren't the mass-manufactured ones you'd find in the large home decor stores.
If you're looking for a mirror or a one-of-a-kind piece of art, buying second-hand is a great idea. You'll get a unique look at a fraction of the cost.
If you're just starting out and need dishes or silverware for your home, they are one of the best things to buy second-hand. They cost significantly less and there are typically quite a few options to choose from.
My favorite second-hand find: a unique vase in my favorite color, dark teal.
#10: Electronics
The final one of the best things to buy second-hand that I wanted to mention is electronics. With the pace that technology advances, you can get electronics that are gently used for a deep discount.
Whether you're looking at them in a thrift shop or directly from the seller, make sure you're able to test the item first to make sure it works properly.
My favorite second-hand find: I have two for this one. First, is a laptop that I bought that was barely used for half of what it would retail. The second is our washer & dryer. We bought the set from a used appliance place and they've had no issues in the years we've owned them.
What do you think are some of the best things to buy second-hand? Leave a comment with some of your favorite finds!
While buying second-hand is great, you can still end up bringing home clutter if you aren't shopping intentionally.
You still need to be careful with things that are cheap or free as you work to simplify and declutter your space. What you own ends up costing you, so be selective with what you bring into your home even if it is a great second-hand item.
Sign up on the form below to get weekly decluttering tips and inspiration sent straight to your inbox. You'll also get the free 5 Areas to Declutter in 10 Minutes Checklist to help you get started decluttering today.