Inside: Here are fifteen things that I stopped buying after simplifying. Did decluttering your home change your shopping habits too?
The journey to simplify my home and my life was not a quick or overly dramatic one. I started by slowly and methodically decluttering our home.
We didn't get rid of 90% of our stuff in a year. But we did begin to pare down slowly. My husband and I weren't on exactly the same page when it came to decluttering, but I did what I could to get rid of some of the excess stuff we had.
Through that process, I came to many realizations about what we owned and why we owned it. Facing past purchasing regrets helped me to be rethink how I was shopping.
It doesn't feel good to get rid of things you never even used. No one likes to waste money or to have buyer's remorse.
Decluttering changed my mindset. I looked at stuff differently. Because of this shift, there were many things I stopped buying after simplifying our home.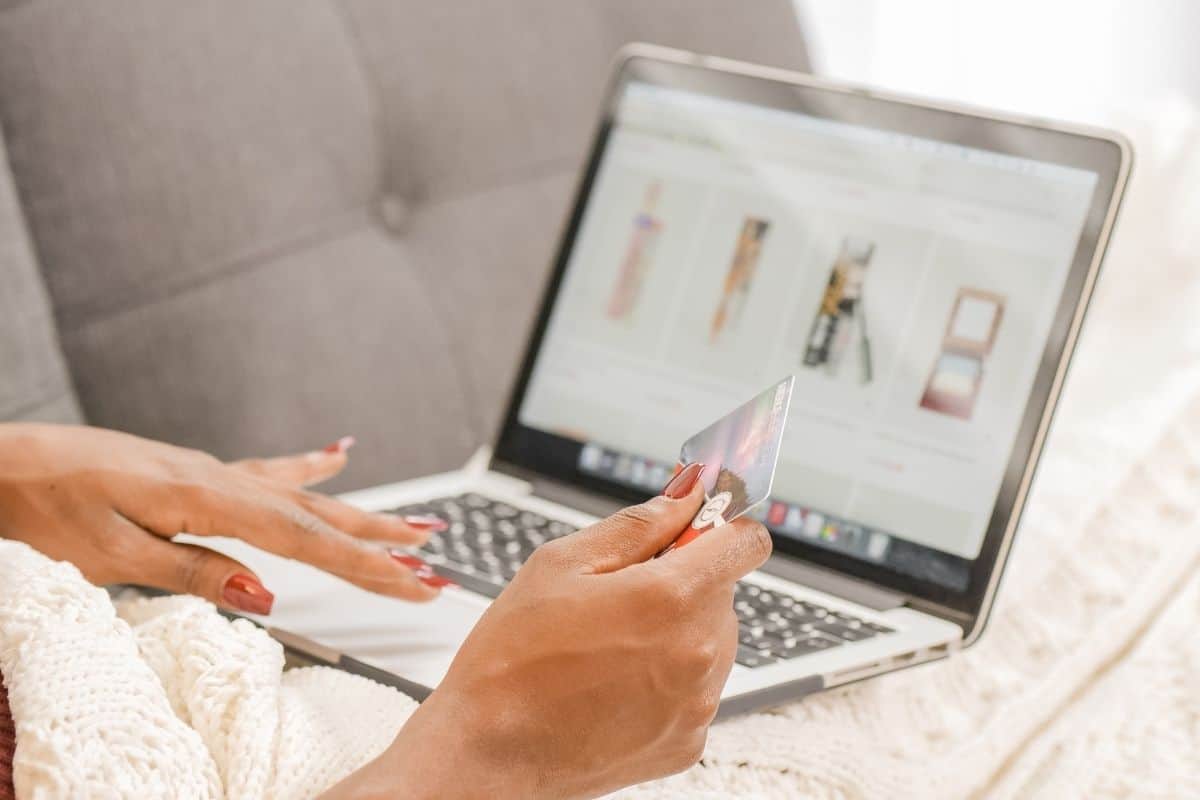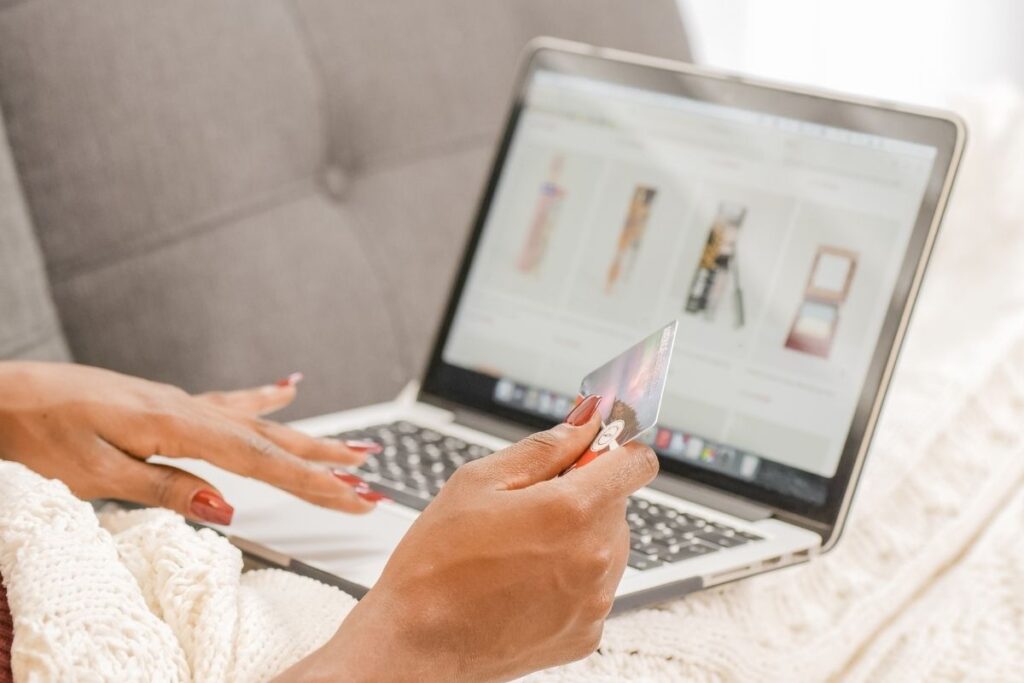 Why I Stopped Buying Certain Things After Simplifying
I have always been a very frugal shopper. I was never one to splurge on expensive or high-end items, but I was likely to get sucked into things that I perceived as a good deal.
However, simplifying helped me to re-evaluate what a good deal is and taught me to look at stuff differently.
Decluttering forces you to look at what you own. As you sort and decide what you want to keep and what you want to get rid of, it can remind you of why you bought the item in the first place.
Looking at things I regretted buying helped me to become more intentional with my shopping habits going forward. I did not want to re-clutter my home and the way to avoid that was to be a lot more careful about what I bought and brought into our house.
Simplifying gave me a better understanding of what I truly used and loved. It also helped me to see clutter more clearly.
15 Things I Stopped Buying After Simplifying
This isn't an exhaustive list, but here are fifteen things I stopped buying after simplifying and decluttering our home.
1. Buy one get one free
I've always been a frugal shopper. I find joy in getting a good deal. However, simplifying our home helped me see that it's not a good deal if you won't use it.
Buy one get one free sales are often a way to force you to get two of something when you only needed or wanted one. Sometimes they can work in your favor, such as when you have two girls who could both use a pair of shoes and it's buy one get one free.
However, if you won't use the free item then you are really paying full price and taking extra clutter with you. Reframing how I view sales prices and taking clutter into account has changed how I shop.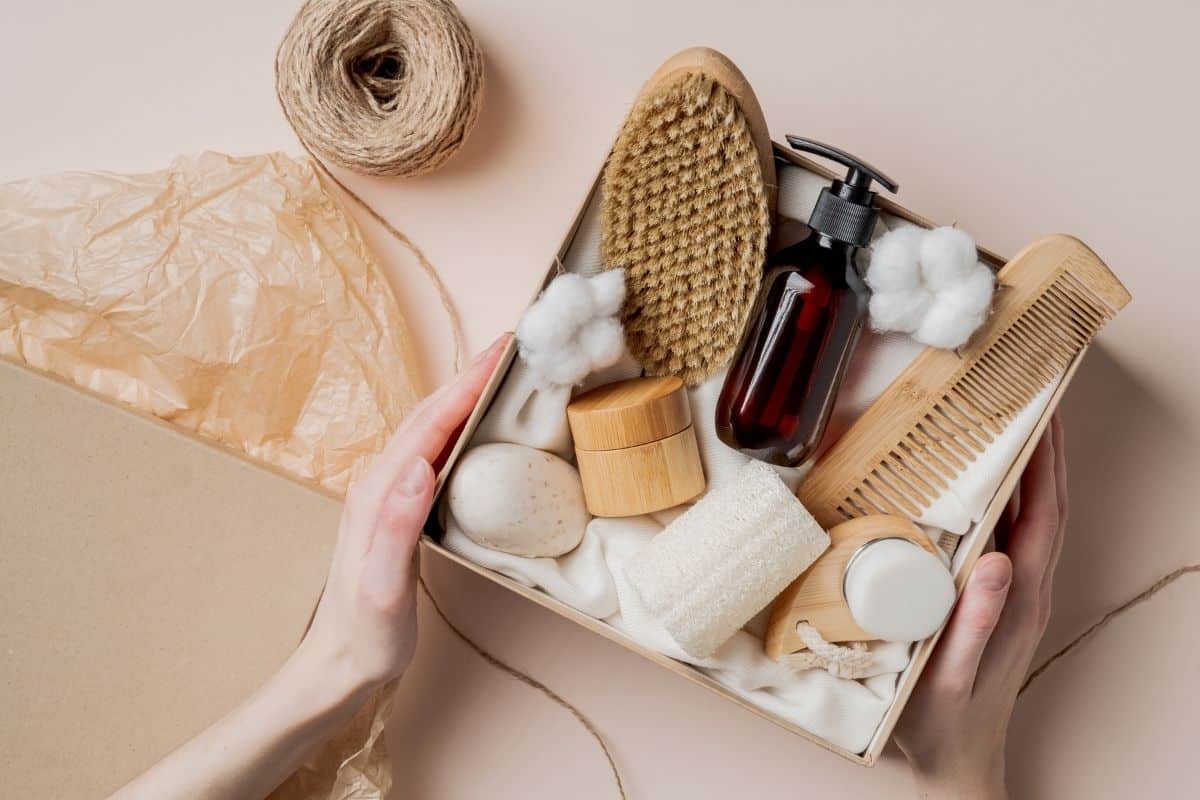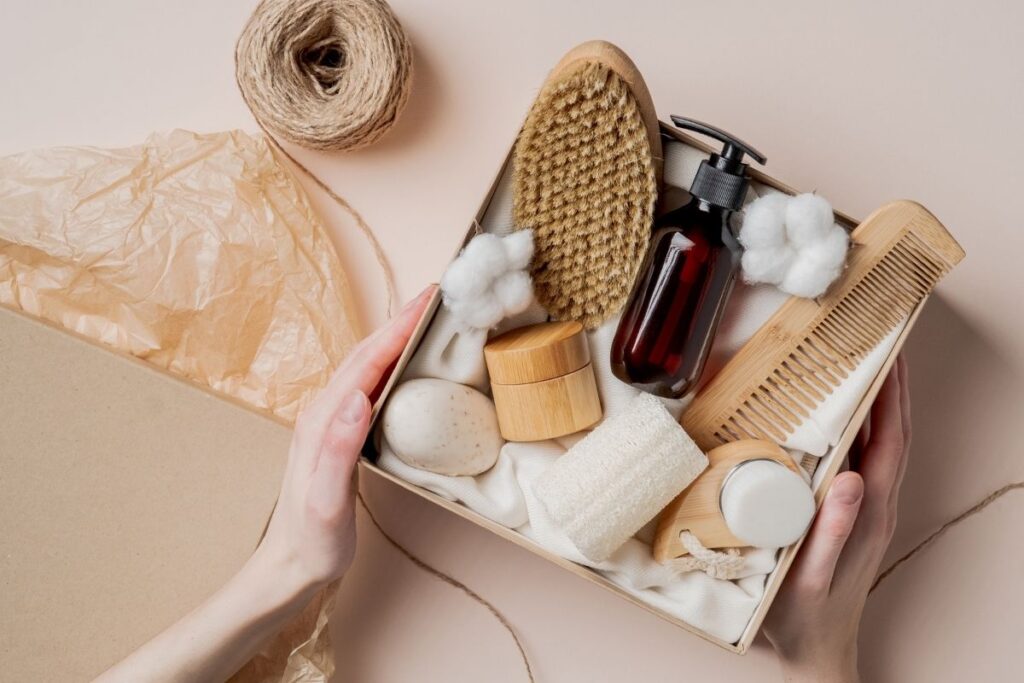 2. Subscription boxes
In 2020, the global subscription box market totaled $18.8 billion. (source)
When I first heard about subscription boxes, they seemed really enticing. I loved the idea of getting a curated mix of items to try at a significant discount.
So I tried a few different kinds. And after just one month, I canceled each of them. Subscription boxes were something I stopped buying after simplifying because I realized that they created clutter.
I'd end up with random items I would not have chosen to buy on their own. Initially, I thought I might try them and love them, but it turns out about 80% of what was included were not things I even wanted or would ever use.
And as with many things, the initial deal is what sucks you in and then they hope you'll either fall in love with it or just continue buying it because you forget to cancel. Subscription boxes ended up not being a great deal and the amount of clutter that came with them was simply not worth it to me.
3. Extra items for free shipping
Have you ever wanted to purchase something online only to realize that you needed a minimum purchase to get free shipping so you searched for additional items to buy to 'save' on shipping? I've gotten caught in that trap more times than I care to admit.
The challenge is if you are now buying things you don't really need or will use, then you're not really saving anything. You'd be better off simply paying the shipping fee to avoid purchasing more things than you intended.
The same is true for a free gift with purchase if you spend a certain amount. Advertisers are trying to appeal to your desire for a good deal, but if you don't need anything additional, it is not a good deal for you and you likely don't need the free item anyway.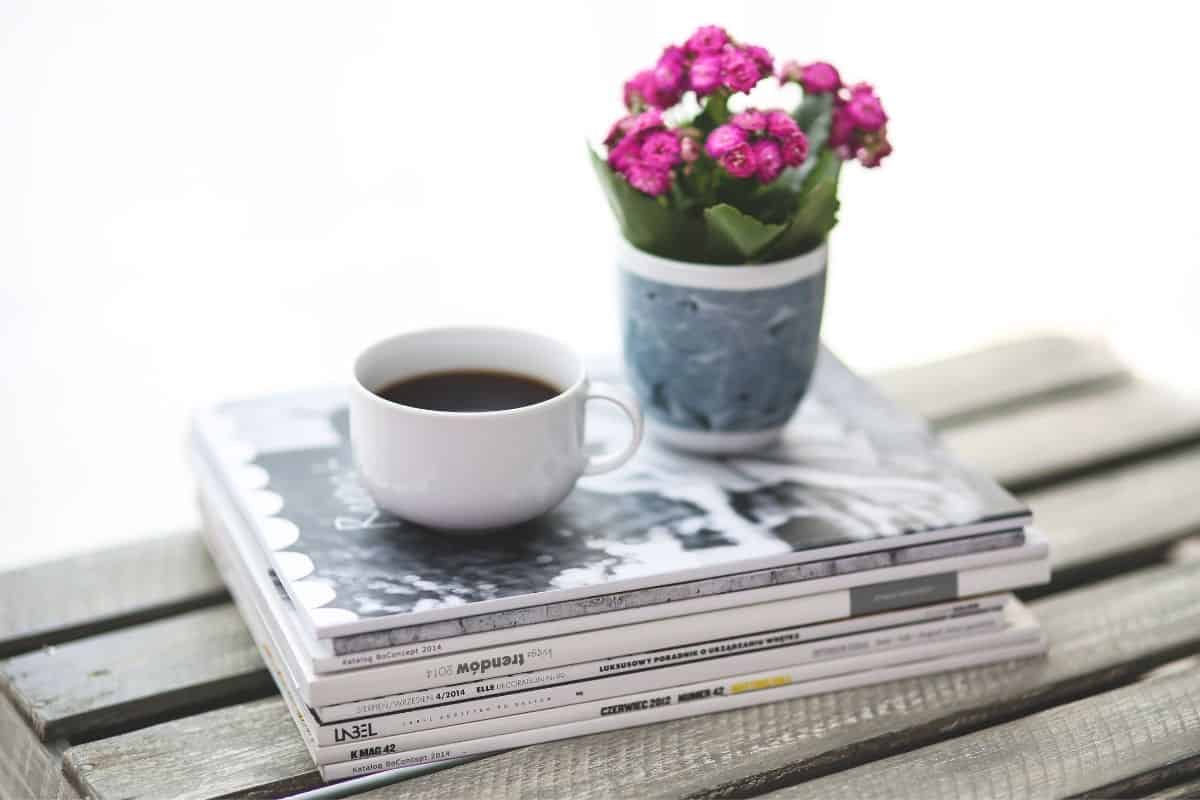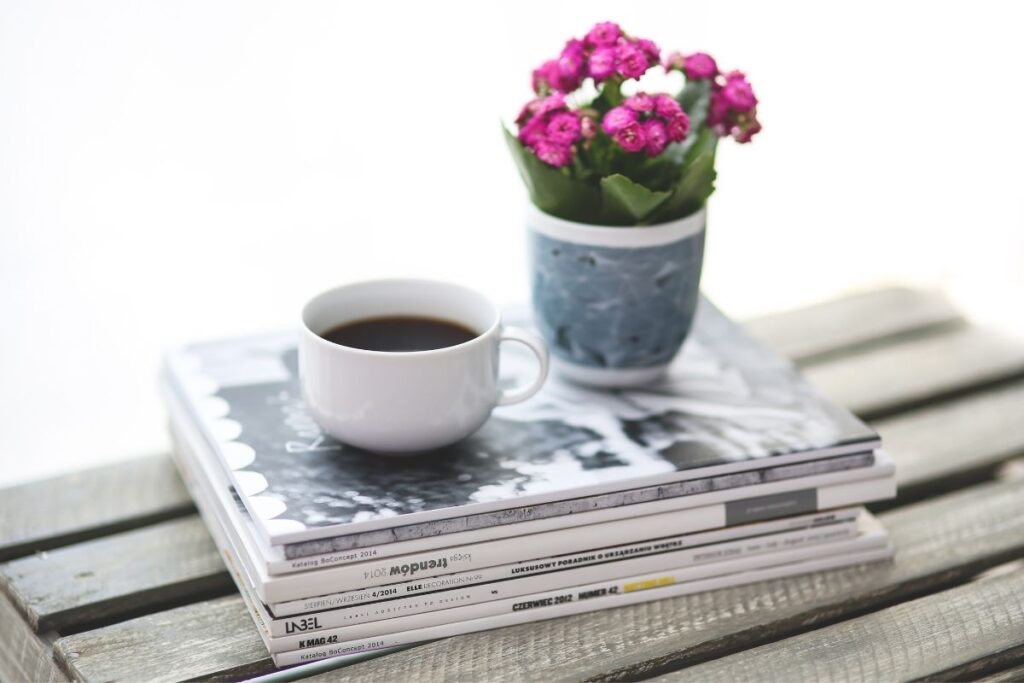 4. Magazine subscriptions
Magazines are another thing I stopped buying after simplifying our home. We only had a few subscriptions, but they began to pile up each month and I was annoyed at seeing them sitting out and becoming clutter on the flat surfaces in our house.
During busier times the issues would pile up and by the time I was reading them they were off-season. I didn't want to just recycle them when I was done, so I tried to donate a bunch at once, but even that became another thing to do.
Ultimately, I didn't enjoy them enough to want to keep up with them. They created extra work when I could typically find the same type of content online.
5. Books
Before you get upset with me for including this one, let me be clear. I love books. I enjoy reading a variety of genres.
However, I don't like having bookcases full of books I will never read again. When I decluttered our home, I realized how many books I had that were just collecting dust.
Books can become clutter and a lot of them had in my home. I got honest with myself decided to let go of the books that I knew I wouldn't read again or want to lend out to someone else.
This process caused me to think twice when a new book comes out that I want to read. The majority of the time, I wait and borrow it from my library or use the Hoopla app to borrow the digital version.
That allows me to still read while not having to think about what to do with the book afterward.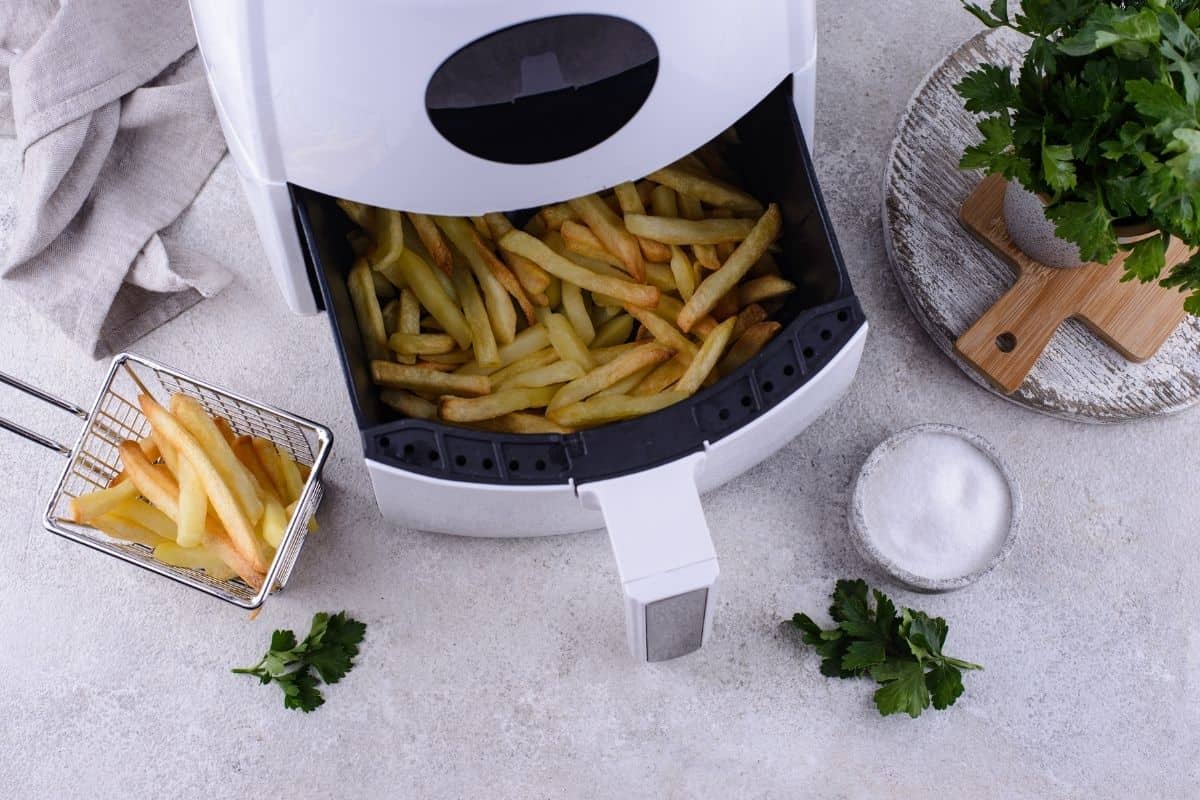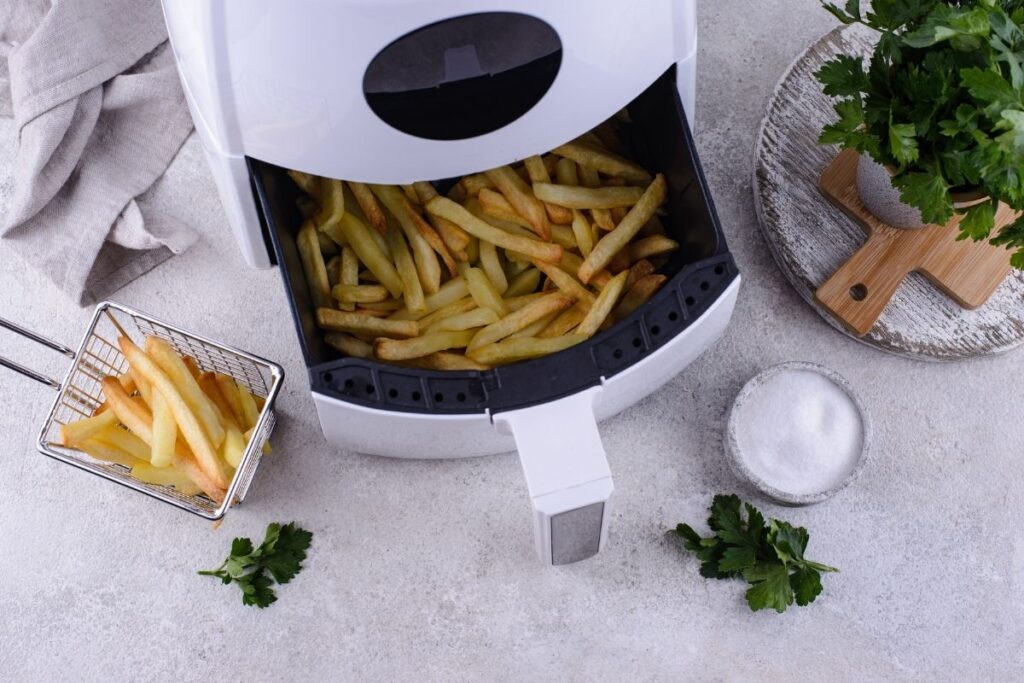 6. Kitchen gadgets and small appliances
There are some products that I've found that helped simplify my life, but they have been the exceptions. There always seem to be new products that claim they will make your life easier.
Unfortunately, a lot of them end up becoming clutter. Kitchen gadgets with a single purpose take up too much real estate in my kitchen, so they were the first to get decluttered.
I avoid buying the newest small kitchen appliance trend too. While we do love and use our instant pot, there are a lot of other appliances we have avoided purchasing.
Instead of getting sucked into the marketing of how much the item will simplify cooking in your life, make sure you will actually use it enough to make it worth your money and space they take up.
7. Seasonal decor
Seasonal decor was another one of the items I stopped buying after simplifying our home. I realized that I don't like storing items for eleven months out of the year nor do I like the hassle of constantly changing out decor items.
We have just a few items for various holidays and seasons that we switch out, but we keep it very simple. For Christmas, we do have a few bins of decor that we keep stored in the garage.
Due to our space limitations, I know I can't buy more holiday decor unless I get rid of something we already have.
I don't find the seasonal items in stores tempting anymore because I know it would mean letting go of something I already have. And I typically don't think it's worth my money for how little it would get used.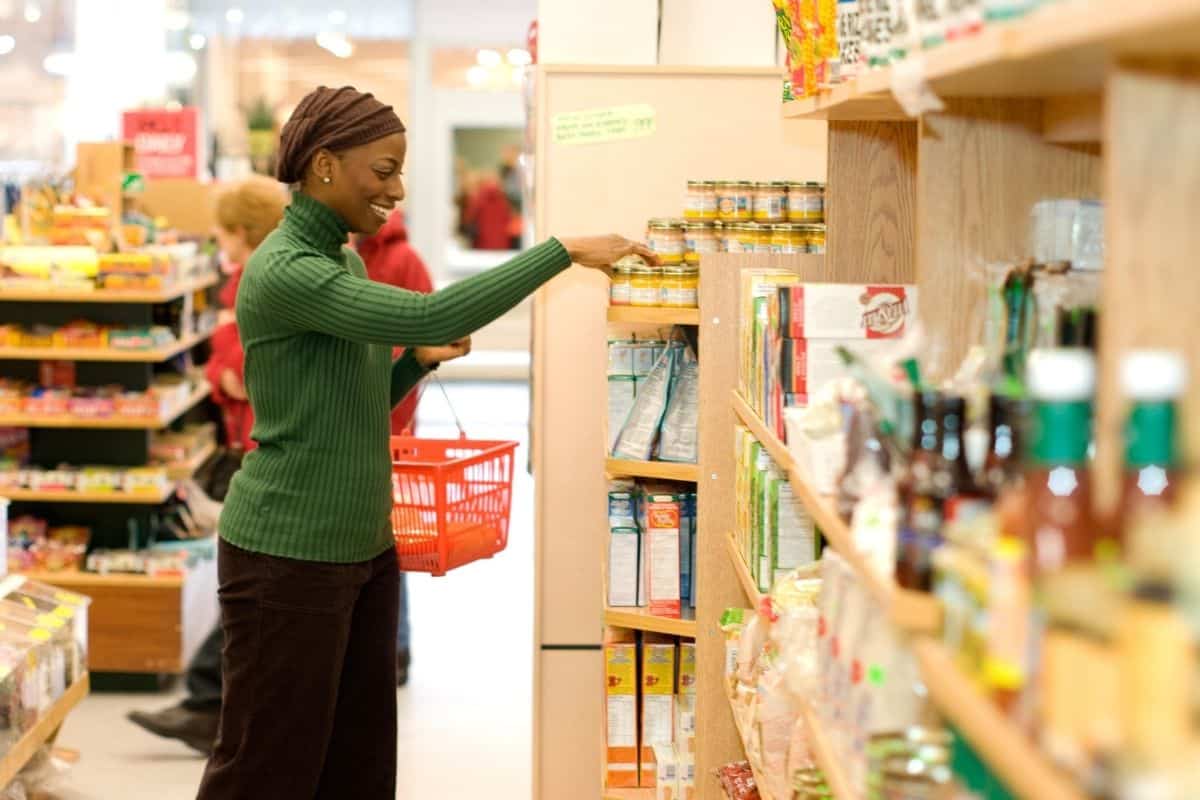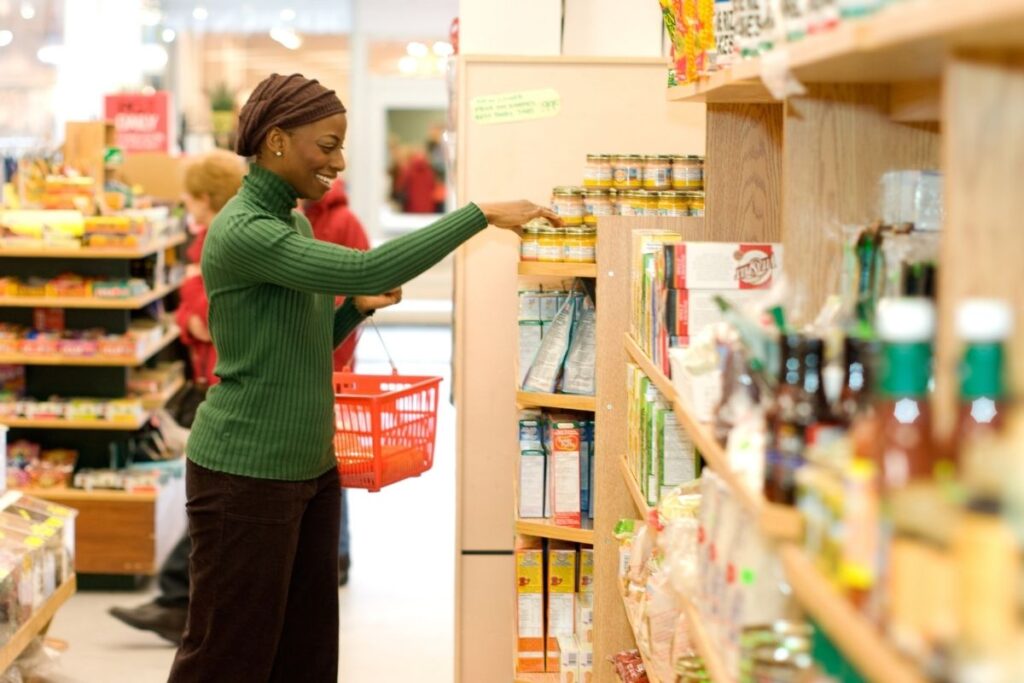 8. Dollar items
Right when you walk into your local Target, you'll see the dollar section. They're relying on you making an impulse purchase that you'll justify because it doesn't cost much. But cheap purchases add up (and so does the clutter that comes along with them).
Likewise dollar store items are something we don't buy often anymore. There are just a few types of items we would get from there, but we shop with a list and avoid getting extra stuff because it's just a dollar (although now it's technically $1.25, but you get the point).
Cheap items can end up simply creating cheap clutter. It's great that you didn't waste a lot of money on them, but they're still junky and are annoying to have laying around your house.
9. Trendy clothes
The average family spends $1800 per year on clothing. (source)
I've never considered myself one to really keep up with the trends, but from time to time it has been tempting to get that new style of top or pants when you see them on other people. The problem with trends is that they're trends, meaning that they go as quickly as they come.
Trying to stay on top of trends is not only tiring, but it's expensive and fuels the fast fashion industry.
After decluttering my clothes, I opted to keep clothes that met three criteria. They had to be comfortable, I needed to feel confident in them, and they had to be in good condition. Whether or not something is trendy doesn't even come into play.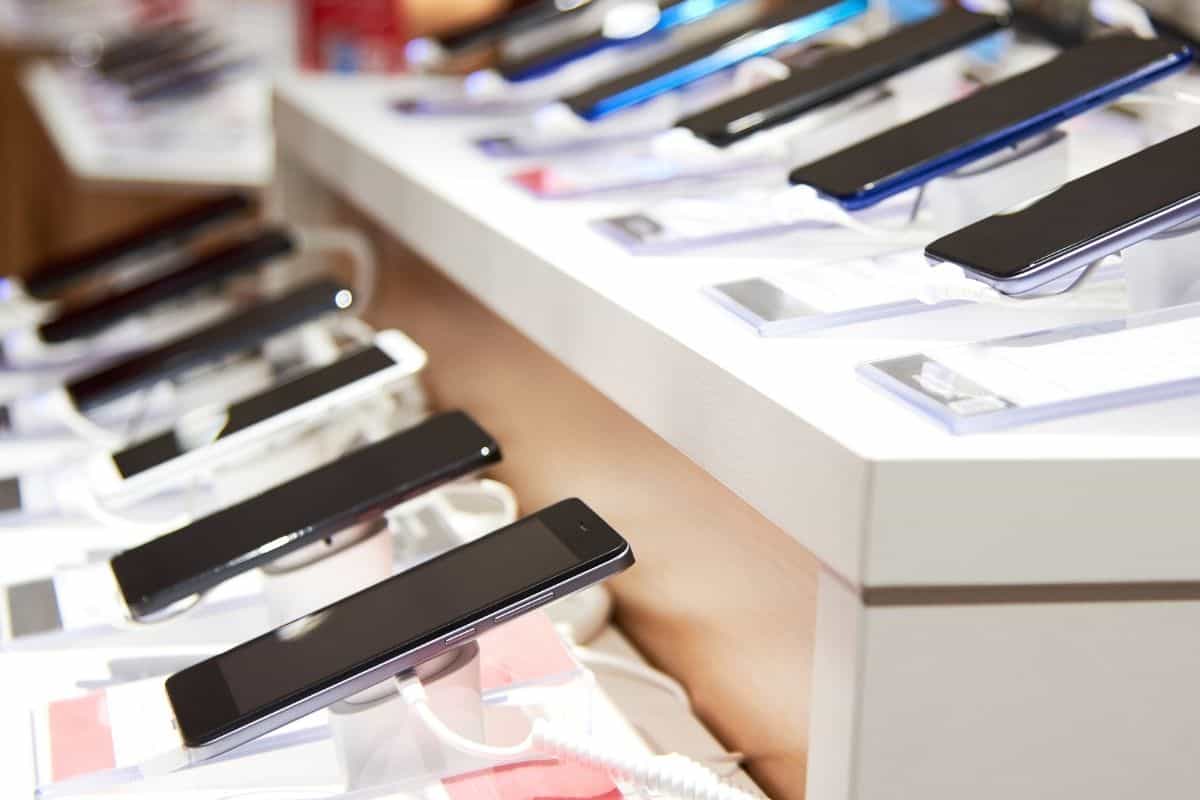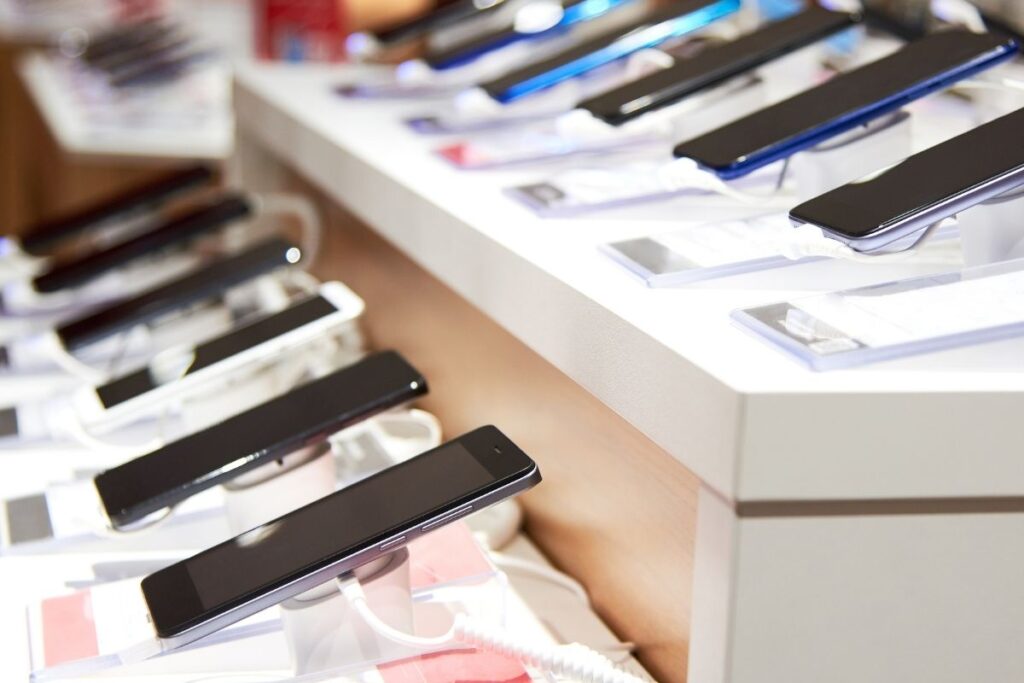 10. Newest technology
In 2022, U.S. consumers spent a total of $505 billion on electronics/technology. (source)
Part of learning to live more simply in a consumer culture has meant not trying to stay on top of any types of trends…technology included.
If you're someone who loves staying up to date and the newest and greatest technology, this may be a difficult one.
I tend to be more practical and frugal when it comes to devices. I want something that isn't too expensive that will work for a long time. Sadly, those are both more challenging to come by these days!
With the rate that technology advances, almost immediately after you buy something it is replaced by a newer (and supposedly better) version. In my efforts to live more simply, I have let go caring about whether or not I'm keeping up (spoiler alert: I'm not).
I use my devices until they stop working properly and require replacement.
11. Toiletries & beauty products
According to a recent survey, the average American spends $322.88 on skincare per year. (source)
Before having kids, I really liked trying new types of toiletries and beauty products. I ended up with a collection of entirely too many of them though. And after having kids, a lot less of these items got used at all.
I decluttered a lot of shampoos that didn't work with my hair, makeup I never even opened, and nail polishes that were no longer being used. Some of the things I used to have time for and considered a priority weren't anymore and that was ok.
Unncesseary makeup and toiletries were both things I stopped buying after simplifying my home. I knew which items were my staples and favorites and no longer felt the need to try all the things.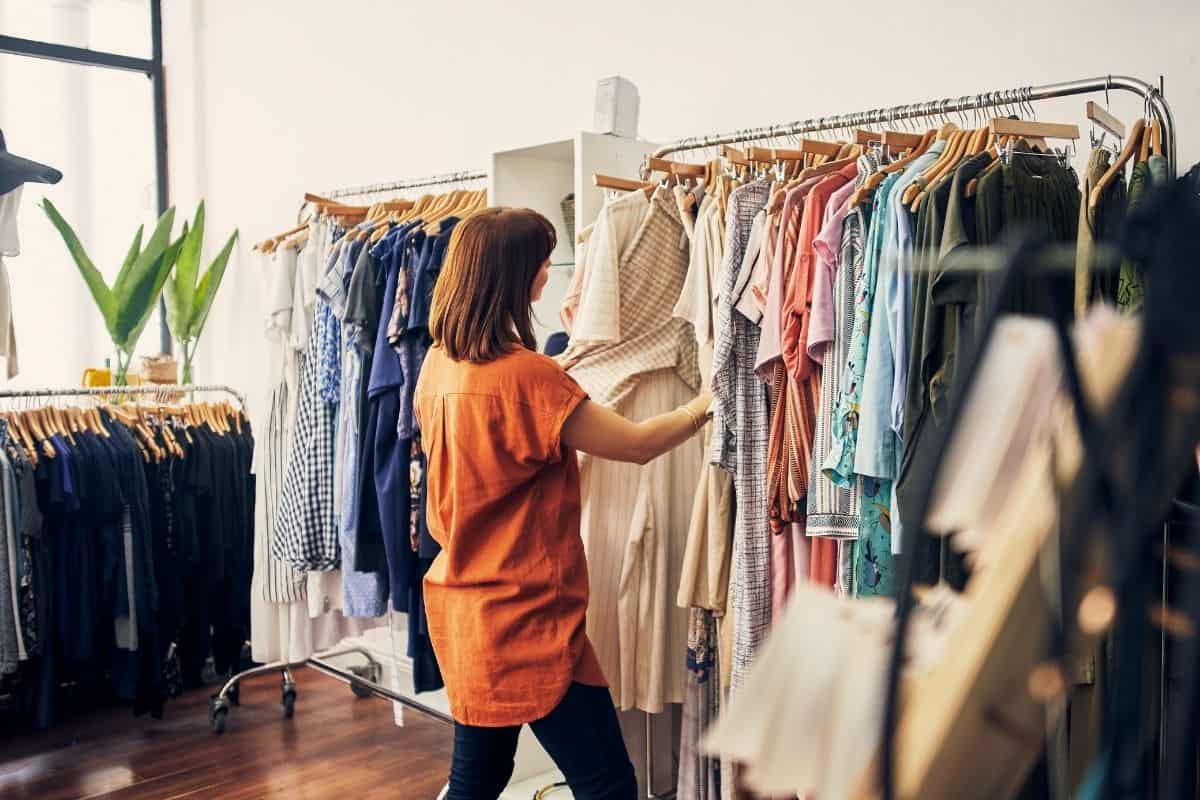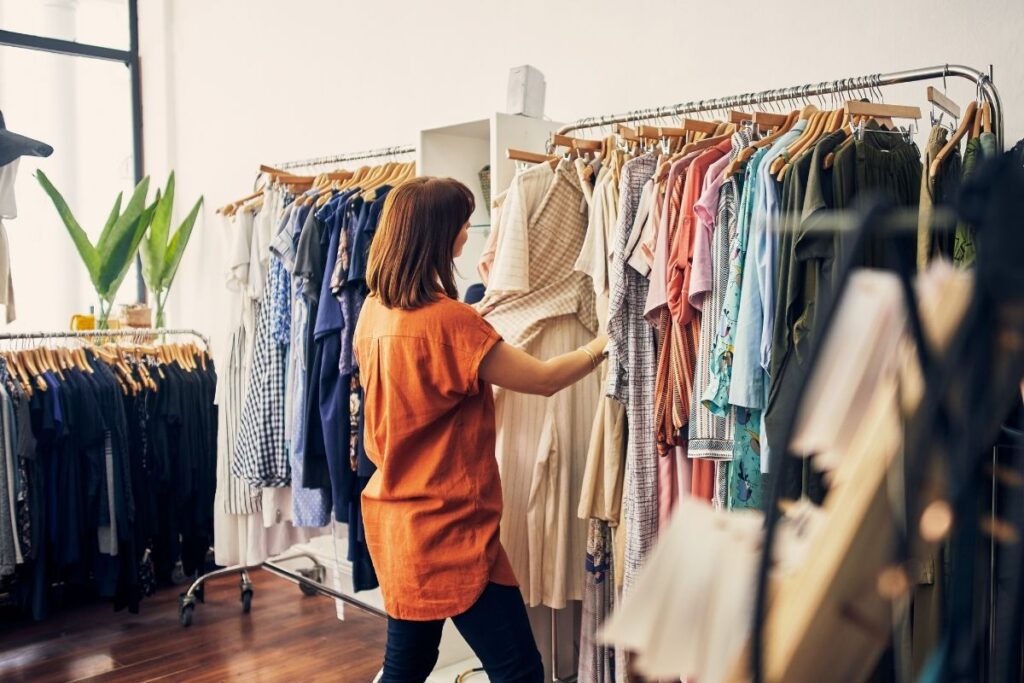 12. Good enough stuff
Have you ever been shopping for a particular item, but you can't find it so you settled for close enough? I know I have and it often didn't end well.
For me, this one came up most often with my clothes. I wanted to get a particular type of item to go with something else I had and couldn't find something I loved. So instead I settled for good enough.
The problem was these good enough items were rarely worn and ended up becoming clutter in my closet. When I finally decided to get ruthless in decluttering my wardrobe, the items I had previously deemed good enough were some of the first to get donated.
I'm now very intentional with what items I bring into my home. If I am not sure that I love it, I'm not buying it.
13. Impulse purchases
According to a recent survey, the average person spends $314 per month on impulse purchases. (source)
Shopping in a home store shows you how purposefully they line both sides of their check out line with items that could be considered impulse purchases. Mugs, candles, and other cute or practical low priced items surround you as you wait to check out.
Even in a grocery store, you are surrounded by sweet treats as you wait your turn. The stores are hoping you won't have enough time to think through whether you really want to make this purchase or not.
They are counting on you adding it to your cart and checking out before you even really realize what you've done. Online stores sometimes have their own version of these last minute purchases by asking you if you 'forget something' and showing you items you've purchased before prior to checking out.
Choosing to shop more intentionally takes discipline. As you realize the tactics companies are trying to use, it does become easier to resist them, but it still takes practice and intentionality.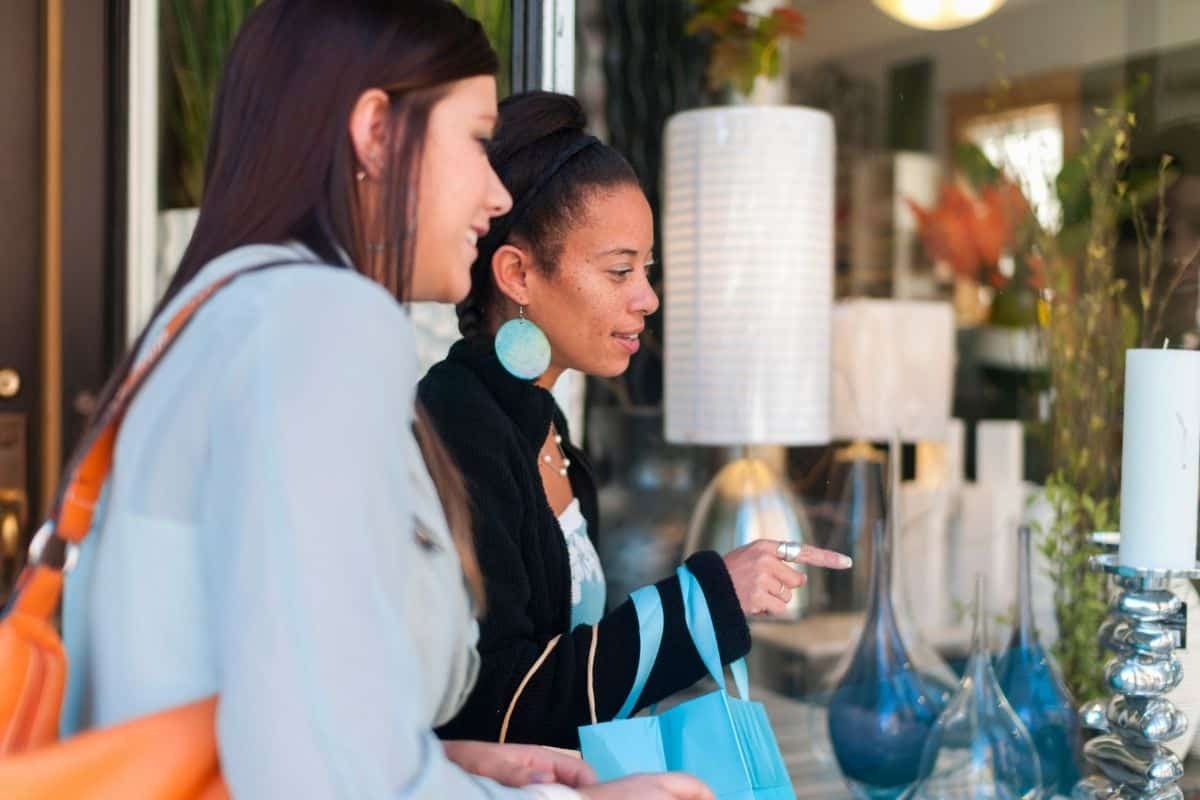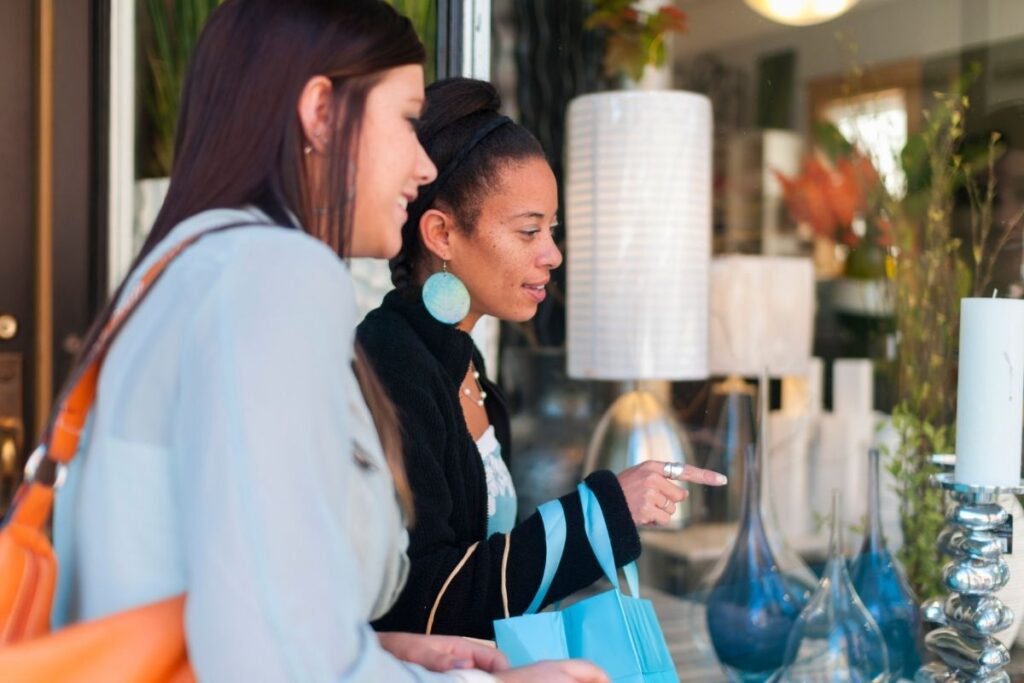 14. Things I like
How many times have you heard phrases like 'treat yourself' or 'you deserve it'? Even the messaging in dressing rooms encourages this kind of thinking.
After decluttering our home, I stopped buying things just because. I didn't need to buy items to treat myself or as some sort of retail therapy.
Instead of shopping, I opted for things like coffee or a walk with a friend. I found that simple activities that were often free were a better option than buying things I didn't really need.
Just because you want or like something doesn't mean that you should get it. You can simply appreciate something without buying it. Those feelings are often fleeting anyway.
There are better ways to take care of yourself than buying things.
15. Free stuff & clearance items
When we think about the stuff we bring into our homes, we typically think about shopping. However, I had also discovered ways to get things for really cheap or even free in many cases.
And in the end, I found that you can bring a lot of clutter into your home under the allure of it being free. But free still costs you. When you have too much stuff it takes aways from your space and your peace.
While I do still buy clearance items from time to time, I am much more selective with it. It needs to be an item that I already know we needed and not that I'm just buying because it's cheap.
For awhile free items in my local Buy Nothing group were a temptation for me. I still like to participate and donate items that way, but I took the group out of my Facebook feed to avoid wanting to bring additional unnecessary items into our home.
What things have you stopped buying after simplifying? Share them in the comments section!
Are there additional things you'd add to this list of things you stopped buying after simplifying? I'd love to hear about it.
The key with maintaining a clutter-free home is being purposeful with what you buy and bring into your house. And an added benefit is that you save a lot of money in the process too!
Sign up on the form below to get weekly decluttering tips sent straight to your inbox. You'll also get the free Your Home Decluttered Jumpstart which includes 100 easy items to declutter and 12 high-impact areas to declutter in 10 minutes.