Inside: Planning a closet clean-out? Use these 8 questions to help you decide what stays and what goes.
A guest post by Jessalynn Jones of Doable Simplicity
Is your closet full of items you never (or very rarely) wear?
Do you often find yourself buying new pieces you think you need (even though they often sit in the closet with tags on them for months)?
Do you feel discouraged when you look into your closet full of clothes and yet feel like you have nothing to wear?
If you answered yes to any (or all) of these questions, it's time for a closet clean-out!
It's common to end up with a collection of clothing and yet find yourself wearing the same small number of items over and over while often overlooking the majority of pieces in your wardrobe.
I know because I love clothes and this used to happen to me. I'd shove my drawers full, almost to the breaking point, and jam my closet so full I couldn't find anything.
I was trying to live the minimalist lifestyle but my clothes were the one area I was struggling to simplify. I'd do a closet clean-out at least twice a year but I never seemed to really make progress.
That is until I learned to ask the right questions when decluttering my clothes and changed the way I approached buying any new pieces.
Now that I know which important questions to ask, my closet isn't packed with clothes I don't wear. Instead, it is pleasantly populated with a colorful minimalist wardrobe made up of clothes that I love to put on!
Do you want to find out what questions you should be asking to declutter your closet? Are you ready to do a closet clean-out?
Let's get started!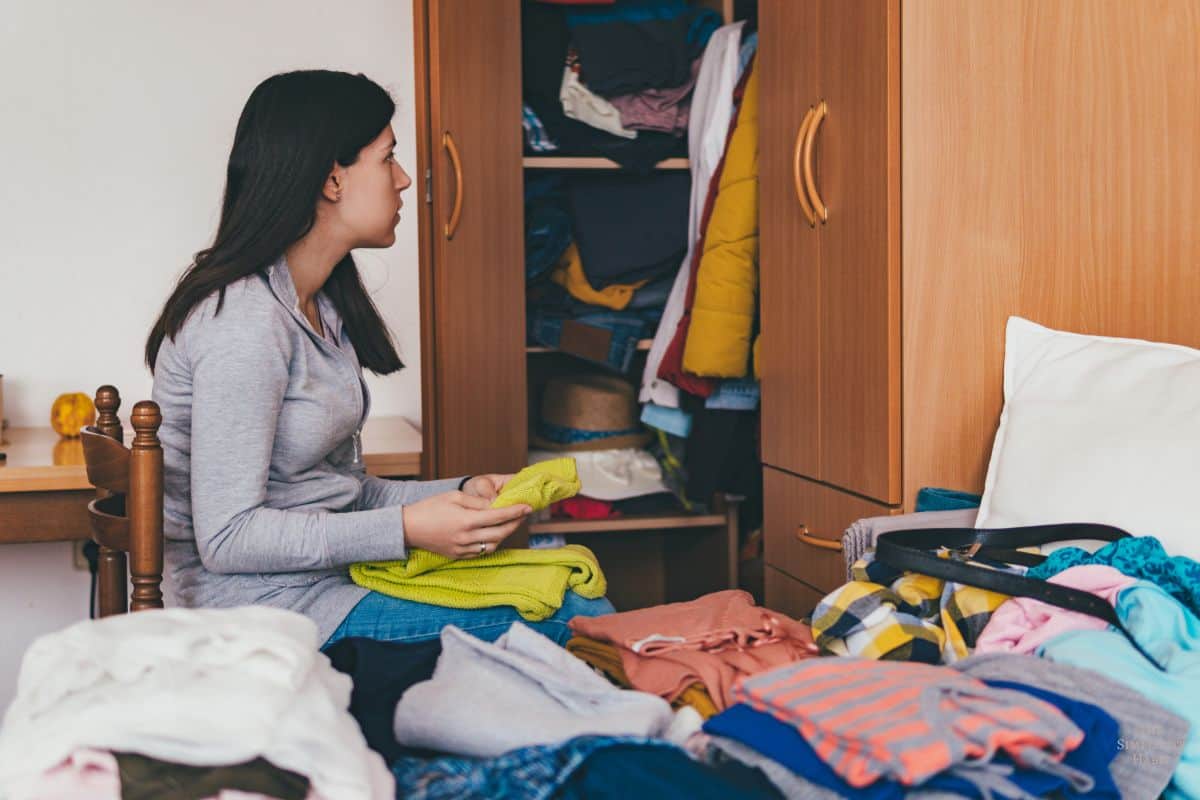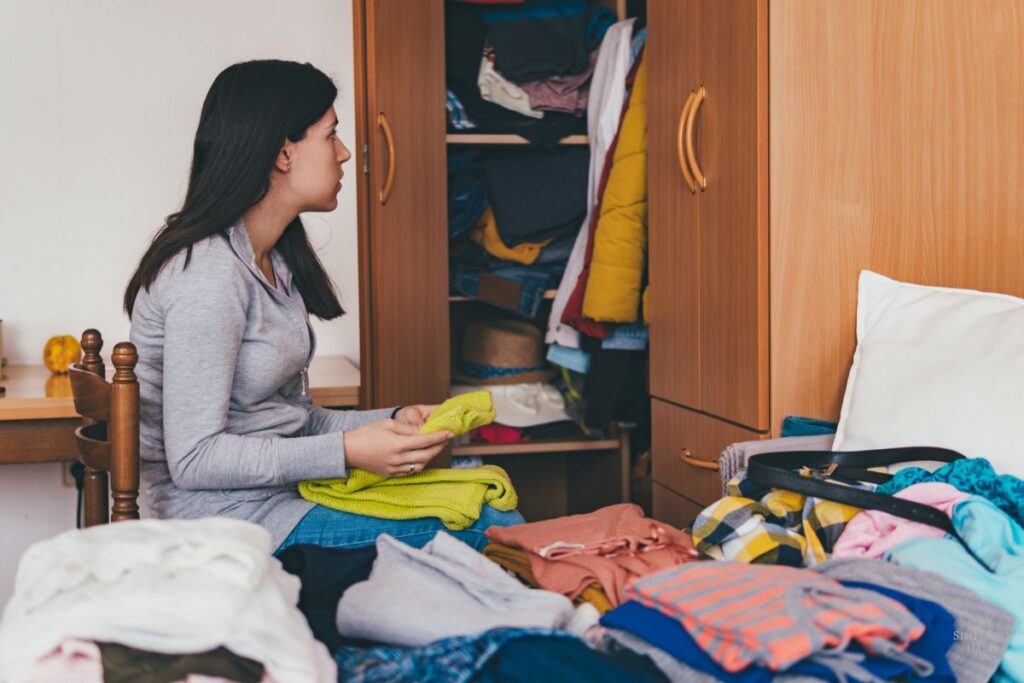 8 Questions to Ask When Doing a Closet Clean-Out
Use these questions to help you decide what should stay or go as you do your closet clean-out.
1: Does This Fit?
The first question you should ask when you start a closet clean-out is: "Does this fit?"
This one question will make a big difference for many people as it's very common to have a lot of clothes in your closet that do not fit comfortably. You put them on and take them off because they won't button, can't zip up, fall off of you, or feel too tight or awkward in some other way.
As you clean out your closet it's important to be honest with yourself. Look at each item and ask yourself if it really fits you properly. If you aren't sure try it on.
When an item does not fit you correctly it will be uncomfortable, make you feel awkward, or not help you to look or feel your best. These are the items you want to ditch from your wardrobe right away. Why would you want to keep those kinds of clothes in your closet? Let them go!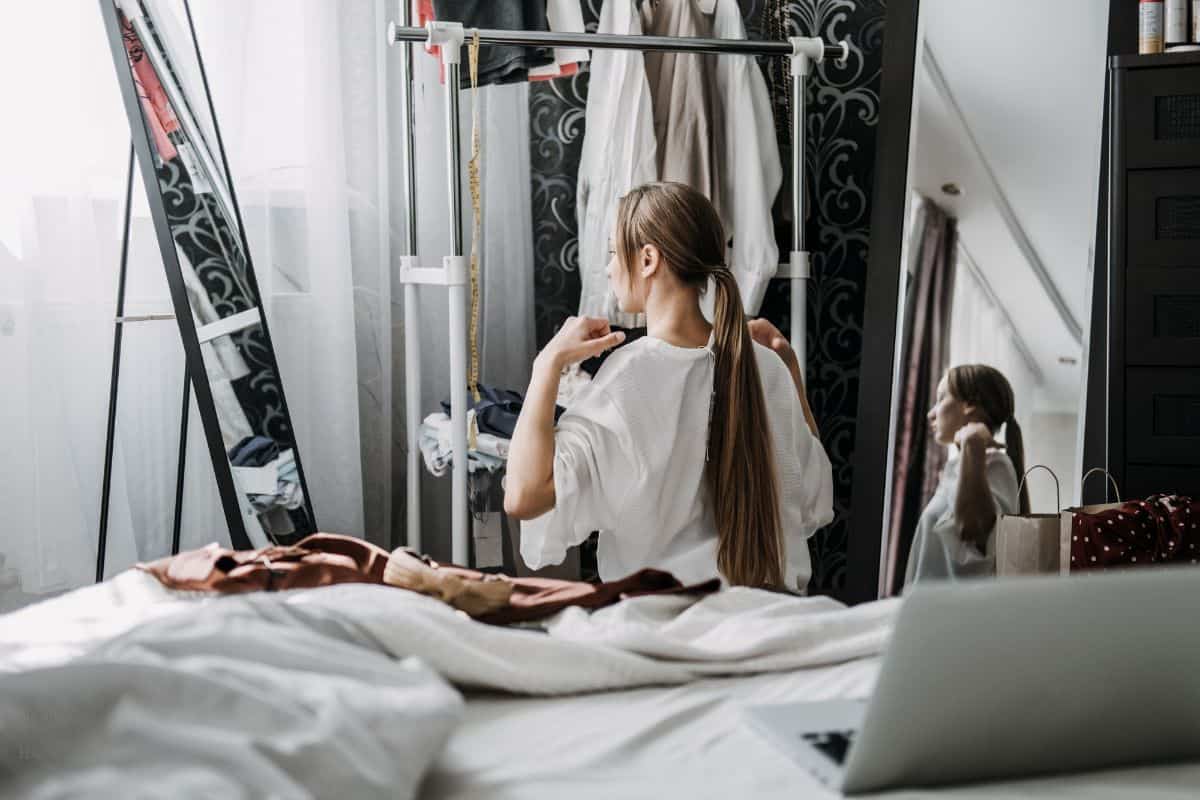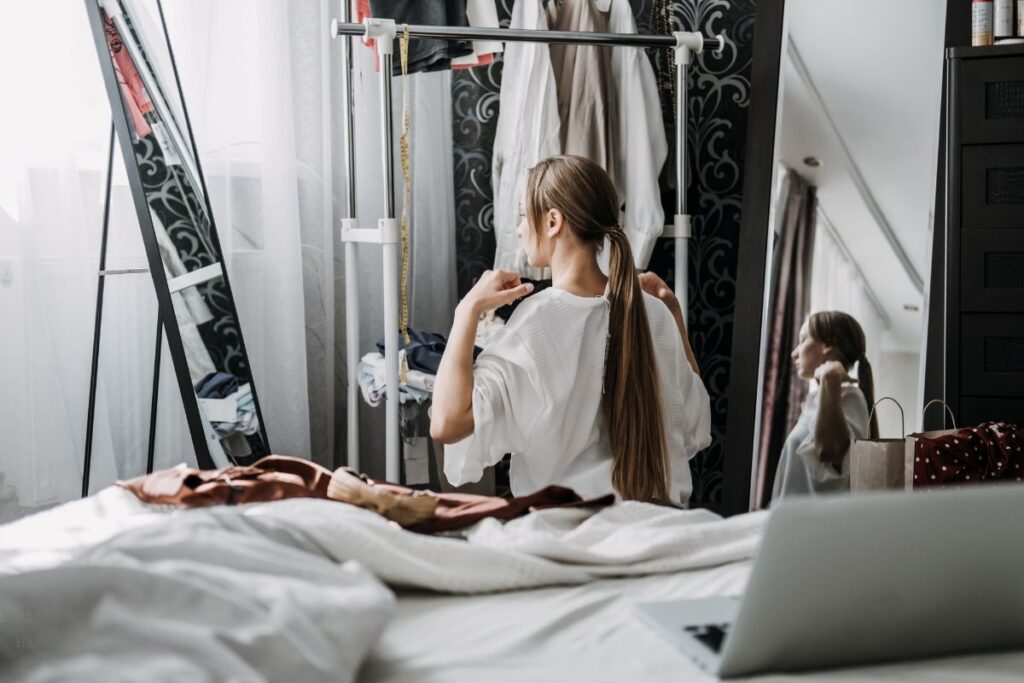 2: Am I Going to Fit Into This?
Letting go of clothes that don't fit is easier said than done. I know. I've experienced fluctuations in my weight. Perhaps you have too.
As you clean out your closet, the first question you asked may have led you to discover clothing that doesn't quite fit you but could fit you if you lost just a little weight.

It's time to be honest with yourself again. Will you lose that weight soon? How long have you been trying to lose that weight? Is it 5-10 pounds you need to lose or more like 20-30?
If you only need to lose a little weight to fit back into your clothes that's fine. Keep them for the season and see what happens. But if you've been holding onto the jeans you wore in high school…now is a great time to let them go!
When you remove clothes that don't fit you from your closet, you no longer guilt and body shame yourself every day when you get dressed. Why would you want to keep clothes in your closet that make you feel bad about yourself every time you look at them?
At a minimum, it's a good idea to get them out of your closet and put them in storage with a deadline on when to revisit them. At that point, you can decide what stays and what goes.
Also, if you do lose the weight you may find you want or need to get some new items then anyway.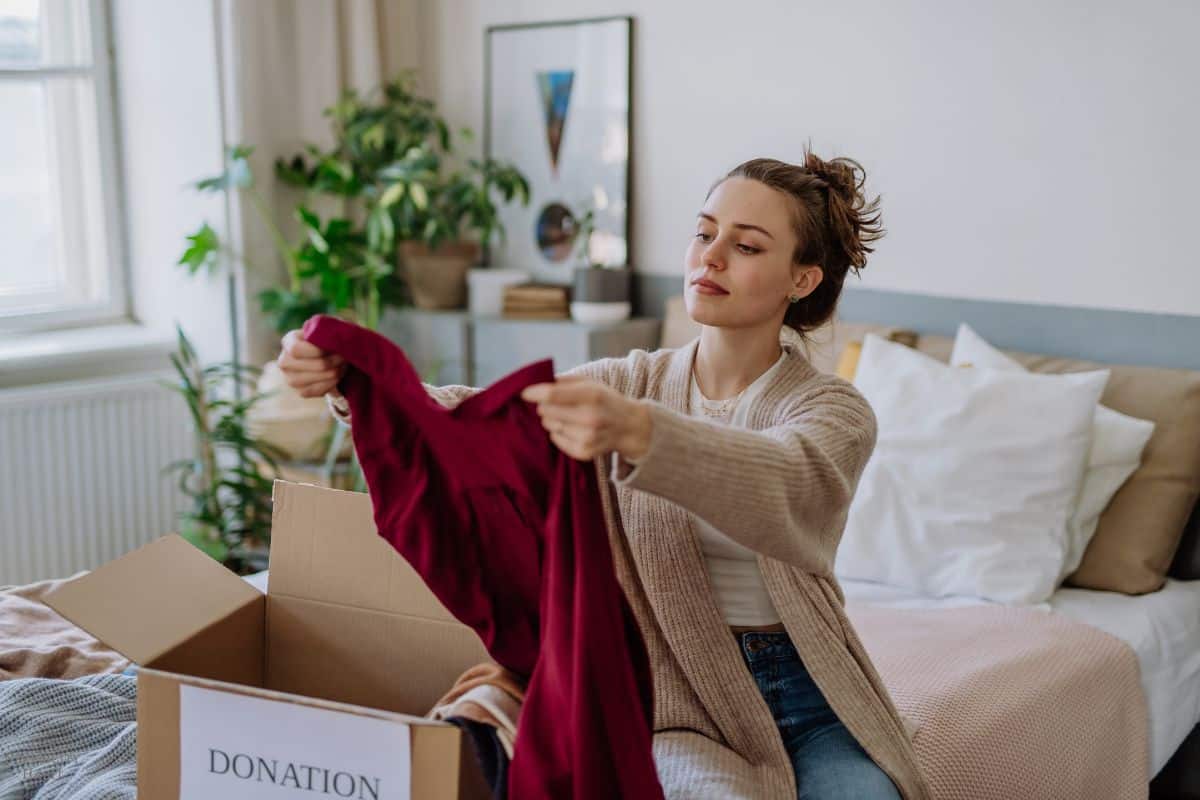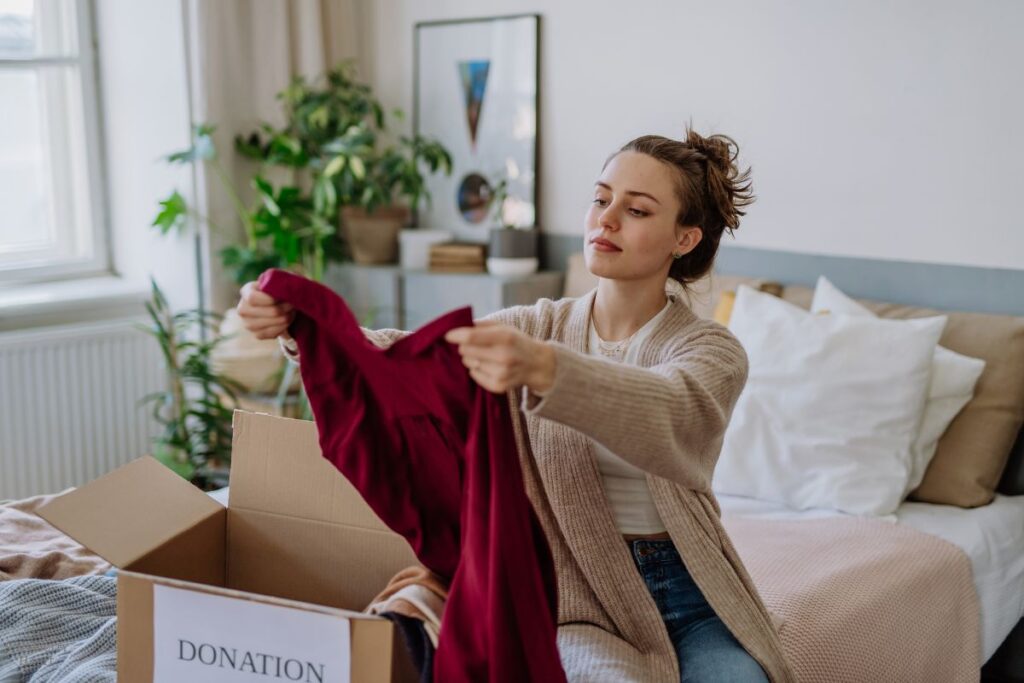 3: Should I Tailor This Item?
As you are determining whether or not your clothes fit you properly you may come across a few items that just need small tweaks to fit you nicely. This may include pants that need to be hemmed, a dress that needs to be taken in, or a seam that has come loose.
It is a good idea to tailor things that need small fixes. After all good clothing shouldn't go to waste just because it needs a tiny tweak.
That being said you have to ask yourself if you like the item enough to pay for it to get tailored. Will you actually get it down to the tailor in a timely fashion?
I am a seamstress which means I can tailor my own clothes but I still know that some fixes are not worth my time and effort so I don't put items in the mending unless I know that I will fix them pronto.
Likewise don't keep something to be tailored unless you will take it to the tailor very soon, otherwise it will linger around your home and create clutter.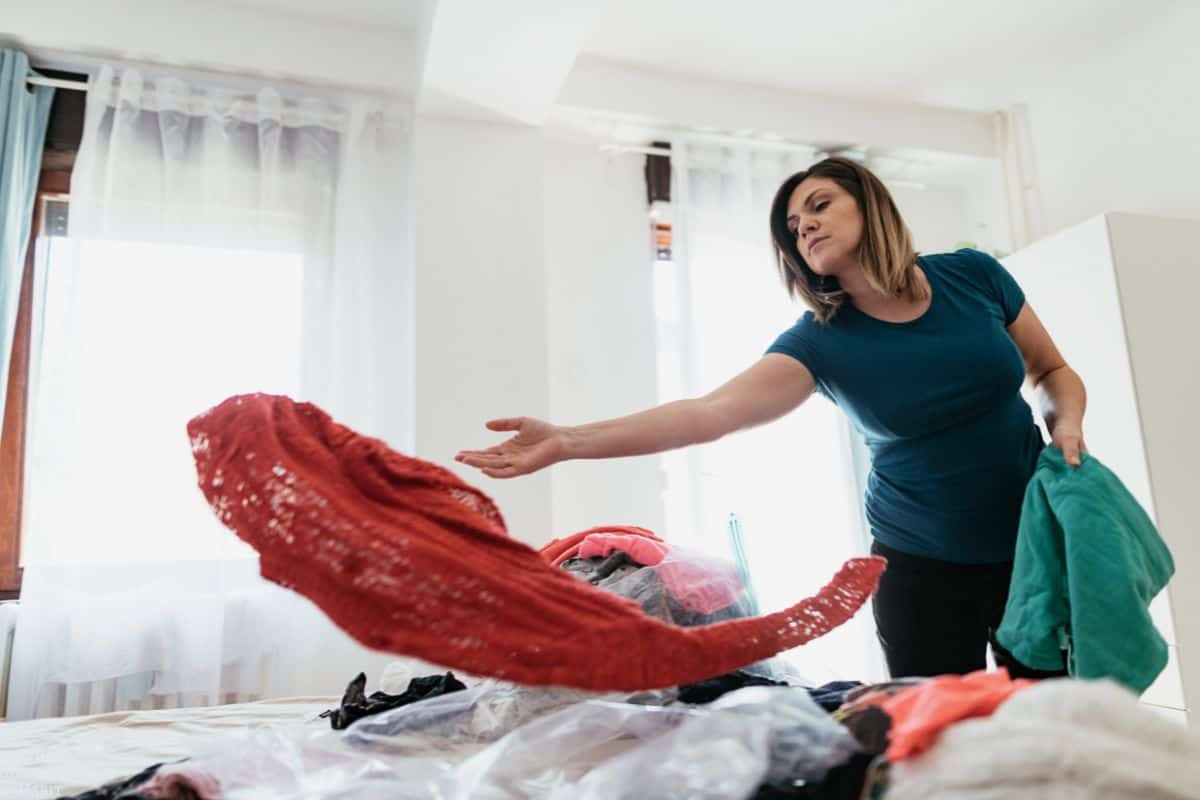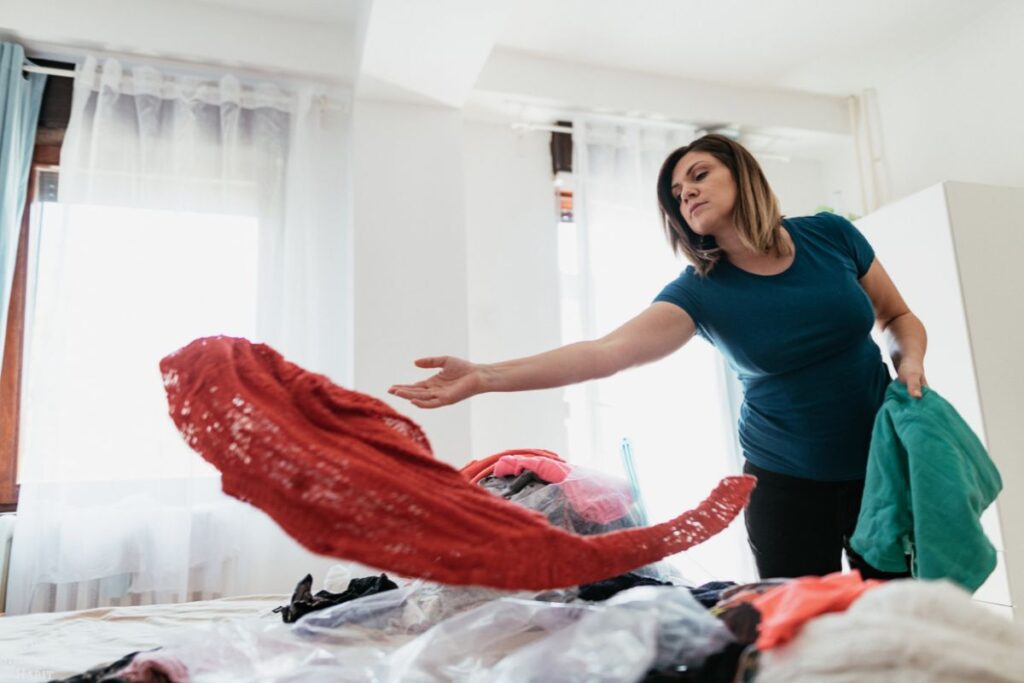 4: Is This Item in Good Condition?
After using the first three questions during your closet clean-out you should now be down to only clothes that fit you well. That's great!
But you know what? The clothes that fit you well may have been worn a lot.
These clothes might be the ones you always choose to wear. After all, you know they don't make you uncomfortable. That being said, it's time to take a good look at them.
Do any of these items have stains or holes? Are they looking faded, ratty, pilled, or misshapen? If so it may be time to let go of them. And when they're not in great shape, look for a place that recycles textiles to donate them to.
I know breaking up is hard to do but your favorite clothes aren't going to make a great impression if they are falling apart.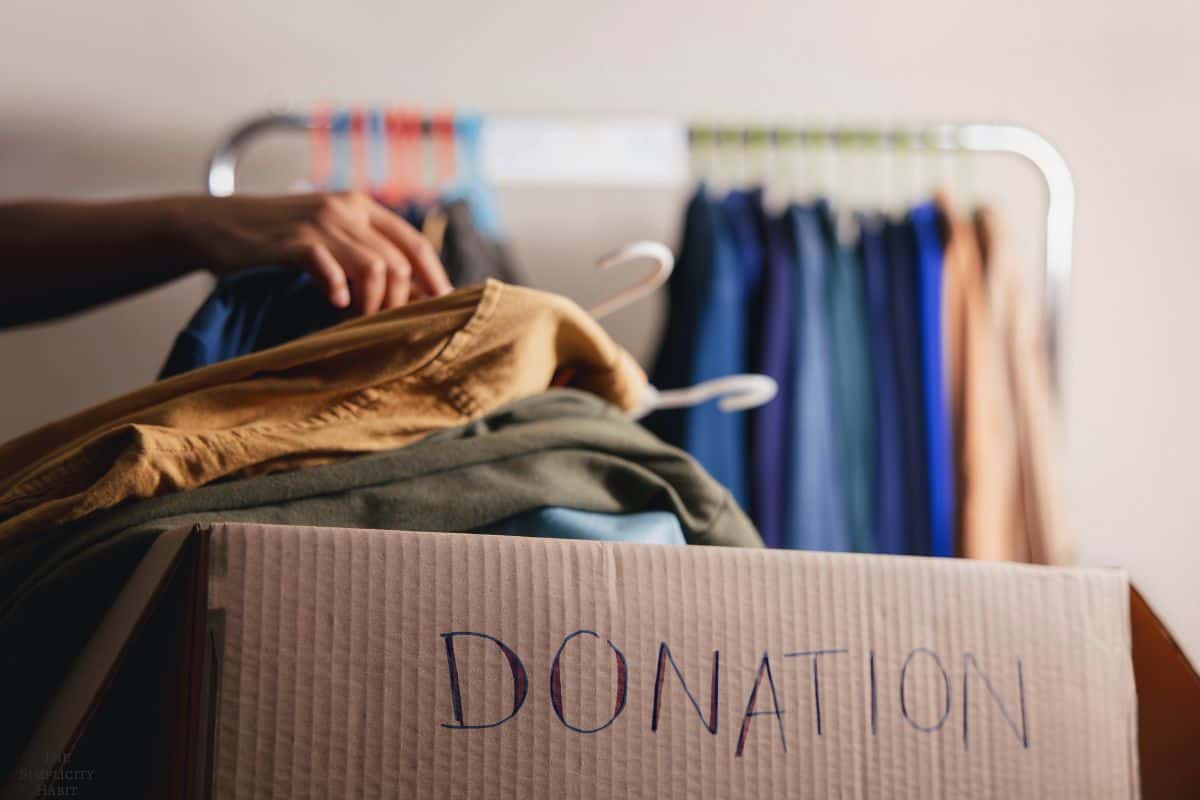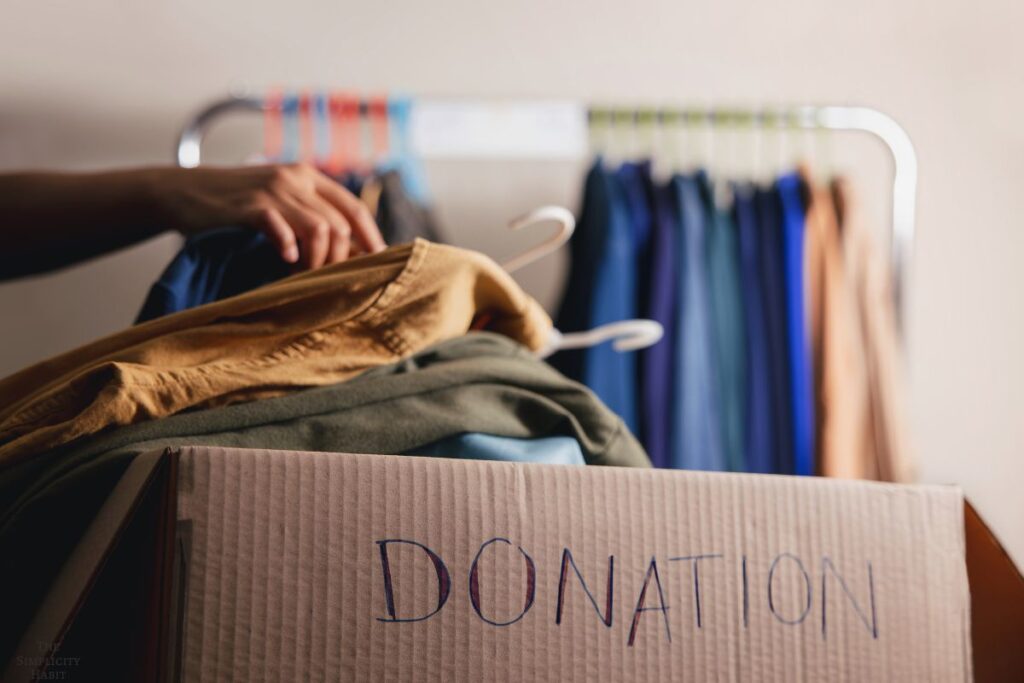 5: Is This Item a Duplicate or Triplicate?
Now it's time to get down to the nitty-gritty. You only have "perfectly good" clothes left but you know that some of them still aren't ones you truly love and want to wear.

For example, do you tend to buy the same thing over and over again? I do. I've noticed that when I go shopping and I find a cute top it is probably really similar to one I already have.
Do you have lots of black pants or 8 purple tops? Do you hoard jeans or collect cardigans?
Look through your closet and try to get rid of your least favorite versions of things you have in duplicate, triplicate, or octuplet.
You know which ones you pick every time and which ones get the pass. Let the excess go.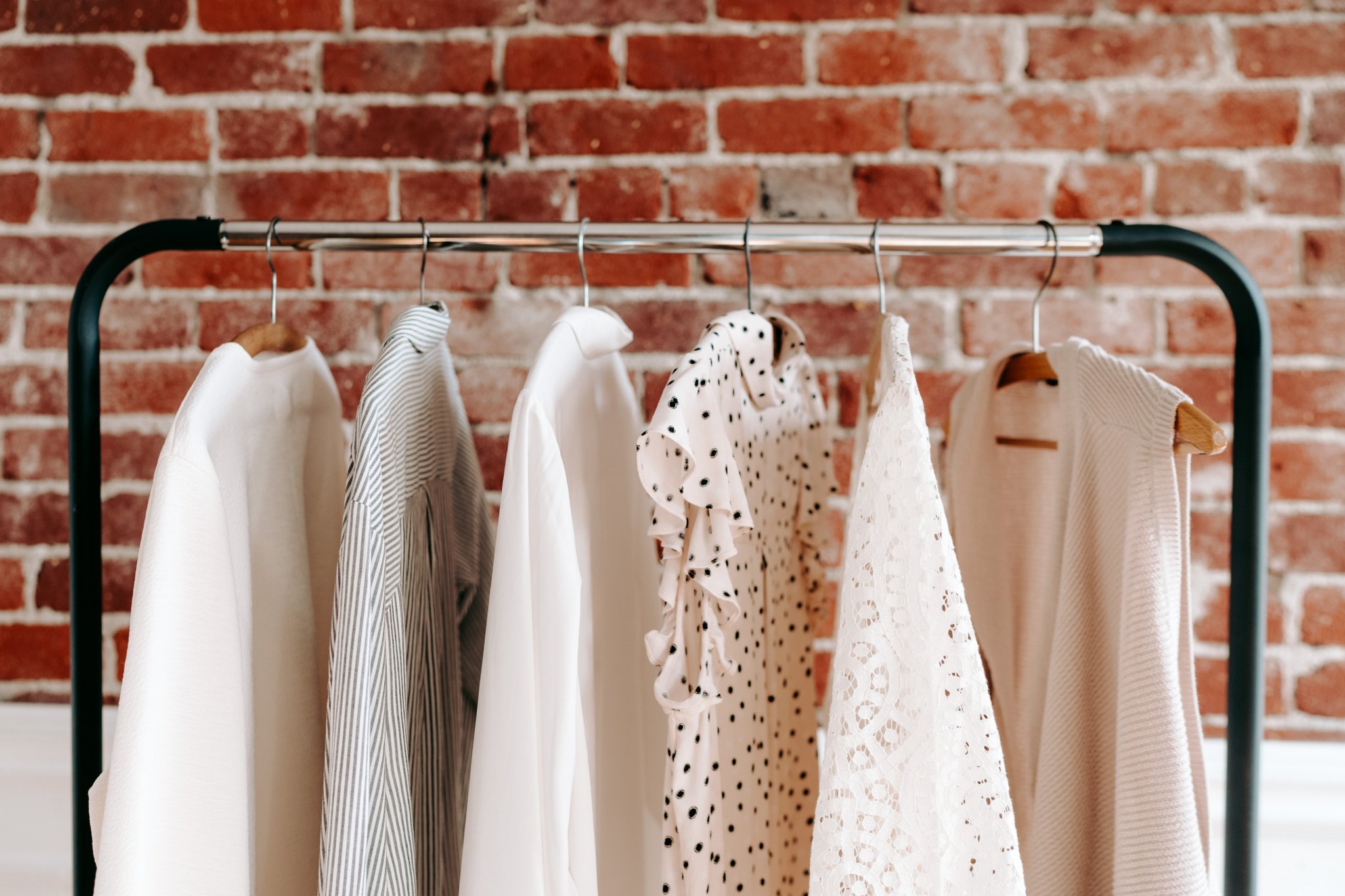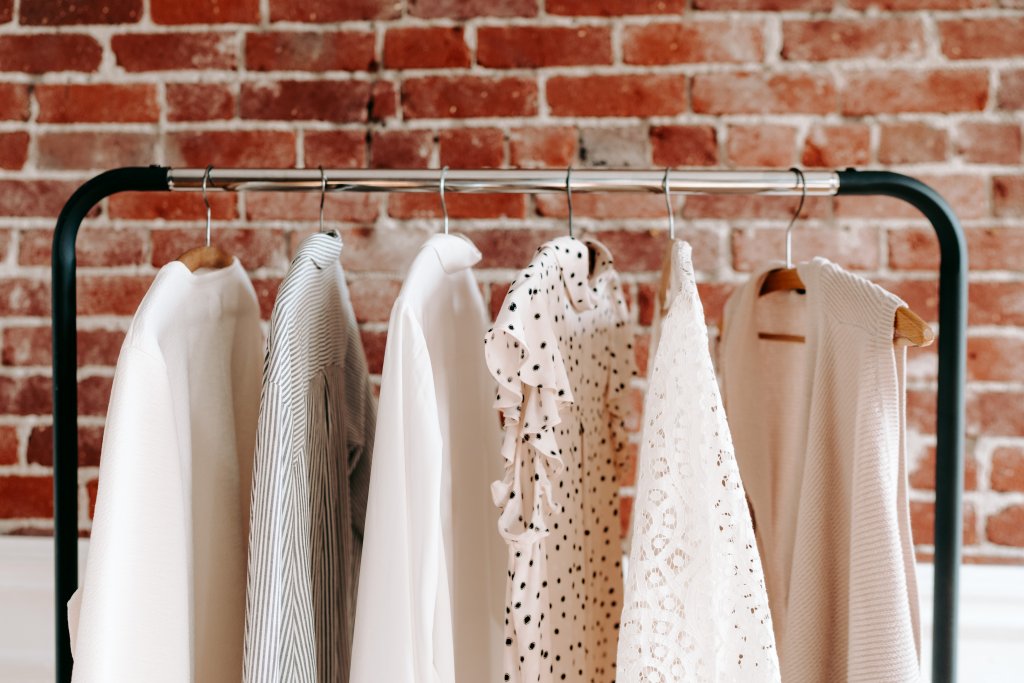 6: Am I Keeping This Because It Was Expensive?
There are many reasons that people keep clutter. One reason you might keep clothes you don't wear is because they were expensive.
That bridesmaid dress that cost too much to just wear once so you feel bad letting it go.
Those fancy shoes that numb your feet so you don't want to wear them, but keep holding onto them because of how much you spent.
And that nice suit you wore on an interview once is hanging out just in case you become a business professional again.
Assuming these items even fit you what good are they if you aren't going to wear them again? Are you keeping them "just in case" or are you keeping them because you spent a lot of money on them?

Remember this. Keeping an item doesn't make the money come back. It does not make you any richer. The money is long gone.
If an item is really nice and worth your time and effort you can try to sell it but most of the time you're better off simply donating it. There are a lot of great ways to get rid of clothes you never wear anymore, but that someone else can still benefit from.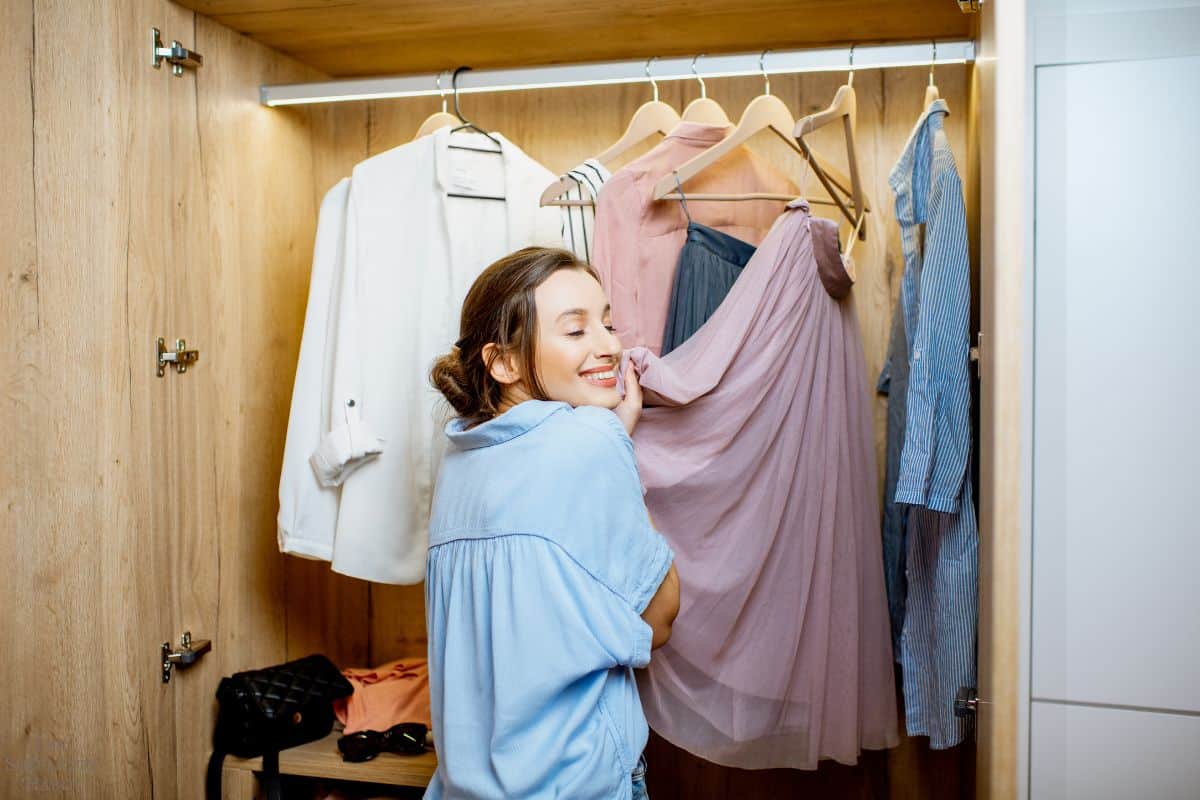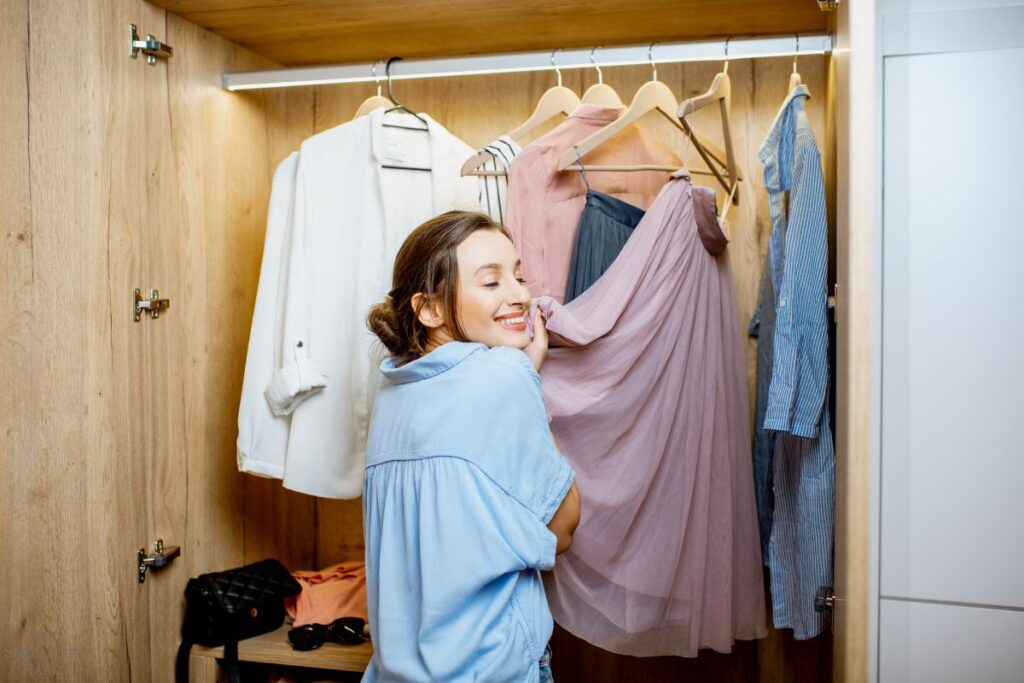 7: Does This Hold Sentimental Memories
How about those prom dresses and baby clothes? What about your 4H jacket, the shirt you got on vacation, and your wedding dress?
It can be really really hard to declutter things that hold sentimental value. We attach beautiful memories to items including clothing and that makes letting go of these items feel traitorous and cruel.
But the truth is your memories don't live inside these items. Your memories are held in your mind and heart.
You don't have to look at your wedding dress to remember your wedding and you don't have to hold your kid's baby clothes to remember that bundle of joy.
Some things may be too special to let go of. Maybe you just aren't ready. I have my wedding dress with my mother's wedding dress in an antique suitcase on a shelf at the top of my closet.
But most sentimental clothing can be passed along. If you're really having a hard time letting go, take a picture and write the story of that item before you get rid of it.
It's ideal to keep a minimal number of pieces of clothing for purely sentimental reasons. You may want to consider storing them somewhere other than your closet.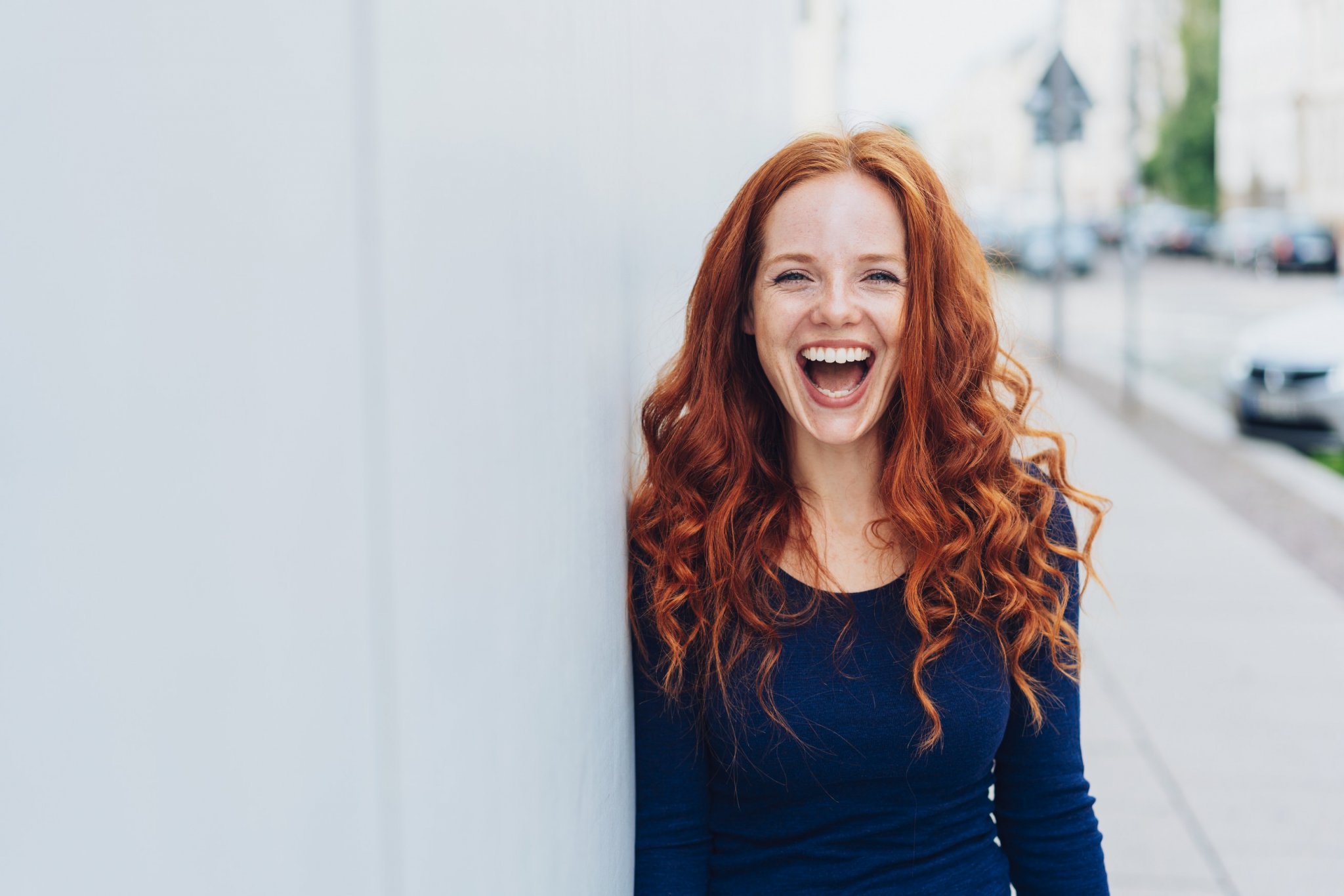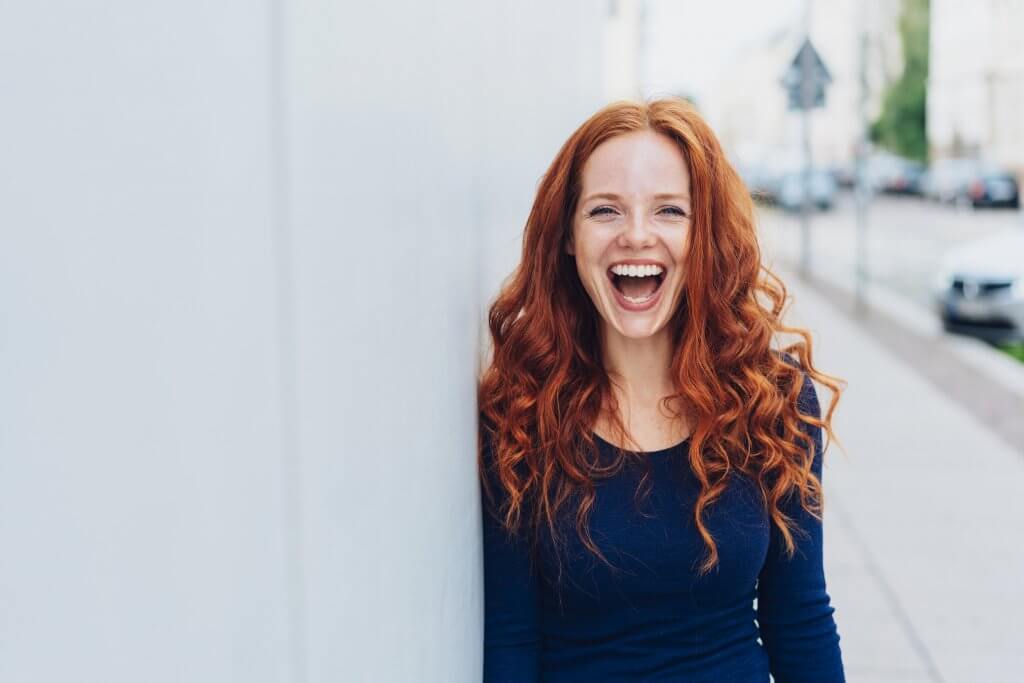 8: Does This Make Me Feel AMAZING?
All the questions above will help you pare down your wardrobe significantly so that what you have remaining is the best of the best. These clothes fit you well and are in good condition.
But there is one more question you need to ask. Does every item in your closet make you feel amazing? Do you feel confident in your wardrobe? Do you love to wear everything you still have?
Take one more look through your closet and let go of things you know you won't wear. Maybe you don't want to wear these items cause they are scratchy or they aren't your style anymore. Or perhaps you are just tired of them.
It's okay to let go of clothes you don't feel amazing in. So do yourself a favor and let it go. It's the best thing you can do for yourself and maybe someone else will love them.
When you look at your closet you don't want to feel guilty or burdened. You want to look at a closet full of great clothes that you have no second thoughts about wearing! Only clothes that fit that description get to stay.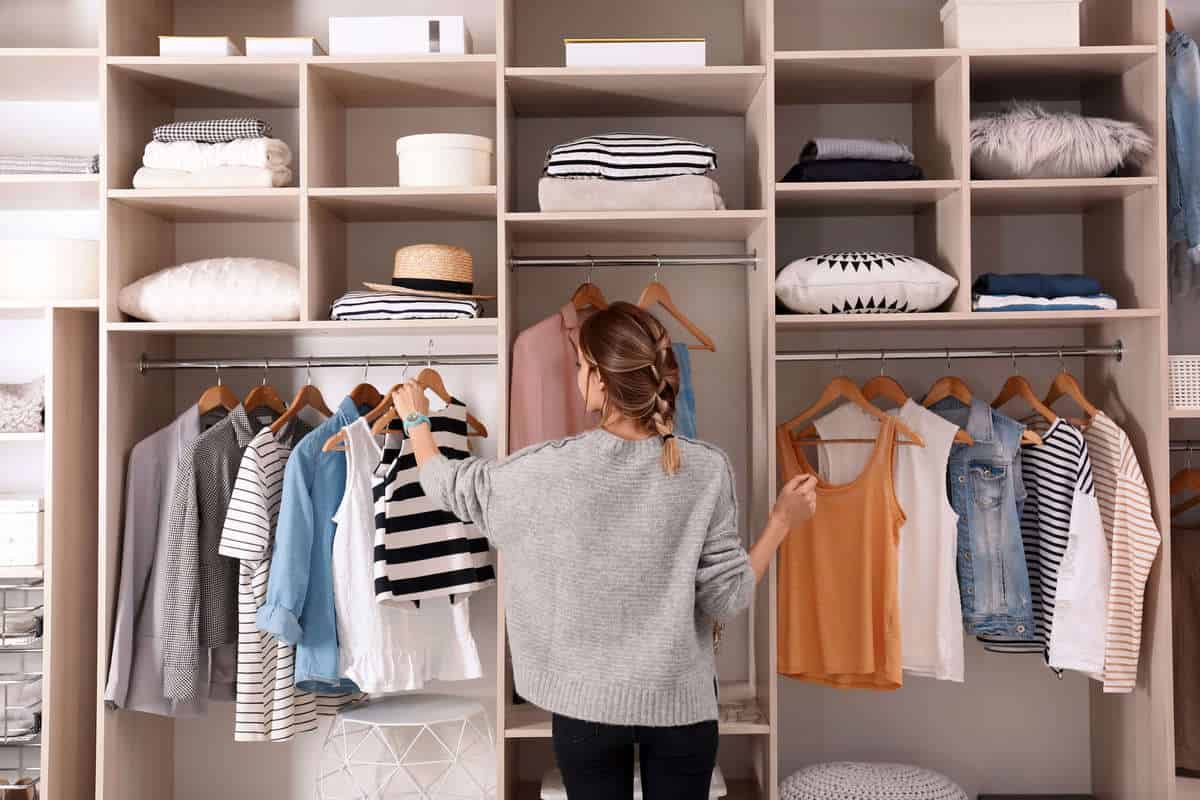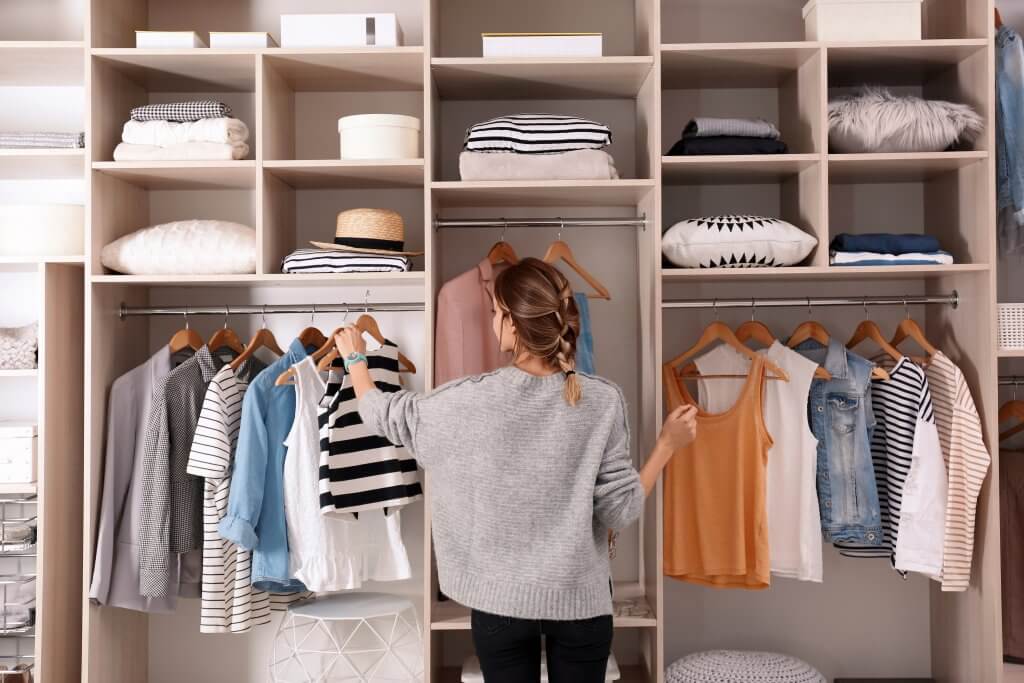 Do a Closet Clean-Out and Enjoy the Benefits!
Yes, it can be challenging to declutter your closet but the benefits are worth it!
When you do a closet clean-out using the 8 questions above you will find that you can get dressed faster in the morning. You will enjoy learning to mix and match the clothes you already have and you will start to more clearly define your personal style.
You will even find that you stop buying clothes that aren't really right for you!
Last but not least, when you love the clothes you wear and how you feel in them you will feel more confident and productive every single day. People will be attracted to your confidence and happiness.
When you don't start each day with a bit of closet-induced self-loathing you may notice you make even more progress towards your goals and dreams!
Who knew a little closet simplicity could change your whole life? Do a closet clean-out and enjoy the benefits!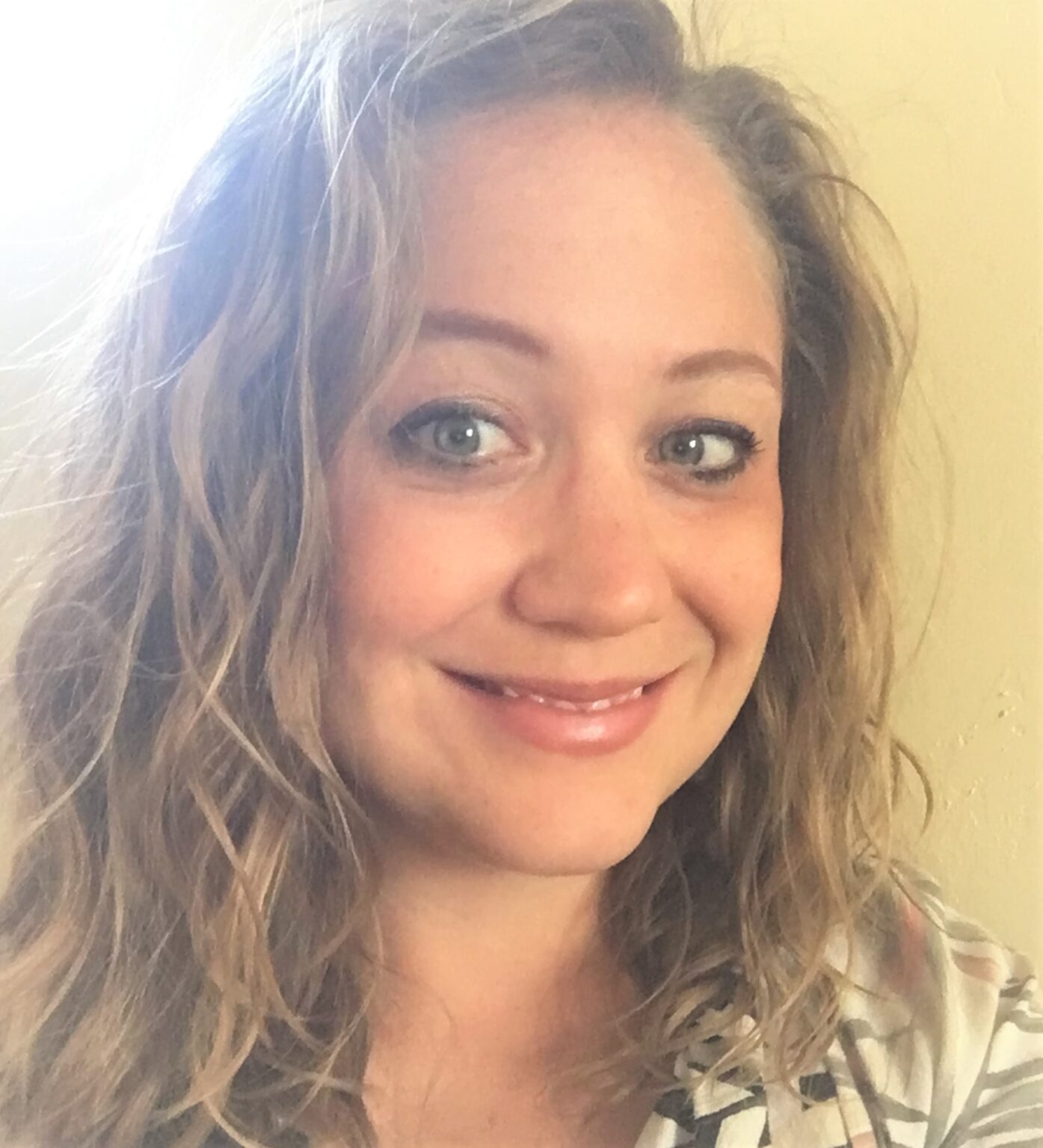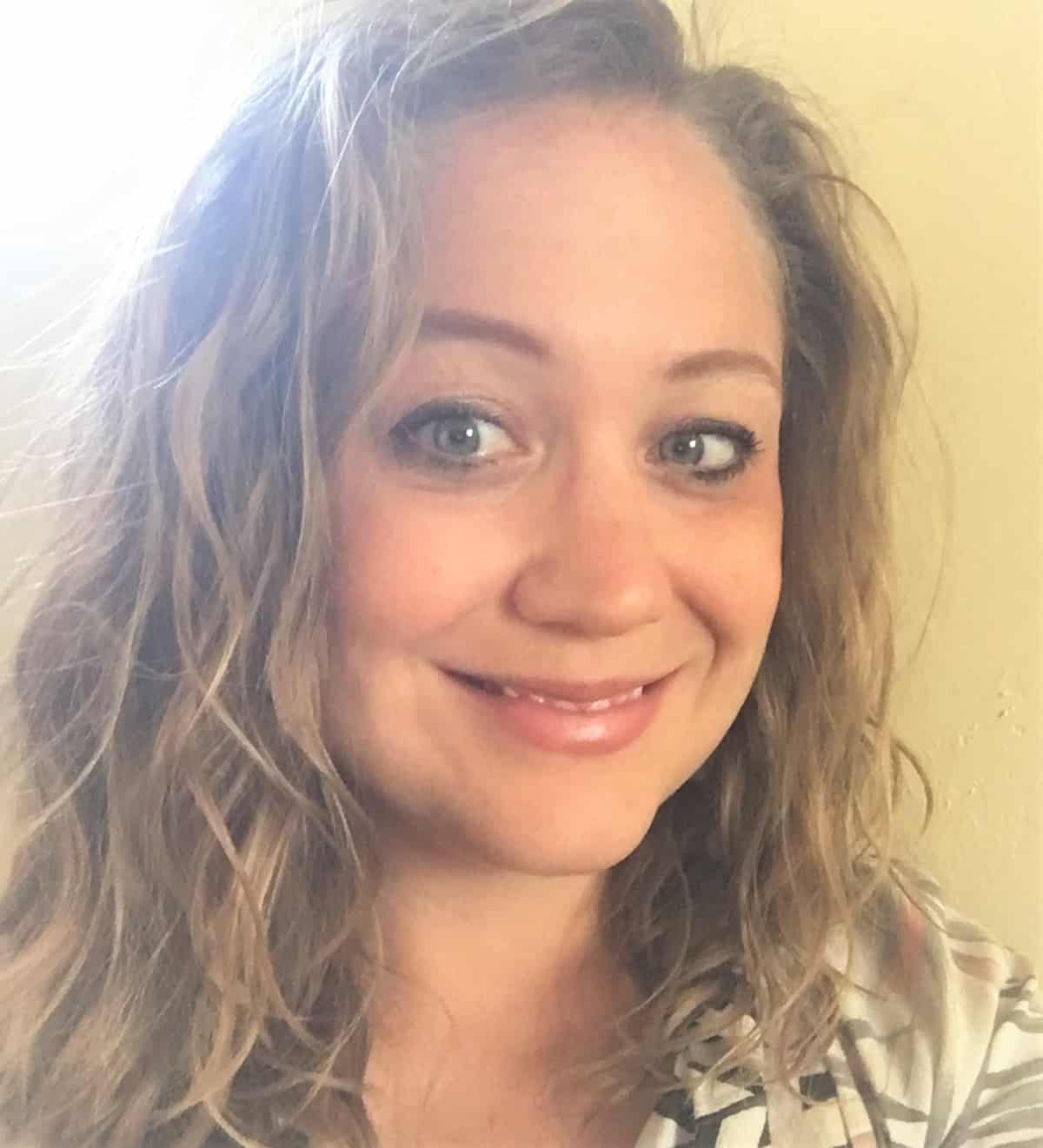 Jessalynn Jones writes her blog, Doable Simplicity, with the goal of helping you find the version of minimalism that is just right for you. She wants minimalism and simple living to make your life more enjoyable as it helps you reach your big-picture goals!
Have you done a closet clean-out? Share your experience in the comments section below!
Sign up on the form below to get weekly decluttering tips and inspiration sent straight to your inbox. You'll also get the free 5 Areas to Declutter in 10 Minutes Checklist to help you get started decluttering today.