Inside: Use these seven steps to declutter sentimental items while keeping your memories.
Let's be honest.
Decluttering isn't always easy.
It's hard enough to sort through your stuff, say goodbye to lots of it, and find new ways to organize the rest.
Add some sentimental items to the equation, and you've just made your clutter problem a bit more challenging.
Most of us want to live in a clutter-free space. But most of us also want to hold onto items that hold meaning and memories. Feeling like you have to choose between the two can be enough to turn you away from decluttering altogether.
But I've got good news for you.
You don't have to choose.
You can organize your home and declutter sentimental items without throwing everything away. Believe it or not, there are lots of ways to preserve those memories that don't contribute to your home's clutter.
Keep reading, and I'll show you how to do it!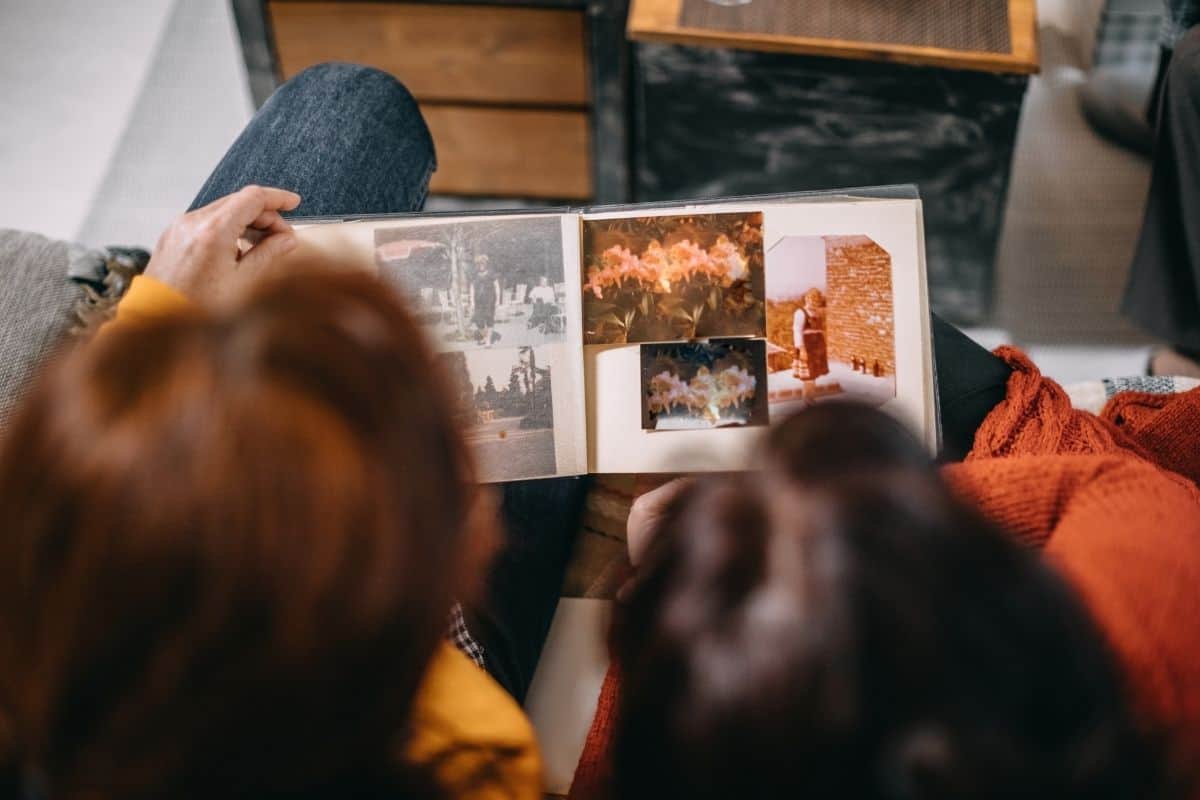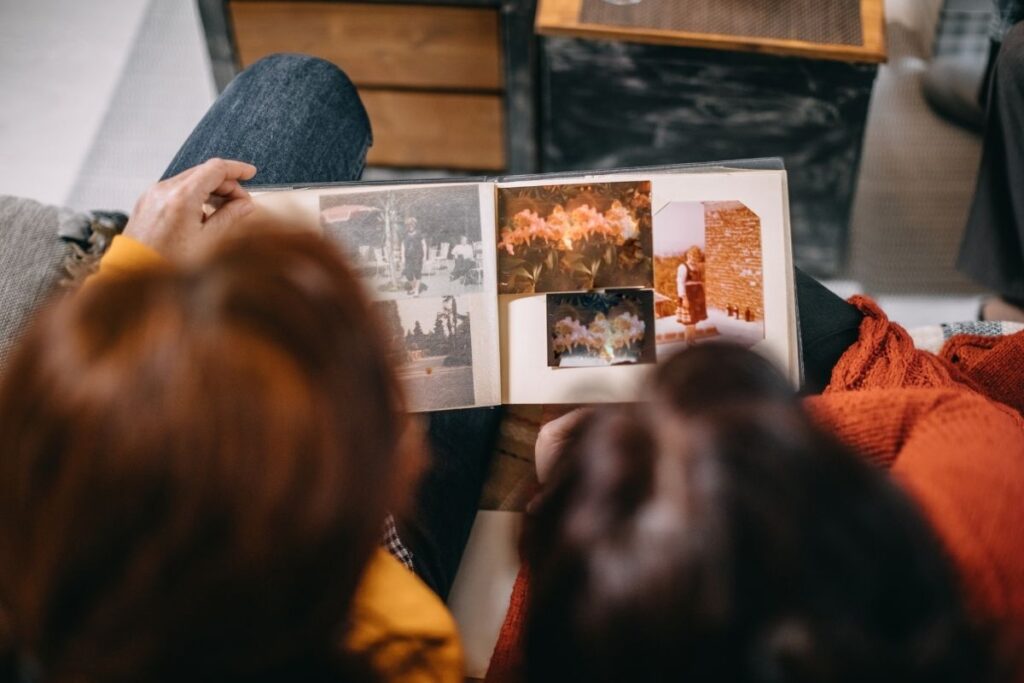 Why Is Decluttering Sentimental Items So Hard?
It's easy to get frustrated by the idea of decluttering sentimental items.
You want to get things organized. You want to clear stuff out.
But when it's time to say goodbye to something that holds meaning and brings back old memories? That can be truly tough – and in some situations, feel virtually impossible. How do you decide which items to keep and which to let go of?
Sentimental clutter can take up a ton of space. Some people have pieces of furniture that are too sentimental to say goodbye to.
But for others, sentimental clutter consists of lots of little things – trinkets, gadgets, tiny mementos. But those little things can easily add up to a LOT of stuff.
Whether your clutter consists of a house full of furniture, a closet full of old clothes, piles of magazines, or something else, one thing's for sure – it's important to get it under control.
But in many cases, that's easier said than done. Getting rid of stuff that holds emotional value is hard.
Thankfully, there are ways to preserve those sentimental items – or the memories they hold – as you declutter. And by finding ways to declutter those sentimental items without totally losing those memories, you'll be able to navigate the process with excitement – instead of a sense of loss.
7 Smart Ways to Declutter Sentimental Items & Magnify Memories
Ready for some sentimental decluttering?
I promise, it isn't as scary as it sounds. There are lots of ways to declutter while preserving the memories that matter most to you. Here are some creative decluttering solutions that'll let you hold onto those memories while still streamlining and organizing the stuff in your house.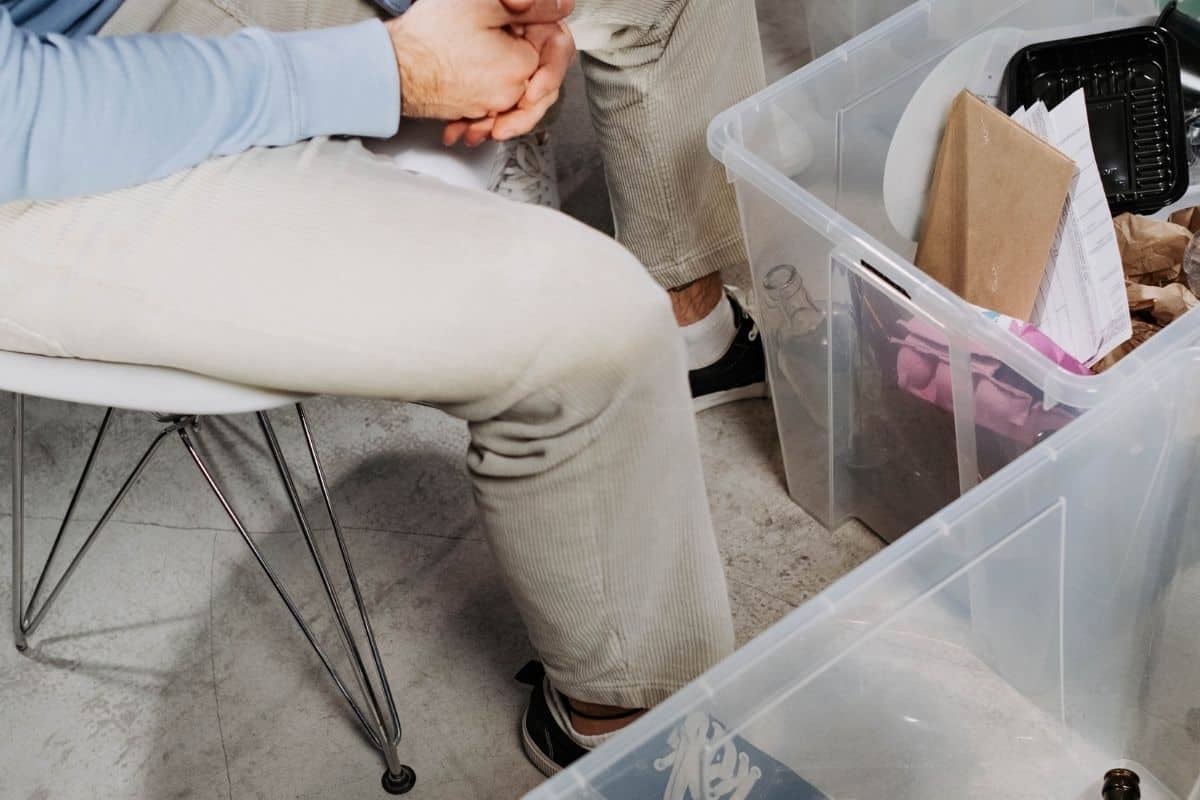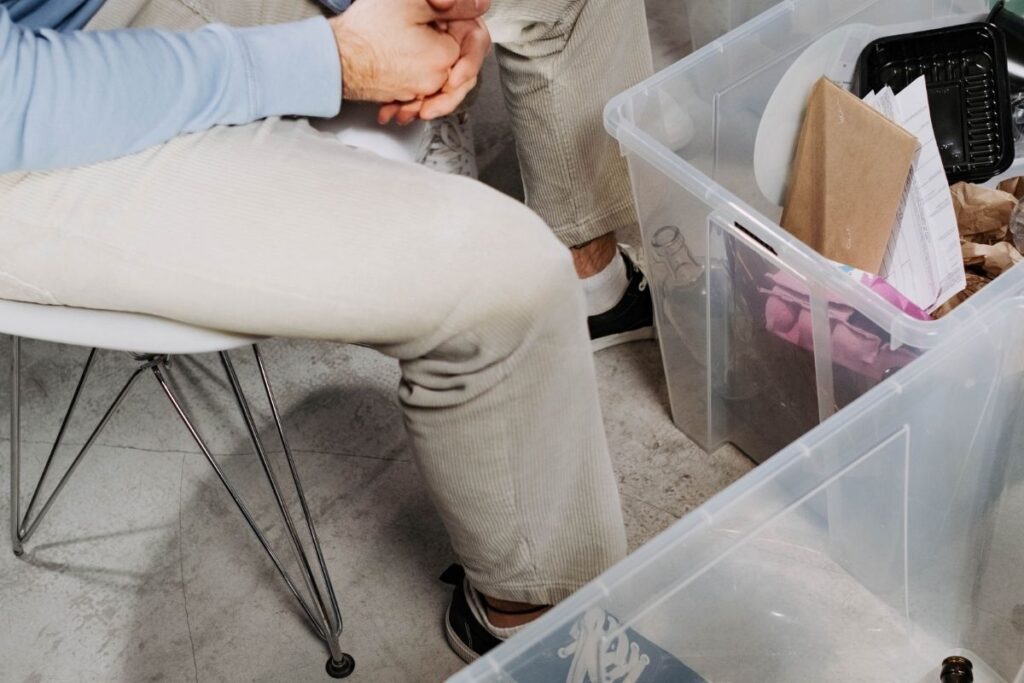 1. Declutter sentimental items last.
If you're reading this and you haven't decluttered anything in your house yet, please do not start with sentimental items. You're going to want to work your way up to them.
It is easier to make decisions once you've practiced decluttering other areas. You can start with high impact areas in your home that make a big difference and are motivating for continuing with the decluttering process.
From there going room by room is a great methodical way to declutter your entire home. And finally, end with your sentimental items.
2. Take it slow.
When you're decluttering sentimental items, there's no need to rush.
It's important to be deliberate and intentional. And it's important to take the time you need to process what you're doing and make decisions that you aren't going to regret later on.
While getting rid of some stuff and decluttering your space is the ultimate goal, it's critical to do so in a way that doesn't send you into an emotional spiral. Saying goodbye to meaningful stuff can be hard – which is why it's important to give yourself a little grace and time to process.
Take the time to evaluate your stuff and understand what you're working with. You can't be intentional about your goals, and deliberate about what you decide to keep, if you're trying to empty your home in a day.
3. Put sentimental items into a scrapbook or memory box.
Many of us hold onto lots of sentimental clutter that can easily be contained in a scrapbook. You can use scrapbooks to preserve…
Physical photographs
Old ticket stubs from movies, concerts, and vacations
Sentimental birthday cards, letters, and other handwritten notes
Pages from old newspapers and magazines
Pressed flowers
… and so much more!
If you've been holding onto lots of paper clutter, stacked in piles or shoved into drawers or boxes, take the time to sort through each piece and pull out the ones that mean the most to you. Take some time to declutter your pictures and save the ones that are meaningful to you.
Then, compile them into a scrapbook so you'll have those memories preserved forever and nearly stored on a bookshelf – not scattered throughout your house.
If scrapbooks aren't your thing, create a memory box. Use a box you have on hand or purchase a decorative box for the purpose of containing your most treasured items. That way you'll know right where they are and have them ready should you want to take a trip down memory lane.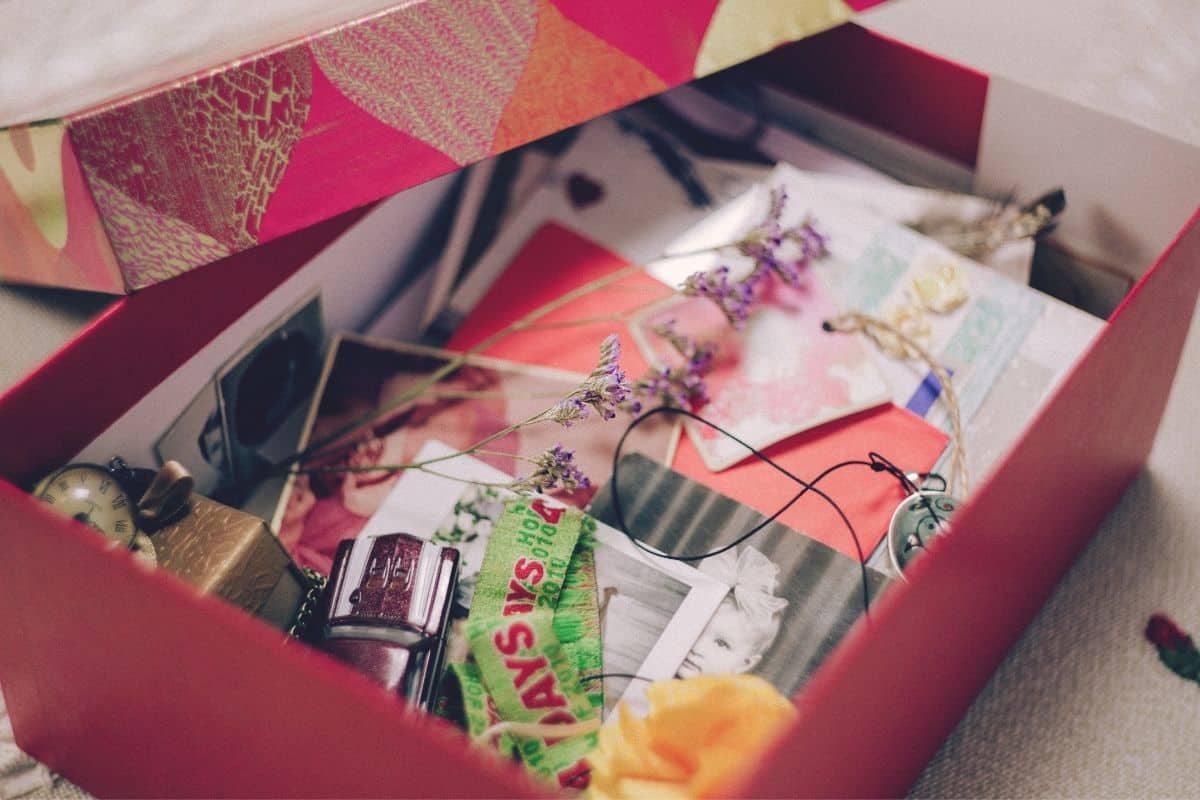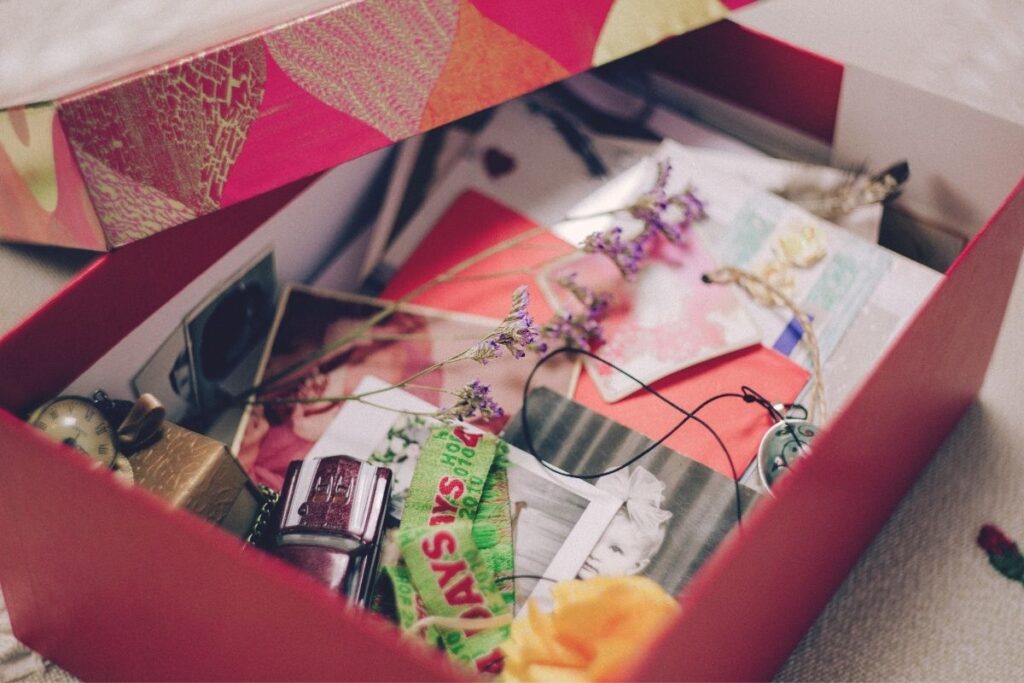 4. Find new ways to preserve and appreciate old stuff.
Another great way to make sentimental decluttering less of a struggle? Find ways to give new life to old clutter.
Maybe you're holding onto an old piece of furniture – an armoire, a desk, a dresser – because it's got too much sentimental value to sell. But it's taking up a ton of space, collecting dust, and cluttering up your home.
Find a way to repurpose that piece of furniture into something totally new and necessary! With a little elbow grease and a new coat of paint, you'll be surprised to see how easily you can transform something that's gone unused in your home for years into something new, exciting, and just as sentimental as ever.
Or maybe you've got a dresser full of t-shirts that you just can't stand the idea of getting rid of. Maybe you accumulated your collection in college, or on vacation, or just because.
Those shirts are just cluttering up your drawers and leaving you without the space you need to organize the stuff you wear – but you can't stand the thought of throwing them out. By turning those old t-shirts into a sentimental quilt, you'll have a brand new blanket to cozy up with on chilly nights.
5. Snap a photo.
As you declutter, you might stumble upon some stuff that you don't really need to keep – but can't stand the thought of saying goodbye to entirely.
One simple solution?
Take a picture!
By keeping a picture of that sentimental item, you can revisit it – and all the memories it holds – whenever you want by simply pulling it up on your phone or computer. No need to dig through old boxes or closets to find that memory – you can keep it at your fingertips, without taking up any space at all in your home.
While this isn't the right solution for every sentimental thing you need to declutter, it can be a great way to address the stuff that you don't necessarily want to keep but can't bear the thought of saying goodbye to forever.
The caveat here is that for some taking pictures of items would end up creating digital clutter so make sure you keep your photos organized so you can easily access them later if desired.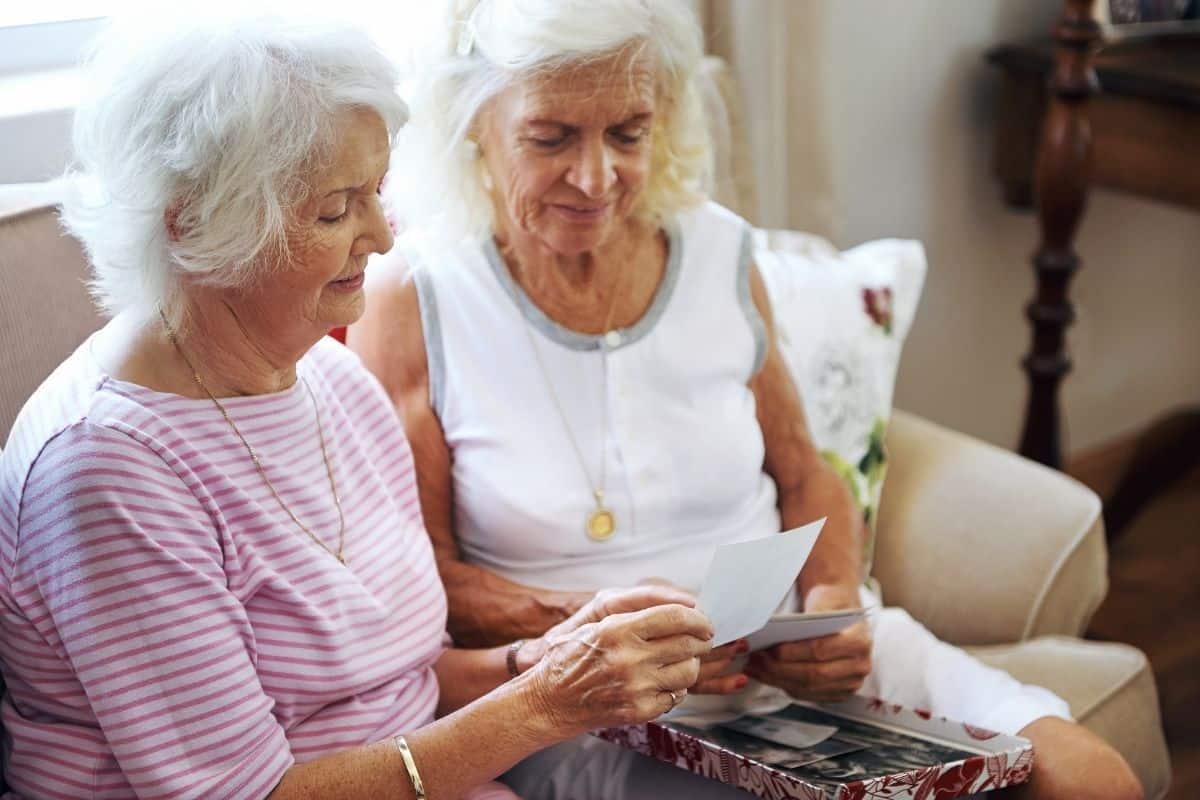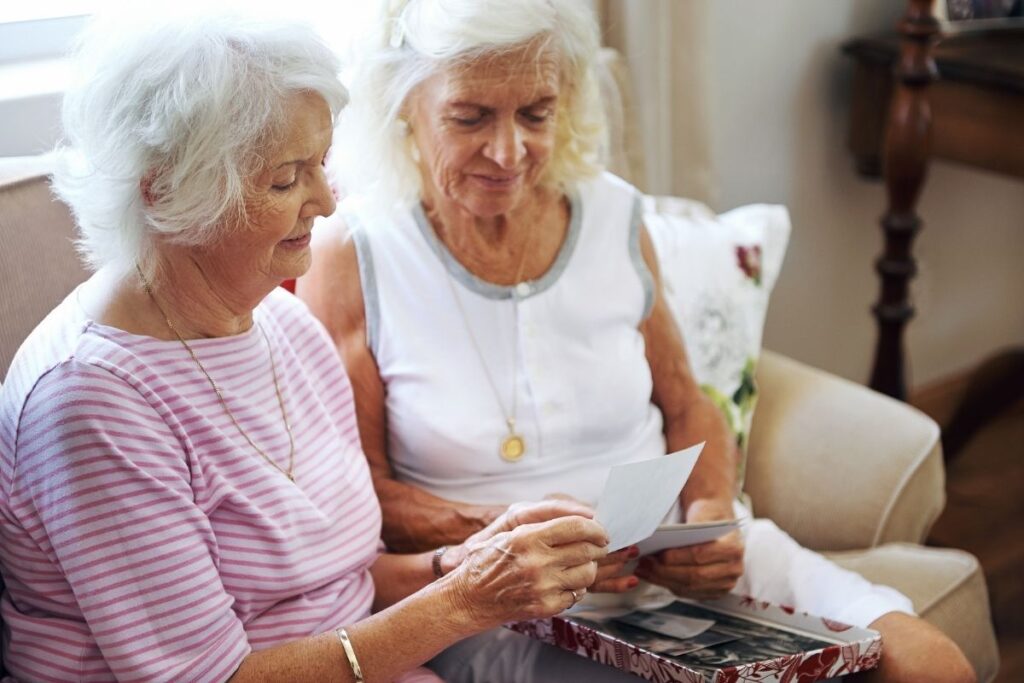 6. Share family heirlooms with others.
If you're holding onto stuff that holds sentimental value to others, too, see if they'd like to take it off your hands.
By passing along family heirlooms to other relatives, you'll make progress when it comes to decluttering your home without totally discarding those memories.
You'll rest easier knowing that someone else is appreciating that stuff for the same reason you did – without the stress caused by having way too much stuff.
If you don't have anyone in the family who wants the items, consider gifting them in your local Buy Nothing group. It feels better to gift sentimental items to someone who really wants them.
7. Let go of guilt.
Decluttering sentimental items can bring up a variety of feelings. As you choose to let go of items that you don't love or don't use, also choose to let go of any feelings of guilt associated with the process.
This is especially true if you're letting go of stuff that you were gifted when a loved one passed. Remember that people are not their things. Your memories of the times you enjoyed together will live on.
The best ways to magnify your memories is to be the things you admired and loved about them and share your stories with others.
Honor your loved one's memories with the life you live, not by holding onto all of their stuff.
Guilt is never a good reason to acquire something nor is it a good reason to keep anything.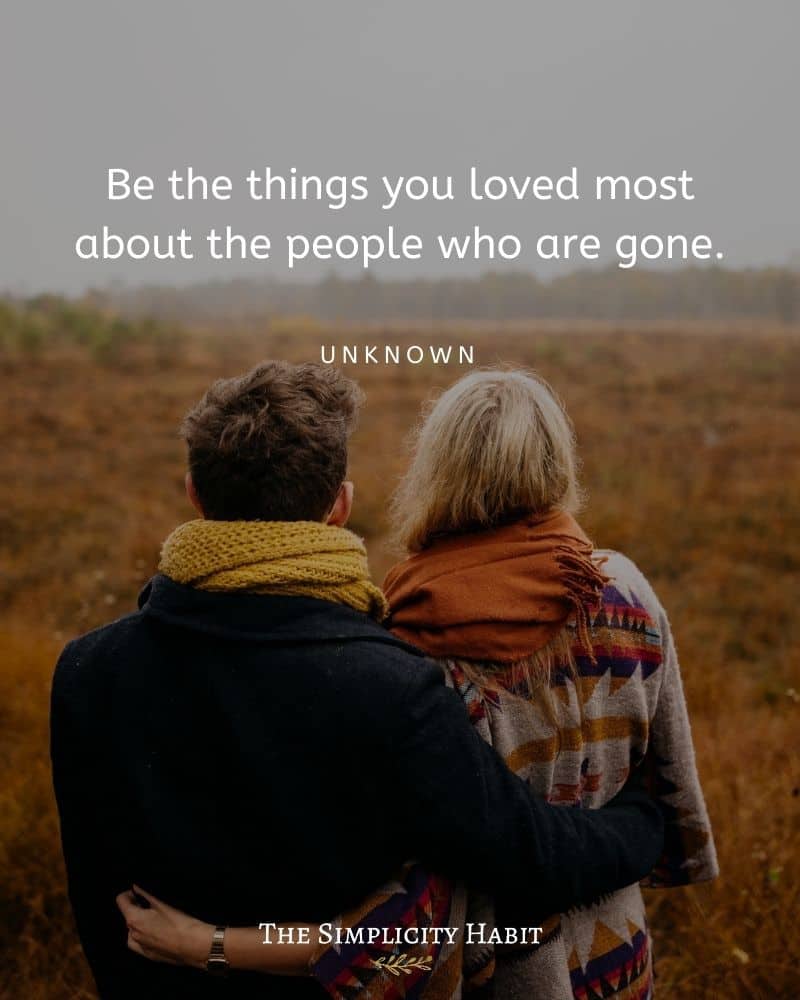 How do YOU declutter your sentimental items and preserve important memories? Share in the comment section below!
Sign up on the form below to get weekly decluttering and simplifying inspiration sent straight to your inbox! You'll also get the free Declutter Plan of Attack Worksheet to help you customize your own decluttering plan for your home.