Inside: Use these tips for simplifying holiday décor this year and decrease your stress levels!
The holiday season can feel like the most magical time of the year.
It can also be the most overwhelming time of the year.
Between potlucks and parties, shopping for presents, mailing out cards, traveling to visit family and friends, and everything else the season entails, it can get a little bit crazy.
Finding ways to take the stress out of the holiday season is key. And if you're looking for an easy way to stress less this holiday season, start with your Christmas decorations.
There's nothing wrong with going all-out for the holiday season, but it's really easy to go overboard when it comes to decorating your home and decking out your Christmas tree. And while some people might find it festive, others might find it totally cluttered, chaotic, and stress-inducing.
If you're feeling overwhelmed by your holiday décor and are looking for ways to simplify your decorations this holiday season, I've got you covered. Keep reading to see just how easy it can be to simplify holiday décor this Christmas – and still bring plenty of holiday cheer to your home!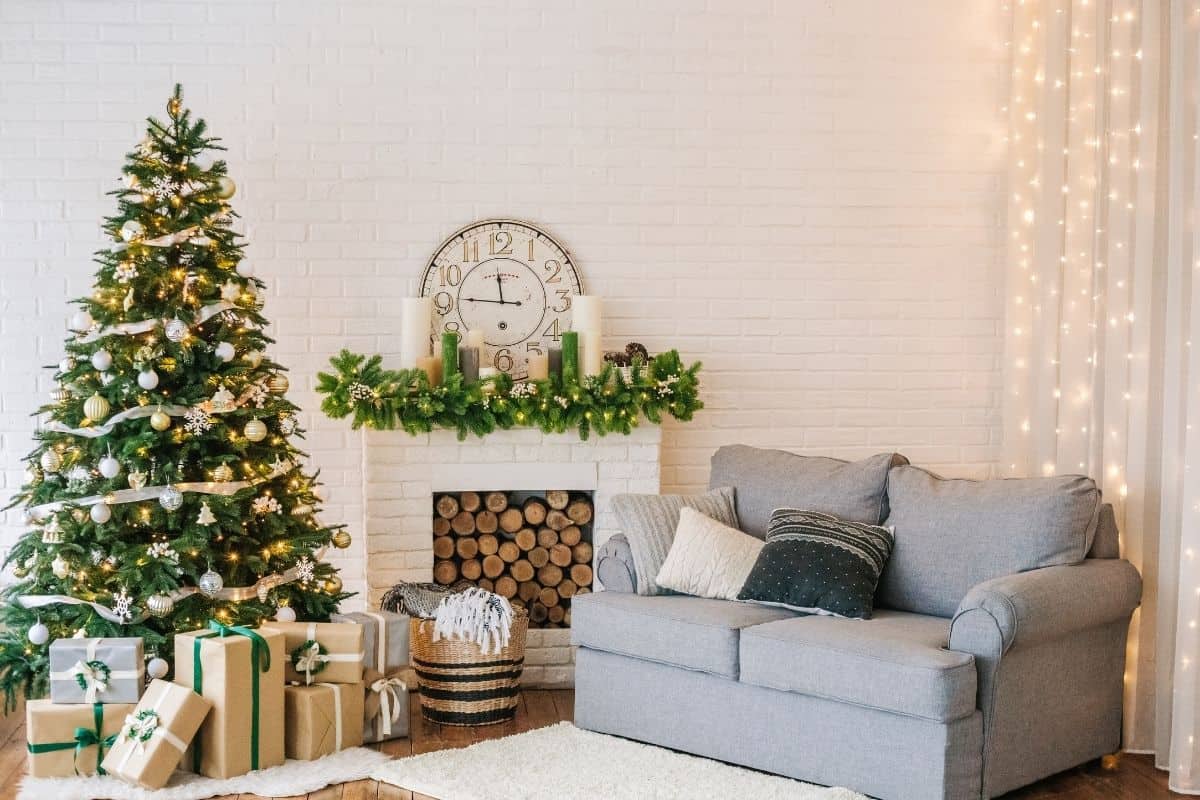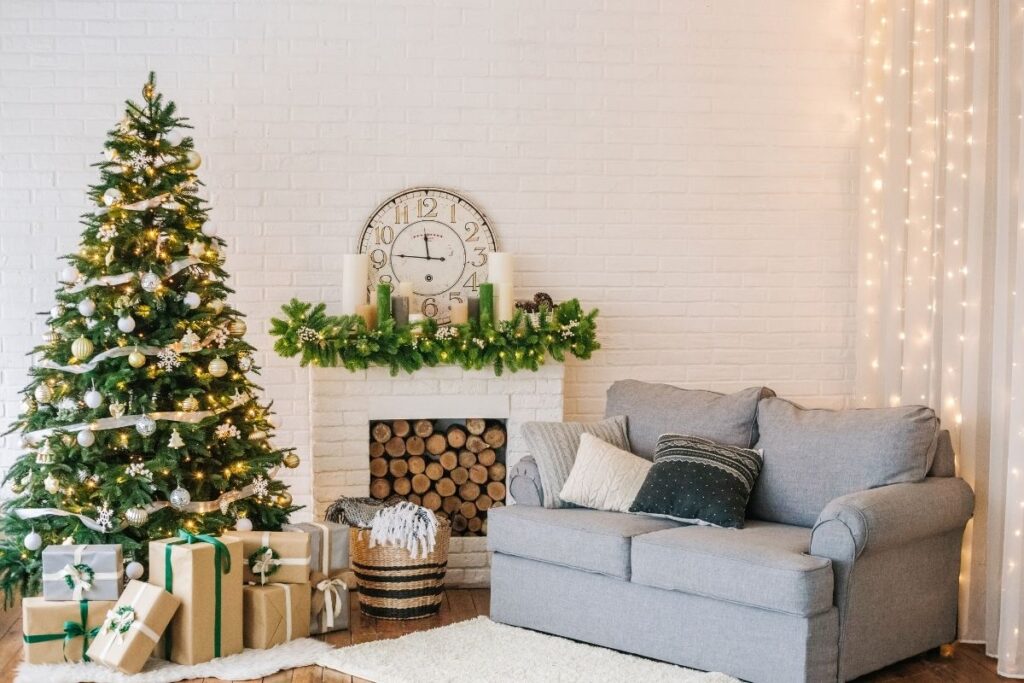 Why Simplify Holiday Décor?
It's a valid question.
After all, you only get to celebrate the holiday season for a few weeks out of the year. Why not put out as many decorations as possible and really embrace it?
Well, you certainly can. And if that's what makes you happy, there's nothing wrong with that!
But for many, the idea of decorating for the holiday season can be stressful. Covering every mantle, tabletop, windowsill, and doorway with Christmas décor can be time-consuming and expensive.
It can become overwhelming. With every nook and cranny of your home bursting at the seams with holiday decorations, it can be hard to even appreciate what you've got.
Simplifying holiday decor in your home can help keep feelings of overwhelm at bay this Christmas. By taking a simple, streamlined approach, you can really put time and effort into your presentation – without spending a ton of time decorating for the season.
You can more easily complement your existing decor. You won't have as much to clean, or put away at the end of the season.
And simplifying your holiday décor can seriously free up some storage space in your attic, basement, or whatever closet you keep your Christmas decorations in. Decorations are one of the best things to declutter before the holidays.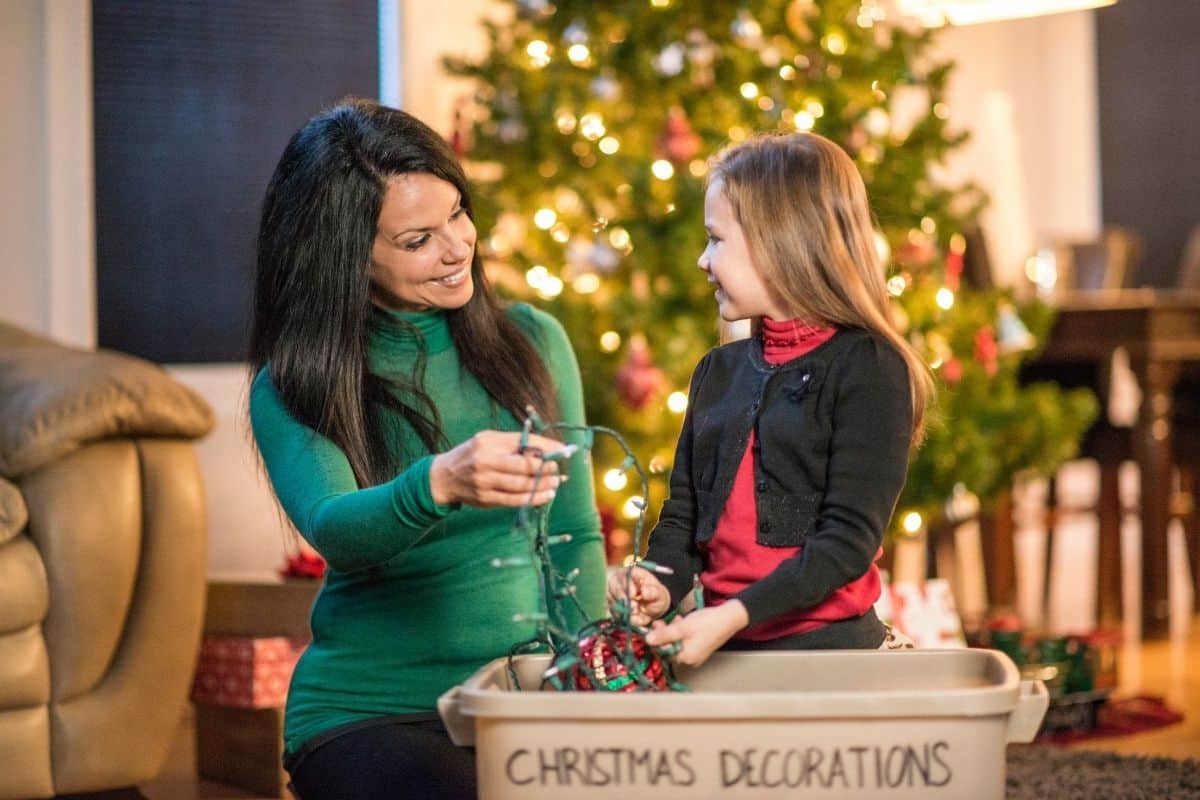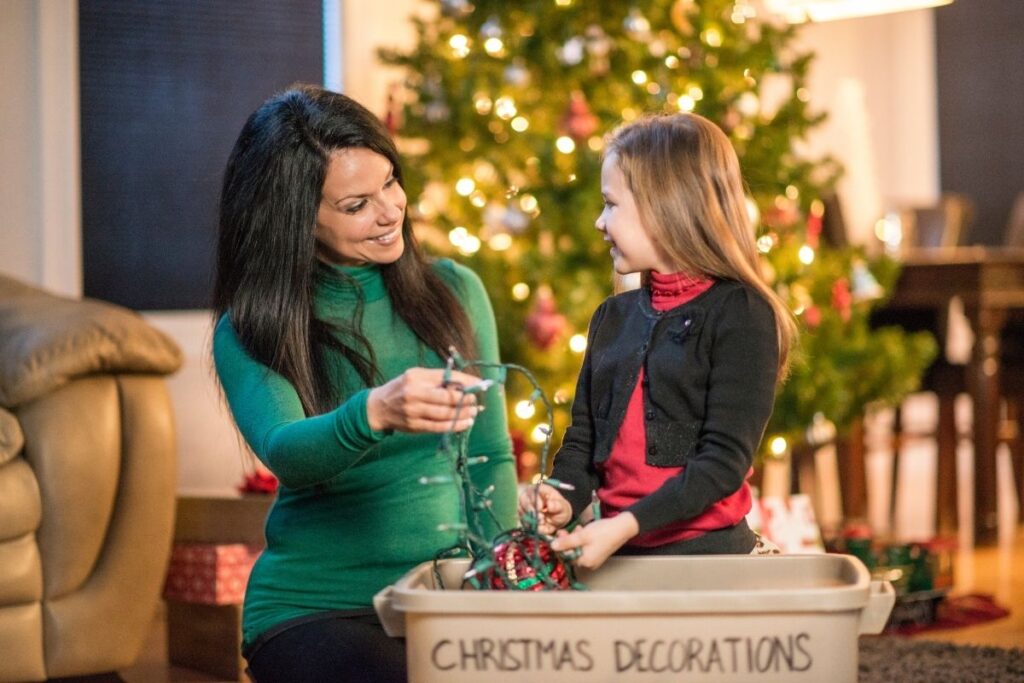 How to Declutter Your Existing Decorations
The first step to simplifying décor this holiday season involves decluttering your existing Christmas decorations. 
By saying goodbye to the things you don't necessarily love, or feel like you need to hold onto, you'll streamline your Christmas decor collection and make your holiday decorations simpler and way less stressful.
And by donating those extra donations to a family in need or a charity that could use them, you can feel good about your decision to say goodbye to all of that stuff. 
Take an inventory of your holiday decor.
Do you have way more Christmas lights than you could ever squeeze onto a single Christmas tree? Do you own multiple nativity sets, holiday centerpieces, garlands, or ornament sets?
The best place to start is to see what you're working with. Sorting items into categories can be an easy way to visualize how much of everything you have.
This will help you identify some quick wins when it comes to decluttering. If you have more ornaments, garlands, or lawn decorations than you need – or want to deal with – it's time to say goodbye.
Sort through your décor to determine what you keep.
After you've collected all of your holiday decorations and have organized them into their appropriate groups, it's time to go through them one by one.
Ask yourself if each item actually adds holiday cheer to your home. Does it hold any sentimental value? Do you truly need it? If the answer to those questions is "no," then you can feel good about letting it go.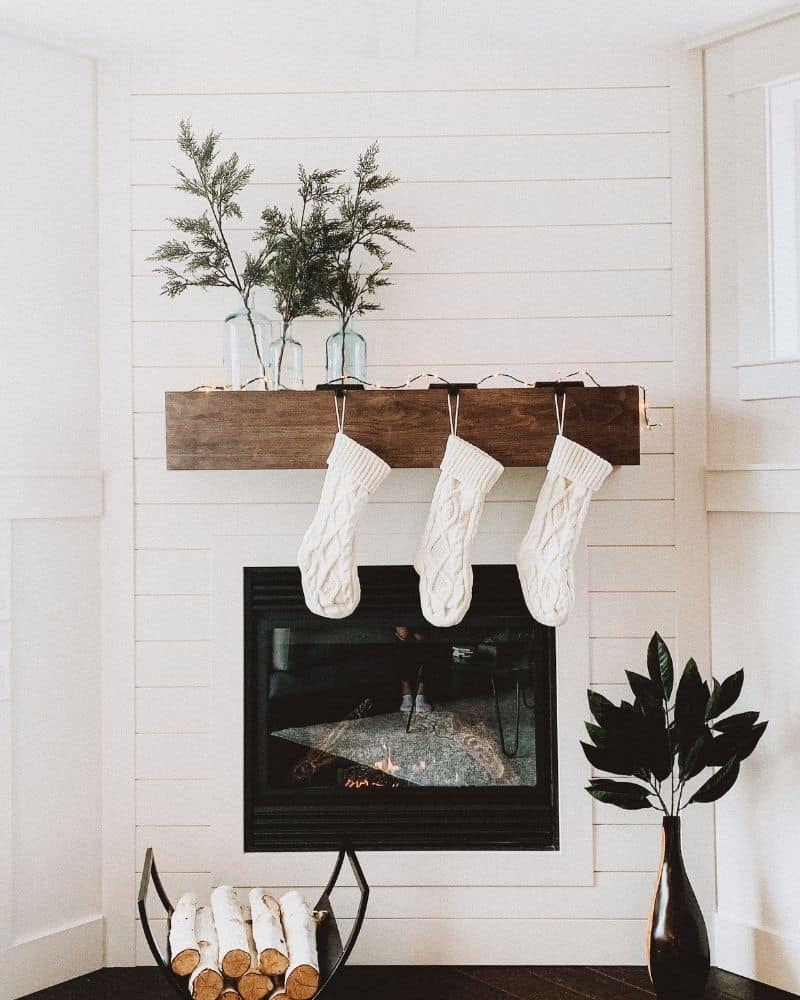 Get rid of any holiday décor you don't want or need anymore.
Once you determine what you'd actually like to keep, get rid of the rest. You have a few options here:
If they're in good condition, you could sell your holiday decorations online, if desired. It's an easy way to earn a little extra spending money for Christmas gifts.
Alternatively, you can donate good-quality Christmas decor to a local family or organization that could use it.
Childrens' homes, senior centers, public libraries, and other establishments often decorate for the holidays without much budget to support their efforts. Make a few phone calls or do a quick Google search to easily find a spot to donate holiday decorations in your area.
Giving your unwanted Christmas décor to someone in your local Buy Nothing group could bless someone who doesn't have the money to buy their own. And that feels really good, especially in the holiday season.
Tips to Decorate With Less Stuff
After you've decluttered your Christmas decorations, it's time to move on and tackle your next challenge: how do you make the most of the holiday décor you do have? 
You definitely have a few options. And it doesn't have to be difficult!
That's the whole point of decluttering your holiday decor, after all. You can enjoy simple, classic holiday decorations – without all of the clutter and the headache it brings.
With a few simple tips, you'll be well on your way to decorating your home for the holiday season – without going overboard.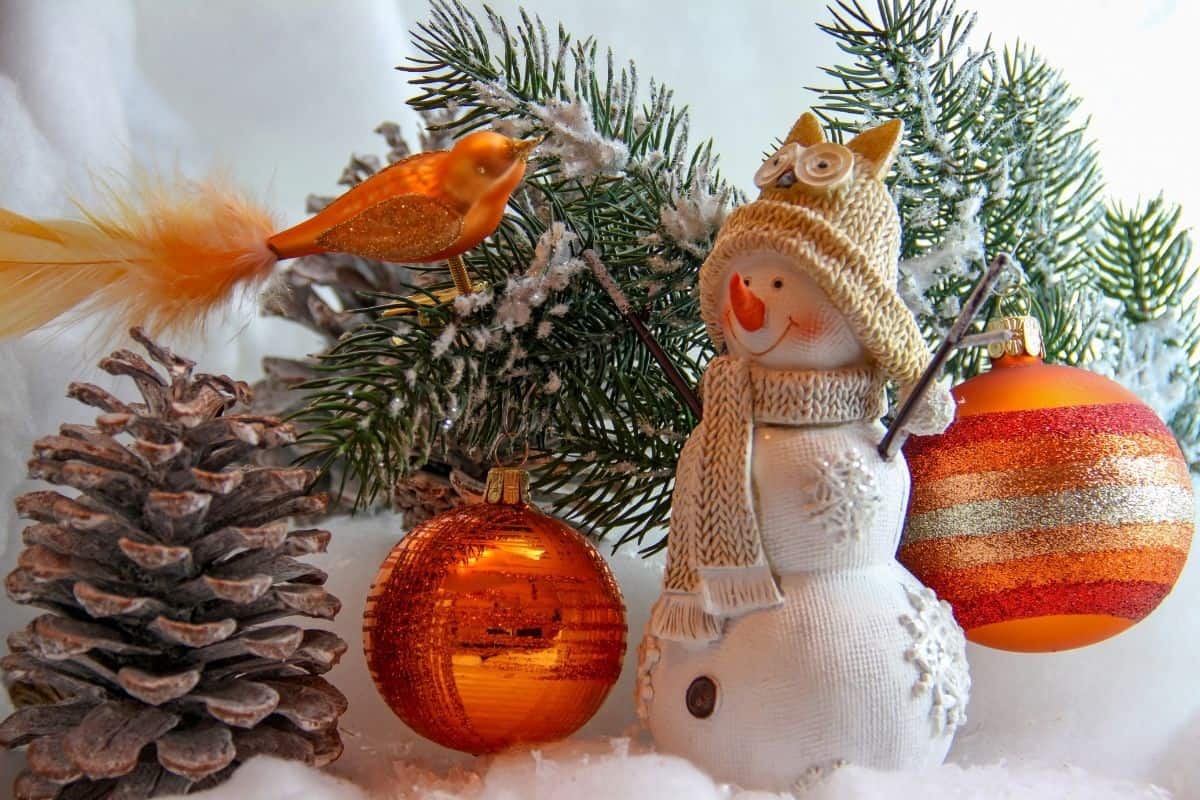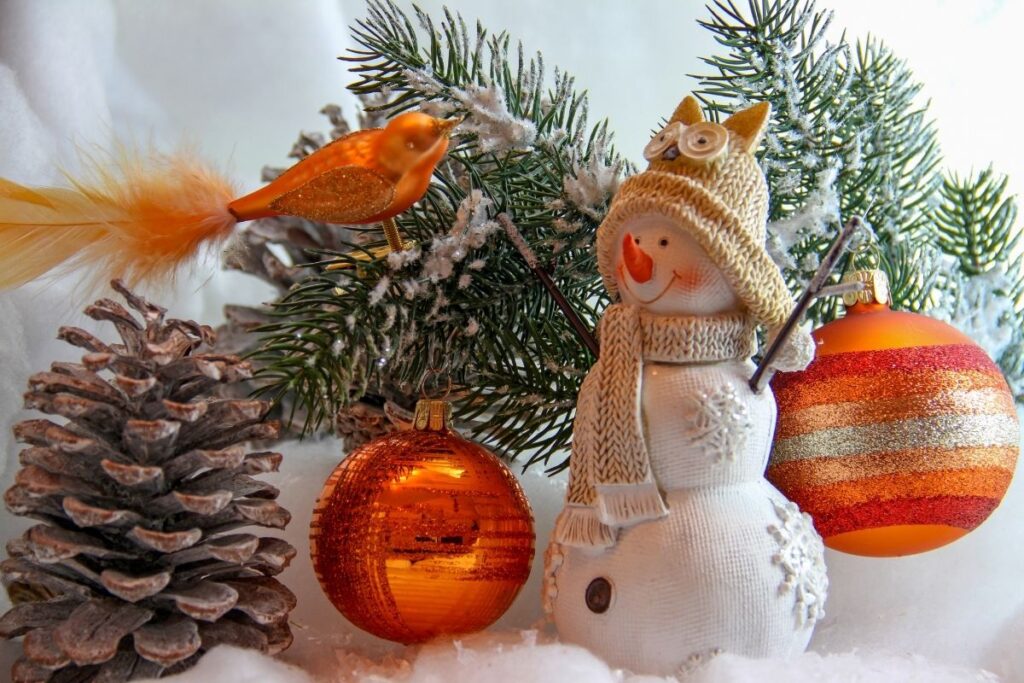 Choose a simple color scheme.
For many, Christmas decorations mean lights and ornaments in a variety of different hues and shades. While this is the traditional holiday aesthetic, it doesn't have to be your holiday aesthetic.
Instead, you can choose to embrace a more simple color scheme to streamline your décor this holiday season. A strand of Christmas lights in a single color can keep your space looking simpler while still decorated.
If you're a traditionalist who HAS to do colored lights because that's what you grew up with, feel free to go for it. Try minimizing colors in other pieces to maintain a clutter-free look in your home.
Stick with sentimental holiday décor.
The holidays can be a really sentimental time of year for many – and as a result, lots of holiday decorations can become sentimental too. 
We buy ornaments to commemorate special occasions in our lives, like marriage, babies, or a new home. We receive other holiday decorations as gifts from family members – some, passed down through generations.
And we cherish memories of holidays past, where we were surrounded by those specific holiday decorations. If you're having a hard time decorating for the holidays with less stuff, you can take the approach of strictly decorating with things that hold special sentimental value. 
If you have a large amount of sentimental décor, use the next tip to help.
Set rules to keep decorations at a minimum.
If you're struggling to reign in your holiday décor, an easy fix involves setting some rules for yourself.
By limiting how many rooms you decorate in your home, you can make your holiday decorating process way less overwhelming. Another option for limiting decor is deciding in advance on the number of decorations you'll put in each room.
One of my favorite ways to approach simplifying holiday décor is by limiting how many containers of it you store. This will give you a boundary when you're making decisions about what stays and what goes.
Once you fill up the designated storage containers, you need to let go of the excess that's left. It becomes clear what items are your favorites as you put them in the storage containers first.
The space you have available will force you to make decisions about which things you truly value most. Decluttering does require making a lot of choices, but the end result is always worth it.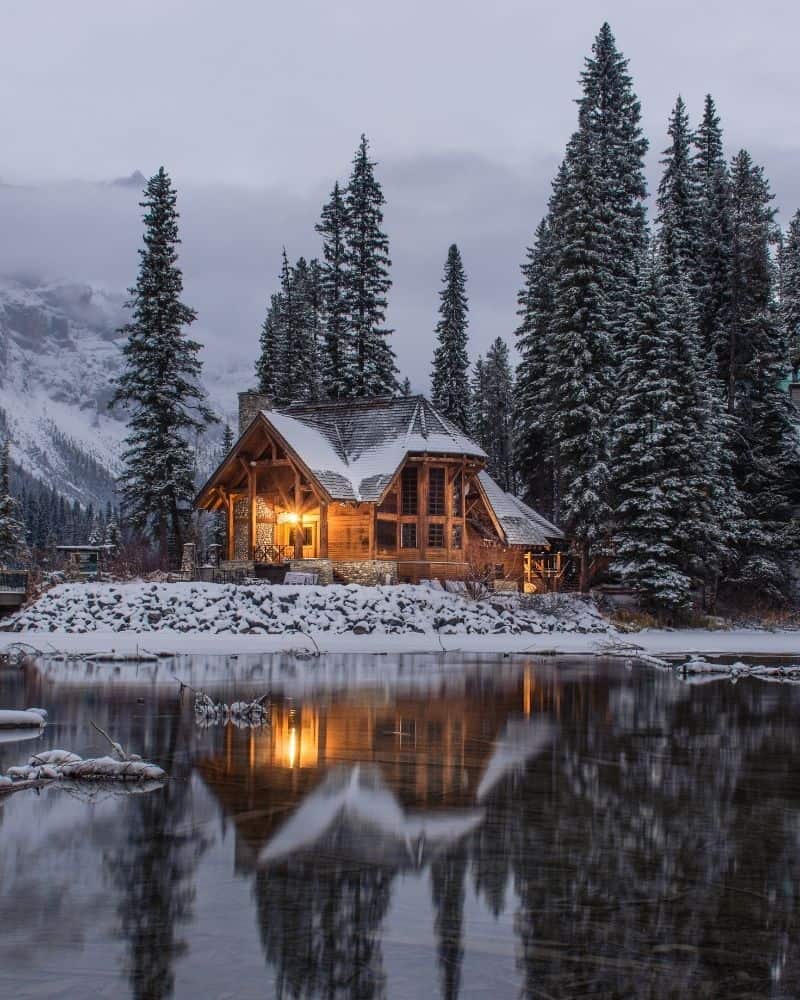 Plan to travel for Christmas.
One easy way to simplify holiday décor this Christmas season? Skip it entirely!
By planning a vacation during the holiday season and deliberately spending Christmas away from home, you definitely won't have to worry about decorating.
While you're more than welcome to put up a tree, pull out the nativity sets, and otherwise spruce up your home, it's much easier to justify not doing that when you're planning to spend Christmas on the beach or in the mountains with family and friends. 
How have YOU simplified holiday décor in your home? Share in the comments below!
Sign up on the form below to get weekly tips on simplifying and decluttering sent straight to your inbox. You'll also get the free Simplify the Holidays Planner to help you get organized this season!