Inside: Learn how to decorate without clutter and create a calming space that you love!
Do you find yourself drawn to home decor in the store, but once you bring it home it ends up feeling like clutter? 
You can't walk through a home goods store without finding aisles filled with vases, bowls, figurines, sculptures, and other tchotchkes.
And they can be quite tempting. You imagine them making your home feel cute and cozy.
While there's nothing wrong with decorating your personal space, it can be hard to do it without falling victim to filling your space with things that end up becoming clutter. While the accessories may seem nice at first, it's pretty common to find yourself staring at all of the stuff in your house, and wondering why you bought it in the first place.
If you're trying to figure out how to decorate without clutter, I've got you covered. Keep reading to see how you can totally overhaul your space and decorate your home – no clutter required.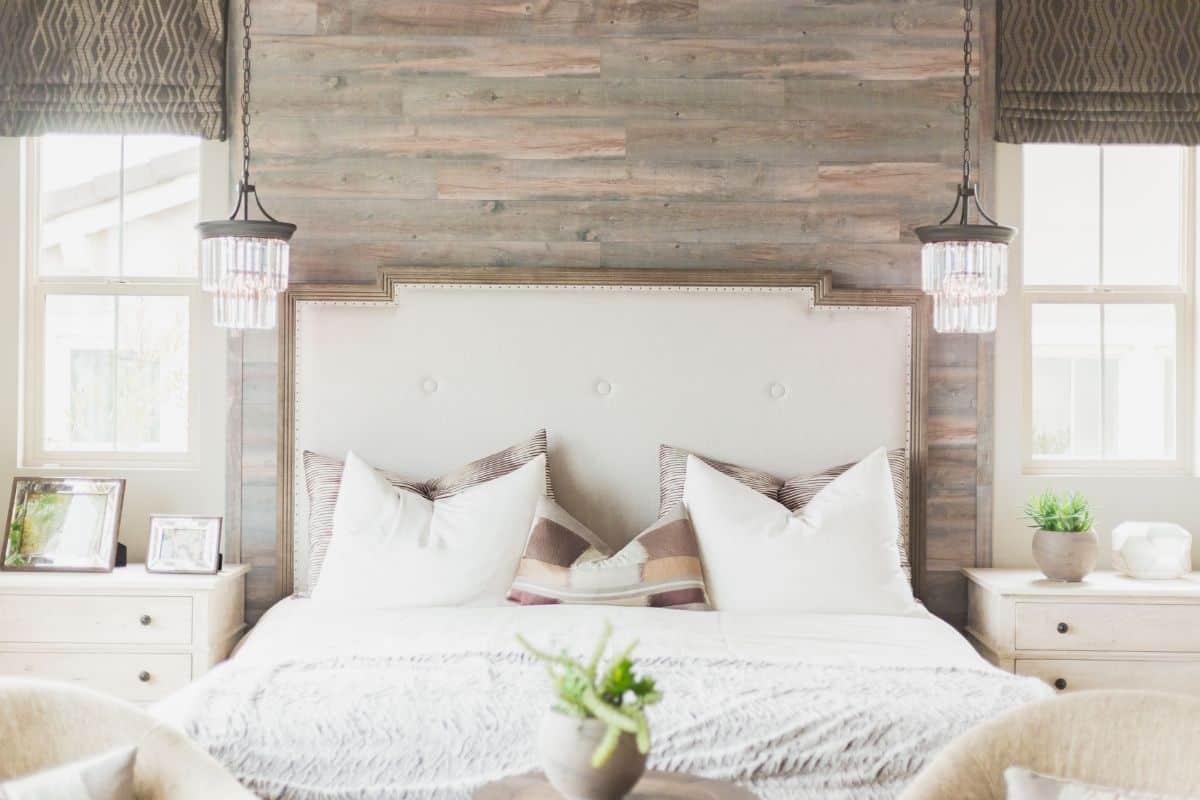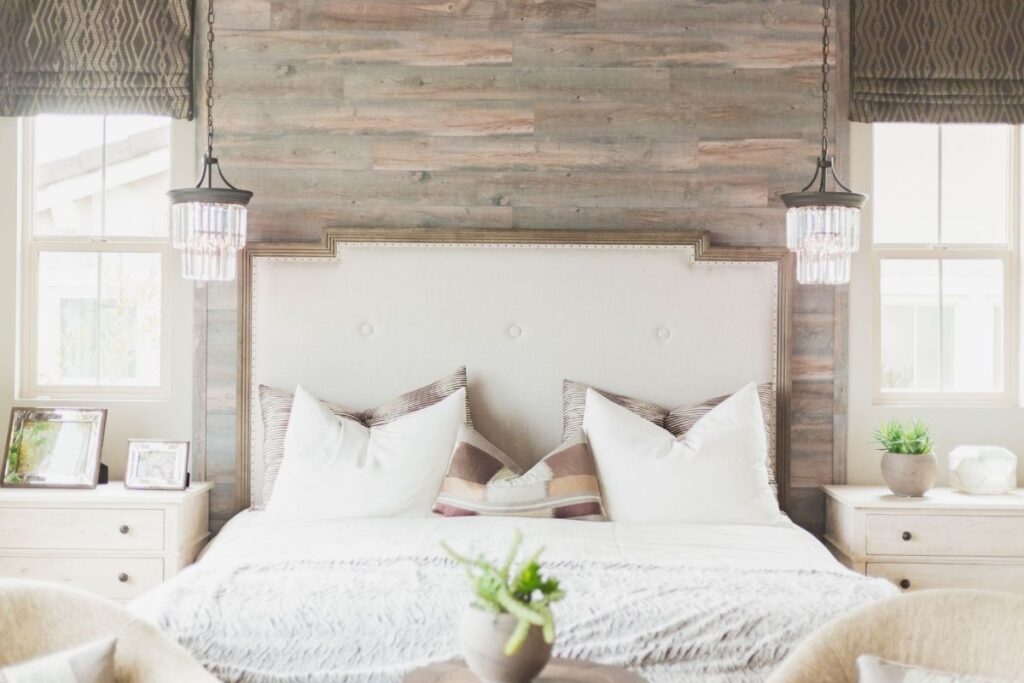 Is It Really Possible to Decorate Without Clutter?
Now, let's start off by acknowledging the skeptics.
There are some people who feel like you truly can't decorate a space without adding a bit of clutter.
And I haven't found that to be true. I would also question what that person's definition of clutter is, as many define it differently.
As long as you're committed to making it happen, you can absolutely learn how to decorate without clutter. You can add some personality to your space, and create an environment that you, your family, and your guests will love – no clutter required.
What it does require is a commitment.
We've all been there – roaming the aisles at Target, tempted to throw something into our carts that's caught our eye even though we totally don't need it. But we want it. Bad.
Throw pillows. Lamps. Vases. Decorative jars, bowls, and platters. Planters. New dish towels for the kitchen. Every season there are new options to tempt you.
Grabbing random stuff to add to your home decor without any plan or purpose is almost guaranteed to lead to a cluttered home. Inevitably, you end up with way too many small things to clean, stuff that doesn't match the rest of your decor, and clutter that you don't actually love. 
By committing to be intentional when shopping for home decor and choosing a more measured, thoughtful, planned approach, you truly can create a space that you love – without the chaos that clutter brings.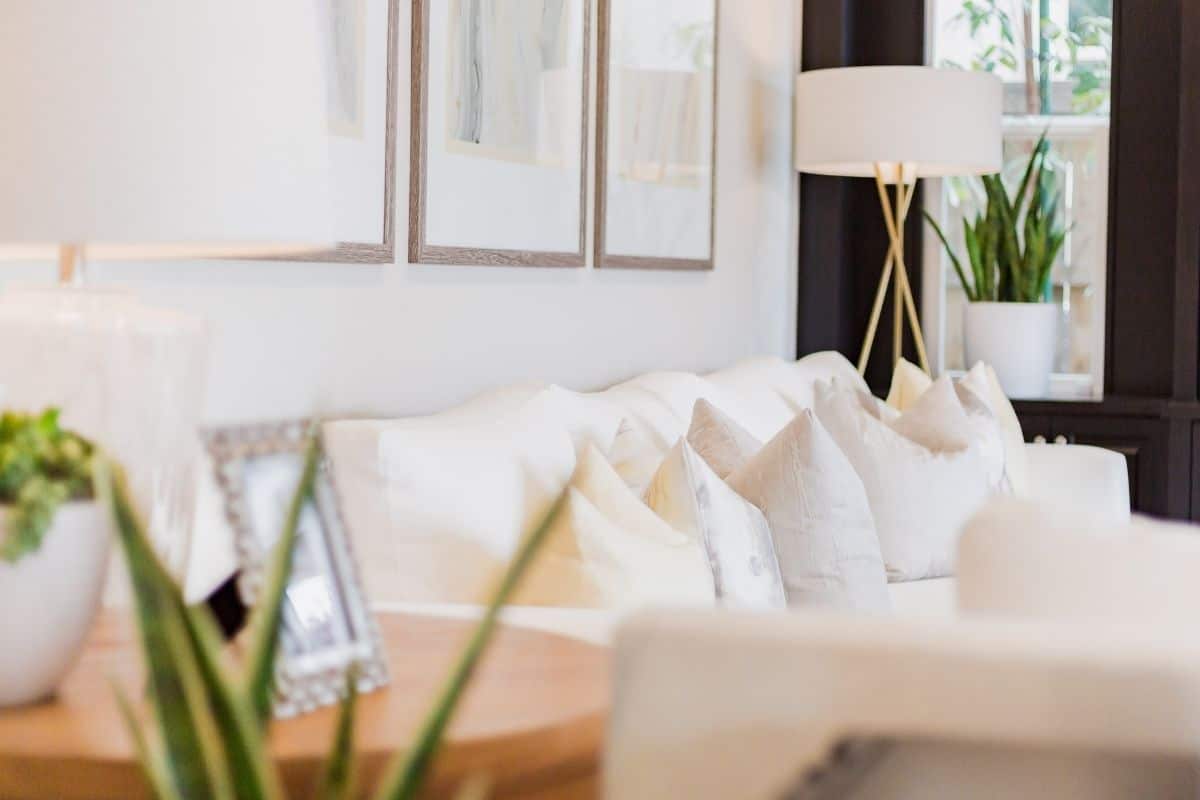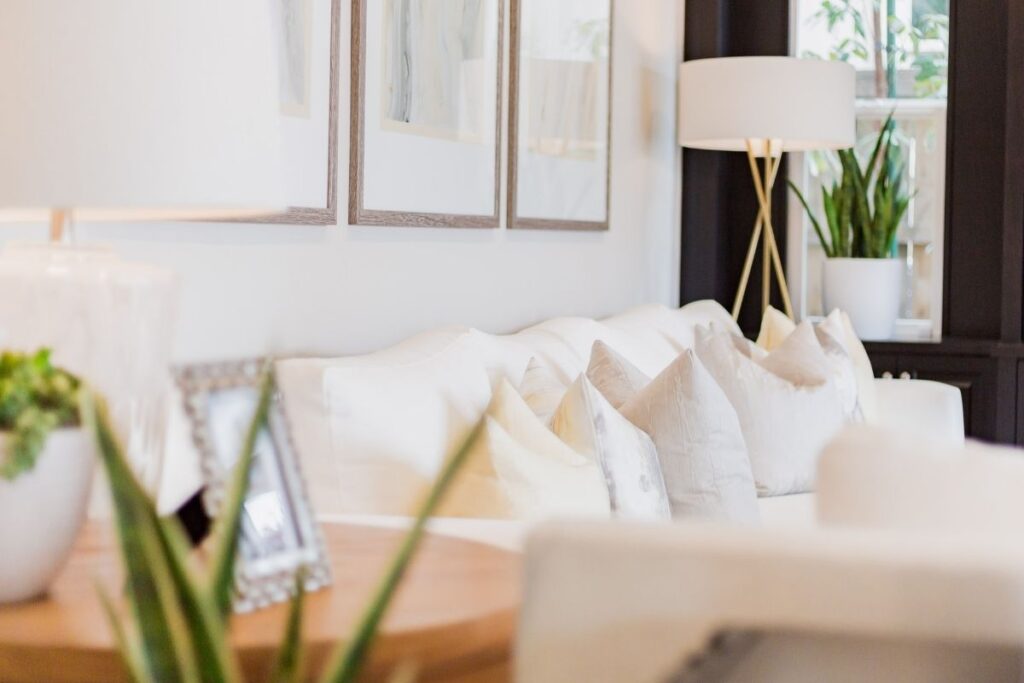 How to Decorate Without Clutter
Decorating without clutter isn't easy – let's be clear. Most people are inherently drawn to some types of decor and often end up with more than they intended in their home.
Look around your house. Chances are, you have too much of something that needs to go. See if any of these things are making your house look cluttered.
If you're ready to decorate your space in a clutter-free way, I've got you covered. Not sure how to decorate without clutter? Here are a few simple ways to make it happen:
Choose Your Paint Color Wisely
One of the most impactful elements of any room is the paint you choose for the walls. With so many colors to choose from, the decision can be a little intimidating. Use these tips to help you!
When you choose well, you'll be amazed to see just how well paint can truly tie together a room and create the mood you're going for.
With all of that clutter out of the picture, the only thing you really need to worry about matching is your furniture.
Looking to create a calm, relaxing sanctuary? Consider a peaceful blue paint. Want a space that's bright and cheery? You might want to paint your space yellow.
Different colors lend themselves to different energies and moods, so think long and hard about what you're hoping to accomplish in your space before committing to a paint color.
When in doubt, seek out a professional to give you a bit of advice! A quick consultation with an expert can give you tons of great ideas and help you better understand what colors will really help you achieve your goals for the space.
When It Comes To Artwork, Less Is More!
While there's a time and a place for a gallery wall, if you're going for a clutter-free look, skip it. Instead, taking a less-is-more approach to the art in your home can truly transform your space.
When you fill your walls with all kinds of art, you can create a space that's chaotic and uncertain – one that doesn't have a cohesive feel.
But when you decorate your space with a few deliberately chosen, thoughtful pieces, you can really enhance your environment and elevate your home decor.
Focusing on fewer art pieces might allow you to spend a bit more on each and invest in pieces that truly speak to you and the type of space you're trying to create.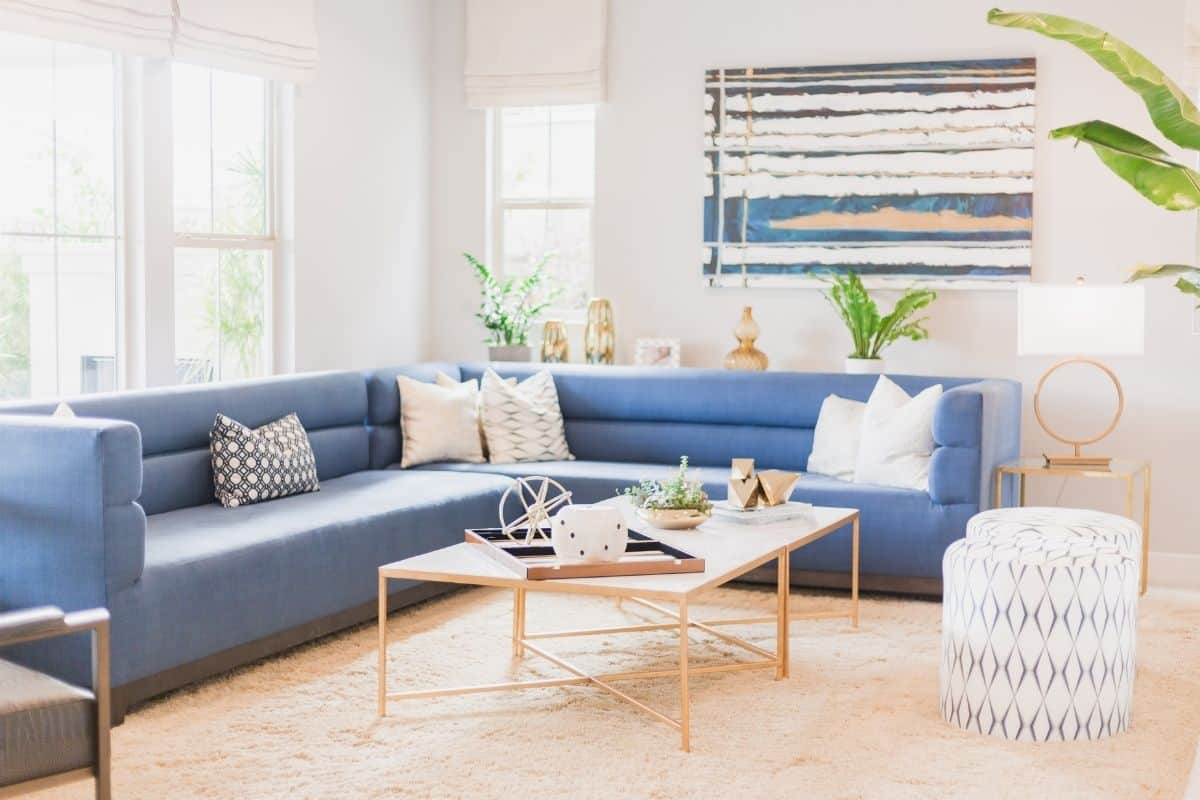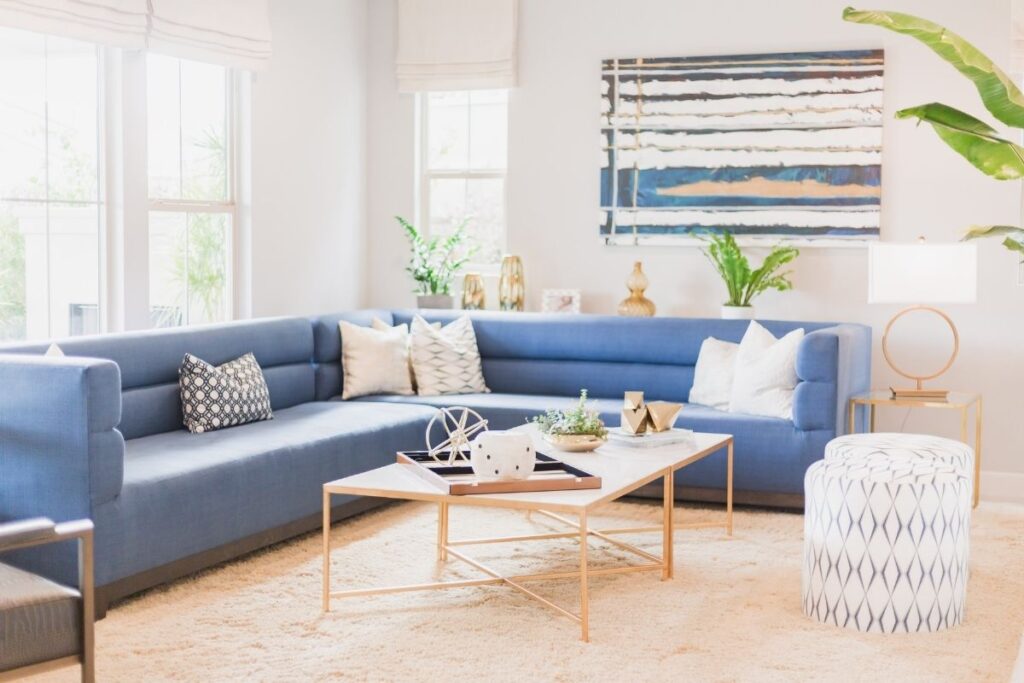 Focus On Unique, Beautiful Statement Furniture Pieces
You might also be surprised to see just how much your furniture can play into your decor. Most of the time, we think of decorating our homes around our furniture.
We don't think of our coffee table as a piece of home decor – it's a table, a place where we can display our home decor.
But your furniture can be decor.
By having a few unique statement pieces, you can give yourself and your guests plenty to look at without the added stuff.
Whether you prefer a modern aesthetic, love retro pieces, or have your heart set on something else, you can find pieces that fit with your desired look, enhance your space, and enhance your home without adding unnecessary clutter.
Make An Impact With The Right Rug
Another way you can decorate without clutter? Buy the right rug! 
Seek out rugs that complement the rest of your decor, fit your space, and match the aesthetic you're trying to create in your home.  
Thanks to the Internet, you can browse a virtually endless assortment of rugs of all shapes, types, colors, styles, materials, and more. And when you find one you love? Make that investment and see just how much joy it brings you.
You might be surprised to see just how much of an impact something as simple as a rug can have on your whole house. Just make sure to buy the proper size and scale for the room!
Rugs, curtains, pillows, and blankets can add a cozy feel to a room…as long as you don't go overboard with it.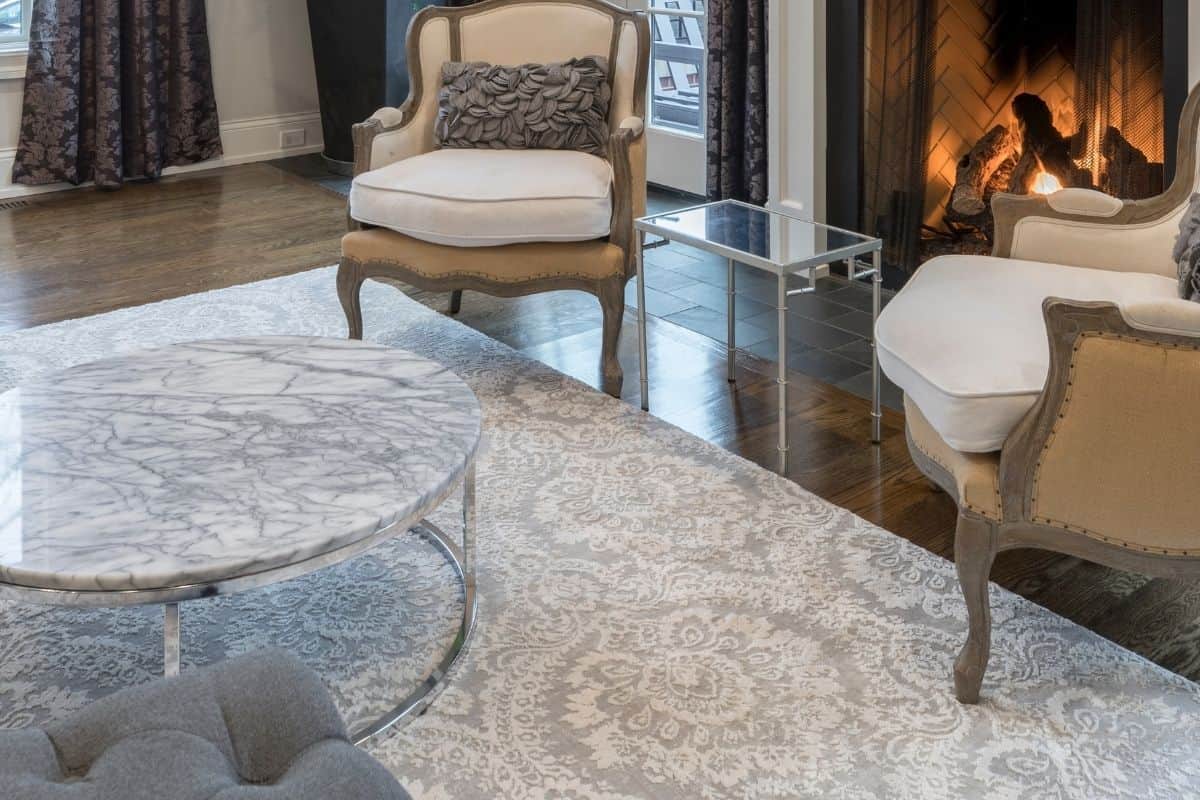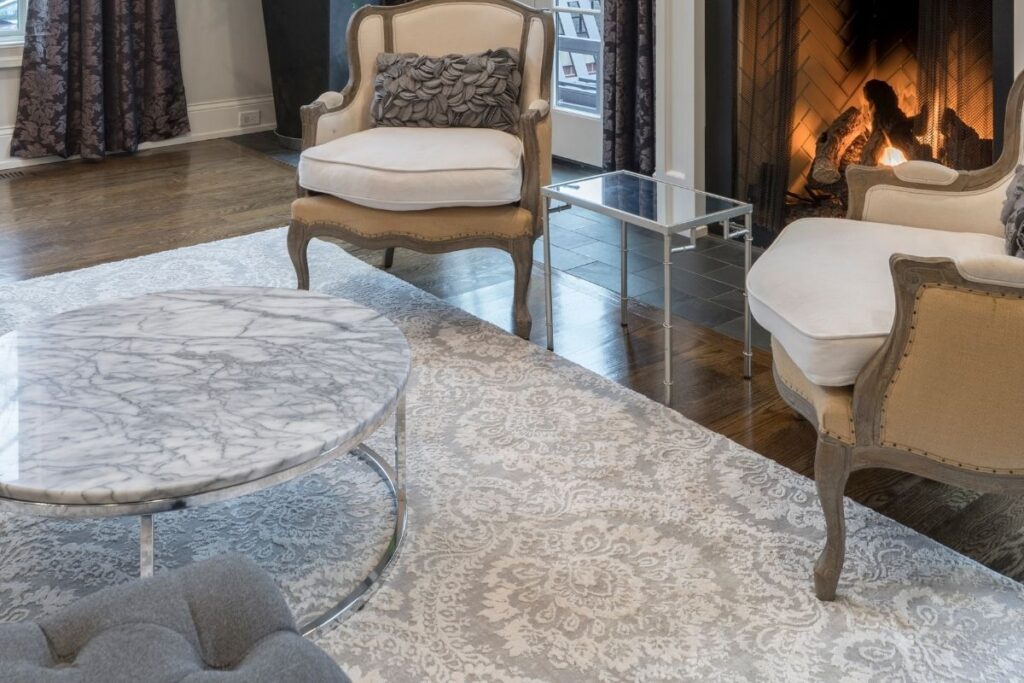 Decorating Your Home Takes Time – Impatience Can Lead to Clutter!
Many times, when you're on a mission to decorate your space, you want it to happen fast. You don't want to wait months or years to achieve the look you're wanting – you want it right here, right now.
But patience is a virtue – especially when it comes to decorating your home.
You can head to the store and buy a new couch, a new painting, or a new can of paint for your living room walls.
But if you're going to limit yourself to the stuff that's available right now, in stock, at a single store, you're going to limit your home's potential – and ultimately, your satisfaction with your space.
By being patient and seeking out the specific pieces you need in your home, you'll be much happier with the end result – and maintain a much less cluttered home.
Are you trying to decorate your house without clutter? Share your experience in the comments!
Whether you're just beginning your journey to declutter and revamp your space or you're ready to celebrate the progress you've made, I want to know! Leave a comment and tell me what you think about clutter-free home decor.
Ready to declutter your home? Start with these 5 areas you can do in 10-minutes. Get the free checklist by signing up on the form below. You'll also get weekly simplifying & decluttering tips sent straight to your inbox!