Inside: Learn how to shop your closet and create new outfits from what you already own. Have more fun with your wardrobe without spending any money!
Have you ever felt like you have absolutely nothing to wear?
Do you get bored with your usual outfits – but don't have a ton of money to spend on new clothes?
I've got an answer for you.
It's called shopping your own closet – and it's a total game-changer.
If you haven't shopped your own closet before, you might be surprised by what you find.
Believe it or not, there's a good chance you DO have some amazing pieces tucked away – tops hidden in your closet that are just waiting to be paired with the perfect pair of pants and the right accessories.
Your new favorite outfit could be hiding in plain sight.
If you're feeling bored with the clothes you own and you'd rather not spend the cash on new stuff, shopping your closet might just be the solution to your problem.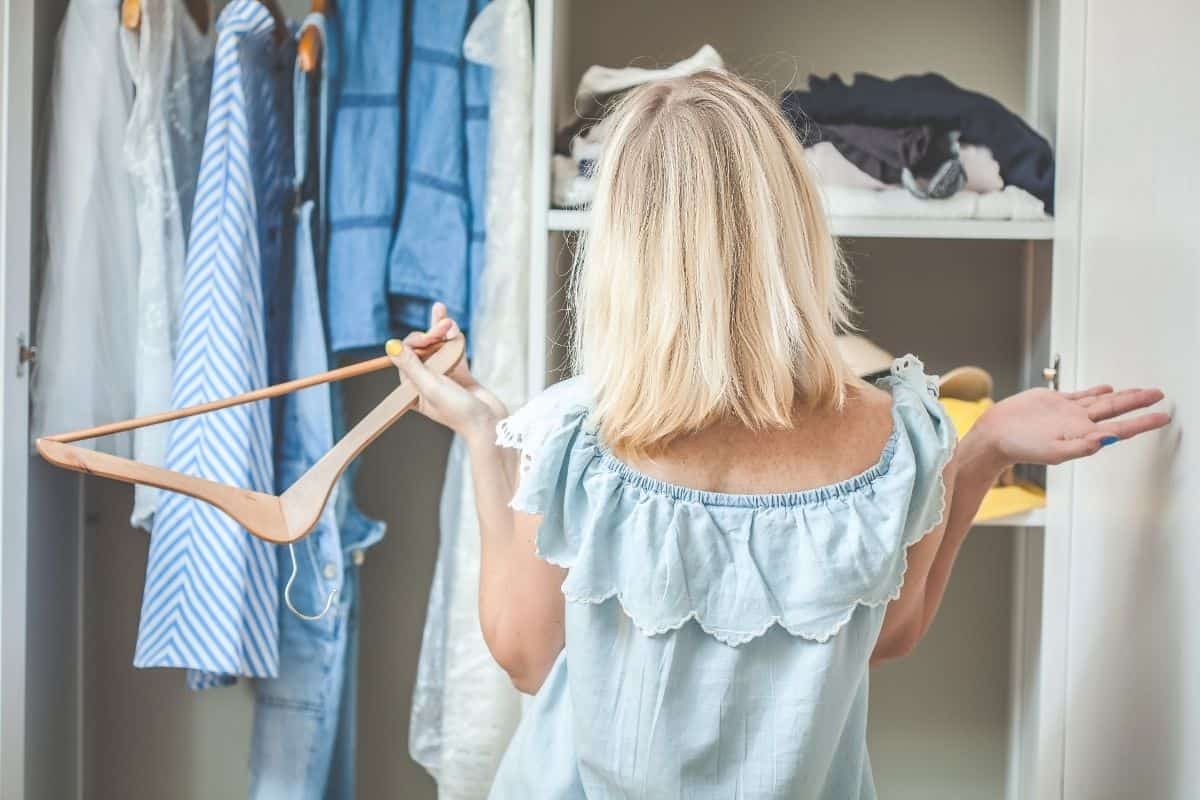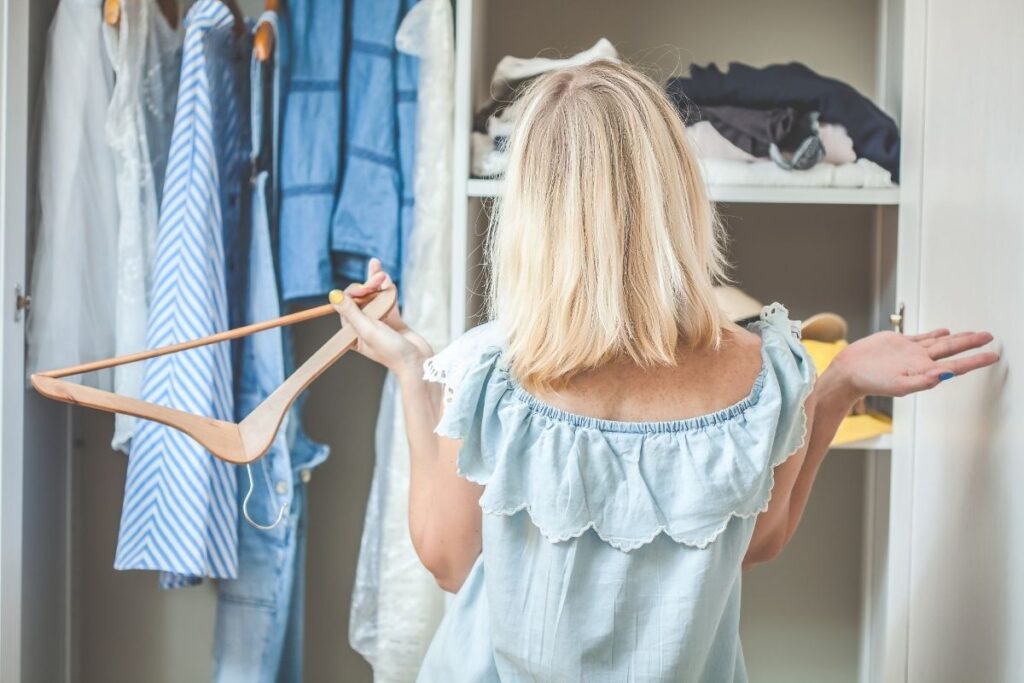 How Can I Make the Most of My Existing Wardrobe?
Chances are, you probably already own plenty of clothes.
It's just a matter of making the most of the things you own.
One easy step you can take to make the most of that wardrobe? Make sure you actually know what you own. If it's been a while since you've taken inventory of what's in your closet – especially the stuff that gets shoved to the back – it's time to bring it all out into the open.
Same goes for the dresser. Empty out those dresser drawers and get a really good idea of what you're working with.
Sort it, organize it, and find a way to remember what you've got so you can leverage those pieces later to create some awesome new outfits.
What Does It Mean to Shop Your Closet?
Not sure what "shopping your closet" actually means?
Shopping your closet means making new outfits from the clothes, shoes, and accessories you already own. It involves approaching your wardrobe in a different way, through a fresh lens. It's all about finding inspiration and new ways to wear your existing stuff – and it's actually a lot of fun.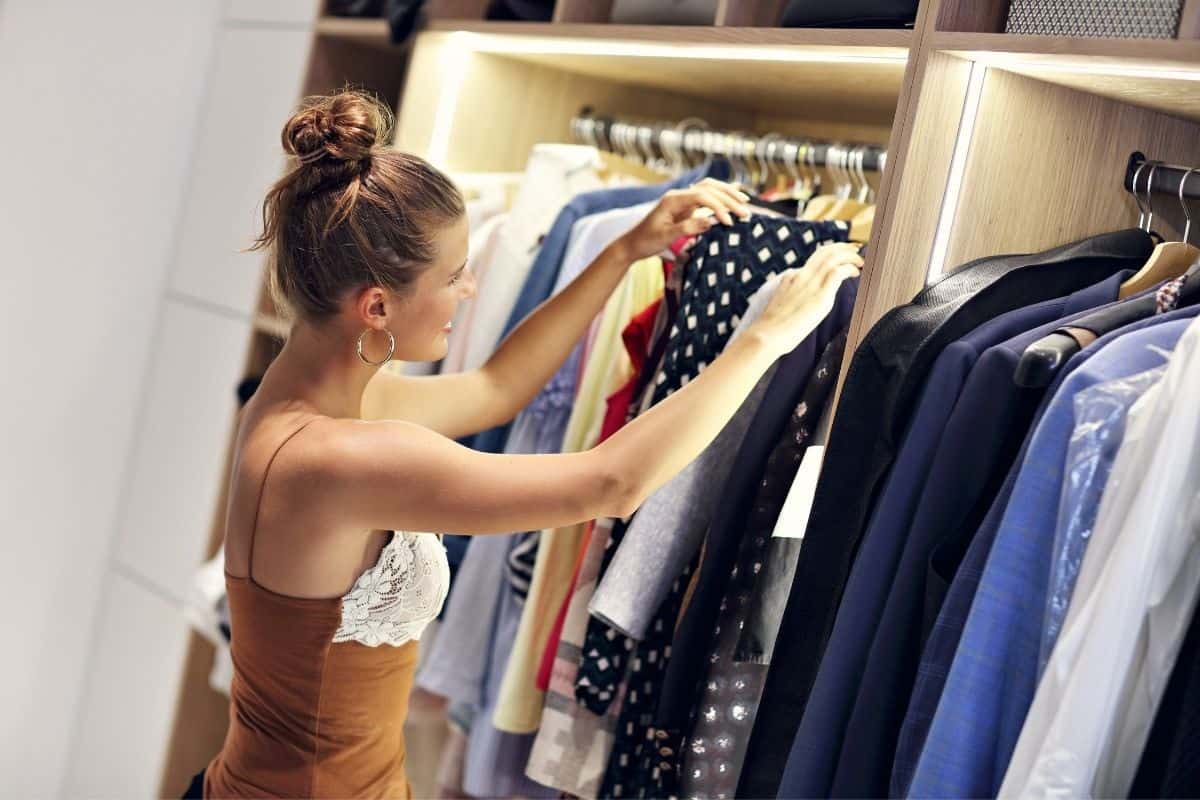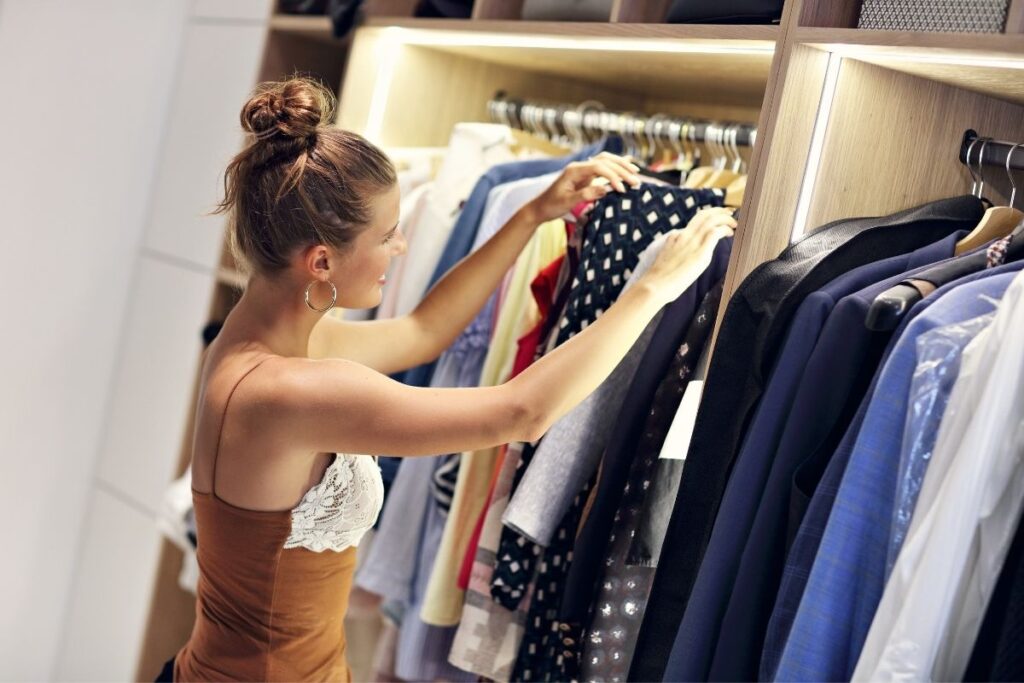 What Are the Benefits of Shopping Your Closet?
Aside from being a lot of fun, shopping your closet comes with plenty of benefits. One big one? The sense of satisfaction and accomplishment you'll get from realizing you can put together so many great outfits. Not to mention…
You're Saving Money When You Create New Outfits From Your Closet
Saving money is almost always a good idea. Whether or not you have big savings goals in mind, there are so many other things you could put your hard-earned cash toward than clothes.
Shop your closet, and you might be surprised to learn you've spent some unnecessary money on clothes that end up becoming clutter.
Instead of continuing to invest in your wardrobe, leverage what you have and put that extra cash toward your vacation fund.
Helps You to Be More Creative with What You Have
Limiting yourself to only the clothes in your closet is a great way to challenge your creativity. With no other options, you're forced to figure it out.
There are lots of ways to be creative with the clothes you have. Pair colors you wouldn't typically try together and see what you think.
Combining different patterns can lead to some surprising results. Experiment with different belts, hats, or other accessories to see what works.
Being Environmentally Conscious When You Shop Your Closet
The clothing manufacturing industry contributes to a surprising amount of pollution and waste.
If you're concerned about your carbon footprint or the impact you're leaving on the environment, good news: shopping your closet and simply using what you already have is a great thing you can do for the environment.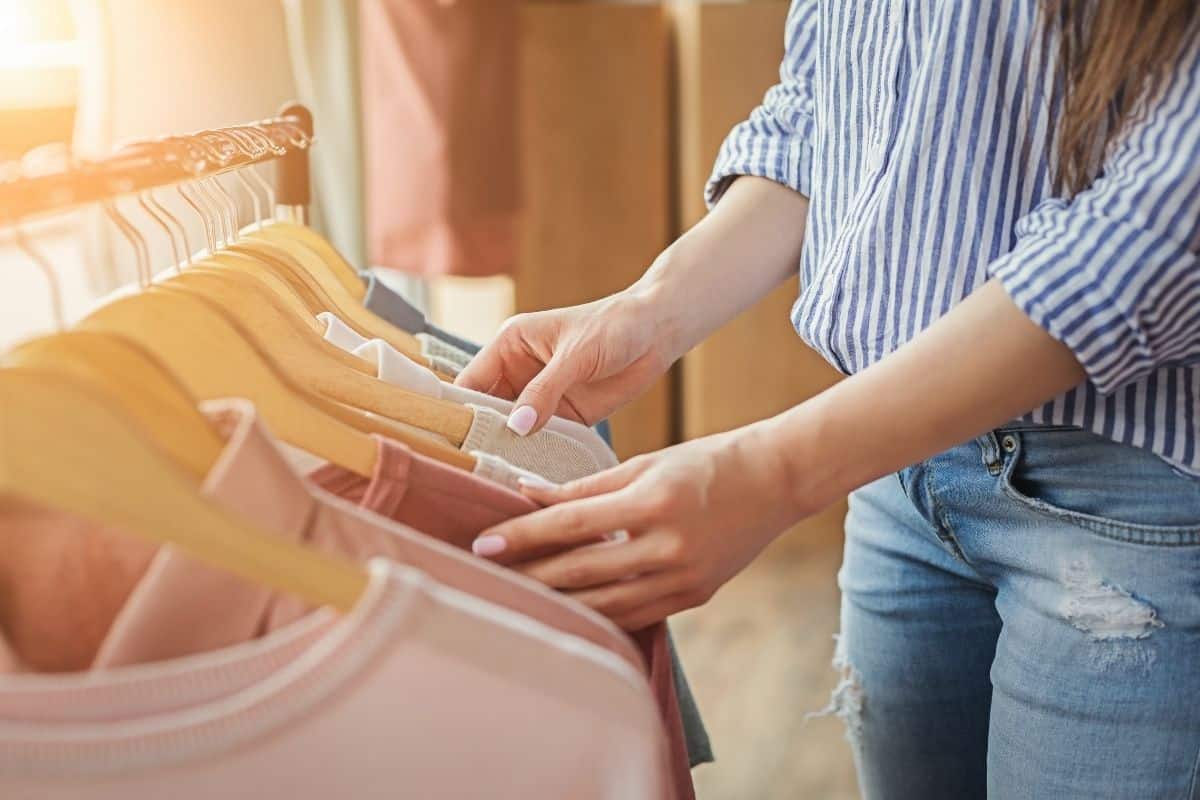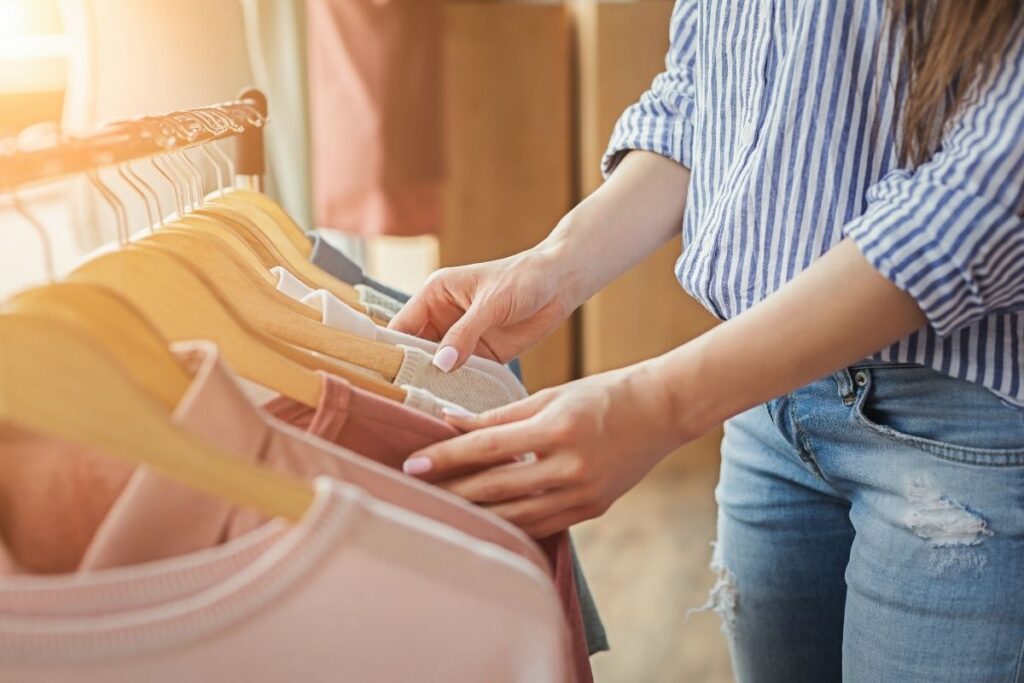 How to Shop Your Closet For a "New Outfit"
Shopping your closet for a new outfit is easier than it sounds. As long as your closet is organized, and you can see everything you own – or otherwise take a good inventory of your options – you can begin to mix, match, and decide what works!
You can approach the process a few different ways. Try selecting a specific item of clothing – something you wear often, or something you never wear – and build a new outfit around that single piece.
Or you could let an upcoming event, like a concert or a Saturday morning trip to the farmer's market, inspire you. Another option is to pull inspiration from the season, a favorite color, or an accessory – a fun hat or eye-catching necklace.
Whatever you choose to inspire you, have some fun and see what you can come up with!
What Should Be in Every Woman's Closet?
As you're evaluating all of the clothes you own, you might be asking yourself: what items are wardrobe must-haves?
Sure, there are some wardrobe staples that most people keep in their closets. A flattering pair of well-fitting jeans, a little black dress, and a simple t-shirt are popular choices.
But really, there's no one-size-fits-all answer to this question – at least, not involving articles of clothing. You definitely don't have to create a capsule wardrobe.
So what should your wardrobe include?
Your closet should include clothes that make you feel good. Confident, feminine, powerful, sexy, comfortable, empowered, happy – your clothes should make you feel how you want to feel.
No two wardrobes contain exactly the same pieces, and that's OK! Your lifestyle, needs, and preferences all play a role in determining exactly what this should look like for you.
The ultimate goal is to have a wardrobe that you love and feel great in!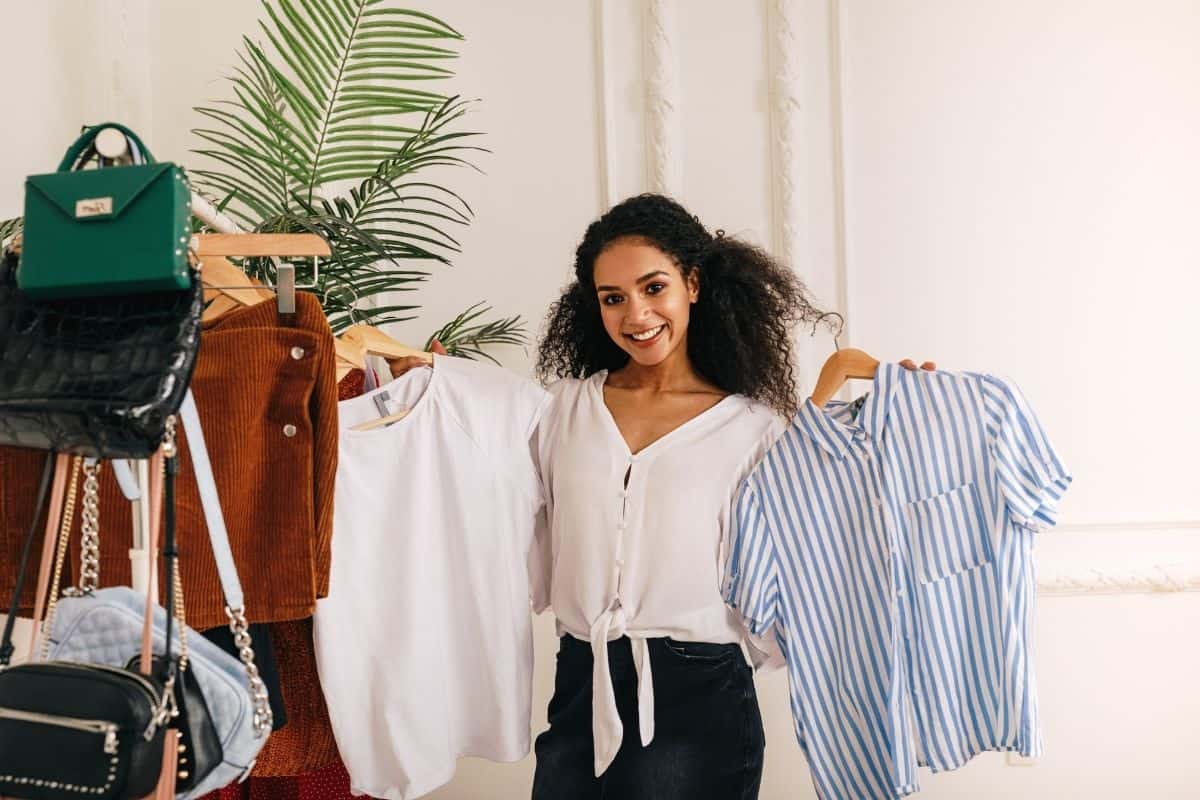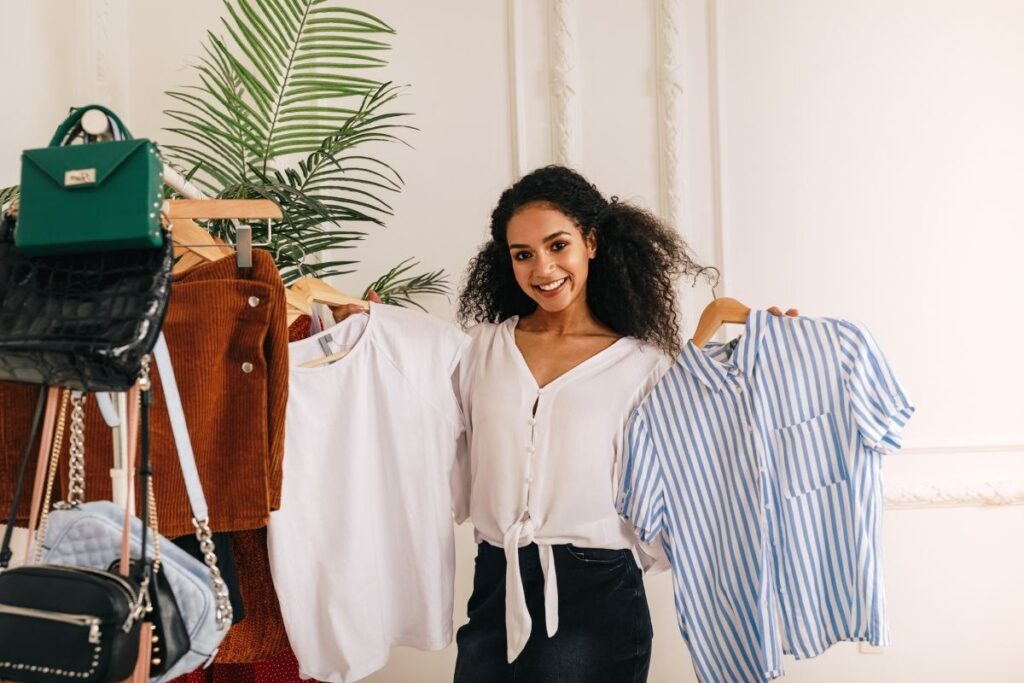 Ways to Update and Create a Closet Worth Shopping
What do you do if the clothes in your closet don't make you feel good?
The easy answer is to head to the mall and buy some new pieces.
But if you're trying to live more simply and limit yourself to the items you already own, you can still update your wardrobe.
You'll just have to put a little more effort into the process.
Have Ill-Fitting Clothes Tailored Or Hemmed 
One easy way to breathe new life into unloved clothes? A proper fitting.
Many of us own stuff that we simply don't wear because it doesn't fit right. Too big, too small, too tight, too loose, ill-fitting in a specific spot – all of those are issues that a good tailor can fix.
And if you're on a budget? Watch a YouTube tutorial, pick up a sewing kit, and practice on some clothes you're not too attached to.
Before long, you'll have a valuable skill that you can use to update your wardrobe anytime you need to!
Repair Anything That Needs Repairing
Holes can be patched. Seams can be resewn and buttons can be replaced or reattached. In many cases, the life of your well-loved clothes can be extended with a little repair work.
Don't keep wearing stuff that looks run-down, unless that's the aesthetic you're going for. Give your stuff a little love and you'll be surprised to see just how brightly those old clothes can shine.
Dye-Faded or Well-Loved Pieces
Hanging onto old t-shirts that you don't want to part with – but they aren't looking too great?
Consider dying them!
Dye them the color they were when you originally got them, or if you're feeling brave, transform them into a totally new piece by trying out a different color.
Ruthlessly Purge Your Closet
An important step in creating a closet worth shopping is to get rid of the stuff that isn't worth keeping.
Whether you're struggling with decision fatigue because you feel like you have too many clothes, or you're holding onto stuff that is no longer wearable, ruthlessly purging your closet will transform your wardrobe and make it easier for you to find new outfits you love.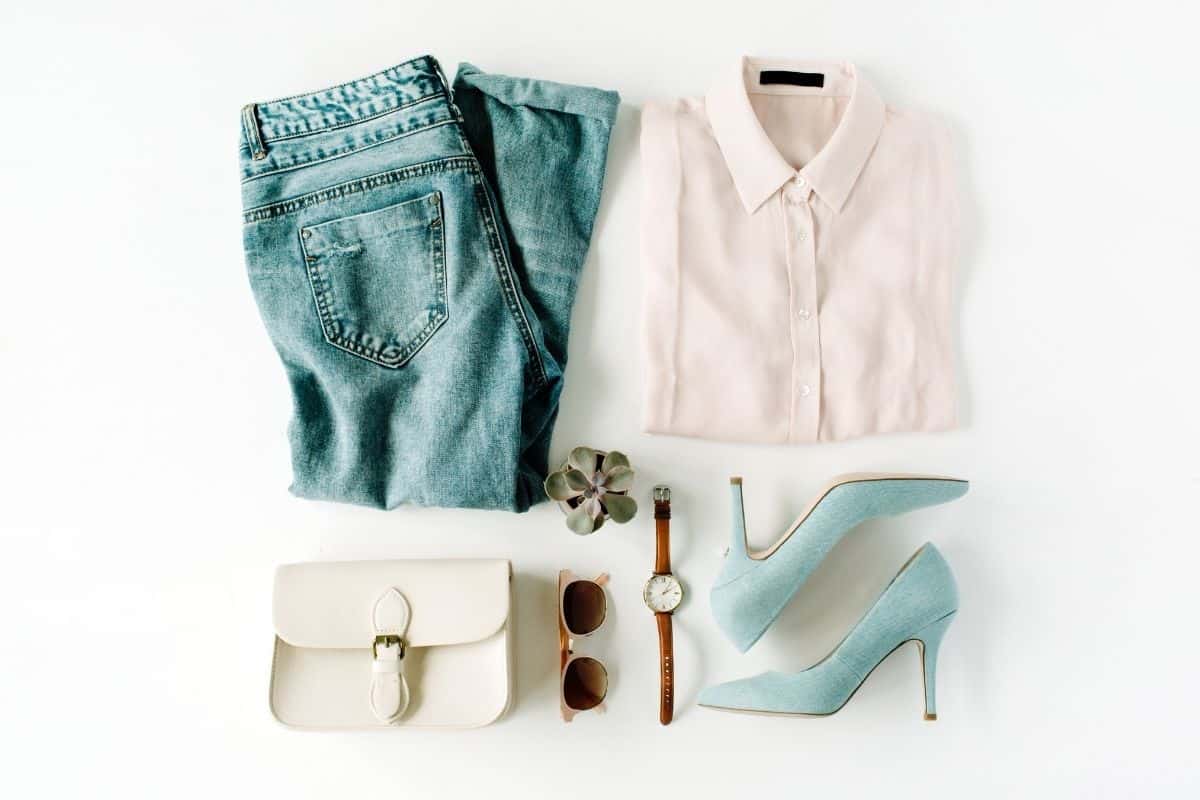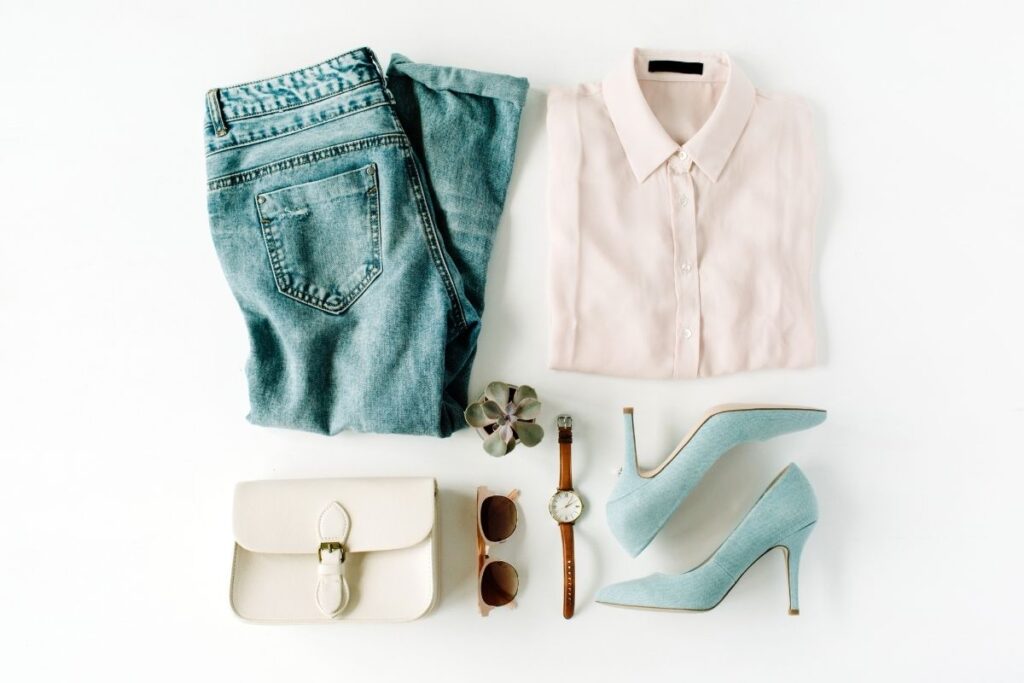 Organize Your Accessories
Tank tops, t-shirts, dresses, jeans, and pants are only part of the outfit equation! When it comes to shopping your closet, your accessories are just as important as your clothes.
The best thing you can do to make it easy for yourself to pick the right accessories? Organize them!
Find a simple way to store your jewelry, hats, belts, scarves, and other outfit add-ons, and make it as easy as possible to evaluate your options and pick out pieces that may work.
Shopping Your Closet Can Be Fun
There's no better time than now to tackle your wardrobe and see what new outfits you can create from the clothes you own! Don't think of it as a chore – after all, you're shopping your closet, not organizing it (although some would argue that organizing is fun too!).
To make the process even more fun, invite some friends over and make it a girls' night. And once you've ruthlessly purged your closet? Take the stuff you're getting rid of and host a clothing exchange to get it off your hands and add some new pieces to your personal collection.
After you've learned how to shop your closet and think outside the box, the options are endless!
Sign up on the form below and get weekly tips on simplifying and decluttering sent straight to your inbox. You'll also get the free Decluttering Jumpstart which includes 100 easy items to declutter and 12 high-impact areas to declutter in 10 minutes so you can get started today!