Inside: Learn how to organize kids' art supplies to make them less cluttered and easier to use!
Are your kid's arts and craft supplies totally out of control?
As a parent, it's important to encourage our kids to be creative. Arts and crafts can be a great creative outlet – and an easy way to make a mess.
If you're tired of your child's messy arts and crafts supplies and are ready to find a way to get organized, you aren't alone. Organizing arts and crafts supplies isn't easy, but it is doable – and once you find a solution that works for you and your family, you'll be good to go!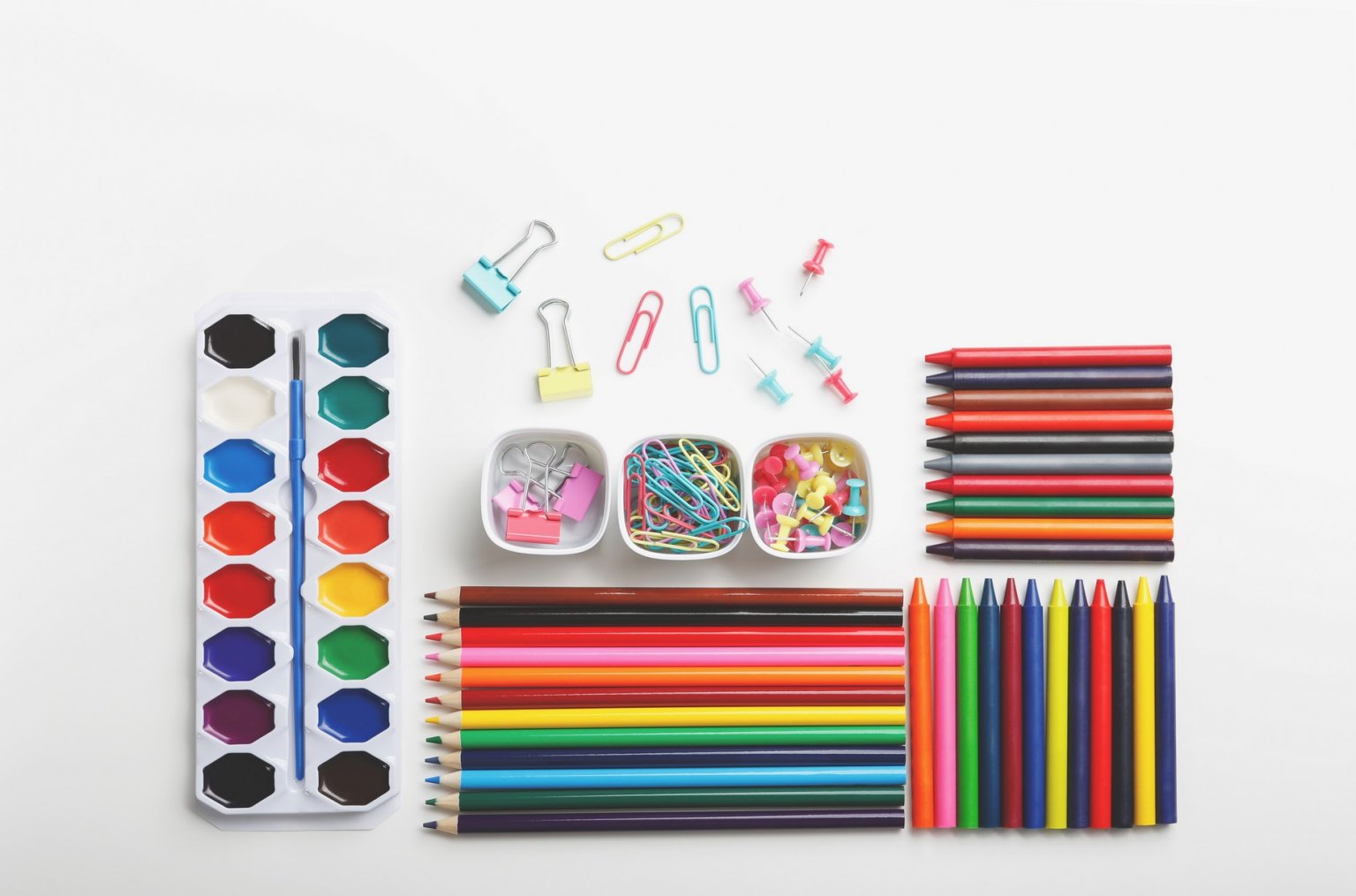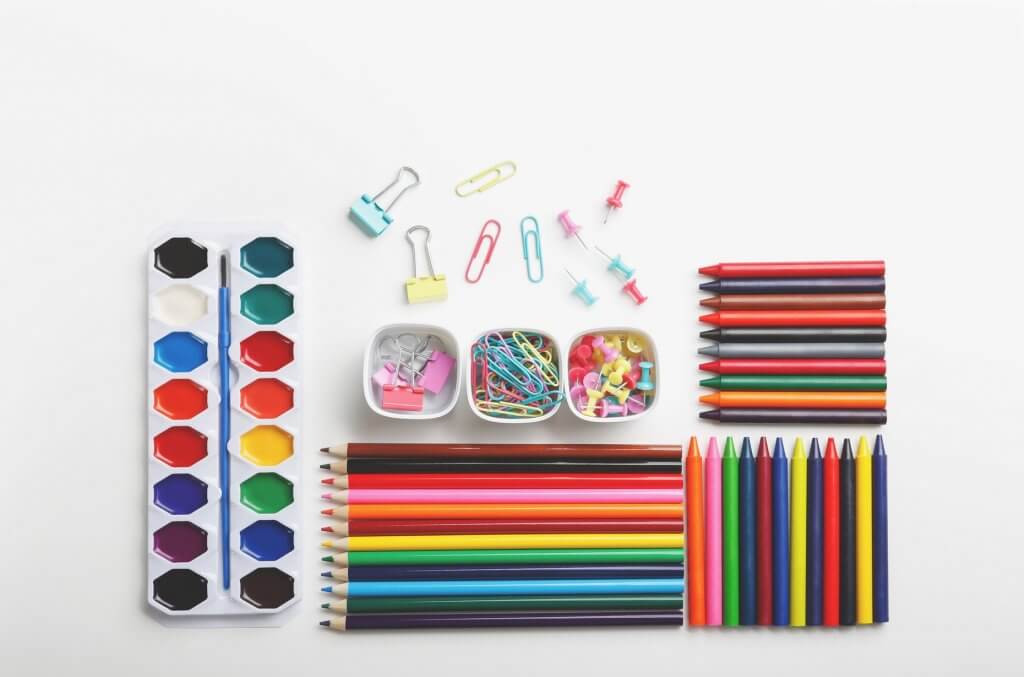 How to Start to Organize Kids Art Supplies
The toughest part of any project is figuring out how to start. Coming up with a plan on how to organize kids' art supplies is no different.
Getting started can feel like an impossible task, but once you've made a plan and can begin to execute it, you'll be amazed to see just how much progress you can make – and how much cleaner your child's arts and craft space can be.
Ready to start to organize your kid's art supplies? To start…
Evaluate the Space Your Have to Store Kids Art Supplies
The first thing you want to do is assess your storage space. Without a good understanding of what you're working with, you're going to have a hard time making a plan that actually works.
If your child is lucky enough to have a bedroom with a desk big enough for arts and crafts, that might be a good place to start. Does their desk have storage built in? If yes, how can it be used more effectively?
If not, what other options exist? Does your child's closet have space to hold crafting supplies? Is there a spare shelf on the bookcase that you could use?
And if your child is sharing a room or otherwise doesn't have space for crafting stuff in there, consider other options. Is there a closet that could work? An empty bin that may hold everything?
Once you've evaluated your space, it's time to…
Gather Your Kid's Arts and Craft Supplies
You need to get a good understanding of exactly what you're working with. What do you actually need to organize?
Is it just a bunch of crayons, colored pencils, and markers? Or does your little one go all-out with felt, pipe cleaners, googly eyes, and other odds and ends?
Find a place – a kitchen table, the living room floor – to spread out everything in your child's arts and crafts supply collection. Then, assess the situation.
Do they have duplicates of certain crafting supplies? Way too much of something? Stuff that's near the end of its life?
Consider donating those items or discarding them before you move to the next step in the process… determining the right storage solution to organize your craft supplies.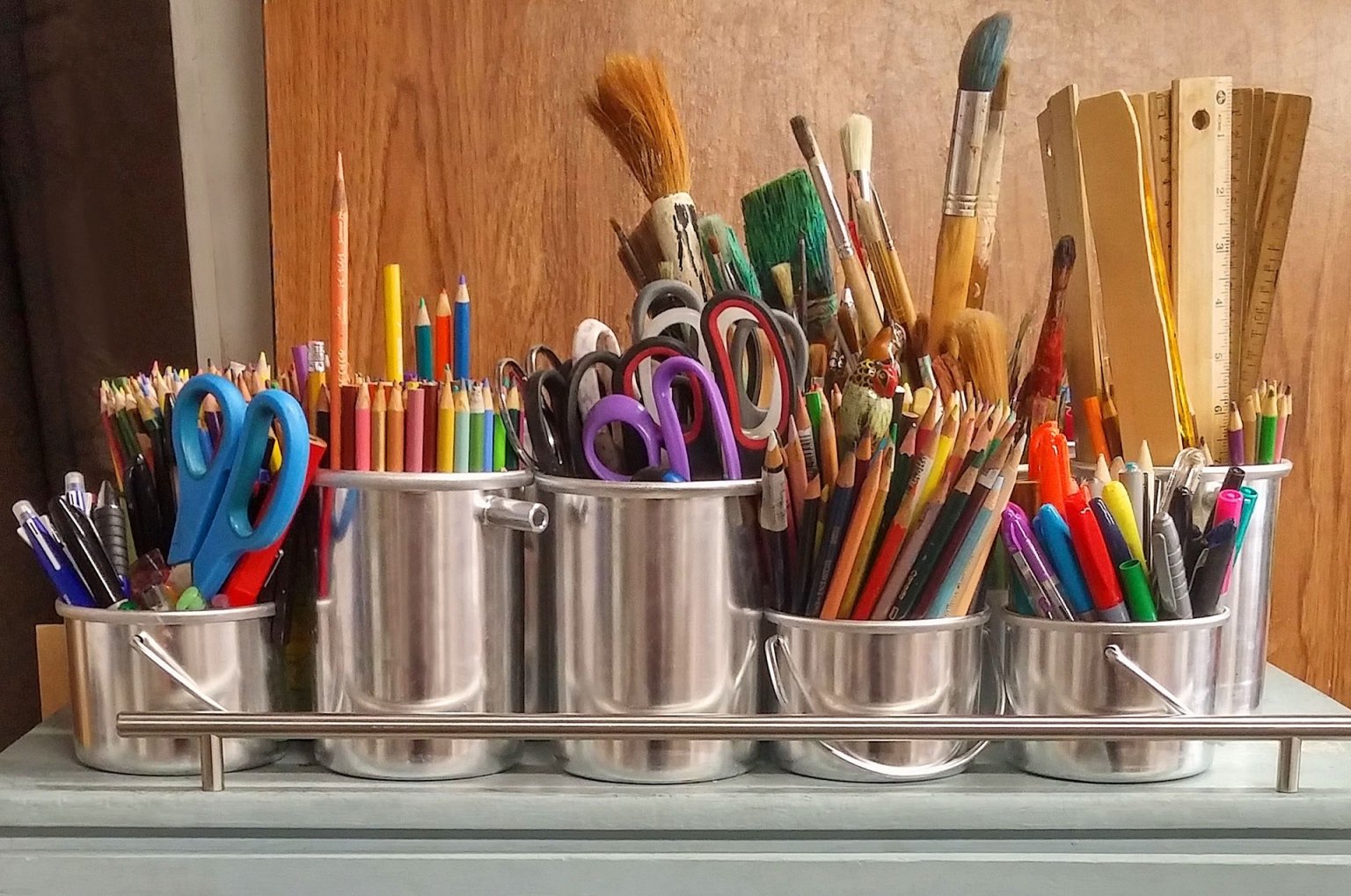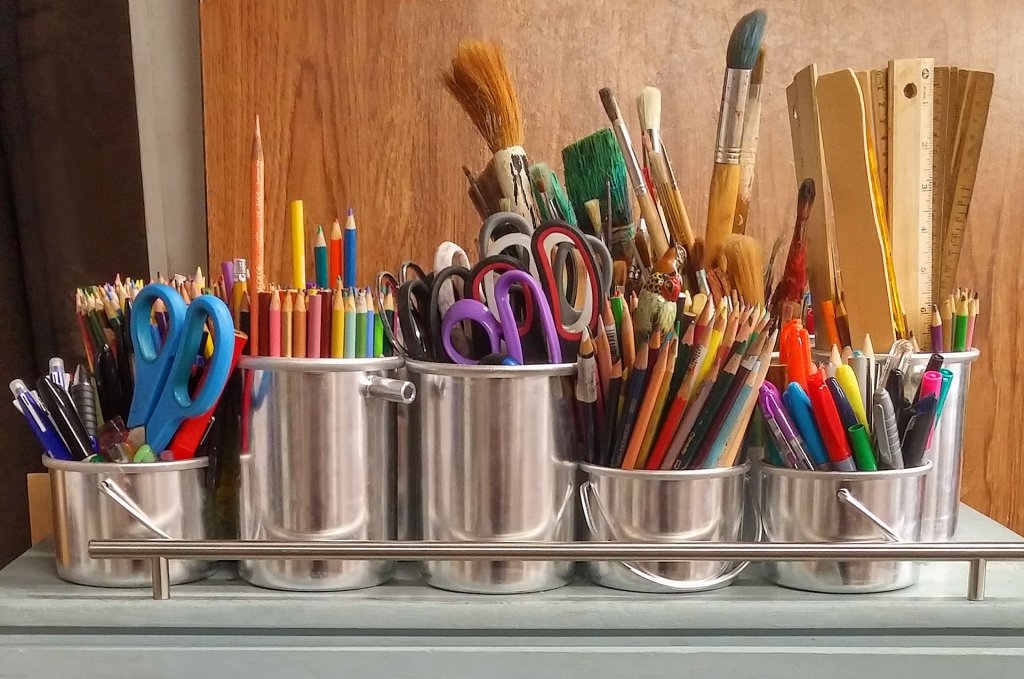 DIY and Budget-Friendly Ways to Store Kids Art Supplies
Don't want to spend a ton of cash figuring out how to organize kids craft supplies? You aren't alone.
While you can easily spend hundreds of dollars on bins, boxes, dividers, organizers, and other storage solutions, there are lots of DIY and budget-friendly options when it comes to storing your child's art supplies.
Repurpose Glass Jars to Organize Kids Craft Supplies
If your little one is old enough to be careful around glass, you can easily use glass jars to organize your child's art supplies. Pasta sauce jars, salsa jars, and virtually any other jars you pick up at the store can be repurposed to store kids' craft supplies. 
Glass jars are a great choice because they have easy-to-close lids and allow you to easily see the contents of each jar – no wondering what's inside or opening all of them to find what you're looking for.
Use Empty Shoe Boxes to Organize Art Supplies
Shoe boxes are another great storage solution for your child's arts and crafts supplies. Each one comes with a lid and can hold a surprising amount of stuff.
Shoe boxes are ideal for keeping larger items together and can be easily stacked, so they won't take up a ton of space – even if your child has a lot of craft supplies!
Use an Over-The-Door Shoe Organizer to Store Craft Supplies
Looking for a space-saving solution? Look no further than the back of your closet door!
Over-the-door hanging shoe organizers can easily be repurposed to store your child's craft supplies. This is a great solution if you want to keep everything organized and easy to access.
These organizers contain lots of little pockets that you can use to separate similar items and make it easy to find what you – or your child – are looking for.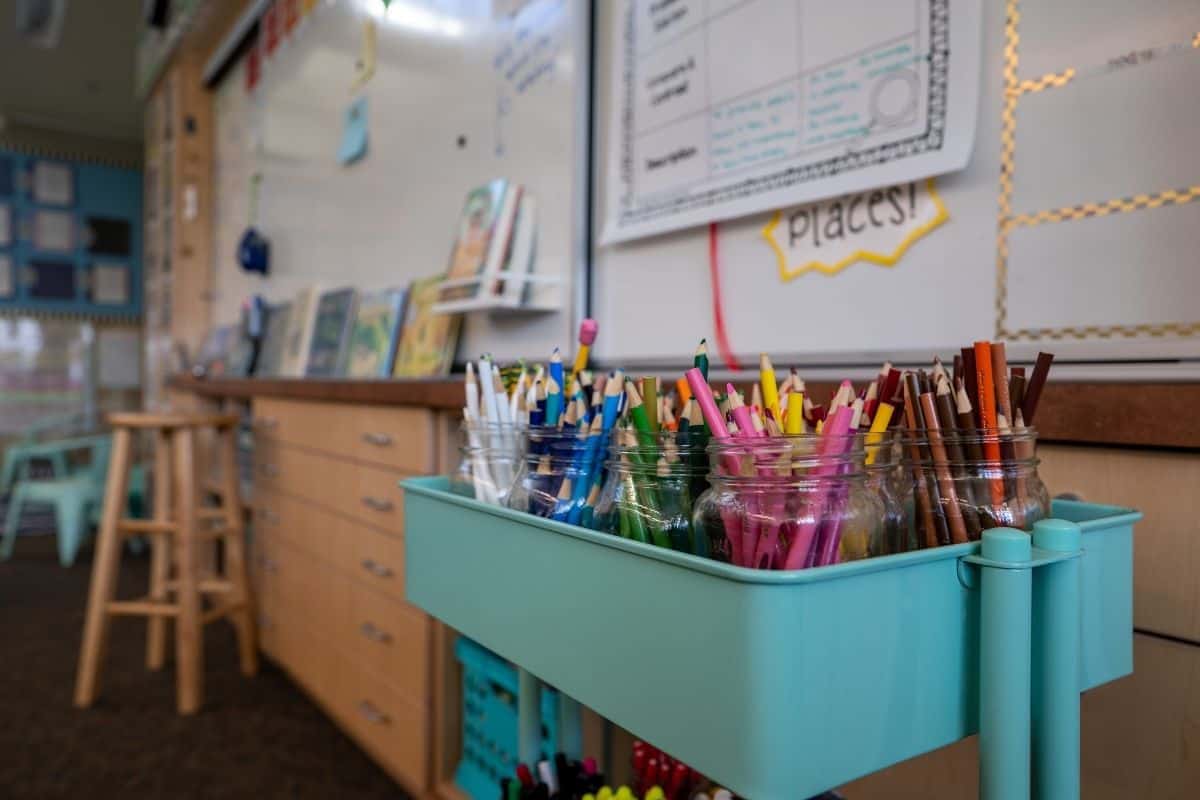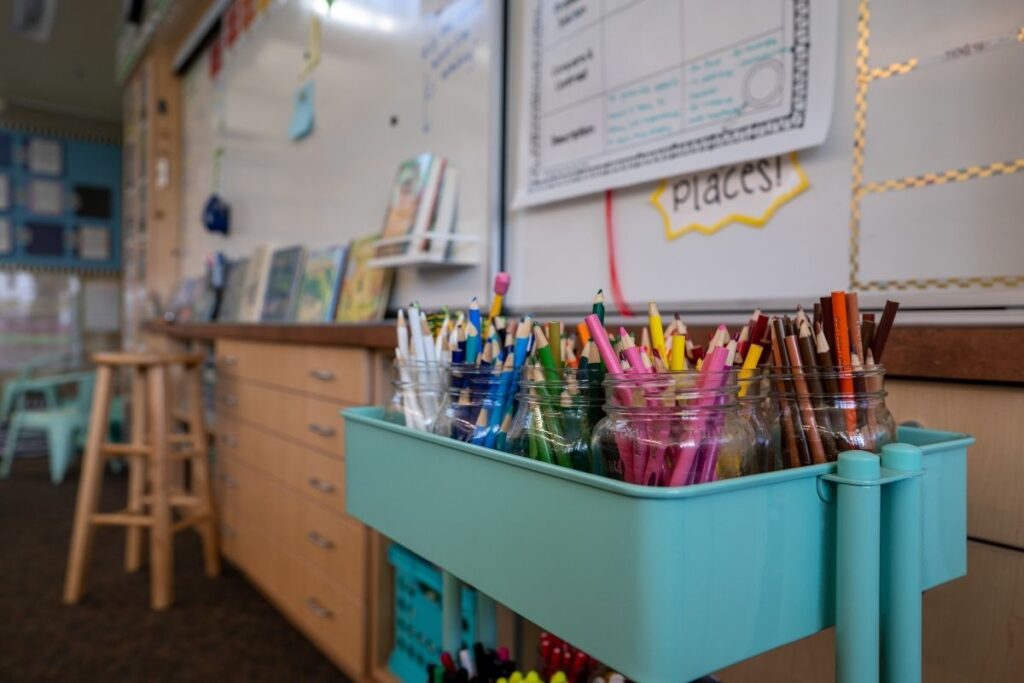 How to Organize Your Children's Art Supplies on an Art Cart
Still not quite sure you've found the right storage solution for your child's arts and craft supplies?
I've got an idea for you.
An art cart can be an easy, portable solution for your little one's arts and crafts storage needs.
Not sure what I'm talking about?
What is an Art Cart?
An art cart is exactly what it sounds like – a cart that can hold your child's art supplies.
Not only is an art cart an excellent way to keep everything contained and in one place, but it's also an excellent solution for crafty kids who don't have a dedicated desk or space to tackle their projects.
Art carts are portable by design, so your kid can easily wheel their supplies into the kitchen, living room, or wherever else they've decided to create!
Where Can I Get an Art Cart to Organize Kids Craft Supplies?
Disclosure: As an Amazon Associate I earn from qualifying purchases. Please note that I only recommend products I use and love. Click here to read my full disclosure policy.
There are various places you can purchase an art cart. You can customize it to suit your specific needs by adding additional storage containers.
Many arts and crafts stores sell them, as do some home furnishing stores. And, of course, you can absolutely find one on Amazon!
How to Choose and Organize What Goes On an Art Cart?
If your child doesn't have a ton of arts and craft supplies, put 'em all on the cart so you can keep everything together, consolidated, and easily accessible.
If your child has way too many items to store on an art cart, you'll have to pick and choose. I recommend keeping the items they're encouraged to use – and pull from most often – on your art cart.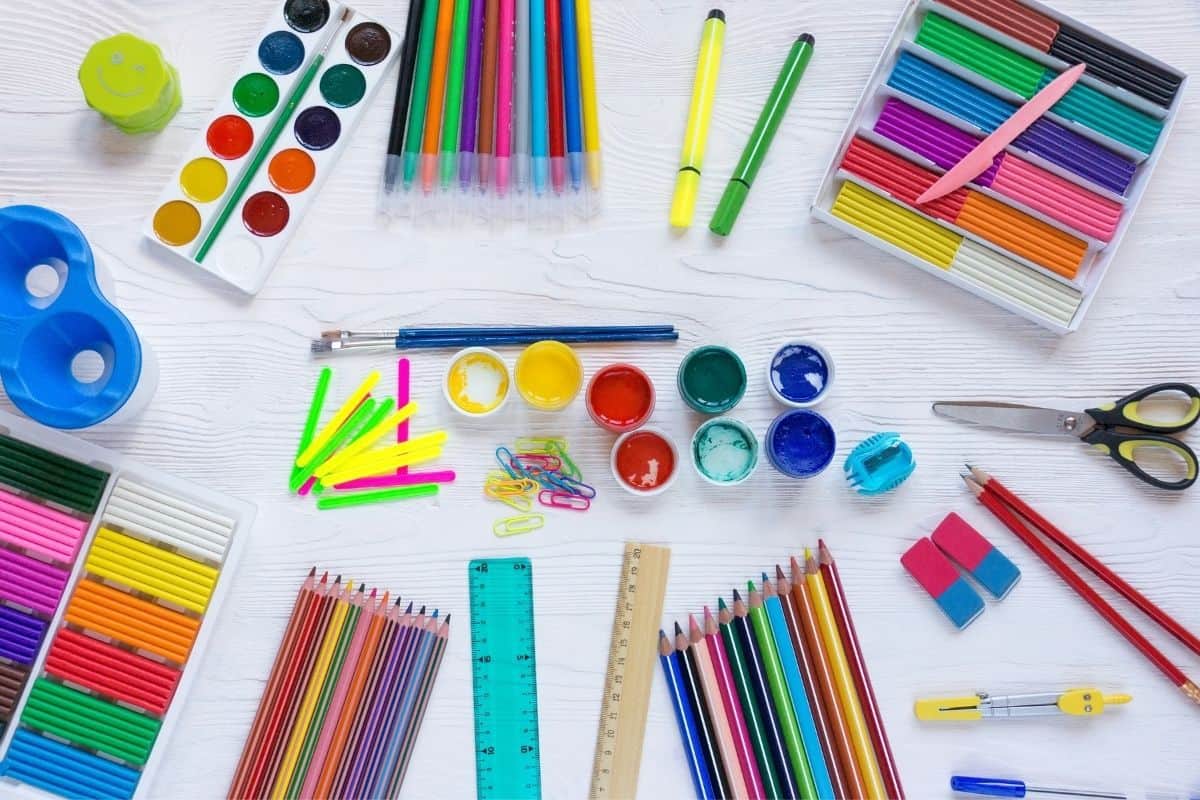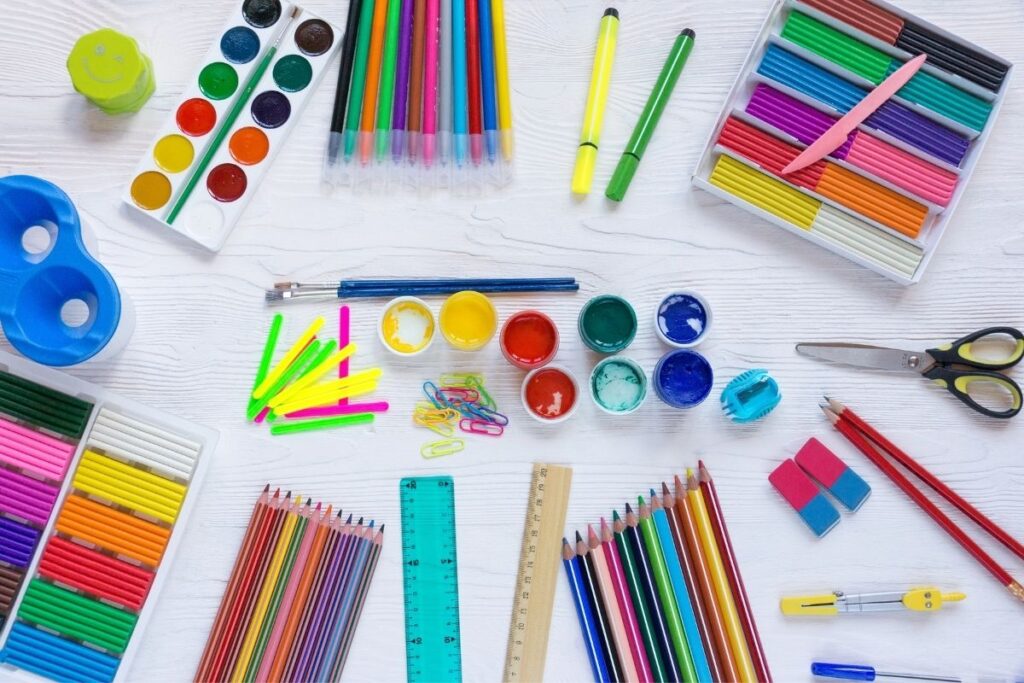 Key Design Tips for Creating an Organized Craft Space for Children
Designing the perfect space for your child to enjoy arts and crafts can be tough. You don't want to stifle their creativity, but you do want to keep mess and clutter at bay.
If you're on a mission to create an organized craft space they'll actually use, you should…
Keep the supplies they use most often easily accessible! It's OK if you can't keep everything out, or if some items require adult supervision, but you should make it easy to reach the items they're encouraged to use.
Make it easy for them to find what they're looking for without your help. An easy way to do this? Organize your arts and crafts cart or station together!
Use clear bins and containers whenever possible. Being able to see what's inside can be incredibly helpful – especially when you're looking for something specific.
If any arts and crafts supplies are stored in non-clear containers, make sure they're clearly labeled.
An Organized Arts and Crafts Space Gets More Use
Now that you know how to organize kid's art supplies, you can use the tips you learned to create your own customized arts and crafts area in your home. Having this area organized means it will get more use and you'll be able to see what you have, which prevents having so many duplicates.
Art allows kids to use their creativity and imagination. While it may require some supervision and clean-up, the benefits are worth it!
Want to keep up to date with The Simplicity Habit? Sign up on the form below and get weekly organizing and decluttering tips sent straight to your inbox! You'll also get the free 8 Quick Wins for Decluttering checklist to help you start making progress today.