Frustrated by not being able to locate your craft supplies or by seeing them all over the place? Here is the best way to organize art and craft supplies so that you can easily find items and keep your house stay tidy.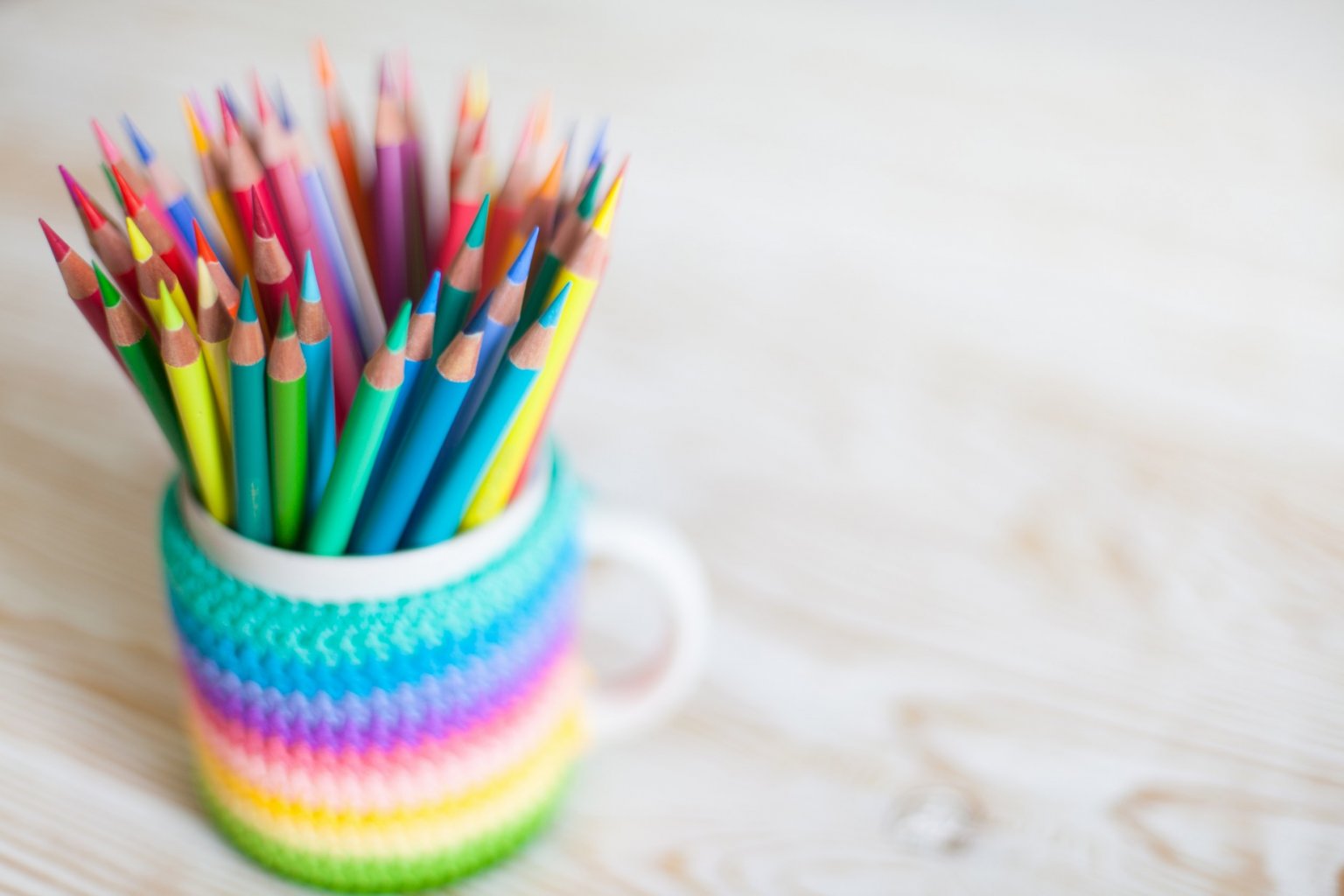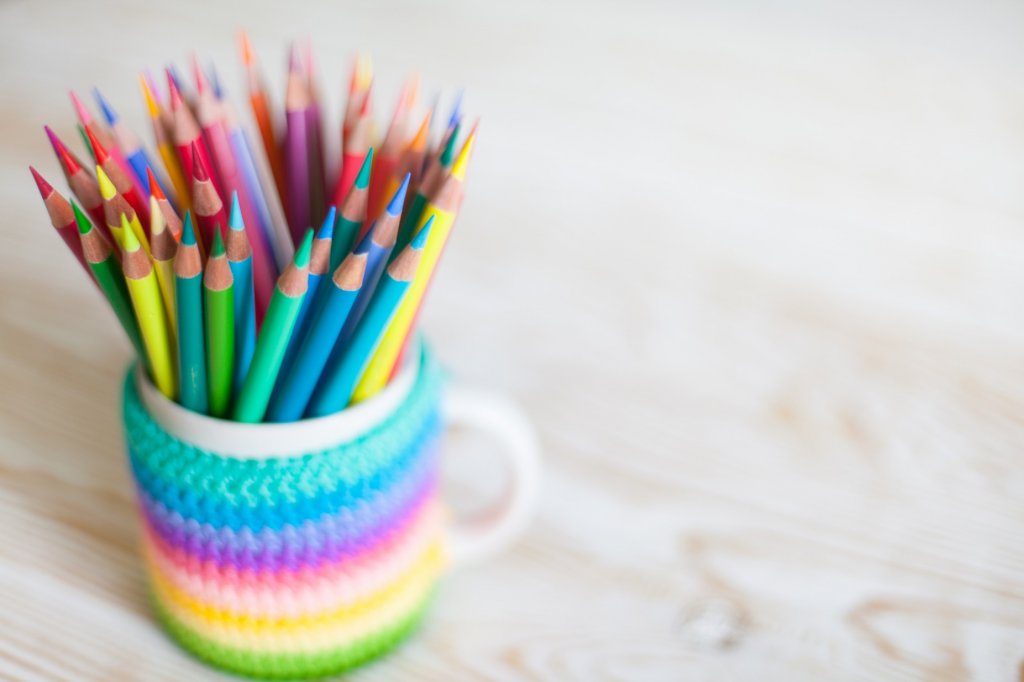 The Best Way to Organize Art and Craft Supplies
The best ways to organize arts and crafts supplies that I'm going to outline for you works for both adults and kids things. If you enjoy arts and crafts it will help you get your things more organized.
If that arts and crafts in your home are primarily the ones your kids use, these tips are for you as well. I'll address some things that are specific to kids, but most of these ideas can be universally applied.
Here are the four steps in the best way to organize art and craft supplies.
1. Collect all art and craft items
Many people have arts and crafts stored in various parts of their house. Your first step to organize art and craft supplies is to go and collect all of those items.
Go into every bedroom and living area in your home to verify that you don't have any supplies in that room.
Bring all of them to a central location. It could be your dining table or the floor in your home depending on how much you have.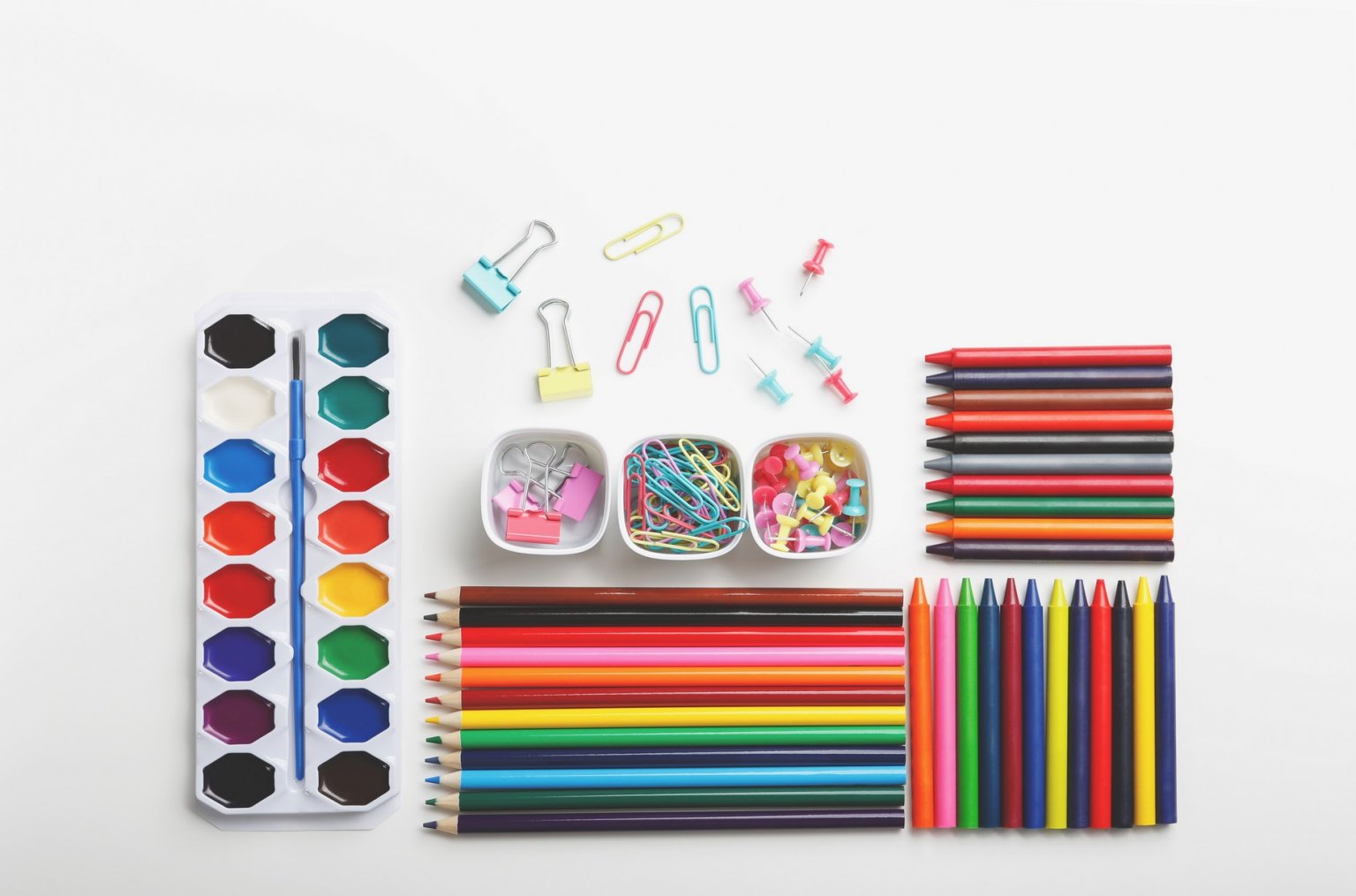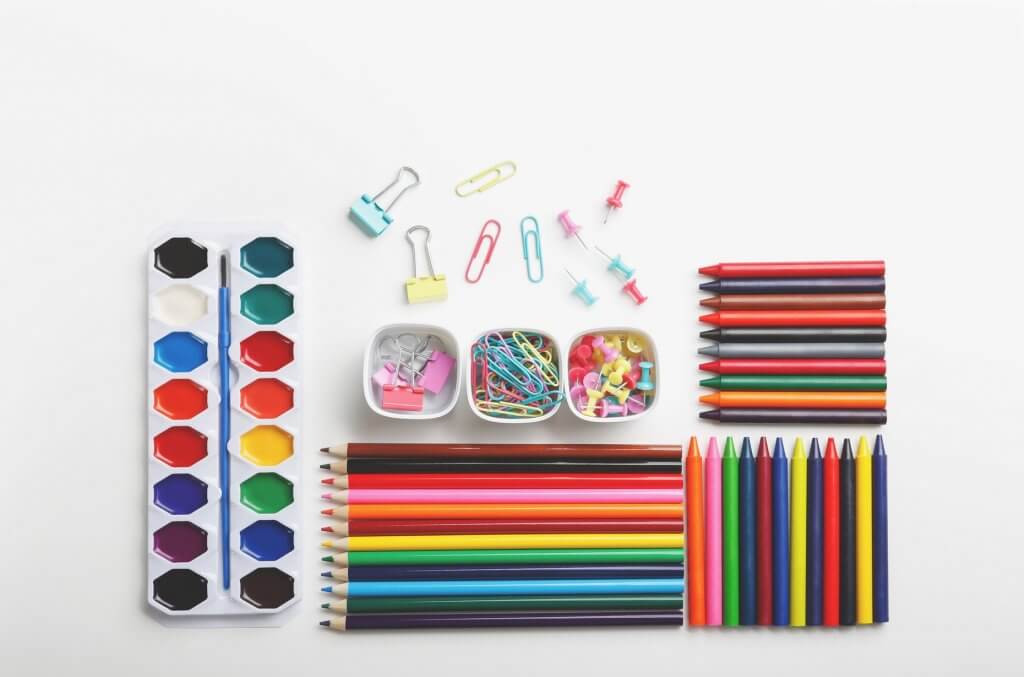 2. Group items by like kind
The next step in the best way to organize arts and crafts supplies is to group items by like kind. Put all the colored pencils together, all the paints, all the papers, and all other types of items together with the same kind of thing.
You may realize in this process that you have far more of certain items than you realized. Seeing the sheer numbers of items you own will help you for the next step.
3. Declutter
Now that you can see what you have grouped by kind, it's time to take out the things you no longer want or use. Perhaps you found you had excess of certain things and now want to pare down. This is the perfect oppportunity to do that.
I find that I am partial to particular brands for art supplies. The items we end up that are from other brands and the ones we declutter.
This is also a great time to test your pens and make sure your paints and glues aren't dried out. Kids may even enjoy testing all the pens so that's a great job to assign to them.
It's helpful to include kids in the decluttering process especially if they are the ones who primarily use the arts and crafts supplies.
You can toss out dried pens and makers. If they are Crayola markers they have a program where you can send them back for recycling.
Donating
For the items that are still in usable condition, but you no longer want there are a couple of options. You can see if any family members or friends want them.
You can also check with local schools and churches to see if they could make use of the supplies. Many are thrilled to get arts and crafts donations as budgets are limited.
At this point, you should have only the items you want and will use remaining and grouped by kind.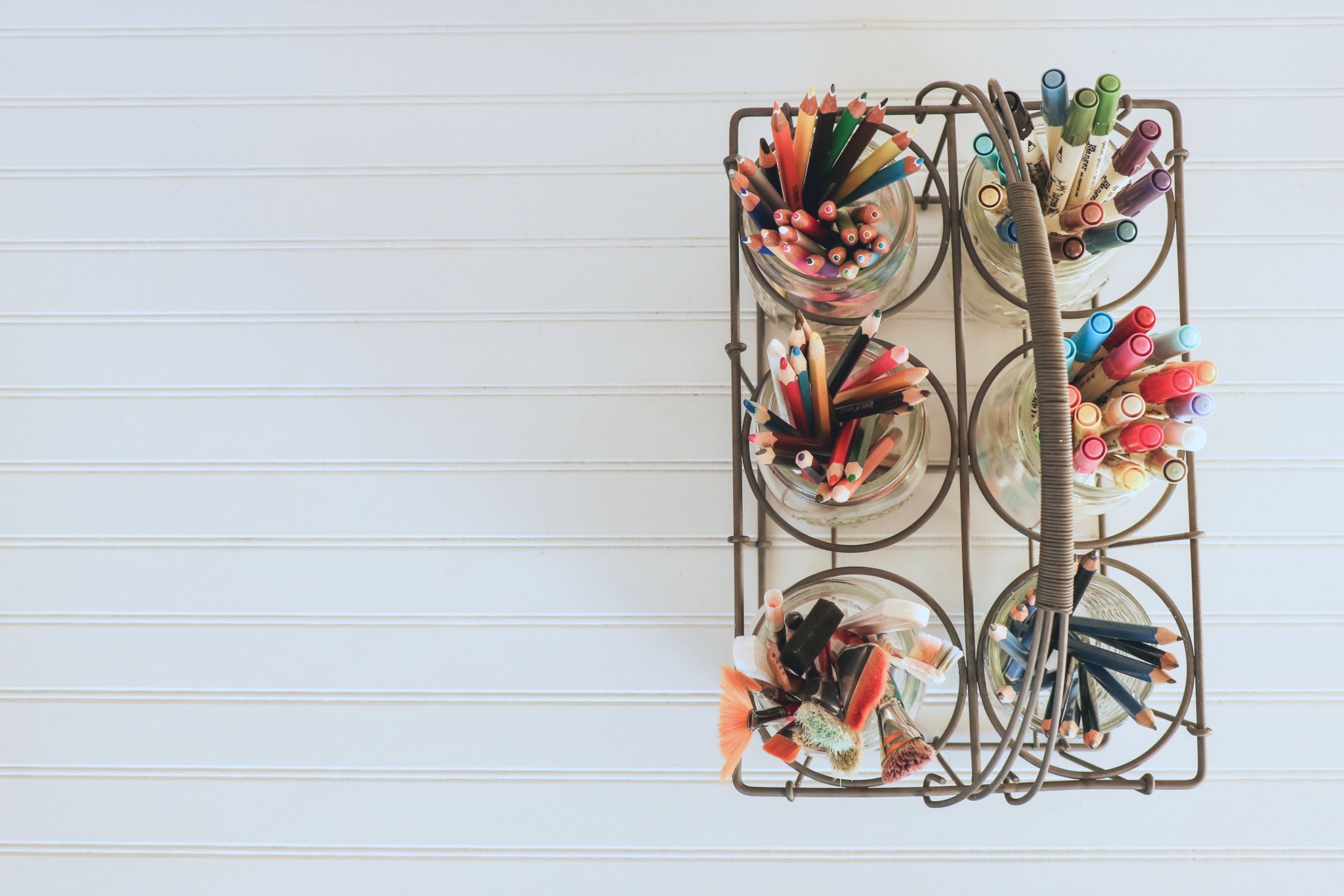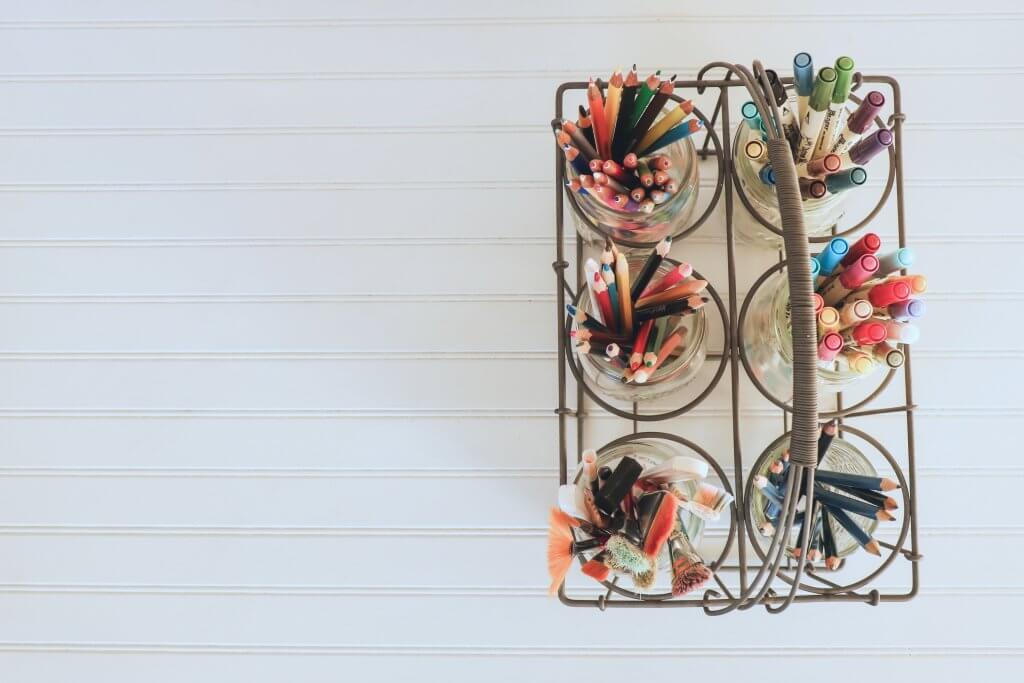 4. Organize and store it
As you move towards organizing your arts and supplies, you will want to keep like kind together. It's just easier to find things when you keep your organization system simple.
When deciding where to store your organized arts and crafts supplies consider where you or your kids usually work on your arts and crafts.
You want to have the items stored near where they will be used to keep things more simple. Making the items easily accessible will make it more likely that they will get used.
When working with kids' art and craft supplies you will want to make sure the 'safe' items are easy for them to get on their own. For other items like acrylic paints and sharpie markers, you'll want to have those safely stored where they'll need a grown-up to get them for them.
To create a sustainable organizational system you want to make it easy to maintain. It needs to be clear where items go and easy for kids and adults alike to put things back where they go.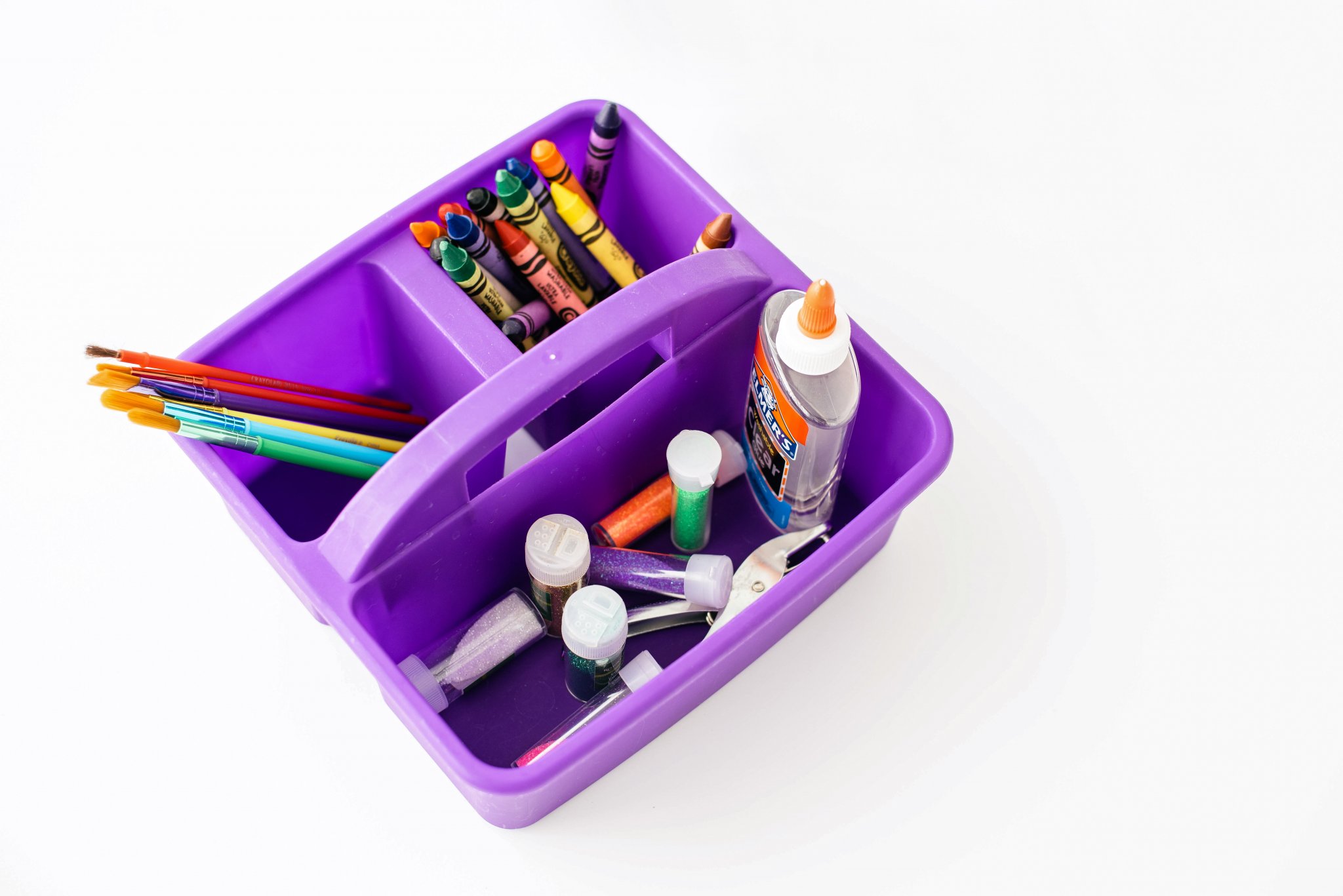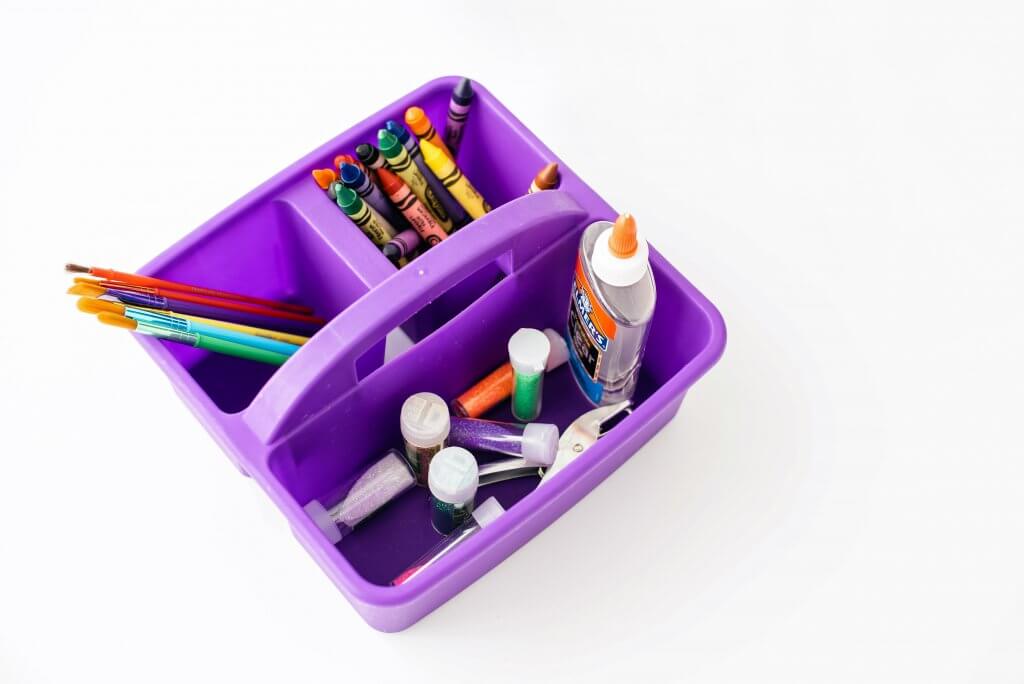 Storage containers
There are a variety of storage options to help organize art and craft supplies. We use a plastic rolling cart for a lot of our kids art supplies.
The markers are stored in a caddy and the colored pencils in a pencil box. They are simple storage solutions that are easy for the kids to grab and not difficult to put back no matter what our kids may say about it.
Art caddies can be a great option for kids too. Just keep in mind what will let them easily find and locate items as well as simple to put back.
We also have an armoire where our board games and craft supplies are stored. What will work best in your home depends on your home and the type and amount of art and craft supplies you have.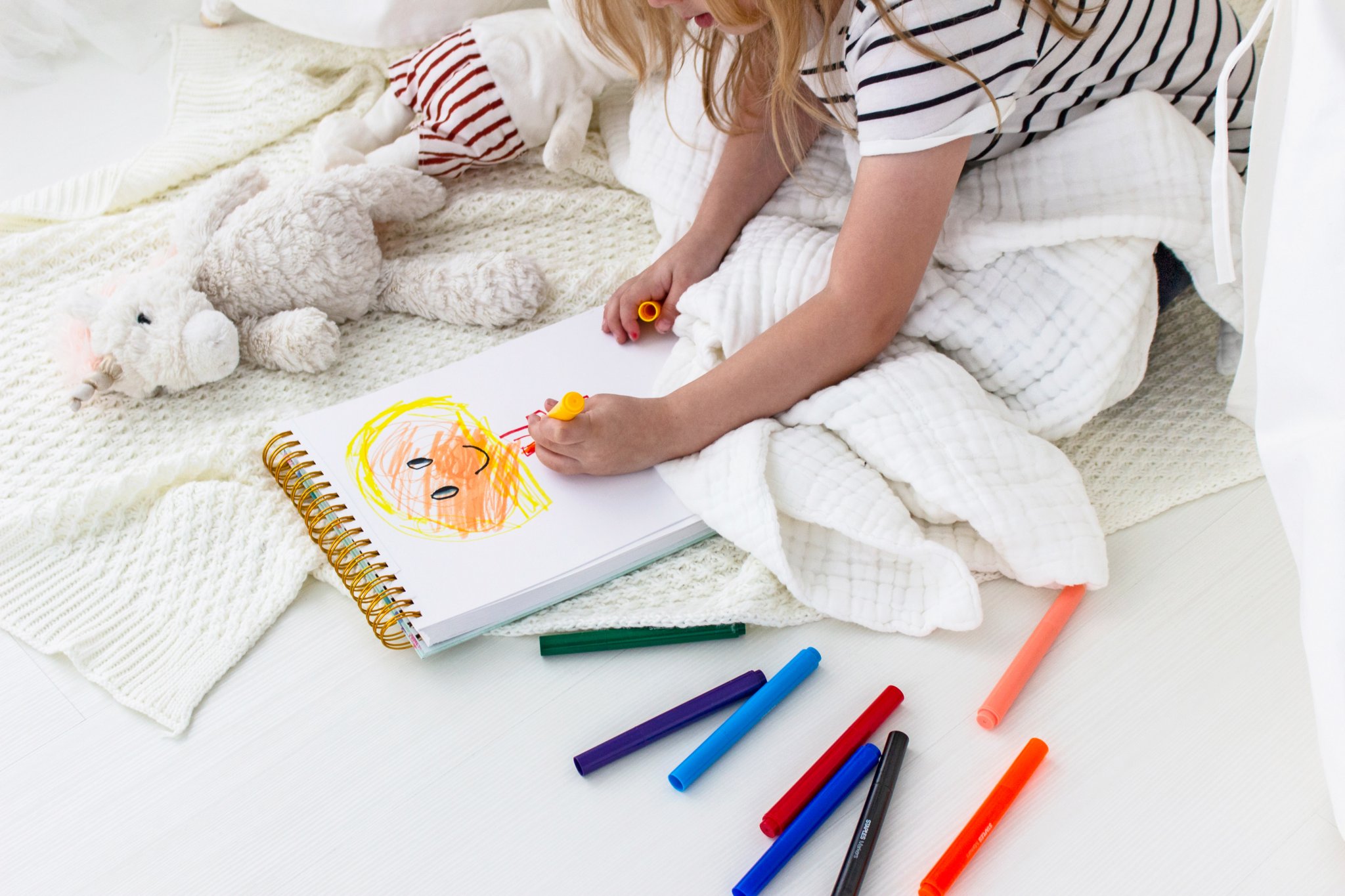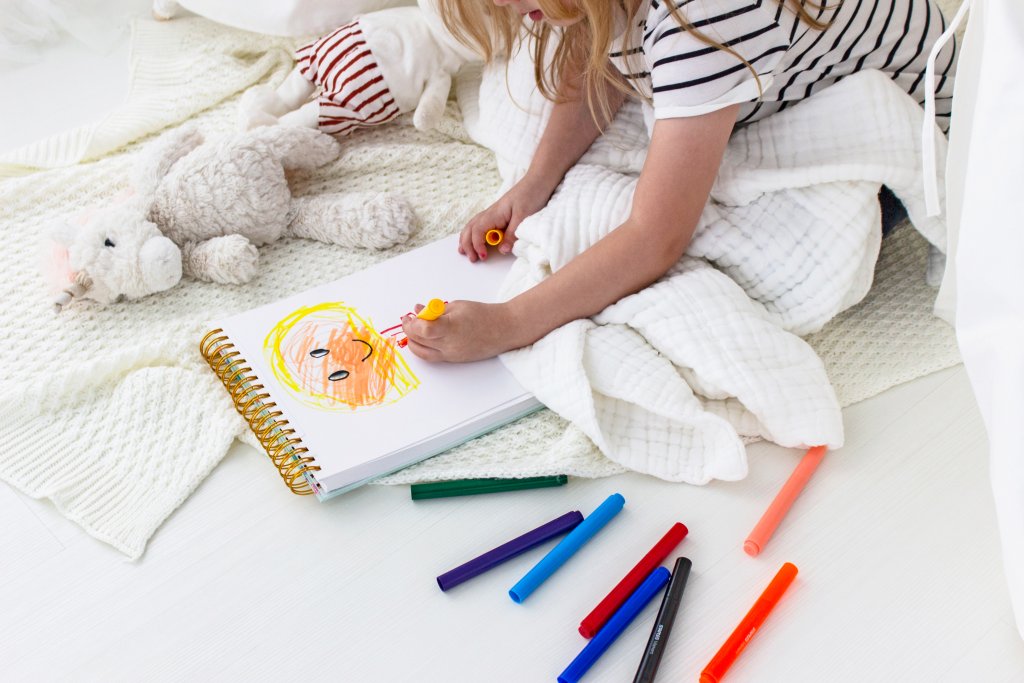 Organizing & decluttering artwork
I'm often asked what to do with kids' artwork. In our house, we provide appropriately sized storage containers for their items including toys and papers.
I took my girls shopping to pick out decorative boxes that I felt were the right size for their favorite papers and projects. They get to decide which ones they want to keep in there and which to recycle.
Once the boxes are full, they will need to go through them and decide what they want to keep and declutter again.
Why are you saving them?
When we save all the papers for our kids we have to ask ourselves why we are saving them. When your kids become adults do you think they will want large bins full of their childhood papers that you lovingly held onto for them for so many years?
Most people don't want that and may consider that amount of papers to be a burden more than a gift. If they declutter them along the way and have a smaller box then they'll be keeping just the ones that are more meaningful to them.
Another option is to take pictures of the artwork to save or turn into books. Some people really enjoy this option. For me personally, this would just create more clutter on my phone and with the books, but you have to decide what clutter is to you and what you value.
Once you organize your art and craft supplies you'll find that they get more use and are easier to clean up. The purpose of decluttering and organizing is to help you make better use of your things and to enjoy your space more.
Want to keep up to date with The Simplicity Habit? Sign up on the form below to get weekly decluttering and simplifying tips. You'll also get the Your Home Decluttered Jumpstart which includes 100 easy items to declutter and 12 high impact areas to declutter in 10 minutes.