Inside: Discover eight creative ways to declutter before welcoming your baby. Use these tips to prepare your home for baby's arrival.
A guest post by Melissa Waltz
You're counting down the days until your baby arrives and as predicted, you've gone into full nesting mode.
You're not ready to ditch everything from your pre-baby life… but it's definitely time to get rid of the wardrobe overflow that's taking over the spare bedroom you're planning to turn into your new baby's nursery.
You're prepared to do some serious decluttering, but you're not sure where to start. Don't worry! Even if you're not the tidy and organized type, we've got you covered with eight creative ways to declutter before your baby arrives. You can do this!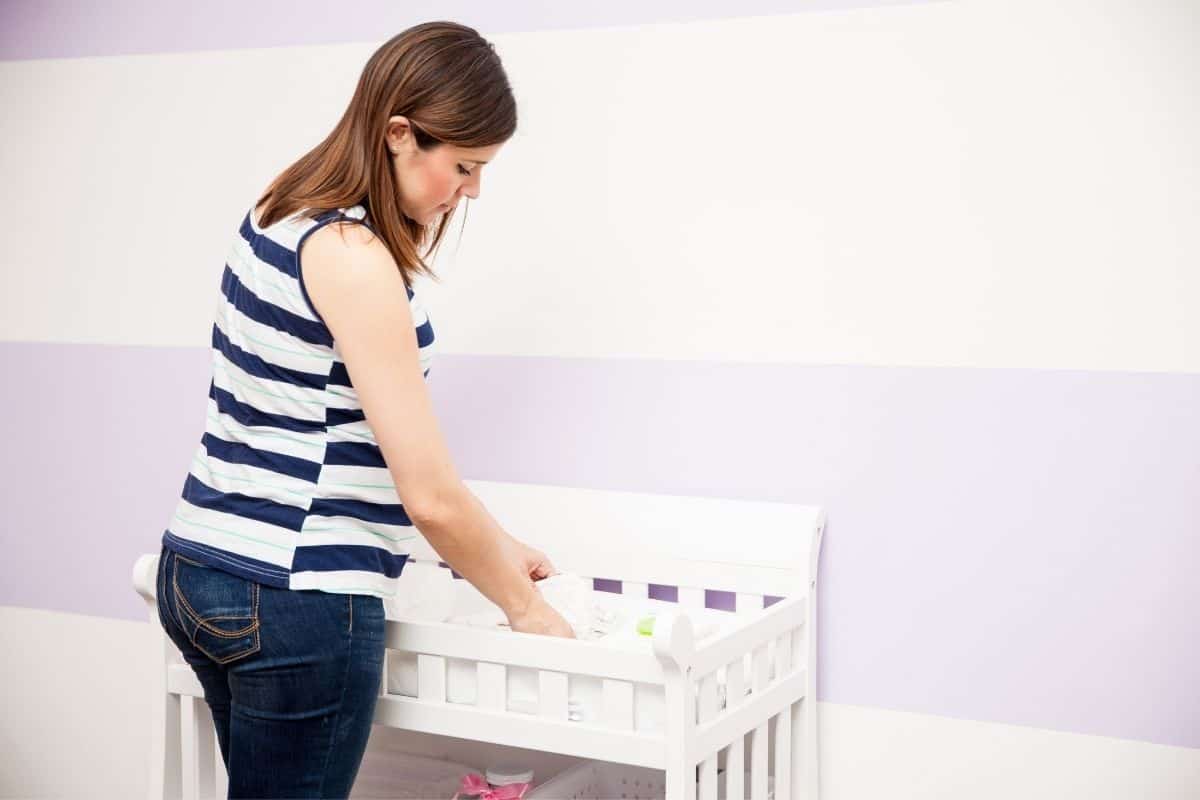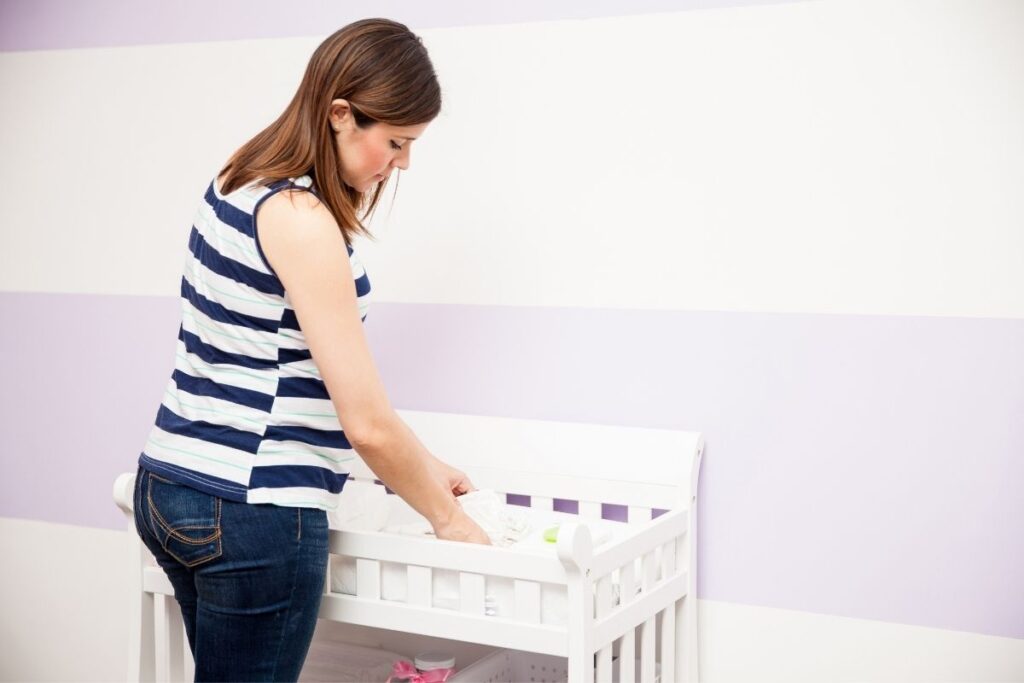 8 Creative Ways to Declutter Before Welcoming Your Baby
Here are some ideas for places to start to declutter before your baby arrives. Make space for this next stage in your life by clearing out things you no longer love and use.
1. Declutter Before You Organize
According to experts at The Yinova Center, "Clutter and disorganization reduce our ability to focus and drain the brain of cognitive resources."
It's like visual noise and leads to cognitive overload and can even lead to stress, depression, and anxiety. That's the last thing you want when you're bringing a new baby home.
So, before you think about organizing or decorating the nursery, start by decluttering your home in sections. Methodically work your way through each room. It helps to set goals and create a timeline to work by to keep yourself on track. 
Considering starting at the opposite end of the house and working your way towards the nursery, that way you won't be distracted by the clutter in the rest of the house. As you go, separate things into four piles: trash, donate/give away, sell, and keep.
2. Baskets and Bins
It's tempting to run right out and purchase a bunch of cute bins and baskets to organize your rooms, but you're much better off decluttering first.
Once you know what you're keeping and what really needs to go in them, you'll have a better idea of what you really need. Not only will this save money, but it will also prevent you from accumulating even more clutter.
Once your space is cleared and you've decided what you really want to keep, it's time for some fun! Organizing items into bins and baskets with labels makes everything feel neat and organized. It also reduces that visual clutter that can be so distracting.
Of course, you can buy fancy baskets and bins if you want to, but you shouldn't feel like you have to spend a lot of money. You can find bins at baskets at the dollar store, thrift stores, or ask friends and family for donations.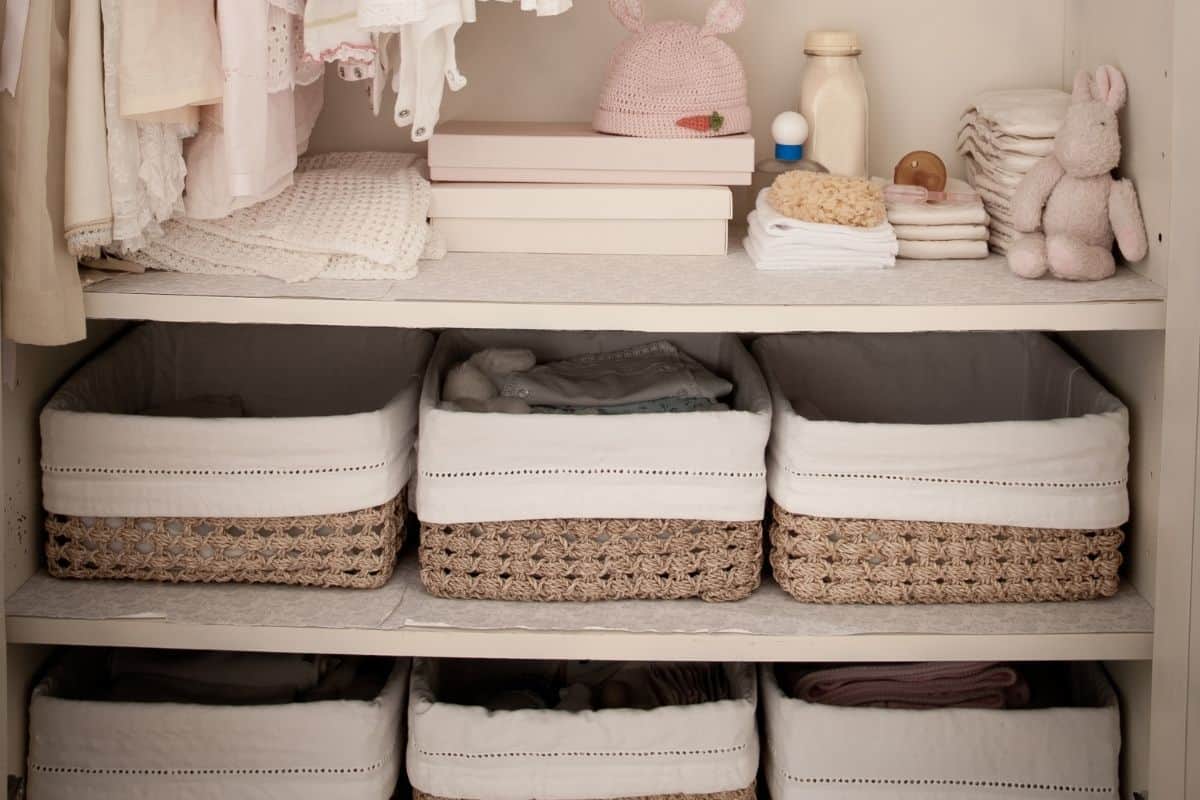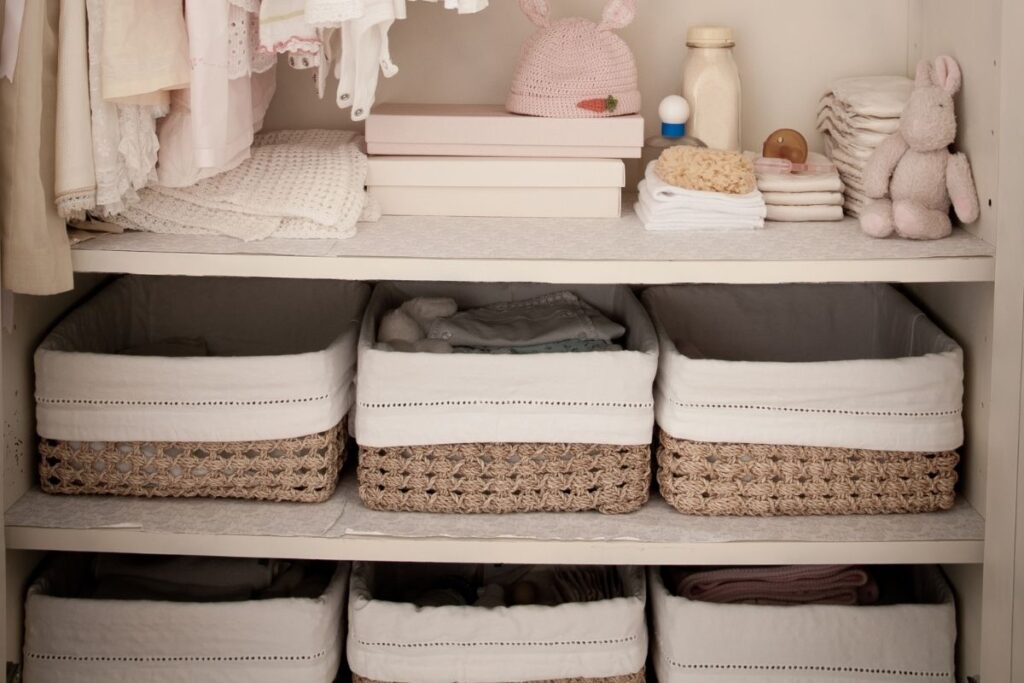 3. Keep the Most Treasured Sentimental Items
You've probably been told to ditch anything you haven't used in a while, but that rule shouldn't apply to sentimental items. Just because you're getting ready to start making a whole new set of memories, you don't need to forget about the ones you made before you became a parent.
Start by going through your sentimental items and separating the things that are truly meaningful from the things you're on the fence about. For example, keep your copy of the vows from your wedding, but toss the movie tickets for that film you saw years ago and don't even remember anymore.
If you truly love it, keep it- if not, let it go.
4. Evaluate Your Storage
If your home is small and your storage is limited, reassess what you're currently storing. Priorities change over time and things that you may have been holding onto may not be things you want to continue to keep as your family grows.
To create more space in your home, store seasonal items. For example, you only use your camping equipment in the summer, or maybe you have a beautiful collection of Christmas ornaments you just can't part with.
Or maybe you've been using your future nursery to store winter clothes, skiing equipment, or your inflatable paddleboard. Instead of forcing yourself to get rid of them or cramming them into your already overflowing hall closet, you can put them out of sight and out of mind in your storage area until you need them.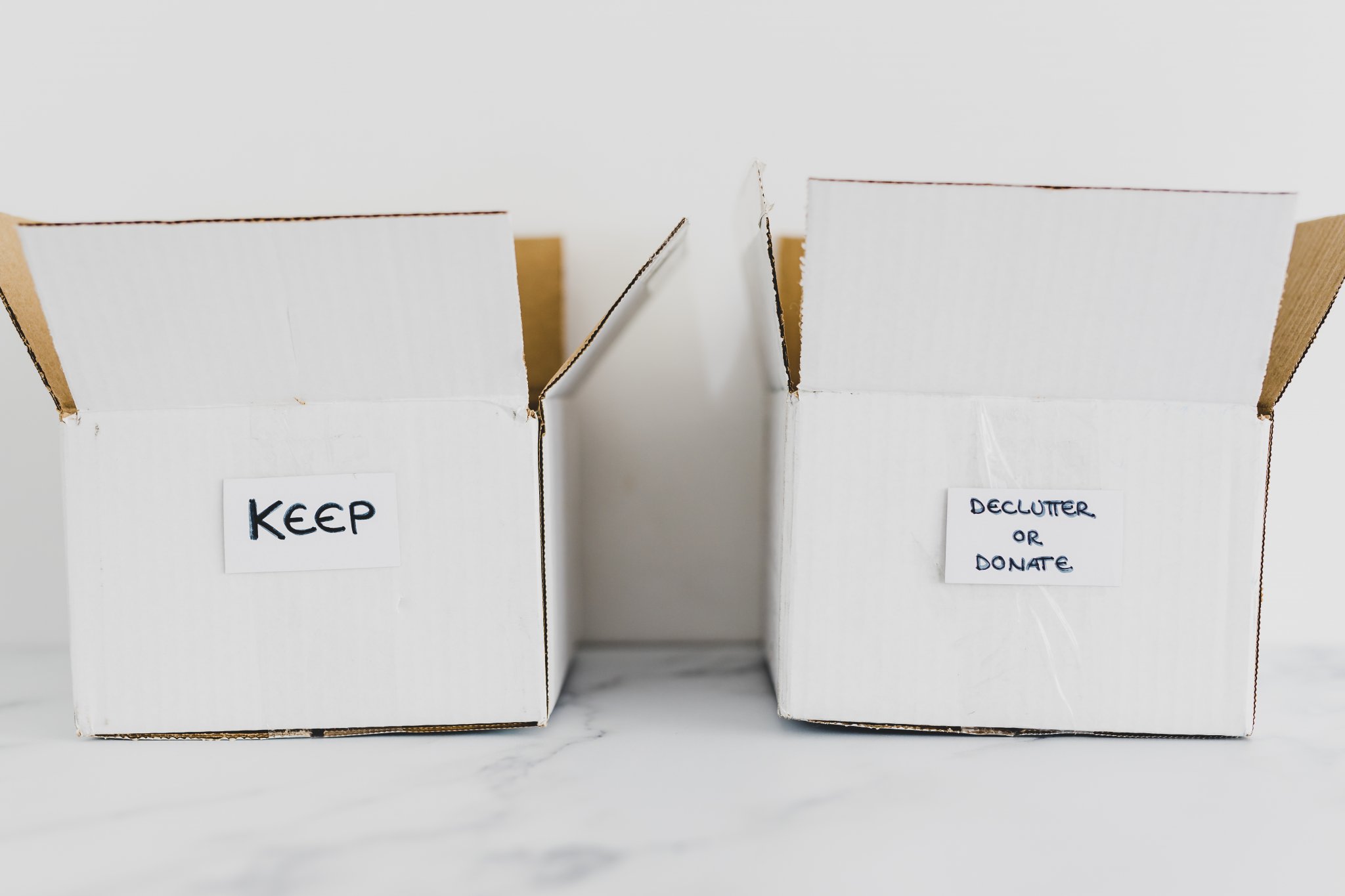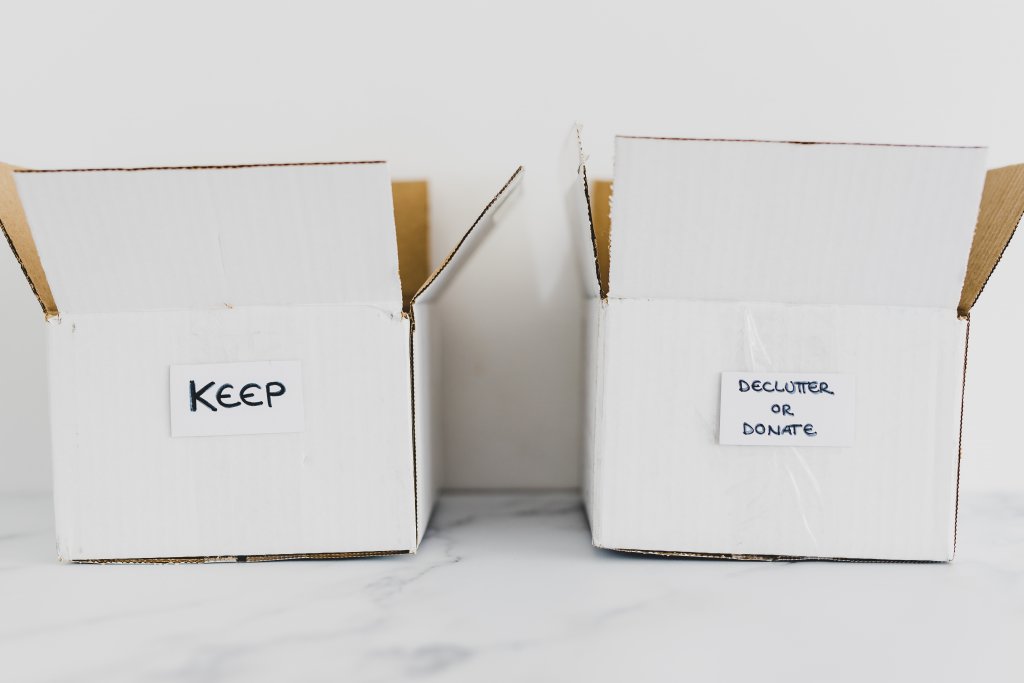 5. Have a Yard Sale
Having a baby doesn't mean you have to get rid of everything and start over, but sometimes it's easier to part with that extra set of dishes when you know you can make a few bucks selling it at a yard sale. As you declutter, simply separate out anything you won't use but still has resale value.
If you don't have enough for a yard sale, you can always sell individual items on eBay, Craigslist, or local Facebook groups. There are so many great options for selling unwanted items online. Turning your clutter into cash is an excellent motivator!
6. Have a Giveaway Party
Maybe you don't want to sell your stuff. Maybe you would rather bring joy to friends and family with items you no longer need. After all, chances are good they're going to give you baby gifts at your baby shower… it's a great way to return the favor.
Once you've finished decluttering, invite your favorite people over for mocktails and desert and give it all away.
7. Repurpose with Purpose
That bookshelf you inherited from Grandma could be transformed into a beautiful focal point in your nursery with a little paint and some new hardware. Before getting rid of things you don't want anymore, consider if they can be repurposed for the nursery or somewhere else in our home.
And don't worry about making it Pinterest perfect. Ask your hubby or a friend to help or follow an online tutorial. Worst case scenario is you don't like how it turns out… and you were planning to get rid of it anyway.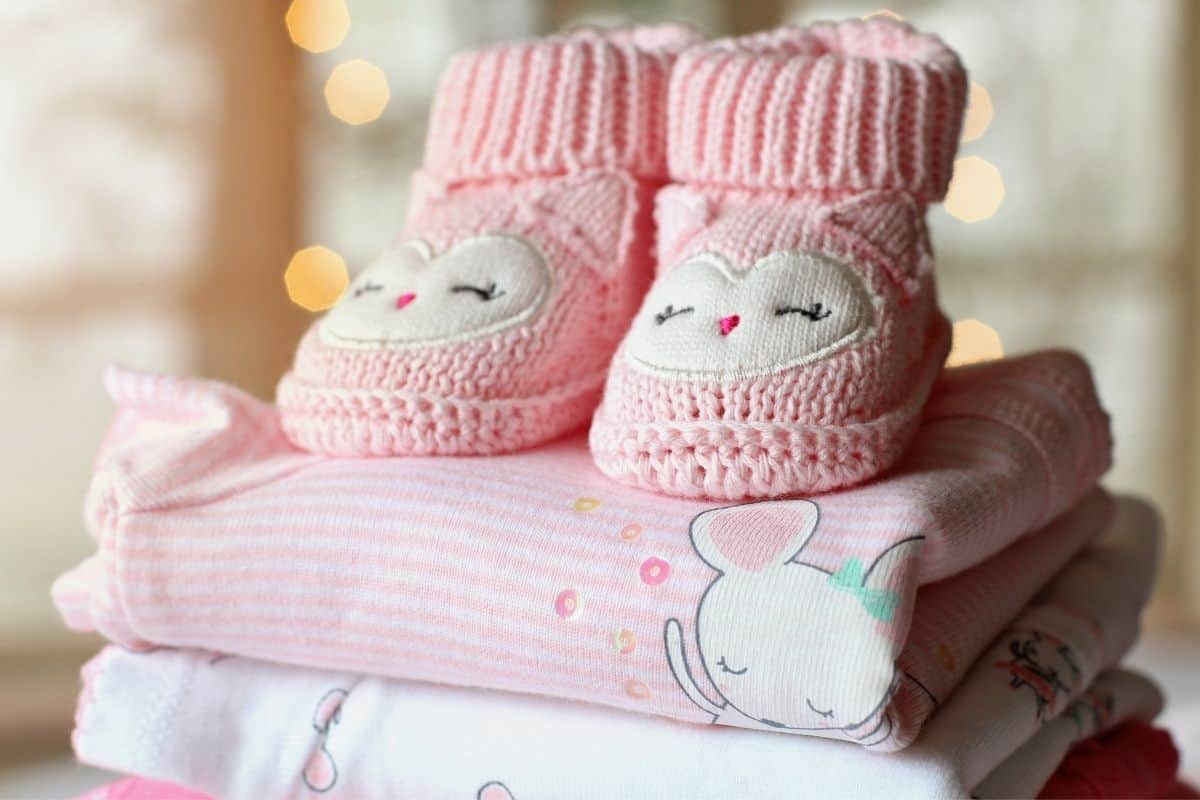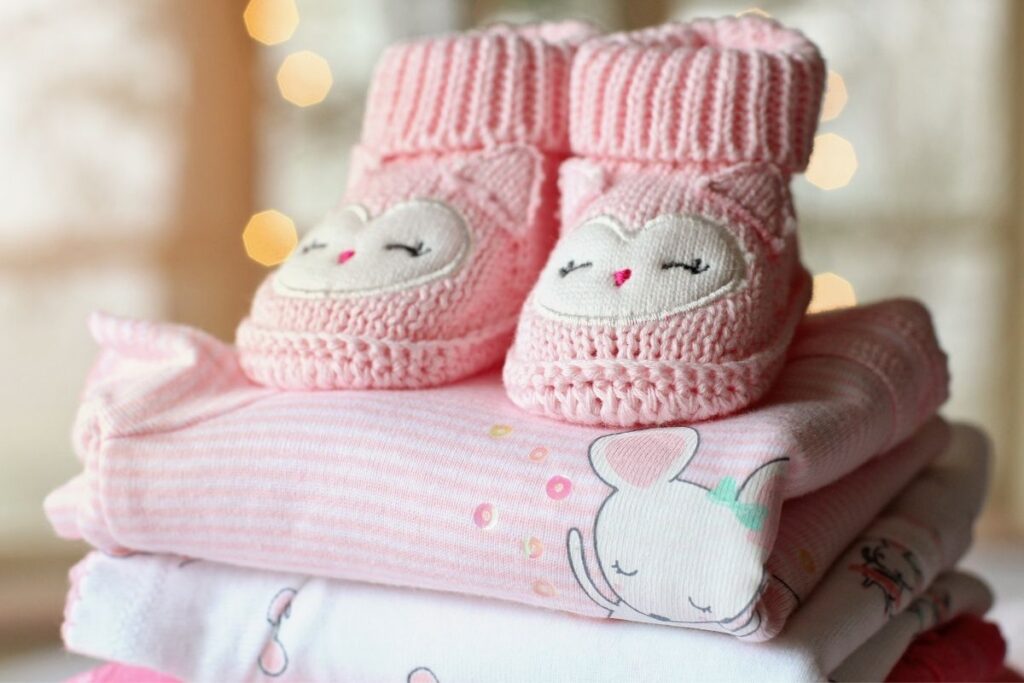 8. Sort Your Baby Gear by Age and Size
Sorting your baby gear by age and size is a great way to get an idea of what you have and what you need… and what you're never going to use. You can wash all the first-year clothes and organize the nursery by size. First year toys and gear can go in the nursery, too.
Larger clothes and toddler gear and toys can also be organized by age and size and stored until you need them. Once you're ready for the 2T items, simply pack away the first-year items, pull out your 2T bins or boxes, wash and clean items as needed, and move them into the nursery. 
This simple step will make you feel so much more organized and make it much easier to find things when you need them.
Wrapping It Up: Don't Rule Out Taking a Hard Look at Your Baby Gear
You might think it's crazy to start pruning down your baby gear before your baby is even born but take a hard look at all of that stuff you got at your baby shower. Now consider all the stuff you've been collecting on your own.
Where are you going to put it all? And is your baby even going to be able to use it all before he or she outgrows it? This might bring on a lightbulb moment that makes you realize it's not a bad idea to consider exchanging or giving away anything you're not going to need.
What do you declutter before the arrival of a baby? Leave it in the comments below!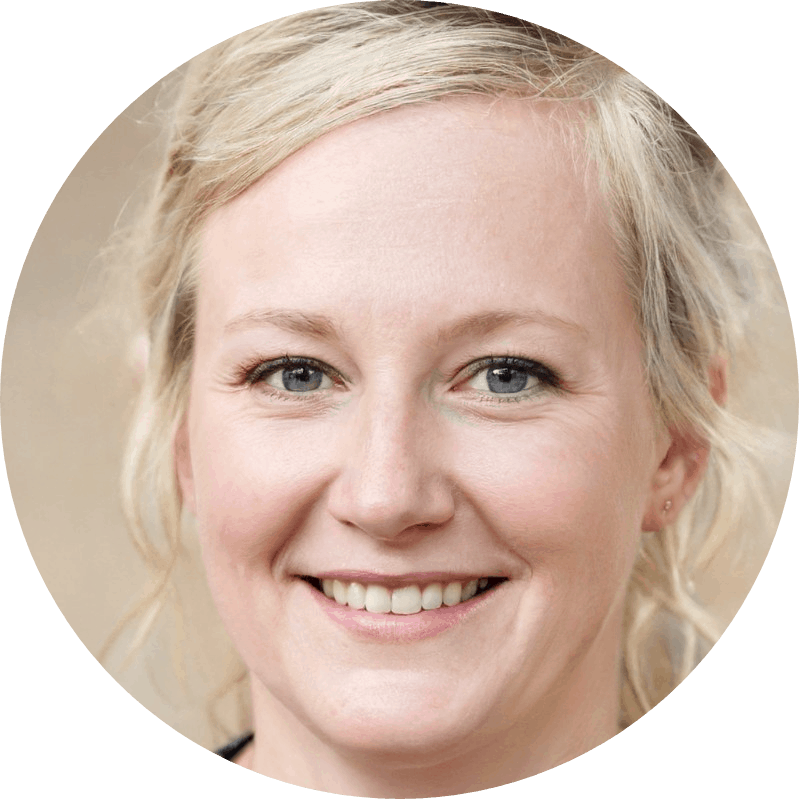 After pursuing her music career as a singer for an alternative rock band, Melissa began writing about the music industry. She is an independent writer who is continuously researching, learning, and exploring new areas in life. She now spends her days offering private music lessons and writing on various topics.
Sign up on the form below to get weekly decluttering tips and inspiration sent straight to your inbox! You'll also get the free 5 Areas to Declutter in 10-Minutes Checklist to help you get started!