Inside: Have an upcoming move planned? Use these tips to simplify moving to take some of the stress out of the process and make your life easier.
Moving is a part of life. And whether you're a seasoned mover or you're packing your bags for the first time, moving is notoriously stressful for even the best planners among us.
But there are plenty of helpful moving strategies that can help reduce the amount of work and time it takes to pack up your home.
While there are still aspects of moving that may be stressful, you can reduce those stressors by planning ahead and using these tips.
Check out these ways to simplify moving to help you prepare for a smoother, quicker, and easier move.
Ways to simplify moving to make your life easier
The moving process can be an overwhelming and stressful process. However, by planning ahead you can simplify moving and lessen the stress.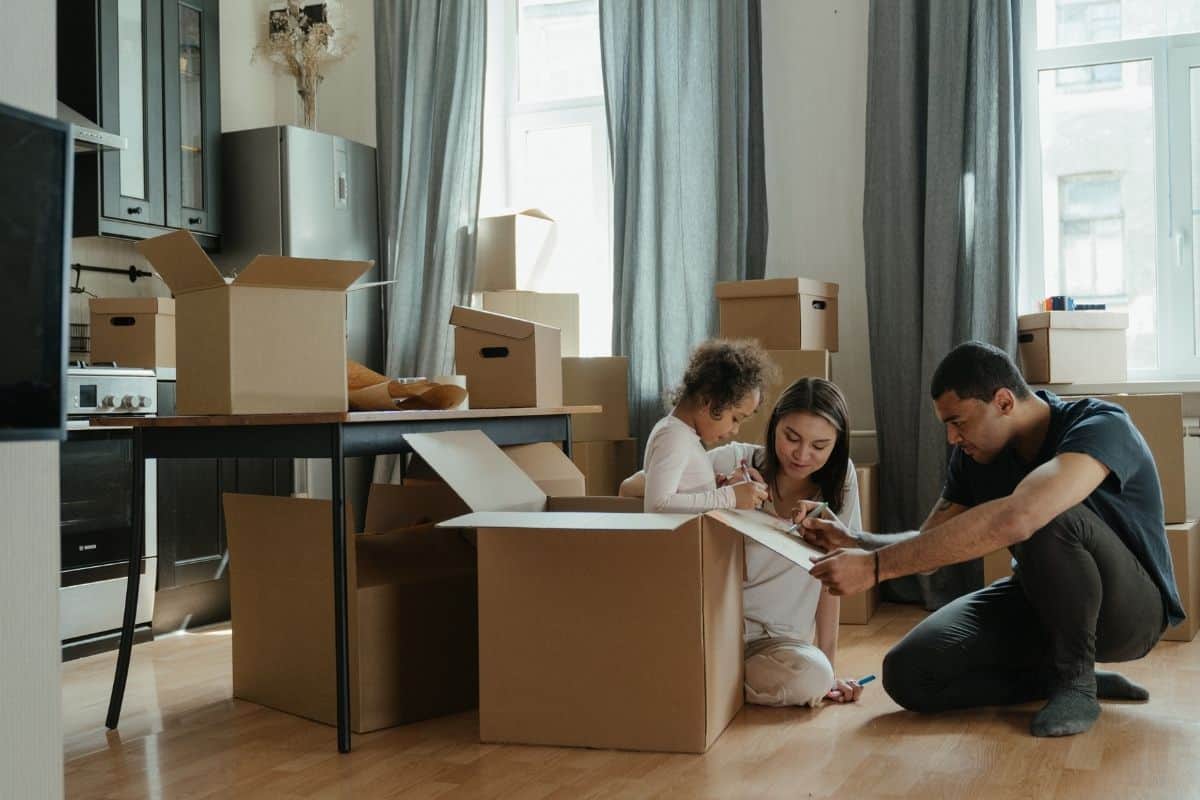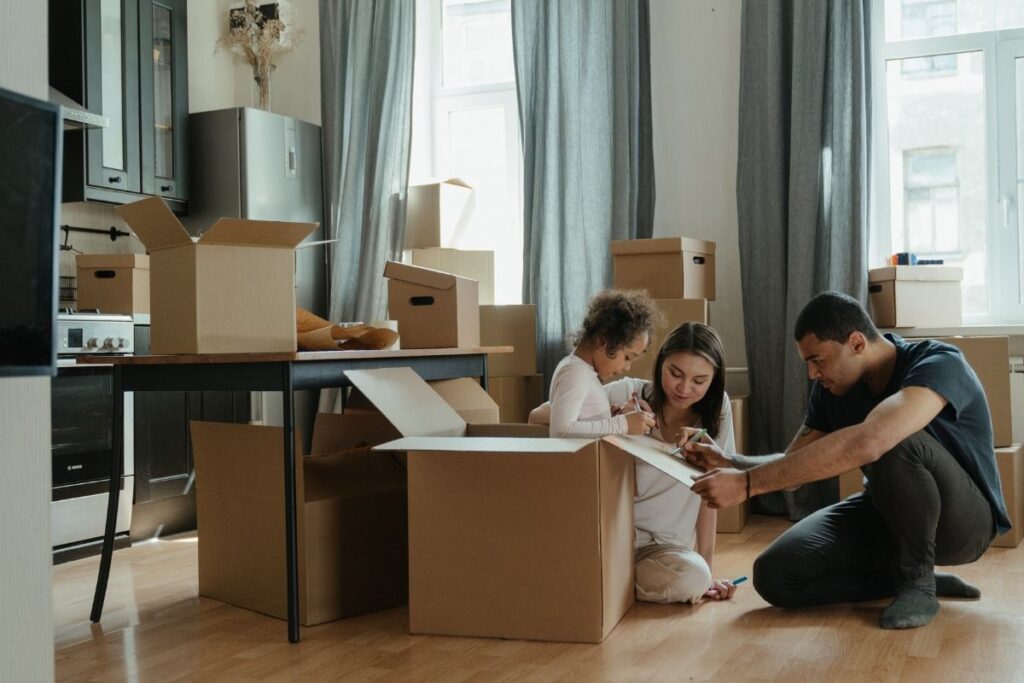 Simplify Moving: Prepare for the Move
When it comes to moving, you should start the process sooner rather than later. Before you find yourself stressed out over the length of your to-do list (or lists) and frantically tossing random household items into the nearest unlabeled cardboard box, consider some of these organizing tips to help you prepare.
1. Create a moving timeline
There's a lot to keep track of during a move. You've got to pack, schedule, clean, and coordinate a lot of logistics. To help you stay on task and curb any creeping anxiety about the move, consider visually organizing your move with a timeline.
While there is no one-size-fits-all approach to this strategy, creating a timeline complete with manageable goals will help keep you from feeling overwhelmed.
Moving can be a DIY job (with the help of a few friends with strong backs), or you can hire professionals. If you decide to use professional movers, make sure to keep track of any estimates and expenses in a moving folder.
Another very important task that often gets overlooked is notifying essential parties of your move, and that includes utility companies.
Once all your dates are finalized and all the papers are signed, contact your new utility providers to schedule services for your home. The last thing you want after a long day of moving is to realize your new home has no electricity or water. 
And don't forget to contact any old utility providers to shut off service, too.
2. Create a realistic budget
Moving costs have a way of ballooning without us realizing it. To reduce the risk of any stress-inducing, wallet-busting surprises now is the right time to create a personalized moving budget.
Include estimated costs for the move, including packing materials, transportation, and post-moving expenses.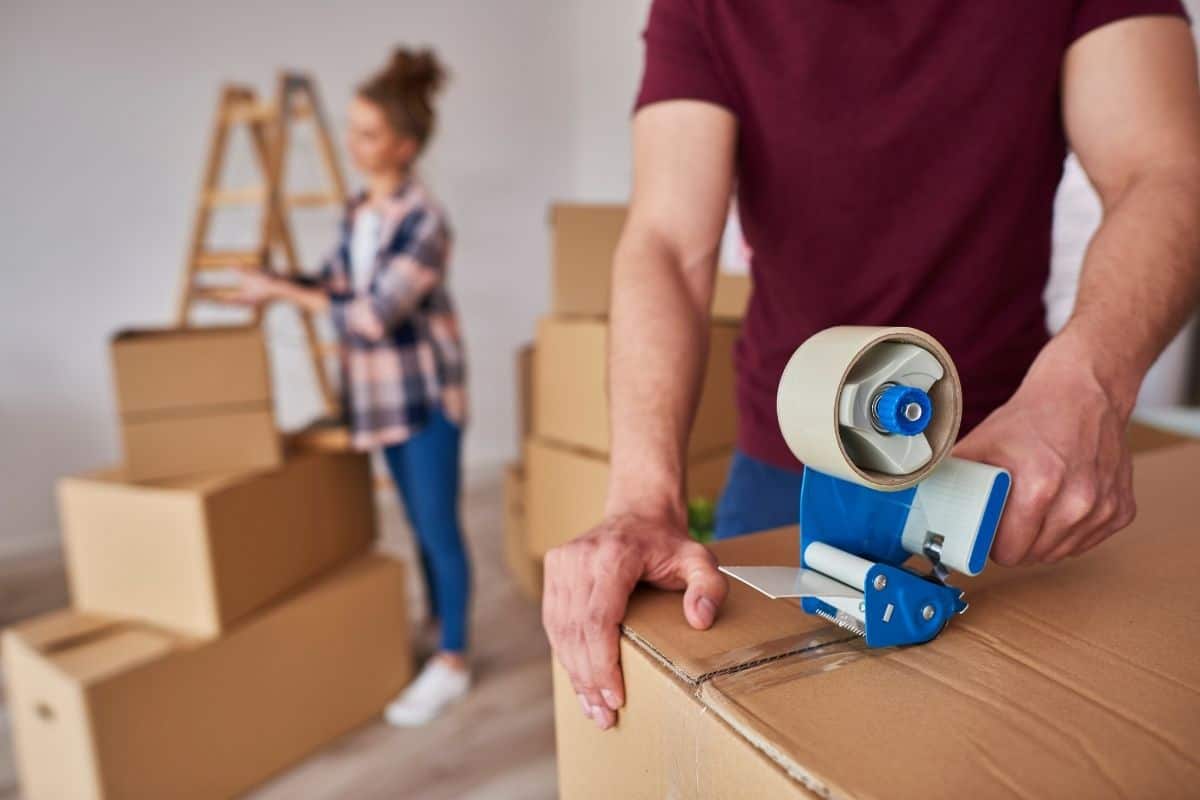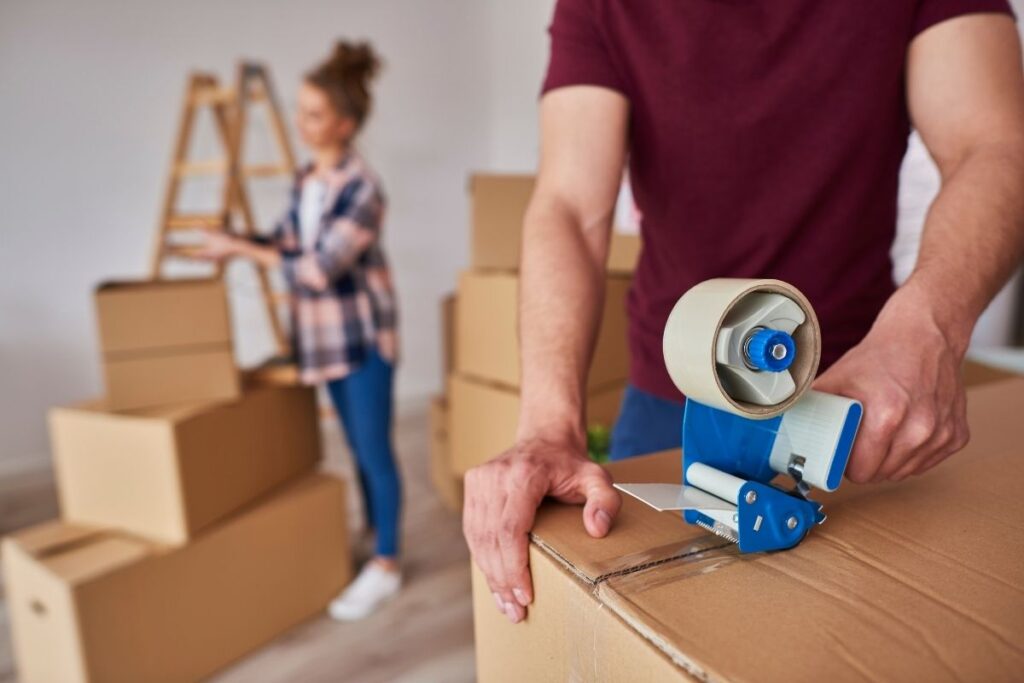 3. Have a plan to sell your current home
When you're buying and selling, it can be challenging to get the timing right. You may find yourself stuck between your new house and your old house.
It's not the most comfortable position to be in, but don't panic! If you want to sell your home quickly, list it with a trusted local real estate agent so they can help manage the sale.
While your agent is busy selling your home, you can focus on moving.
Simplify Moving: Packing Tips and Tricks
Packing for a move is often the most time-consuming part of the entire process. But if you commit to packing smart, you'll simplify and shave time off the end goal — unpacking. Here are some tips you'll thank yourself for later.
4. Thoroughly declutter
Life is messy, but your move doesn't have to be. Why pack and move with stuff you no longer need or want?
When you mindfully purge your unused or unnecessary items, you lighten your workload and the stress of packing and unpacking. So, before you assemble your first moving box, consider decluttering your space. Here are some easy places you can start:
If it doesn't fit, if it's out of style, or if you haven't worn it in over a year, get rid of it, donate it to a local charity, or offer it to friends. Being ruthless as you declutter your clothes will help you to start fresh in your new home with only the clothes that you love & actually wear.
Ditch items you wouldn't buy again
When deciding what items serve a purpose in your life, ask yourself if you'd go out and spend money on it again. If you wouldn't, you likely don't need it. 
Still not sure? Use these decluttering questions to help give you clarity on what stays and what goes.
Consider your new home a fresh start
Sorting through your belongings can start to feel like a sepia-colored trip down memory lane. Nostalgia may get in the way while you're trying to make progress on decluttering.
When the choices get hard, ask yourself if you want this item in your new space. Moving is an opportunity to start over and to achieve your decluttering goals. Get clear on your vision for your new space and let go of the things that don't support that vision.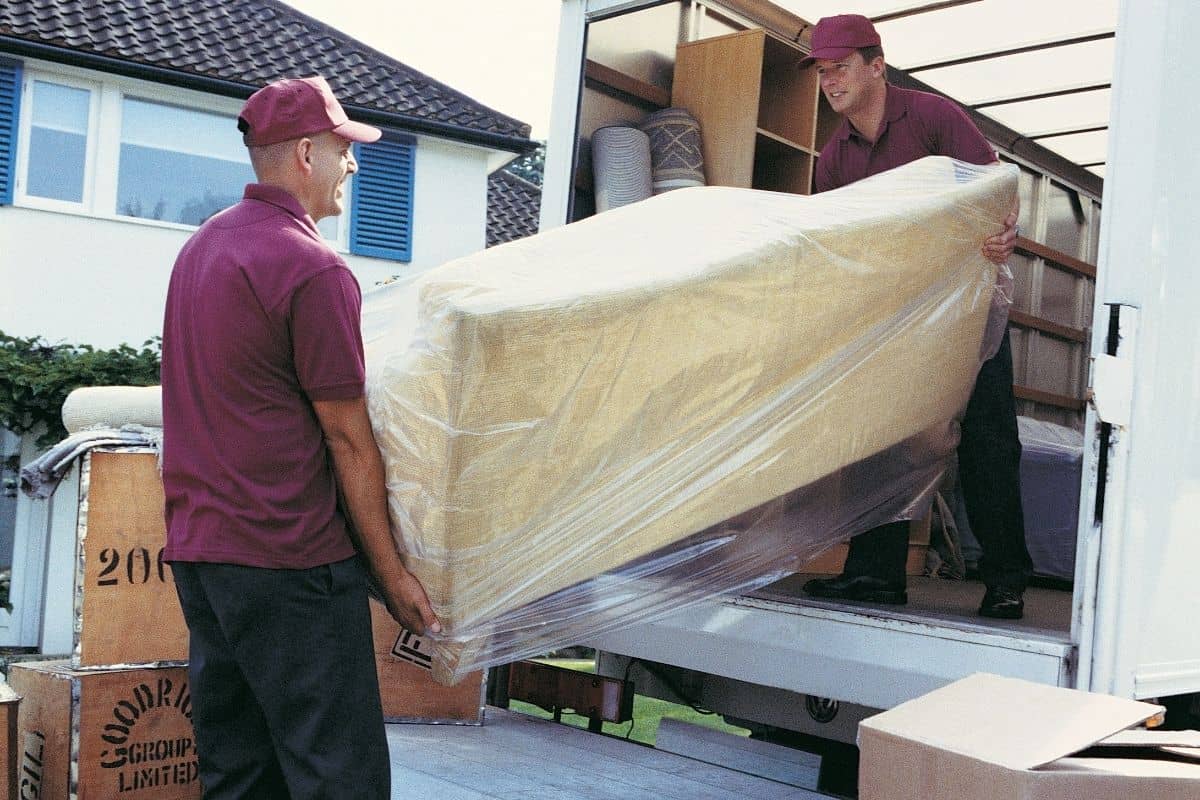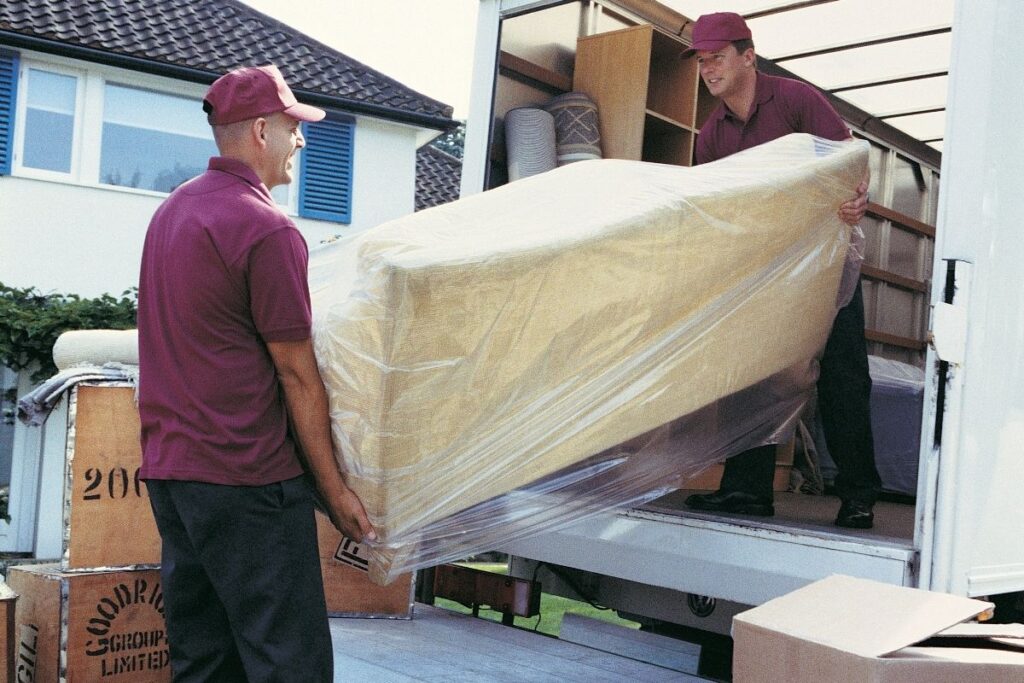 Carefully evaluate big items
One regret I have from our last move was bringing some large items that we didn't end up needing in the new house. We brought our refrigerator, washer, and dryer. Unfortunately, after moving we discovered that we couldn't use our gas dryer and had no space for the extra fridge. We'd have saved a lot of money by selling them beforehand!
Similarly, make sure you aren't bringing large furniture pieces that won't fit in the new space.
5. Pack in advance
Ideally, you'll know about your move well in advance. To spread out the workload, start as early as possible by first packing off-season items, and items you know you won't miss.
For example, if you're moving in the summer, you can pack your winter gear without inconveniencing yourself. Packing a little bit at a time is far less stressful than trying to get it all done in a week or two.
When it finally comes close to your move date, you'll already have many items packed and ready to go.
6. Stay organized
The thought of packing up an entire home can induce anxiety. To streamline the process and make unpacking easier, work to stay organized as you go.
The key to finding your stuff, later on, is to pack room by room and clearly label all boxes and containers.
As moving day approaches, pack some essentials to help you get through the first few days without having to dig through all your boxes.
Think of it like packing to go on a weekend getaway. Include things like towels, toiletries, clothing, shoes, medicine, and chargers. A little organization can go a long way. 
Make sure to clearly label that box and have it easily accessible so that you don't have to hunt for it once you arrive at your new home.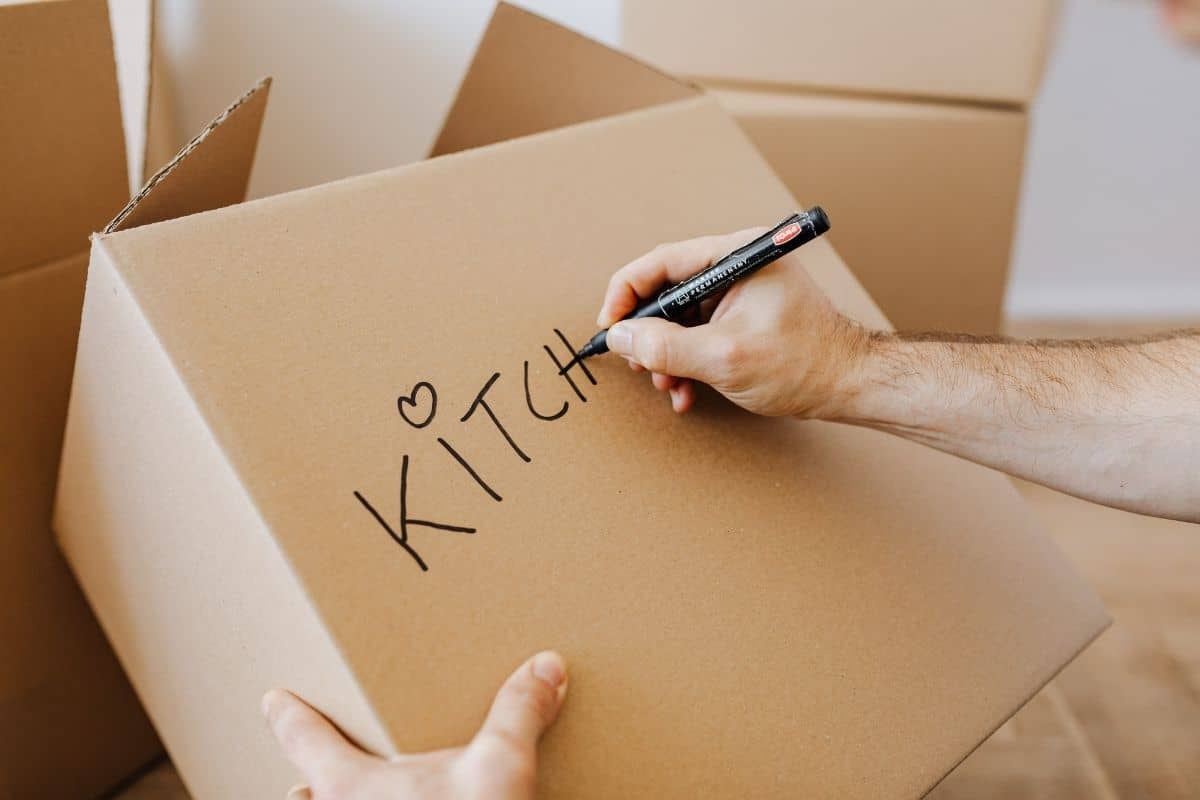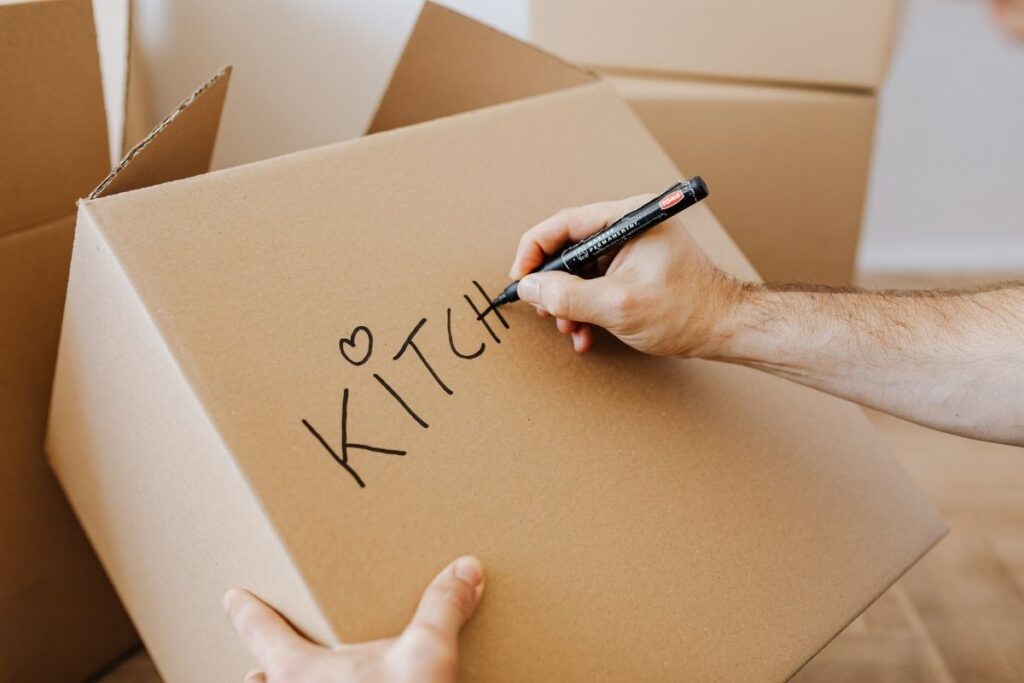 Simplify Moving: Day of Tips
7. Make moving day less stressful
It's moving day! To avoid additional stress, save time, save money, and potentially save you a headache, map out your game plan for the day.
Pack a cooler full of easy-to-go items like water bottles and small snacks to keep everyone's momentum high.
Consider what order items are being loaded into the moving truck. Have the things you don't need immediately loaded first. If you're planning to stay in your new home right away, have your beds packed last so that they will be the first items to come off the truck.
Make a plan for your children or pets. If you can arrange for your little ones or pets to be with a family member or close friend on the day of the move, that will make things less stressful. Lastly, make sure you're completely packed the day before you move.
Last-minute packing can slow the entire day and divert your focus from accomplishing the task at hand — moving into your new home.
What are your favorite simple moving tips? Share them in the comments!
It's no secret. Moving can be a complex, logistical nightmare if you haven't planned in advance. Use these moving tips and tricks to thoughtfully prepare and make the move easier on yourself. The only thing you'll have left to do is to enjoy your new home!
Sign up on the form below to get weekly decluttering and simple living tips sent straight to your inbox! You'll also get the free Declutter Plan of Attack Worksheet to help you plan the decluttering part of your moving process.