Inside: Use these tips to enjoy a simple Christmas this year. Cut back on the unnecessary and embrace the holiday season.
The holiday season is something that many of us look forward to each year. It's a time to celebrate, make memories with our families, and enjoy that Christmas magic.
But let's be honest.
The holiday season can also be completely overwhelming.
Think about it. There's a lot going on. You decorate the house, buy gifts for everyone on your list, prep food for the holiday potluck, block time for your niece's Christmas choir presentation, squeeze in family vacations – and more.
All while working, paying your bills, and maintaining all of life's normal obligations.
By the time the new year rolls around, it's easy to end up more stressed out and anxious than you were when it started.
If this sounds familiar, consider taking a different approach to the holiday season this year. Embrace the mentality of less is more and embrace the idea of a simple Christmas.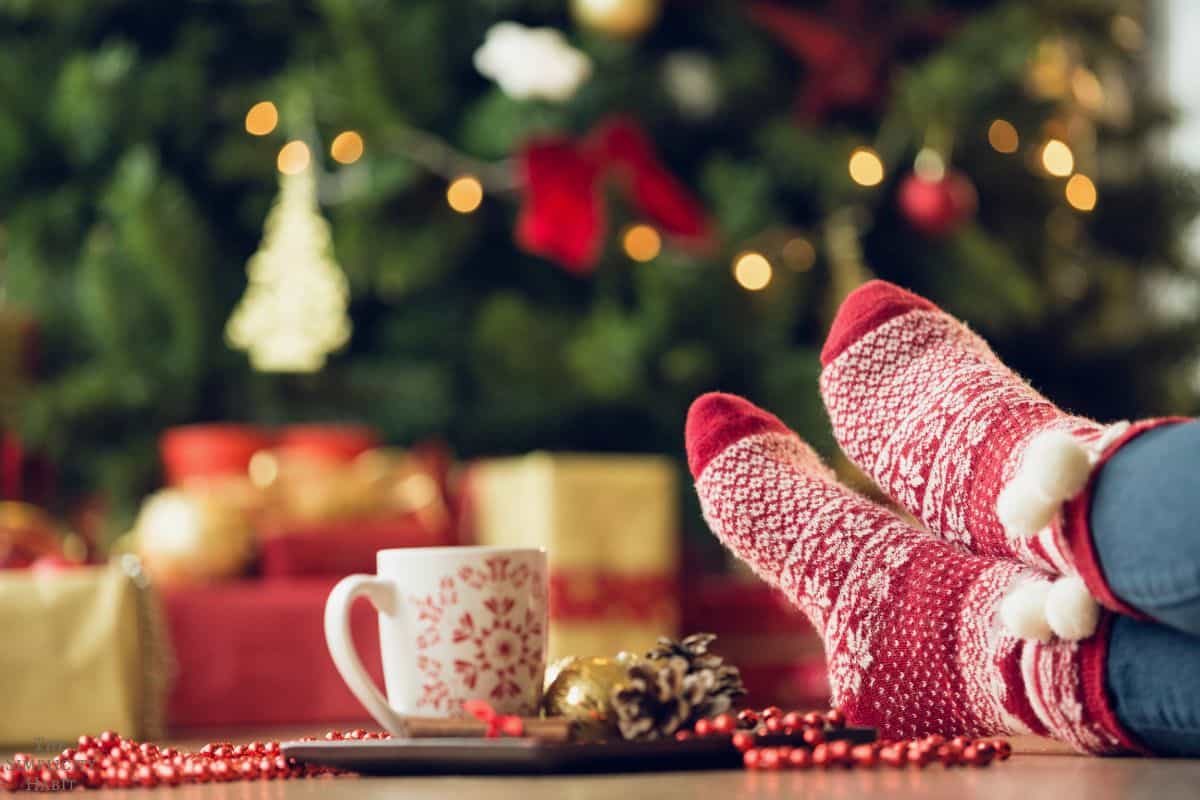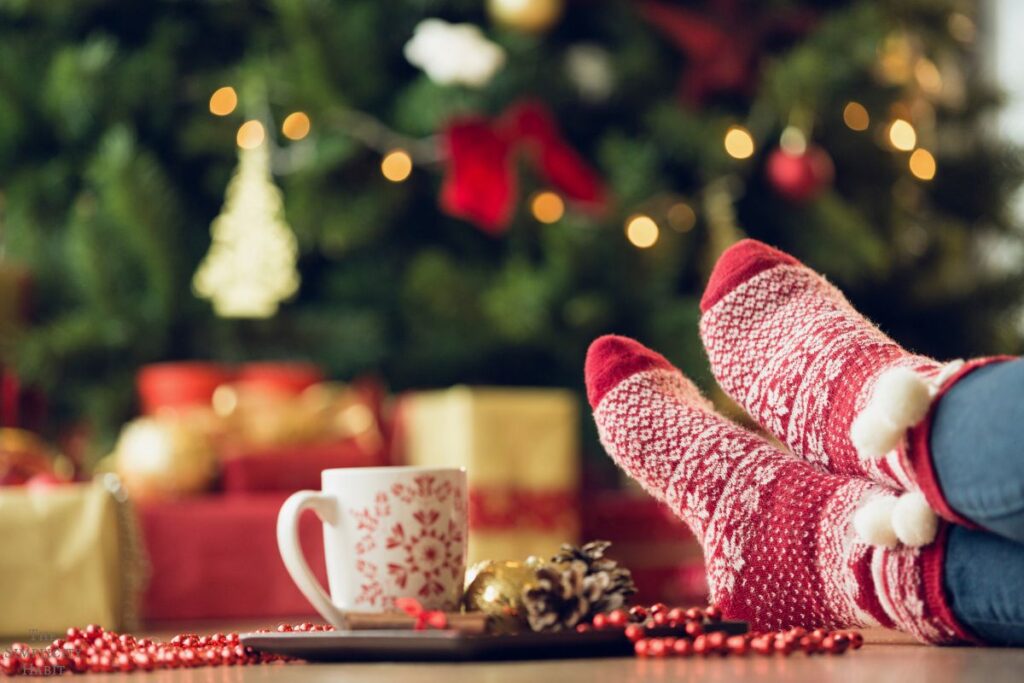 Why a Simple Christmas Can Be a Better Christmas
To some, the thought of a simpler Christmas might sound… boring.
To be fair, if you grew up thinking that Christmas is this incredibly over-the-top celebration – that expectation can carry on well into adulthood.
If your calendar isn't filled with every event imaginable, are you really celebrating?
If you don't buy your child every single gift on their holiday wishlist, are you really making their Christmas morning a magical experience?
What if you don't cover your house top-to-bottom with red and green decor, does it really feel like Christmas?
But you can absolutely embrace the concept of a simple Christmas and get just as much out of the holiday season as those who take a more over-the-top approach.
You just have to be intentional and remind yourself that you're focusing on the things that truly matter to you and your family – not the things that the media says are important.
But by shifting your mindset away from the chaos that has characterized your holiday seasons in years past and, instead, focusing your energy on the things that matter most, you'll find a simple Christmas is easier to achieve than you ever thought – and more fulfilling than you could've imagined.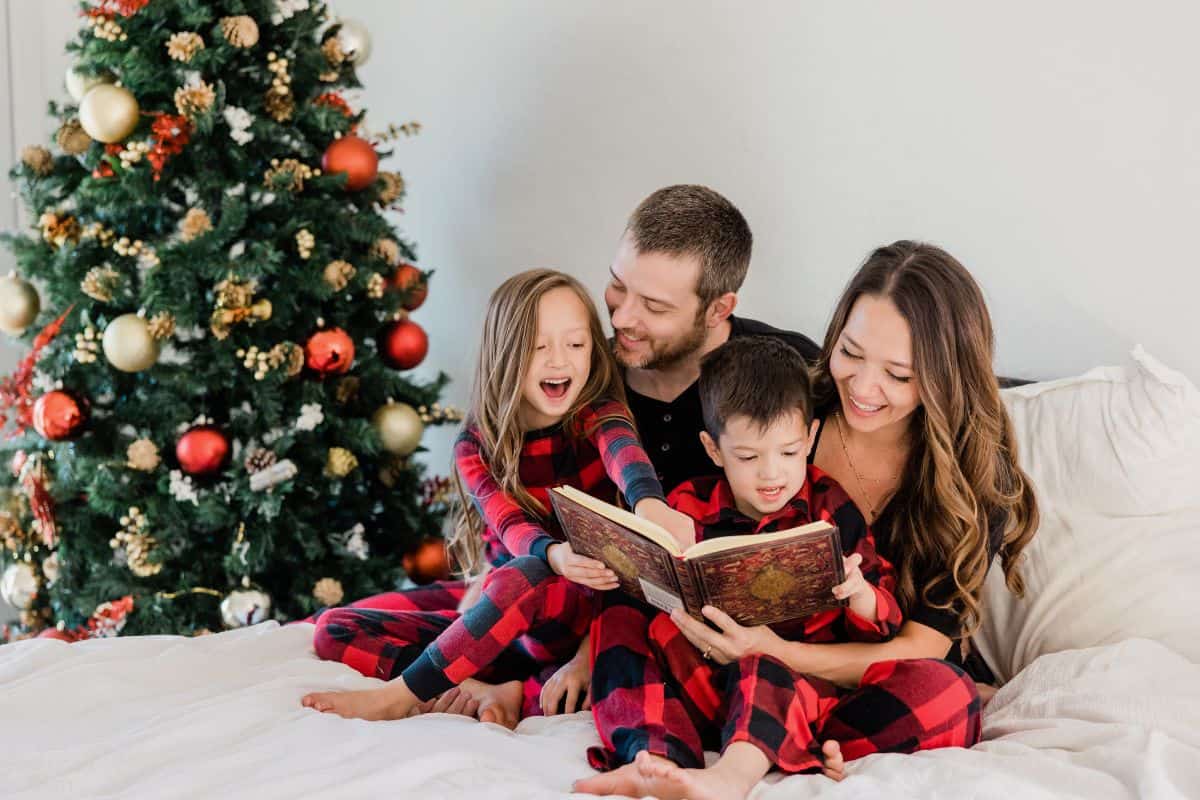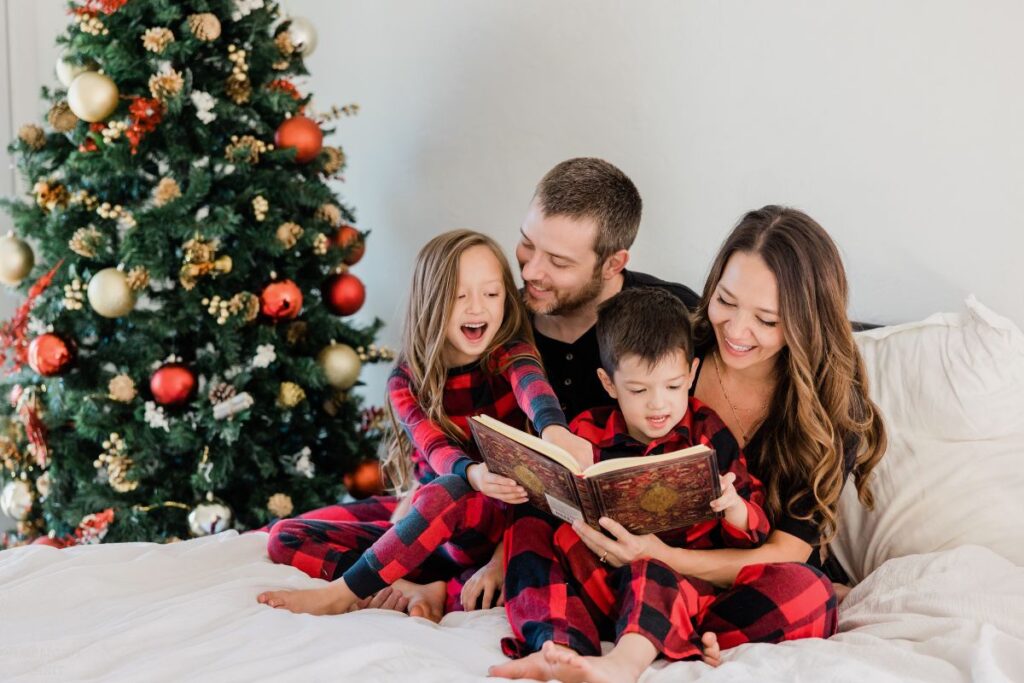 Easy Ways to Enjoy a Simpler Christmas This Year
If you're used to an overwhelming holiday experience, figuring out how to enjoy a simple Christmas might be harder than it should be. But don't worry – it doesn't have to be difficult.
Keep these ideas in mind as you plan your simple Christmas, and you might be surprised to see how easy – and fulfilling – keeping it simple can be.
1. Focus on meaningful experiences, not things.
One way to truly enjoy a simple Christmas is to focus your efforts this holiday season on making memories – with yourself, and with those you love.
By prioritizing meaningful experiences instead of stuff, you can truly keep the season simple while still enjoying yourself and making it special for those around you.
Not sure what that looks like? Here are a few ideas:
Fill a thermos with hot cocoa and drive – or walk – around your neighborhood to admire the Christmas lights.
Cozy up in front of the fireplace and read Christmas books with your kids, or enjoy some reflective journaling by yourself.
Put on a holiday playlist and bake something sweet, then gift it to a neighbor or friend.
Volunteer your time and give back to your community.
Pop some popcorn and watch a Christmas movie marathon.
Looking for more ideas? Check out this post on simple and frugal family holiday traditions.
Some of my favorite childhood holiday memories involve cutting down our Christmas tree, baking cookies with my mom to give to neighbors, and searching for our presents on Christmas morning.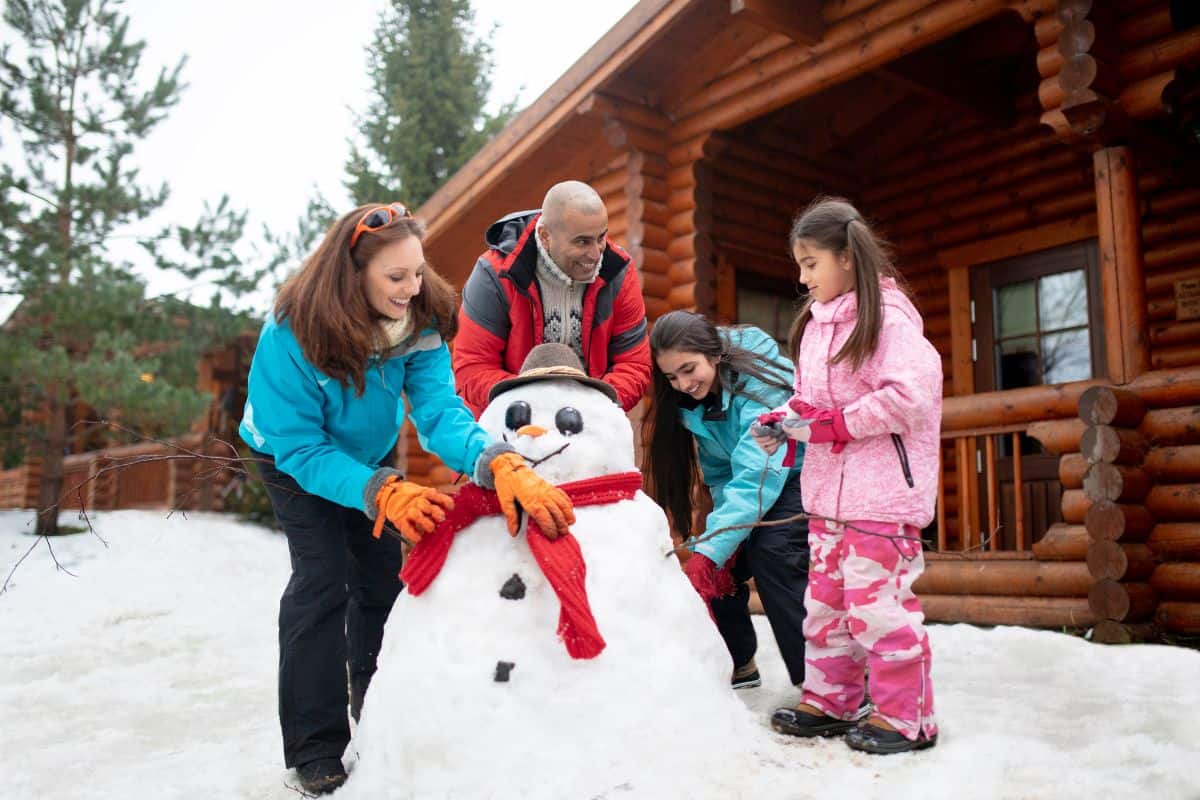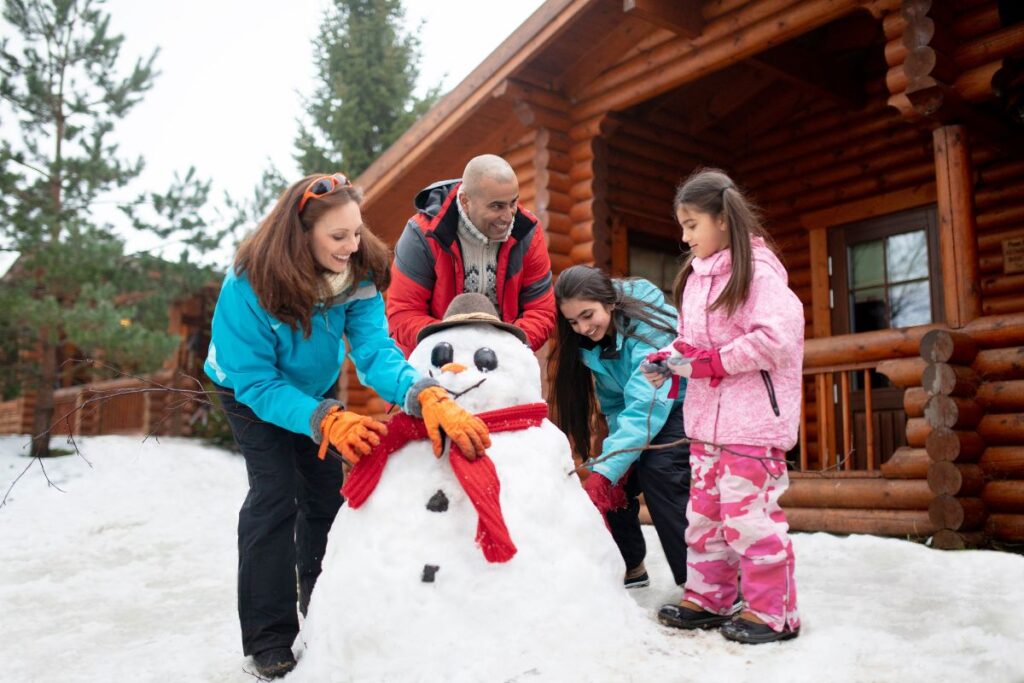 2. Set your intentions for the holiday season.
An easy way to set the right tone for your simple Christmas is to spend some time thinking about your intentions for the season.
What is it that you hope to achieve? What are your goals? How do you want to feel? What is most important to you? What do you want to focus on?
Those things could be…
Making meaningful memories with friends and family.
Taking time to slow down and reflect on your growth from last year.
Spreading kindness and joy.
Stress less and stay present.
By setting your intentions at the start of the season and using them to guide your actions over the following weeks, you might be less tempted to stray from your simple Christmas goals – and more at peace with the holidays.
Focusing on the heart and meaning of Christmas will help you to be more purposeful this holiday season.
Fill out the form at the end of this post to get your free Simplify the Holidays planner to write down your priorities for the holidays this year.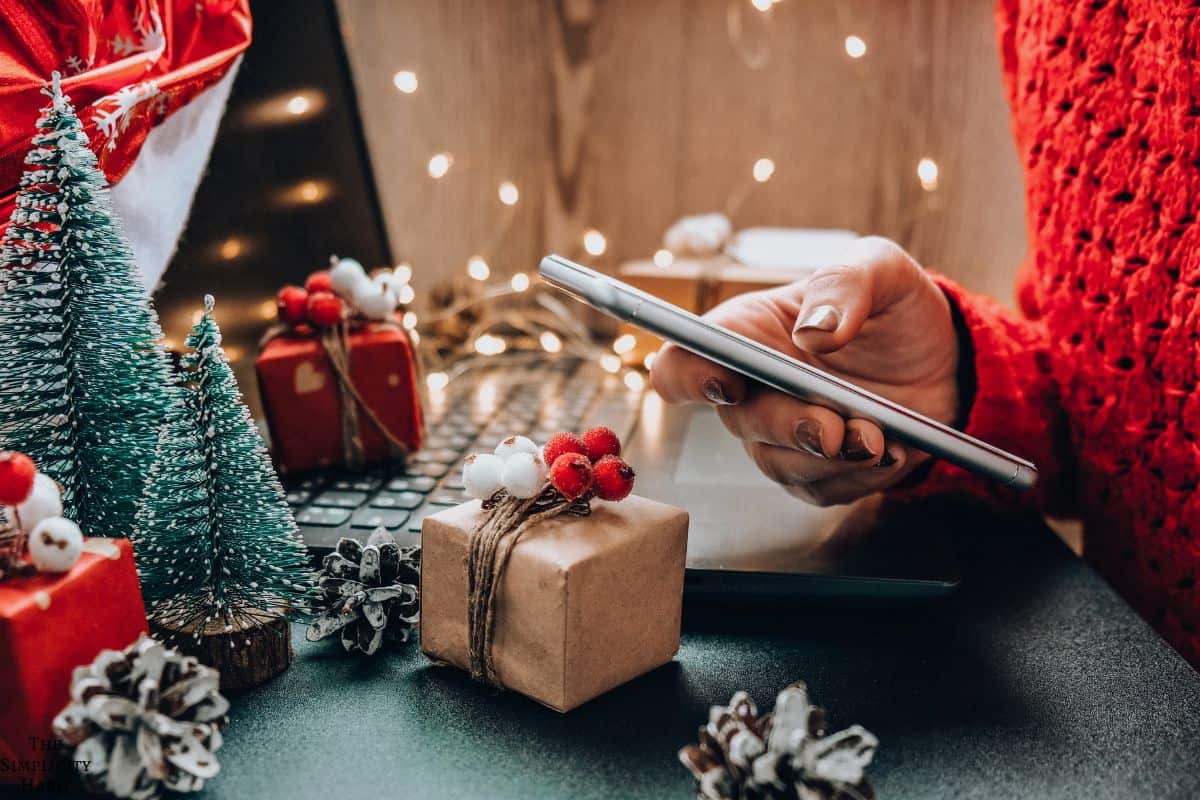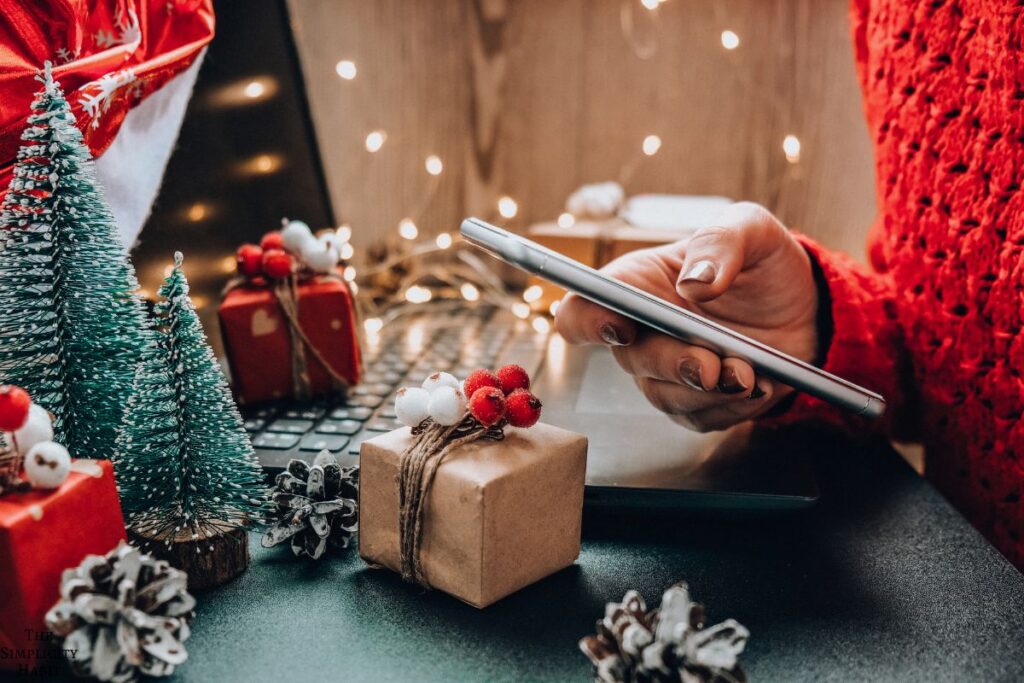 3. Set a Christmas budget – and stick to it.
It's easy to let shopping and spending get slightly out of control when the holiday season rolls around – and it's easy to see why.
The holiday season has become synonymous with gift-giving, and it can be hard to resist the endless deals and sales, as well as the pressure to buy everyone on your list the perfect gift.
For a simple Christmas – and a holiday season that doesn't wreak havoc on your bank account – recognize that temptation before you go into the season and get ahead of it.
Instead, have open conversations with family members ahead of time about gifts and expectations. To have a simpler Christmas, you may opt to forego exchanging gifts with some people this year and enjoy an experience together instead.
Or you may choose to do a gift exchange where you each buy for only one extended family member. There are a lot of creative options to simplify gift-giving this holiday season.
Next, make your shopping list and set your holiday budget before the holiday season is in full swing. If you're looking for some inspiration, check out this post with clutter-free gift ideas for all ages.
Decide who you're shopping for and how much you'd like to spend, and come up with some gifts they might appreciate.
And don't let yourself be swayed by the endless ads, sales, and discounts if you want to avoid holiday debt this year.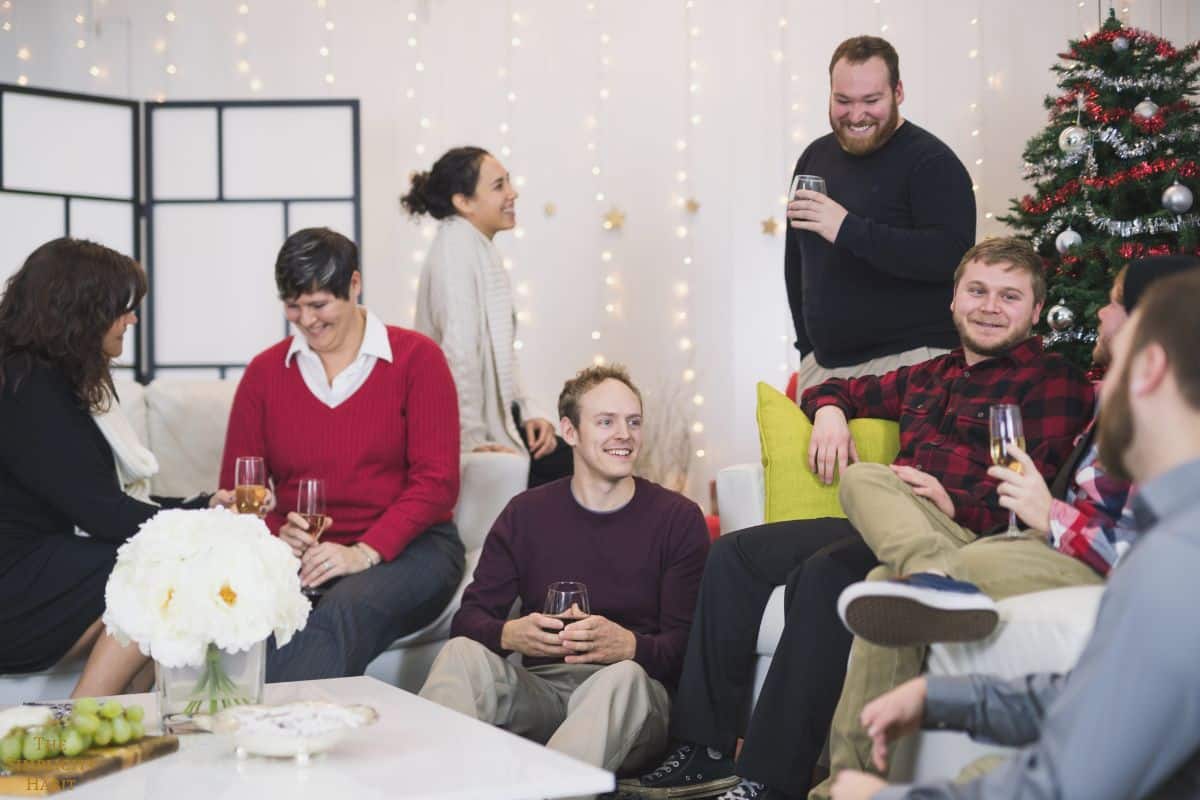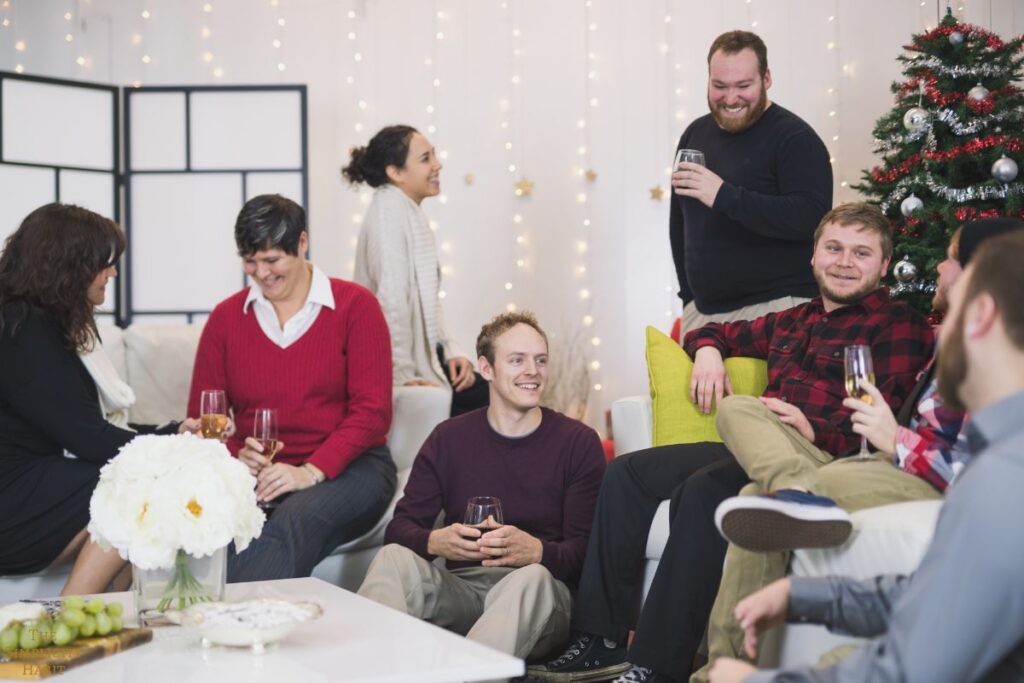 4. Keep social obligations at a minimum.
The holiday season is widely considered a time to gather with friends and family and celebrate the end of another year.
But all those celebratory dinners, potlucks, holiday parties, concerts, pageants, and performances can get overwhelming and leave you utterly exhausted as you approach the end of the year.
If you want to enjoy a simpler Christmas, don't overcommit yourself. Instead, be intentional about what obligations you agree to – and don't feel bad declining an invitation.
Attend the events that feel meaningful and bring you joy, and skip the ones that feel more like a chore than a celebration.
Part of practicing self-care during the holiday season is being intentional with your time and commitments. It's far too easy to have your schedule jam-packed in the month of December.
By purposefully protecting your time you can enjoy a simple Christmas this year.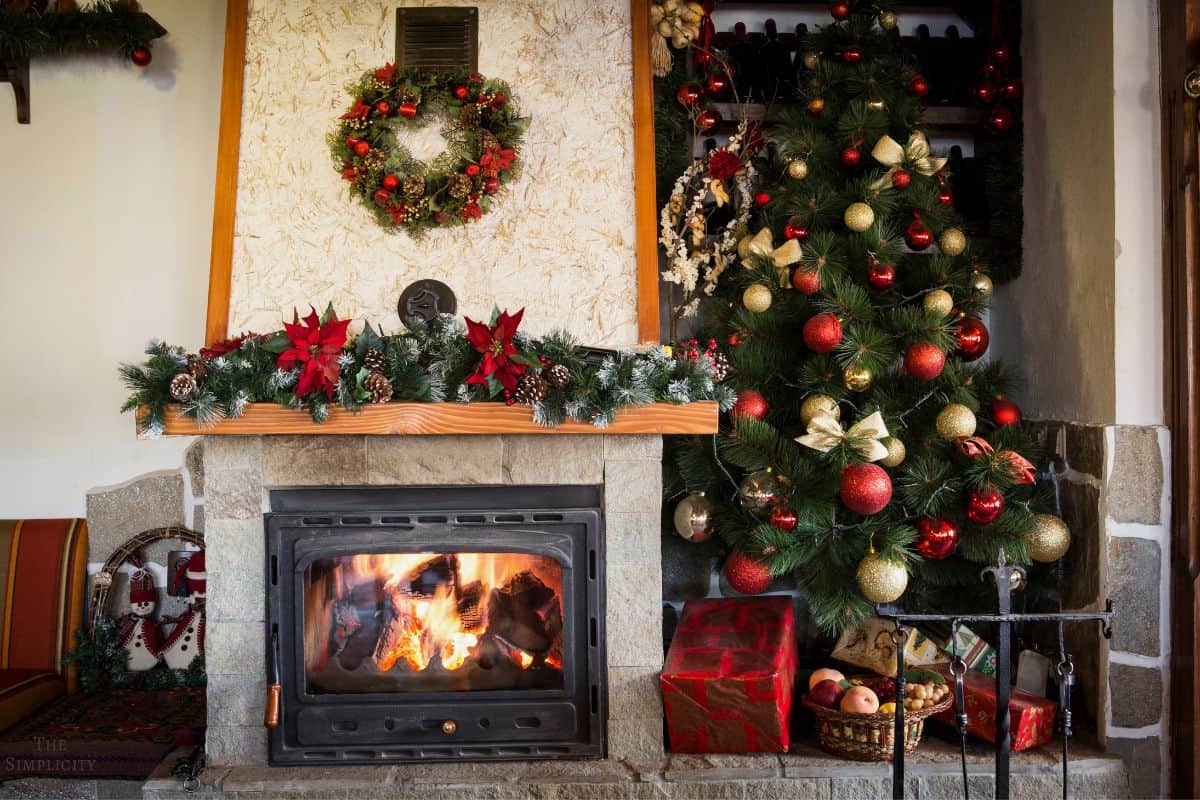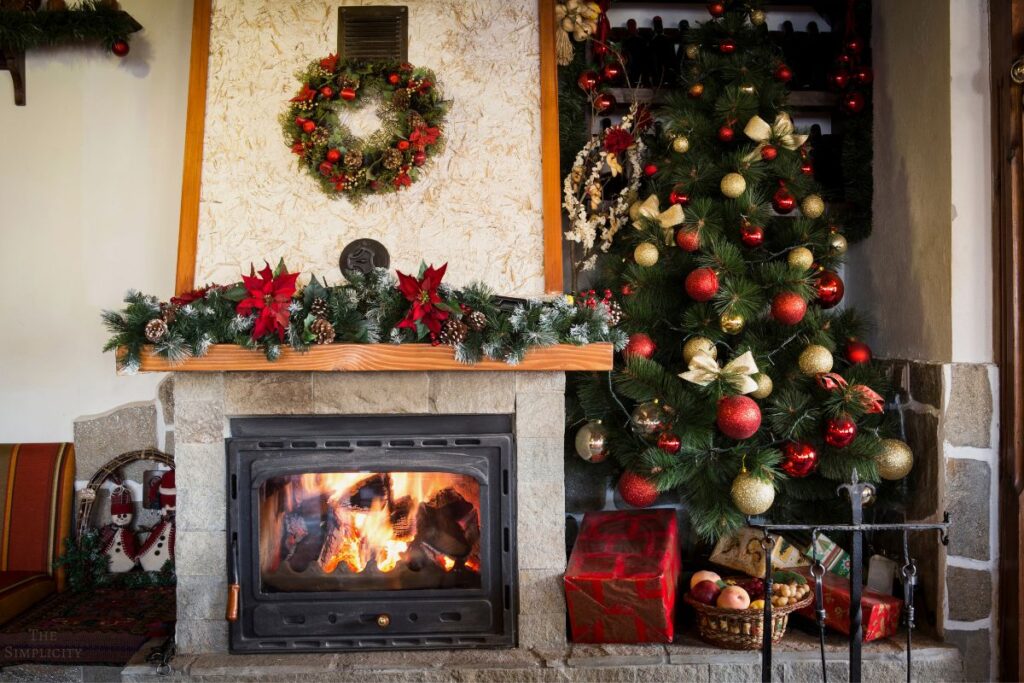 5. Don't go overboard with holiday decor.
When Christmas rolls around, it's easy to go all-out when it comes to decorating your home.
We haul out boxes and boxes of lights, ornaments, garlands, displays and figurines, wreaths, candles, and more – and we cover every spare square inch of space, inside and out, with red-and-green everything.
Not only does it take a ton of time and energy to put all of that stuff out, but you've got to clean it all up at the end of the season.
If it truly brings you joy, then, by all means, decorate to your heart's content. But if you're looking to enjoy a simple Christmas this year, consider simplifying holiday decor.
By dialing the decorations back and sticking to a simpler holiday aesthetic you can focus on the pieces that bring you the most joy.
Put your favorite pieces on display and leave the others in storage – or pass them on to someone in need who could use a little holiday cheer.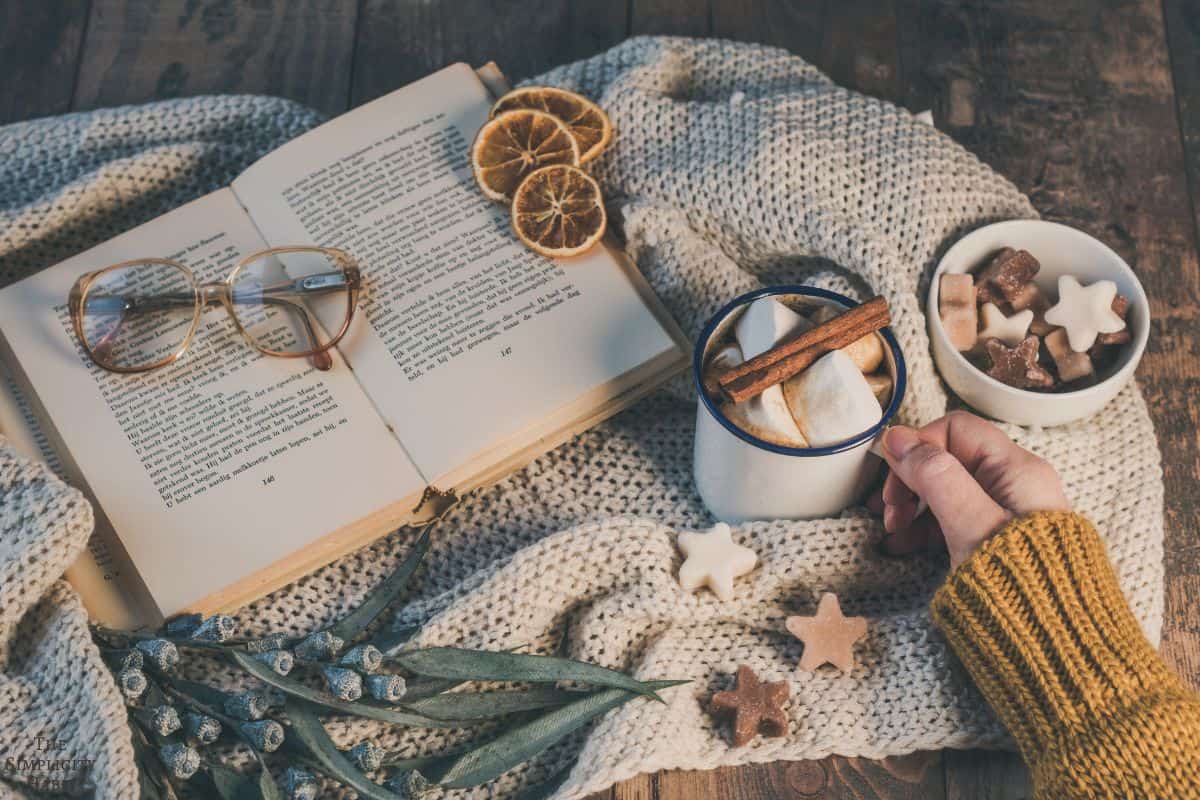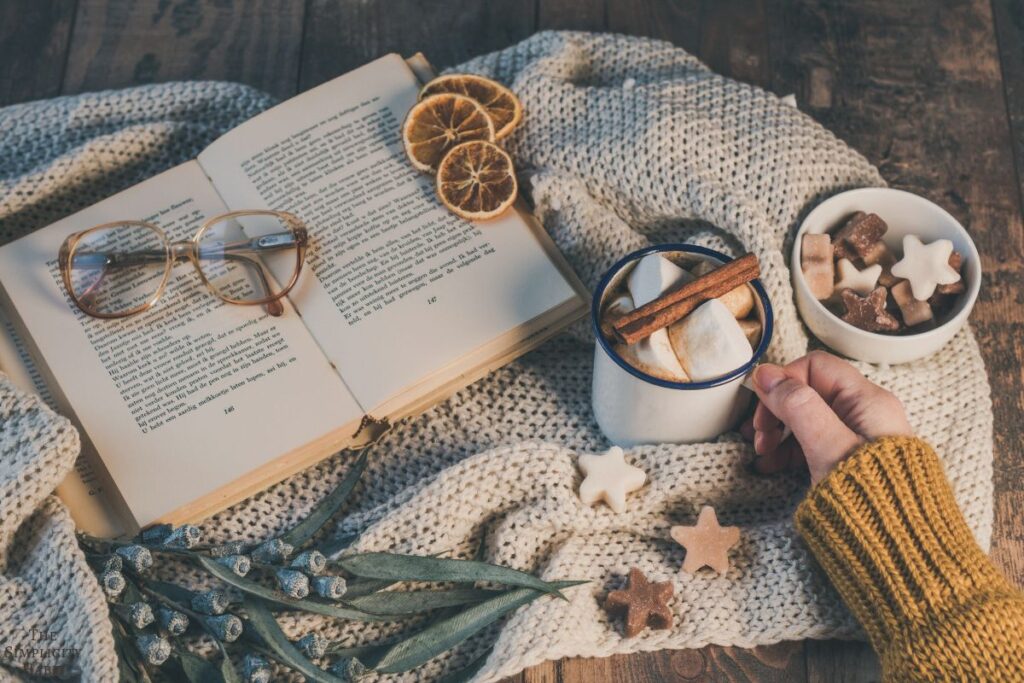 How do you keep Christmas simple? Leave a comment and let me know!
Sign up on the form below to get weekly simplifying tips and inspiration sent straight to your inbox! You'll also get the free Simplifying the Holidays Planner to help you focus on what's most important this holiday season.