This is a summary and review of the Ultimate Productivity Bundle for 2019.
As someone who loves goal setting and planning, I was so excited to see that they added this category. I'll review the Ultimate Productivity Bundle by summarizing what's in it and then highlight some of the things I am most excited about.
As a (first time) contributor to this bundle, I was able to check it out early and look over all of the resources. The fact that it includes options for planning, time management, goal setting and planning, home management and productivity already had me sold as I love all of those topics! If you are looking to live more intentionally, there are so many resources in this bundle to help you.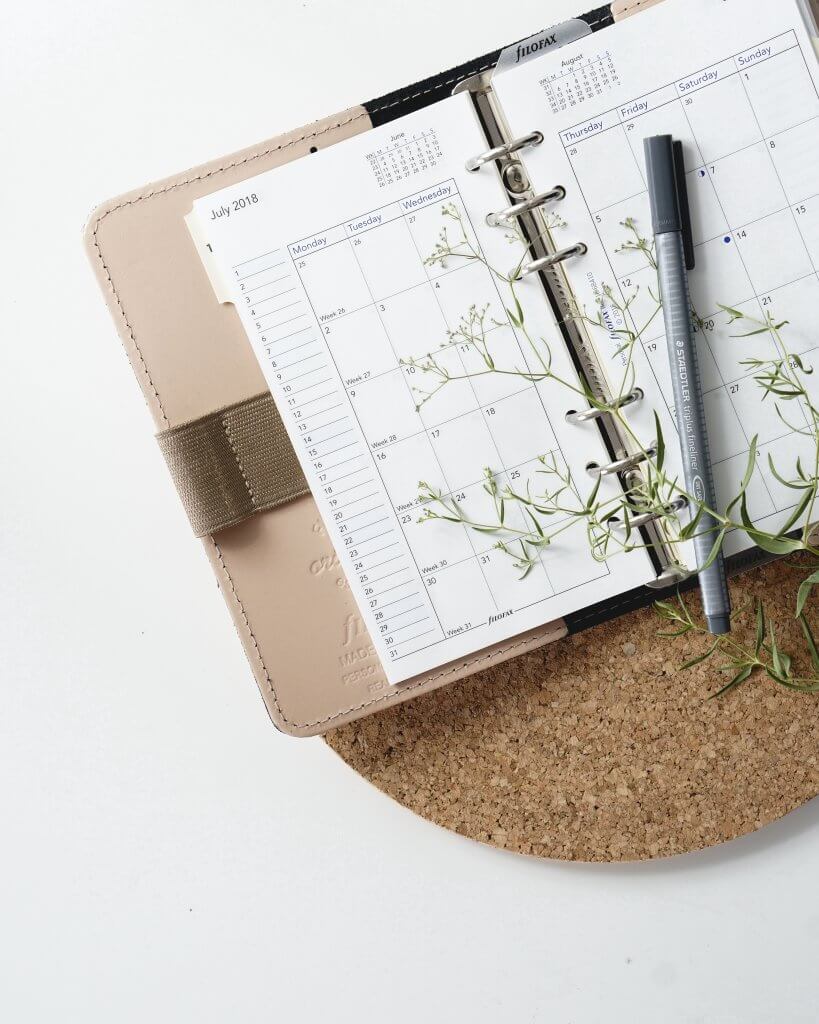 Why Ultimate Bundles
This post contains some affiliate links for your convenience (which means if you make a purchase after clicking a link I may earn a small commission but it won't cost you a penny more)! Please note that I only recommend products I use and love. Click here to read my full disclosure policy.
I chose to partner with Ultimate Bundles because I had first checked out their products as a customer of the homemaking bundle last year. After seeing the quality of resources that were offered for such a reasonable price, I decided to become an affiliate (also because that meant I could buy future bundles at a discounted rate ;)).
I have since purchased 2 other bundles from them and have never been disappointed. It should be noted, I have high standards and I'm cheap thrifty.
When they announced this new category, I knew I wanted to contribute to it. You can read more about the product I created that is part of the bundle by reading this post on how to simply and effectively plan your day.
What's included in the 2019 Ultimate Productivity Bundle:
14 eCourses
5 eBooks
26 printable packs & workbooks
1 summit
Value: 46 products worth $1,506.90
So while the total value of the products is over $1,500 I also realize it's highly unlikely one person would purchase all of the individual resources. However, they price the bundles so low that even if you are only interested in a few of the products, you are saving money by purchasing the whole thing! $49 is about the price of 1 designer planner.
Who is it for?
The bundle offers information and direction to anyone who wants to improve in the areas of productivity, home management, time management or goal setting. That said, there are quite a few resources directed at moms and a few of them to Christian moms specifically.
Part of what I love about this bundle is that there are great options for stay at home moms, work from home moms, working outside the home moms, and homeschooling moms. Each of those scenarios has unique challenges so it's great that there are some resources that can adapt to all of those situations and others more geared toward those specific lifestyles.
If you aren't a mom or are an empty nester, you will still find helpful resources in the bundle that you apply to your life. If you are a guy, you aren't the intended audience so my best advice would be to get it if you want to gift it.
Check out the details for the 2020 Ultimate Productivity Bundle HERE.
Daily Planners
If you are a planner person, you'll love the number of options included. There are various styles, layouts, and design options depending on your taste and how your brain works. If you are like me and aren't sure if you are totally a planner person, there are checklists and daily activity planner options for you.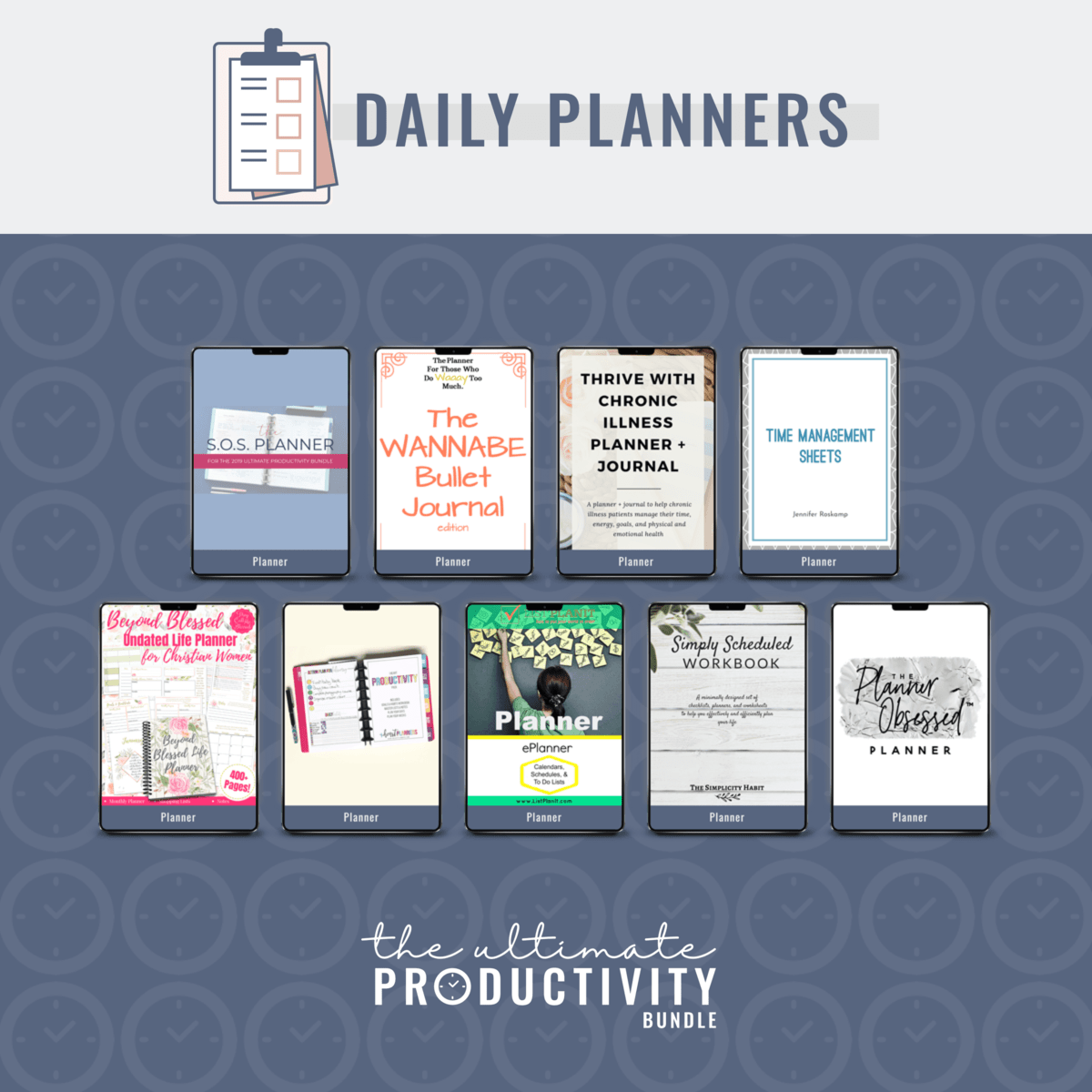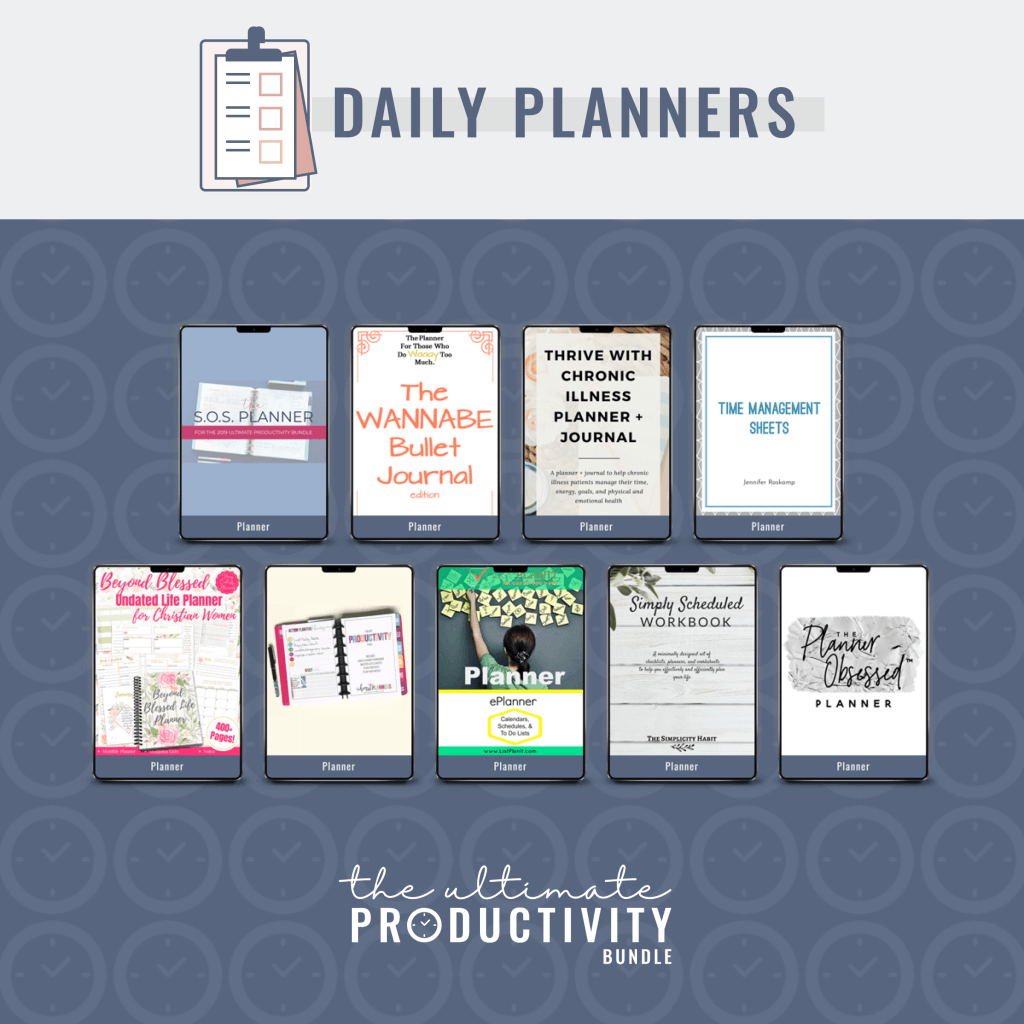 Beyond Blessed Life Planner for Christian Women by Ana Willis ($17.00)
(Planner) The Beyond Blessed Life Planner is the most complete and Christ-centered undated Printable planner to help you take your life from good to beyond blessed now and in the years to come!
I Heart Productivity Pack by Laura Smith ($34.00)
(Planner) This printable productivity pack is designed to walk you through the process of setting goals that really stick and then track your progress.
Planner ePlanner: Calendars, Schedules & To Do Lists by ListPlanIt ($10.00)
(Planner) Planner ePlanner has what you need to record the To Dos that bring clutter to our minds and our lifestyle. Learn how to record and prioritize your schedules and to dos to make the best use of your time.
Simply Scheduled Workbook by Julianna Poplin ($27.00)
(Planner) A minimally and elegantly designed set of checklists, planners, worksheets, and calendars to help you plan your life efficiently and effectively.
The Planner Obsessed™ Planner [The Silver Edition] by Carlie & Hannah Kercheval ($15.00)
(Planner) The Planner Obsessed™ Planner will help you get your life organized, all while creating the habits to make your life the best it can be.
The S.O.S. Planner by Kayse Pratt ($29.00)
(Planner) The S.O.S. Planner gives you back your time, schedule, and sanity, by helping you organize every aspect of your life.
The Wannabe Bullet Journal: A Loosely-Structured Weekly Planner For Those Who Need Both Freedom & Organization by Ronni Peck ($4.99)
(Planner) The half-page Bullet Journal Wannabe for those who wish they could could bullet journal but need a little more structure.
Thrive with Chronic Illness Planner + Journal by Tanya at Mom's Small Victories ($17.00)
(Planner) Designed to help chronic illness patients manage their time and energy, break down their goals, and work to improve their physical and emotional health.
Time Management Sheets by Jennifer Roskamp ($18.00)
(Planner) Get more done in less time. More than just tracking sheets, Time Management Sheets are a system unlike any other where you will use your time the most efficient way possible.
Check out the details for the 2020 Ultimate Productivity Bundle HERE.
Home Management Planners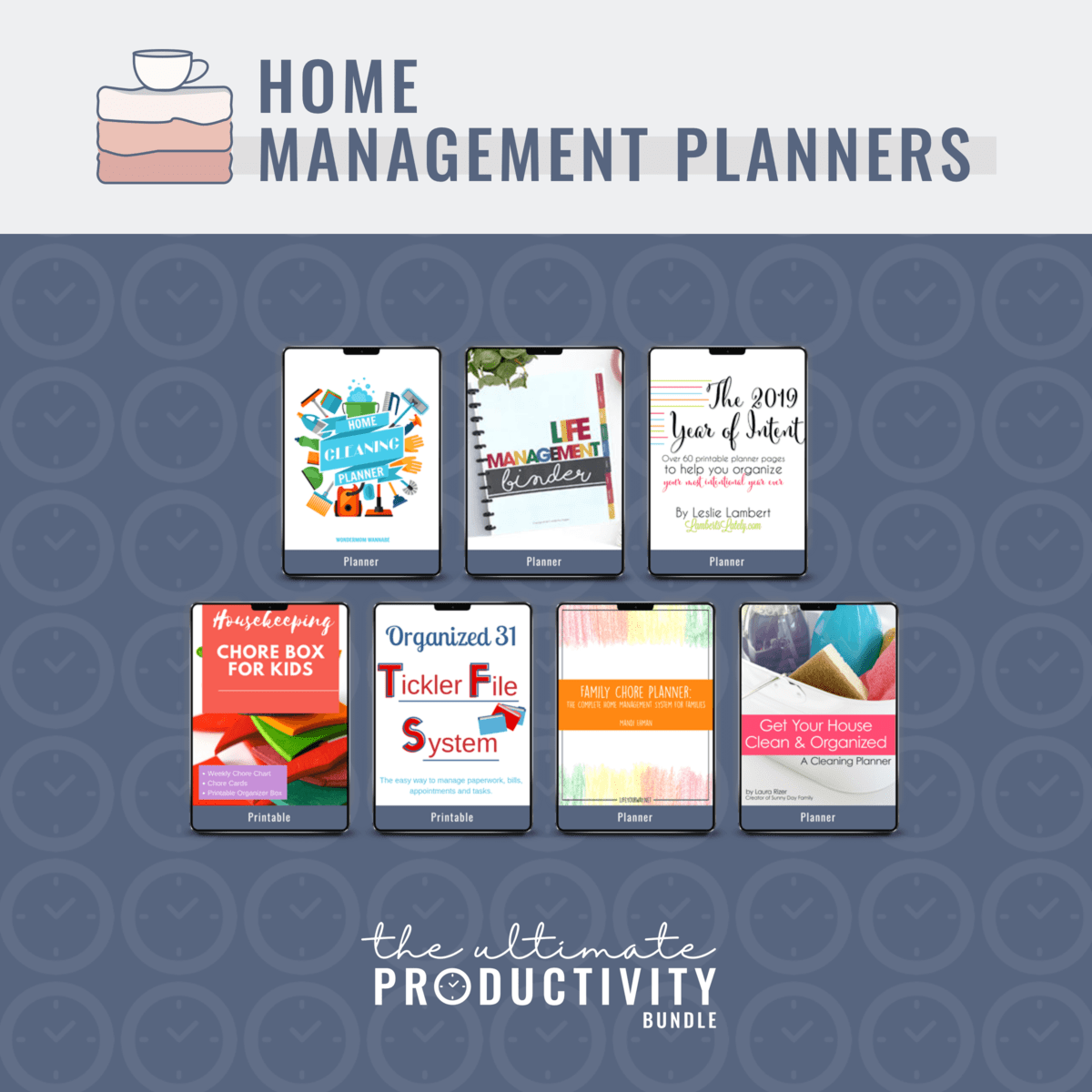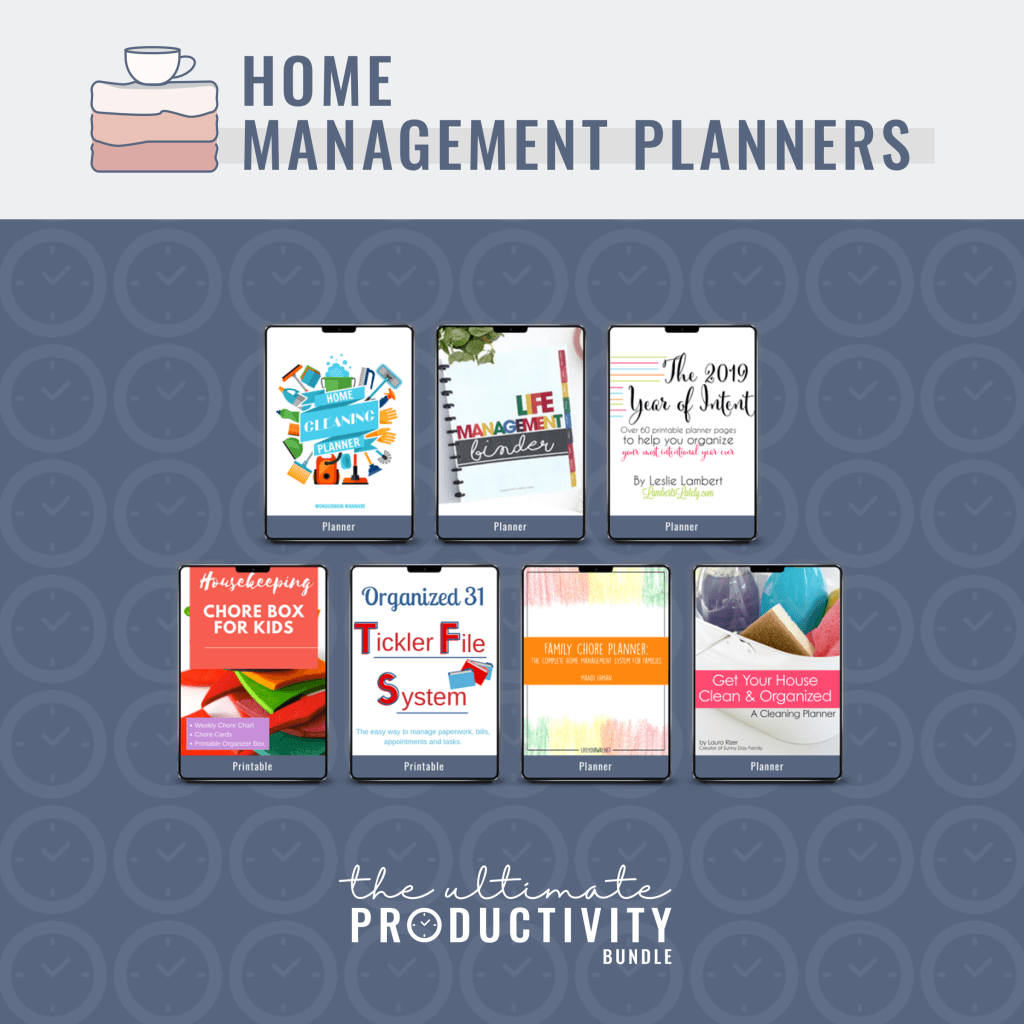 Family Chore System & Planner by Mandi Ehman ($17.00)
(Planner) The Family Chore System & Planner from Life Your Way is a unique system designed to help families work together to stay on top of the daily, weekly and monthly chores as a team.
Get Your House Clean and Organized: A Cleaning Planner by Laura Rizer ($7.99) (Planner) This planner will help you get organized and streamline your cleaning tasks so that you can create a routine that's right for you.
Home Cleaning Planner by Corinne Schmitt ($4.99)
(Planner) The Home Cleaning Planner comes with checklists and planning sheets to help you get (and keep) your entire home clean both inside and out!
Housekeeping Chore Box for Kids and Famlies by Kemi Quinn ($9.00) (Printable) Kemi Quinn wants to help you set up an Awesome system of housekeeping that includes your children and can grow with them.
Life Management Binder by Heather Moritz ($24.00)
(Planner) Giving you the ability to track all aspects of your life, the Life Management Binder will not only help you get your home-life in order, but help you feel like an organizational rock-star!
Organized 31 Tickler File System: The Easy Way to Manage Paperwork, Bills, Tasks and Appointments by Susan Santoro ($3.99) (Printable) Makes it simple to keep track of, anticipate and complete all time-sensitive paperwork, bills and tasks on-time and with less stress.
Year of Intent by Leslie Lambert ($15.99)
(Planner) A huge collection or organizational printables that let you build a custom planner that fits your needs.
Check out the details for the 2020 Ultimate Productivity Bundle HERE.
Home Management Resources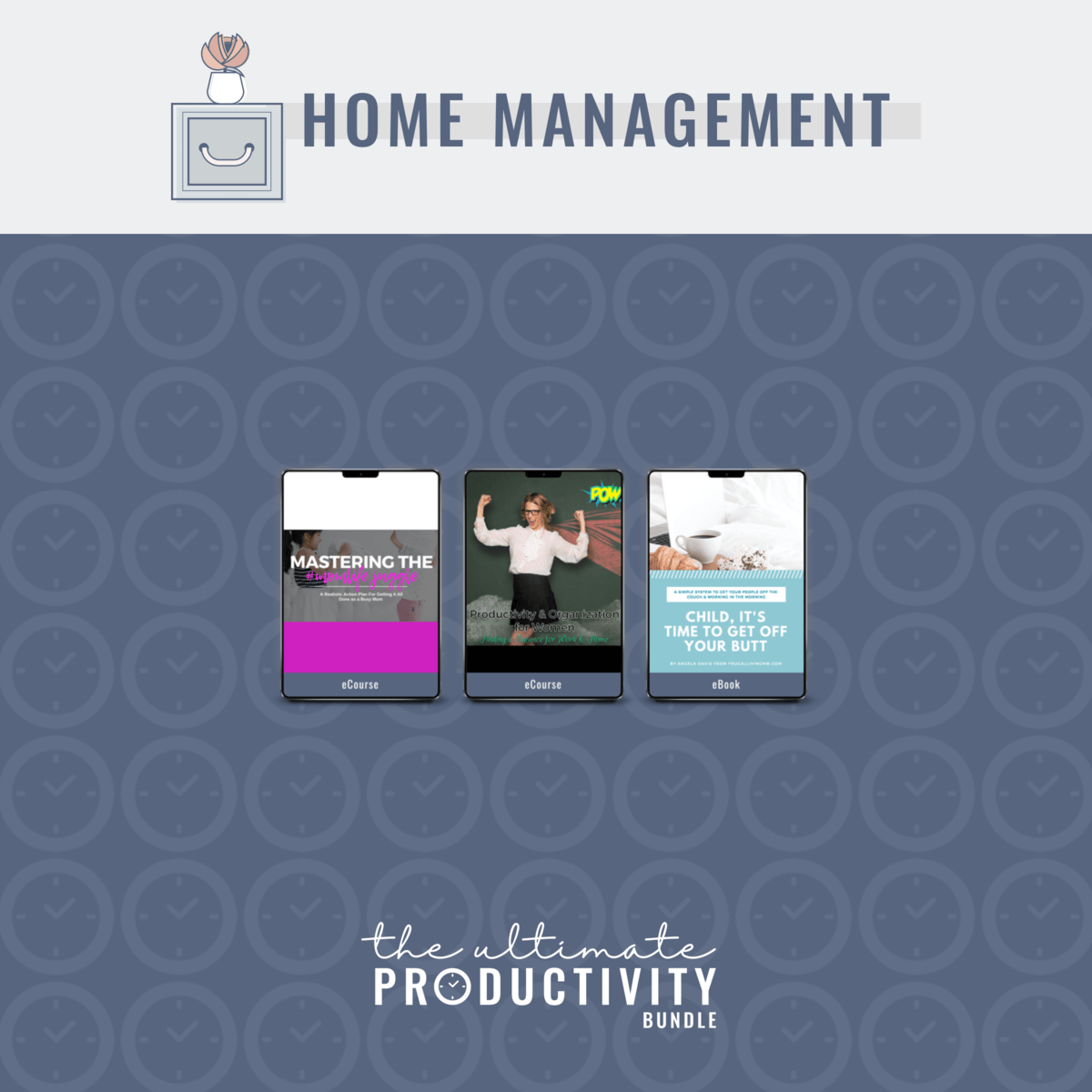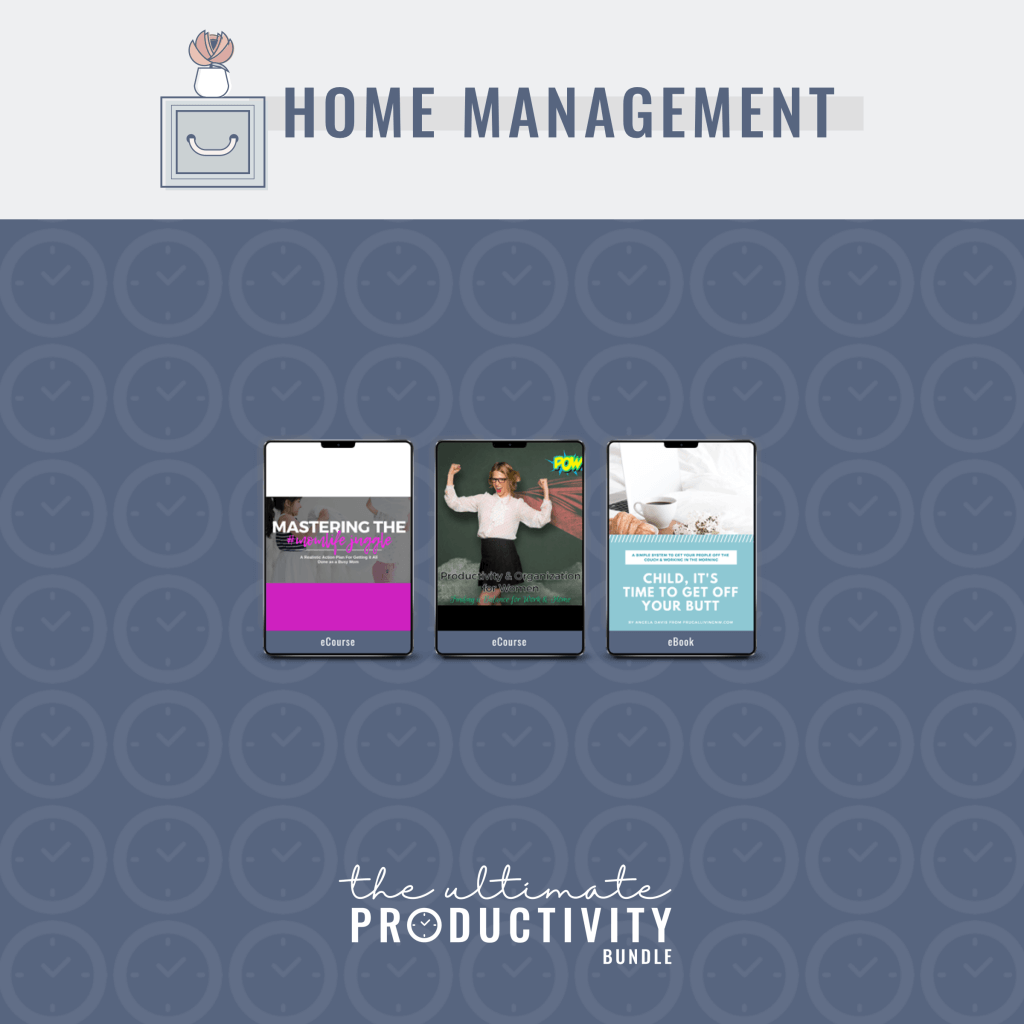 Child, It's Time to Get Off Your Butt: A simple system to get your people off the couch, ready for the day, and your home maintained. by Angela Davis ($7.00)
(eBook) A simple system to get your people off the couch, ready for the day, and your home maintained.
Mastering the #MomLife Juggle: A Realistic Action Plan For Getting it All Done as a Busy Mom by Brianna Berner ($67.00)
(eCourse) Learn the incredibly simple secrets to mastering the #momlife juggle so you can get more done in less time, be more present with your family, and start living a life that you're wildly passionate about.
Productivity & Organization for Women by Cheri Chin ($49.00)
(eCourse) This course is designed especially for working, busy, women who want to also have a home that is organized and free of chaos. Learn decluttering tips, ways to efficiently grocery shop, and even how to organize files on your computer in four weeks!
Check out the details for the 2020 Ultimate Productivity Bundle HERE.
Goal Setting Resources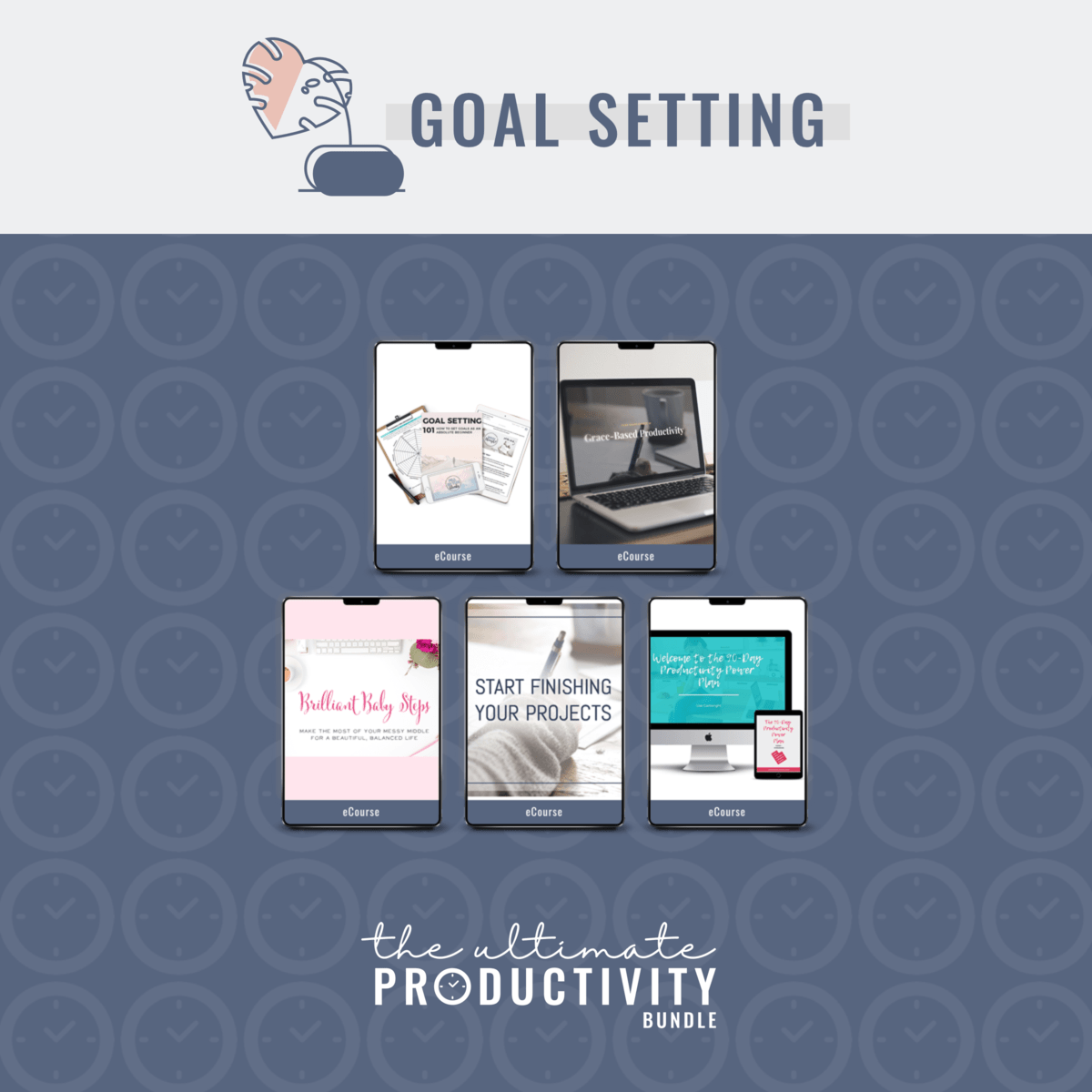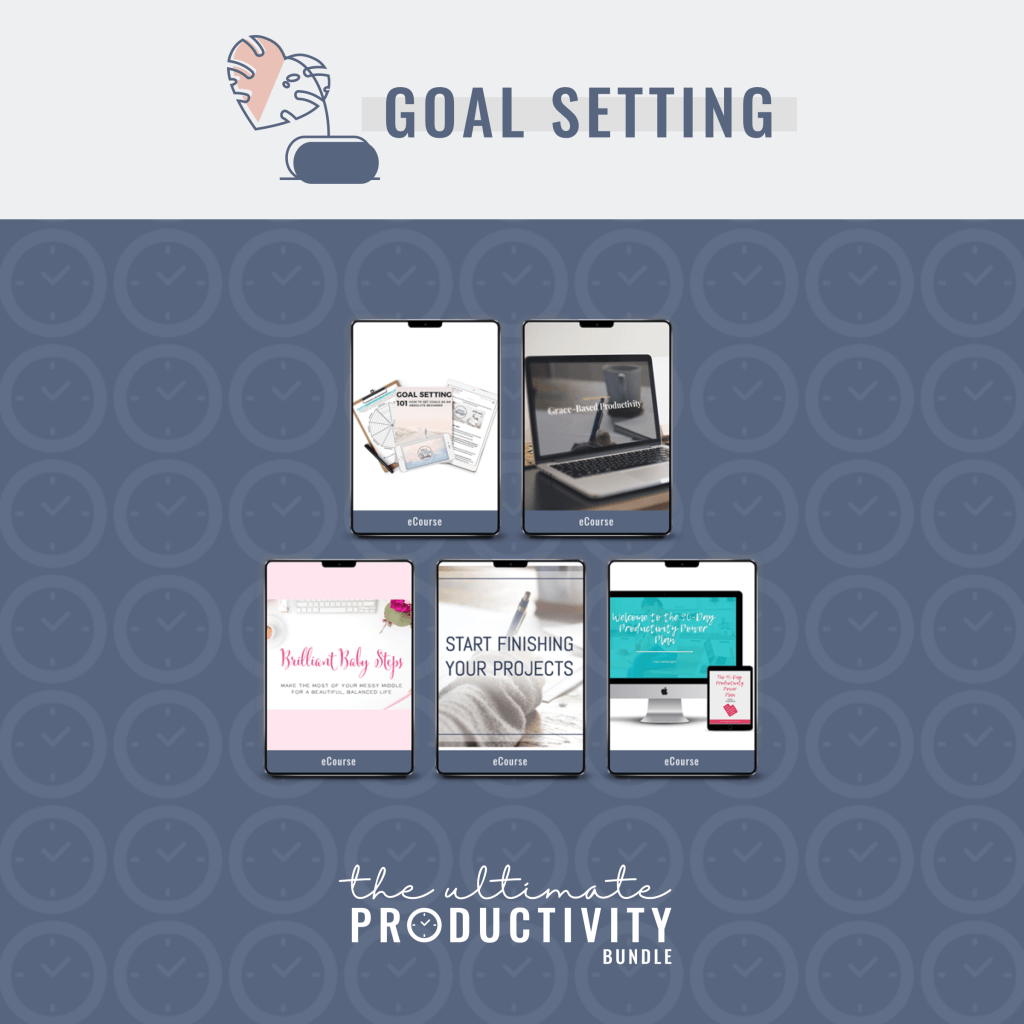 Brilliant Baby Steps: Make the Most of Your Messy Middle for a Beautiful, Balanced Life by Beth Anne Schwamberger ($47.00)
(eCourse) Brilliant Baby Steps teaches a simple but effective system for making the most of your day regardless of your stage of life. It will help you get more done with less stress, while still being there for the people you love and activities you enjoy.
Driven Women Grace Based Productivity for Christians by Phylicia Masonheimer ($98.00)
(eCourse) The Driven Women Productivity Course is a grace-based, biblical approach to time management that teaches you how to develop routines and habits that fit YOUR personality and lifestyle.
Goal Setting 101: How to Set Goals as an Absolute Beginner by Nadalie Bardo ($49.99)
(eCourse) Goal Setting 101 is an 8-lesson eCourse that teaches you exactly how to set achievable goals.
Start Finishing Your Projects: Boost Your Productivity, Effectiveness, and Creative Momentum by Learning to Finish the Projects that Matter Most by Charlie Gilkey ($14.99)
(eCourse) This will help you get your unstarted or unfinished project done, as well as teach you how to set yourself up for success with any other project you kick off after taking the course.
The 90-Day Personal Productivity Power Plan by Lise Cartwright ($197.00)
(eCourse) Lise Cartwright created The 90-Day Personal Productivity Power Plan to share the EXACT principles and strategies she used to master her to-do-list in a matter of months so you can do the same.
Check out the details for the 2020 Ultimate Productivity Bundle HERE.
Goal Setting Planners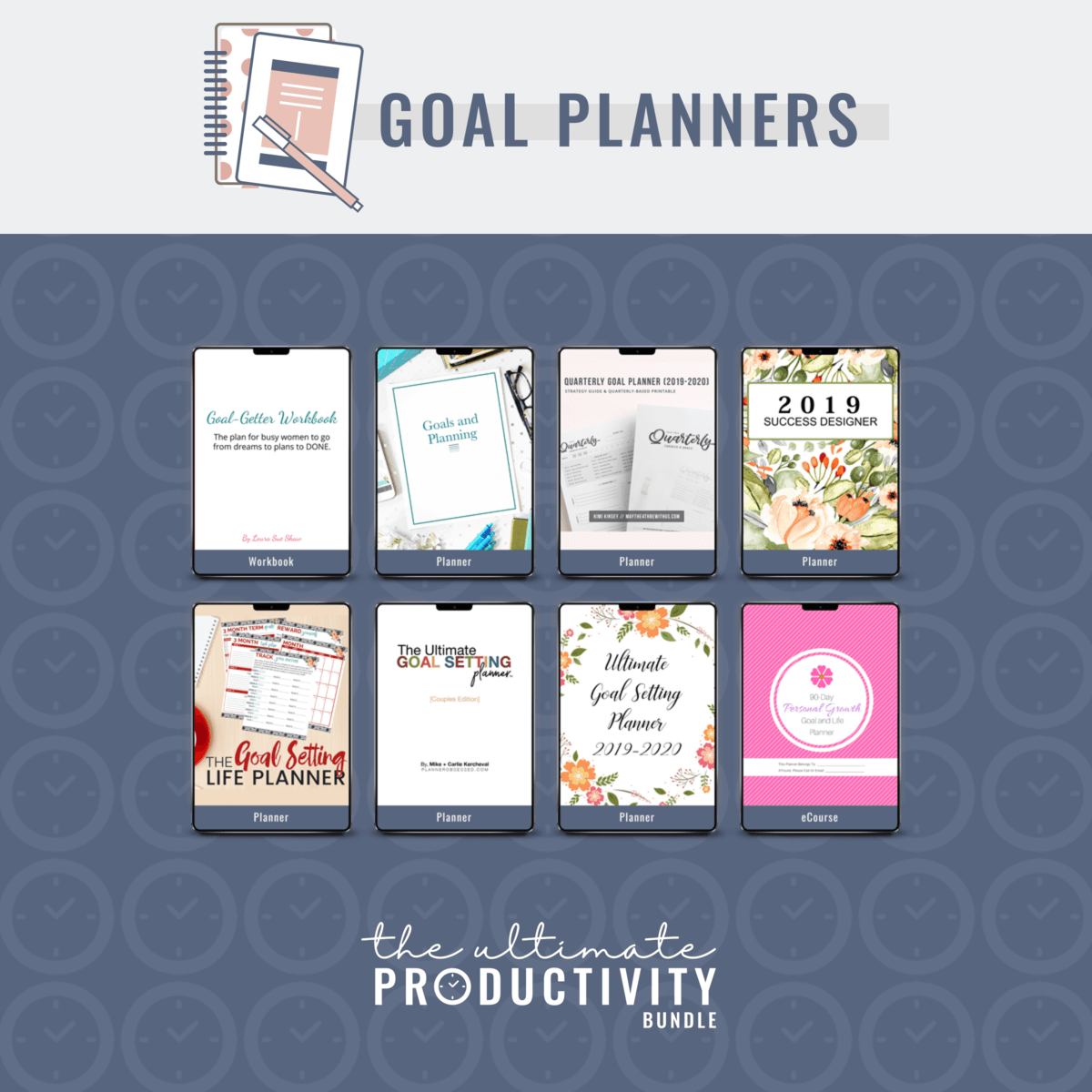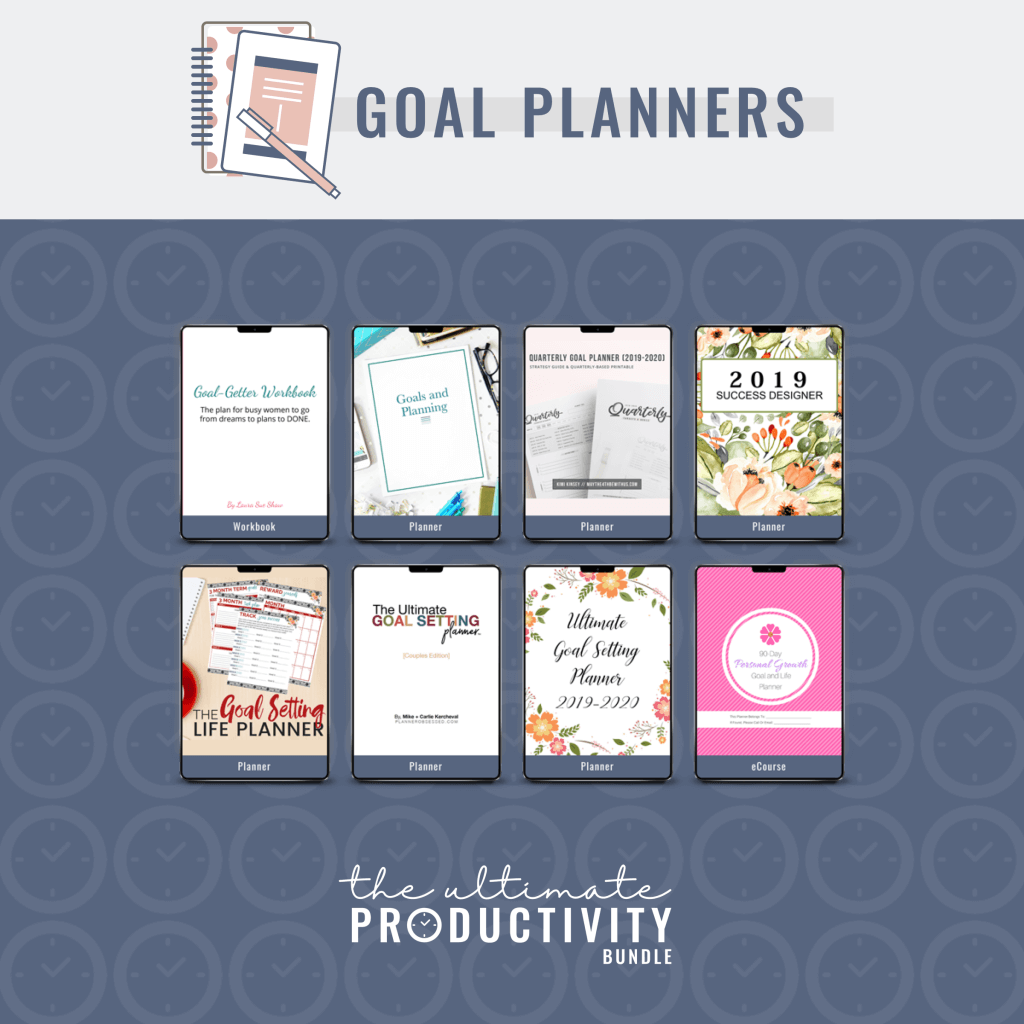 90-Day Personal Growth Goal and Life Planning System by Cassandra Massey ($37.00)
(eCourse) Cassie's 90 day personal growth goal and life planning system is a 280-page printable planning system + 8 video mini-course to guide you step-by-step in creating your goal-achieving plan of action!
Goal Setting Life Planner by Sareeta Lopez ($19.00)
(Planner) More than your everyday planner – it teaches you exactly get you closer to your kickass dream life by integrating your goals into your daily life so that you're always working towards them! It includes a video walkthrough of exactly how to use the planner and implement my 3 Month Term goal setting system.
Goals and Planning Bundle by Abby Lawson ($12.00)
(Planner) Designed to help you set actionable goals and be more productive!
Quarterly Targets & Goals Tracking by Kimi Kinsey ($7.00)
(Planner) Set, track, and achieve your goals with this strategy guide and quarterly-based printable. Set comes with pages for 2019, and 2020 – to total 8 pages (1 for every quarter).
The 2019 Success Designer Planner by Khaye Mydette Macalinao ($10.00)
(Planner) The 2019 Success Designer Planner is a goals-focused productivity planner designed to help you blissfully manage not just your schedule but your whole life!
The Goal-Getter Workbook: The Plan for Busy Women to Go from Dreams to Plans to DONE by Laura S Shaw ($25.00)
(Workbook) The perfect tool to help you create the goals that get you closer to your dreams.
The Ultimate Goal Setting Planner™ [Couples Edition] by Mike & Carlie Kercheval ($15.00)
(Planner) Mike + Carlie Kercheval have put together The Ultimate Goal Setting Planner™ [Couples Edition] to help married couples prioritize their marriage and things that matter most.
Ultimate Goal Setting Planner 2019 by MaryEllen Bream ($19.00)
(Planner) The Ultimate Goal setting planner contains everything you need to set goals for the year and break them down into small, doable pieces. Over 150 pages of goal setting worksheets and calendar pages will help you manage your time for maximum productivity.
Check out the details for the 2020 Ultimate Productivity Bundle HERE.
Mindset & Self-Care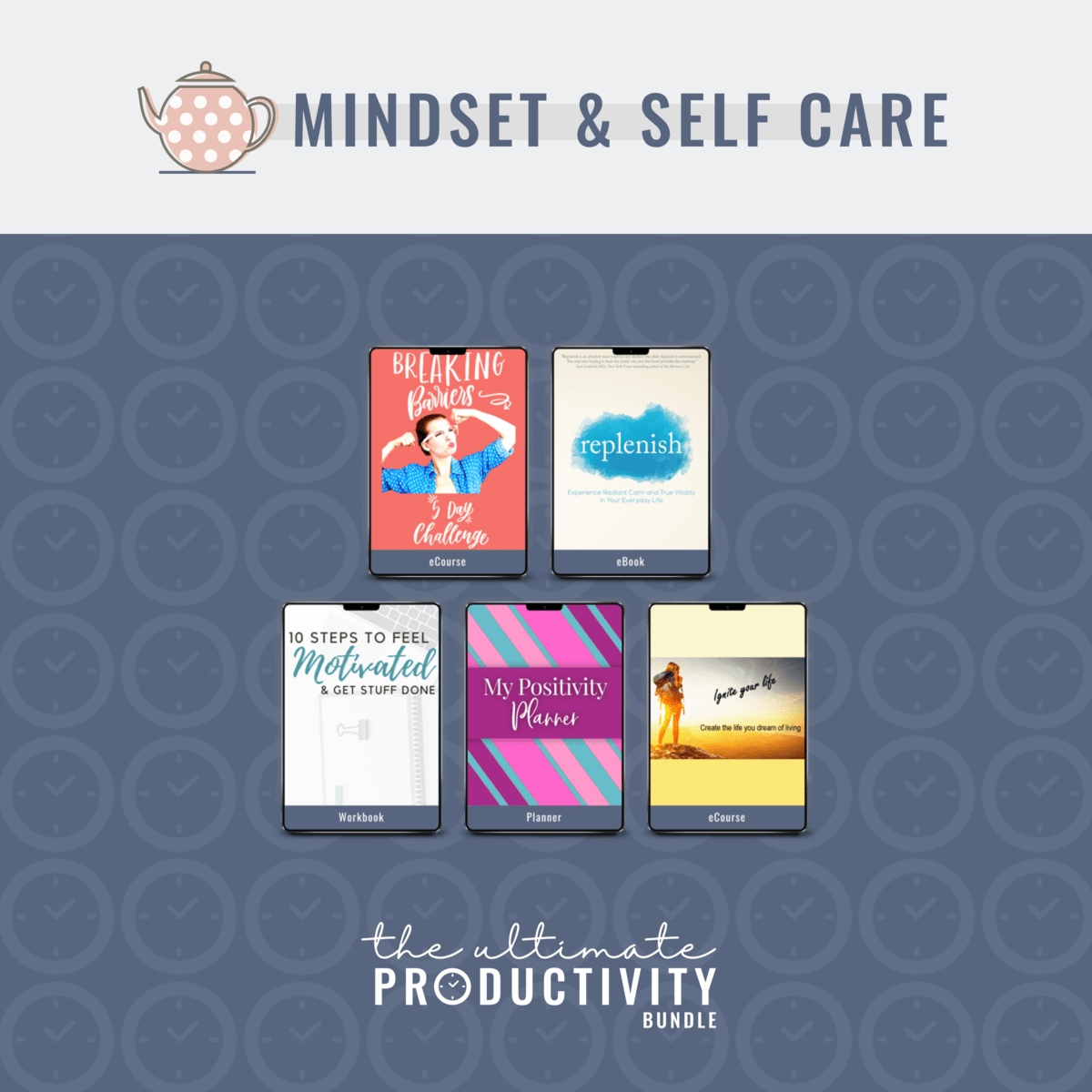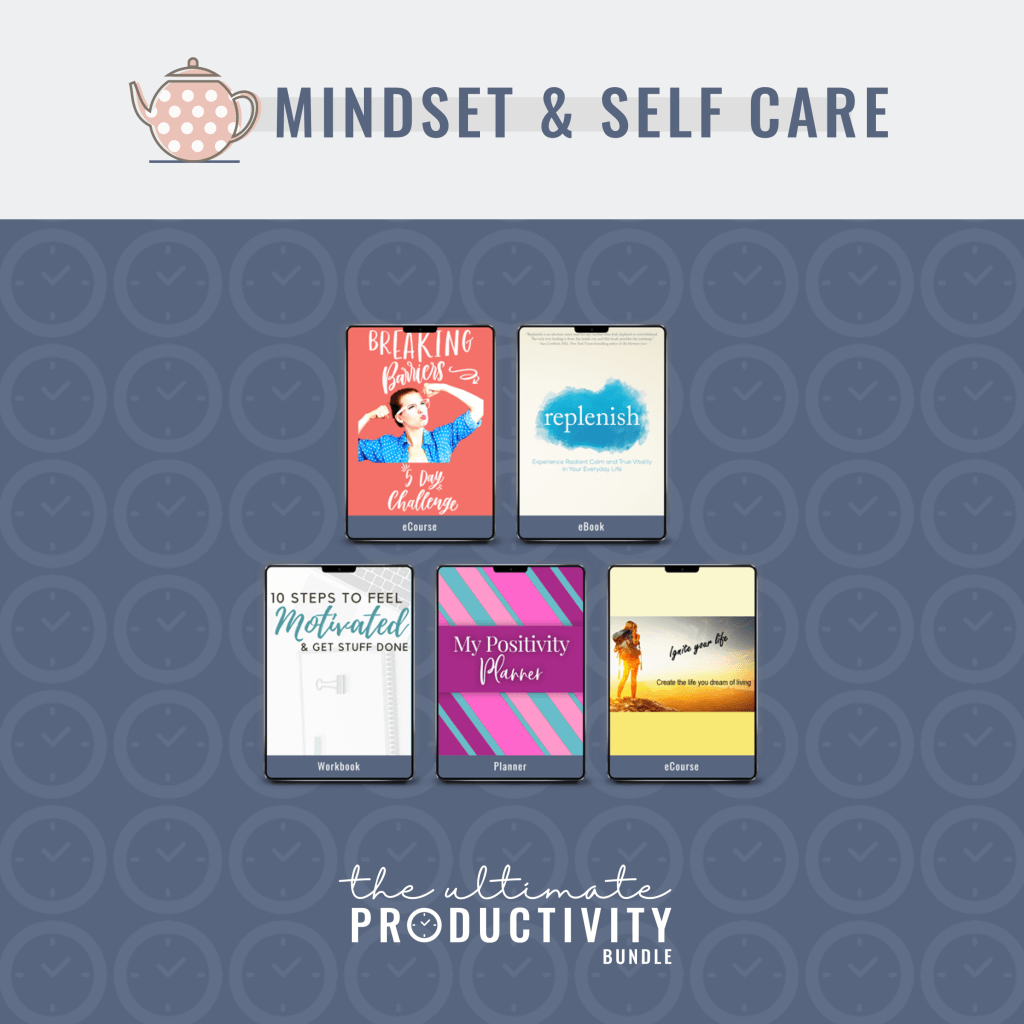 10 Steps to Feel Motivated & Get Stuff Done by Heather LeGuilloux ($9.00) (Workbook) Heather LeGuilloux wants to help you to be more intentional with your time by sharing a practical system that will help you to stay on track so you can finally bring your passion to life.
Ignite Your Life by Jess Stuart ($15.00)
(eCourse) An online course to help you create the life you dream of living. Learn to set goals to achieve your dreams. Want to feel more joy in each day and master the art of happiness? This course is for you!
Positivity Planner by Chris Mooney ($14.00)
(Planner) Chris has developed a colorful, accessible "positivity planner," which can help you get organized as well as inspire and encourage you with space for you to jot what you're grateful for as well as what's challenging you today/this week!
Replenish: Experience Radiant Calm and True Vitality in Your Everyday Life by Lisa Grace Byrne ($9.99)
(eBook) Replenish uncovers the 7 core essentials of well-being that need to be nurtured in order to live and mother with greater calm, clarity and vitality in the world.
The Breaking Barriers Challenge by Lindsay Preston ($47.00)
(eCourse) The 5-day program that will teach you how to break through the barriers that are stopping you from confidently stepping into your BEST LIFE!
Check out the details for the 2020 Ultimate Productivity Bundle HERE.
Productivity at Work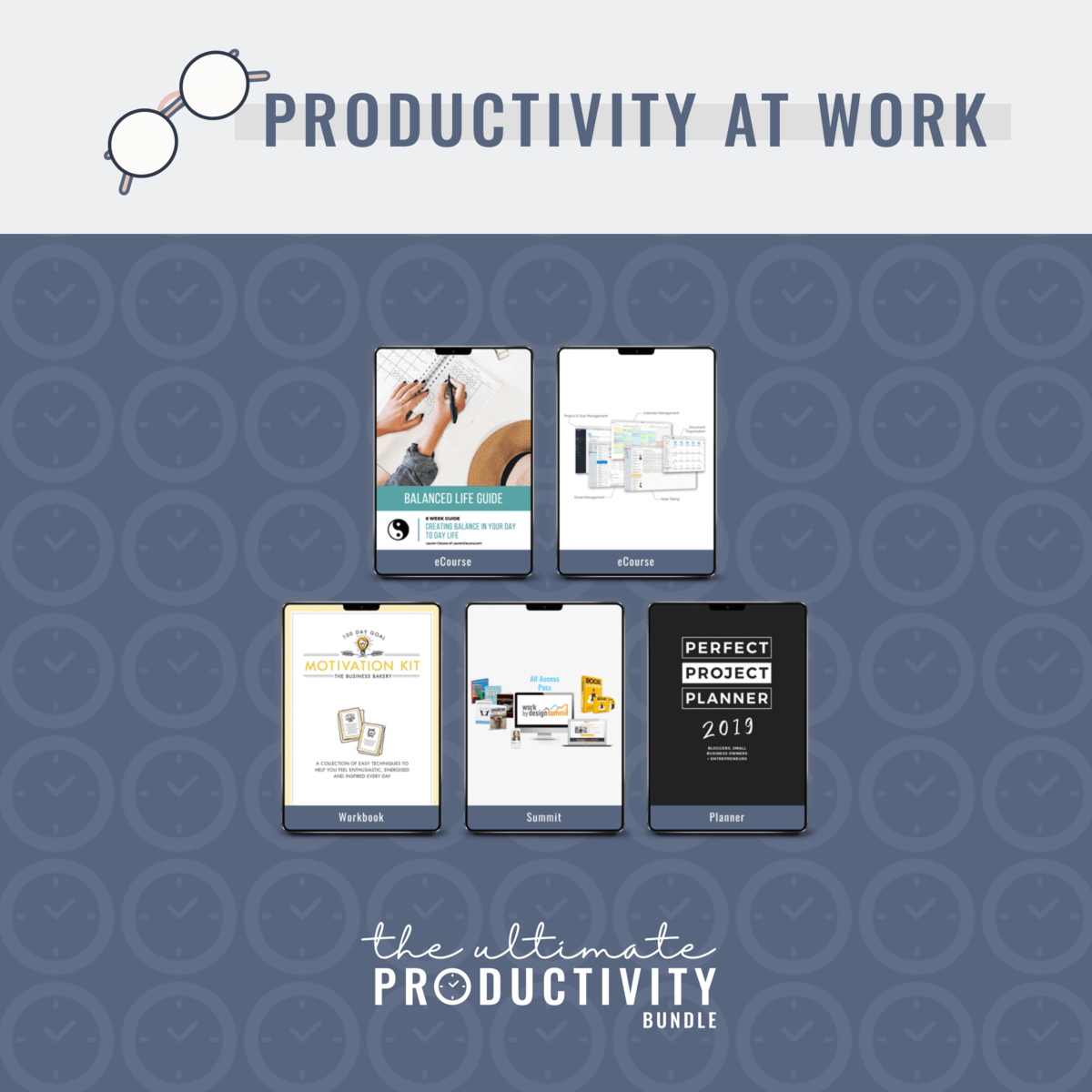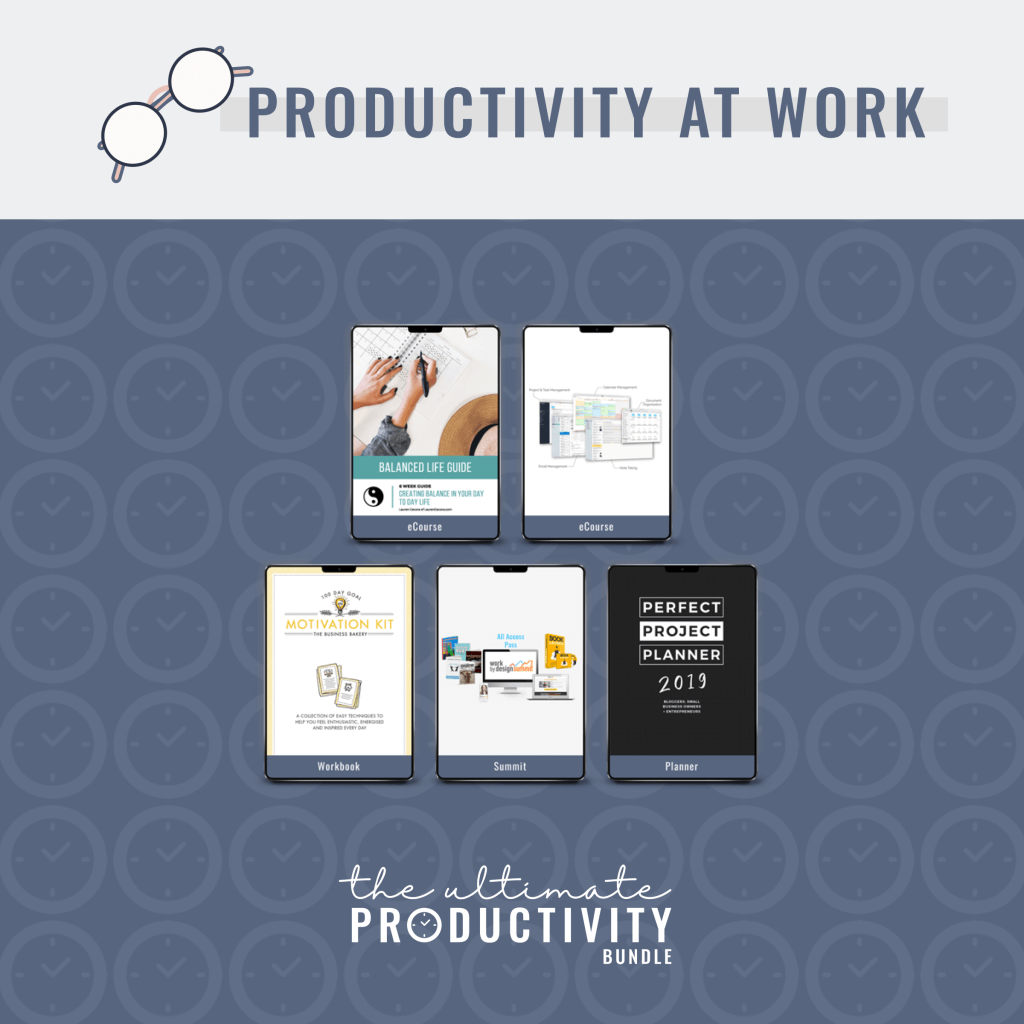 Balanced Life Guide by Lauren Cecora ($47.00)
(eCourse) A six week video and worksheet breakdown of how to organize your life so you can focus on the things that truly matter.
Motivation Kit by Julia Bickerstaff ($18.00)
(Workbook) This gorgeous printable Motivation Kit contains science-backed but easy-to-do step by step 'recipes' and tools to help you keep motivated every day.
Perfect Project Planner: For Bloggers, Small Business Owners and Entrepreneurs by Eve Tokens ($40.00)
(Planner) The Perfect Project Planner is an essential tool for any blogger or small business owner wanting to manage their business projects and personal time more effectively.
The Personal Productivity Toolkit by Paul Minors ($197.00)
(eCourse) Beat overwhelm and learn how to get more done, in less time. Fast! Learn how to master your email, manage your time and create a simple system for increasing your efficiency and staying organised.
Work by Design Summit by Claire Diaz Ortiz ($67.00)
(Summit) The Work by Design Summit All Access Pass gives you lifetime access to interviews with 50+ productivity experts who finally help you make REAL productivity work in your REAL life.
Check out the details for the 2020 Ultimate Productivity Bundle HERE.
Time Management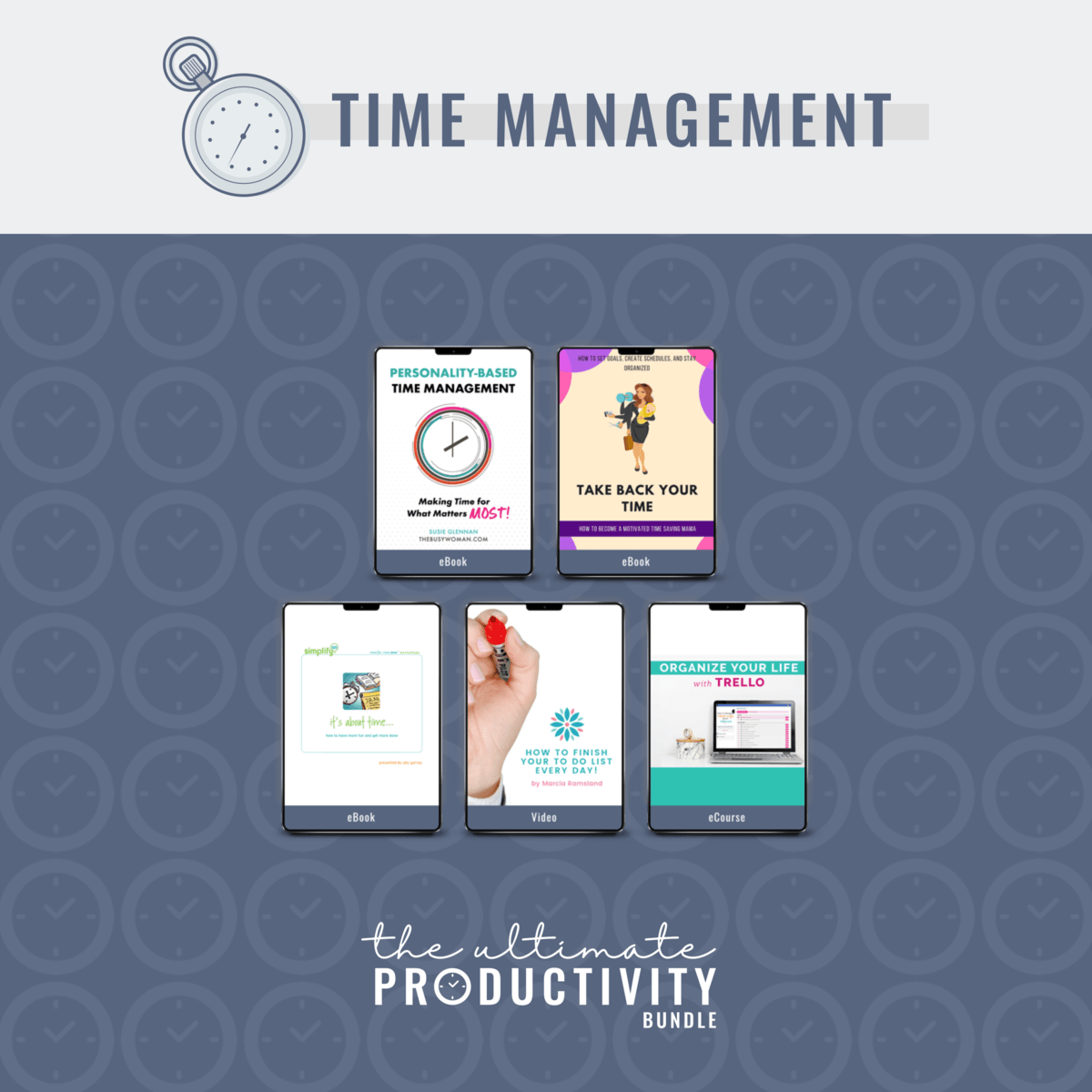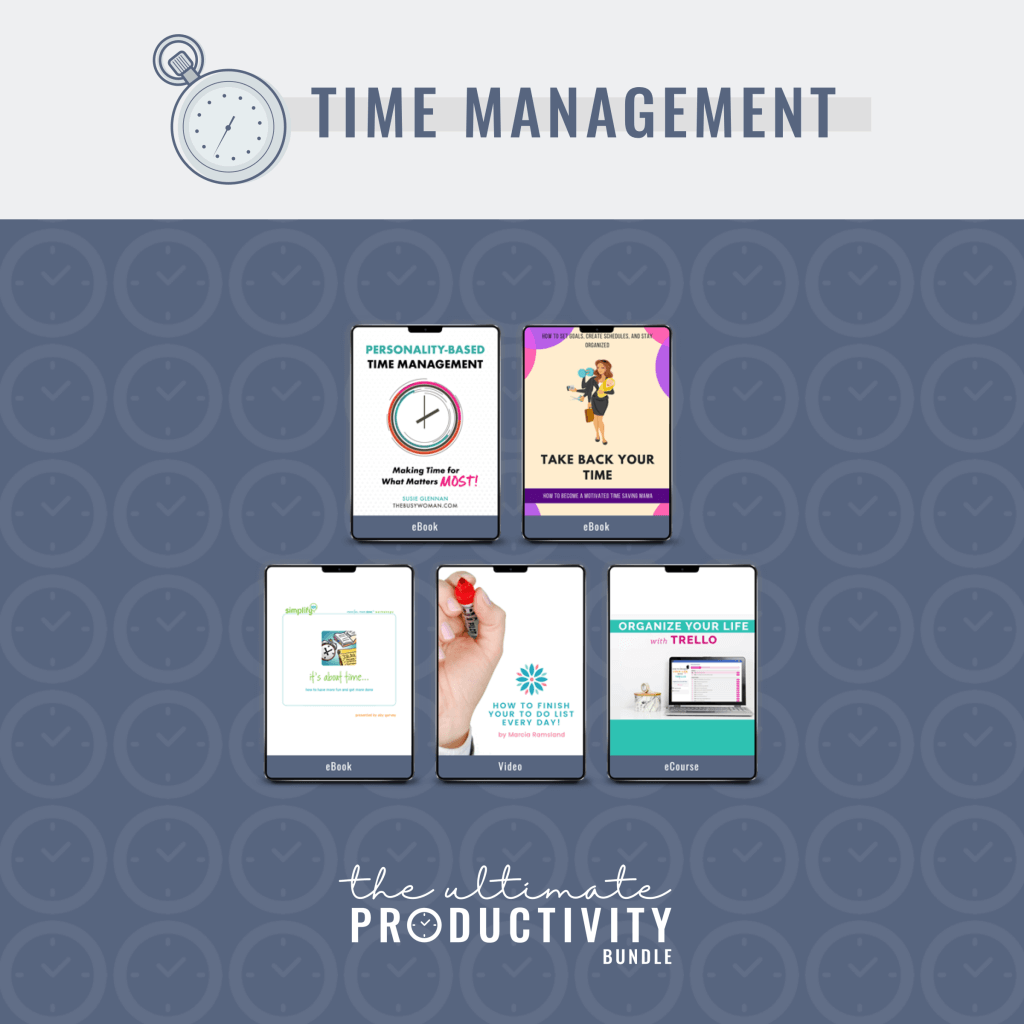 Time Management How to Finish Your To Do List Every Day! by Marcia Ramsland ($47.00)
(Video) This video will show you how to turn the chaos of the day into calm control with smart planning and your TO DO List will get done, your home will be cleaner, your work will get done, and you'll be happier and relaxed.
It's About Time by Aby Garvey ($49.00)
(eBook) Create a customized time management system that is in sync with your values and priorities and helps you feel in control with It's About Time.
Organize Your Life with Trello by Cara Harvey & Elisa Giorgio ($47.00)
(eCourse) A digital course that helps moms who are sick of being overwhelmed and finally want to get control of everything.
Personality Based Time Management© by Susie Glennan ($4.99)
(eBook) Don't fall for the one size fits all myth! Learn about personality based time management© from someone who was not born organized and has been there and done that for more than 20 years.
Take Back Your Time: How to Become a Motivated Time Saving Mama by Emily Bendler ($4.99) (eBook) Emily's book will help you to efficiently manage your time so you can get things done and make time for the people you love and yourself.
Check out the details for the 2020 Ultimate Productivity Bundle HERE.
Cheat sheets
Ultimate Bundles recently started offering the option of also purchasing cheat sheets with their bundles. With the number of resources included, it can be overwhelming to know where to start or which options are the best fit for you. Cheat sheets are like the cliff notes version of the bundle. They explain the target audience for each product as well as clearly outlines what's included in each resource.
They are an additional $10. They aren't a necessity but it's a nice option if you want to save yourself some time. The planners are fairly easy to download and scroll through to see what you like or don't like. In this particular bundle, I think the cheat sheets are most helpful for knowing what's in the ebooks, eCourses and summit before downloading or accessing them.
Resources I am most excited about:
Simply Scheduled Workbook
The Ultimate Goal Setting Planner for Couples
Replenish
Driven Women Grace Based Productivity
Work by Design Summit
Simply Scheduled Workbook
I'm of course biasedly excited for the Simply Scheduled Workbook. It's a great option for people who need help starting to get organized or who simply want to hone their time management skills. You can read more about the details of this product by reading how to simply and effectively plan your day.
The Ultimate Goal Setting Planner for Couples
As I looked over the bundle contents, this planner stuck out to me. It's definitely different from the rest and not something I would have thought of, but I think it's an awesome resource. We typically plan our own individual goals.
How often do we plan our goals with our spouse and incorporate our marriage goals and even pre-plan some of our dates for the year? I have no doubt that using this planner will strengthen marriages. I'm definitely planning to try this one.
Replenish
This ebook is directed at moms and how to take care of yourself. It's about finding both rest and joy in motherhood and I'm not sure about you, but I always feel like I could use more of both of those things!
Driven Women Grace Based Productivity
I loved that one of the eCourses in this bundle is directed specifically on having grace with productivity. As a mom it's easy to get caught up in the to-dos and to be hard on ourselves when we don't feel productive enough. I've listened to some of this course already and loved what the author had to share. I look forward to spending more time checking it out.
Work by Design Summit
This summit brought together some of the biggest experts in the field of productivity and intentionality to talk about what it means to do great, purposeful work in the midst of their real lives.
The speakers include Tsh Oxenreider, Alli Worthington, Ruth Soukup, Jeff Goins, Emily Freeman, and Donald Miller amongst others. I love hearing the wisdom and insights of successful people so I will definitely be watching this one!
Want more details or ready to order? Click HERE.
Money back guarantee
Still not sure if the bundle is for you? What's awesome is that Ultimate Bundles provides a 30-day happiness guarantee! Try it out and if you're not satisfied for any reason, just ask for a refund within 30 days 🙂