Inside: Do you know what it means to have a hygge home? Read on to learn what a hygge home is and how you can inexpensively create it in your space.
As the weather turns cold and more people spend time indoors, it becomes increasingly important to be cozy and comfortable in your home.
With the cost of virtually everything going up, now is a great time to consider free and frugal ways to hygge your home for the fall and winter seasons.
Not sure what hygge is? Read on to learn the definition of hygge and fourteen ways that you can inexpensively incorporate it into your home.
If you love living simply, hygge decor complements that lifestyle by offering simple and low-maintenance ways to make your home more inviting.
Use these tips to make your space the perfect cozy retreat that you can't wait to come home to.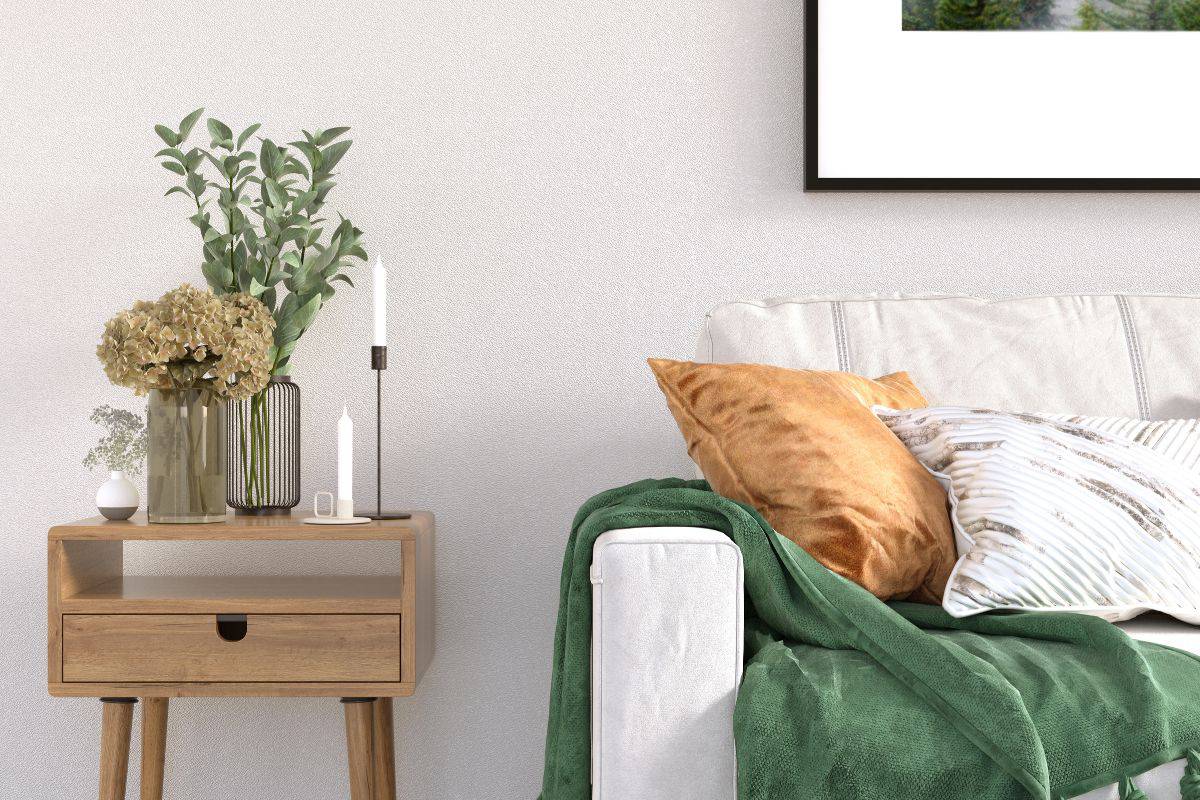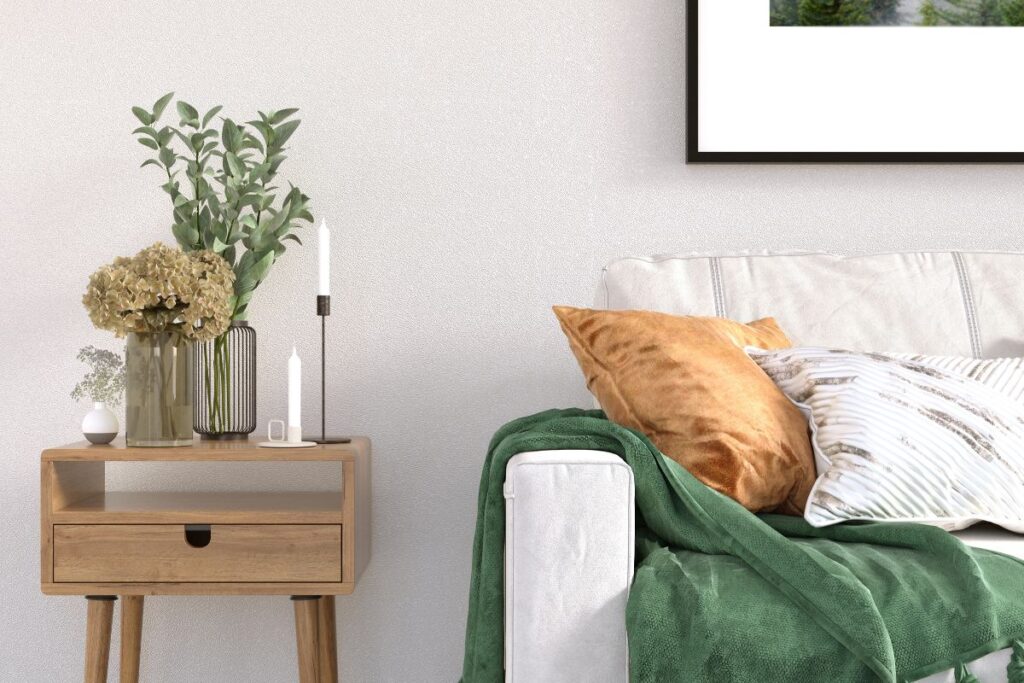 What Does It Mean to Have a Hygge Home?
The Danish word 'hygge' (pronounced \HEW-guh\) refers to cozy and comfortable surroundings that create a sense of contentment and overall well-being. Hygge is also often used as an adjective meaning cozy or comfortable.
If you aren't into styling your home, fear not. Hygge decorating is minimal and goes hand in hand with living simply.
It's not about adding extra stuff for aesthetic reasons. Hygge style is much more about creating comfort and coziness than it is about appearances, although it does have a calming look and feel.
Hygge is not only about being comfortable but also exemplifies intentional living. It's about focusing on being in the moment and giving the things that matter most your full attention.
Why Creating a Hygge Home is Important
As the weather turns cold it is more important than ever to have a nice cozy space where you can relax at the end of the day. Setting up your home to be cozy and welcoming will help to make the cooler seasons more tolerable.
Not only is giving your home a cozy feel good for making your home feel welcoming it can help to create a space for you to get away from the rest of the world.
Having a calm cozy space to come home to so you can relax and recharge after a long hard day may be just the respite you need.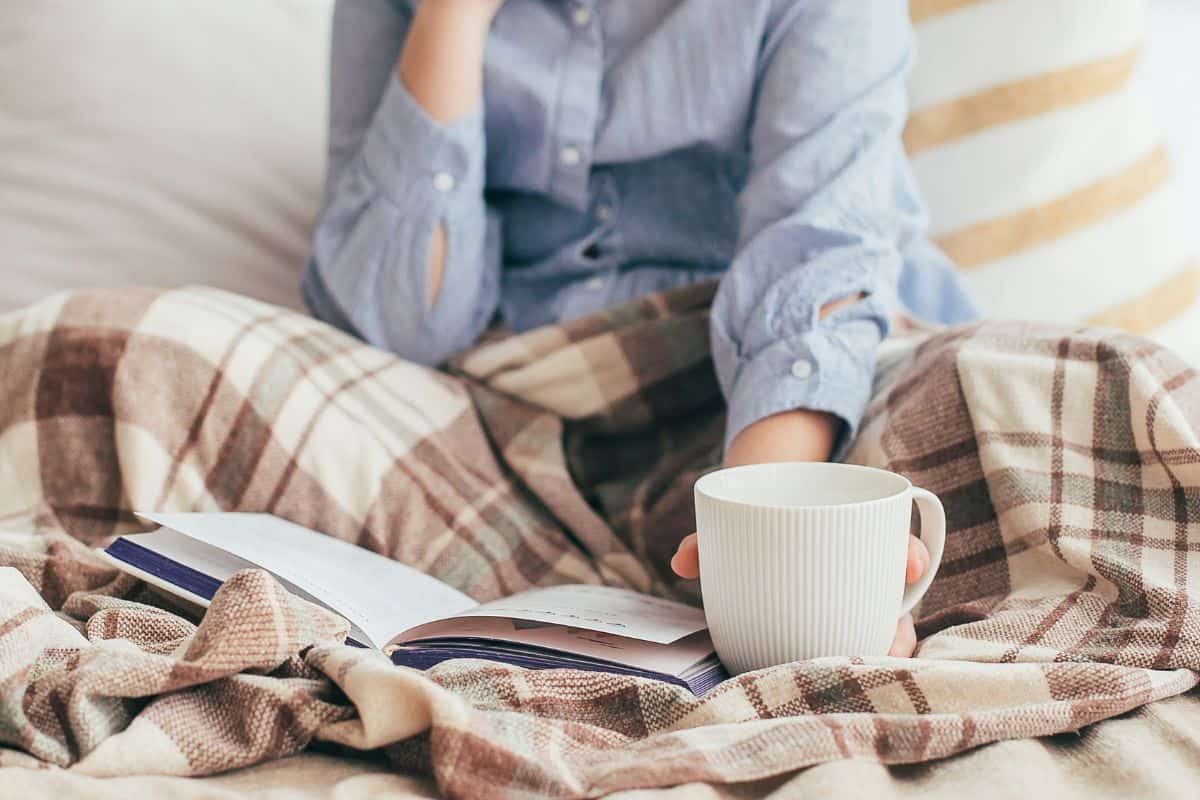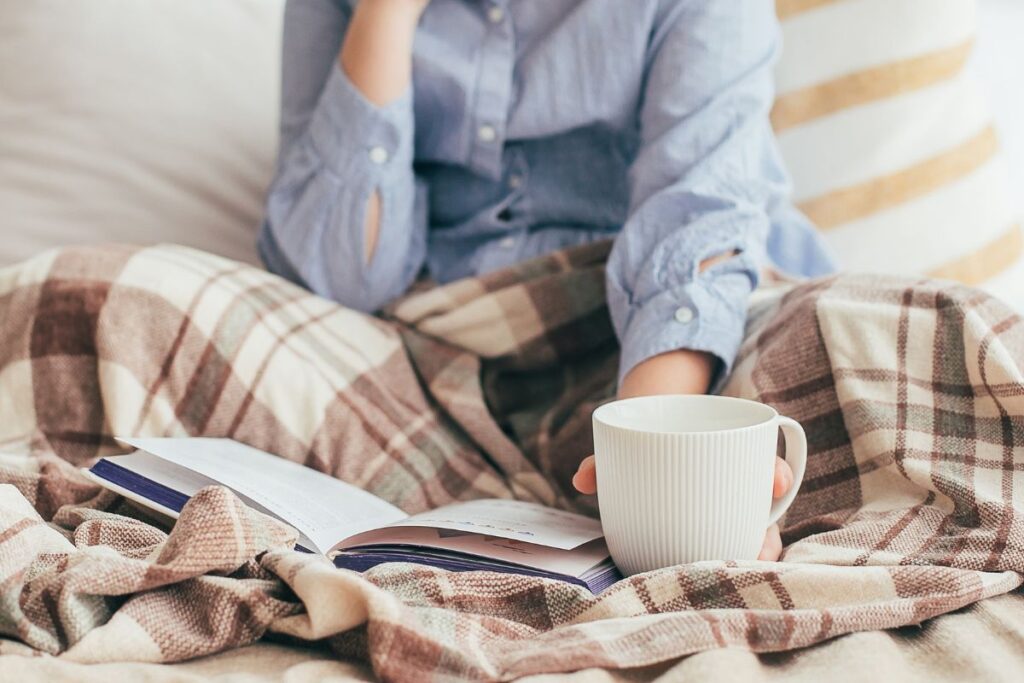 14 Free & Frugal Ways to Hygge Your Home
These small adjustments will help to make your home feel warmer and cozier so you can sit back and relax.
A cozy home is important for your own comfort but it's also nice for family or friends you may have come visit in the upcoming months. Enjoy having a hygge home this holiday season.
These tips to make your home cozy can help create the atmosphere you want.
1. Add throw pillows and blankets
A great way to make your home feel warm and cozy is to have throw pillows and some cozy blankets that are easily accessible in your home.
Create a hygge living room by placing them on couches and chairs. You can even add extra throws to your beds can help keep you warm and cozy.
Not only does this make your space feel cozy but having throws within reach for snuggling up under when it is chilly is a great way to keep everyone warm without cranking up the heat and raising your energy bills.
A great tip for adding more throw pillows frugally is to find them on sale, clearance, at a secondhand store, or through your local Buy Nothing group. You can easily change out just the covers to save money and storage space.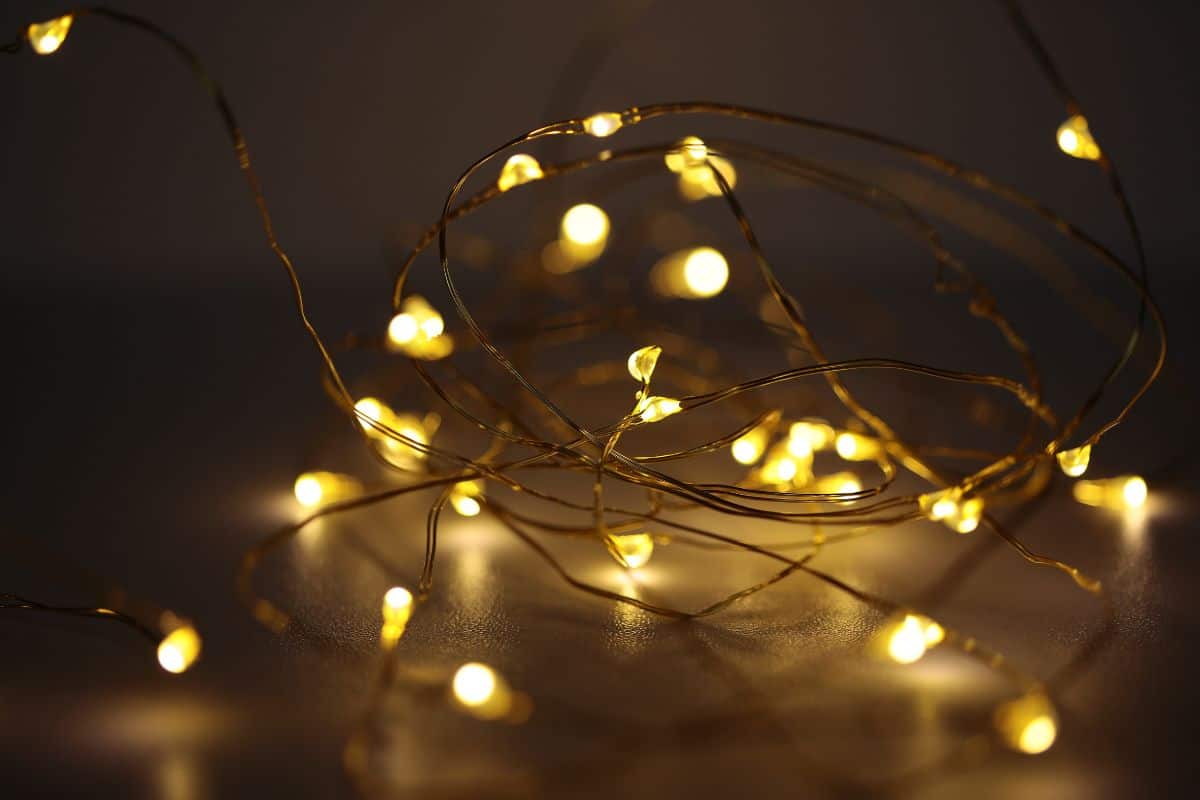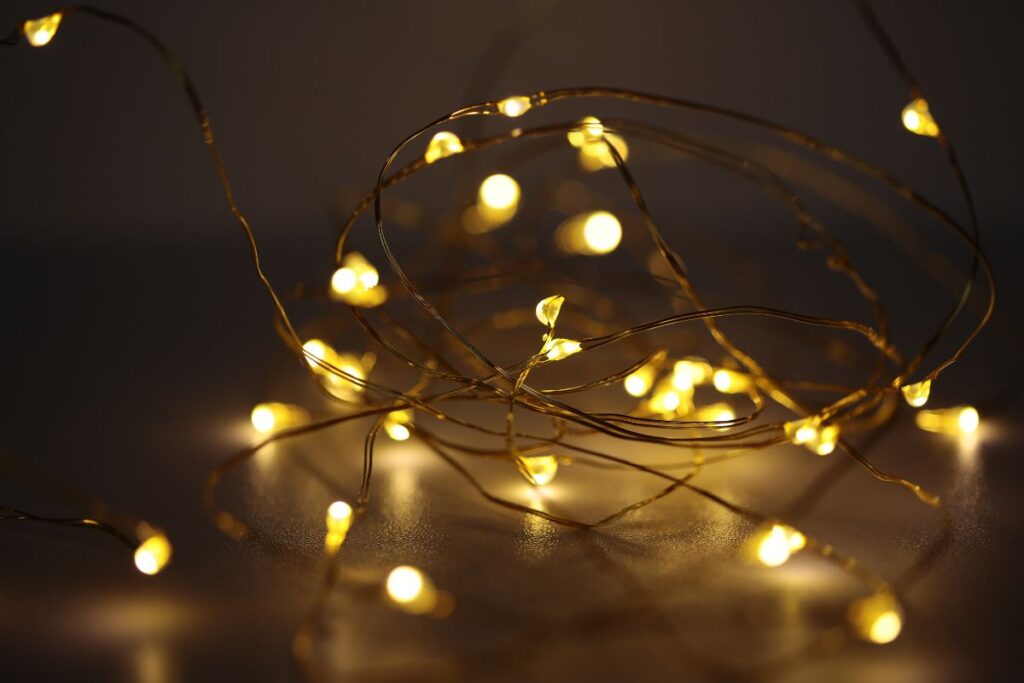 2. Use candles and soft lighting
Nothing says hygge decor like a softly lit room. Try swapping out harsh lighting for softer mood lighting like candles or electric candles, fairy lights, and dimmed bulbs in your main lighting.
This can help make your space feel more welcoming and cozy while adding some warmth to help make your space more of a relaxing retreat.
While most people already have candles in their homes, they can be purchased inexpensively if needed.
3. Create comfortable places to relax
If you do not have comfortable places in your home to sit back and relax you may want to consider how you could create them in your space.
Hygge furniture is pieces that are cozy, comfortable, and inviting. Sometimes that could mean just rearranging the furniture you already have to make it more conducive to conversations and comfort.
Other times, it may mean adding or altering select pieces to make them cozier. Adding a pillow or a slipcover may be all you need to make a couch or chair more usable in your space.
Your bedroom should also be a place where you can relax and feel cozy, so don't overlook it as you consider how you can make your space more comfortable.
Another free way to make your home more comfortable? Declutter the excess stuff that is creating stress and distracting you from fully enjoying your space.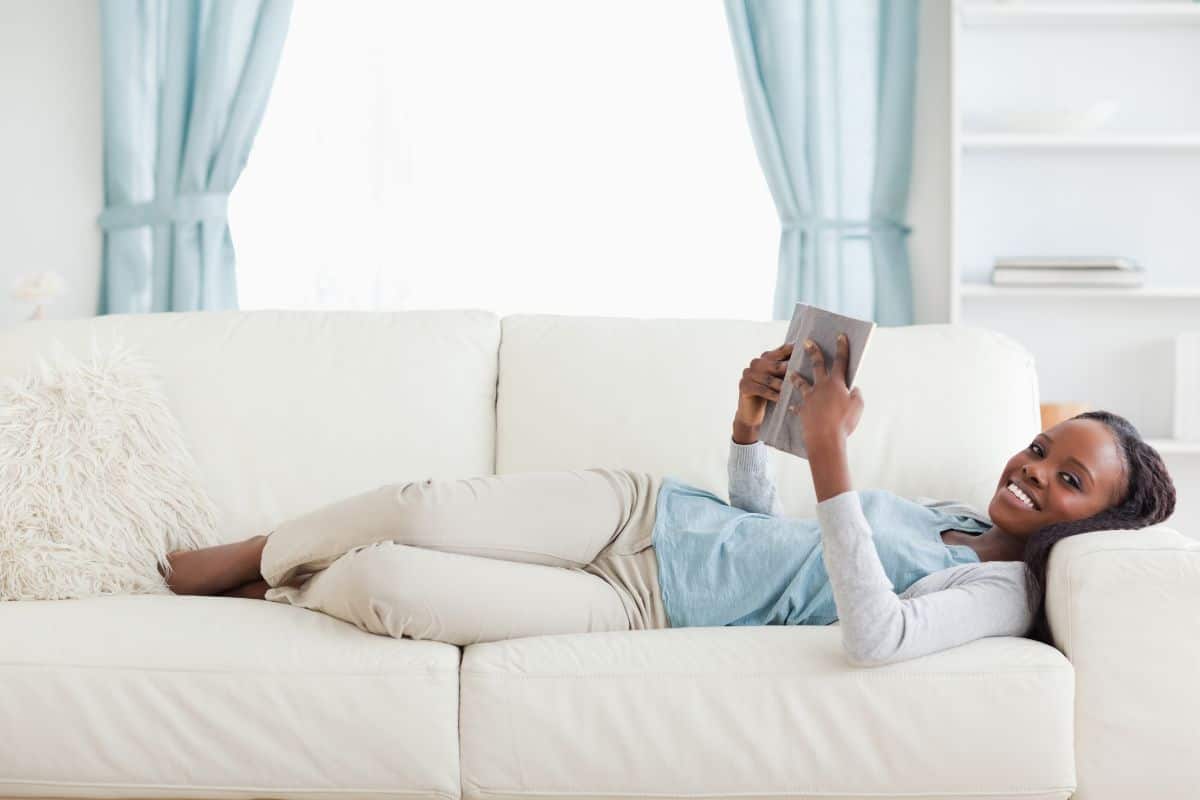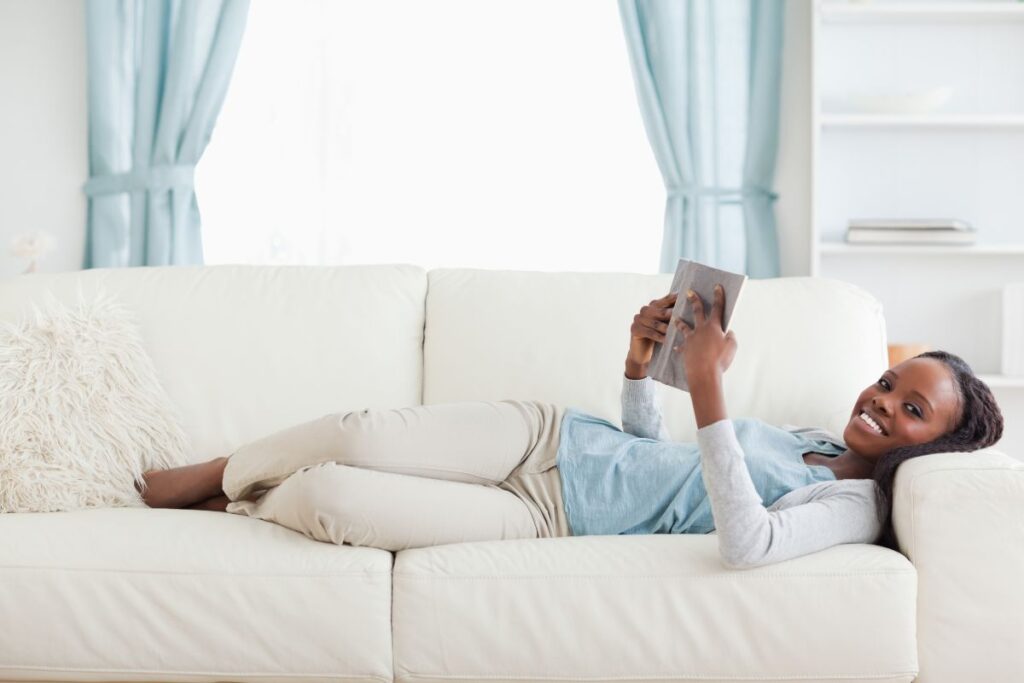 4. Refresh your bookshelf
Nothing makes for a more cozy evening than snuggling up with a good book. The fall is a great time to refresh your bookshelves or your Kindle.
It is so nice to have a new book to look forward to reading while you snuggle up with a cup of coffee or cocoa to relax after a long hard day. Consider creating a reading nook in your living space or bedroom depending on where you have space available.
You can refresh your book selection for free by making use of your local library. Most have both physical and digital options for borrowing books. As an added bonus, you won't be adding any clutter to your home as you return them when you're done reading them.
5. Stock warm comforting foods
When you stock your pantry for the cold weather take the time to stop and stock plenty of warm comforting foods and drinks. This can range from soups and chilis to coffee tea and cocoa.
Having these things on hand means you can make something warm when you need a boost or whip up a pot of coffee or kettle of tea when guests stop by for a visit.
The cooler seasons are a great opportunity to cook comfort foods including that new recipe you've been wanting to try.
If you're looking for some new recipes, here are some of our easy family favorites. A few of our recent favorite hygge foods are Chex mix, pumpkin bread, and cauliflower soup.
Embracing hygge in your home is not just about what you eat or drink, but also how you consume them. Hygge incorporates slow living where food and drinks are savored slowly to be more fully appreciated and enjoyed.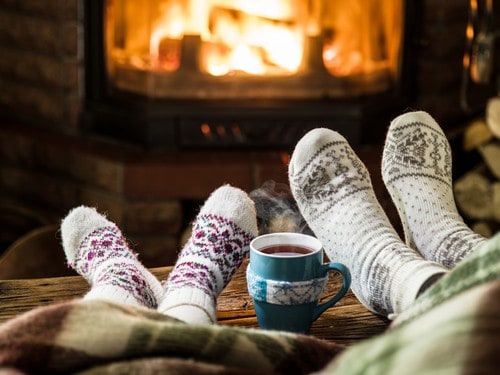 6. Light a fire in the fireplace
There is nothing quite like the smell, feel, and sound of a fire crackling in the fireplace. You don't get much more hygge than that.
Curl up with a warm drink and a book and you have the perfect hygge evening.
If you don't have a fireplace in your home, an infrared one can be a good option although they can be costly. Search secondhand options like Facebook marketplace to find one for less money.
7. Get fresh air
When you think of warm and cozy, you may not be thinking of fresh air, particularly if you live somewhere that gets quite cold in the fall and winter months.
Hygge works to embrace the seasons by dressing appropriately for them. You can still enjoy a nice stroll and get some fresh air as long as you have the proper layers.
If your home is feeling stuffy, open the windows for a bit to let in the fresh air or even sit by the window bundled up as you take in some deep breaths.
The sounds and smells of nature and the healing benefits of the outdoors can be a welcome change during the months that are often spent holed up at home.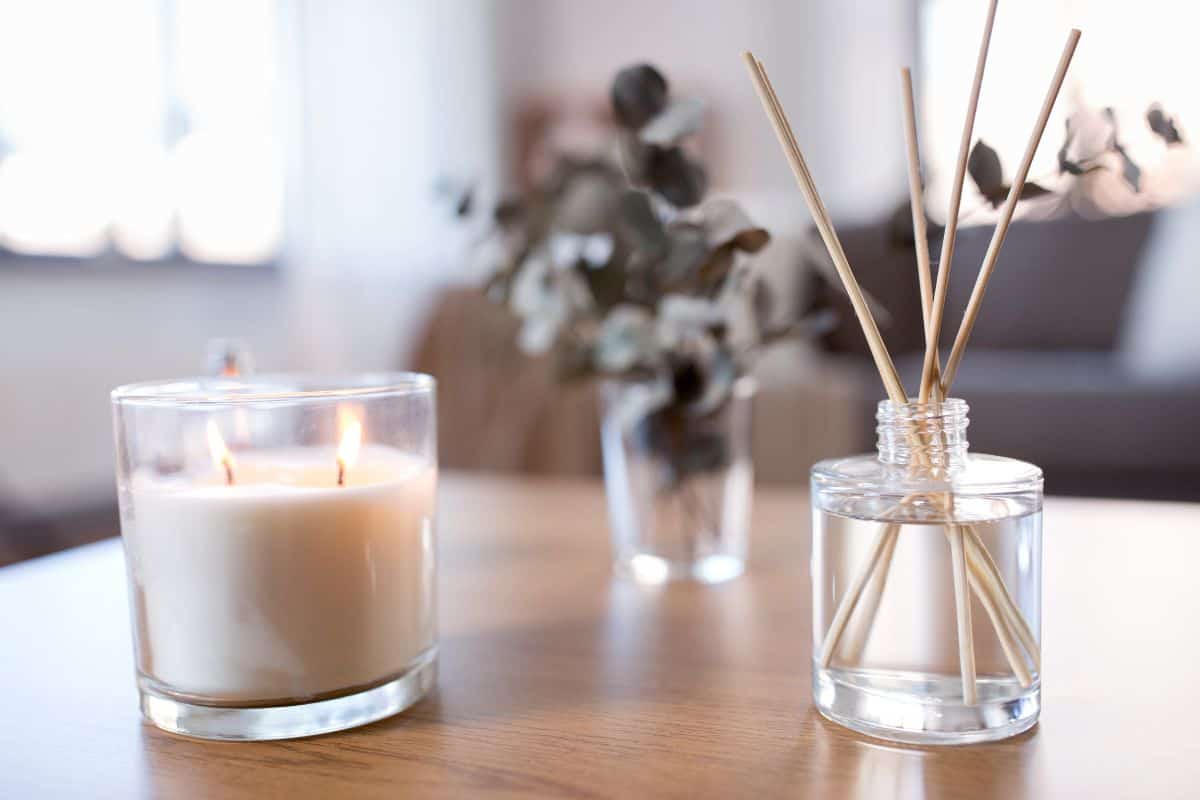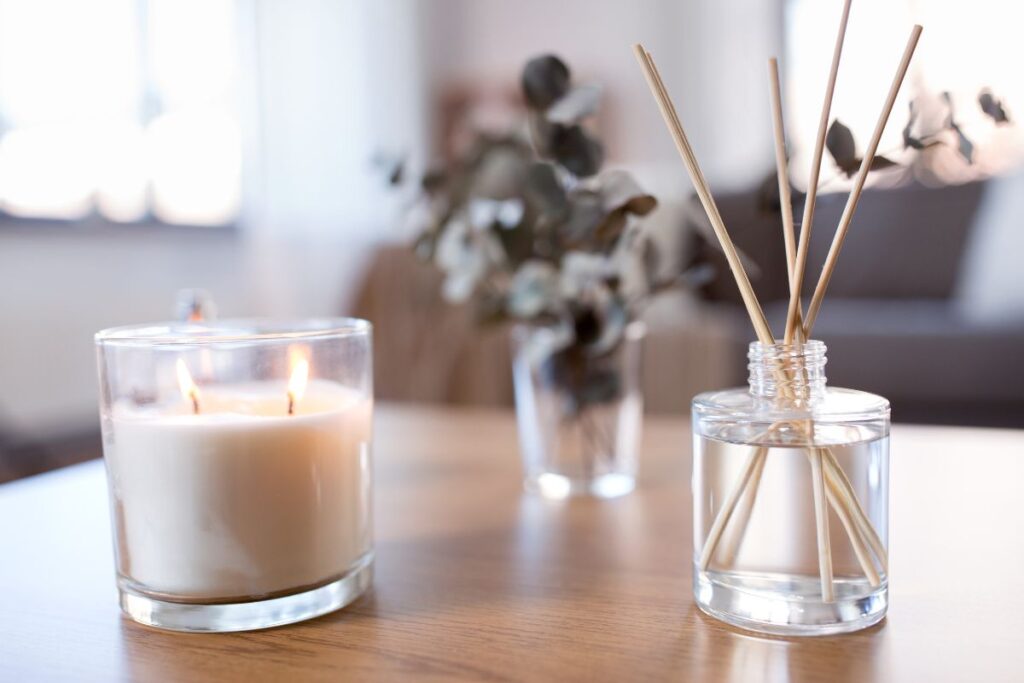 8. Make your home smell cozy
A smell can really affect how your home feels. The cooler months are the perfect time to make your home smell cozy.
This can be done in a few ways. Baking cookies, coffee cake, or cooking applesauce are great ways to make your whole home smell amazing.
A simmer pot is another great option for making your home smell good using natural ingredients. Using essential oils with a diffuser is another popular choice.
And of course, candles are available in almost any scent you can think of to make your home smell cozy and welcoming. Lighting a candle before guests arrive, when you get home from a long hard day, or while you are doing dishes and cleaning up the kitchen can help you to feel more relaxed.
9. Add some relaxing sounds
Music is a great way to make your space feel calm. Create a playlist of instrumental music that makes you feel more relaxed.
If music is not your thing, you can play white noise of warm cozy things like the crackle of a fire to help make your space feel cozier.
You can even play free videos of a crackling fire on your TV for both the look and sound of a fire.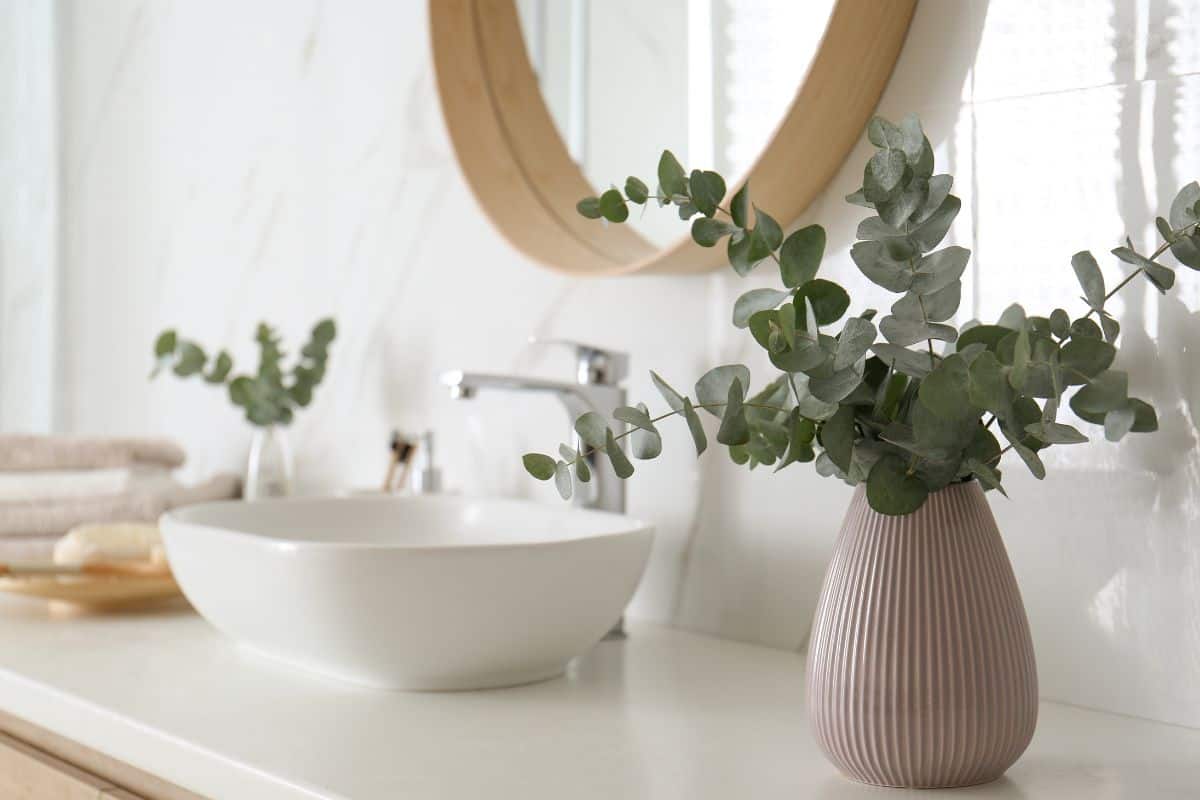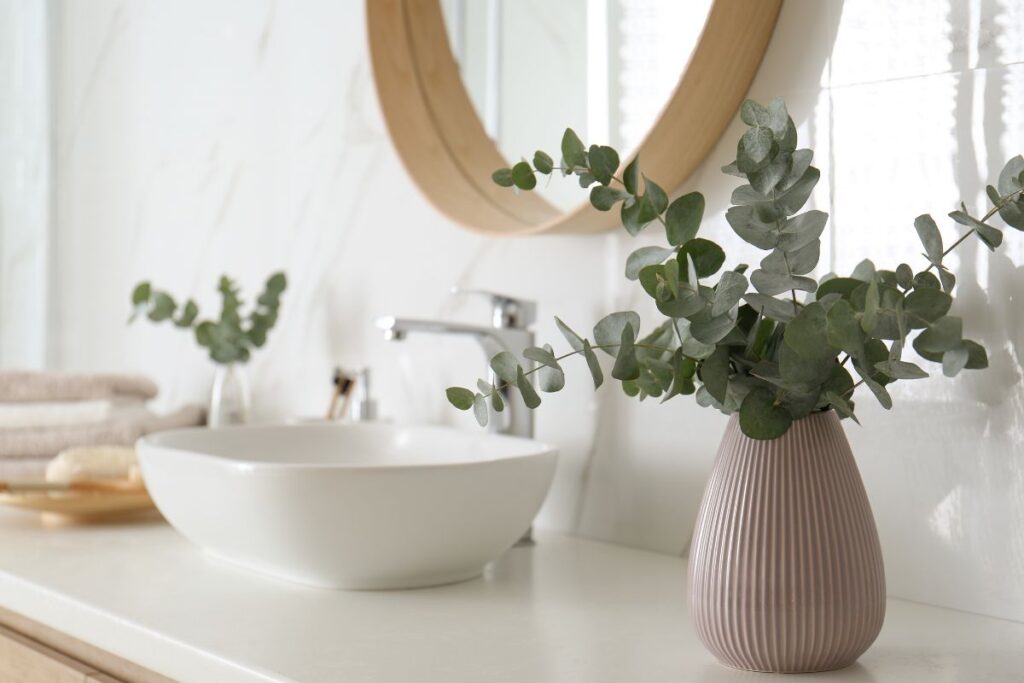 10. Bring in natural elements
Another great free way to create hygge at home is to bring natural elements into your space. Anything from branches to pinecones to acorns can add some color and interest to your home without costing you a thing.
Consider using a vase to hold branches or flowers or a large bowl for items like pinecones, leaves, or acorns.
It's a nice way to bring the outside in and add interest to your space while you're spending more time inside. And these hygge decor items can later get tossed without adding more junk to a landfill.
11. Wear comfortable clothes
Something many of us learned in the last few years was how to dress in cozy clothes at home. And that is a key part of how to hygge at home.
The clothes in your wardrobe should be comfortable, in good condition, and ones you feel confident in. While you may have different standards for your home clothes versus what you wear outside the home, keep in mind that how you dress impacts how you feel.
Wearing comfortable fabrics that keep you warm is a great way to be cozier. Having thick socks or slippers can help you to retain more heat in the cooler months.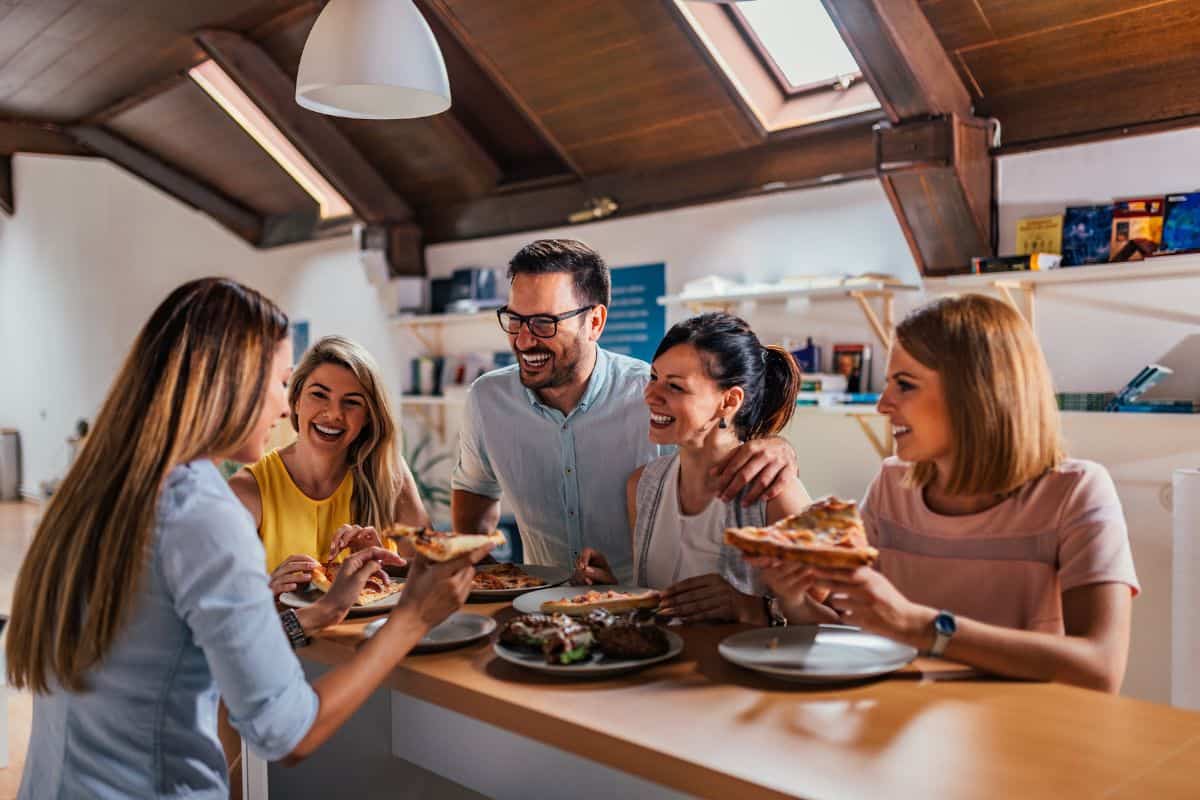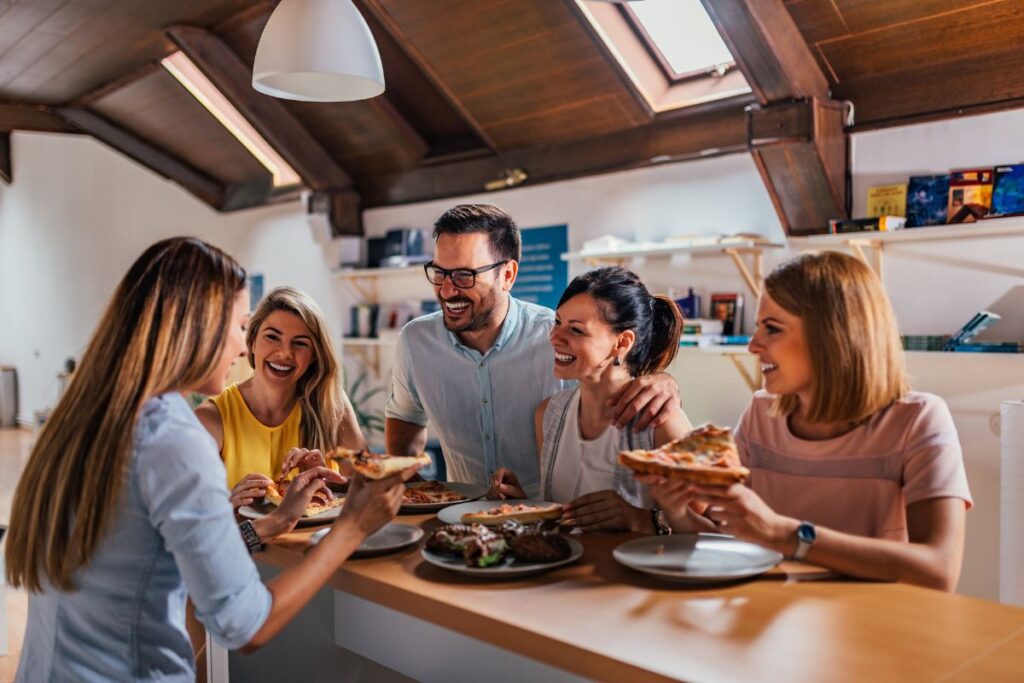 12. Spend quality time with those you love
Another aspect of creating a hygge home is being intentional with your relationships by engaging in focused conversations while limiting distractions.
Using conversation starters can be a great way to begin deeper conversations and get to know family members better.
Board games are another great way to spend time with those you love. Check out this post for our family's favorite board games.
13. Turn off technology
Along with limiting distractions, turning off technology helps to further create a cozy and relaxed feeling at home.
Using social media can increase anxiety and it can be tempting to compare your life with other's highlight reels leaving you feeling discontent.
Opt to create boundaries with technology and intentionally take time to unplug. You might be surprised by how much more relaxed your life feels when you cut back on your use of technology.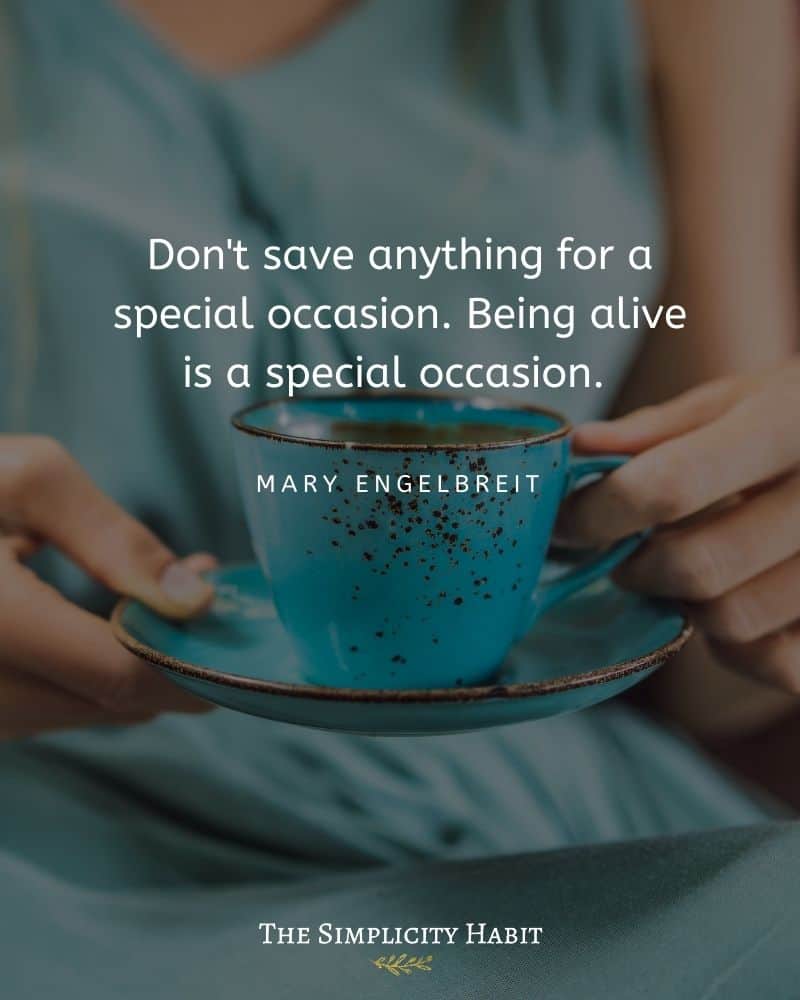 14. Display & use meaningful items
"Don't ever save anything for a special occasion. Being alive is the special occasion." -Mary Engelbreit
Instead of saving your special items and rarely (or never) using them, find ways to enjoy some of the sentimental things you own.
Your home should make you feel happy and being able to use or see those treasured items can trigger good memories.
Hygge decor is not about adding any clutter, but rather appreciating select pieces that you already own. Your most meaningful decor items get to shine when they aren't being crowded out by excess stuff.
What's your favorite way to hygge at home? Share it in the comments section!
Sign up on the form below to get weekly decluttering and simplifying inspiration sent straight to your inbox. You'll also get the free 8 Quick Wins for Decluttering Worksheet to help you start to simplify your life today.