Inside: Learn how to organize tools without a toolbox. Use creative DIY options to store your tools so that you can easily find what you need!
Tools are difficult to organize. With so many different parts, pieces, and components to keep track of, it's easy to see why.
As challenging as it may be, it's critical to keep tools and hardware organized. Without organization, it can be difficult (if not impossible) to find what you need to get the job done.
Many people who consider themselves 'handy' rely on a toolbox to keep everything neat and organized. Toolboxes are designed for that exact purpose. There are lots of different options on the market to choose from.
But how do you organize tools without a toolbox?
There are lots of different ways to organize your tools and hardware, and many don't actually involve a toolbox at all.
Keep reading to learn how to declutter and organize your tools without a toolbox, ideas for different tool storage options, and DIY ideas to help you organize tools and hardware.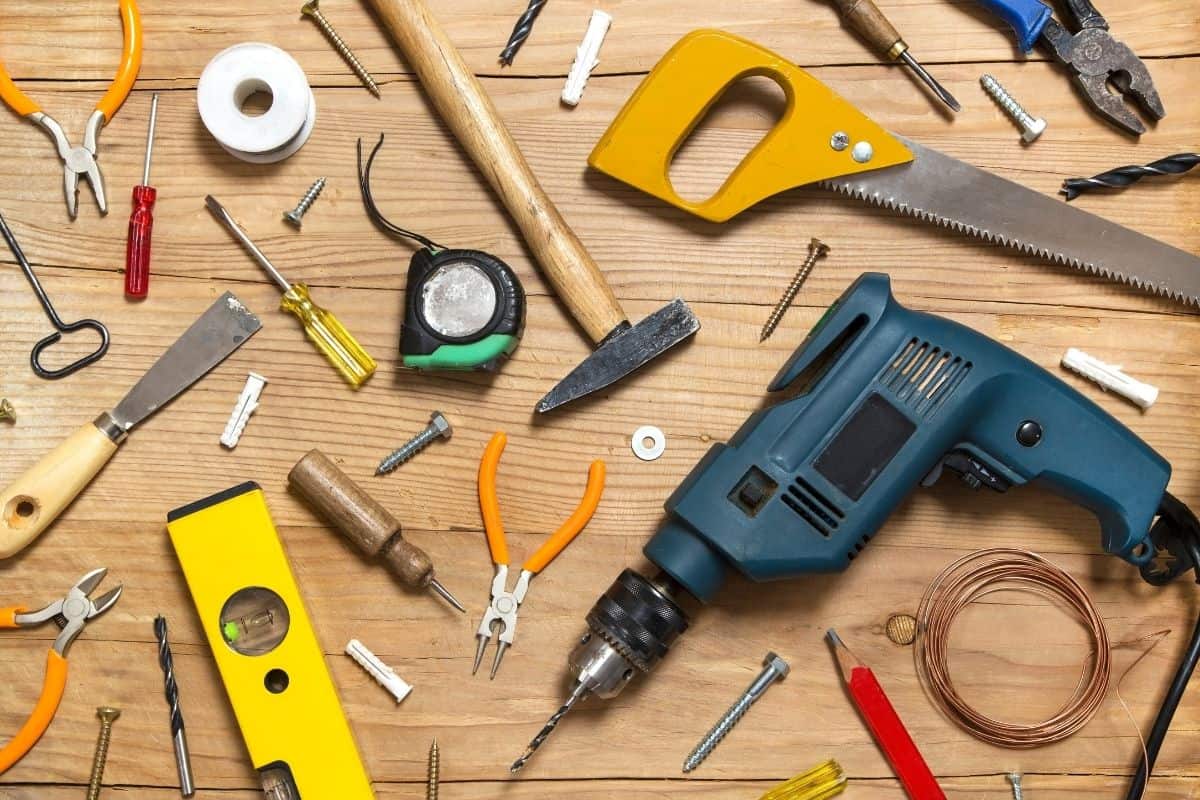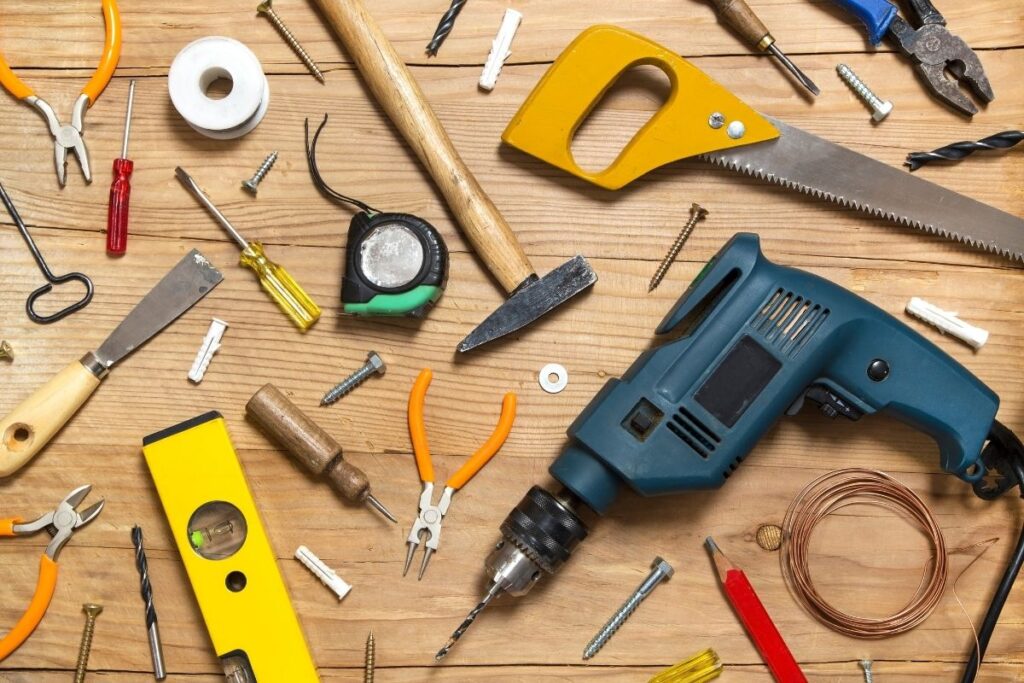 How do you organize tools and hardware?
Organizing tools and hardware can feel like a big challenge. Whether you only own a few tools or you have a pretty impressive tool collection, it can be difficult coming up with a system to keep everything organized – that doesn't break the bank.
Fortunately, there are plenty of ways to organize tools and hardware, and with a little effort, you'll be able to find and implement one that works for you.
What is the best tool storage system?
You might be wondering, "What is the BEST tool storage system to organize my tools?"
There's no one-size-fits-all answer to that question.
The best tool storage system is the one that works for you. It's one that can accommodate the different tools and hardware you need, and the one you can afford to implement.
That's why I've highlighted so many different storage systems for hardware and tools in this post – because there's no universal "best" solution for everyone. Create an organizational system that works for you, your home, and your budget,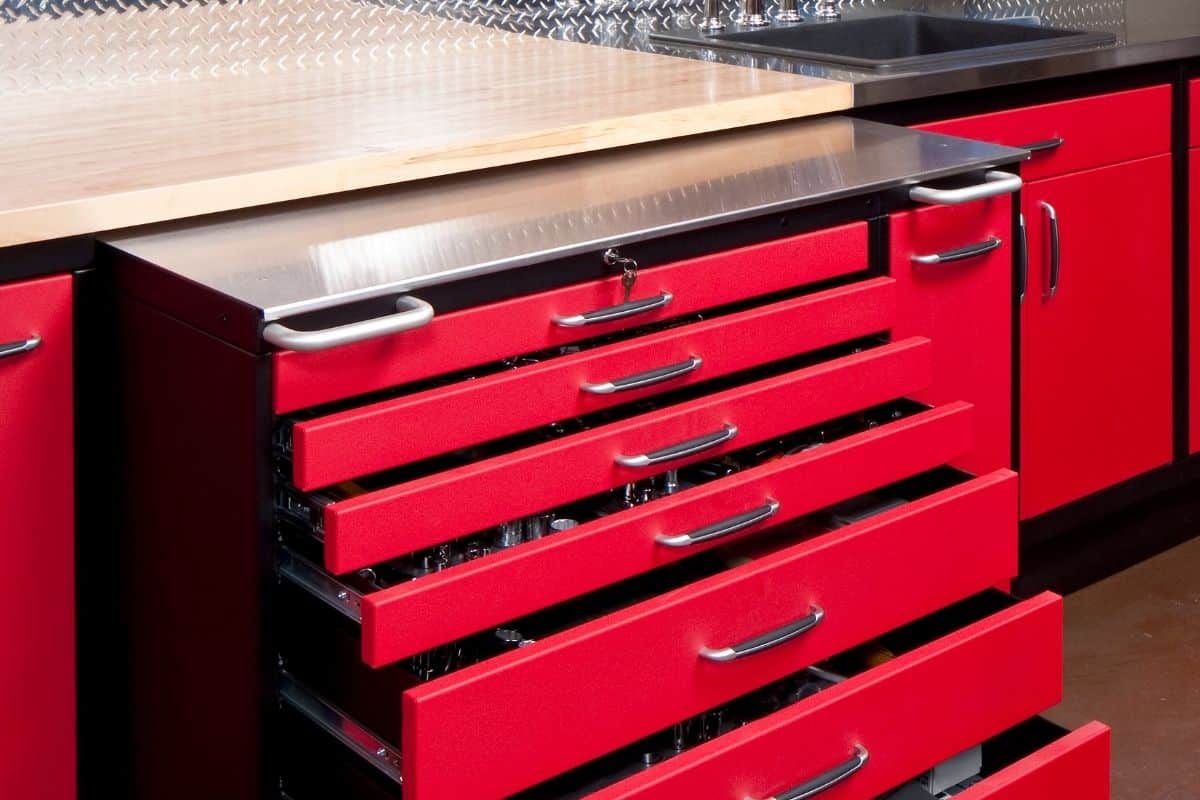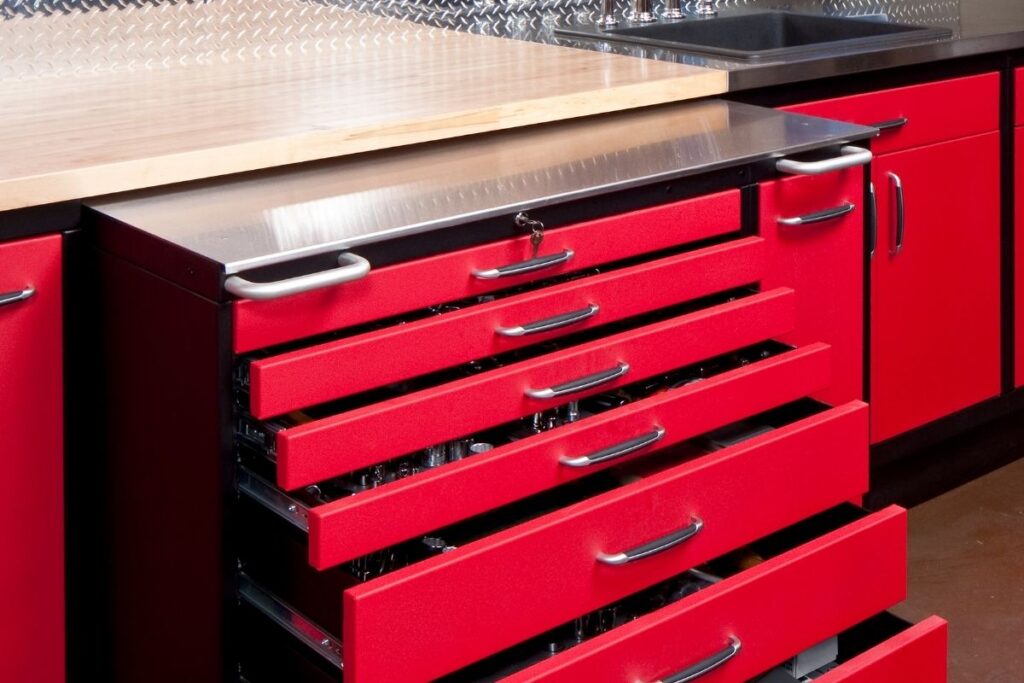 How to Declutter and Organize Tools Without a Toolbox
Decluttering and organizing tools without a toolbox might sound intimidating at first. But with a little planning, creativity, and elbow grease, you're guaranteed to come up with a solution that will organize your tools once and for all.
Locate and gather of your tools together
It's smart to start by assessing the situation. You want to know what you're working with before you try to devise a tool storage solution.
Round up all of your tools and lay them out so you can see your full inventory. Understanding how many tools you need to store, what types of tools you've got, and how big everything is will help you get started.
Wipe down and sort and organize all of your tools in piles
Tools get dirty – after all, they're meant to be used. Start by wiping down and inspecting each tool you own. After you clean 'em off, organize your tools into piles by type.
Discard broken or unnecessary tools, declutter the piles
It can be hard to part with well-loved tools, but if something's broken or no longer needed, let it go.
Discard things that can't be used, and donate items that someone else may benefit from. You might be surprised to see how much smaller your piles get after this process. But don't worry – that's a good thing.
Ruthlessly decluttering your unneeded items will make organizing them much easier.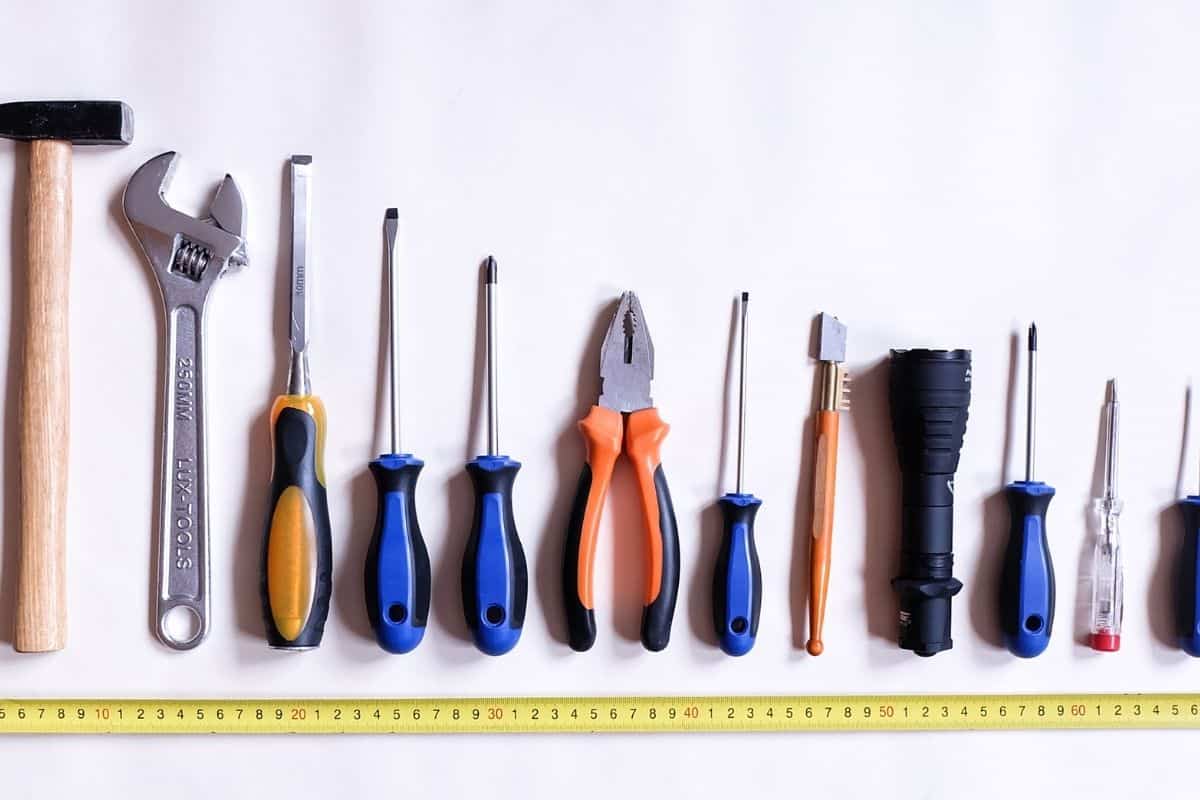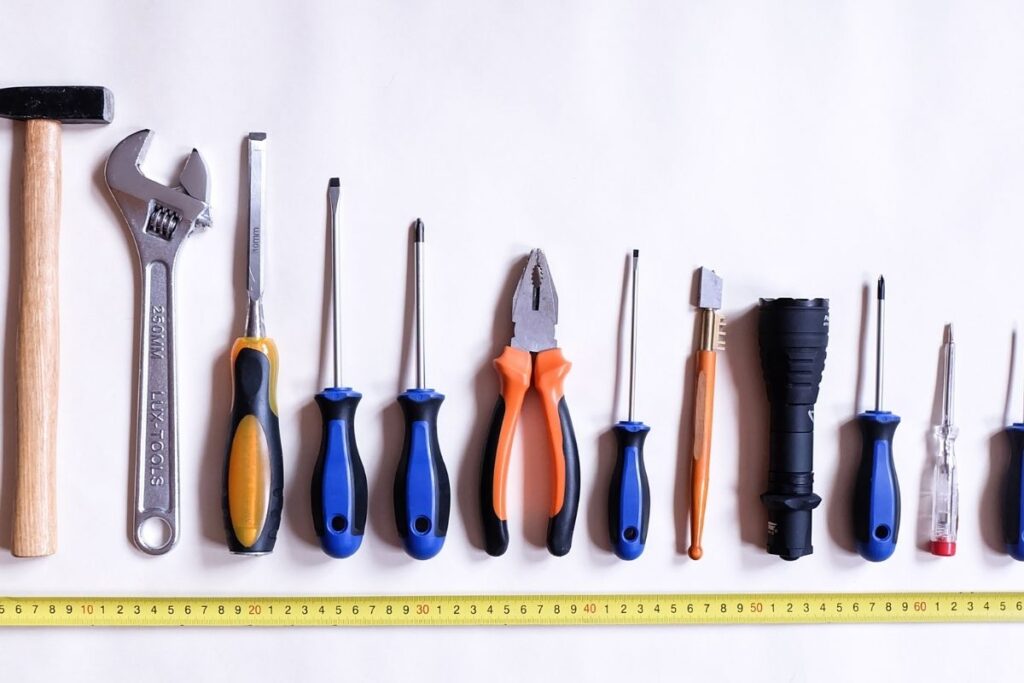 Remove and "rehome" any "non" tools to proper storage areas
It's not uncommon for things that aren't tools to wind up with your tool collection, especially if you keep everything in your garage.
If you find something that doesn't belong with your tools, put it where it belongs. And if it doesn't already have a home? Make a place for it.
Organize your tools in containers or storage options of your choice
Once you've cleaned, sorted, and gotten rid of thetools you don't need, it's time to get them organized.
And since you aren't using a toolbox to organize them, you'll have lots of different containers and storage options to choose from. That means you can find a solution that perfectly meets your needs.
Creating an organizational system can help prevent clutter from piling up as everything will have a designated space.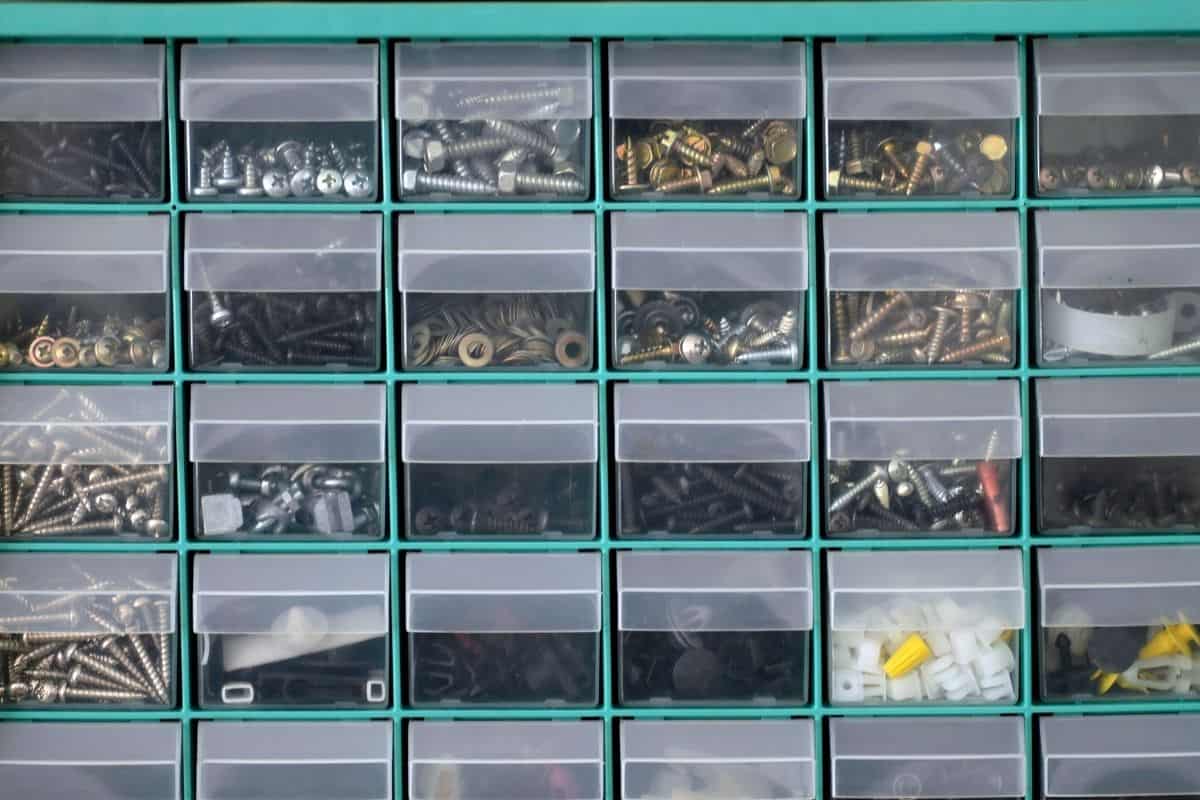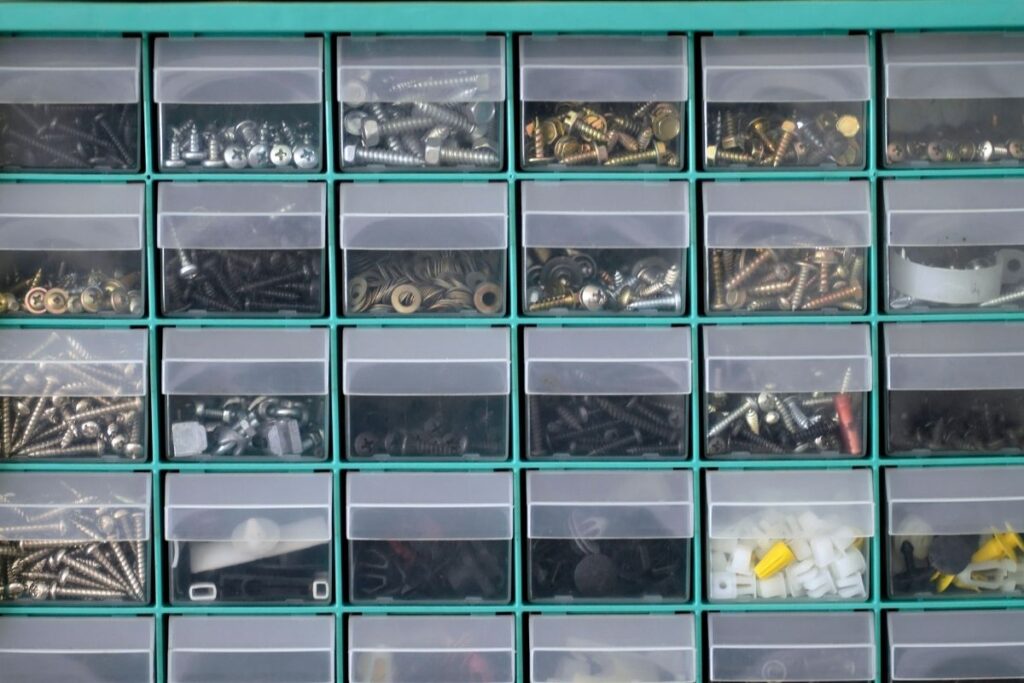 Storage and containment options to organize tools without a toolbox
Once again, there are plenty of ways to keep your tools organized without using an actual toolbox. This is especially true if you primarily use your tools for tackling projects around the house.
If you don't need to be able to easily transport your entire tool collection around, you can find lots of creative ways to store and organize your tools at home.
Use a tie or belt rack secured horizontally to hang wrenches
Disclosure: As an Amazon Associate I earn from qualifying purchases. Please note that I only recommend products I use and love. Click here to read my full disclosure policy.
There are tons of household items that are able to be repurposed with a little creativity to keep tools organized.
One smart idea? Take a tie or belt rack and mount it to the wall of your garage. As long as it's securely attached, it's a great way to store wrenches in a way that makes it easy to find what you need and get it.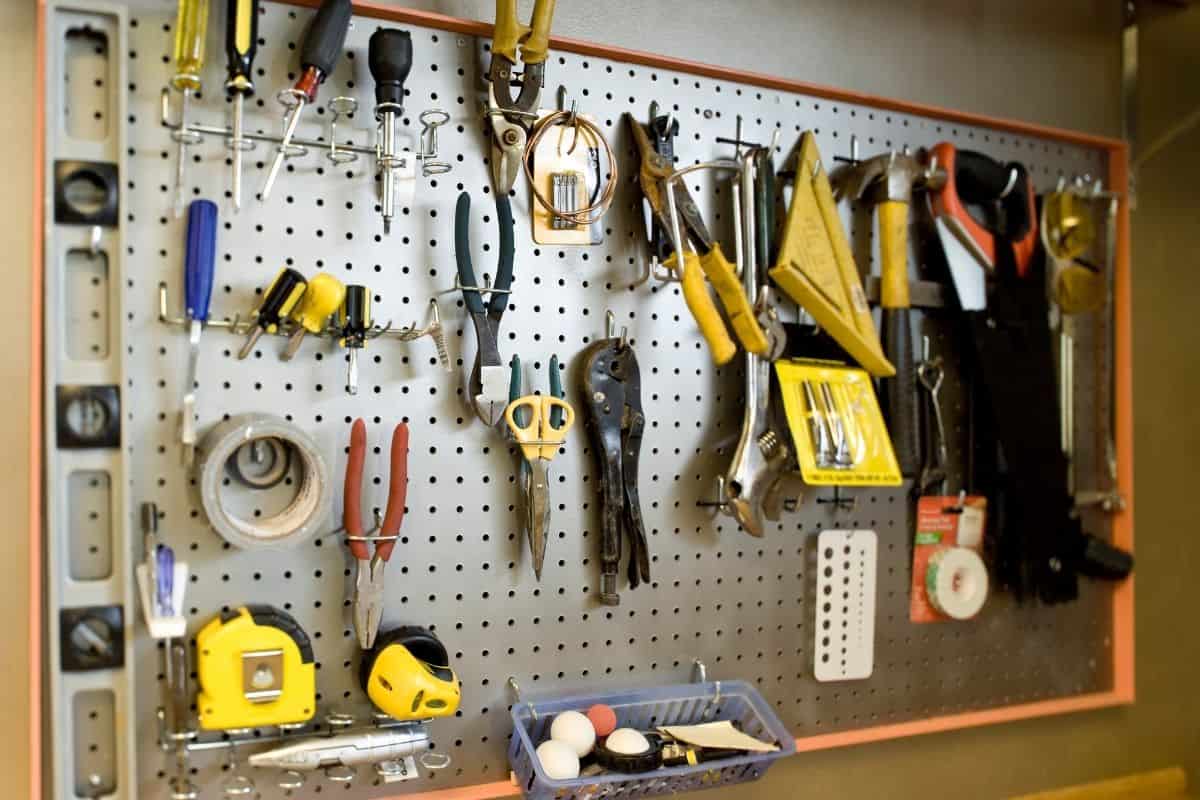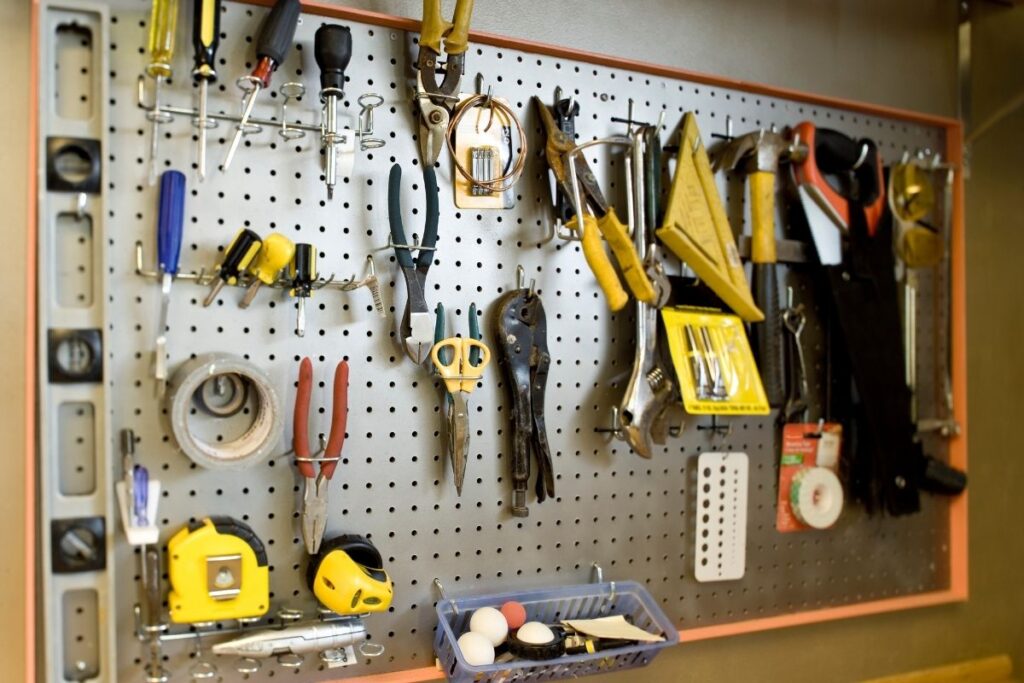 Make a PegBoard Wall with baskets, bins, hooks, and containers
Pegboard walls have become increasingly popular ways to organize all kinds of spaces. They can be used in home offices and hung above desks to create additional storage, and they can be a great solution for storing tools in the garage.
All you need to do is securely attach a piece of pegboard to your garage wall. Then, attach hooks, tool holders, or hanging bins according to your needs to create a storage space perfectly tailored to you.
Turn a closet or kitchen cupboard into a tool closet
If you don't have much storage space in your garage – or no garage at all – you might have to get creative when it comes to how to organize tools.
The kitchen is often a good option thanks to plenty of cabinets and drawers. As long as you don't have all of them filed with dishes and platters, you can leverage one or two for tool storage.
Bins, baskets, and organizational attachments can help you make the most of your cabinet-turned-tool-cupboard.
Hang Essential Tools Inside a Cabinet Door
One smart tool storage tip to consider involves hanging essential tools inside a cabinet door in the kitchen for easy access.
If you're tired of running out to the garage every time you need a hammer, wrench, or screwdriver, add a hanging attachment to the inside of a cabinet door to keep these items close without cluttering up your space.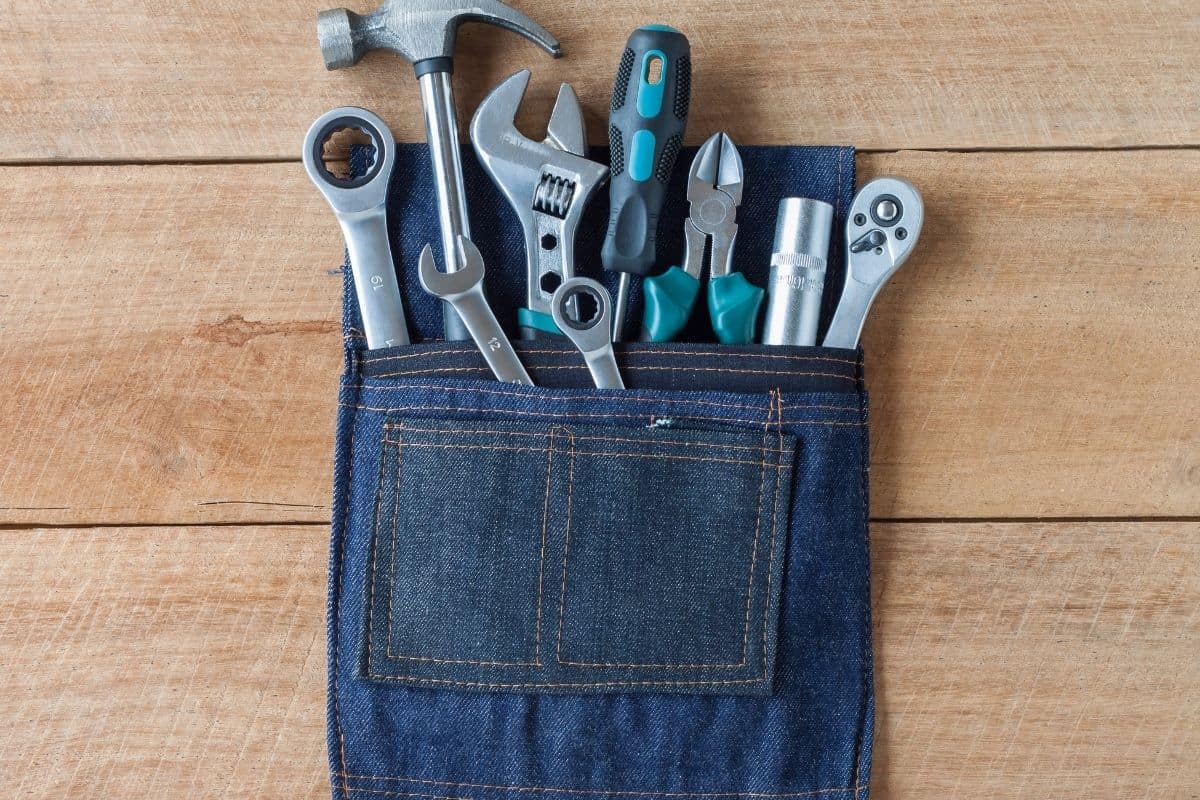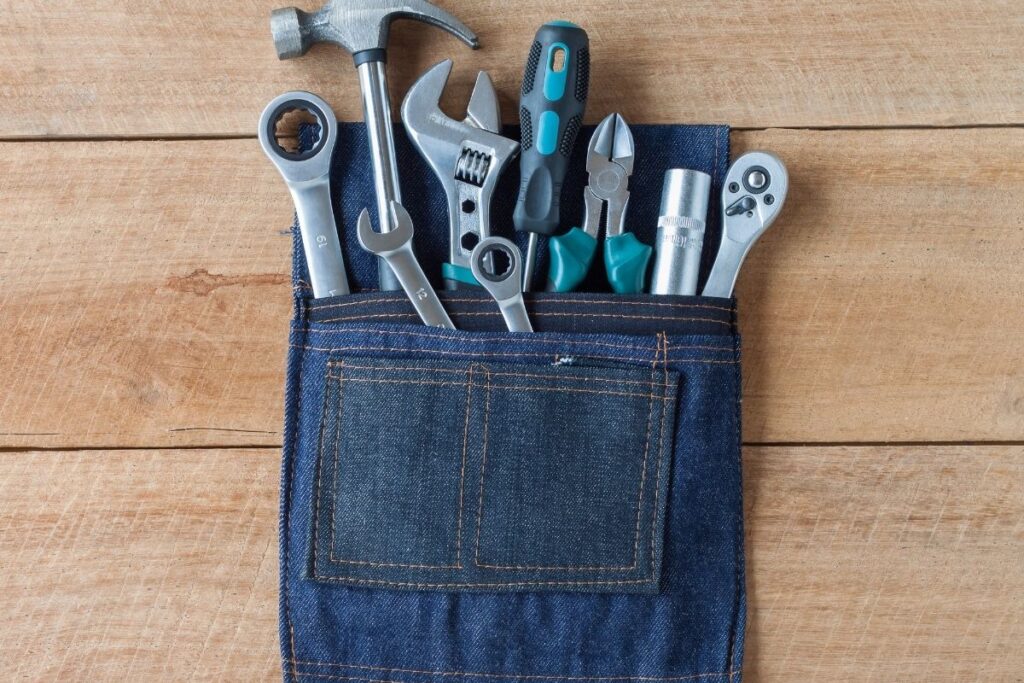 DIY Storage Ideas to Organize Tools and Hardware
There are a number of different ways you can organize your tools and hardware – including lots of ideas that involve a little elbow grease and DIY.
Rolling Cabinet
Got a lot of tools you need to move – but don't need to take them too far? You can easily turn a rolling cabinet into a tool storage solution.
Not only do rolling cabinets offer lots of storage space within, but the top can also often double as a work surface.
Rolling Kitchen Cart
Similar to a rolling cabinet, a rolling kitchen cart can easily be repurposed to make a great organizer for tools and hardware.
Some come with cabinets underneath, while others allow space for hanging items or include a shelf for extra storage.
Utility Cart
Utility carts are typically three-tiered shelves on wheels that can be used to store all kinds of things – including tools!
The shelves are really more like metal baskets, keeping items well-contained and easy to reach at the same time.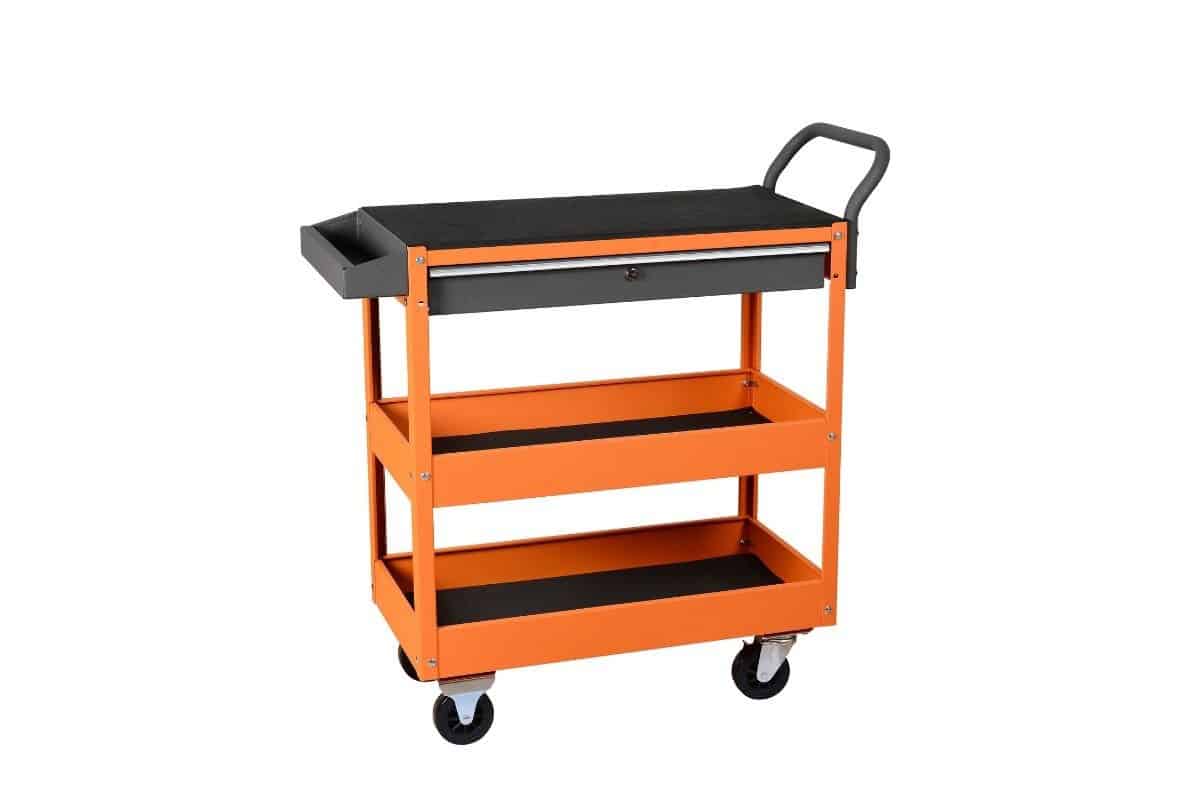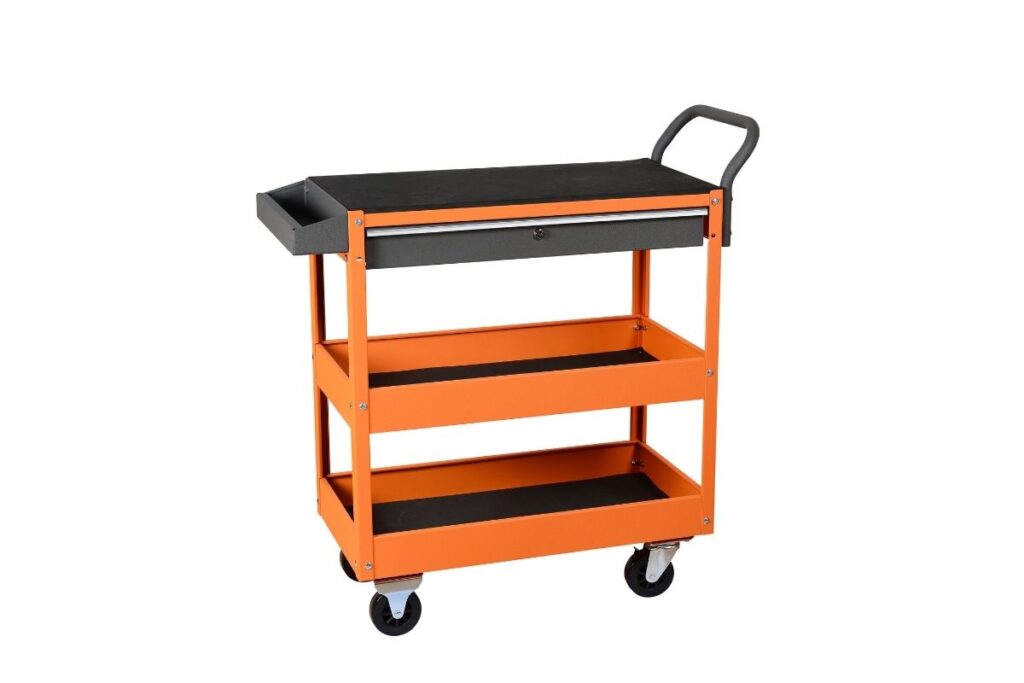 Magnetic Tool Organizers and Socket Holders
Since most tools are made of metal, magnetic tool organizers are a great way to save space and keep your tools secure and organized.
Mount magnetic tool organizing racks to your garage and use them to hold wrenches, screwdrivers, and other stuff that would otherwise take up space.
Tool Bags or Belts
If you need to carry your tools with you, a fixed solution in your garage may not be the right answer for your tool storage needs. Instead, consider a tool bag or belt, which comes with pouches and loops for storing tools and hardware.
The Best Way to Organize Hardware Without a Toolbox
Organizing screws, nuts, bolts, fasteners, nails, washers, and other hardware without a toolbox can be a challenge, but it's one you can easily overcome with a little effort! There are lots of options when it comes to small containers that can keep screws and other hardware organized.
Again, there is no true "best" solution for organizing hardware with no toolbox. It depends on what you're trying to organize, how accessible and mobile it needs to be, and a number of other factors. But with a little creativity, you can figure out a smart solution for your situation.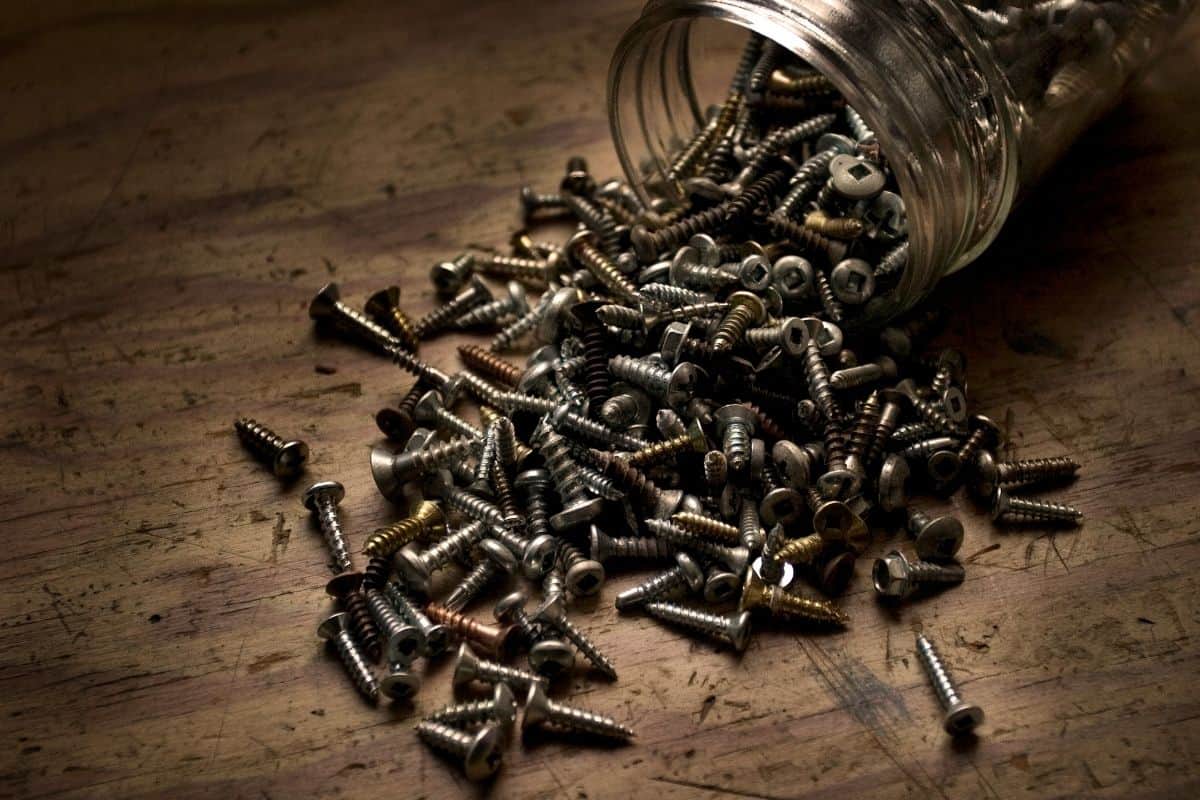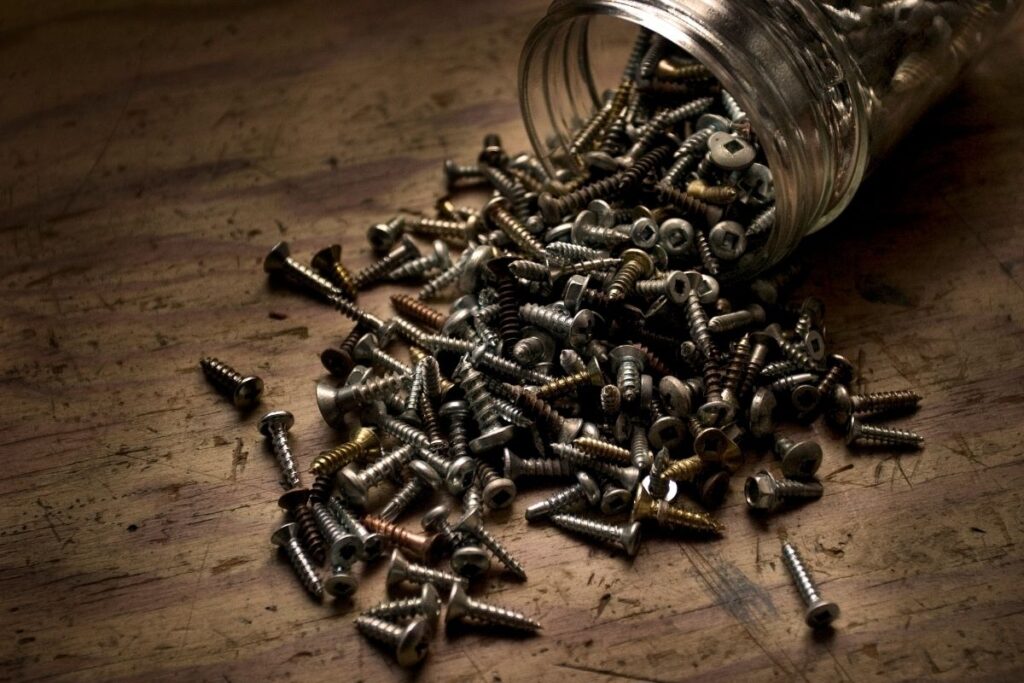 Organizers and Diy Options to Organize Hardware
There are many products available for keeping small things organized. Repurpose something you already have to store your hardware.
Keep Nuts and Bolts In Clear Mason Jars
Mason jars are useful for just about anything. They can serve as drinking glasses, pickling jars, pencil holders – and, of course, hardware storage containers.
Mason jars are available in a variety of different sizes and quantities, so you can get exactly what you need to stay organized.
Spice Rack With Jars
An old spice rack is another smart way to store hardware. Whether you pick a rotating one that swivels to reveal different jars or one that sits flush against the wall, you'll find it easy to find exactly what you're looking for.
Just make sure that you label your jars properly and keep your hardware organized within them! 
Plastic Storage Cases With Dividers
Plastic storage cases, like the ones you'd use to stow fishing tackle or organize small collections, can also be great options for hardware storage and organization.
Clear compartments make it easy to see what's there and find what you need, and the dividers allow you to keep everything in one place instead of separate containers.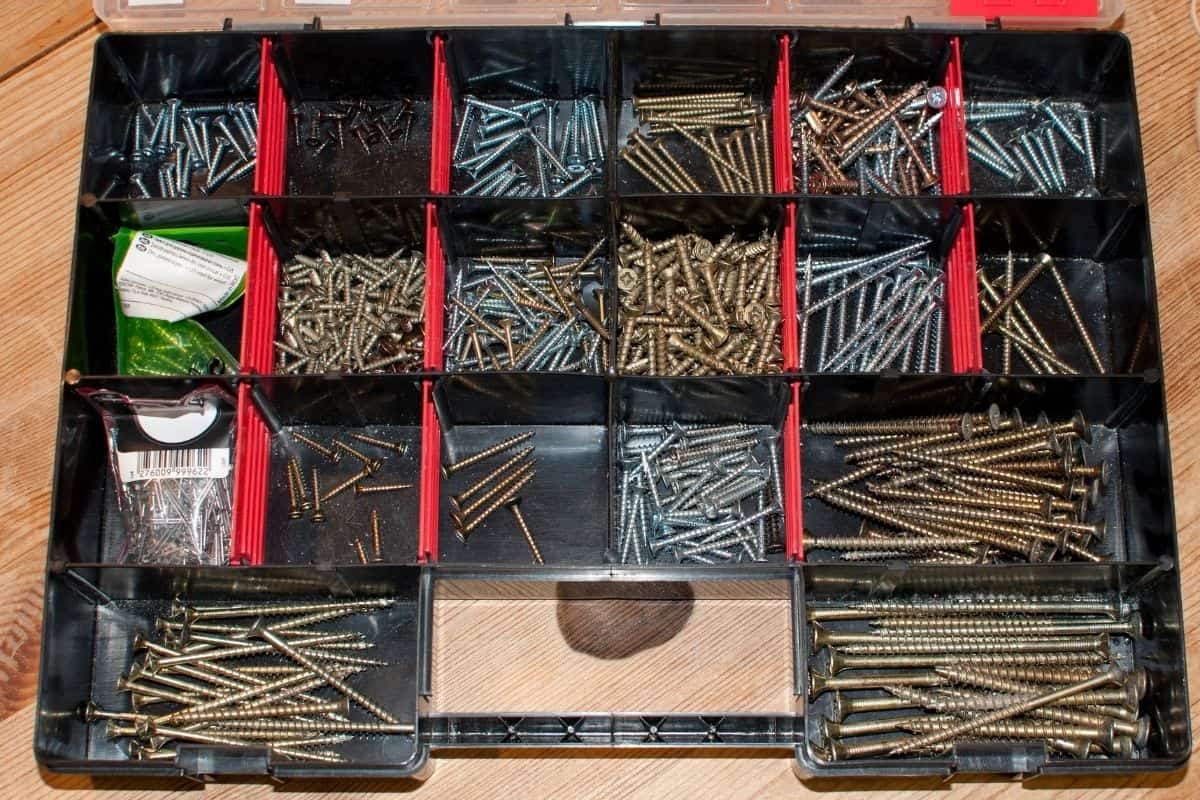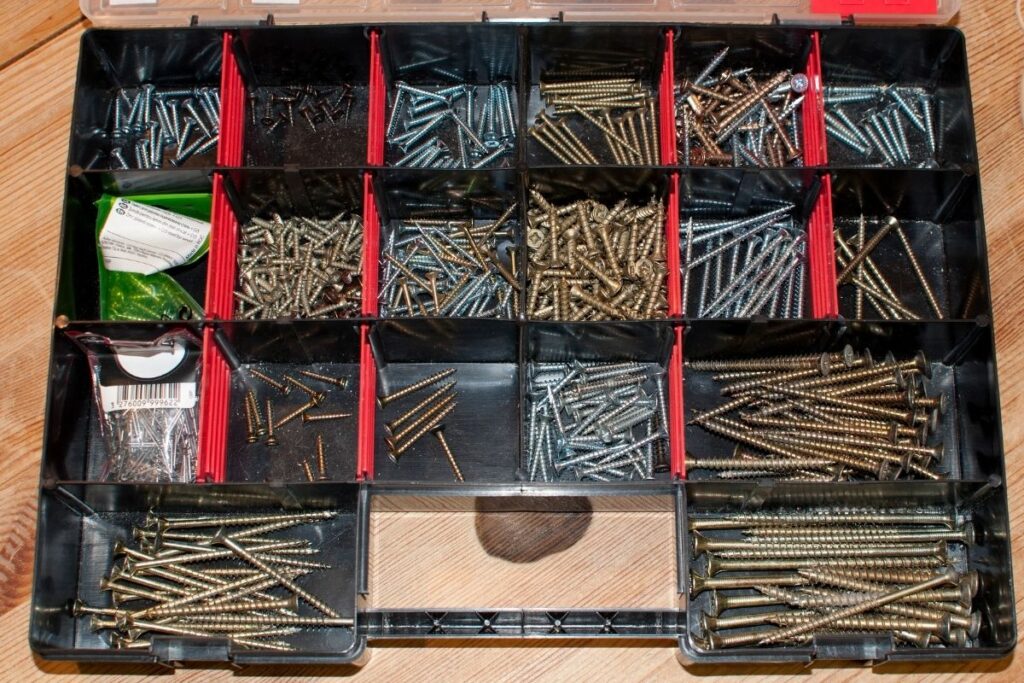 Storage Bin With Drawers
If you have a lot of hardware to store, a storage bin with drawers could be an excellent option for organizing your tools. You can find small storage bins that can sit on a countertop or workbench, or larger options that stand freely on the floor and come with lots of different compartments.
Craft & Hobby Storage Boxes
You might be surprised to find the hardware storage organizer of your dreams at Hobby Lobby or Michaels!
Craft and hobby storage boxes come in all shapes and sizes, depending on what they're intended for, but many can be repurposed as a useful way to organize hardware.
There are many creative ways to organize your tools and hardware without a toolbox!
From installing clever storage solutions in your garage to DIYing tool organizers from storage cabinets, kitchen carts, and pegboards, there are tons of different ways to get your tools and hardware organized – no toolbox required.
If you're working on decluttering your garage, these tips will help you get your tools streamlined and organized so that you will have a functional space.
What's your favorite way to organize tools without a toolbox? Share it in the comments section below.
Sign up on the form below to get weekly decluttering tips and inspiration sent straight to your inbox. You'll also get the free 5 Areas to Declutter in 10 Minutes Checklist to help you get started decluttering today.