Inside: Learn how to make a small space feel bigger using these helpful tips!
Living in a small space can be cozy – or it can be cramped.
When you don't have a ton of square footage to work with, it might feel like you're trapped in your too-small space, struggling to figure out how to make it work.
How do you make your small space feel bigger?
You can't technically add more space to your home without undergoing a major renovation, but there are things you can do to make a BIG difference in how spacious your house feels.
Keep reading to see what YOU can do to make your small space feel bigger.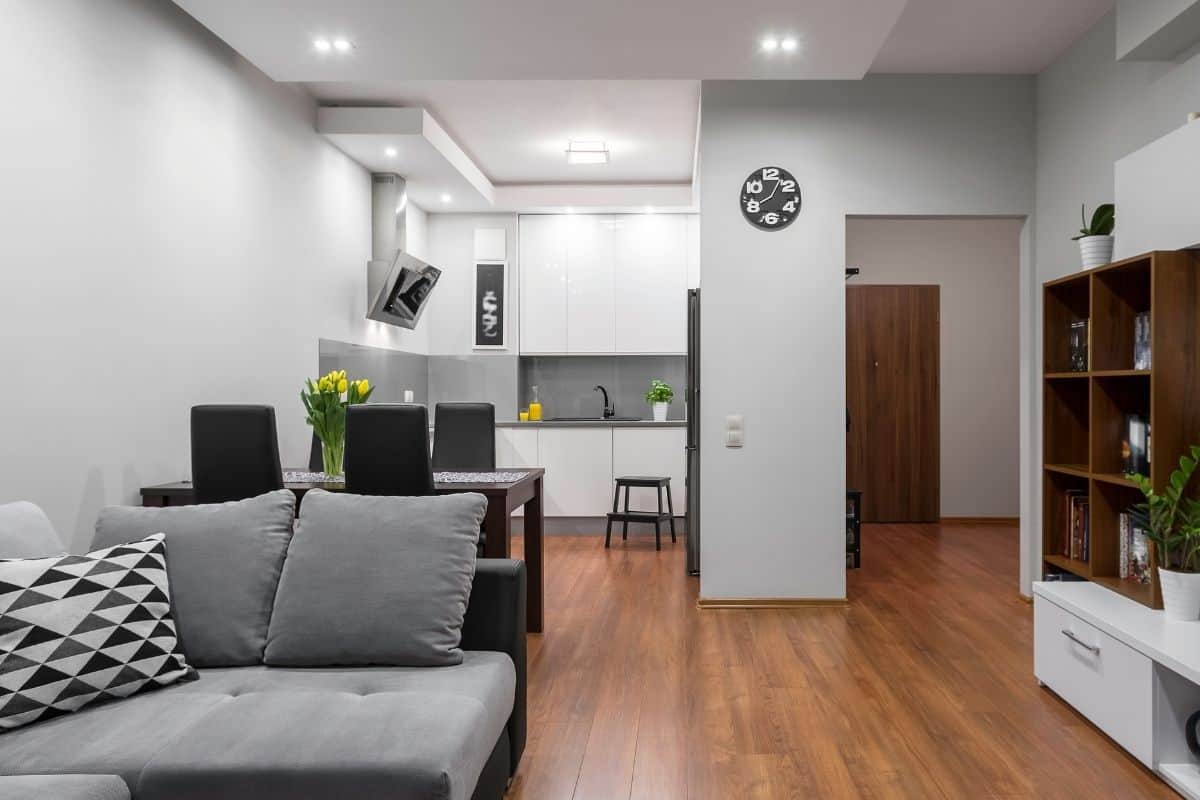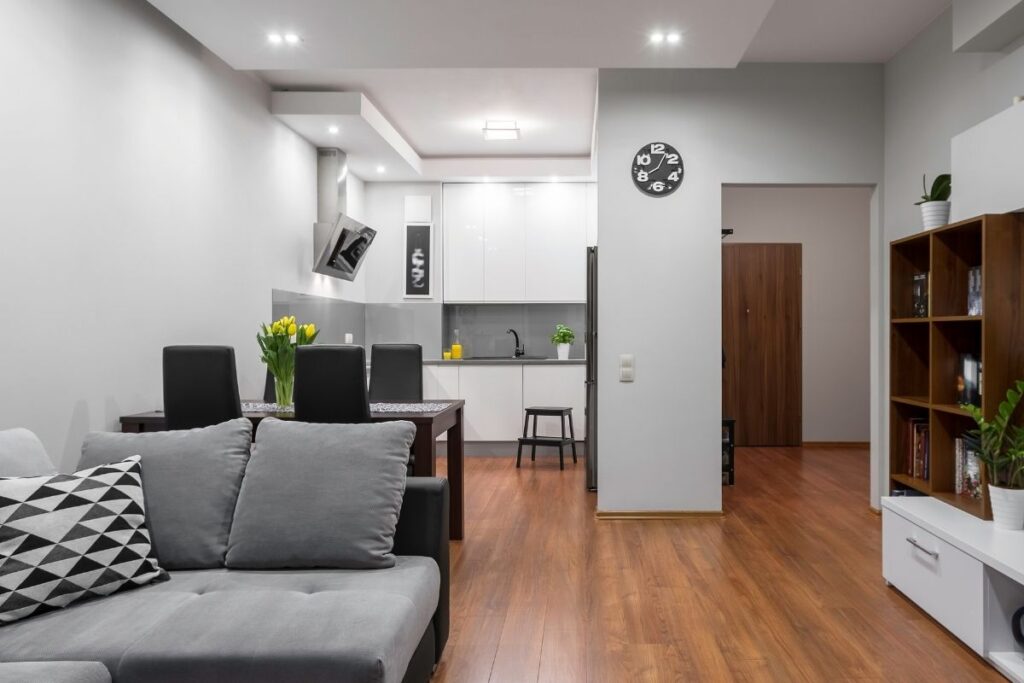 Why Is Living in a Small Space Hard?
Some people prefer to live in a smaller space, while for others it isn't as ideal. Downsizing can be an intentional choice or a necessity based on circumstances.
If you're living in a space that is smaller, you may feel like you want more room to breathe, entertain, and to try and get some peace and quiet.
Living in a small space can be a challenge at times. It can bring on feelings of overwhelm, stress, and frustration.
Some may feel that they don't have enough space while others may come to the conclusion that they simply have too much stuff.
And if you're sharing your small space with others – friends, family, pets, or a combination – it can lead to unwanted tension and conflict.
Factor in the trend of remote work, and living in a small space becomes even more challenging. Without having an excuse to leave your home and head to the office, it can make your little house feel even smaller than it actually is.
Fortunately, by taking some steps to make your small space feel bigger, you can dramatically improve your situation and enhance your life – or your living space, at least – in a big way! These tips will help you to learn to love your home.
Nine Tips to Make a Small Space Feel Bigger
Not sure what you should do to make your little space feel larger?
There are quite a few things you can do to make your small space feel bigger – many of which are low to no-cost and easy to implement.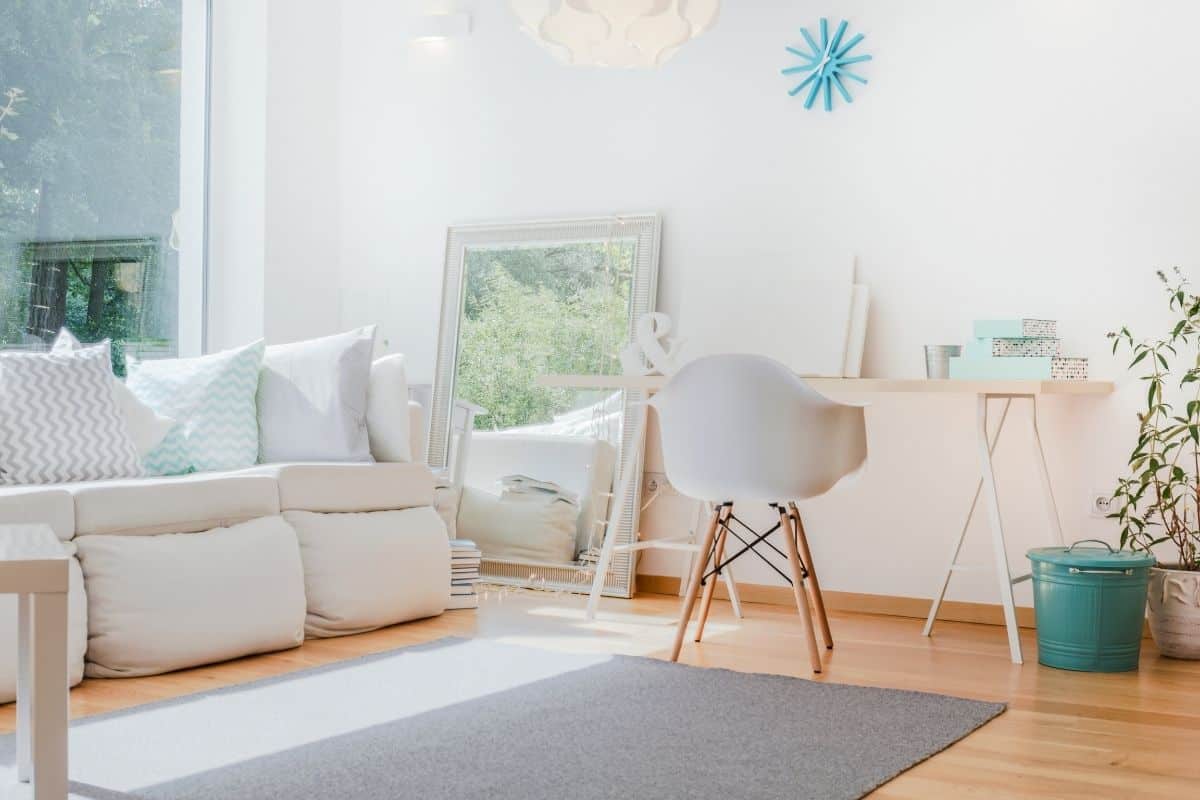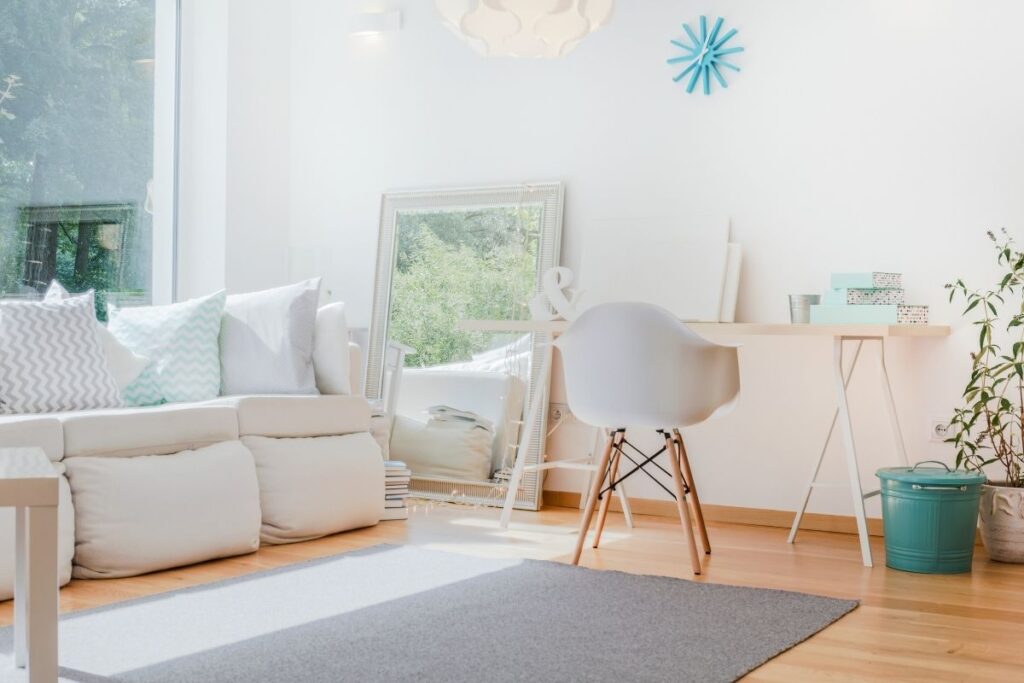 1. Use mirrors to create the illusion of space.
When it comes to making a small room feel bigger, mirrors are an interior decorator's best friend. They bounce light around the room, bringing brightness and making you feel like you're in a bigger space than you actually are.
Mirrors complement virtually any decor and come in a variety of shapes and sizes, making them an easy addition to nearly any room.
2. Get rid of clutter.
One of the quickest, easiest, and cost-free ways to make your small space feel larger is to get rid of all of your clutter.
Clean up and say goodbye to surfaces covered in stuff, random junk where it doesn't belong, and obvious trash that just needs to go. When you're done, you'll be shocked to see just how much more spacious your room might feel – without changing anything else.
Not sure how or where to get started? Check out this post with 7 tips when you're overwhelmed with clutter. Or there's this post with 12 areas you can declutter quickly and easily.
3. Take an intentional approach to decor.
When you're working with a small space, you don't want to overwhelm it – and you – with over-the-top decor. Instead, take an intentional, deliberate approach.
Embrace the 'less is more' philosophy and really put time and consideration into the things you do put in your space.
From your window coverings to the throw pillows on your couch and everything in between, everything has an opportunity to add value to your space – or detract and contribute to clutter.
Choose wisely – and ask a friend with a good eye for interior design to help you out if you just aren't sure! It is possible to create a space that is both cozy and simple.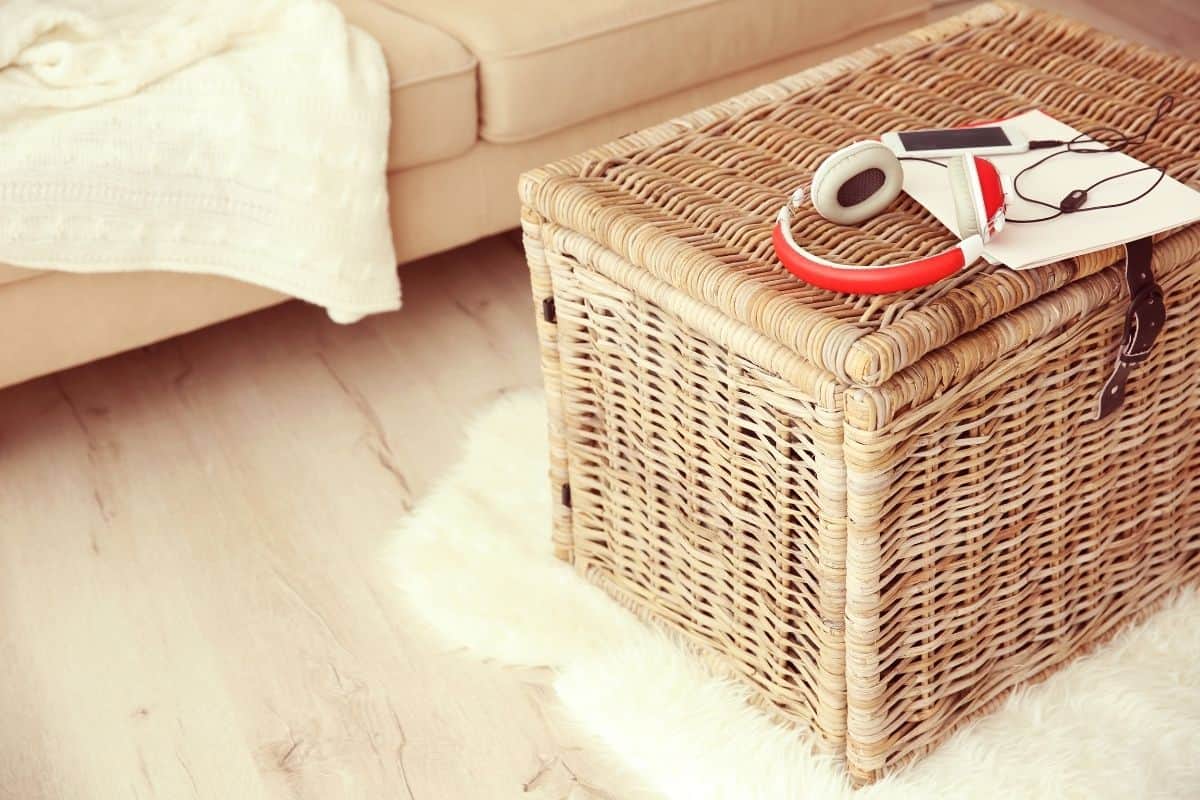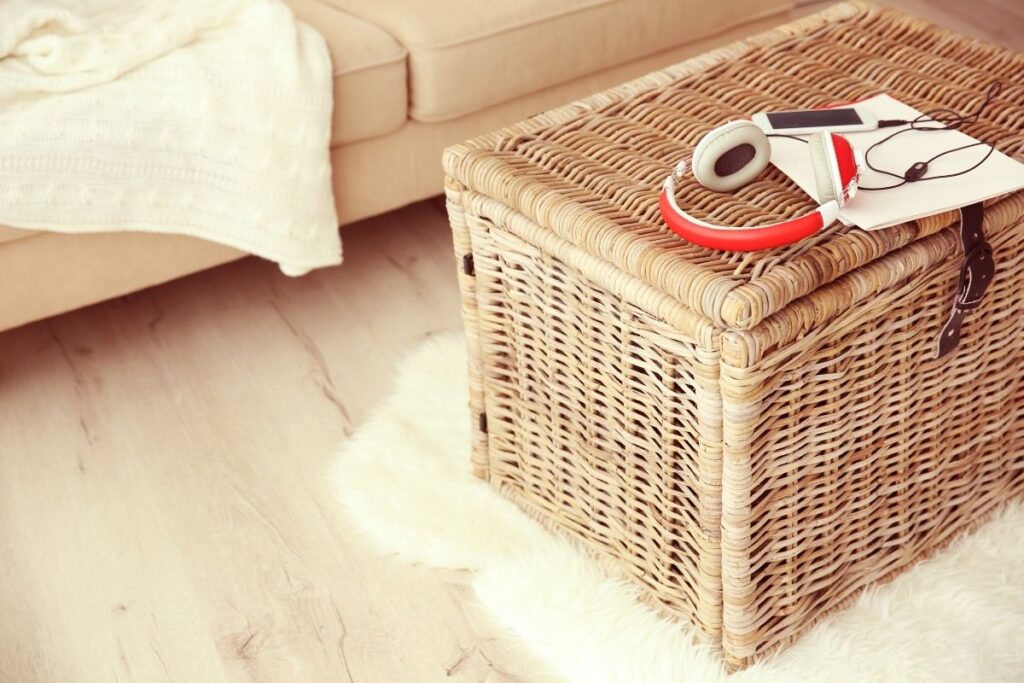 4. Opt for hidden storage.
On the topic of clutter, there's always going to be some stuff you just can't get rid of. There are things you love and use, but that you don't necessarily want to look at. In those cases, you'll want to look for ways to store them.
At the same time, when you're working with a small space, you probably don't have a ton of closets or built-in storage to leverage.
That's where hidden storage comes into play. Ottomans and poufs that double as storage containers, coffee tables with a lift-top to reveal an interior compartment, benches that serve as storage chests – all can be leveraged to work double-duty in your small space.
5. Keep furniture away from walls.
It might sound counterintuitive if you're working with a small space, but hear me out. Give your furniture a little room to breathe by pulling it away from your walls if possible.
Rooms with furniture-lined walls can feel cramped and claustrophobic. By pulling your furniture away and letting it stand on its own, you create the illusion of more openness. 
Consider whether or not all of furniture you have is necessary. Taking out unused furniture pieces will make the room instantly feel bigger.
6. Buy furniture that fits your space.
Speaking of furniture – huge furniture is a guaranteed way to make your small space feel absolutely overwhelming. Instead, you need to choose furniture pieces that suit the space you're in.
Furnishing a small living room? Stick with a couple of single chairs and a loveseat as opposed to the wraparound sectional and be conscious when choosing tables, television stands, and other pieces that run the risk of being bulky.
Oversized furniture makes your space look cluttered, but appropriately sized furnishings can even give the illusion of more space.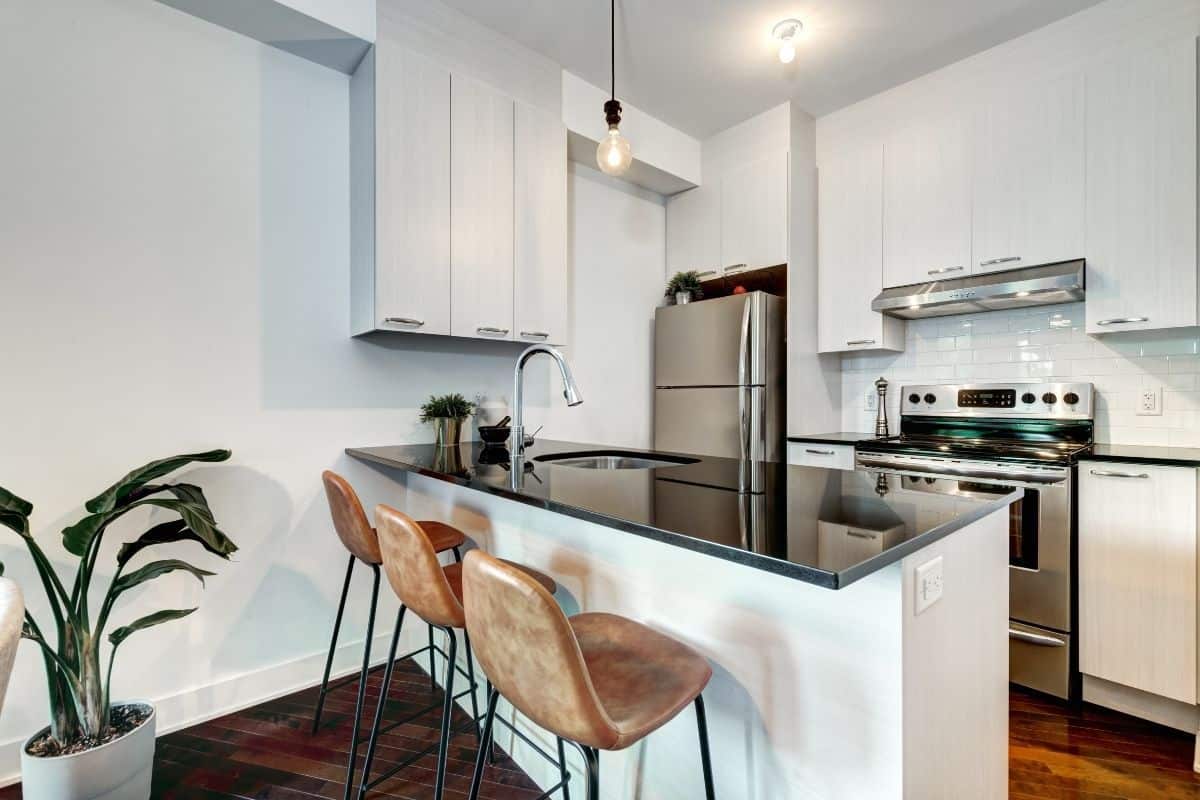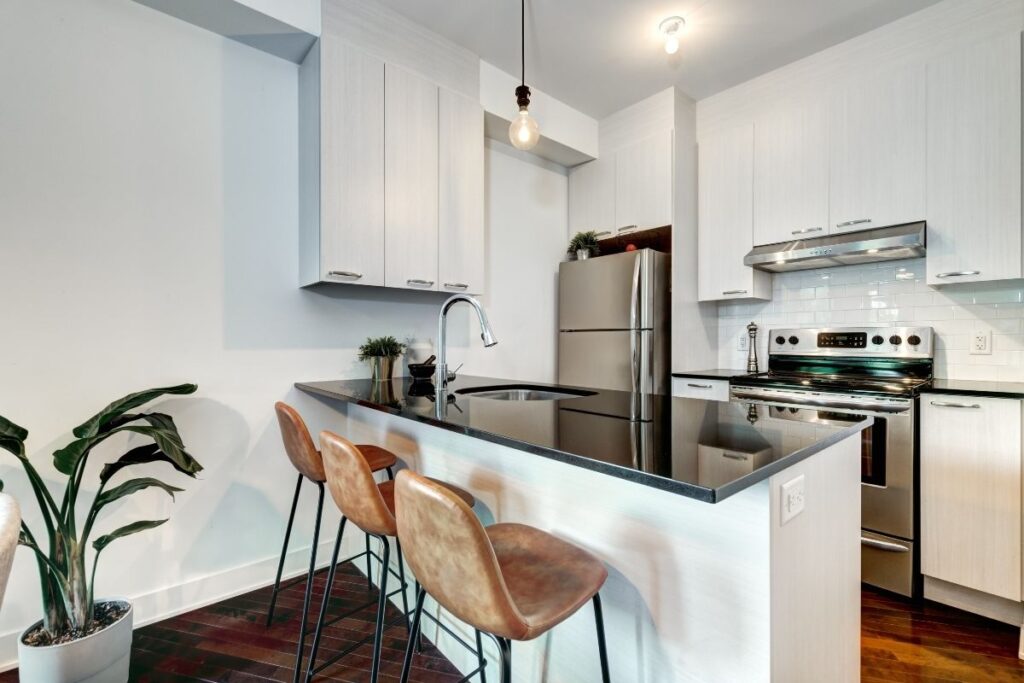 7. Stick with light colors.
It's well-known among designers that light paint colors can make a room feel much bigger than it truly is. If you're debating shades of paint for your small home, stick with pale grays, off-whites, and other light, neutral tones.
Keep your color palette up throughout your room – and throughout your whole home, to encourage the feeling of flow as you move from room to room.
It will make the space feel lighter and brighter, which is especially important in a smaller space.
8. But you consider an accent wall.
While light colors reign supreme when trying to create more space, an accent wall can be a clever, eye-catching way to create a focal point for your room – something else that's key to design when you're working with a small space.
If you're in a long and narrow room, you can even get away with painting two opposing walls. This subconsciously calls attention to the length of the room and deemphasizes the narrow width.
Whether there is a color or wallpaper pattern you love, using it on just one accent wall can make a big impact in the room.
9. Keep things open.
An open, airy aesthetic can work wonders when it comes to making your small space feel bigger. Working with a small bathroom? Replace that shower curtain with a clear glass door.
Feeling like your kitchen is a little cramped? Consider glass fronts on some upper cabinets. If you don't want to see what's stored, opting to paint the uppers a lighter color works well too.
You can take it a step further by removing doors – and even walls – where they don't need to be. You might be amazed to see just how open your home feels by turning a couple of doors into open archways, creating a more seamless flow from room to room.
How have YOU made your small space feel bigger? Leave a comment and let me know!
Sign up on the form below to get weekly simplifying and decluttering tips sent straight to your inbox. You'll also get the free Your Home Decluttered Jumpstart which includes 100 easy items to declutter and 12 high-impact areas to declutter in 10 minutes.