Inside: Read these good morning self-love quotes to get your day off to a great start.
Are mornings your favorite time of day or do you find getting going to be a challenge?
Regardless of whether you tend to be an optimist or struggle with negativity, these good morning self-love quotes can help you to get your day off on the right foot.
Reflecting on positive messages first thing helps to get you in a good mindset for the day ahead.
These self-love quotes are especially great for women and men who may struggle with self-acceptance. They're great reminders for focusing on the good, letting go of the past, and that you're already worthy as you are.
Use these good morning self-love quotes to put a little sunshine in your day!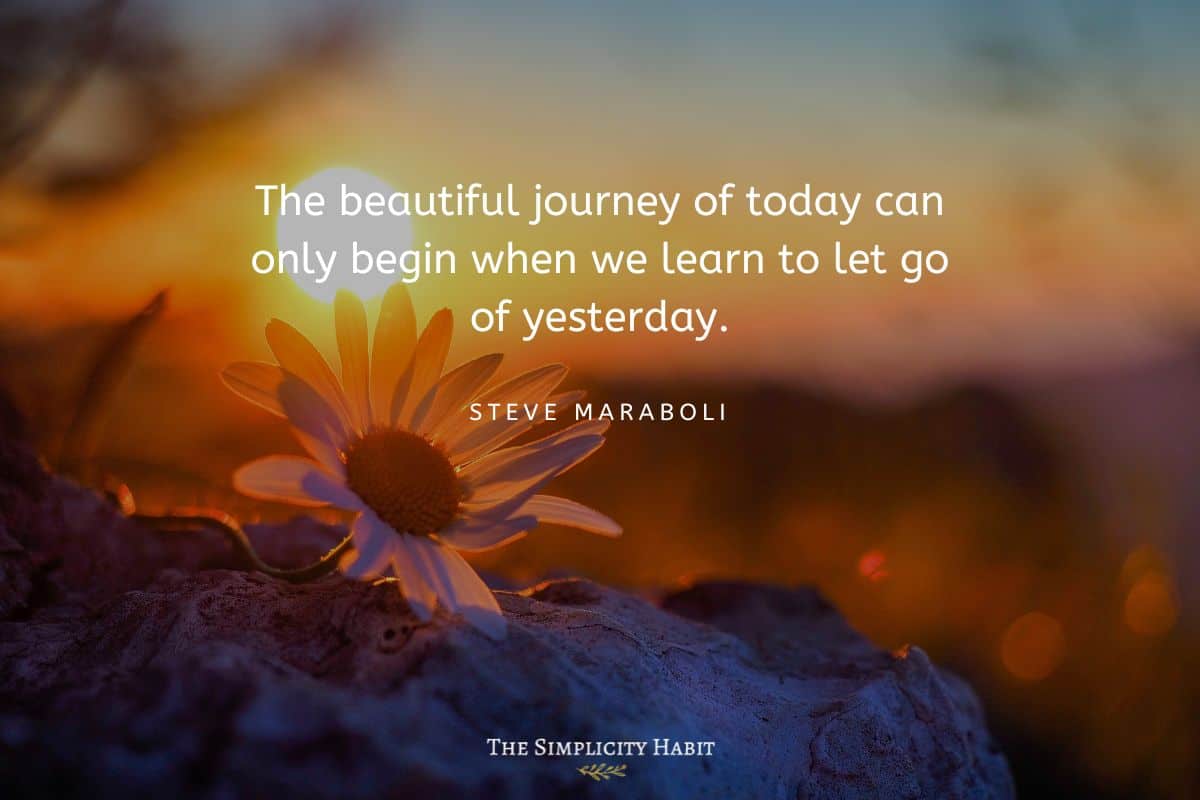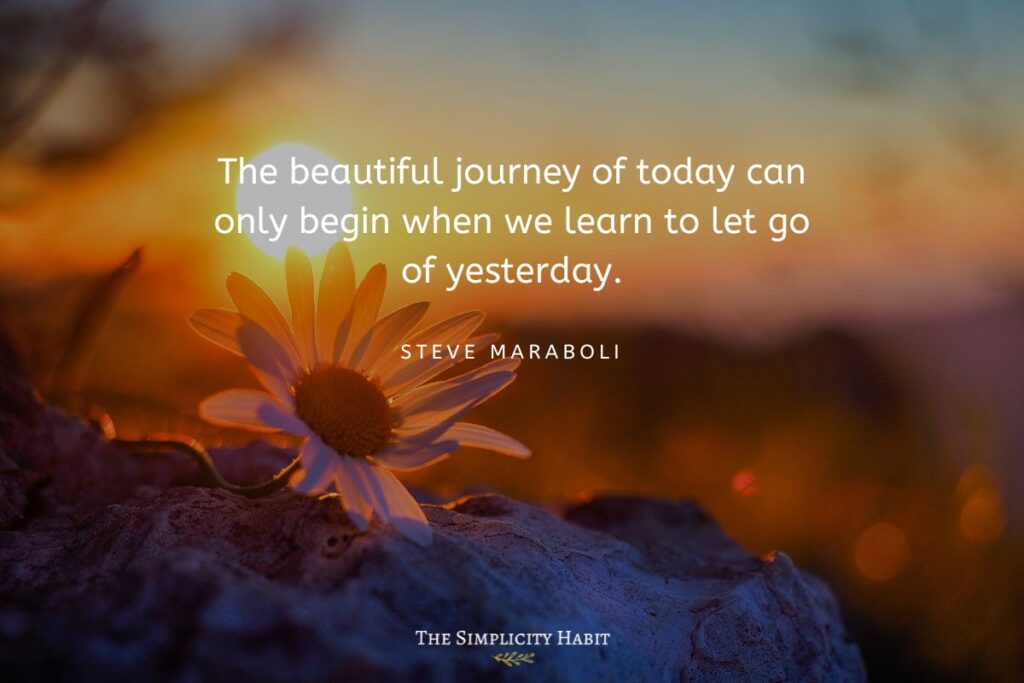 50 Good Morning Self-Love Quotes to Start Your Day off Right
"The beautiful journey of today can only begin when we learn to let go of yesterday." -Steve Maraboli
"Talk to yourself like you would to someone you love." -Brené Brown
"Each morning when I open my eyes I say to myself: I, not events, have the power to make me happy or unhappy today." -Groucho Marx
"Where you are is a result of who you were, but where you go depends entirely on who you choose to be." -Hal Elrod
"No one can make you feel inferior without your consent." -Eleanor Roosevelt
"You are a very special person. There is only one like you in the whole world. There's never been anyone exactly like you before, and there will never be again. Only you. And people can like you exactly as you are." -Fred Rogers
"Sometimes adversity is what you need to face in order to become successful." -Zig Ziglar
"But I have found that in the simple act of living with hope, and in the daily effort to have a positive impact in the world, the days I do have are made all the more meaningful and precious." -Elizabeth Edwards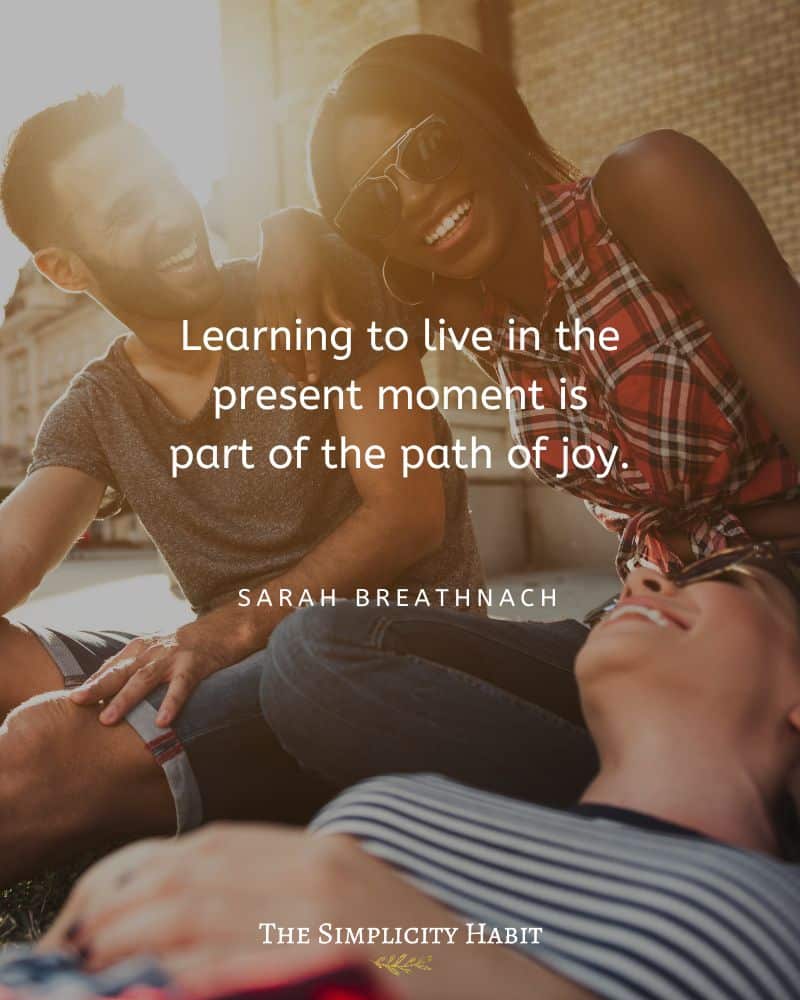 "Learning to live in the present moment is part of the path of joy." -Sarah Breathnach
"Just because you've made mistakes doesn't mean your mistakes get to make you. Take notice of your inner critic, forgive yourself, and move on." -Robert Tew
"Keep taking time for yourself until you're you again." -Lalah Delia
"If we all did the things we are capable of doing, we would literally astound ourselves." -Thomas Alva Edison
"Never allow yourself to be defined by someone else's opinion of you." -Unknown
"Always remember you are braver than you believe, stronger than you seem, and smarter than you think." -Christopher Robin
"Smile in the mirror. Do that every morning and you'll start to see a big difference in your life." -Yoko Ono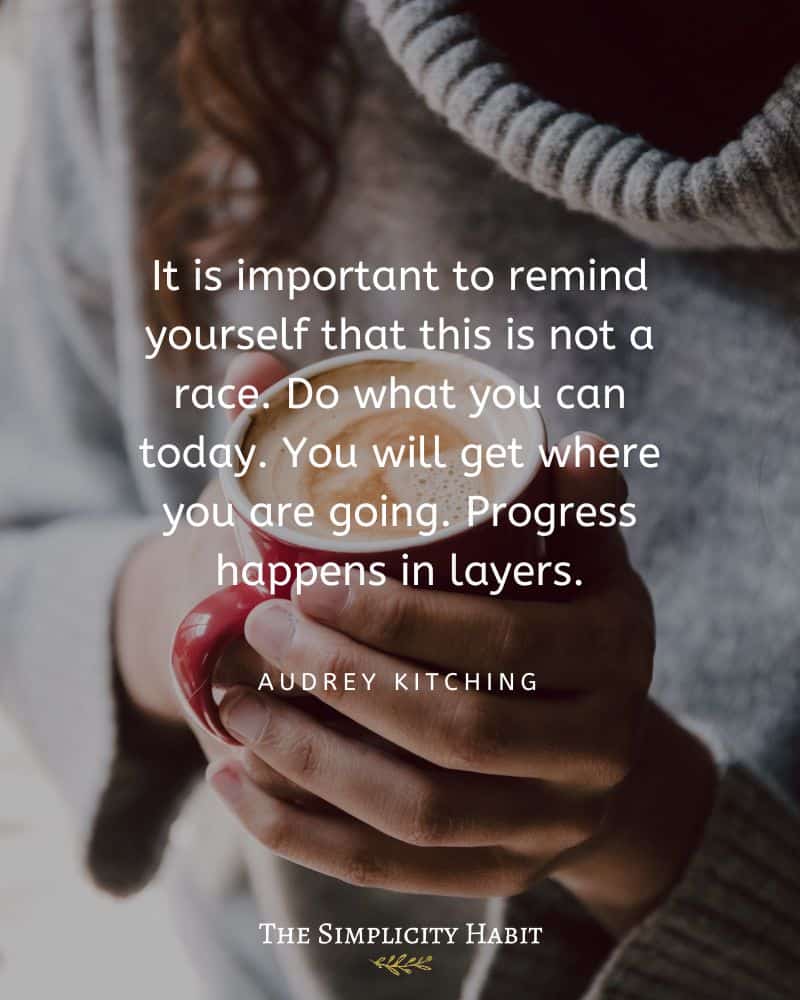 "It is important to remind yourself that this is not a race. Do what you can today. You will get where you are going. Progress happens in layers." -Audrey Kitching
"You find peace not by rearranging the circumstances of your life, but by realizing who you are at the deepest level." -Eckhart Tolle
"Love yourself unconditionally, just as you love those closest to you despite their faults." -Les Brown
"Believe in yourself! Have faith in your abilities! Without a humble but reasonable confidence in your own powers you cannot be successful or happy." -Norman Vincent Peale
"You alone are enough, you have nothing to prove to anybody." -Maya Angelou
"Do not spoil what you have by desiring what you have not; remember that what you now have was once among the things you only hoped for." -Epicurus
"It isn't always a change of scenery needed to make life better. Sometimes it simply requires opening your eyes." -Richelle E. Goodrich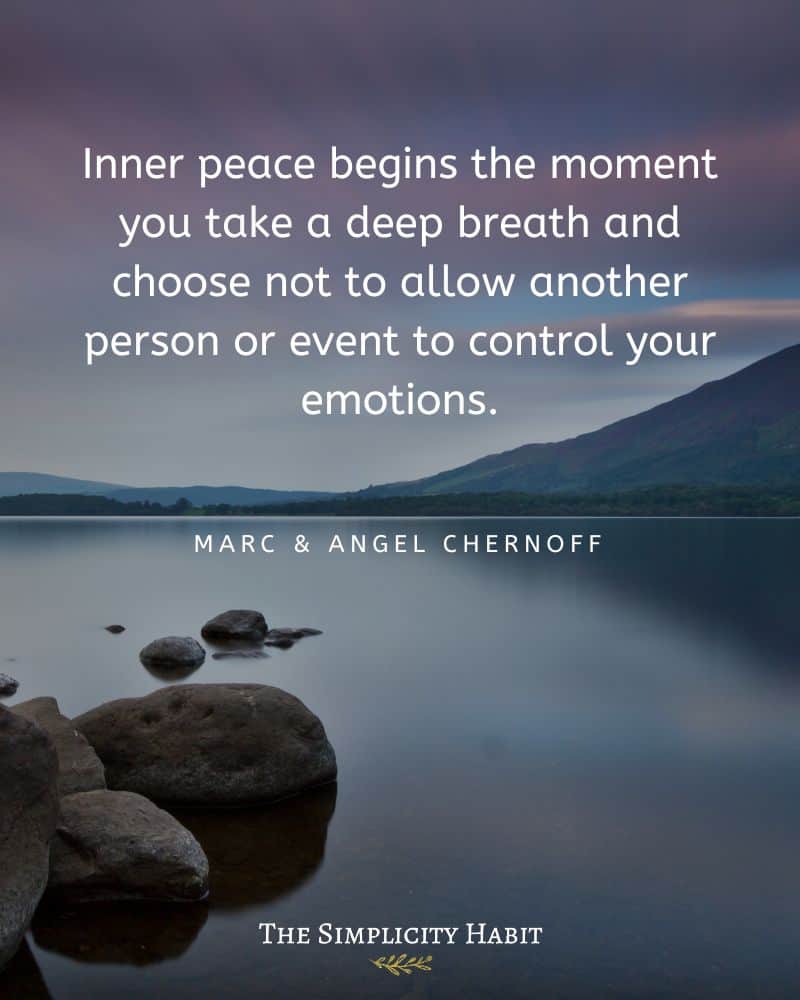 "Inner peace begins the moment you take a deep breath and choose not to allow another person or event to control your emotions." -Marc & Angel Chernoff
"I encourage you to look for the good where you are and embrace it." -Fred Rogers
"To be yourself in a world that is constantly trying to make you something else is the greatest accomplishment." -Ralph Waldo Emerson
"Never let hard lessons harden your heart; the hard lessons of life are meant to make you better, not bitter." -Roy T. Bennett
"Every morning, when we wake up, we have twenty-four brand-new hours to live. What a precious gift! We have the capacity to live in a way that these twenty-four hours will bring peace, joy, and happiness to ourselves and others." -Nhat Hahn
"If one dream should fall and break into a thousand pieces, never be afraid to pick one of those pieces up and begin again." -Flavia Weedn
"In a society that says, 'Put yourself last,' self-love and self-acceptance are revolutionary." -Brené Brown
"Be so busy loving your life that you have no time for hate, regret or fear." -Unknown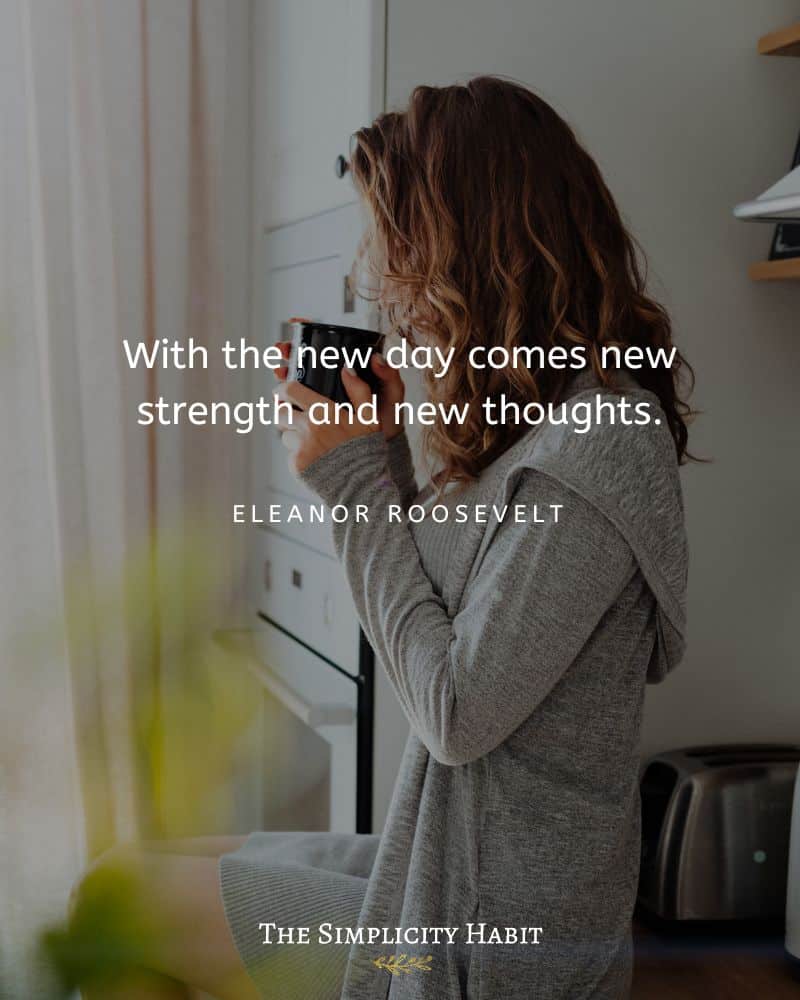 "With the new day comes new strength and new thoughts." -Eleanor Roosevelt
"A person learns how to love himself through the simple acts of loving and being loved by someone else." -Haruki Murakami
"You must think well of yourself. You must see yourself as worth celebrating, worth loving, worth having." -Angelina Talpa
"Never stop believing in yourself. When others doubt, don't you. Do what you love to do. No one knows better than you. Life is too short to live others' dreams. Follow your own dream. Push yourself to reach your goals and live the life you once dreamed." -Catherine Pulsifer
"Anything is possible once you believe you are worthy of achieving it." -Jason Pockrandt
"Today expect something good to happen to you no matter what occurred yesterday. Realize the past no longer holds you captive. It can only continue to hurt you if you hold on to it. Let the past go. A simply abundant world awaits." -Sarah Breathnach
"Create the highest grandest vision possible for your life, because you become what you believe." -Oprah Winfrey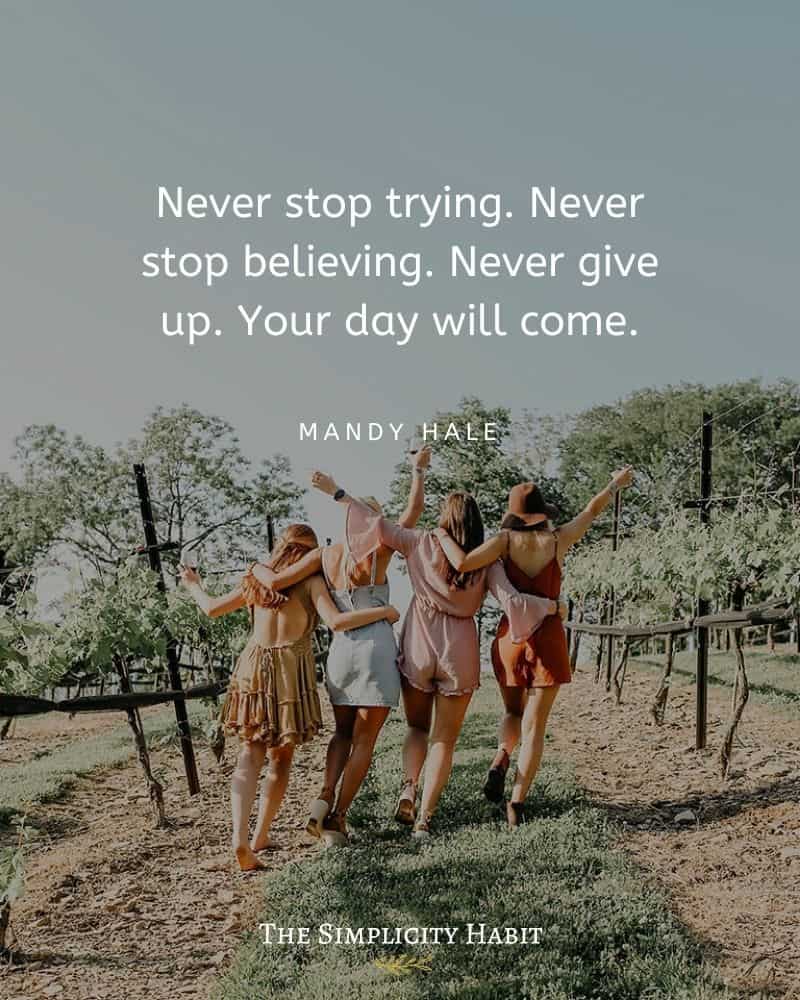 "Never stop trying. Never stop believing. Never give up. Your day will come." -Mandy Hale
"When you arise in the morning, think of what a precious privilege it is to be alive, to breathe, to think, to enjoy, to love." -Marcus Aurelius
"Self-love has very little to do with how you feel about your outer self. It's about accepting all of yourself." -Tyra Banks
"Love yourself enough to set boundaries. Your time and energy are precious. You get to choose how you use it. You teach people how to treat you by deciding what you will and won't accept." -Anna Taylor
"It's not your job to be everything to everyone." -Courtney Carver
"The true way to live is to enjoy every moment as it passes and surely it is in the everyday things around us that the beauty of life lies." -Laura Ingalls Wilder
"If you can learn to love yourself and all the flaws, you can love other people so much better. And that makes you so happy." -Kristin Chenoweth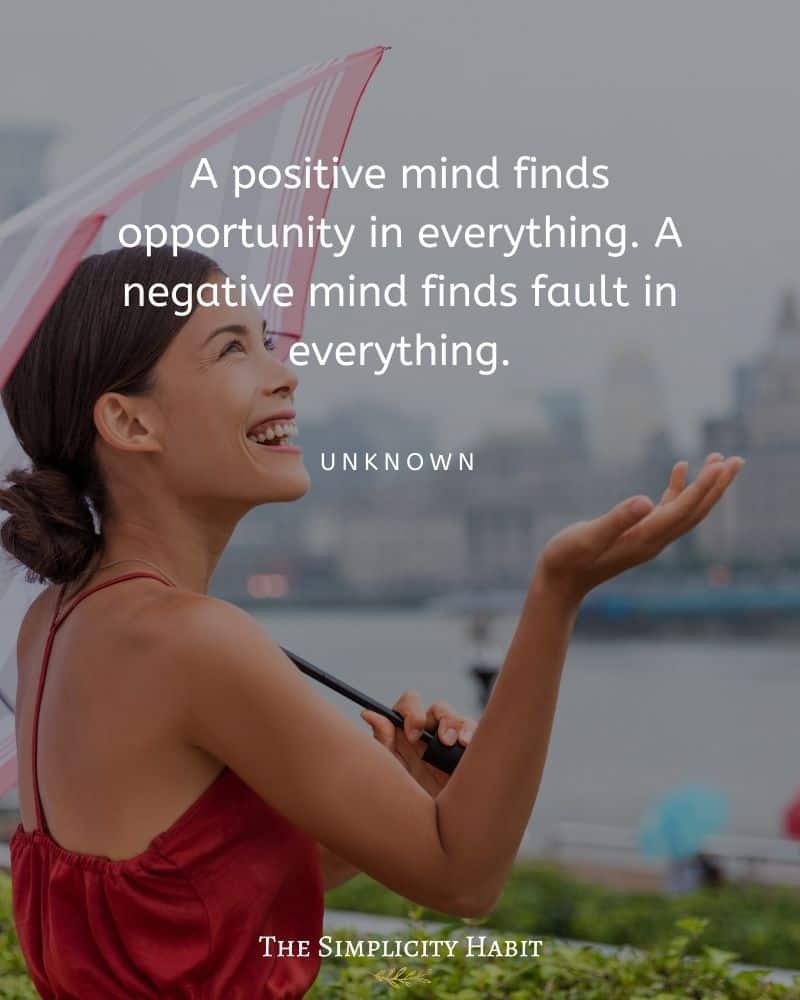 "A positive mind finds opportunity in everything. A negative mind finds fault in everything." -Unknown
"Don't forget to tell yourself positive things daily! You must love yourself internally to glow externally." -Hannah Bronfman
"How cool is it that the same God that created mountains, and oceans, and galaxies, thought the universe needed one of you too." -Unknown
"Do not think of today's failures, but of the success that may come tomorrow. You have set yourself a difficult task, but you will succeed if you persevere; and you will find a joy in overcoming obstacles." -Helen Keller
"Let go of who you think you're supposed to be; embrace who you are." -Brené Brown
"Never before, since the beginning of time, has there ever been anybody exactly like you; and never again throughout all the ages to come will there ever be anybody exactly like you again." -Dale Carnegie
Want more inspiring quotes? Check out these posts!
What's your favorite one of the good morning self-love quotes? Share it in the comments section!
Sign up on the form below to get weekly decluttering and simplifying inspiration sent straight to your inbox. You'll also get the free 8 Quick Wins for Decluttering Worksheet to help you start to simplify your life today.