Inside: Use these steps to declutter your attic and repurpose the space into something you can use and enjoy more.
A guest post by Rose Morrison
Attics are known for housing cobwebs, dust, long forgotten boxes, and an assortment of various odds and ends. Sound familiar? You can change that!
Decluttering and repurposing your attic can present new options for your living space. Depending on how you utilize the area, it can also add value to your home.
There are many ideas for converting your attic into something you can use and enjoy, so let's take a look at how to declutter your attic and repurpose the space.
5 Steps to Declutter Your Attic & Repurpose the Space
Ready to declutter your attic so that you can repurpose your space? Use these five steps to help you completely transform your room from a junk filled space to a useable one!
1. Research Your Options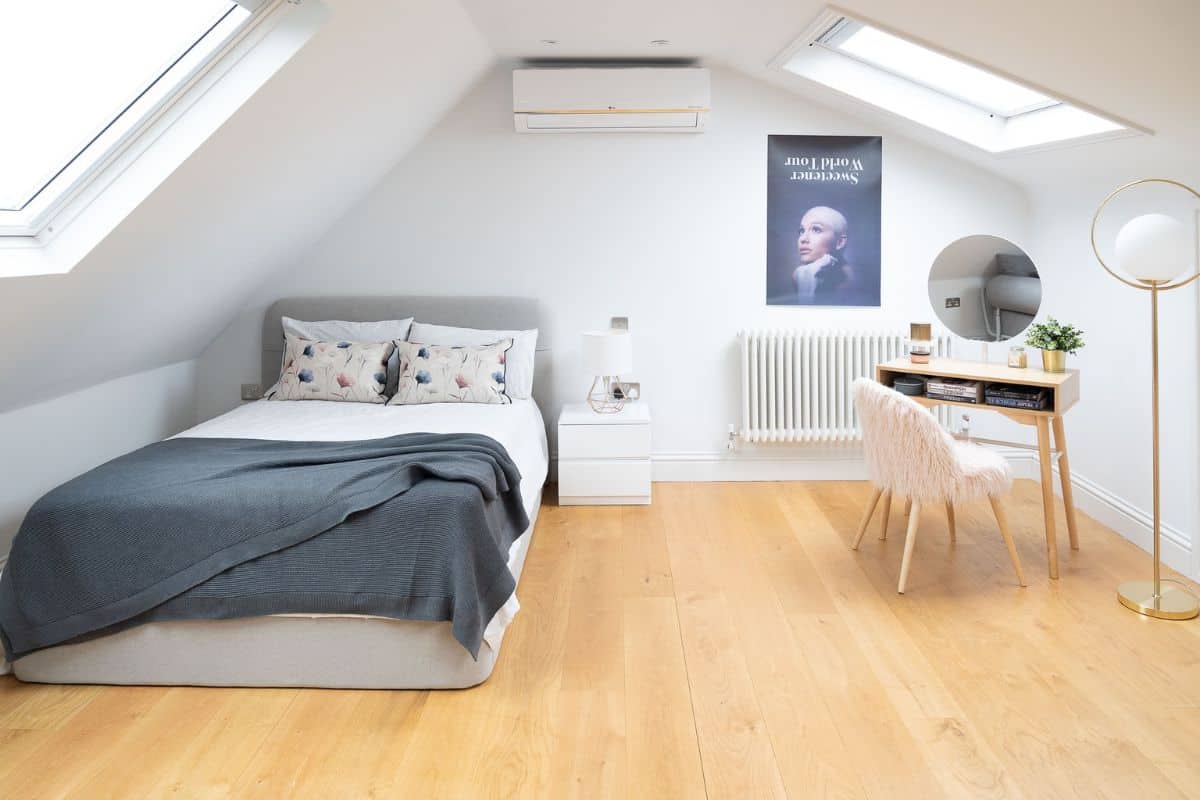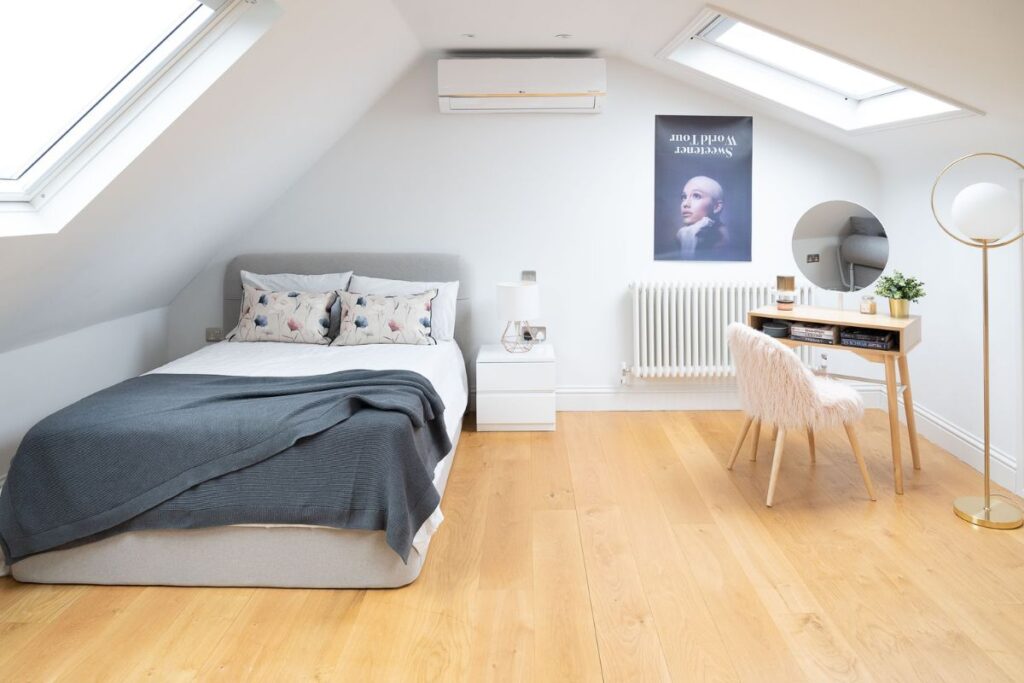 Many resources are available that contain ways to convert your attic space. Do your research and find what ways appeal to you and that work with the open space.
You could transform your loft or attic space into a home office, an extra bedroom, a playroom for kids, a home gym, or a library.
Have you always wanted a reading nook but never had the space for one?
Now is a great time to make your home a place that you can fully enjoy. The options are almost endless if you invest the time and think outside the box.
Depending on the current state of your attic, certain types of room transformations can be expensive so make sure you include cost as you weigh your various options.
2. Prep Your Space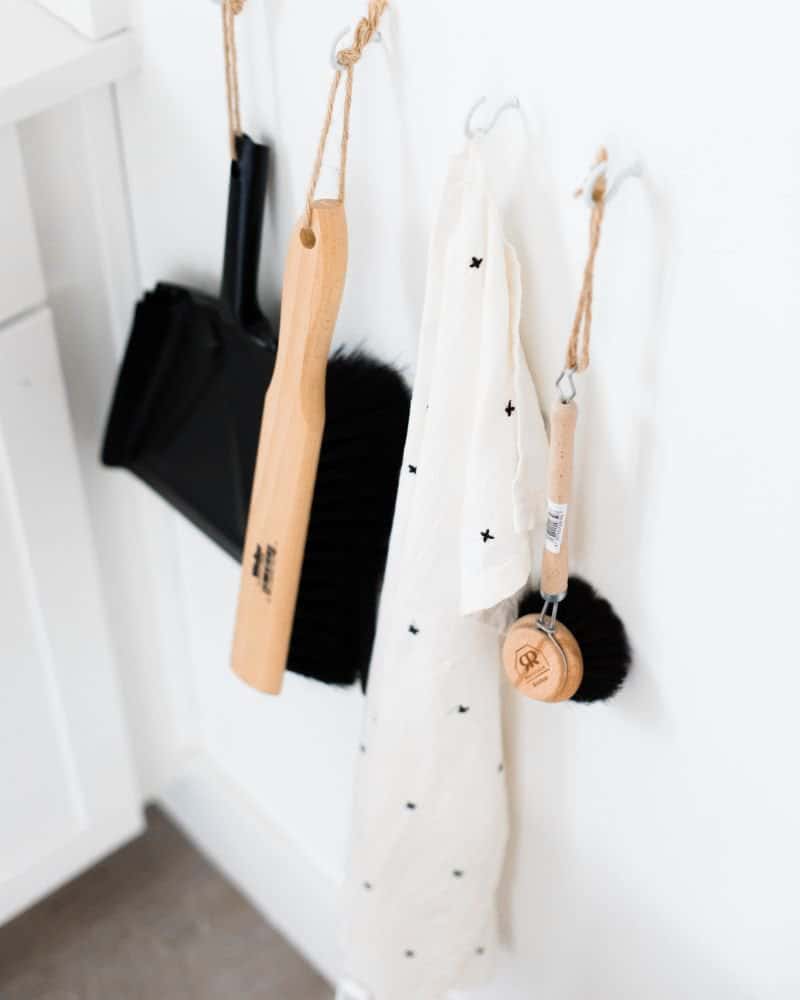 Cleaning and sprucing up your attic is an alternative if you want to create a better organizational system. Sometimes, having a plan makes a significant difference.
When everything has a place, things keep running smoothly. This also deters items from getting thrown haphazardly into a room.
How wrong would it feel to toss the Christmas wreath on top of a beautifully organized shelf? You could clear out the dust and repaint the walls to significantly brighten up the space.
Get rid of old boxes and get new ones or invest a little on matching totes and bins for storage. Neatly organized items will make the space look less cluttered and help clear your mind. Not to mention, it looks nice.
Clean and Dust
First, you should take precautions by wearing a mask to cover your nose and mouth to avoid allergic reactions from dust and mold. Wear gloves and full-length clothing to prevent your skin from being exposed to dust or allergens.
Clear the room of cobwebs and dust by starting at the ceiling and working your way down the walls. Treat the room for spiders before you begin cleaning to ensure no new webs are formed.
Clean the vents and windowsills thoroughly to eliminate all that dust floating around.
Now, you're ready to tackle the floor where everything has fallen. Vacuum or shop vac first to get all those hard-to-reach, narrow spots that most attics have.
Once all the big stuff is removed, you're ready to clean the floors by sweeping or vacuuming.
Childproof
Once everything is nice and clean, you can start fresh with a blank canvas. Regardless of its purpose, you'll want to childproof your attic before repurposing it if you have children.
Ensure you have childproof locks on all windows and doors to keep your kids safe in the attic. Install safety gates to limit the possibility of injury.
Smoke and carbon monoxide detectors are also excellent ways to ensure you and your children stay safe while using the attic.
Create Your Plan
Once you've chosen what you want your attic to be, prepared your space, and received the necessary permits for construction, it's time to devise a plan of attack.
Create a plan for your room and a budget you want to stay within. It's easy to get carried away, especially when you're excited about creating something new.
A well-thought-out plan can help you limit spending and develop a timeline for your new space.
3. Declutter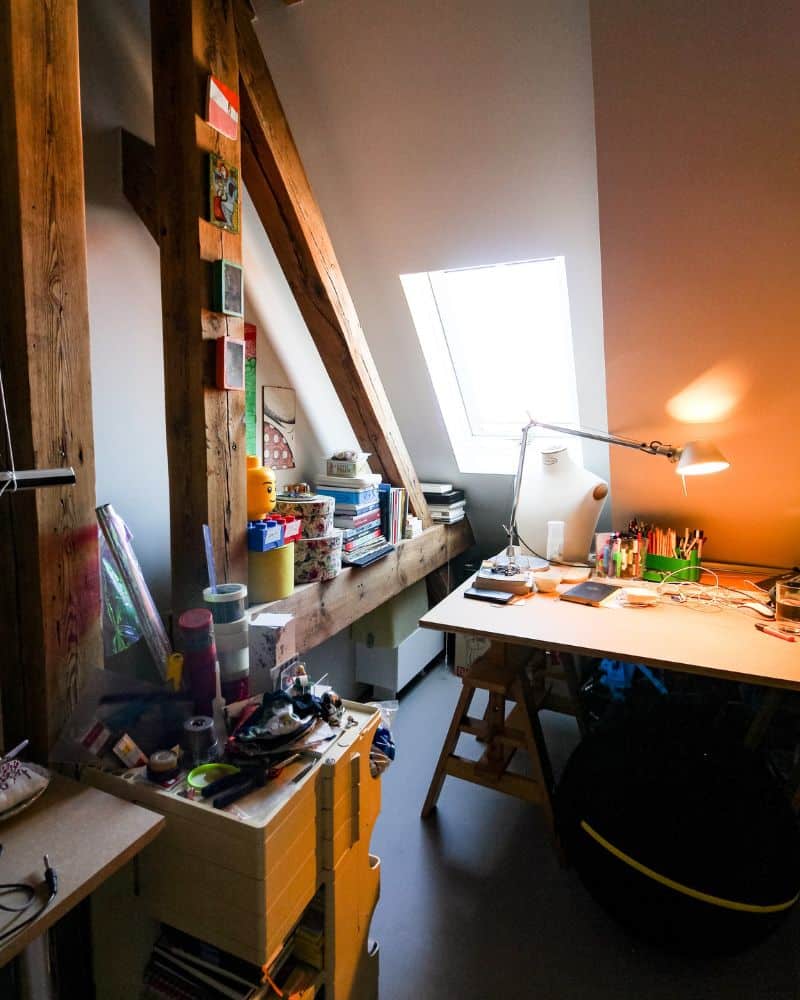 You should begin the decluttering process by enlisting some help. You may want to tackle it yourself, but there are likely big boxes you need to move and furniture you want to rearrange.
An extra pair of muscles will be helpful, and you can accomplish much more in a short time.
Then, you should begin taking inventory of your stuff and dividing it into categories. Label the items and donate everything you no longer want or need.
Create piles that you can sort through as you go. Make keep, trash, storage, and donate piles. Go through the maybe pile to eliminate everything that no longer serves a purpose.
Attics and other storage spaces are notorious for housing items that very rarely (if ever) get accessed and used. If you've been holding onto a lot of someday items in your attic, now is the time to let it go.
Utilize storage containers and put dust covers over luggage and other things you want to protect. You can make this part fun with cute bins, patterned covers, and a label maker.
Ensure you use those nooks and crannies of your attic for storage space. You might be surprised by what you can fit. Then, check back every month to ensure your room stays organized.
Decluttering Benefits
Decluttering your space has an endless supply of benefits. When your house is less cluttered, your mind also feels like it has more room.
When there is clutter around you, it seems your tasks are never complete.
You know how that endless to-do list is never complete no matter how hard you try? When you declutter your home, you may notice that you feel like your mind finally has permission to breathe.
Decluttering can be a form of self-care if you want it to be. Having a space that serves you and helps you to relax is a way to take care of yourself and your family.
4. Organize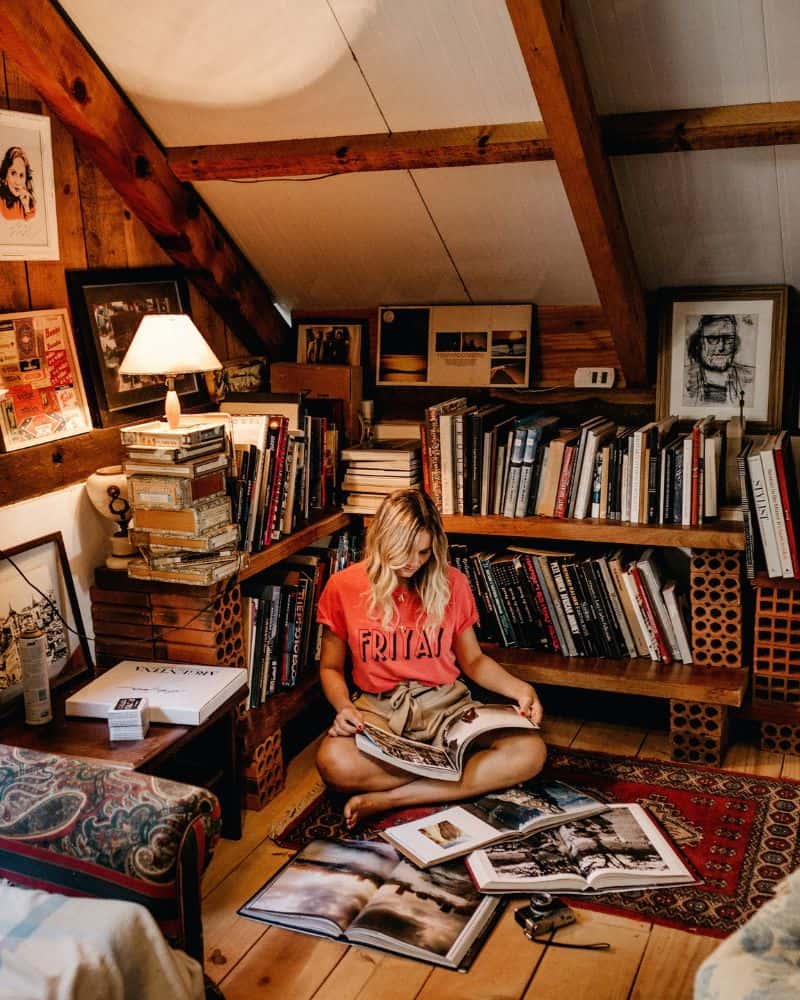 Whether transforming your attic into a dreamy closet or creating a cozy nook, you must develop an organization system. Perhaps you just want to spruce up your attic and reorganize everything.
There are so many organization hacks that you can utilize to declutter and transform your space.
Organization Hacks
Clear, plastic bins with labels on them are fantastic storage solutions. They are transparent and airtight, so you don't have to worry about dust getting inside them and onto your stuff.
Shelves are a great way to utilize small spaces found in attics. Add some shelving to put your storage bins on for an aesthetically pleasing solution.
Ensure you make the most of any rafters or wooden beams on your attic ceiling. You can use ceiling or wall hooks to hang lightweight items like wreaths and seasonal decor to utilize all your space.
Portable clothing racks or shower curtain rods can be used for seasonal clothing. Get some shower curtain hooks to hang your tank tops in the winter and your jeans in the summer to make room in your closet.
Installing a pegboard on an unused wall in your attic can hold tools or utility items.
There are a variety of storage solutions you can use, but what's most important is that you are choosing an organizational system that will work for you and your home.
5. Make It Your Own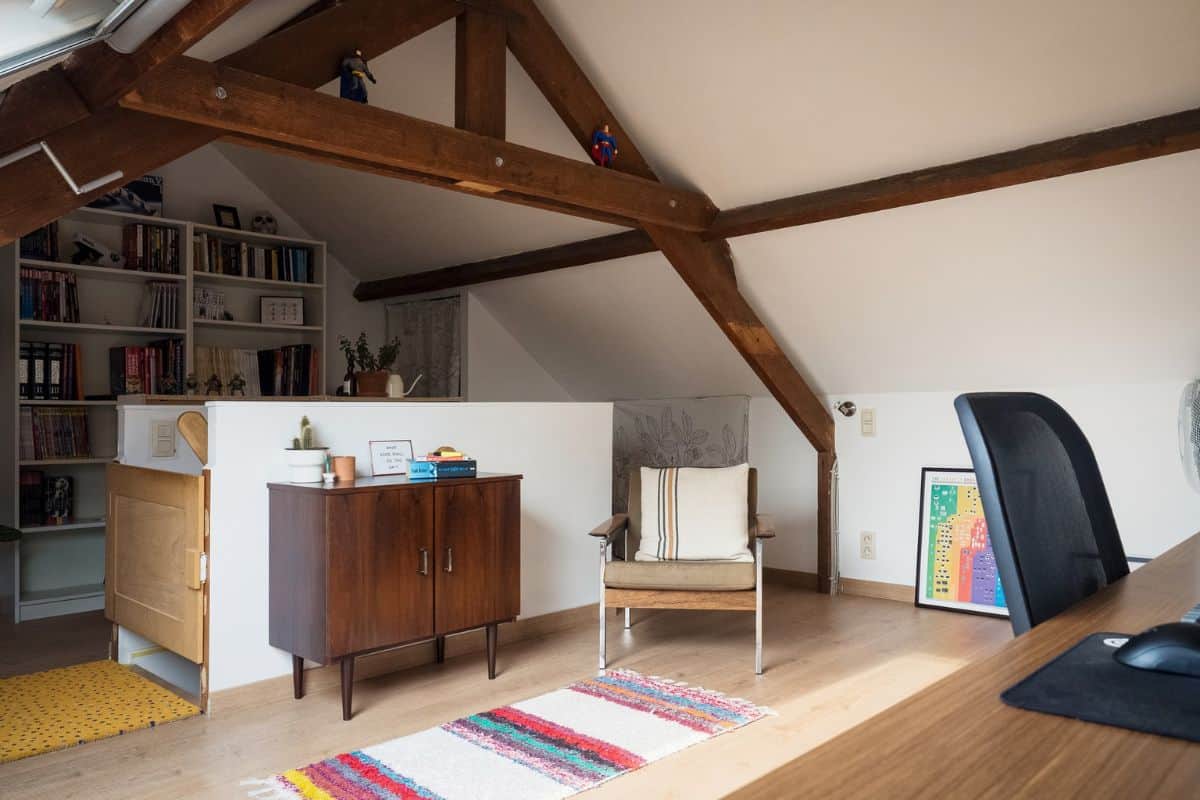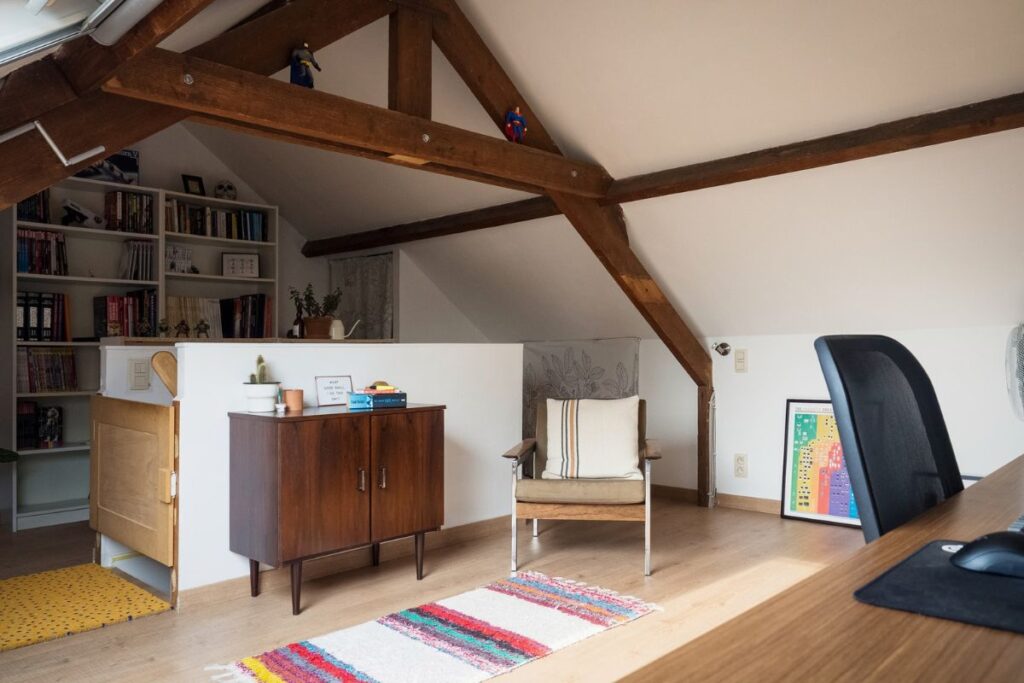 Once you have your desired space, you can start on the fun part! Decorating is the best way to make an area personalized and pretty.
By incorporating colors that go well with the aesthetic of your room, you can make a tiny attic appear much bigger than it is.
You don't want to overfill the walls if you don't have a lot of room. Focus on one wall and make it pop. Consider painting an accent wall if that's what will bring a smile to your face every time you enter the room.
Ensure your attic has a purpose. If it doesn't, it's more likely to end up as a dumping ground for items you aren't ready to make decisions on. If you want to use it just for storage, great. Just make sure it stays organized by making it more aesthetically pleasing.
If you're repurposing the space, you'll want to spend more time up there if it's pretty. Create a cozy atmosphere you will enjoy checking on routinely to avoid cluttering it up, only to repeat the decluttering process.
People who want to create a home office or craft room should get a desk or make one out of a table. Find a comfortable chair and get some shelves or cabinets to house your files, folders, or art supplies.
A gym will require adequate space for your workouts and weights or other gear you intend to use. Playrooms for kids should include mats or rugs on the floor for safe and enjoyable playtime.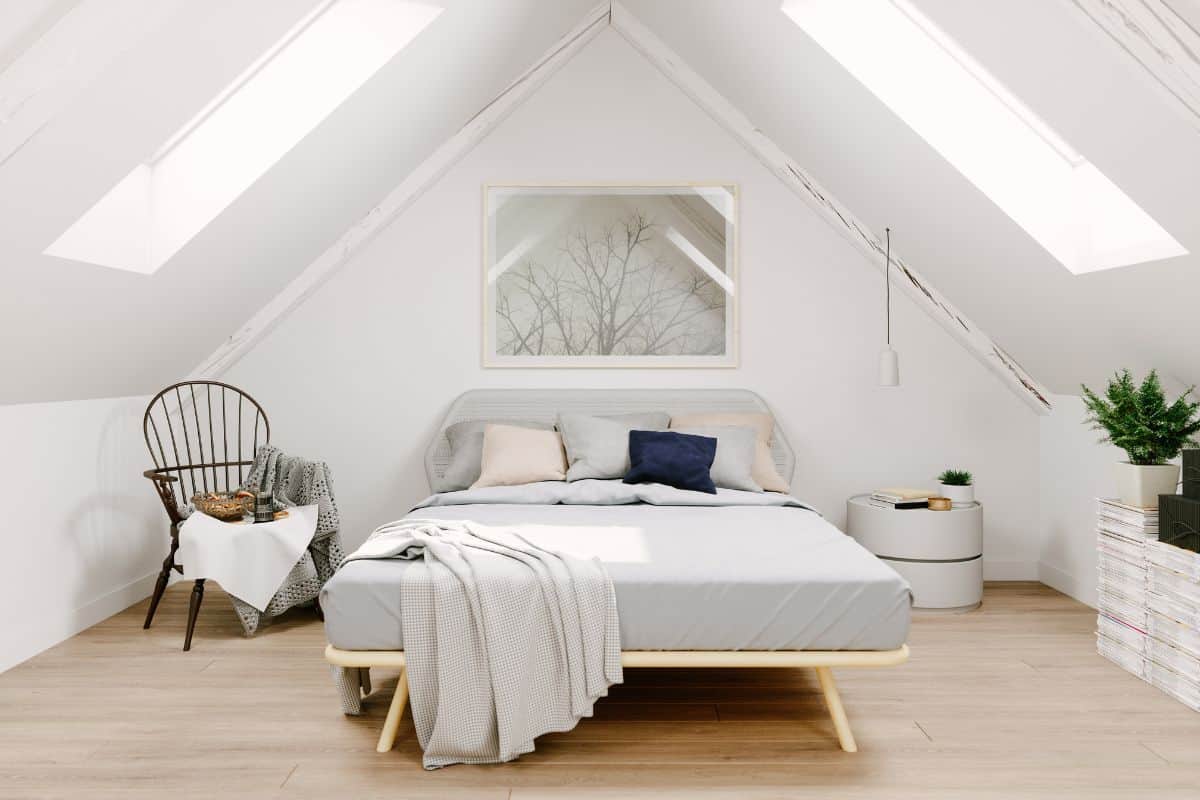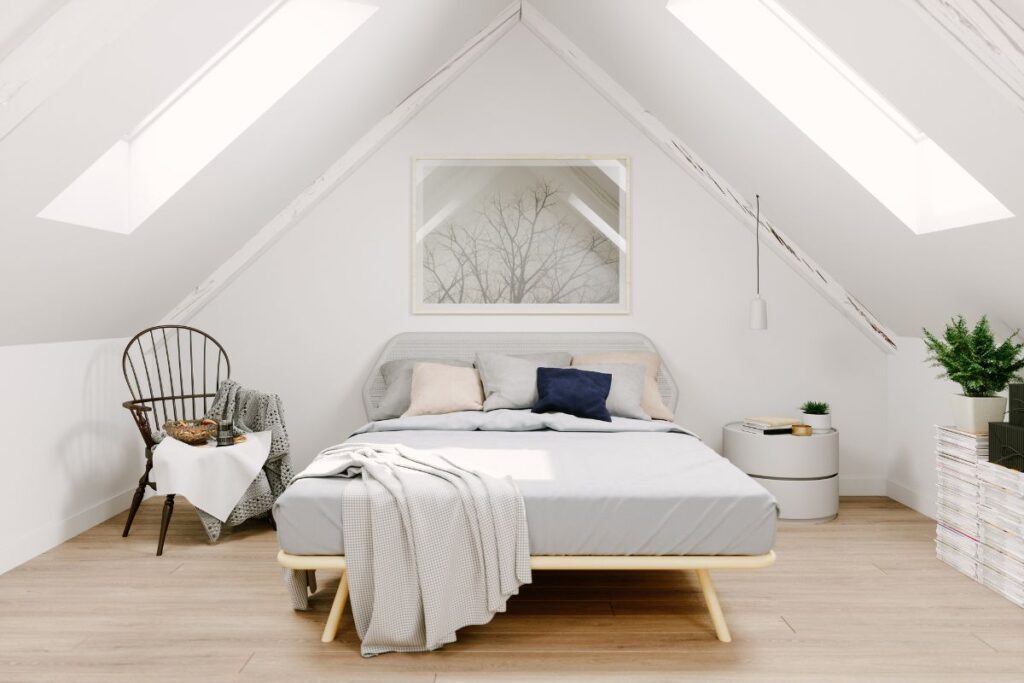 Declutter Your Attic & Enjoy Your Space
After you declutter your attic, you have a variety of options of what to do with the space from brightening it up to completely repurposing it. Regardless of what you choose to do with your attic, take pride that you no longer have a cramped space filled to the brim with overstuffed boxes and an assortment of odds and ends.
Ready to declutter your attic? Share in the comments how you place to use the space!
Sign up on the form below to get weekly decluttering tips and inspiration sent straight to your inbox. You'll also get the free 5 Areas to Declutter in 10 Minutes Checklist to help you get started decluttering today.