Inside: Live in a small space but want more plants? Use these space-saving ideas so you can include more plants in your home!
A guest post by Melissa Waltz
Adding plants into your home is a great way to improve its atmosphere and spice up the aesthetic. Plants come with numerous benefits that make them an incredible addition to your space.
However, if you are dealing with a small space, you may wonder how to add plants into your home without it being cluttered.
Well, there are different space-saving ideas to include more plants into your home that you can work with. Here are some ideas that you can start implementing immediately.
7 Space-Saving Ideas to Include More Plants in Your Home
So you love plants but live in a small space. Use these seven space-saving ideas to include more plants in your home!
1. Use Wall Mounted Shelves
Wall-mounted shelves add incredible space that you can use to add some plants into your home. I bet you have a wall that sits idle, and you wonder what you can do with it. Well, don't let that space go to waste. Instead, get some quality shelves and have them installed on the wall.
Your shelves could take on any design. Therefore, be creative with this to ensure that the results add to the overall aesthetics of your home.
With quality wall-mounted shelves, you can use small pots to host your plants and place them on the shelves. Using wall-mounted shelves will save you a lot of space and give you the joy of having lovely plants in your home.
2. Put Your Ceiling to Good Use
Your ceiling is another part of your home that may be sitting idle when it could come in handy when looking to add more plants. If your ceiling features blocks of wood that run horizontally or vertically, you can put them to good use.
When working with this option, it is best to incorporate hanging plants. You'll need quality pots, plants, and macrame or hanging baskets. Use the hanging baskets to suspend the plants from the ceiling, adding a unique look and feel to your space.
If you have a ceiling that you can use to add hanging plants to your space, ensure that you use it. However, using the ceiling to add more plants into the home is not accessible to everyone, as some ceilings are designed differently. So, if you can't use your ceiling, we have a different solution coming up for you to consider.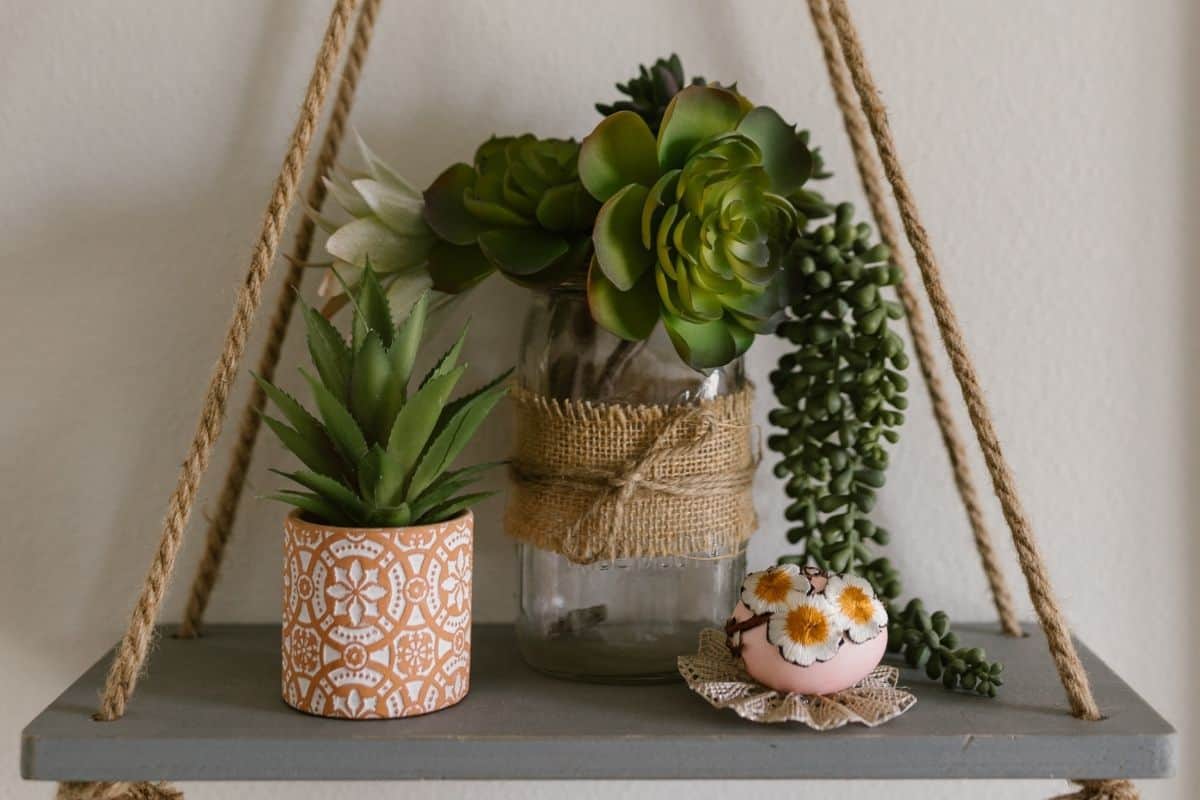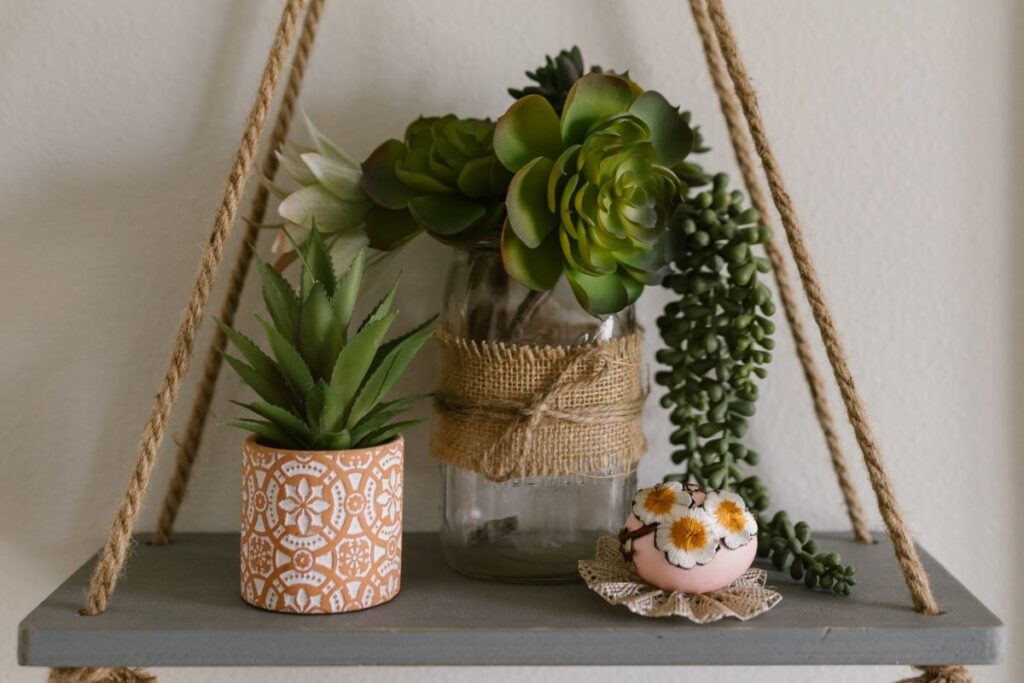 3. Adopt Vertical Farming Systems
As the name suggests, vertical farming refers to growing your plants vertically to allow you to use less space. You can either rely on a fixed wall or a free-standing vertical gardening structure when adopting vertical farming.
Vertical gardening on a fixed wall is what you see people refer to as a live wall. You can include as many plants as your wall can accommodate. On the other hand, if you choose a free-standing structure, you'll have the freedom to move it as you wish compared to a vertical garden on your walls.
Additionally, you can incorporate some vertical farming in your backyard to ensure that you get to use your space adequately. The advantages of vertical farming systems make this option an incredible choice that allows you to save space and enjoy other perks.
4. Use Space-Saving Planters
Planters are an essential tool, especially when adding greenery inside your house. They act as a home for the soil, nutrients, and the plants you'll be investing in. When looking for planters, you'll find them in different designs, some bigger than others.
Choosing smaller planters that are designed to take up less space is essential. These planters will help you save space and avoid using big planters that take up too much space for only one plant.
Space-saving planters are designed to be strong and withstand different kinds of plants. When investing in a planter, consider the plants you want to have and ensure that they can adequately survive in the planter without limiting the roots and their overall growth.
You can also custom-make planters and design them to fit the space you are working within your home. All you'd need to ensure is that your planter features drainage that allows water to flow through after you water your plants.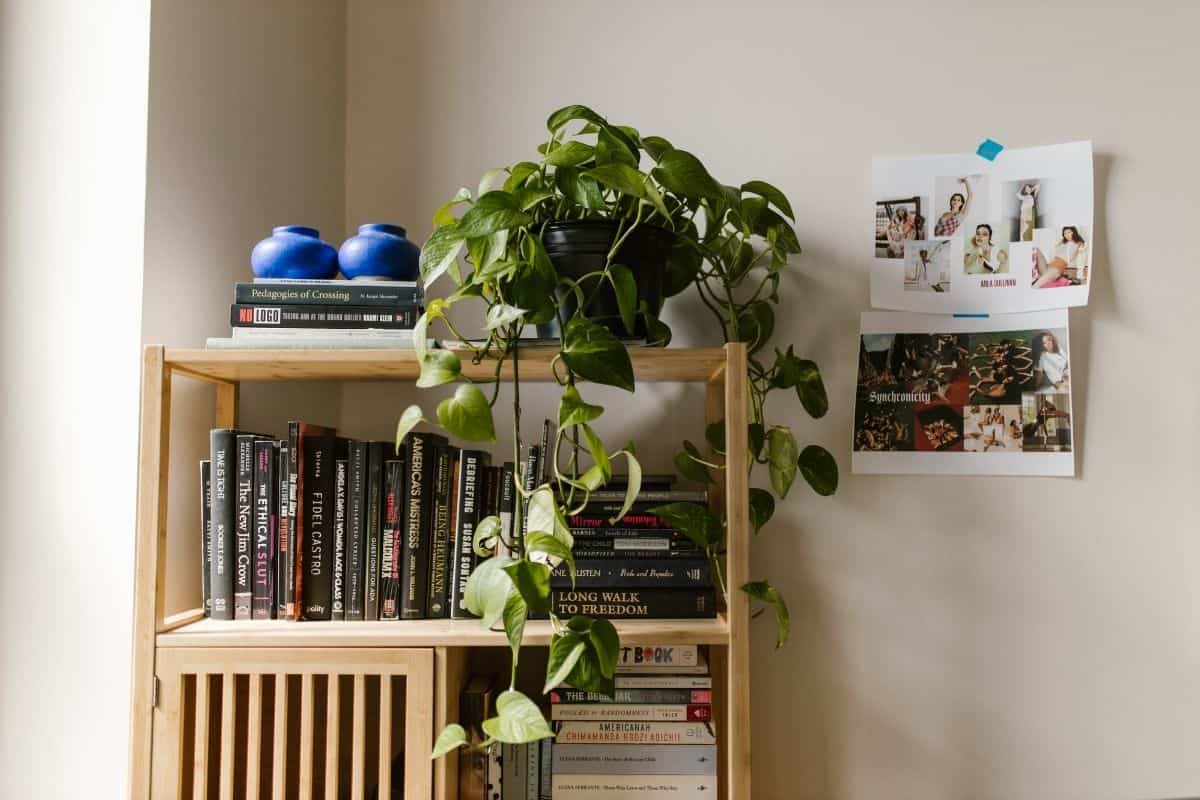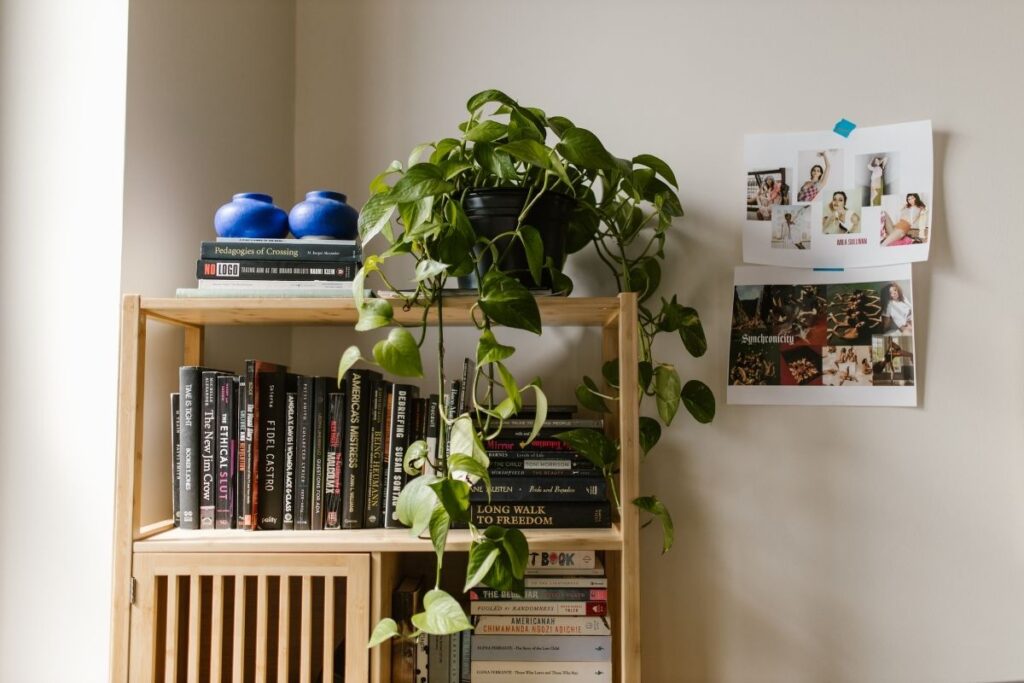 5. Use Your Top Shelves
Do you have spaces in your home that are pretty high and are not serving any purpose? For instance, the area above your bed's headboard or your windows. These are great spaces to utilize and add shelves to hold several planters.
Adding top shelves will help you save space and get to enjoy the beauty of greenery in your environment. However, when adding your top shelves, you'll need to be careful and ensure that you use sturdy material.
Your shelves will be holding planters that will get heavy over time as the plants continue to grow. To avoid any mishaps, ensure that the shelves are installed professionally and are strong enough to support your plants.
6. Install Tension Rods
Tension rods are a sturdy and reliable alternative if you don't have a ceiling to accommodate your plants. All you need to do is mount your tension rod securely to ensure that your plants stay safe and invest in sturdy hooks. With tension rods, you'll be working with hanging plants just like the ceiling option.
Therefore, get strong hooks to hold your plants and start setting up. Your tension rod will have enough space to fit a variety of plants allowing you to save a lot of space and add greenery to your home.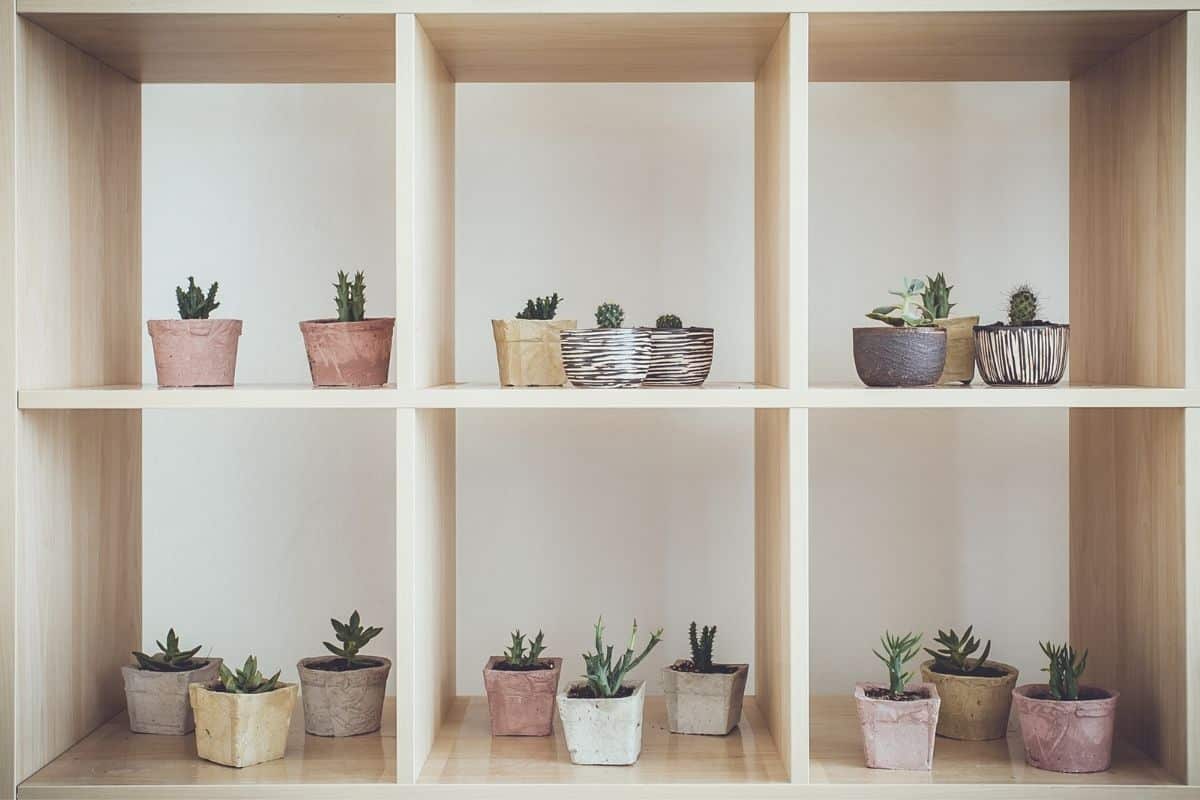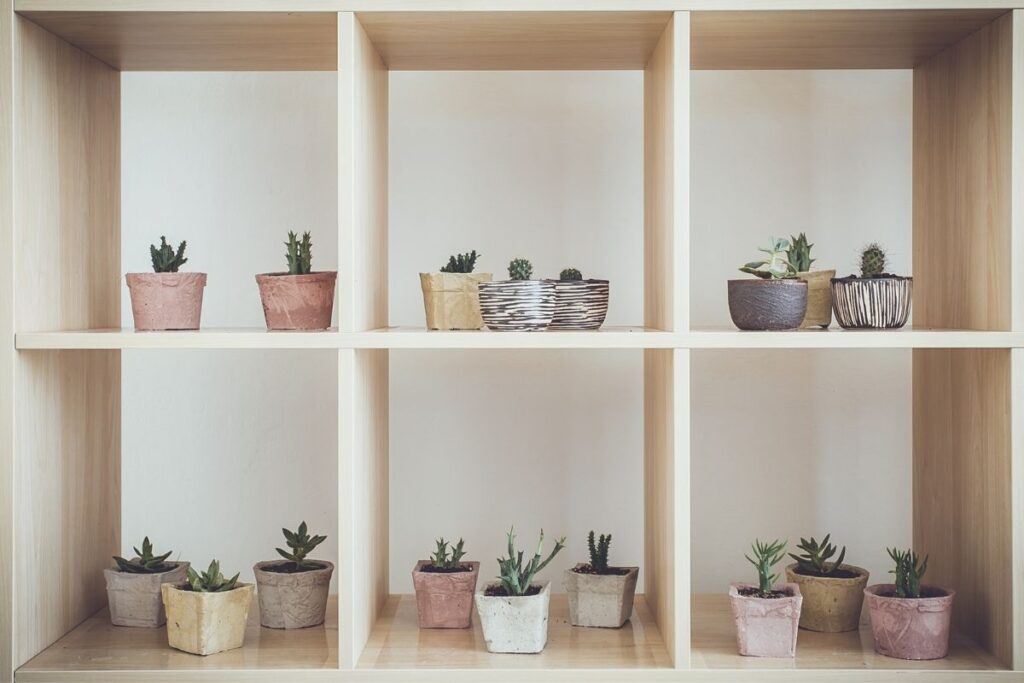 7. Invest In an Open Book Case
Open bookcases are a great option and can be used as a room divider. You can also custom-make your shelf to include a desk section that allows you to get some work done. With the different areas on your bookshelf, you can easily store your plants and save a lot of space.
This is an excellent option if you have space for a bookshelf in your house. Investing in an open bookshelf gives you access to both sides of the room and adds to the aesthetic appeal.
Additionally, you can use it to hold some of your books next to your plants. A bookcase with plants and other items will serve as an incredible decorative piece and add character to your home. Just make sure not to overfill it or it can make your home look cluttered.
Share your favorite tip to include more plants in your home in the comments section!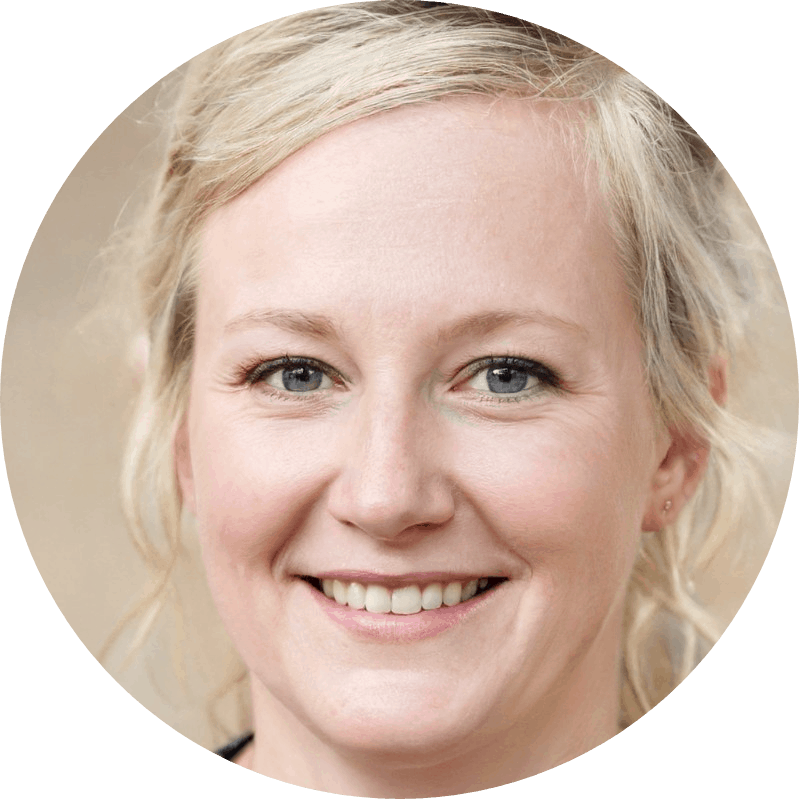 After pursuing her music career as a singer for an alternative rock band, Melissa began writing about the music industry. She is an independent writer who is continuously researching, learning, and exploring new areas in life. She now spends her days offering private music lessons and writing on various topics.
Sign up on the form below to get tips on how to live simply sent straight to your inbox. You'll also get the free 8 Quick Wins for Decluttering Worksheet to help you create more space in your home and life today!