Inside: Make the most of this time of year by creating a meaningful Christmas bucket list for your family this December.
It's the most wonderful time of the year again! Lights are twinkling, temperatures are dropping, and bells are jingling. If you're feeling extra festive this year, chances are you want to make the most out of the season and take in every single second of it.
The holidays, sadly, don't last very long. Instead of letting the season pass you by, make this Christmas count by filling up your days with fun, merry activities that will have you feeling (and spreading) that holiday cheer while it lasts.
Use these meaningful Christmas bucket list ideas to create your own list of must-dos for the holiday season. You may end up starting a new tradition or making some of your best memories yet!
​​Christmas Bucket List Ideas for December
December can end up passing by quickly. However, when you simplify the holidays, you can slow down and create more memories and meaningful time with those you love.
Pick and choose from these Christmas bucket list ideas and add your own. Enjoy a memorable holiday season this year.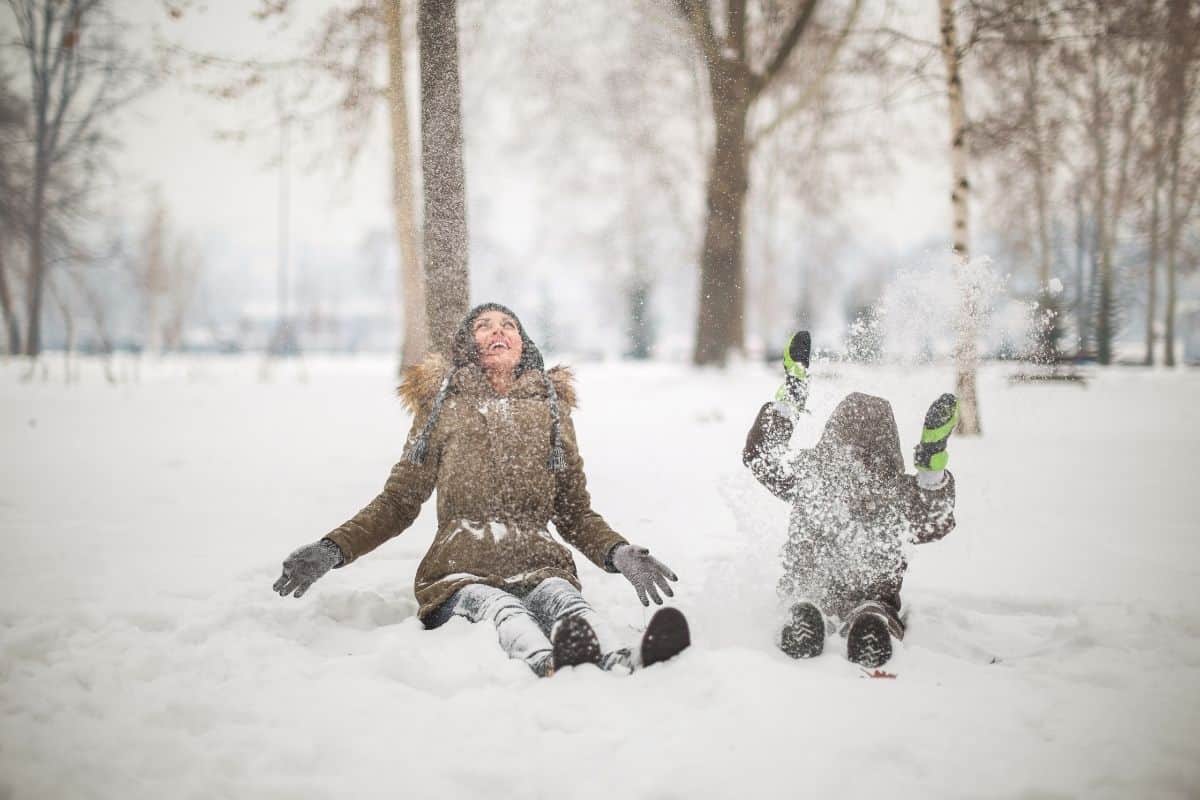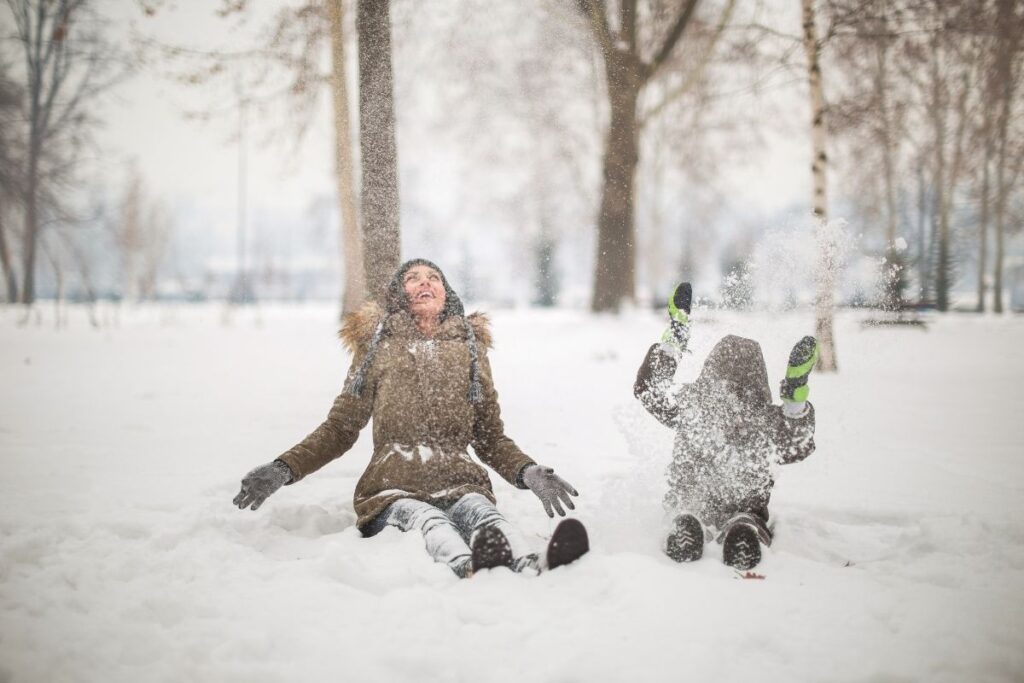 ​​1. Play in the snow
If you're lucky enough to live in a place that sees white Decembers, try making the most of it by playing in the snow when you get the chance. Build a snowman, sled down a hill, lay down on the snow, and make an angel, or even start a snowball fight! 
There's something so uplifting for our spirits about being silly and feeling like kids again. If snow isn't a common occurrence where you live (or even if it is!), take the opportunity to get out of your comfort zone and fully take in the moment.
2. Make a Christmas playlist
Whether it's the classics we all know by heart or more modern jingles, make a playlist you get to play on repeat to remind you of happy memories (and make new ones!) this holiday season.
Get the family in on the fun and select the songs together. Pair listening to the playlist with some of the other Christmas bucket list ideas.
3. Watch your favorite Christmas movie
Get cozy with a chunky blanket and some hot cocoa and get in the holiday spirit by streaming your favorite Christmas movie.
If you're not sure what to watch, How the Grinch Stole Christmas is a classic choice, and Klaus is an absolutely lovely option if you're feeling up for something extra heart-warming.
4. Make your own holiday cards
Christmas cards are a surefire way to make someone feel loved. Instead of purchasing generic ones this season, try spending a few hours making your own cards to send out.
This can mean getting crafty and making them from scratch (Pinterest has tons of creative ideas) or simply buying them and writing personalized messages to your loved ones.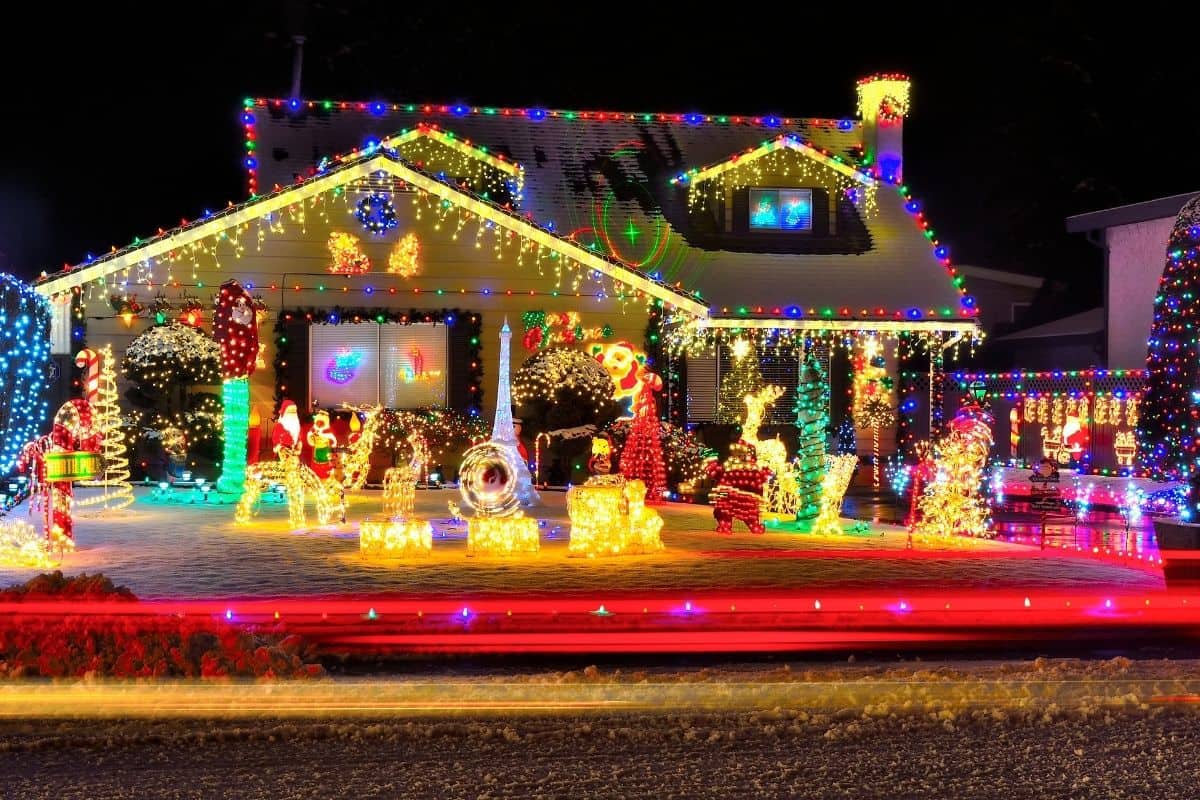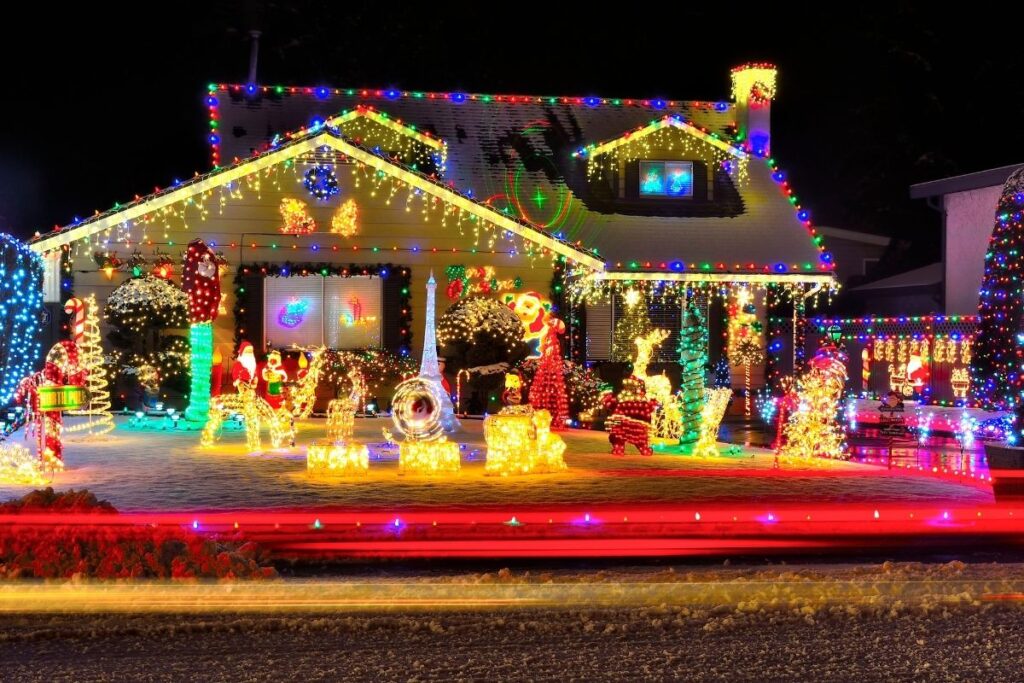 5. Go on a late night drive in search of lights
A fun and free activity is to go on a late-night drive around town in search of the coolest Christmas lights. One of the best things about Christmas is seeing everything light up, and some people really do take it to the next level with their decorations.
If you have kids, this is also an awesome tradition to implement into the family. It takes everyone out of their usual routine, and it's always fun to get together at the end of the drive and vote for whose house did it best this year!
6. Visit a local Christmas festival
Be it a parade of twinkling lights, a tree-lighting ceremony, or a Christmas market, consider attending a local Christmas festival in your town or a city nearby.
Not only will you escape routine, but you'll also get to socialize and do something fun while you're at it!
7. Declutter your wardrobe and donate clothes to a local charity
December is an ideal time to get more organized and start the year off on the right track. Instead of leaving your spring-cleaning pursuit till next year, why not start decluttering your clothes right now? 
For one, decluttering can be extremely therapeutic, and the fact that it's the wintertime means you can donate your clothes to nearby charities or your local Buy Nothing Group that will be extremely thankful for the extra layers.
8. Make your house smell like Christmas naturally
One of the best things about the holiday season? The endless array of aromas that fill the air.
There are plenty of ways to make your house smell like Christmas including lighting some festive-scented candles or incense, making wassail, simmering cinnamon, or even making orange pomanders.
One of our favorite ways is by having a real Christmas tree. The experience of cutting it down is also one of the best memories we make during the holiday season.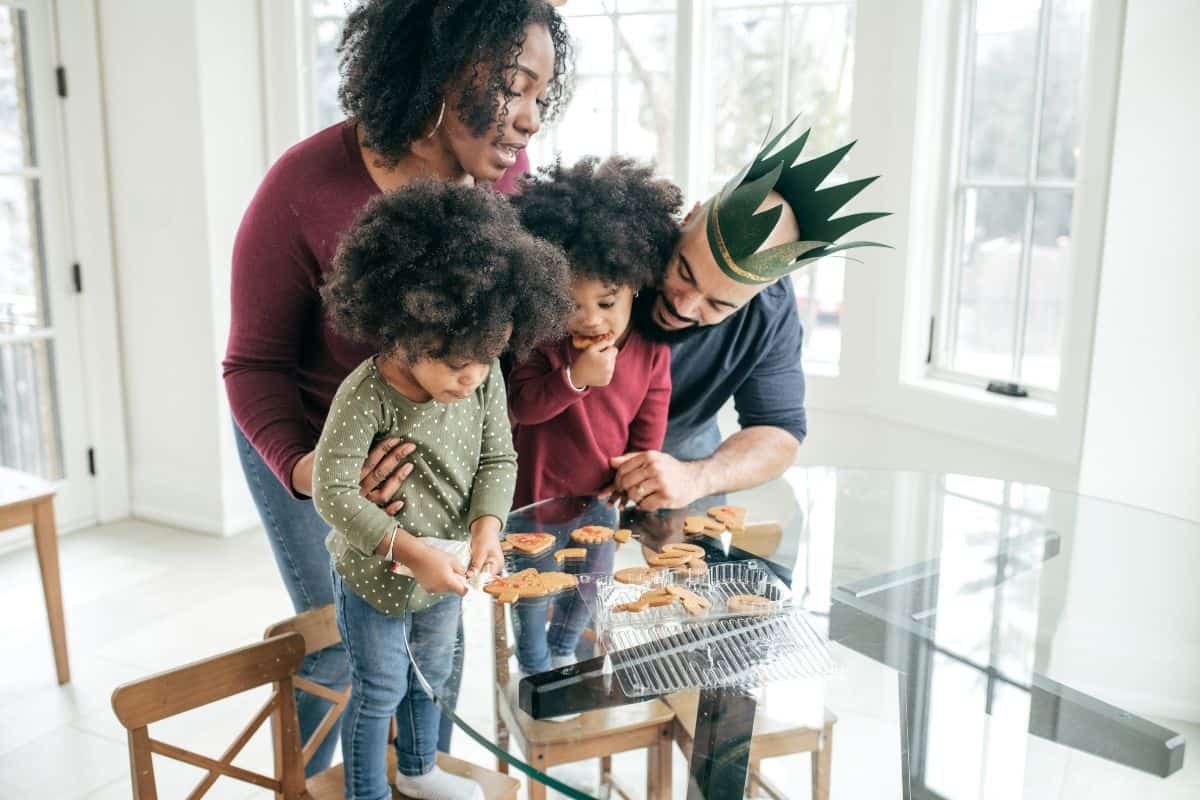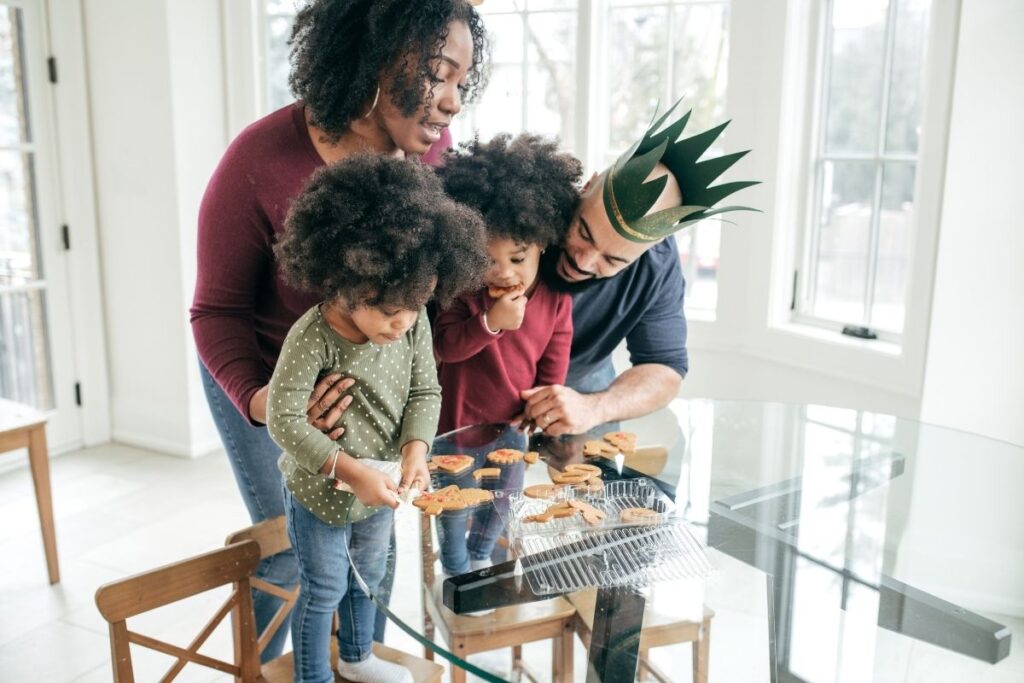 9. Spend time with those you love
Christmas is better when you share it with the people you love the most, so make it a mission this year to spend as much time as possible with your family and closest friends.
After all, what we most remember about Christmas for the rest of our lives are the moments we spent with the people we cherish, so if there's only one item you take from this bucket list, make sure it's this one!
10. Get creative with gifts and gift-wrapping
While the true meaning of Christmas is to spend time with those we love the most, it can also be a very materialistic time of the year. You don't have to bust your budget to enjoy the holidays though.
Consider useful gift ideas and clutter-free gift options to stay on track with spending and to not create clutter in the recipient's home.
Traditional wrapping paper isn't exactly the most environmentally-friendly option out there, especially when you consider it will likely end up in the trash can the very next day. Make it a part of your bucket list to make your gift-wrapping as sustainable as possible this Christmas. 
A few super creative ideas include using old newspapers, cloth, or paper bags to wrap presents up and items you scout in nature to decorate (think pinecones, twines, etc). Not only does this make your holiday season more eco-conscious, but it can also be a ton of fun and a great excuse to get creative.
11. Gift experiences
Since we are on the subject of gift-giving, another cool way to make your gift-giving a little more eco-friendly is by gifting experiences rather than material things. 
Instead of buying your best friend a self-care kit, why not gift her a day pass to the spa they love the most (pssttt.. get two passes so you guys can go together and spend some much-needed quality time!).
Other cool ideas for experience gifts include tickets to an event or concert you know they will love, an America the Beautiful Pass (grants them access to all national and state parks in the United States for an entire year!), or spots at a workshop so that your loved one can learn something new.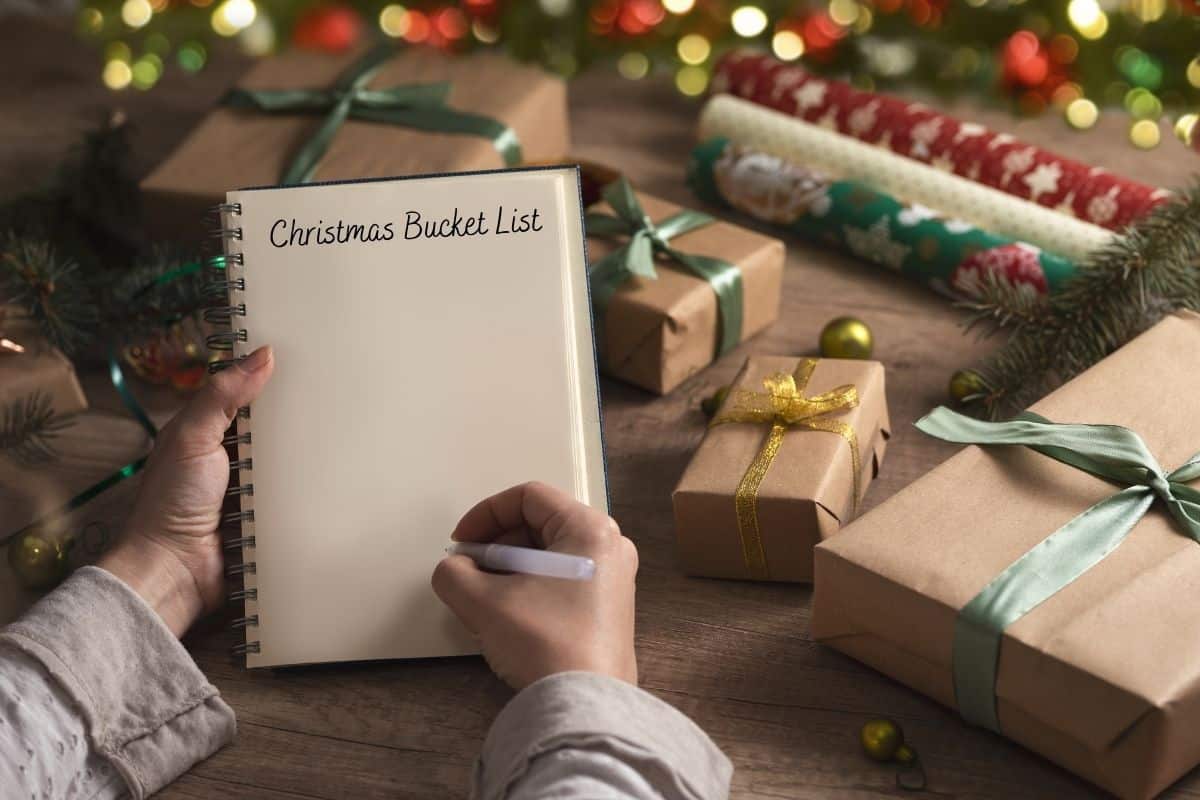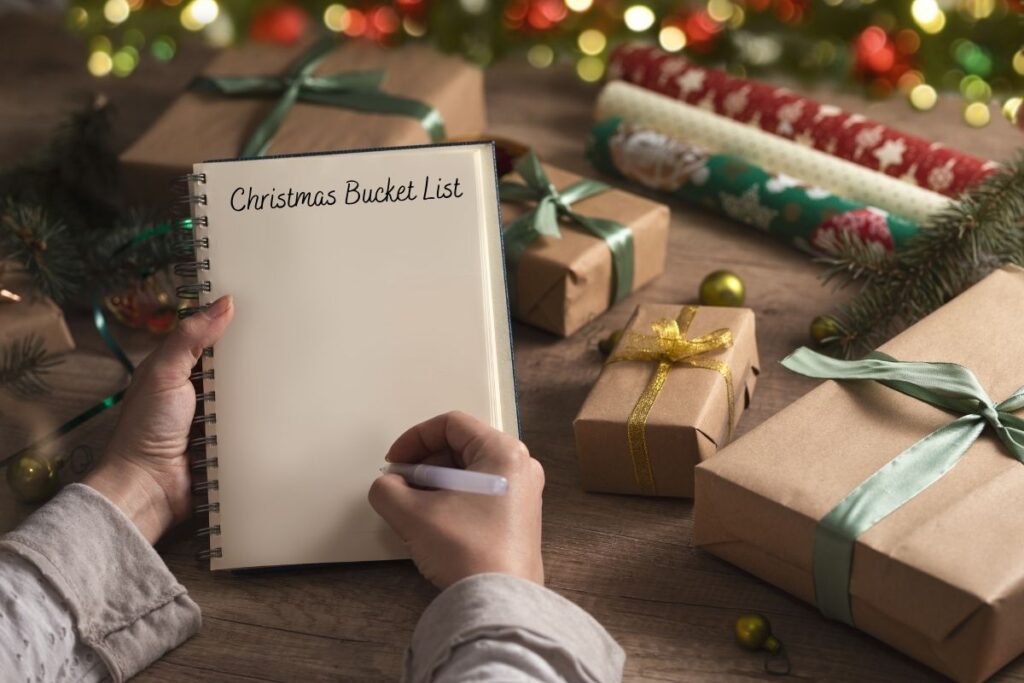 12. Do a random act of kindness
Tis the season for giving and thinking of others. Take this opportunity to come up with ways you and your family can together bring joy to a neighbor, friend, or organization within your community.
The holiday season is challenging for many people. It feels great to bring a smile to someone during a difficult time.
Giving back is a great way to create memories not only for your family but also for whoever is blessed in the process.
Create Your Christmas Bucket List for December
I hope this list of fun activities and things to do in December to spread the Christmas spirit helps you come up with the ultimate holiday bucket list for the year.
Even though the list could have been much longer, I focused on options that don't require much effort, are pretty budget-friendly (or absolutely free), and encourage you to make the most out of Christmas the way it truly matters: by spending time with loved ones, feeling as cozy as possible, and naturally – helping you spread the joy of the season. 
The cool thing about this list is that you can try everything once, pick your favorite activities out of it, and turn them into annual traditions for the entire family to enjoy for years to come.
Looking for more ideas to add to your bucket list? Check out this list of simple and frugal family Christmas traditions.
What are your favorite Christmas bucket list ideas? Share them in the comments!
I would love to know more about how you spend your December days while you look forward to the actual date!
Sign up on the form below to get weekly tips on living simply and intentionally sent straight to your inbox. You'll also get the free Simplifying the Holidays Planner to help you stay more organized this holiday season!